Paper crafting has always been one of my passions. From card making to scrapbooking, there are so many projects you can make with paper. If you enjoy paper crafting as much as I do, I think you will love making these sunflower quilling embellishments too.

What Is Quilling
Quilling has been a beloved paper crafting technique that anyone can do. It is an affordable hobby that is simple to learn. With a bit of practice, you can roll slender strips of paper into captivating shapes and forms.
Are you looking for new ways to embellish your greeting cards or create home decor items? Look no further than quilling. This fun crafting technique offers endless possibilities. With a few simple supplies, you can create anything from animals to sunflower quilling embellishments.
What Can Sunflower Quilling Embellishments be used for?
Sunflower quilling embellishments can be used for a variety of creative projects. They make beautiful additions to greeting cards, scrapbooks, and other paper crafts. You can also use them to decorate picture frames, gift boxes, and even home decor items. With their intricate details and beauty, sunflowers always add a touch of elegance to almost any project.
Do you enjoy paper crafting? Give quilling a try. Check out these 10 lovely sunflower quilling templates that are sure to bring some elegance to your crafting projects.
1. S

unflower Quilling Pattern from Syquilling

Are you looking for a fun and engaging sunflower quilling project? Check out this sunflower template. This download includes the templates along with a basic materials guide and pictures of the parts. There are no instructions, so you will need previous quilling experience.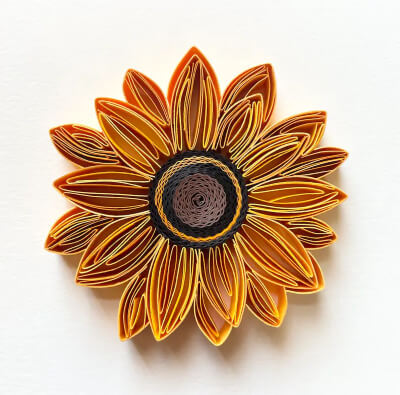 Find the Pattern from Syquilling Here
2. Paper Quilling Sunflower Tutorial
from LarissaZasadna
This comprehensive and detailed tutorial includes 2 lessons. The lessons are packed full of detailed photos and easy-to-follow instructions.
In the first lesson, you will learn how to create stunning sunflowers, green leaves, and a beautiful background. The second lesson shows you how to create large and medium-sized yellow flowers and leaves. You also get a link to a free lesson on how to create pink bells.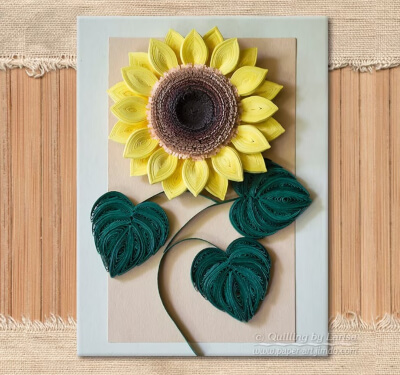 Find the Pattern from LarissaZasadna Here
3. S

unflower Quilling Pattern from LarissaZasadna
Here is a beautiful sunflower with a modern design. It would look gorgeous framed and hung on a wall or as an embellishment on a greeting card.
The detailed PDF file also includes a video link. The video explains how to you the templates with dark and light lines. The designer recommends using any paper with a density of 160gsm or more.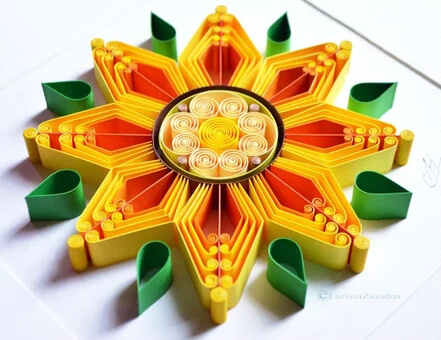 Find the Pattern from LarissaZasadna Here
4. Paper Quilling Sunflower

Pattern from The Paper Craftery
Looking for a free sunflower quilling template? Look no further than this beautiful design. With two shades of yellow paper and a fringed centre, the sunflowers make a bold statement.
To make the flowers you will need quilling paper, a quilling needle tool, a quilling comb, small scissors, and glue. With detailed step-by-step instructions and numerous photos, creating these beauties is a cinch.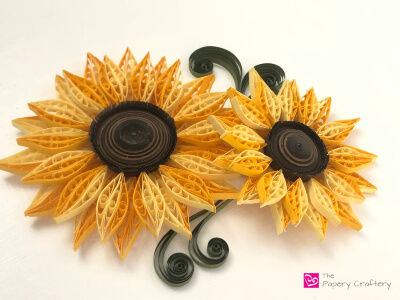 Find the Pattern from The Paper Craftery Here
5. Flowers Art Composition – Tulip, Sunflower, Rose, Forget-me-not, Daisy, Lilac
from MiriamsQuilling
Get creative with this set of 9 stunning flowers. You get templates for a tulip, carnation, snowdrop, forget-me-not, daisy, lilac, sunflower, rose, and poppy.
Included with the flower templates is a water colour base that can be used as a guide for your paper quilling masterpiece. There are also two video links that provide step-by-step instructions, including some basic tips.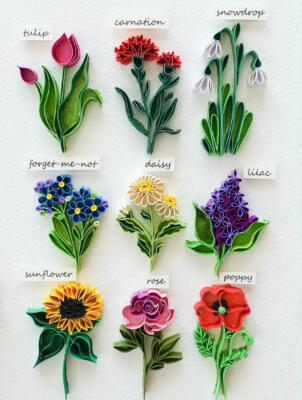 Find the Pattern from MiriamsQuilling Here
6. DIY Quilled Sunflower Tutorial
Here is another free sunflower quilling tutorial. The instructional video will take you through creating a stunning quilled sunflower. There are clear and concise steps, including necessary materials and measurements. It is very easy to understand and is suitable for children and adults alike.
Find the Pattern from Meghna Art Studio Here
7. Sunflower Paper Flower Pattern
from SwirlyStudio
This is not your classic sunflower quilling design. This one is perfect for creating a thank you gift for a loved one. It is a unique design that can be cherished for years.
Included in the download are materials and tools recommendations and 4 templates in various sizes. To complete the project, all you need is the template, cardstock, paper strips, white glue, tweezers, scissors, and a frame or shadowbox.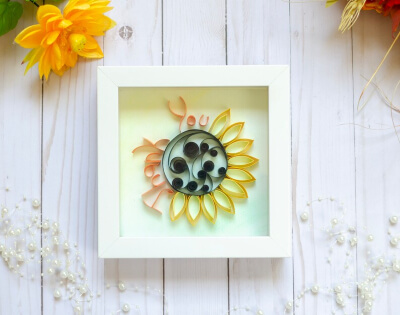 Find the Pattern from SwirlyStudio Here
8.

DIY Paper Quilling Sunflower Ornament

from Craftquiller

Create your own beautiful sunflower quilling decoration with this simple tutorial. Whether you are looking for a fun family activity or a unique gift idea, this tutorial is perfect.

Included is a step-by-step video tutorial where you will learn to make the stunning flower ornaments. You will need a quilling needle, circle sizer, precision glue tip applicator, 7mm paper strips, sizers, and distress ink.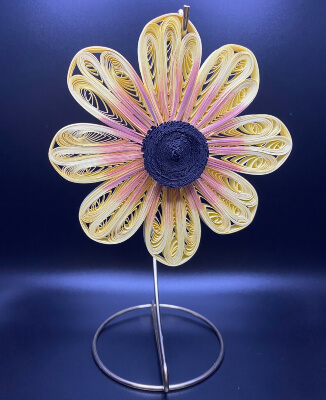 Find the Pattern from Craftquiller Here
9. Alphabet J Paper Quilling Template – On Edge Quilling
by MadmadeIN
With this one sunflower quilling template, you can create greeting cards or a beautiful, framed decoration for your home.
The template includes a picture of the finished artwork, a list of tools needed, and colour swatches. The sunflower quilling template is designed to print on A4-size paper.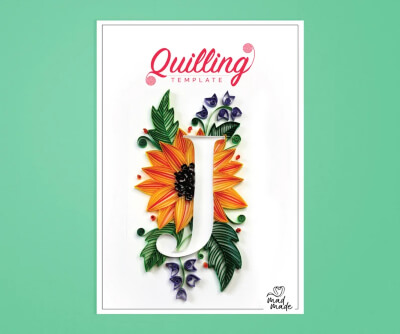 Find the Pattern by MadmadeIN Here
Frequently Asked Questions About Sunflower Quilling
What materials do I need for sunflower quilling?
To start a sunflower quilling project, you will need a few basic supplies. These typically include quilling paper, a slotted quilling tool, glue, and a template. Additionally, you may want to use scissors, tweezers, and a ruler to aid in the quilling process.
What is the best glue for sunflower quilling?
The best quilling glue is a strong, clear drying glue that is easy to work with. Some popular options include Perfect Paper Adhesive, Aleene's Tacky Glue, Elmer's Clear Glue, and Ranger Multi Medium Matte. Ultimately, the best quilling glue will depend on the project you are working on, as well as your personal preferences.
Do I need a slotted tool for sunflower quilling?
While it is possible to make sunflower quilling embellishments without a slotted tool, it is not recommended. Sunflowers have intricate designs that are hard to make without a slotted tool. A slotted tool will make it easier to roll and shape the paper strips into uniform coils and curves.
Can I use Mod Podge for sunflower quilling?
Mod Podge is a popular glue for crafters. It can be used in a variety of projects. While it is possible to use Mod Podge for sunflower quilling, it may not be the best choice. Mod Podge can is thick and can cause the paper strips to warp. Additionally, not all Mod Podge is acid-free. Using the wrong type can cause the paper to yellow or deteriorate over time.
Can you use regular paper for sunflower quilling?
While regular paper can be used for practising quilling techniques, it is not the best choice. Regular paper is too flimsy and does not hold its shape well. For sunflower quilling projects, text weight paper is recommended. Text weight paper is heavier than regular printer paper, but lighter than cardstock. It is easy to manipulate while still able to maintain its shape.
Sunflower quilling embellishments are a great way to add interest to your paper crafting projects.
You may also want to check these Easy Sunflower String Art Templates and Flower String Art Patterns & Kits. And share your art creations on our Facebook Page. I'd love to see them.
If you are looking for an interesting way to add beauty to your projects, sunflower quilling is an excellent choice. I love the way sunflowers add visual interest and beauty. With the above templates, you can create sunflower quilling embellishments that will brighten up any space.