Check out these tutorials on how to make pot holders of your own — they can be made with a sewing machine, no sewing, knitting, or crochet. Take a look at some ideas below!
Holiday parties are over, and I think I need some new pot holders in my life right now! Today, I'll highlight these essential kitchen tools that you can make from scratch at home without spending a lot of money or time. Even better, if you have kids, teaching them how to make DIY potholders from scratch can help exercise their creativity while also helping out around the house.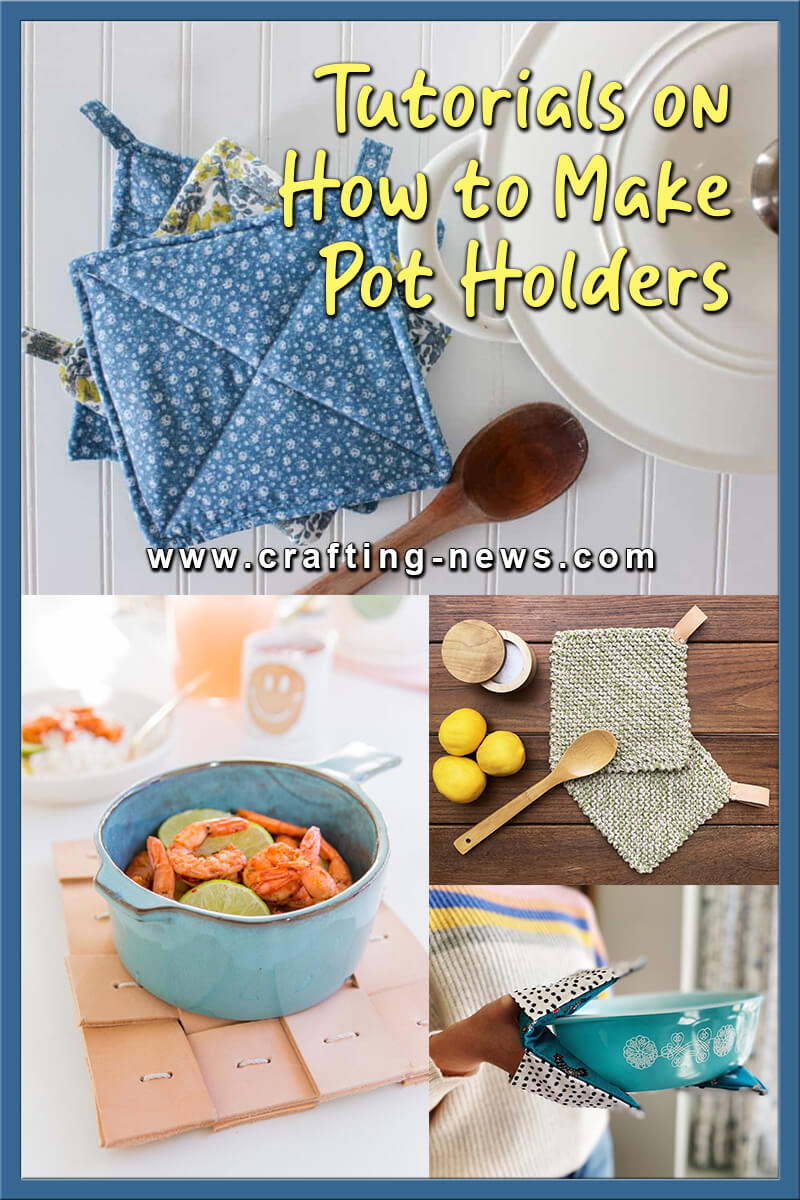 Potholders do not stir up dreams of a romantic kitchen but believe me, they do add to the decor of any table! By designing your potholders, you can get the perfect coordination of color and design without spending a fortune! Potholders are a staple in the kitchen, and besides using them to pick up hot pans, you can use them in place of a trivet on the table or countertop. Potholders are versatile, and their uses go well beyond just the kitchen.
Being able to make your own means a new set is never far from reach, and it adds a personal touch to hostess gifts or to the gifts for any avid bakers and chefs on your list. I think the pot holders made from leather is a clever idea, but there are plenty more to choose from.
15 Tutorials On How To Make Pot Holders
1. How To Make Pot Holders by A Spoonful Of Sugar
If you would like to make a pot holder, here are some instructions on how to make an easy circular pot holder, with pockets for your hand. It includes a layer of Insul Brite batting for extra insulation and protection.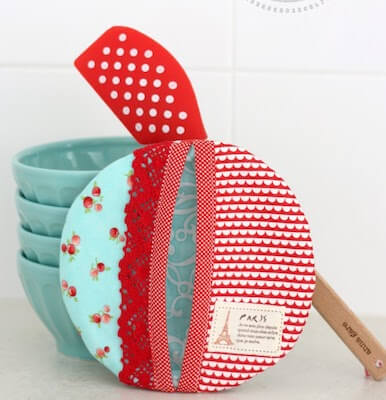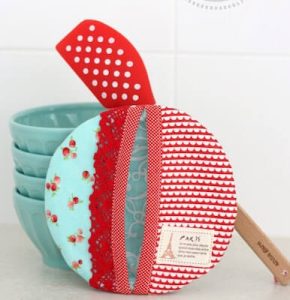 Follow the tutorial here
2. How To Make Heart Pot Holders by Sew Very Crafty
This quick-and-easy potholder is awww-dorable, and it'll look perfect in your kitchen come Valentine's Day. An added bonus: it's great for using fabric scraps!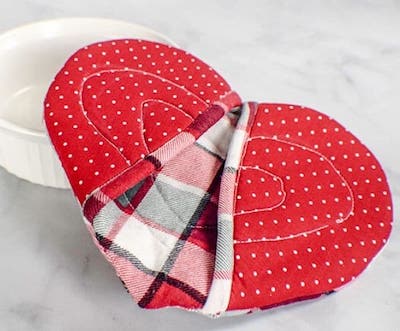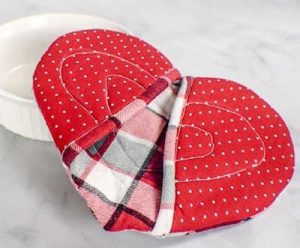 Follow the tutorial here
3. How To Sew Potholders by Back Road Bloom
Learn how to sew potholders by machine in this easy tutorial for DIY quilted potholders that are heat resistant and super cute! These DIY potholders are also made with a fabric ring sewed onto the corner so they can be hung. They're cute so you might as well display them if you can.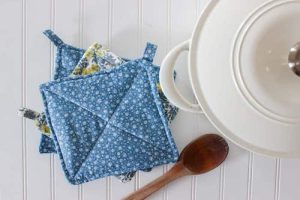 Follow the tutorial here
4. How To Make Leather Potholders by Paper And Stitch
If you want to learn some DIY leather scrap projects, here's your chance! The old, worn-out leather (or maybe some fresh ones from the market) can make stylish (and functional) potholder. Don't blame us if this fusion of sophistication and irresistibility makes the kitchen your favorite spot in your home.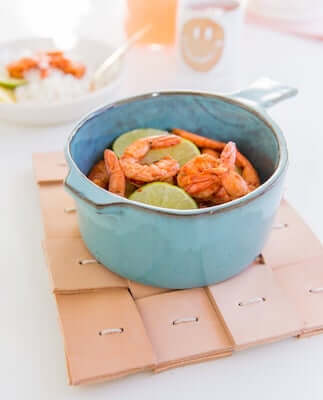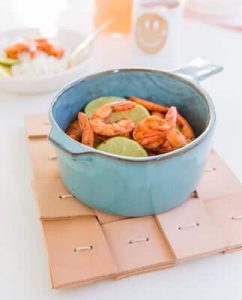 Follow the tutorial here
5. How To Sew Pot Holders With Hand Pockets by Pin Cut Sew Studio
I love this style of pot holder in particular because it has pockets for your hands, so you're not in as much danger of burning yourself as you are when using a basic square pot holder. Also, when cooking with kids, these mitts are great because they can grasp pans more easily that when wearing huge, clunky oven mitts!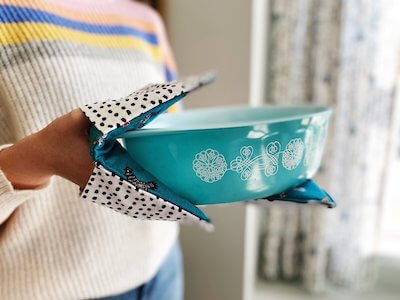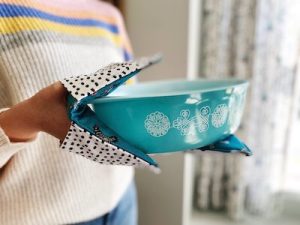 Follow the tutorial here
6. DIY No-Sew Fried Egg Mitts by Aleene's
Make a set of DIY Fried Egg Oven Mitts with no sewing required using simple layers of felt to create pot holders inspired by the popular fried egg emoji. The project comes together in just 5 minutes, and these oven mitts/pot holders are useful to have around the kitchen or cute to give away as a gift.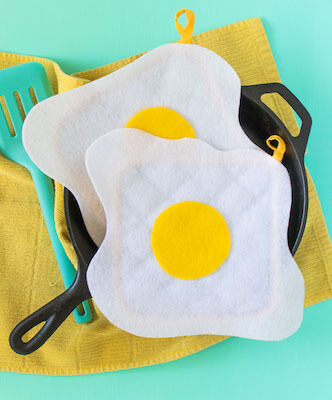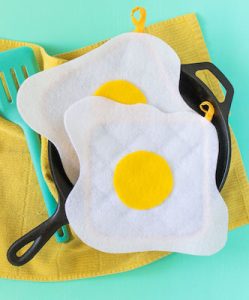 Follow the tutorial here
7. How To Make Recycled T-Shirt Potholders by Mommypotamus
Do you have piles of old t-shirts filing up your storage spaces? Turn them into gorgeous, colorful potholders instead! The DIY potholder process could not be easier, and the end product will be a big help around the kitchen.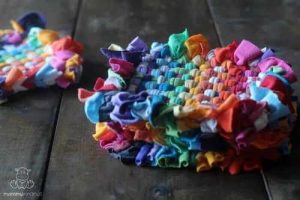 Follow the tutorial here
8. How To Make A Double Pot Holder With Hand Pockets by Make It & Love It
This potholder is perfect for grabbing a large pan/dish right out of the oven! No need to go hunting down the missing second potholer!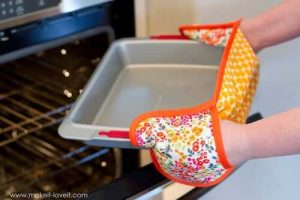 Follow the tutorial here
9. How To Make Linen Potholders by Say Yes
These simple linen potholders are beautiful enough to hang out on the table. They sew up super quick and are adorned with simple straight-line quilting. These would be a lovely hostess gift for Thanksgiving or a holiday present to an avid baker on your list.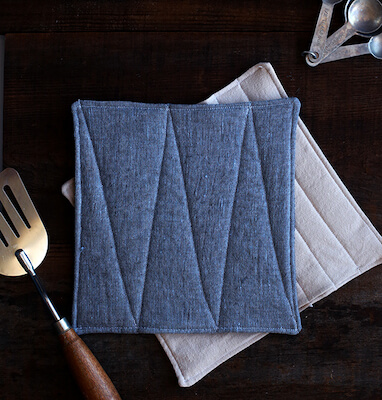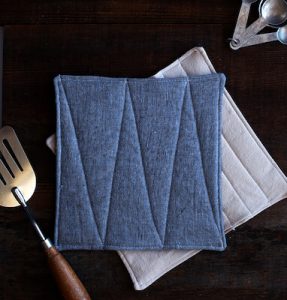 Follow the tutorial here
10. How To Make A Newspaper Pot Holder by Christy Harmon
Newspaper is a good insulator, so why not turn it into a useful item that will protect your table from scorching dishes? Making these easy trivets is not only a fun activity for the afternoon, but it will also provide a tablescape conversation starter for months to come. Try the square version shown, or get creative and make your own design.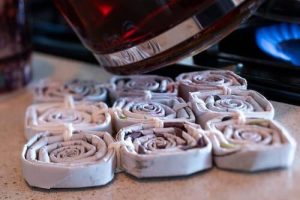 Follow the tutorial here
11. How To Make A Microwaveable Bowl Pot Holder by Create & Babble
Here's a cute way to protect hands and furniture while enjoying a hot bowl of soup, stew, chili, or oatmeal! These soup bowl cozies are fast and easy to make and make wonderful gifts.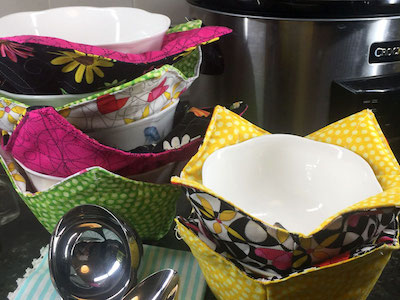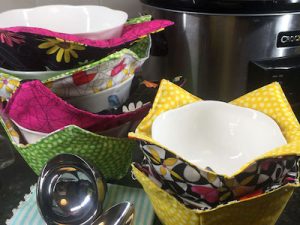 Follow the tutorial here
12. How To Make A Fabric Scrap Potholder by My Frugal Home
Use some of your fabric scraps to make potholders. This simple design doesn't require binding tape, so it's easy enough for beginners. Whip up a set for yourself. Then, whip up several more to give as gifts.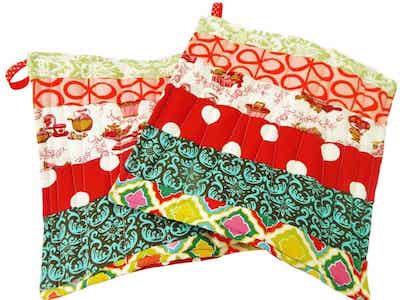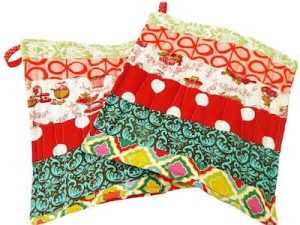 Follow the tutorial here
13. Easy Double Thick Crochet Potholder by Sarah Maker
Potholders are a perfect project if you're new to crocheting or just want to use up some of your yarn. These Easy Double-Thick Crochet Potholders are a quick and easy project you'll love to crochet, over and over again.
It uses a simple combination of basic crochet stitches, so it's easy to learn and quick to make. And, since the potholders are made out of cotton yarn, they're durable and machine washable.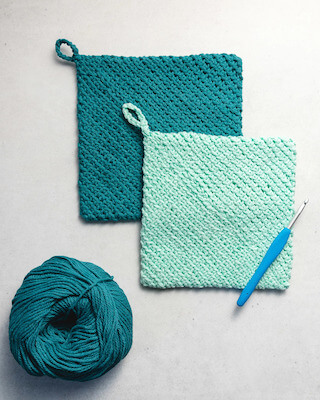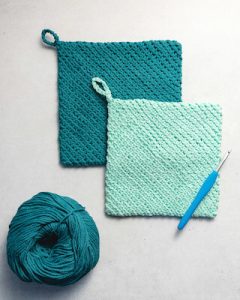 Follow the tutorial here
14. The Perfect Potholder Pattern by Elise Made
Knitting a potholder is an excellent craft for someone who has never knitted before. These knitted potholders are an ideal project that makes such beautiful and useful potholders for your home.
The best part is that it's a lightning-fast knitting project that you can whip up in an hour or less, guaranteed, with two elegant finishing options to suit your tastes, you will want to make a set of these for everyone you know.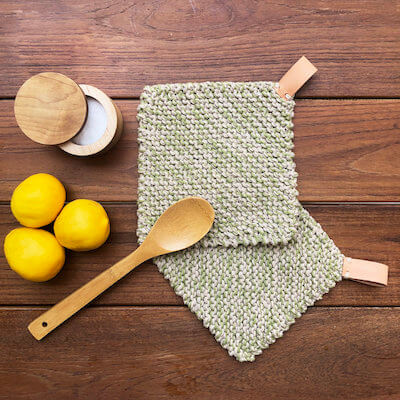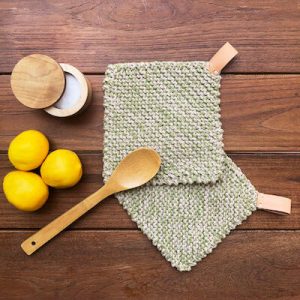 Follow the tutorial here
15. How To Sew A Drop Cloth Pot Holder by Single Girl's DIY
Drop cloth fabric is having its day in the sun. It's cheap, easy to find, comes in large sizes, and can be used for everything. With all of these drop cloth crafts that you might be doing, chances are you'll have some fabric scraps. So why not make a few pot holders?
This is an easy pot holder pattern for beginner sewing. It is made without binding. And these are also made without batting, although you can easily add it.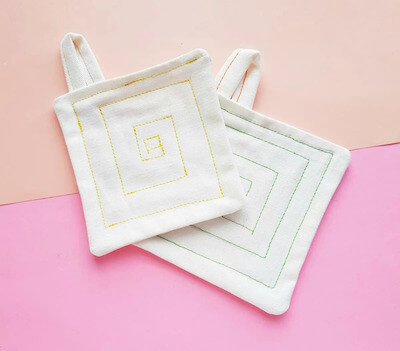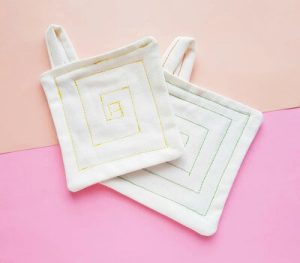 Follow the tutorial here
SPRUCE UP YOUR KITCHEN BY MAKING ONE OF THESE TUTORIALS ON HOW TO MAKE POTHOLDERS.
Include a handmade apron or a placemat and it will be gift no one will soon forget. Once done, please post some pics of your finished projects on our Facebook Page! We'd love to see what you're up to!
These tutorials on how to make pot holders are a great way to make some new pot holders for your kitchen. You'll be surprised how great it feels to bring out a brand new pot holder the next time you go to cook!