Check out these 23 Backpack Sewing Patterns that are simple to make if you have some basic sewing knowledge. Make your own DIY backpack today that will be unique and as sturdily built as you desire.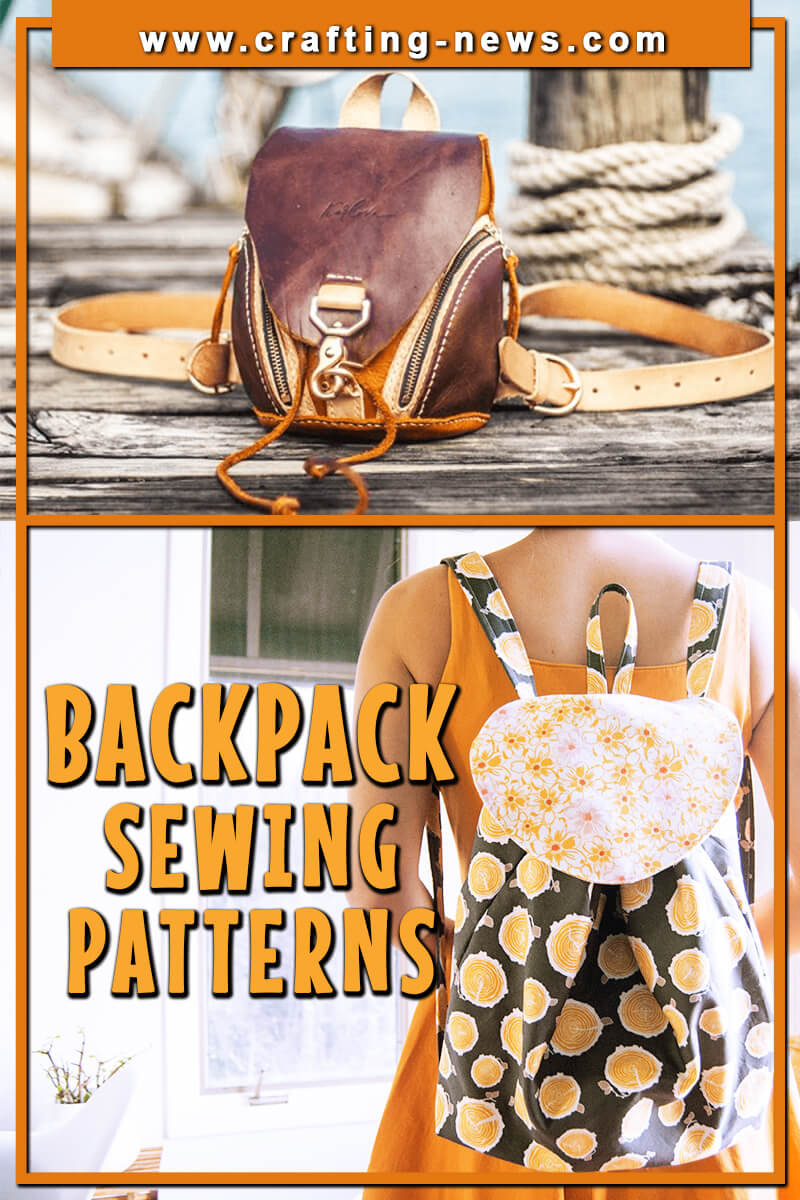 23 Sewing Patterns for Backpacks
Backpacks are great for weekend trips, hiking adventures, carry-on luggage, sports practice, and more. Most of us have owned a backpack at one point in our lives, but have you ever thought about sewing your own?
1. Ruther DIY Backpack Pattern by I think I Sew Bags
This Ruther Backpack is a large bag with convenient proportions, suited for long trips and vacations in the summer. Due to its simple and quick steps, anyone can enjoy this without any uneasiness.
Thanks to its front zipper pocket, the backpack touts a respectable amount of storage options for small belongings. With its stylish look and practical storage, this bag can carry all sorts of things without any worries making it perfect for work or school!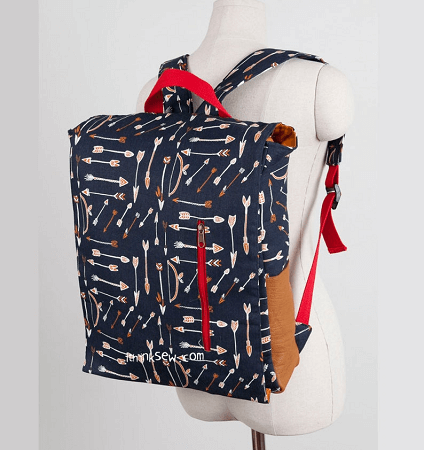 Get the Pattern by I Think I Sew Bags here
2. Lil Adventurer Backpack Sewing Pattern by Peekaboo Pattern Shop
This Lil' Adventurer Backpack is the perfect bag for any toddler or preschooler! The backpack features adjustable straps, drawstring closure with top flap, optional piping, and a front pocket.
Perfect for carrying all of your little ones essentials to daycare, dance class, preschool, Grandma's house, and any other adventure!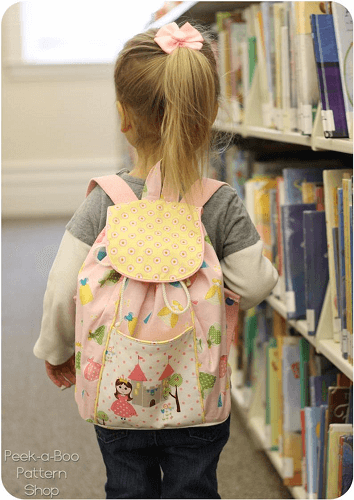 Get the Pattern by Peekaboo Pattern Shop here
3. Mini Backpack Sewing Pattern by Diedelbug Handmade
This Mini Backpack is the perfect mini-sized backpack for both adults and kids alike. Whether it be your everyday bag or vacation hopper you're sure to be prepared for whatever comes your way.
The exterior features two elasticized side pockets, just the right size for water bottles, a front zippered cargo pocket for those extras you need handy and adjustable straps, to make it comfortable for whoever is wearing it.
The roomy interior also features a zippered pocket for those smaller items you just can't lose.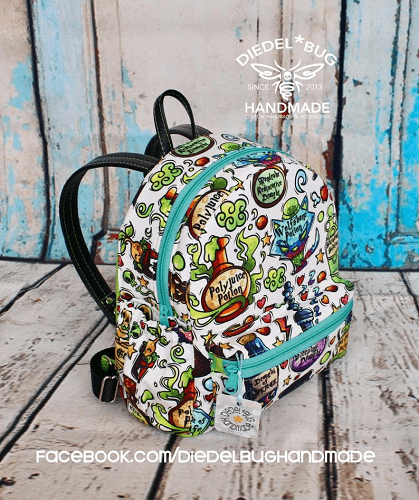 Get the Pattern by Diedulbug Handmade here
4. Girl's Backpack Sewing Pattern by See Kate Sew
This pattern is called the "Girl's Backpack" but you can easily make it for a boy as well – just use the fabrics your boy might like! The pattern calls for a ribbon bow on the front but you can leave it off for a more modern look.
This cute little backpack is the perfect daypack for a playdate – it's big enough for a few little toys and a snack or drink.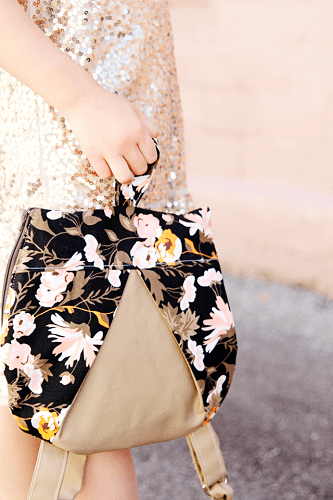 Get the Pattern here
5. Summit Backpack Sewing Pattern by Cloudsplitter Bags
This Summit Backpack is the perfect bag for someone on the go! Great little backpack/sling bag for day trips, biking, walking, vacations, and more!
It has two zippered compartments for convenience. The front zipper has card slots and a pocket within. The central compartment has a padded gadget pocket and a zipper pocket.
The back of the bag has an additional zippered pocket through which the bag is turned in the final step! This bag is designed in a unique piecing way that means no binding and no saggy linings!!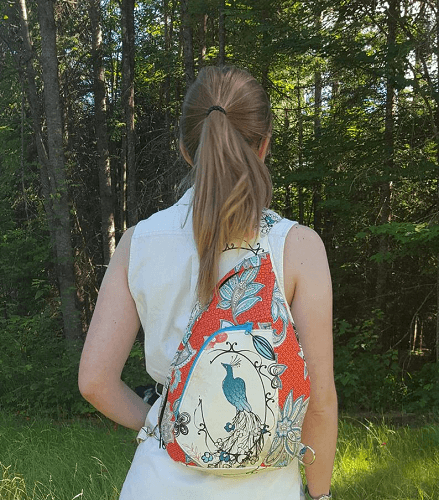 Get the Pattern by Cloudsplitter Bags here
6. Wayfarer Sling Backpack Sewing Pattern by A Quaint Stitch
This Wayfarer Sling Backpack is a sleek and functional everyday carry sling backpack. Its re-positionable cross-body strap design makes it easy to sling the backpack from the back to front or carry as a shoulder bag while allowing quick access to all compartments.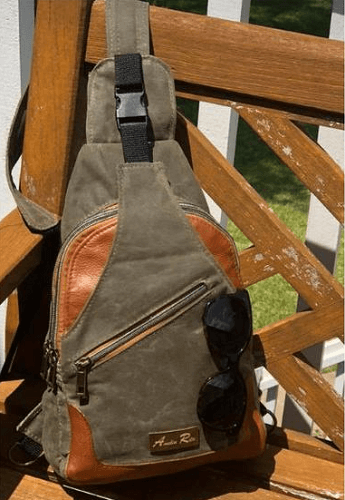 Get the Pattern by A Quaint Stitch here
7. Adventure Time Backpack Sewing Pattern by Andrie Designs
Now is your chance to make your very own Adventure Time Backpack using this easy to follow downloadable PDF pattern. The pattern offers up two different sizes of the backpack – small and large.
The pattern gives you various options to follow, so you can keep it simple and make the basic model or try your hand at a few more tasks and make the more complicated model.
The options in the pattern include adding piping and/or adding an outer side pocket which is perfect for drink bottles.
You also have the option to add an outer front zipper pocket or add an inner zipper pocket and inner slip pocket which is designed to carry books, papers, and even laptops or tablets.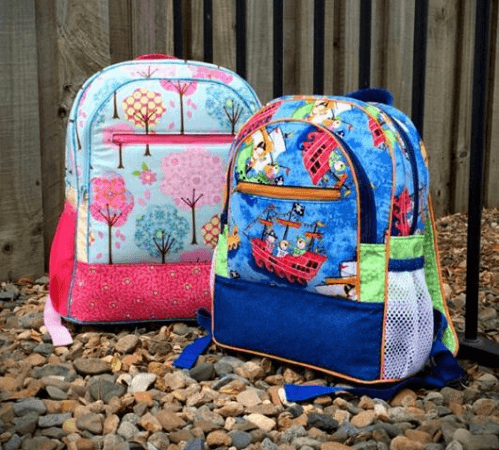 Get the Pattern here
8. Heart Backpack Sewing Pattern by Sew Much Ado
Need a fun project to make for a special little Valentine? This Heart Backpack Free Sewing Pattern that will keep any munchkin smiling all year long! This backpack is fully lined and has adjustable straps, making it perfect for all sorts of shenanigans.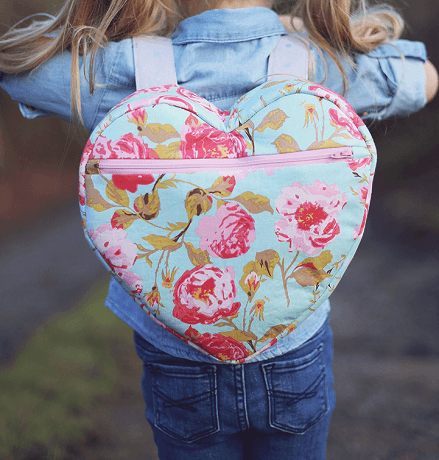 Get the Pattern here
9. Bitty Backpacks Sewing Pattern by Hartland Quilt Shop
These gorgeous 4-inch Bitty Backpacks make the cutest accessory. You can use them for your toys or dolls or as the sassiest little purse.
Large enough for a lip-gloss, credit card, or other necessities, why not hang your back-pack off your back-pack?
These backpacks sew up super quickly and can be made in cotton, felt, vinyl, leather – just about anything!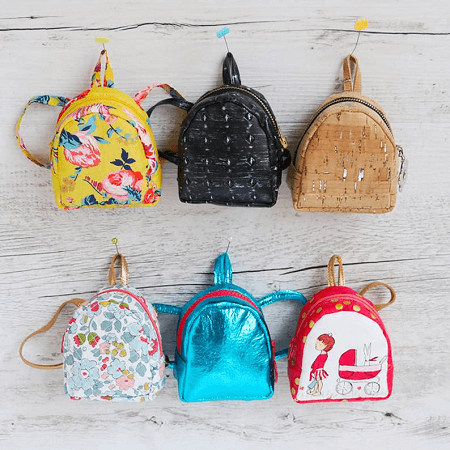 Get the Pattern by Hartland Quilt Shop here
10. Backpack Sewing Pattern by Sotak Co
This charming backpack is suitable for confident beginners or just a great project for anyone who is looking for a large, convenient, and trendy bag! This convertible backpack is the perfect project for you! The project is created for men, women, and children alike! Its big size is ideal for laptops, books and more.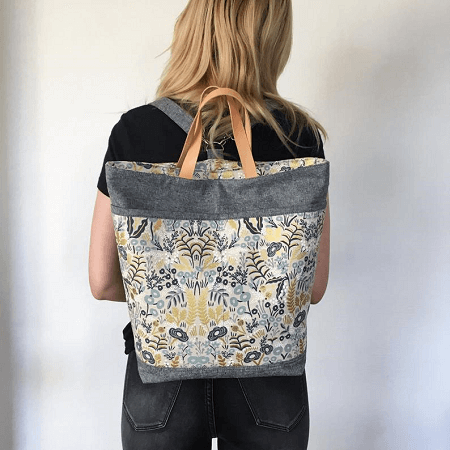 Get the Pattern by Sotak Co here
11. Wanderlust Backpack Sewing Pattern by Sew Modern Bags
You will love the rollover top on this Wanderlust Backpack, which allows for more or less to be packed in depending on whether you are out for the day, staying overnight, or even for the weekend.
It's a large bag with a lot of features but none of the sewings looks too complicated so we think even those fairly new to sewing bags should get a great result with this pattern.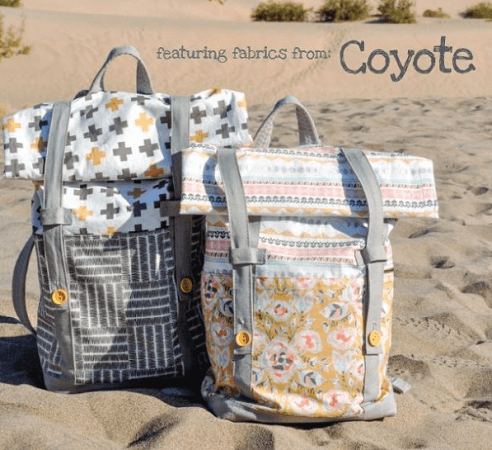 Get the Pattern here
12. Dragon Plush Backpack Sewing Pattern by Choly Knight
This Dragon Plush Backpack is styled to look like the dragon is clinging to your back and looking off to the side. It comes in two sizes – small and large.
The small is suitable for holding a phone and a few other essentials, while the large size is an epic statement piece that can hold a standard tablet. As an optional advanced technique, you can also sew a hidden zipper pocket into the tail.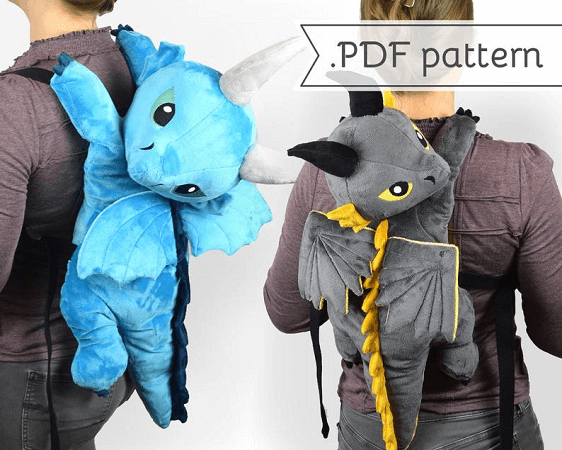 Get the Pattern by Choly Knight here
13. Leather Puppy Backpack Sewing Pattern by Karlova Design
Meet the tiniest backpack on the list, the Leather Puppy Backpack! Almost too tiny to exist, nevertheless it can hold your wallet, phone, and keys. There will be some space left for your lipstick and perfume, too.
Lots of options to play with color, and I believe they all are gonna look good! You won't need a lot of leather for this project, and it can be assembled in one day.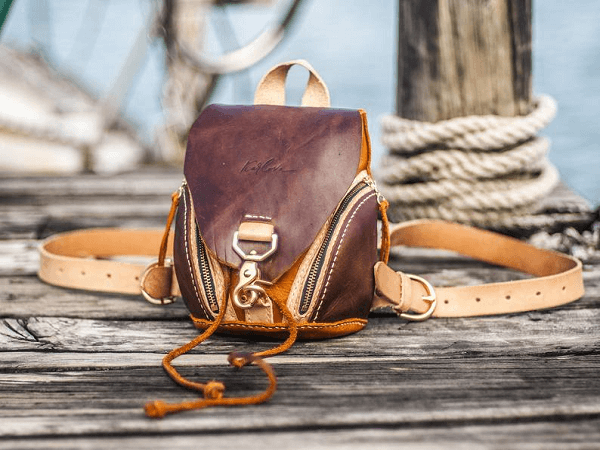 Get the Pattern by Karlova Design here
14. Abbey Convertible Backpack Sewing Pattern by I Love You Sew
This Abbey Convertible Backpack features a convenient front zipper pocket for keys, chapstick, or change, a magnetic snap tab closure for easy access to the main compartment, a back slip pocket – perfect for your phone, boarding passes, or concert tickets, an interior zipper pocket to keep valuables safe, and a generously sized adjustable strap which can be used for the backpack or crossbody.
You will love having this unique design which you can (of course) keep, but also gift to friends and family, both young and mature.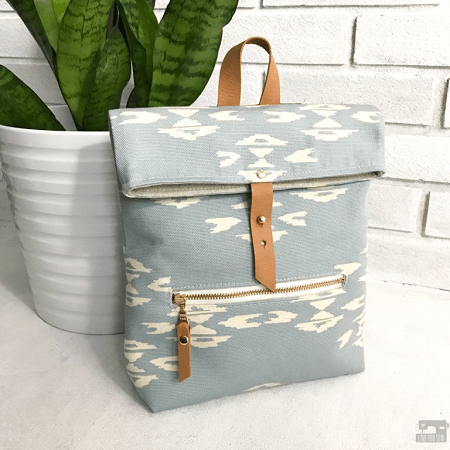 Get the Pattern here
15. Sew Can Do Space Saver Backpack Pattern by thegreenhedgehog
You can never have enough pockets, and this backpack sewing pattern takes that into consideration. It has several pockets on the front and one on each side. The interior of the bag is roomy and easy to get into.
Finished, the backpack measures 12 inches wide x 16 inches high x 6 inches deep. You can use almost any type of fabric from waterproof Oxford, PUL, laminated cotton, canvas, denim, corduroy, ripstop, to woven Cotton.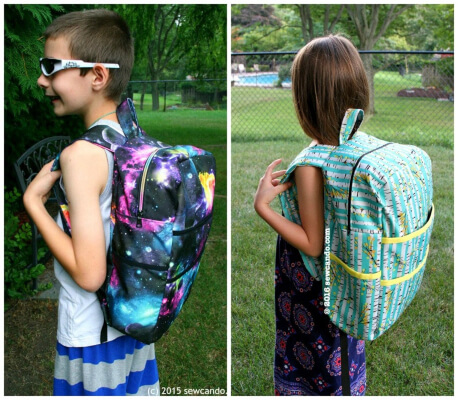 Find the Pattern by thegreenhedgehog HERE
16. Cat Backpack Sewing Pattern by Sew Much Ado
Kids will love wearing this cat backpack. It is perfect for school and sleepovers. The designer of the bag also has other sewing patterns for backpacks, which include a bunny and heart. So, you can make a different bag for all your kids.
The free backpack sewing pattern includes detailed instructions and several photos. It is an advanced level sewing pattern.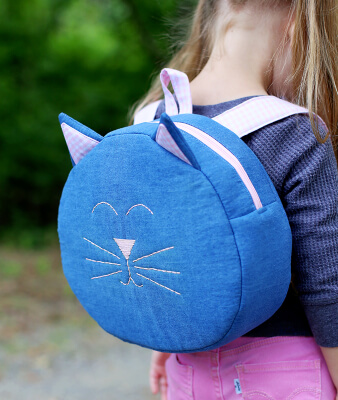 Find the Pattern by Sew Much Ado HERE
17. Dylan Backpack Sewing Pattern by ArdenteDesign
The Dylan backpack has an interesting design that makes it great for hiking. Use the side pocket to hold your water bottle or a flashlight. It has 4 pockets (3 zippered) which help to keep everything secure. The back panel and shoulder straps are padded for extra comfort.
You can access the main compartment of the backpack from the top or the side. The side opening is a useful solution when you need to get to things quickly. The pattern is for advanced sewers. There are instructions for 2 sizes: medium and large.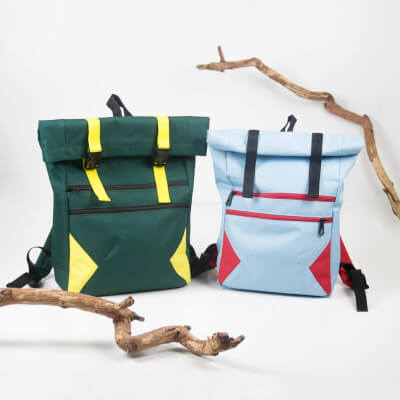 Find the Pattern by ArdenteDesign HERE
18. Mini Sling Bag Pattern by MyStoreAU
Here is a super cute backpack that can be used every day as your regular go-to bag. This bag is the perfect size to use instead of a purse. Simply wear it as a backpack and never worry about sitting it down somewhere and forgetting it.
To sew this DIY backpack pattern, you will need to know how to work with fusible interfacing, attach bias binding, sew an invisible zipper, and how to install bag closure.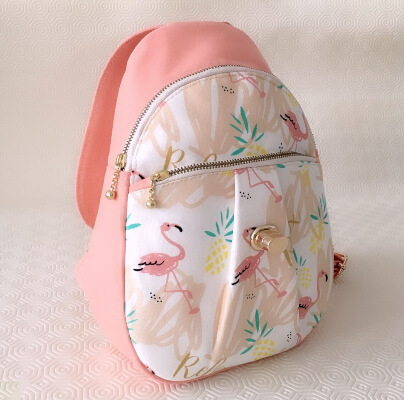 Find the Pattern by MyStoreAU HERE
19. Tiny Explorer Backpack Pattern by DiedelbugHandmade
This Diedelbug mini backpack pattern can be used for boys and girls. Find a fabric pattern that suits their personality and sew them this classic shaped backpack. It features padded straps and one exterior pocket. The interior has one zipper pocket and two side pockets.
The mini backpack sewing pattern is perfect for toddlers and preschoolers. It is big enough to hold all their essentials while not being so big it will tip them over.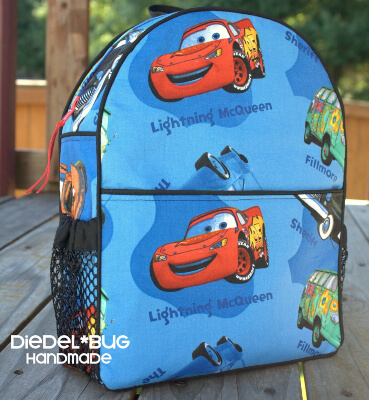 Find the Pattern by DiedelbugHandmade HERE
20. Drawstring Bag Pattern by SandraPatterns
Here is a beginner level backpack sewing pattern for a cute bunny bag. The pattern has numerous steps-by-step photographs and a detailed description of each stage. You can bet that your child will want to wear it everywhere they go.
The download includes instructions for 3 backpack sewing patterns. There are small, medium, and large. The small size is for 1 year to 3 years. The medium size is for 3 years to 8 years. And the large is for 8 years and older.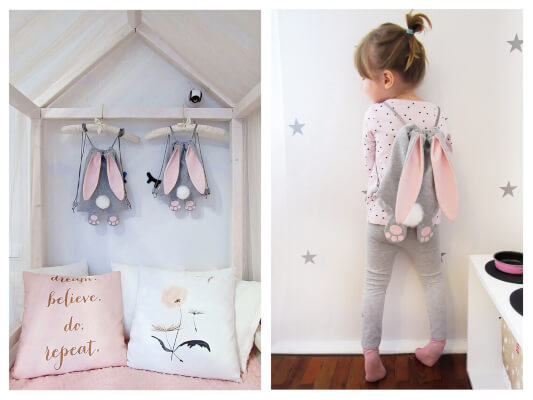 Find the Pattern by SandraPatterns HERE
21. Little Hitchhiker's Backpack Tutorial by Christina McKinney
If you are looking for a free backpack sewing pattern for a small backpack, this one is great. The backpack is designed to fit a preschooler/kindergartener.
There are a ton of photos that will help you each step of the way. Even though this is an easy sewing tutorial, we would recommend it for an advanced beginner to intermediate level sewer.
Find the Pattern by Christina McKinney HERE
22. Kalani Backpack Sewing Pattern by IThinkSewBags
The Kalani Backpack is a charming backpack. It is stylish and classic. Thanks to the large interior and smaller zipper pocket, you can take everything you need with you. It is the ideal size for small outings and short trips.
Completed, the bag measures 12 inches wide x 13 inches high x 3 inches deep. The instructions describe each step in detail. There are also accompanying pictures.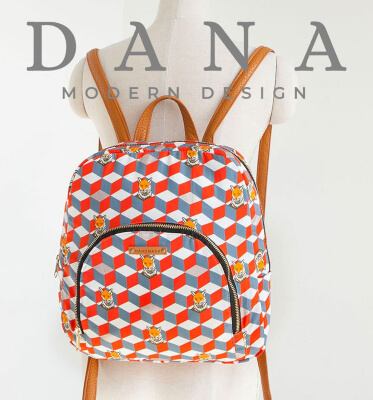 Find the Pattern by IThinkSewBags HERE
23. Leather Backpack Pattern & Video Tutorial by PlagueDoctorMask
If you enjoy working with leather, this bag is perfect for you. It can be used for a woman's bag or a man's bag. There is a lot of work involved in making this bag, but the final results are well worth it.
Along with the PDF pattern, you will get a link to a video tutorial. The backpack is big and there is enough room to fit some clothes, a laptop, and other small items.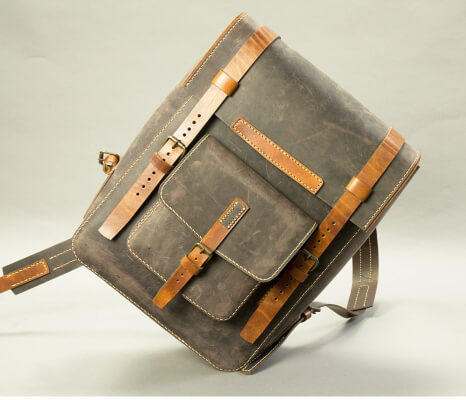 Find the Pattern by PlagueDoctorMask HERE
A backpack lets you take your life with you. Might as well do it looking adorable by whipping any of these backpack patterns!
When you're done with these sewing patterns for backpacks, flaunt your creations on our Facebook Page. Pretty sure everyone else would love to see them!
And you might as well like to check out our collection of Macrame Purse Patterns and Leather Purse Patterns. From simple coin purses to constructed clutches, there's a style suitable for everyone! And don't forget to accessorize your backpack with these DIY Luggage Tag Ideas.
We hope these 23 backpack sewing patterns inspired some new projects that you can't wait to dive in!