Always tag your luggage, folks! While there are plenty of tags out there to buy, we always prefer the DIY route. So we've rounded up a few DIY luggage tag ideas for your inspiration. There really is a tag to suit every traveler.

Whether taking a summer road trip or heading out on holiday travels, you've got to tag that bag! It's easy to lose your suitcase in a sea of similar baggage, but it makes it much easier (and way more fun) to spot your suitcase if you've got a one-of-a-kind luggage tag.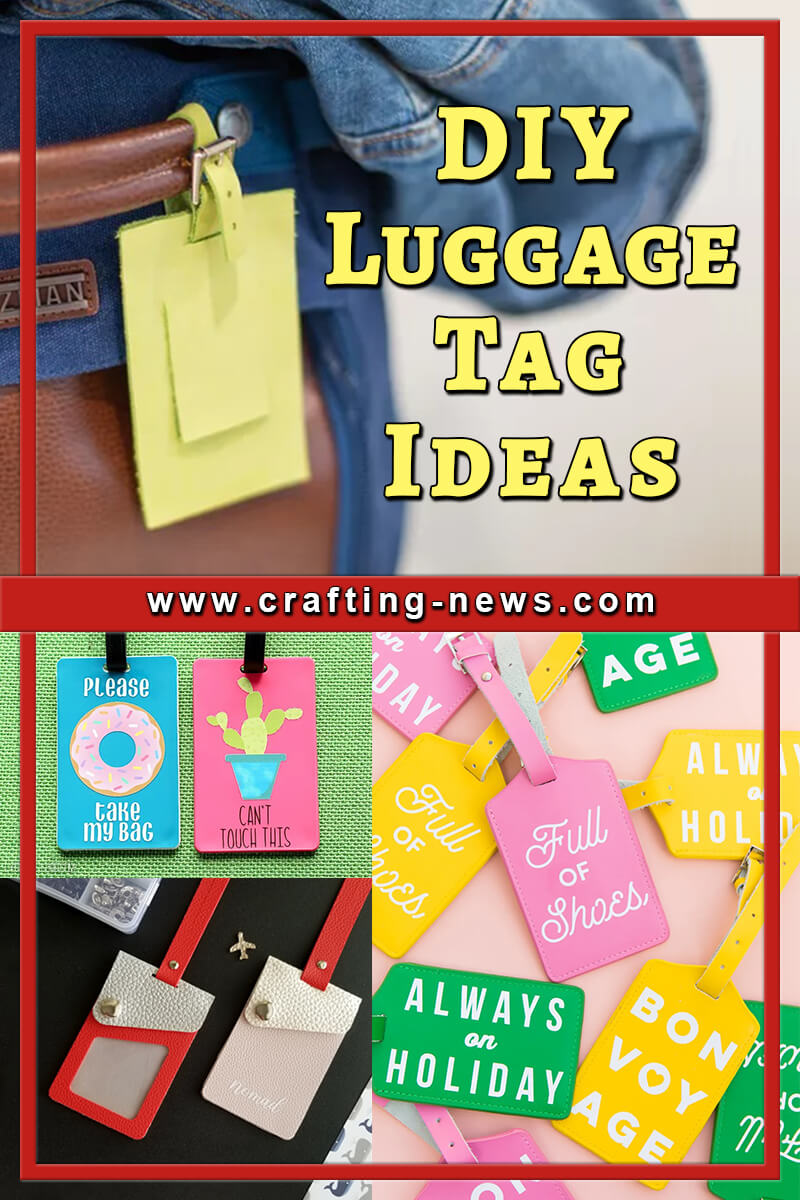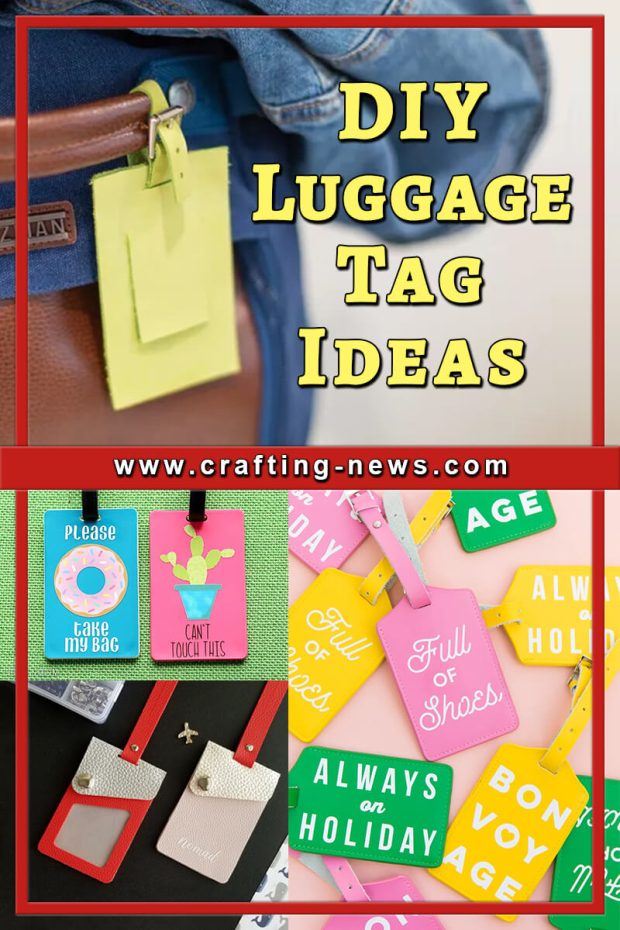 20 Luggage Tag Ideas
Consider how much easier it would be to wait for your bag if it had a brightly colored tag attached to it that you could see right away. And, let's be honest, it's another chance to accessorize your travel gear in style, which we always take benefit of!

1. DIY Luggage Tag Made From Jeans by Scratch And Stitch
Travel in style with a set of upcycled denim DIY luggage tags. They are durable enough to hold up to the wear-and-tear of traveling. Plus, they'll help you spot your black suitcase among the sea of other black cases.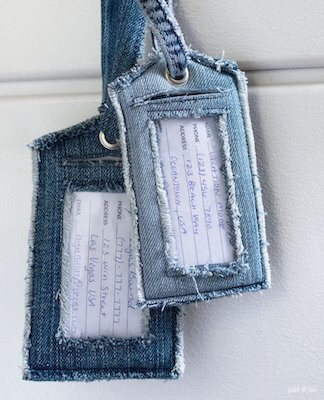 Follow the tutorial here

2. Rustic Wooden DIY Luggage Tags by Ideas For The Home
Create a unique rustic wooden diy luggage tag to add a creative flair to your bags and help make them easy to recognize. They're super durable and since they're unique, you'll be able to spot your bags a little quicker when traveling.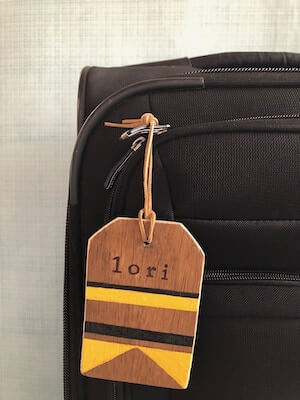 Follow the tutorial here

3. DIY Luggage Tags by The Idea Room
This set of luggage tags is designed to fit inside plastic luggage tags that you can buy online. All you need to do is print out the tags and insert them into the purchased plastic tags. If you don't want to buy the plastic tags, you can always laminate the luggage tags yourself after you print them out.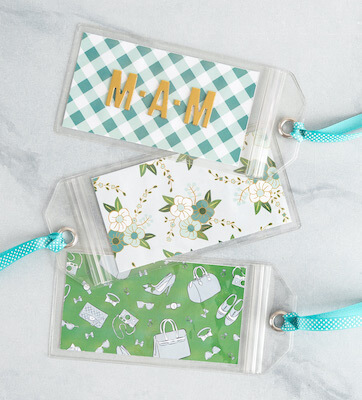 Follow the tutorial here

4. DIY Leather Luggage Tags by Lia Griffifth
Learn how to make your own luggage tags with this stylish DIY luggage tag template and tutorial, which also shows you easy techniques for staining leather. It's probably much easier than you think!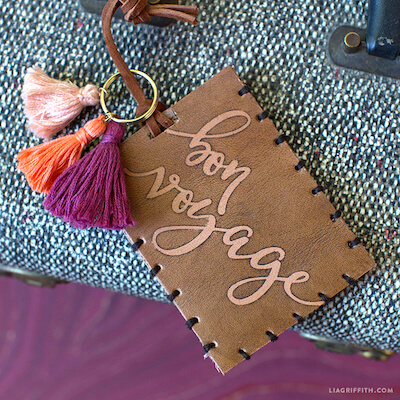 Follow the tutorial here

5. DIY Luggage Tags by Handmade Charlotte
Getting ready to jet set? Make these customized luggage tags for all your adventures this summer – summer camp, family vacation, sleepovers, or even back-to-school! Even if you're not going on a trip, they'd look cute on a backpack.

The fun part about this project is that it's totally customizable! Gather up and extra odds and ends that you want to use, mix in a few pompoms and beads and you're good to go.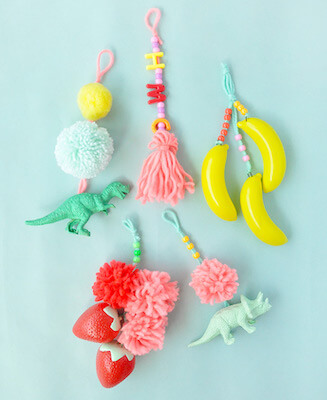 Follow the tutorial here

6. DIY Luggage Tags by Sew Simple Home
Traveling can be stressful, but your labeling your luggage should not be part of that stress. Instead, be prepared every time you travel with this DIY luggage tag tutorial.

It is a fast project and great scrap buster idea. Plus, you can make coordinating tags for family and friends traveling with you.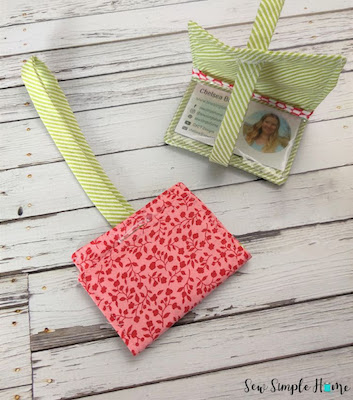 Follow the tutorial here

7. DIY Shrinkable Plastic Luggage Tags by Lovely Indeed
You can make these summery little luggage tags in any shape you like, color them in, fill out your info, and hit the road!

Just draw a cute piece of fruit onto shrinkable plastic, and add your info before shrinking in the oven. They're so adorable that you'll want to pop them on your daily handbag or backpack to match your luggage.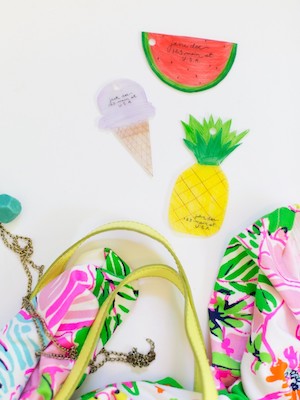 Follow the tutorial here

8. DIY Typographic Luggage Tags by Sarah Hearts
Have clever luggage tag, will travel! For your favorite globe-trotter, these embellished tags will help them quickly ID their bags. In just a few minutes you can have your own custom set of tags for every piece of luggage you own.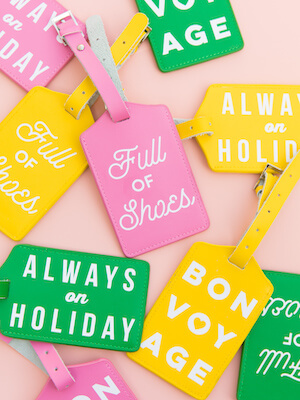 Follow the tutorial here

9. DIY Pom Pom Leather Luggage Tags by Sugar & Cloth
These tags packs the leather punch we love with an added bonus: pom poms! In case you're not the avid traveler type, this would also be a really cute project for kids bags for school, baby bags, clutches, or overnight bags. Plus, they're a great reason to have a ton of ridiculous colors in one fluff ball!
For the pom poms, you can use a Pom pom Maker.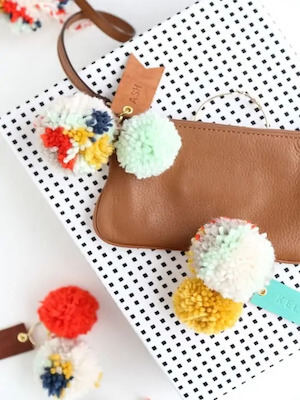 Follow the tutorial here

10. Foiled Tropical Luggage Tags by Lia Griffith
Whether you're off to a tropical destination or an important business trip, these foiled luggage tags will have you looking stylish on the runway.

They're the perfect size to slip your business card into so your valuables don't get lost. Plus, you will love the sheen this foiling technique gives; it's a great way to catch your eye at baggage claim.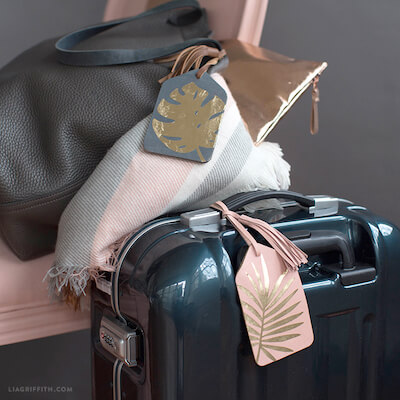 Follow the tutorial here

11. Watercolor Free Luggage Tags by A Beautiful Mess
It would be fun to first give your luggage a little makeover with these adorable tags before you head out of town. To make them, you will need a sheet of vegan tanned leather, watercolor paints, a keychai clasp, and a gold paint pen.

The tutorial shows you how to put all of these supplies together into luggage tags that are worthy of being used on stylish handbags too.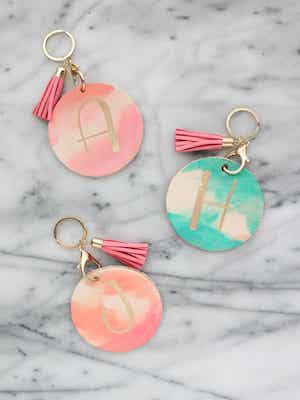 Follow the tutorial here

12. No Sew Leather Luggage Tag by The Spruce
This no-sew leather project is sturdy, beautiful, and totally customizable. It's a simple project that comes together in no time, so you can get on the road!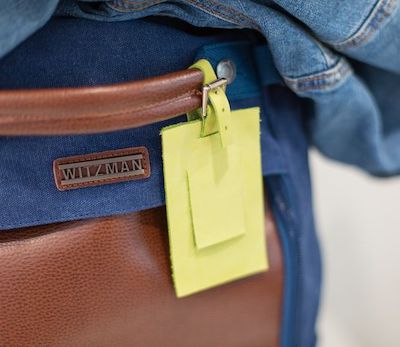 Follow the tutorial here

13. DIY Luggage Tag Save The Dates by Something Turquoise
Make the most darling Luggage Tag style save the dates for your destination wedding! No matter if you're planning to say "I do" in a tropical beach locale or a romantic setting in the mountains, this will be the perfect way to get your guests excited about their upcoming need to travel.

Get your besties together for a night of wine and wedding crafting to thoroughly enjoy the making process!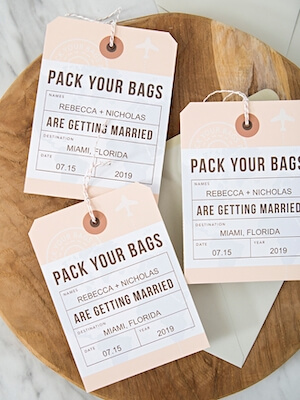 Follow the tutorial here

14. Wood Burning DIY Monogrammed Luggage Tags by Anika's DIY Life
If you are looking for a beginner wood burning project, this is the perfect one! Watercolor corners add a hint of interest, and this DIY looks great when used as a homemade gift tag too.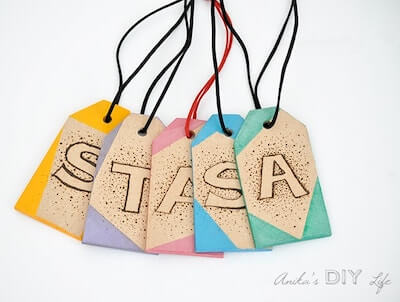 Follow the tutorial here

15. Cute DIY Luggage Tags by Mod Podge Rocks
Make DIY luggage tags that make a statement! Customize these cute luggage tags any way you like with Mod Podge and scrapbook paper.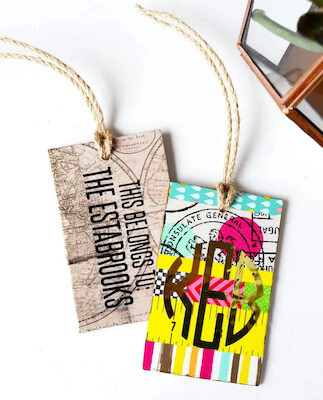 Follow the tutorial here

16. DIY Photo Art Luggage Tags by Little Red Window
Transfer your personalized photo art to wood to make these fun and unique photo art DIY luggage tags! Inspiring luggage tags of the things, places, or memories you want to take with you in your travel.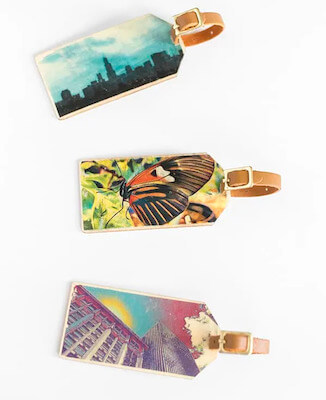 Follow the tutorial here

17. DIY 10 Second Brushstroke Luggage Tags by Almost Makes Perfect
These luggage tags are very simple to do. They are just regular leather luggage tags, but by using leather paint, you can create these beautoful brushstroke style tags. The more abstract the art, in this case, the better.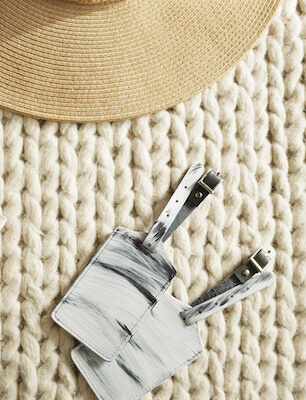 Follow the tutorial here

18. DIY Luggage Tag Made From Recycled Maps
Build excitement for your next family vacation by creating a colorful DIY luggage tag. No need to go out and purchase supplies, this is a good way to recycle an old map.

Use recycled maps from where you are traveling to, where you have been or even of your hometown. Even if you don't have an upcoming trip planned, this is a great gifting idea for mom, dad, grandma and grandpa.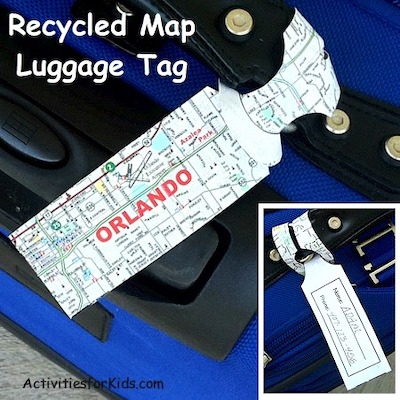 Follow the tutorial here

19. DIY Luggage Tags That Talks by Lydi Out Loud
You've probably seen some kind of these adorable luggage tags. Personalize your own and speak your mind by making one of these for your own travel bags.

They are easy to spot and although they don't actually speak, their message to any would-be absentminded suitcase grabber is loud and clear, don't you think?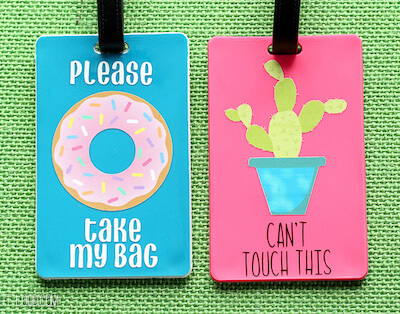 Follow the tutorial here

20. DIY Sweets-Inspired Luggage Tags by The Small Adventurer
Who knew felt could be so cute? These luggage tags look good enough to munch on. Design a trio of sweet treats for a complete set.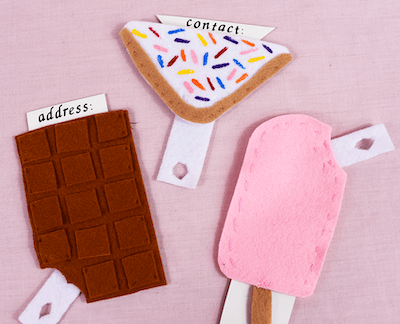 Follow the tutorial here
GATHER YOUR MATERIALS, FOLLOW THESE DIY LUGGAGE TAGS AND PACK YOUR BAGS!
We would love to see your takes on these crafts! Share what you've been up to by posting pictures of your creations on our Facebook Page — your creativity is our biggest inspiration!

Check out more of our gorgeous DIY project round-ups: