You give flowers and bouquets to show the depth of your love, but then they wither within a week's time. With these fun and colorful DIY Paper Flower Bouquet, the blossoms–and your sweet gesture–could last a lifetime.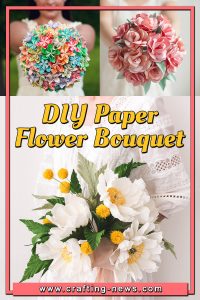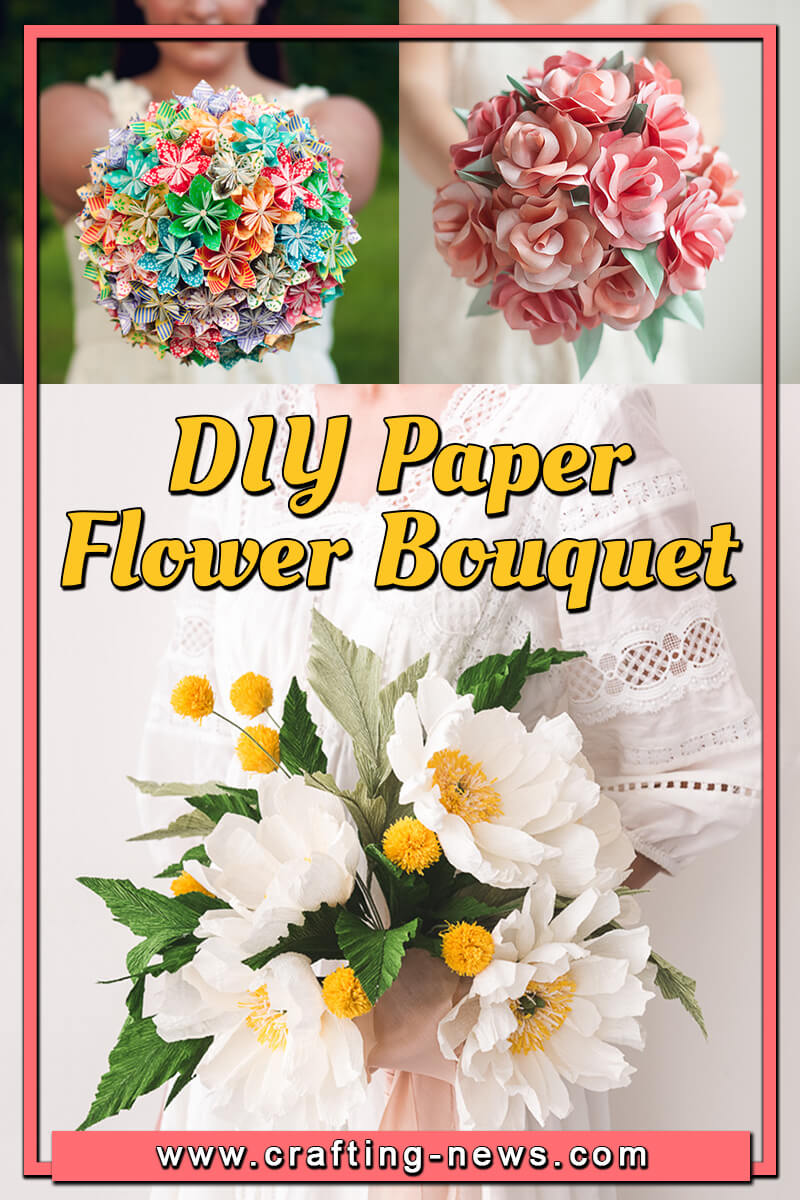 Making any blossom is a fun and imaginative process inspired by nature. Here are the elements of real flowers–and how to mimic them with paper and crafts supplies.
With all these projects below, you can enjoy a wonderful variety of flowers all year long, and guess what? You don't even have to water them!
1. Paper Flower Wedding Bouquet by The House That Lars Built
Do you have any weddings to attend this year? Perhaps you're a soon-to-be bride? Either way, you probably know flowers are a huge part of weddings and for good reason.
Tied with a lovely silk ribbon, no one would ever know this bouquet wasn't real! Plus, it lasts long after the big day. Now you've got an heirloom wedding bouquet that you can have for years to come. Just set it in a vase or use it as a centerpiece!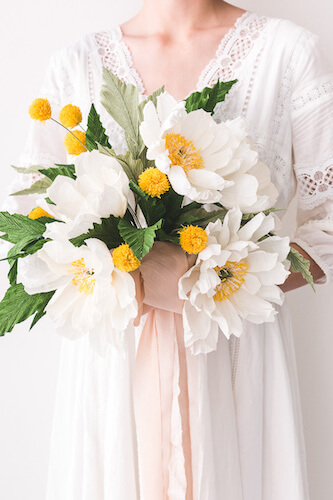 Find the tutorial here
2. Giant Hyacinth DIY Paper Flower Bouquet by Hello Wonderful
Since these hyacinth flowers are so large, you don't need to make too many to make an impressive bouquet! The tutorial offers 3 size and you'll love it. Simply print out the tag, tie a ribbon through the stems and present these gorgeous hyacinths to mom on Mother's Day.
Another thing you will love about these flowers is the simplicity. Construction paper, glue, tape, scissors, pretty much craft materials everyone has a home is all you'll need.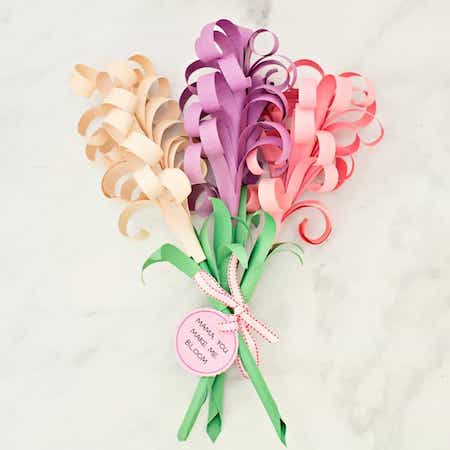 Find the tutorial here
3. Origami Paper Flower Bouquet DIY by Capitol Romance
These origami bridal bouquets are remarkably simple to make, and can be made to your taste using a variety of different types, colors, patterns and sizes of paper.
It recommended to do a few practice flowers with pre-cut, thin origami paper first. Once you've become more adept, try cutting squares out of magazines, vintage books — not antique (!!!), just old — or using thicker scrapbook paper for a different "look.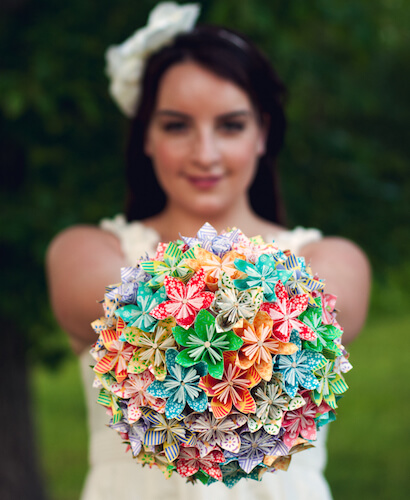 Find the tutorial here
4. Pretty Paper Flower Centerpiece by Purely Katie
Learn how to make paper flower bouquet Centerpiece with just a few easy steps and supplies. The flowers are very easy to make and you can use whatever kind of scrapbook paper you would like to for a theme.
This centerpiece would be great for weddings, party favors or baby and bridal showers. Also, this would make for a lovely Mother's Gift that mom can keep a lot longer than real flowers.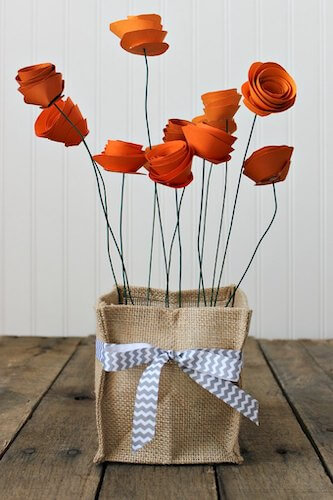 Find the tutorial here
5. Paper Rose Wedding Bouquet by Lia Griffith
This version of paper rose includes three tones of pink, peach, and blush. The watercolor print on both sides creates a visual texture that adds a painterly touch. This lovely paper bouquet diy would make a gorgeous touch to your wedding, a great Mother's Day gift or centerpiece to dress up a table.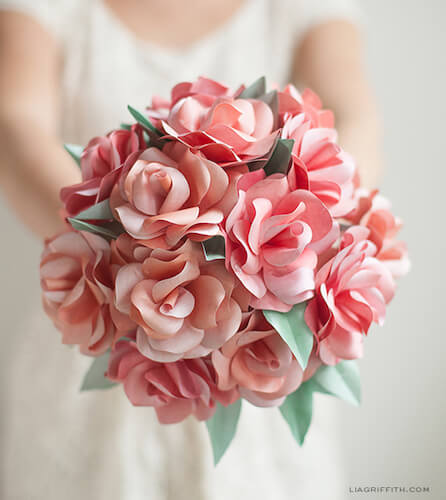 Find the tutorial here
6. Bouquet Of Paper Flowers by My Poppet Makes
Make a stunning bouquet of paper flowers to give as a gift, or to enjoy year round in your own home. These paper flowers have a minimalist design that will add a pop of colour to any space.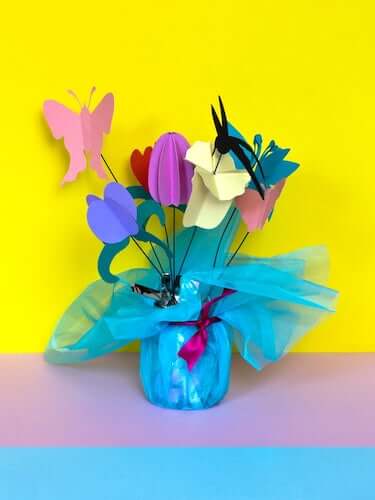 Find the tutorial here
7. DIY Paper Flower Bouquet by Ruffled
Learn how to create this vibrant and artful paper flower bouquet filled with ranunculus, anemonies, poppies, and a darling peony. These paper flowers are made using crepe paper, acrylic paint, and to add some life-likeness to the mix, preserved greenery.
This may not be the quickest paper bouquet DIY, but it sure is the most rewarding. You can make these to pretty up your office desk, your home or decorate your wedding tables.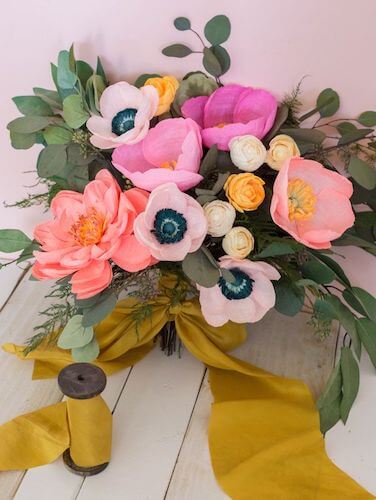 Find the tutorial here
8. DIY Giant Kraft Paper Flowers by The Merry Thought
Are you looking to make some extra big paper flowers? This free tutorial will show you how to make petal templates from cardboard and then use them to cut out the flower shape from Kraft paper and construction paper.
You can leave the flowers as is or spray paint some branches to make stems. This is an easy project that's going to make a big impact.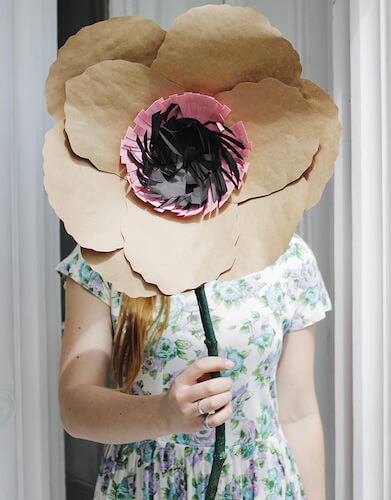 Find the tutorial here
9. Easy DIY Paper Flowers by Pure Sweet Joy
These paper flowers are a great way to add the colours of your choice and make a huge bunch for a fraction of the price of a bunch of fresh flowers. Once you're in the swing of things, you can easily binge your favourite show while building up you flower bunch. Win!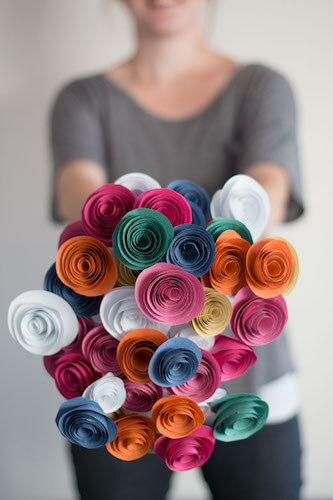 Find the tutorial here
10. DIY Paper Flowers by Happy Happy Nester
If you love spring blossoms in your home, then you'll like this paper project at home! What you will love about this version of paper flowers is that you will attach them to real twigs. So, not only is this easier, the real branches make the flowers look more realistic. If you make them, your friends and family will think that they are the real deal!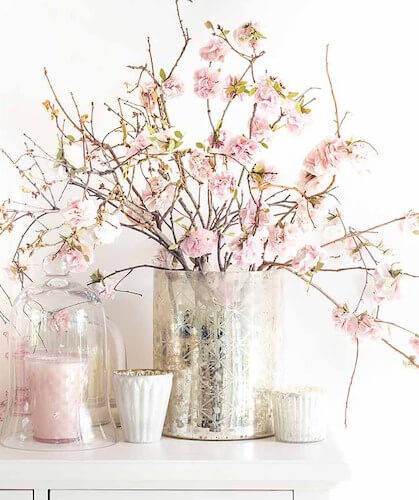 Find the tutorial here
11. DIY Paper Spider Mums byLive Laugh Rowe
These paper spider mums use a simple fringe + roll technique which will be easy enough for kids to learn to make! This is another paper flower you can make using standard size colored paper.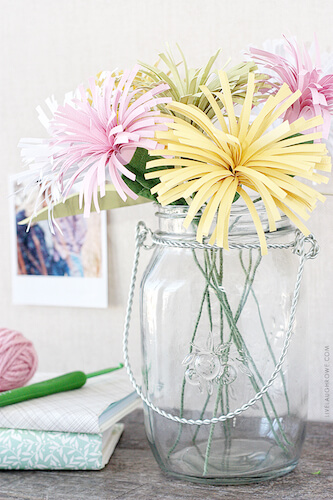 Find the tutorial here
12. DIY Paper Hydrangeas by Lia Griffith
These gorgeous, hand-painted hydrangea blooms are crafted from metallic paper for a subtle sheen that delicately catches the light. While this project may seem daunting, the stunning outcome will make it all worth it.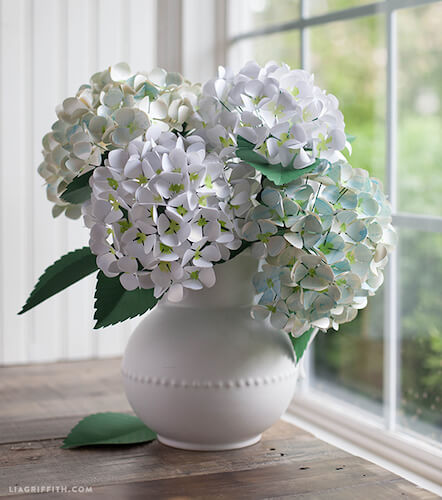 Find the tutorial here
13. Super Easy DIY Paper Flower Bouquet by Still No More
Are you looking for a DIY idea that your kids can engage with? Why don't you try making these super easy DIY paper flowers for kids? This flower paper idea is extremely easy and thus it is very suitable for your kids.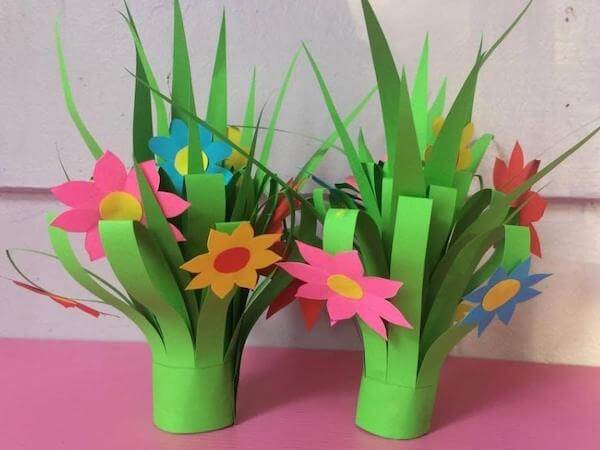 Find the tutorial here
14. 3D Paper Bouquet DIY by Hello Wonderful
With Mother's Day coming up, we have flowers on our mind. Gift mom something beautiful and handmade like these gorgeous Paper Flower Bouquets. Kids can get in on the fun by helping punch out paper, tape, glue and assemble flowers. They can also design their own 3D vase by coloring their own!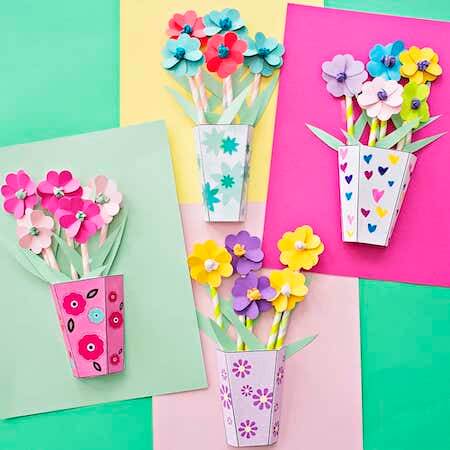 Find the tutorial here
15. Giant Paper Flower Bouquet Centerpiece by Creative Jewish Mom
Giant paper flower bouquets are perfect for every occasion and so simple to make! Don't just add this one to your list of "want to makes", make them now!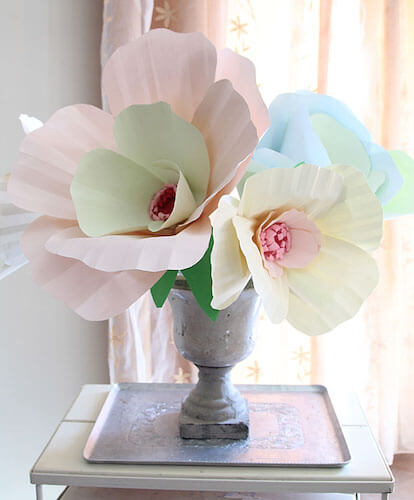 Find the tutorial here
16. DIY Tissue Paper Anemone Bouquet by Lia Griffith
The anemone is a lovely delicate flower that has become a bridal bouquet flower. These paper anemones are made entirely from tissue paper which give a delicate finish and a bit of transparency to the petals.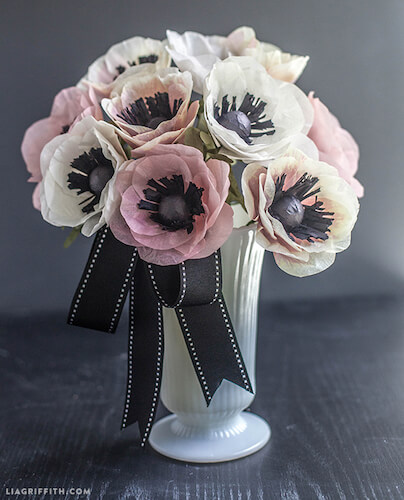 Find the tutorial here
17. DIY Paper Tulips by Paper Shape
These paper tulips are the perfect love flower to make a bouquet with. Tulips are gorgeous spring flowers, but they have a limited season so why not make some to display all year round?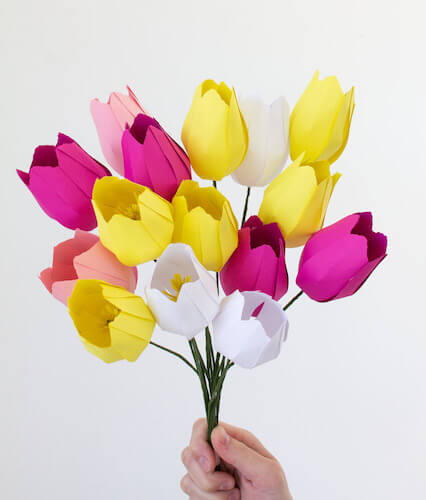 Find the tutorial here
18. DIY Paper Flower Bouquet by Oh Happy Day
A simplified flower like these feel super fresh—especially in such bright and cheerful palette of colors. These would be such fun party favors—or give them out on Valentine's Day!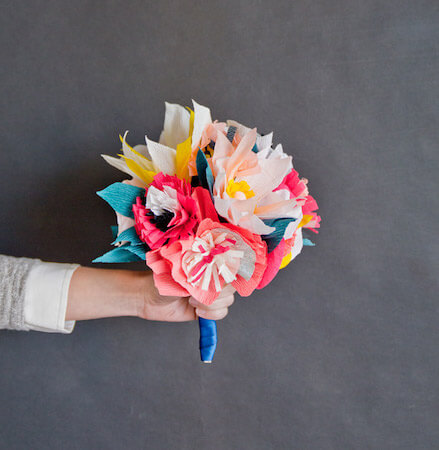 Find the tutorial here
19. DIY Paper Flower Wreath by Gathering Beauty
This DIY Paper Flower Wreath is a cute project you can make in an afternoon. All you need is a few simple materials: pretty pastel paper for your flowers and a foam ring to attach them to.
Made using simple paper flowers that really are the easiest thing to make, it's perfect for adding a pop of colour to your living room, dining room or bedroom.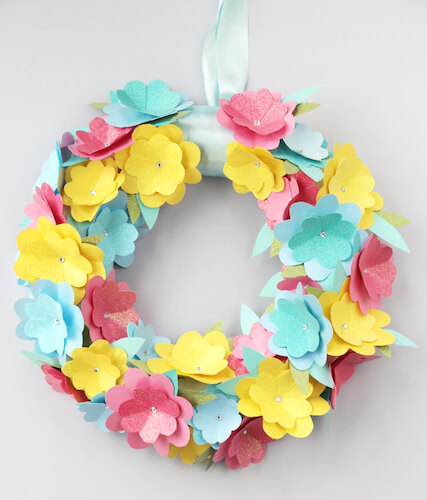 Find the tutorial here
20. DIY Paper Flower Bouquet Floral Kissing Ball by A Wonderful Thought
DIY Paper Flower Bouquet Floral Kissing Ball is a beautiful mantelpiece. These romantic decorations would look gorgeous on your mantel. Perfect for Valentines Day, or for a wedding or anniversary celebration – or just at any time because they are so gorgeous!
Think pink or red for Valentines or a burst of citrus colors for summer, or bright and bold colors for Spring, pretty pastels for Easter. Even in pink, lemon or blue for a baby shower decoration.

You'll love this tutorial because there's a video below to show you how to make those pretty crepe paper roses, or you can hop on over to the blog to see the full step by step photo tutorial too.
Display them on candlesticks to enjoy the full all round effect. Crystal candlesticks would look gorgeous, perhaps with some hanging beads or crystals to catch the candlelight on your romantic dinner.
FOR THIS PROJECT YOU WILL NEED:
Crepe Paper (crepe paper rolls) – about 1.5 per ball (available in LOTS of colors)
6inch Styrofoam Ball
Hot Glue Gun & glue sticks
Measuring device
Scissors
Candlesticks (optional)
Find the tutorial here.
Master these lovely DIY Paper Flower Bouquets to decorate your home or give as a gift to your love ones.
It will take a bit of time and patience to make all those little paper flower bouquets. But the end result is certainly worth the investment of your time. If you want more flower crafts, check out our Pipe Clearer Flower Tutorials and Flower Embroidery Patterns.
Flaunt your beautiful creations of Paper Flower Bouquet on our Facebook Page.
With these DIY paper flower bouquets, you can enjoy a wonderful variety of flowers all year long.