Knowing how to hem pants is a fundamental skill for both seasoned sewers and beginners. Whether you are altering a pair of trousers that are too long or repairing an old pair of pants, hemming pants allows you to achieve the perfect length.
A Guide to Hemming Pants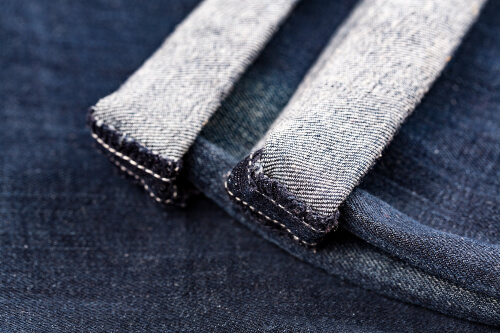 Below, you will find detailed step-by-step instructions to guide you through the process of hemming pants. Additionally, I have included some helpful tips and tricks to make your hemming experience even easier.
Benefits of Learning How to Hem Pants
Learning how to hem pants offers several benefits, including:
Knowing how to hem pants allows you to adjust the length of your pants to achieve the perfect fit.
By hemming pants, you can repair frayed or worn-out edges. This will help to preserve the garment and increase its lifespan.
Instead of buying new pants, hemming ill-fitting or damaged pants will save you money.
Step-by-Step Hemming Pants Tutorial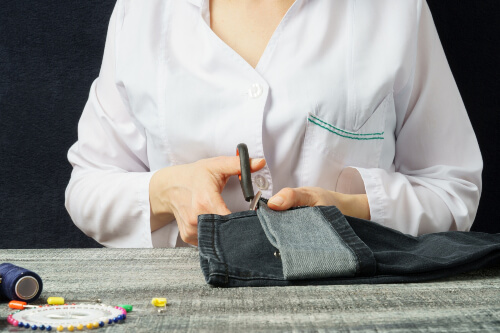 Below is a step-by-step tutorial on hemming pants.
Measure and Mark
Put on the pants and the shoes you will wear with the pants. Decide on the desired length and mark the measurement with chalk or pins.
Remove and Finish Marking
After you have removed the pants, finish marking them. To this, measure up from the bottom of the pants and make a mark the same distance up every so often. Then connect your marks across using a ruler or other type of flat edge.
Mark the Hem Allowance
From the mark you just made, measure down ½" (1.27 cm) and draw another line all the way across. From that line, go down another ½" (1.27 cm) and draw another line.
Cut the Fabric
Using the bottom line as your guide, cut off the excess fabric using sharp fabric scissors.
Finish Your Lines
Now that you have the excess fabric removed, finish making your lines all the way around both pant legs.
Fold the Hem
Fold the hem into the leg of the pants. Use the middle line as your guide. Pin the fabric in place.
Press the Hem
Use your iron to press the hem. Then remove the pins.
Fold the Hem
Fold the hem one more time. Since the previous fold is already at ½" you can use the cut edge as your guide. Pin it in place.
Press the Hem
Use your iron to press the hem. Leave the pins in place.
Sew the Hem
Using a sewing machine or a needle and thread, sew a straight stitch about ¼" up. This will help to ensure the stitches catch all the fabric. Remove the pins as you go.
Press the Hem
Use your iron to press the hem to create a crisp finish.
Tips for Hemming Pants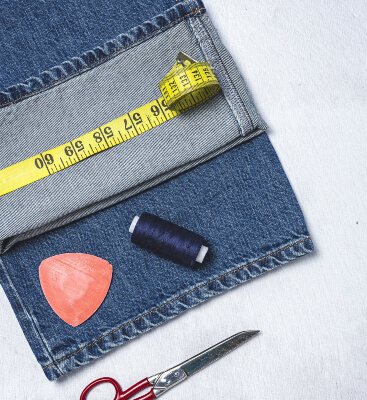 Here are some helpful tips for hemming pants. By following these tips, you will be able to achieve professional-looking results.
Before you cut the fabric or start sewing, double-check your measurements. This will help to ensure accuracy while preventing unnecessary mistakes.
Pin or baste the hem to the desired length, then try on the pants. This will allow you to make any needed adjustments before sewing.
Select a thread colour that matches your pants to create an invisible finish. Also, choose a thread that matches the weight of the fabric you are sewing. This will help ensure a durable seam.
For most fabrics, a universal needle is a suitable choice. However, if you're working with heavier or thicker materials like denim, consider using a needle made for denim. While thinner fabrics may require a finer needle.
Different pant styles may require different hemming techniques. Some pants require wider hems, while others need a thin hem.
Before you start sewing, press the hem with an iron. This will help create a neat and crisp hem that is easier to sew.
Use Sharp Fabric Scissors
Sharp fabric scissors will help to ensure you get clean and precise cuts. Dull scissors can lead to uneven edges, making your hem look messy.
Hemming requires patience and attention to detail. Take your time and practice before trying to sew a pair of pants.
Now use these helpful tips and tricks to make your hemming pants experience easier
Mastering the skill of hemming pants opens up a world of possibilities. You can adjust the length and repair old pants. By following the step-by-step instructions and incorporating the helpful tips, you can confidently begin hemming pants.
Below, you will find articles that will assist you with your sewing projects:
In case you want more sewing techniques and patterns, check them out on our Facebook Page.
I hope you found this hemming pants tutorial helpful and informative.