If you are like me, you hate cutting fabric. Cutting fabric is time-consuming, and it can be hard on the hands. When I first started sewing, I used regular scissors. I didn't know that you should have a dedicated pair of fabric scissors. The best fabric scissors make the process so much easier, and they create precise cuts.

What are Fabric Scissors
Fabric scissors are scissors designed specifically for cutting fabric. They are usually made from stainless steel or tempered steel and have very sharp blades. The blades of fabric scissors are often very long, and they can cut the full length of the blade.
There are many types of fabric scissors. You can find scissors for left-handed sewers and right-handed sewers. There are even universal scissors that everyone can use. Some fabric scissors have cushioned handles. The cushioning makes the scissors more comfortable to use.
You can also find fabric scissors with blades set at an angle. The angle of the blades allows you to keep the scissors flat on your cutting surface.
Why Do You Need Fabric Cutting Scissors?
Fabric scissors are designed to cut fabric with ease. They produce precise results. Most fabric cutting scissors are heavier than regular scissors. This extra weight and long blades allow for cleaner cuts. They also have larger finger rings which allow you to insert more than one finger, giving you the ability to apply more pressure.
7 of the B
est Scissors for Cutting Fabrics
1. Heavy Duty Fabric Scissors
These 8 inch Proshear scissors are made of high carbon steel. They are extremely strong with good edge retention. These scissors have ergonomic rubber grip handles that fit easily into your hand. The bent handle makes it easy to get precision cuts on a flat, smooth surface.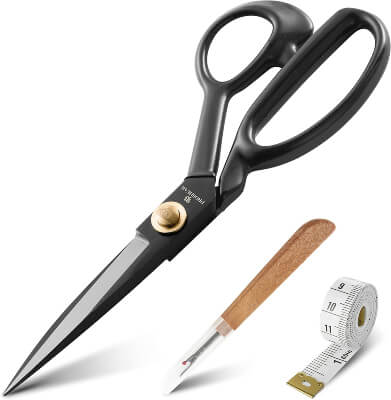 2.

LIVINGO Premium F

abric Cutting Scissors

The strong stainless steel blades make the LIVINGO scissors one of my picks for best fabric scissors. The blades are durable and rust resistant. They can cut through more than 16 layers of fabric. The scissors also have comfort grip handles for precision control and maximum comfort.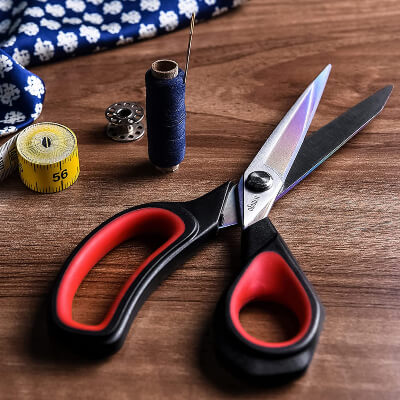 3.

Guggenhein IX Professional Tailor Shears

Guggenhein guarantees that their scissors cut through fabric like butter. These 9 inch professional shears are made from stainless steel and iron. They are extremely sharp and heavy.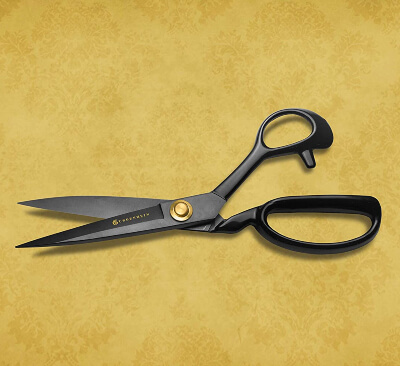 4. SINGER Fabric Cutting Scissors with Comfort Grip
Singer is well-known for making some of the best fabric scissors on the market. These 8 ½ inch scissors have comfort grip handles that are designed to be used by left- and right-handed sewers. The stainless steel blades can cut through 3 layers of fabric at once.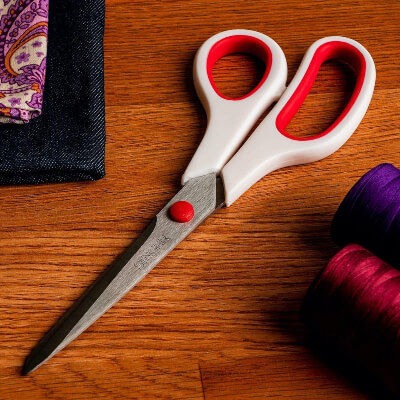 5.

Gingher 8-Inch Knife Edge Dressmaker's Shears

The Gingher Dressmaker Shears have bent handles for smooth and accurate tabletop cuts. The ultra-sharp blades can glide easily through multiple layers of fabric. They have a durable, double-plated chrome-over-nickel finish. Included with the Dressmaker Shears is a nylon sheath.

6. Kai 5210 Dressmaking Shears
The KAI 5210 stainless steel scissors have soft, ergonomic handles for fatigue-free cutting. They are strong scissors that can cut through multiple layers of denim with ease while being able to cut cotton without slippage.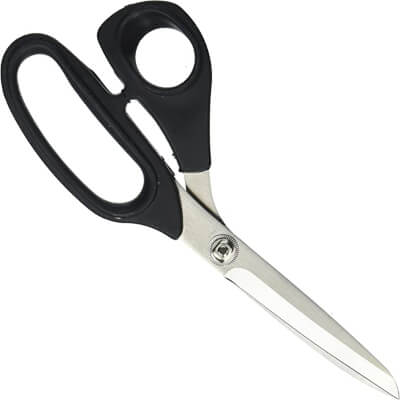 7.

SINGER 00561 ProSeries Bent Heavy Duty Fabric Scissors

Singer is known for sewing. These ProSeries 8.5 inch bent scissors are one of the best inexpensive scissors available. The bent scissor design is ideal for both left-handed and right-handed sewers. The sharp, tempered, rust resistant blades can cut through multiple layers of fabric with ease.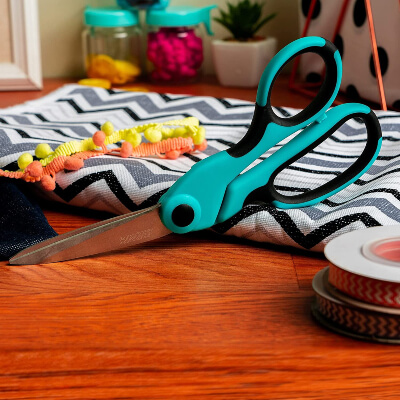 HAVING THE BEST PAIR OF FABRIC SCISSORS WILL MAKE IT EASIER TO CUT FABRIC.
Over the years, you have probably grabbed any pair of scissors you could find to cut your fabric. But all scissors are not created the same. Regular scissors can have a hard time cutting, and they can damage your fabric. To get clean, crisp cuts easily, you need to invest in some of the best fabric scissors on the market.
If you get one share your thoughts on our Facebook Page. Also don't miss out our review on the Best buttonhole scissors, Best Fabric Glues, Best Sewing Cutting Tables and Best Sewing Chairs.
Now, invest for the best fabric scissors for your next project.