When you're done with that plastic bottle, don't just throw it away, use it to make something awesome. Check out these 32 low cost, creative ,functional and easy plastic bottle craft projects that will transform the humble plastic bottle into everything from useful storage to great home décor.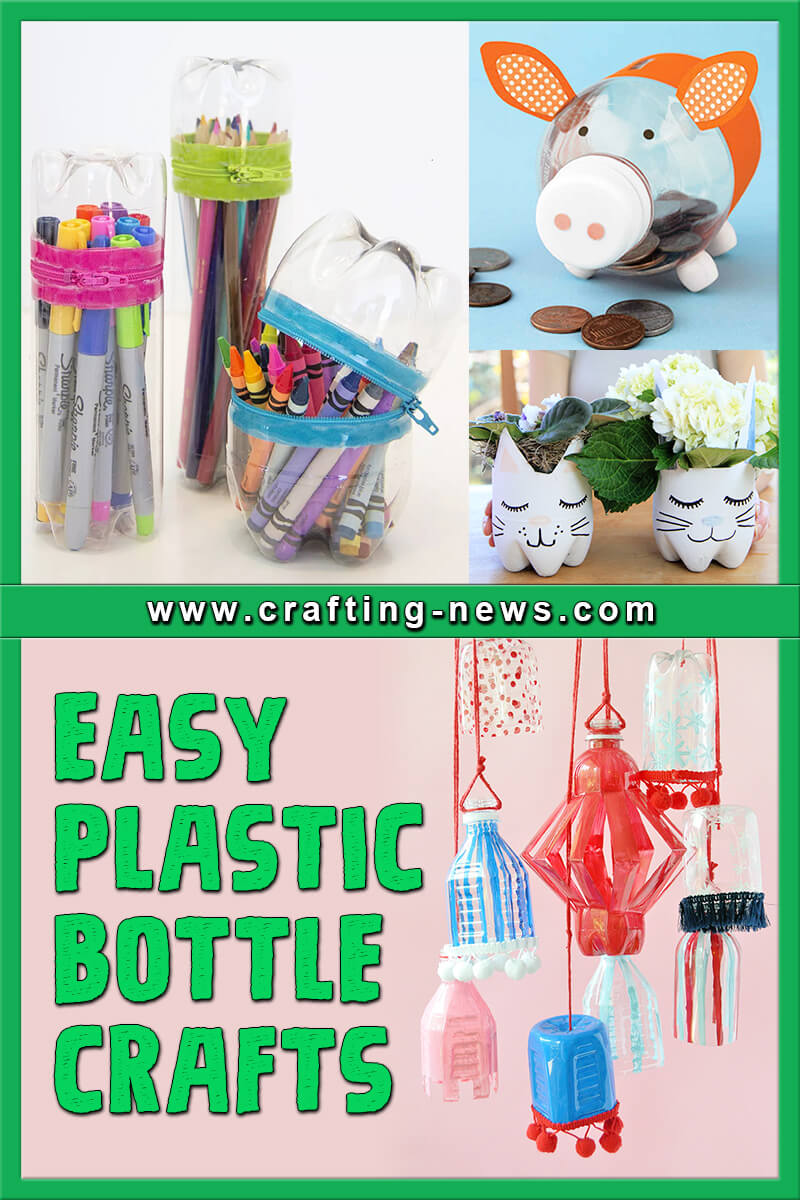 32 DIY Plastic Bottle Craft Ideas
Milk jugs, water bottles, and soda pop bottles keep piling up in your recycling? A few plastic bottle recycling ideas could help you put all that plastic to use.
These easy plastic bottle craft ideas are perfect for beginners in crafting but they are also an excellent opportunity to get your kids involved in and teach them the importance of recycling and repurposing.
1. Recycled Planters DIY Plastic Bottle Craft by Happily Eva After
Ever thought of a flower pot as cheap as the price of a plastic bottle? Well, plastic bottles come in different shapes and sizes. These plastic bottle crafts are highly used for flowers – real as well as artificial.
Some of them look perfect for holding the beautiful flowers that are full of aroma. These plastic bottles can be covered with ropes, artificial flowers, or some decorative materials.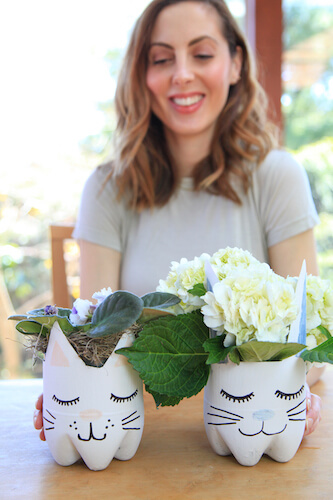 Get the tutorial here
2. DIY Turtle Coin Banks by Krokotak
Here is a super cute craft project to make lovely turtle piggy banks from plastic bottles. This tiny bank that looks like a turtle actually floats! You can put it in water and they "swim" like sea turtles or you can put coins inside to make some music when shaking.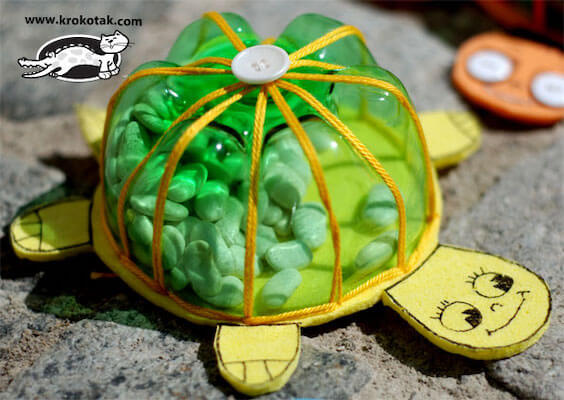 Get the tutorial here
3. Plastic Bottle Fairy House Nightlights by Crafts By Amanda
Turn empty plastic water bottles into adorable little fairy house night lights! Fun for a child's room or a nursery, or even the garden.
Lovely and earth-friendly, this Fairy Light Recycled craft is a tutorial that not only shows you how to make a charming little fairy home, but allows you to teach your kids all about the benefits of recycling.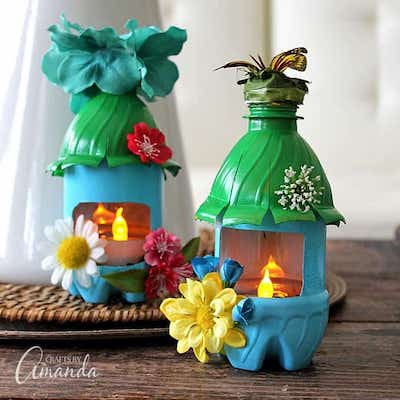 Get the tutorial here
4. Plastic Bottle Bird Feeder by The Seaman Mom
Get the birds to flock around your garden this spring and summer when making this adorable plastic bottle bird feeder! A great way to upcycle while having fun with the kiddos!
If you like upcycling, you'll fall head over heels for this cute plastic bottle bird feeder! You and the kids will have so much fun you'll want to make dozens of these apple bird feeder crafts this spring and summer!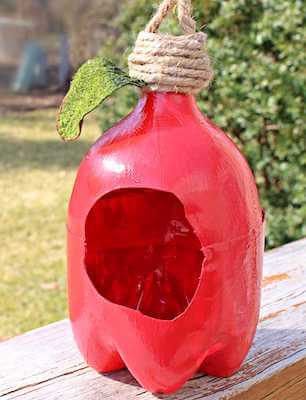 Get the tutorial here
5. Recyclable Plastic Bottle Lanterns by Handmade Charlotte
Save up a few empty plastic bottles from the recycling bin and instead turned them into these playful and festive decorations. You will love that these can be hung inside from a ceiling hook, in a door frame, or even on handles and door knobs.
And of course, they're also great for decorating your backyard for a BBQ! Make a whole bunch and hang them from your deck's railing or your patio umbrella.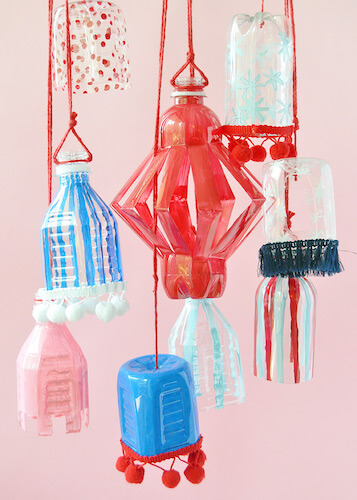 Get the tutorial here
6. DIY Bottle Piggy Bank by Martha Stewart
This little piggy (bank) started off at the market as a bleach bottle. No need to waste even more money by buying a piggy bank from the store, you can simply make your own from plastic bottles!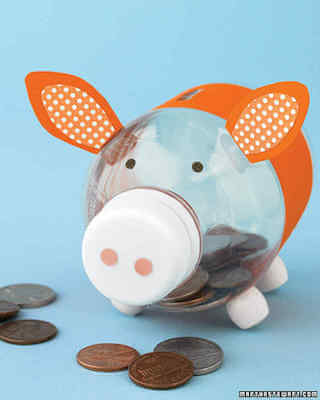 Get the tutorial here
7. DIY Plastic Bottle Basket For Easter by The Little Crafties
A very pretty yet easy plastic bottle basket making tutorial at home. These baskets are made using waste plastic soda or water bottles and some craft foam sheets, turning into beautiful Easter baskets for your Easter decorations or Easter egg hunting.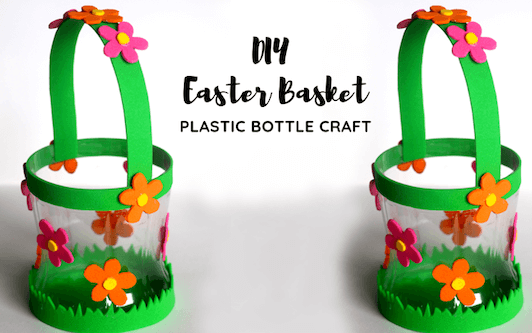 Get the tutorial here
8. Jewelry Stand Out Of Plastic Bottles by Epbot
Jewelry comes in a variety of shapes and sizes, which makes at-a-glance browsing difficult if all your stuff is in a box. If you'd rather have a stand, but don't want to spend a ton of money, you can make a nice-looking one out of plastic bottles.
This stand is super simple, using the bottoms of plastic soda bottles as trays for rings, earrings, bracelets, and more. You can cut out the petals to let things dangle or slice off the bottom cleanly to store rings without them sliding out.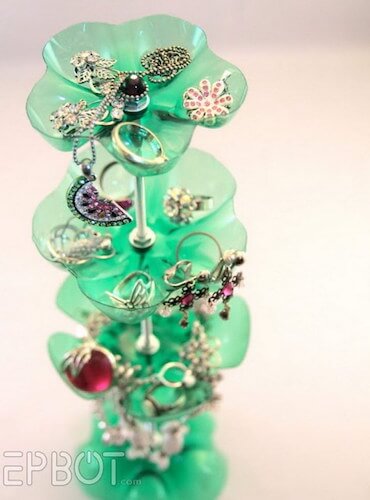 Get the tutorial here
9. Recycle Plastic Bottles To Decor Items by Ef Zin
Upcycle plastic bottles and straws to create beautiful wind catchers, planters, candle holders! An amazing way to learn about the recycle and of course how to replace the plastic items with glass or paper! Colors and fantasy!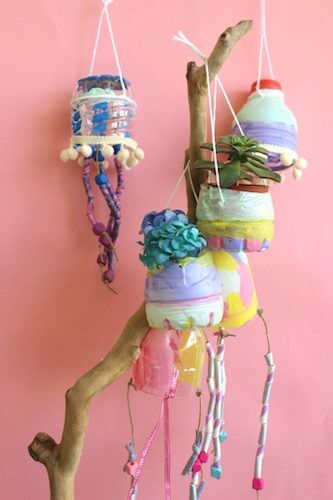 Get the tutorial here
10. DIY Snack Box With Zipper by The Seaman Mom
Turn your soda bottles into cute and useful snack containers with this easy peasy DIY snack box tutorial! Perfect to hold snacks or treats for kids, small veggies and even elastic bands or small office supplies!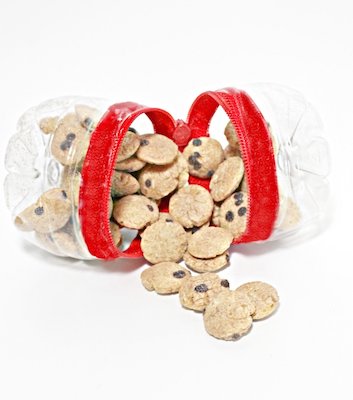 Get the tutorial here
11. Recycled Plastic Bottle Craft by The Kitchen Table Classroom
his project takes weaving for kids to a whole new level. Not only will your kids learn some basic weaving skills but alllll of the materials used are 100% upcycled.
That's right- a zero cost art project because all of the materials were headed to to the trash anyways! Save a water bottle and an old t-shirt and get ready for a new kind of water bottle craft!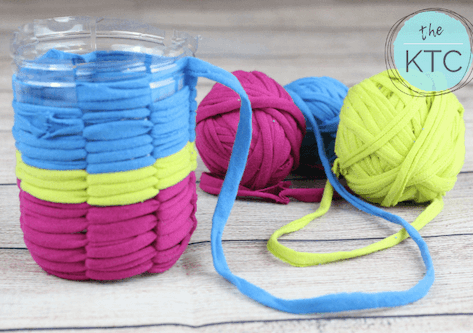 Get the tutorial here
12. Water Bottle Cactus Craft by Reuse Grow Enjoy
Do you love the look of a cactus? If you are looking for a fun and easy project to add a little cactus decor to your home, check out this water bottle cactus craft!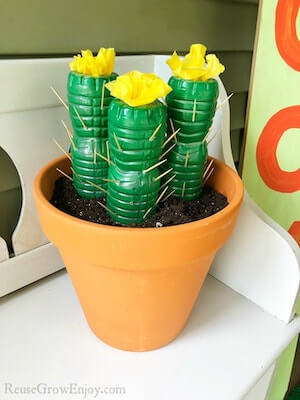 Get the tutorial here
13. Water Bottle Fish Craft by Meaningful Mama
Are you ready for a great up-cycle craft for all of those empathy water bottles you have laying around? This water bottle fish craft is both easy and fun for kids of all ages. The fish designs are endless!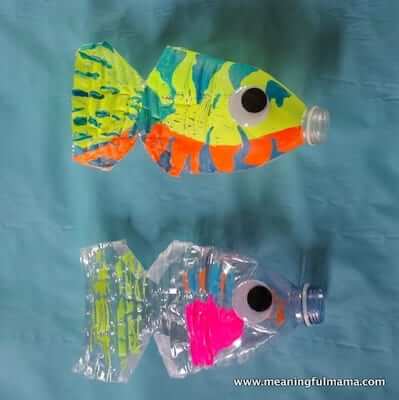 Get the tutorial here
14. Plastic Bottle Wind Spinner by Crafts By Amanda
This wind spinner is made from a recycled plastic bottle and is a great way to keep critters out of your garden. This fun recycled duct tape project is an easy craft for kids to do this summer.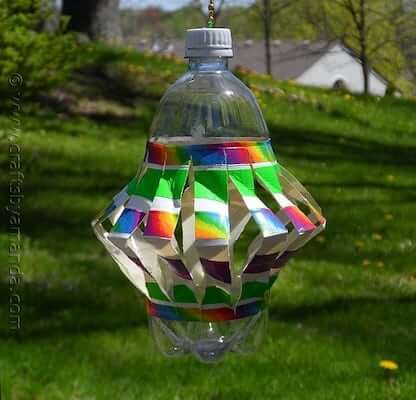 Get the tutorial here
15. Plastic Bottle Flower Mobile by Creative Jewish Mom
A festive recycled plastic bottle cascading flower mobile can be yours with just some simple supplies, lots of recycled soda bottles, a bit of crafting! The flowers are quite simple to make and connecting them is even simpler.
Of course if you'd like to cover a whole wall for a photo backdrop, that would be fantastic, just start saving those bottles, and work on making flowers say ten or so at a time.
After the event you can make individual mobiles as souvenirs of the event or even give guests strings of flowers to take home with them!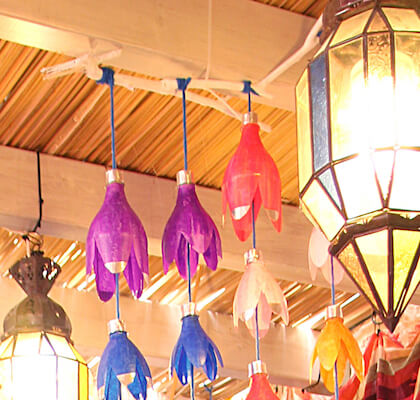 Get the tutorial here
16. No-Sew Zipper Cases From Plastic Bottles by Make It & Love It
Turn your old plastic bottles into useful and sturdy No-sew Zipper Cases that will help you organize your life, for almost no cost at all. You can use them to store all sorts of art and craft supplies. This is also an awesome back-to-school craft idea for kids.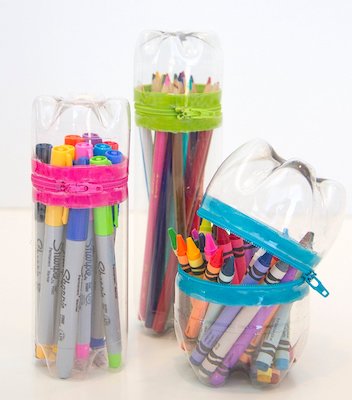 Get the tutorial here
17. DIY Plastic Bottle Owl Vases by Amazing Interior Design
Grab those bottles out of the recycle bin because here's a great tutorial that you are going to love! With this tutorial, you can turn any empty plastic bottle into these cute owls that can be used as a candle holder, as a planter, as a pencil holder, to hold utensils in the kitchen, toothbrushes in the bathroom or anything else you can think of.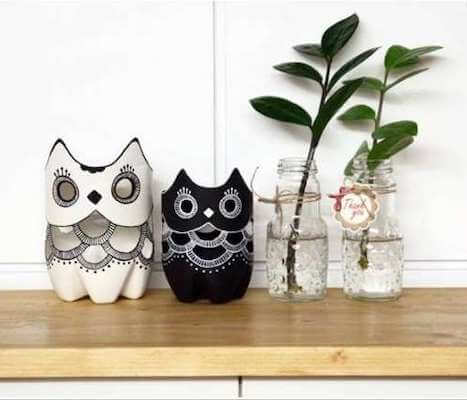 Get the tutorial here
18. Plastic Bottle Rocket Fueled Jet Pack by Doodlecraft
It's easy and quick to make! You can add all the embellishments in the world, or just let it be the fuel for your child's imagination. Perfect for party favors at a Space themed party, great to celebrate the lunar landing in 1969, or just to let a child whiz around the yard!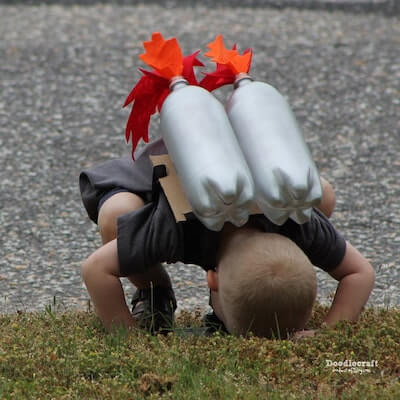 Get the tutorial here
19. Geometric Plastic Bag Dispenser by Craft Your Happiness
Upcycle a plastic, two-liter bottle into a dispenser for your plastic bags. It can be hung on the wall, in the pantry, or on the inside of a cabinet door.
This tutorial has everything you need to make this art, including a Silhouette file that you can use to make the cool, vinyl decal on the front.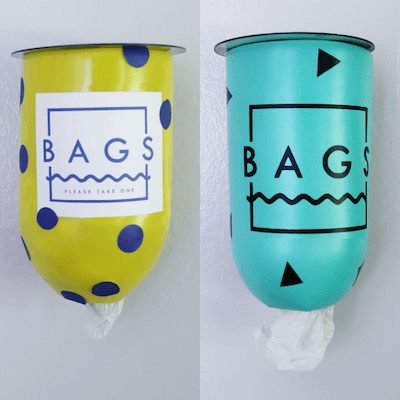 Get the tutorial here
20. Plastic Water Bottle Flowers by Crafts By Amanda
Looking for a fun way to recycle some of those plastic water and soda bottles? Here's a fun project for kids that uses the entire bottle, label and all! You can make a plain one that's boy friendly and call it a palm tree! Fun craft for summer camp too.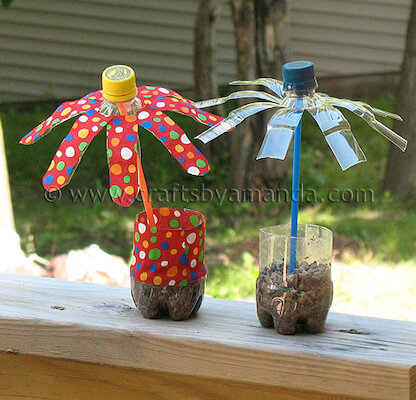 Get the tutorial here
21. Water Bottle Sprinkler by Clever, Crafty, Cookin' Mama
It's spring, and that means it's time to water the garden. Simply drill holes in a soda bottle and duct tape it to the end of a hose. What you get is ingenious.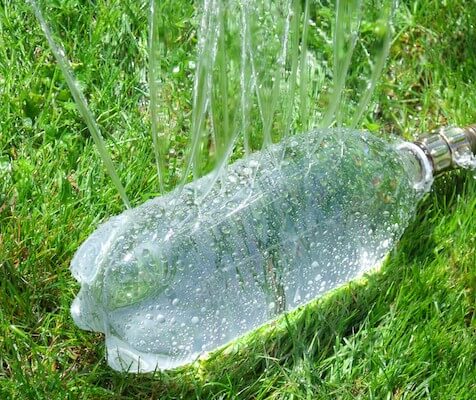 Get the tutorial here
22. Bracelets From Empty Plastic Bottles by Krokotak
It's easy and fun to make bangles made from plastic bottles. You can decorate them in many different ways, allowing you to create lots of bangles that match different outfits. Save a fortune and re-purpose those plastic bottles into something fashionable.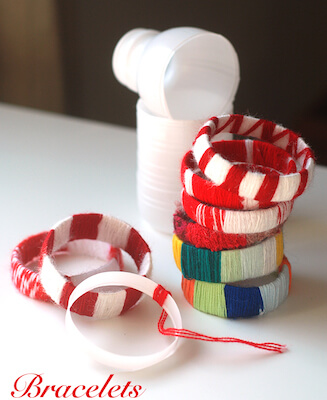 Get the tutorial here
23. Plastic Bottle Shaker by Things To Make And Do
Music can easily be created from items around the home, here we are using empty plastic bottles (with screw tops) and some dry beans, lentils and rice (each filling creates a different sound).
To add a bit more fun to the mix we are decorating the bottles with brightly coloured stickers. This is a great project for younger children or for a school club.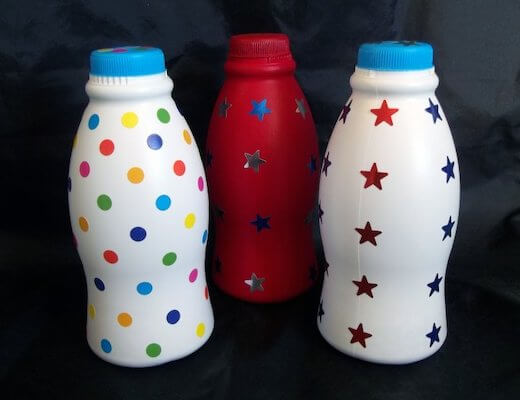 Get the tutorial here
24. Woven Recycled Bleach Bottle Basket by Creative Jewish Mom
You can use a recycled bleach bottle to make a really fun woven basket. And when you add a little felt liner, your recycled bottle basket suddenly becomes really amazingly cute.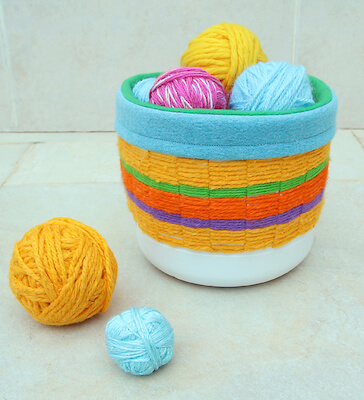 Get the tutorial here
25. Recycled Plastic Bottle Organizers by Organized 31
To get your desk under control, grab some empty plastic bottles that seem to pile up at your house and make some easy and fun organizers that will cost you nothing!
This plastic bottle craft is ideal for your desk to store small stationary items like paper clips and sticky notes. Choose a bright and beautiful washi tape pattern to really help the project shine.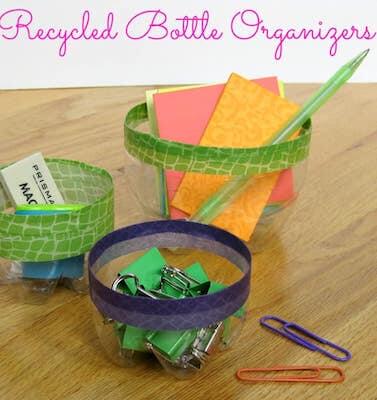 Get the tutorial here
26. Dandelion Paper Lanterns by A Piece Of Rainbow
Don't you think these lanterns are stunningly creative? Despite how it looks, you will be taken aback by how easy and simple it is to actually make this lantern using plastic bottles, paper, and an X-acto knife!
If you're in the midst of wedding planning, do take these paper lanterns into account because they're sure to make any outdoor wedding or party centerpieces a hit!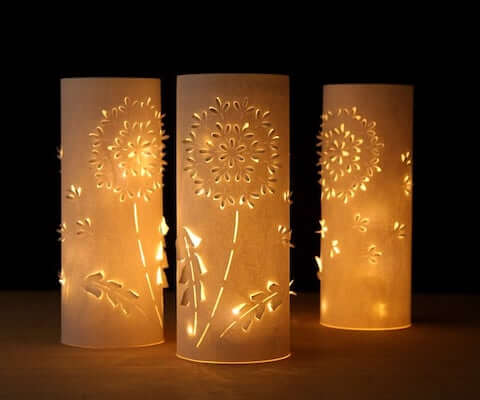 Get the tutorial here
27. Plastic Bottle Heart Gift by Craft Your Happiness
Have you been searching for those unique valentines crafts ideas? Well, here's one we bet you've never seen before! That's bold statement to make now a days!
It's two halves of one heart made from plastic soda bottles and it's the perfect gift for a couple. You can fill them with sweets, confetti, little paper hearts with special notes or whatever you see fit.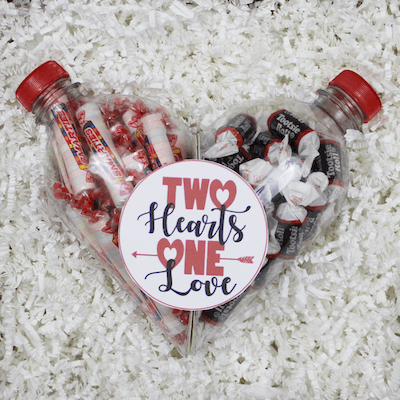 Get the tutorial here
28. DIY Plastic Bottle Flower Vase by The Seaman Mom
Make your own recycled vase using this super easy tutorial for a plastic flower vase from plastic bottle! If you didn't know better, you'd swear this handmade flower vase was made out of crystal or glass!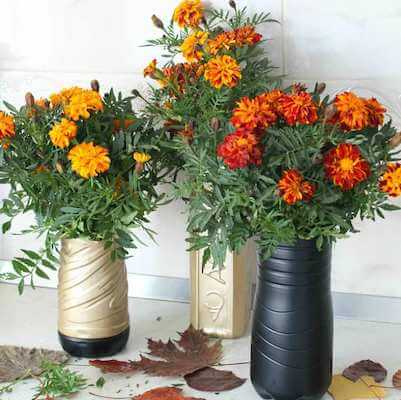 Get the tutorial here
29. Cherry Blossom Art From A Recycled Soda Bottle by Alpha Mom
Are the kids feeling a bit bored lately? Then grab a plastic bottle, some paint and a long sheet of paper. Dip the bottom of the bottle into the paint and create a beautiful work of art!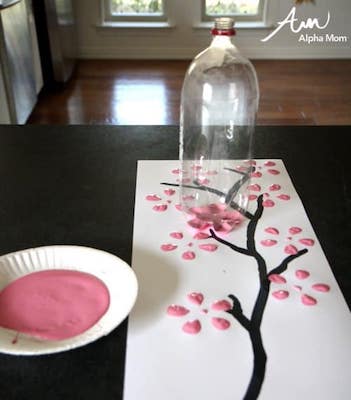 Get the tutorial here
30. Soda Bottle Gift Containers by Craft Your Happiness
If you're always on the lookout for unique Christmas gift wrapping ideas, these gift containers will blow you away! Whether it's for a small gift for a family member or a next door neighbor treat, the packaging will put a smile on the face of the receiver as much as the contents.
They are made from plastic soda bottles and are as cute as can be. The tutorial has three versions, a clear square and a small petal flap and a tall mixture of both. It also got some fun ways to fancy them up.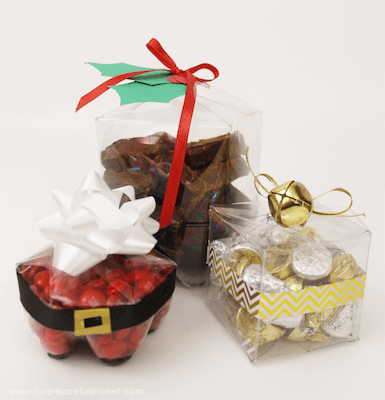 Get the tutorial here
31. Plastic Bottle Bird Feeder by Fave Crafts
Instead of sending more plastic to the landfill, turn a plastic bottle into fun ad functional bird feeder crafted like a birdhouse. Good news: there's not much cutting involved except for a small hole at the bottom to store the food.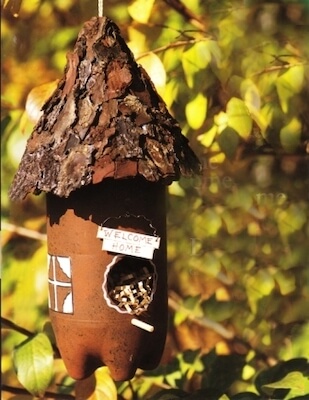 Get the tutorial here
32. DIY Plastic Bottle Apple Gift Container
This DIY plastic bottle contraption is a great idea for a gift container. Pack small keepsakes, jewellery, or little jars of your homemade jams and chutneys and hand them out in these small zip up apple containers, made from recycled plastic bottles.
You can change the size of the apple containers by using larger (2L) or smaller (1.5L) drink containers.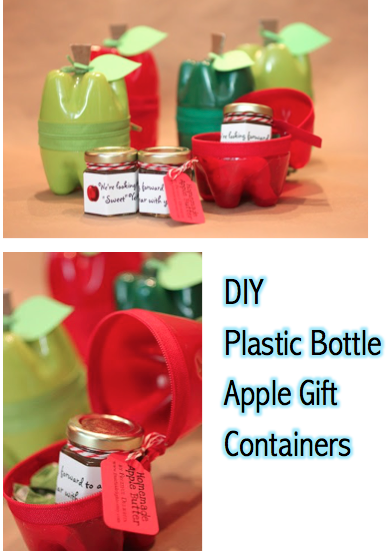 This DIY plastic bottle contraption is a great idea for a gift container. Pack small keepsakes, jewellery, or little jars of your homemade jams and chutneys and hand them out in these small zip up apple containers, made from recycled plastic bottles.
You can change the size of the apple containers by using larger (2L) or smaller (1.5L) drink containers.
Materials:
2 plastic bottles
Spray paint in red or green
cardboard (for the leaf and stem)

IT'S TIME TO DIG INTO THE RECYCLABLE BIN AND GATHER ALL YOUR PLASTIC BOTTLES. THESE PLASTIC BOTTLE CRAFT IDEAS ARE FUN, CREATIVE, BEAUTIFUL, BIZARRE, AND DOWN RIGHT AWESOME.
There are many ways to have fun with them using nothing more than a few craft items and lots of imagination! Which of these crafts was your favorite? Share your makes with us on our Facebook Page.
If you have a creative gene and cannot get through the day without looking for more ideas for things to make, you definitely have to consider trying out these popsicle stick craft projects and egg carton crafts. Turn your junks into afternoon fun that your whole family will love.
Instead of throwing those humble plastic bottles away, recycle them to use for one or more of these easy plastic bottle crafts today. Happy crafting!