You know those days where it's so cold you have to put on two pairs of pants just to leave the house? Guaranteed, your pooch needs an extra layer of padding on those days, too! Keep them cozy and comfy in the colder months with these adorable dog coat patterns!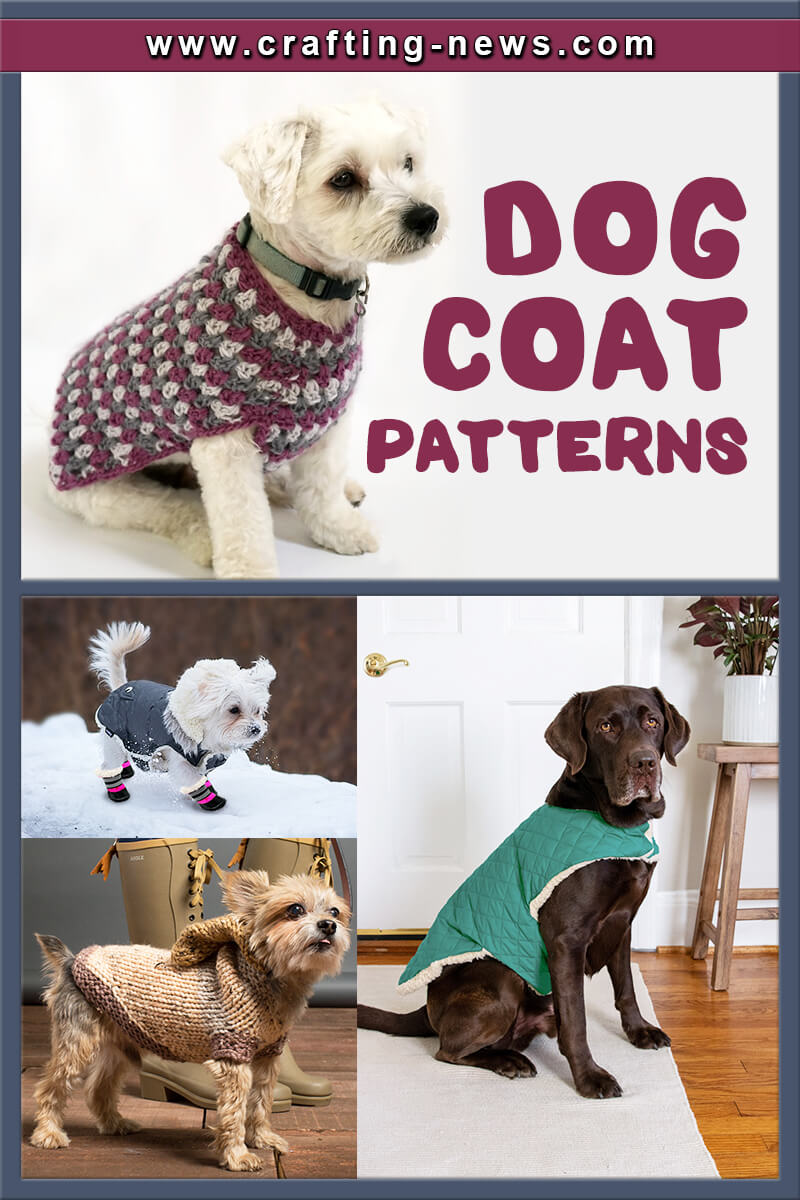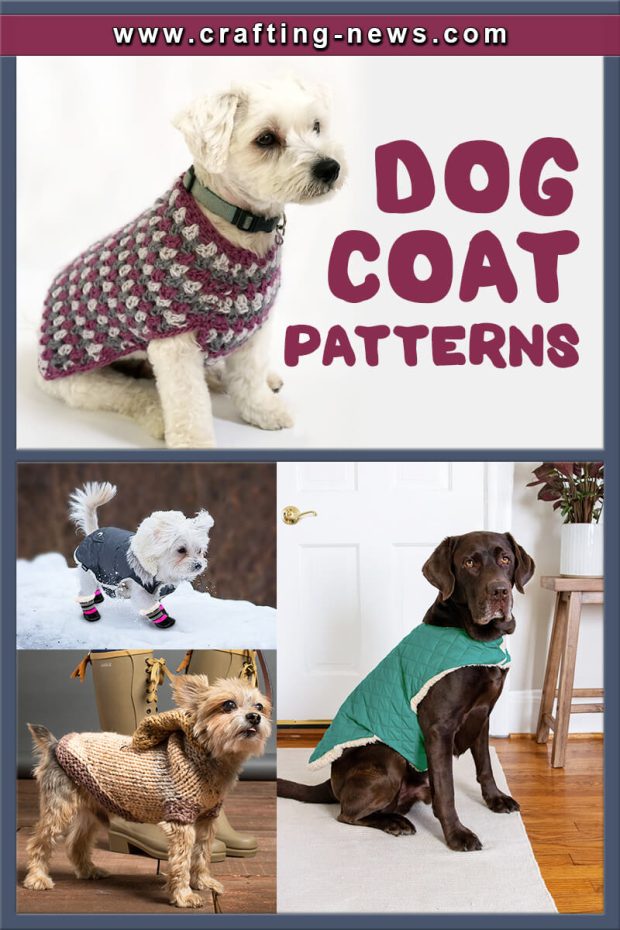 If you live somewhere that has its fair share of rainy or cold winter weather (or both), then you've probably landed here because you're researching the best dog coats to make for your dog.

These pieces are perfect to wear on winter outings and those cold and wet days of spring and fall, to help keep them warm, dry and happy for everything from short pee excursions to full-on days out in wet, windy and snowy conditions.
25 DIY Dog Coat Patterns
The snow is falling, the wind is blowing, and your dog is reluctant to step outside. Could your canine companion use a handmade coat? If you answered, 'yes', these useful piece of clothings below are for you!

1. Cozy Dog Coat Pattern by Wholefully
This cozy custom dog coat is a super easy beginner sewing project that is done in less than an hour, start-to-finish. It's the perfect gift for your furry friends!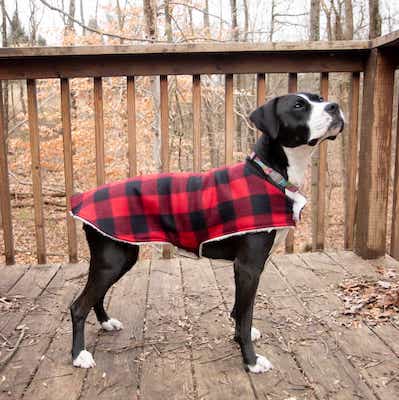 Get the Pattern here

2. Free Dog Coat Pattern by Closet Core Patterns
Here's a Free Dog Coat Pattern available in multiple sizes. The top portion is darted around the tush to create a curved shape around the hip (yes, dogs need darts too!) while the harness wraps under and velcros on top to help keep their chests dry while leaving the nether regions free and clear.

Tiny little pieces of quilting, lots of pretty bias binding, and cute fabric choices make this little project just the thing to tackle when you have a few hours to sew. Best of all, it's yet another project for tackling those mounting scraps.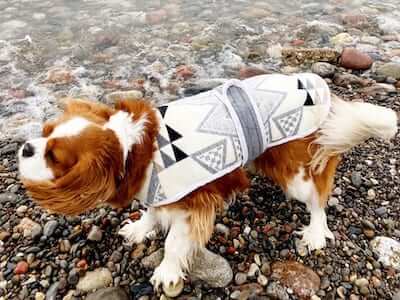 Get the Pattern here

3. DIY Fur Baby Coat by Sew Can She
Sew a cute coat to keep your fur baby warm no matter the season! This free sewing tutorial to make a dog coat pattern would also work for a cat, rabbit, pig, whoever keeps you company.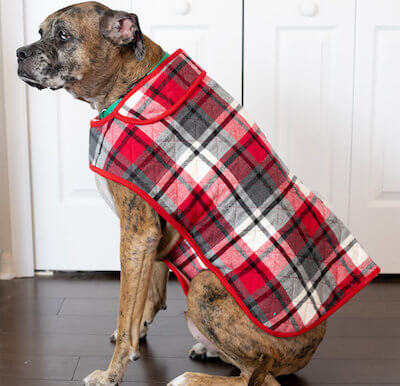 Get the Pattern here

4. Greyhound Dog Coat Pattern by Night Lily Design
This dog coat sewing pattern is ideal for those just beginning to sew and owners of Greyhounds! This is sized to fit a hound weighing about 65lbs and measuring 28 inches from collar to base of tail.

It is very quick and simple to sew up and works perfectly with polar fleece. Because it's so simple it makes a great starting point for creative modifications like shorter stove pipe necks or costuming flare.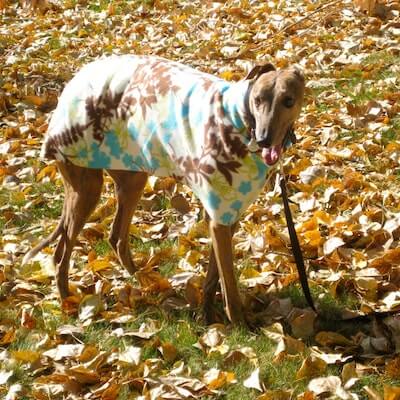 Get the Pattern by Night Lily Design here

5. Dress Dog Coat Sewing Pattern by Sofia And Friends
Dress your dog in style with this classy cool weather dog coat pattern for the little dog! Constructed of lightweight wool and wool blends or cotton and cotton blends, the dog coat is fully lined using hook and loop fasteners on the chest/belly area.

Features include a round collar, matching fabric bow and your choice of pleats or a short ruffle. Your little dog will be stylishly warm in this gorgeous winter dog coat!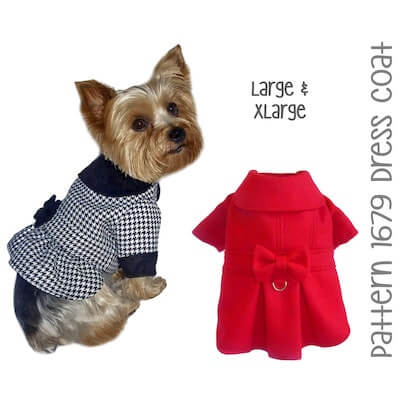 Get the Pattern by Sofia And Friends here

6. Recyled Dog Coat Pattern by Makezine
When chilly winds start to blow, your best friend can battle the elements in cozy style with a dog coat made from a recycled jacket. For the raw materials, you can tap into the never-ending supply of jackets in thrift shops and yard sales.

Or consider Plan B: make the dog coat from a favorite in your closet that's outgrown or showing its wear. You'll keep it all in the family with one more hand-me-down recipient, the dog!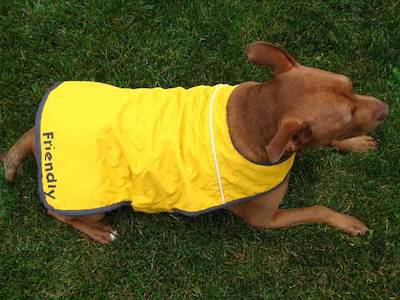 Get the Pattern here

7. Canine Carhartt Coat Pattern by Instructables
There's nothing worse than looking out the window and seeing your poor pup shaking in the winter air, miserable because their coat isn't nearly warm enough to shield them from the chilly breeze.

This free dog coat pattern uses an old Carhartt coat and with a few modifications can fit even a larger dog. This pattern should work for any old jacket or coat you have lying around.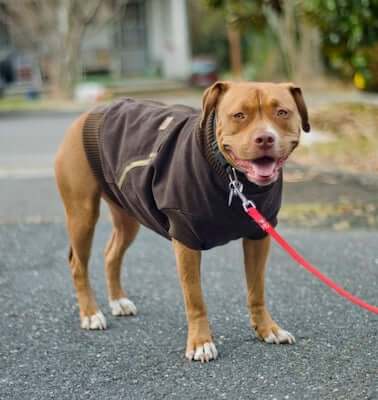 Get the Pattern here

8. Well Dressed Dog Coat Pattern by Moogly
For a more sophisticated look, this Crochet Dog Coat is a good project after you've learned the basics of crochet. It's made with worsted weight yarn and can be easily memorized once you've completed one.

This Well Dressed Dog Coat is ready to perk up your pet with gorgeous colors – in 4 sizes! It's got a bit of stretch, so pick the size closest to the chest measurement of your dog, going with the larger size if it's a draw.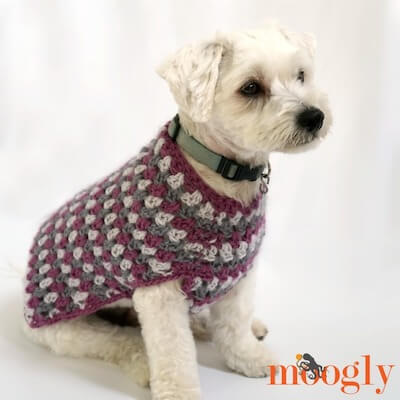 Get the Pattern here

9. Small Dog Coat Pattern by The Spruce Crafts
Keep your pooch warm and toasty in wet or winter weather with this free pattern for a dog coat. Your furry friend will stay cozy while out for a walk and they'll look cuter than ever. This dog coat patterns fit small dogs, but you can alter the dog coat pattern to fit your pet.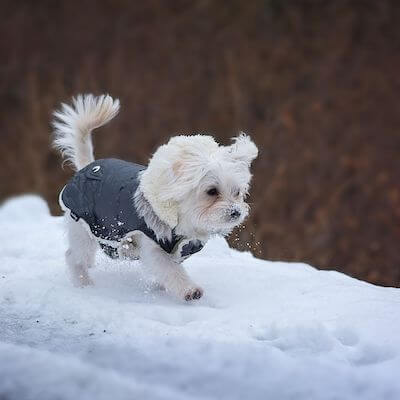 Get the Pattern here

10. Free Dog Coat Pattern by Gathered
Keep your dog warm on winter walks with this cozy reversible dog coat pattern, with a secure webbing strap to keep your pup snug. They'll be the most stylish pooch in the park!

You'll need to measure the dog's tummy to get the perfect fit! Look for cozy fabrics to help your precious pooch stay warm throughout the colder months.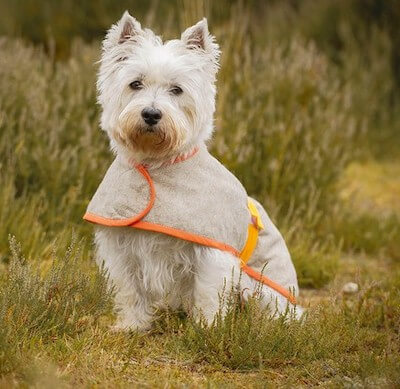 Get the Pattern here

11. Reversible Dog Coat Pattern by Professor Pincushion
Because of the materias used, most dog coats should be washable. The good thing about this design is that it is reversible. You can either use fleece on both sides, or different fabrics to give it a different look and keep things clean a little longer.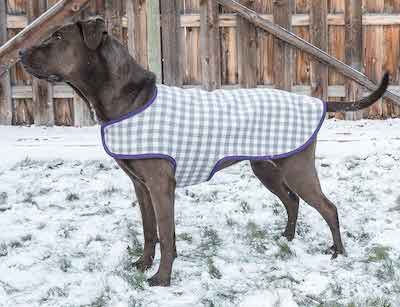 Get the Pattern here

12. Dog Coat Pattern by Mimi And Tara Store
With this dog coat pattern, you can make a very simple and very suitable coat for fall or spring because it covers the back but leaves the paws and chest bared.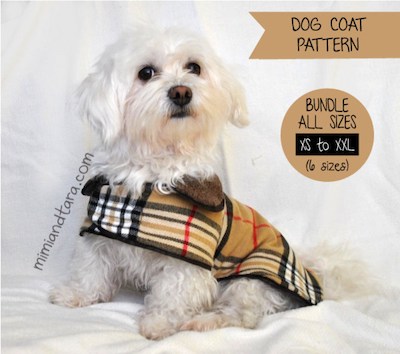 Get the Pattern by Mimi And Tara Store here

13. DIY Dog Coat Pattern by Hellonest
This cozy, fleece DIY dog coat is made with ultrasoft Sherpa fleece on the inside and a layer of easy-to-clean quilted cotton on the outside to help your pup stay comfy in cold weather. And just in case putting anything on your dog is a chore, you'll be glad to know it uses velcro closures for an easy on-and-off in a jiff.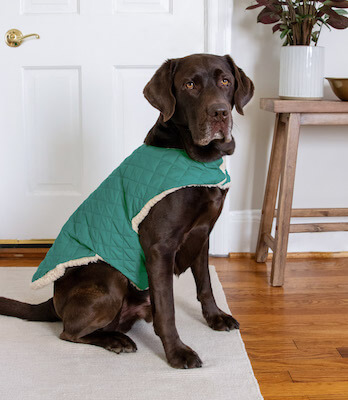 Get the Pattern here

14. Fleece Dog Coat Pattern by Fancy Canine
Your pet will love the cozy warmth and comfort that this coat offers! This sleeveless Fleece Coat is so comfortable that it can be worn all day. Coat A is designed for him, featuring a collar and flat pockets. Coat B is designed for her, features ruffles in the neck and hem.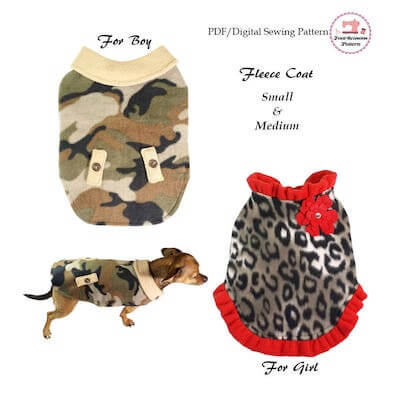 Get the Pattern by Fancy Canine here

15. Country Gent Tweed Coat by Makezine
Tweed is the ideal choice for a country dog — perfect for romps through the woods and fields — but you can use any wool fabric for the outer layer.

Something with texture and a pattern will make more of a statement, so think about your dog's coloration, and choose a fabric that will complement his markings, to ensure that he's the best-dressed hound on the hillside.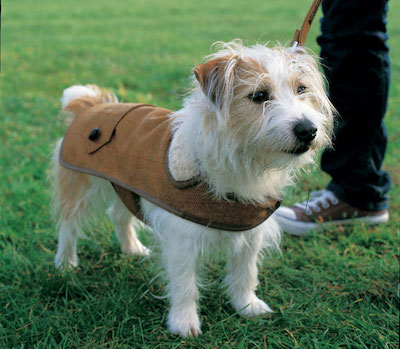 Get the Pattern here

16. DIY Pet Coat Pattern by Sew Doggy Style
The weather is cooling and our pets are ready for a new Fall wardrobe. This is probably the easiest coat pattern you will find. You can make it a lightweight raincoat, or a heavy snow coat with sherpa lining, you can add a hoodie or collar, you can add pockets. The possibiities are endless!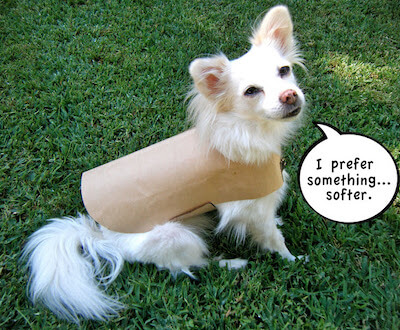 Get the Pattern here

17. Dog Coat Bathrobe Pattern by Hundsstern
Bathrobe, raincoat, transitional jacket – the dog stays dry and warm in this pretty coat. Depending on the choice of fabric, this can be sewn as a bathrobe made of terry cloth, as a raincoat made of water-repellent fabric or as a light transitional coat.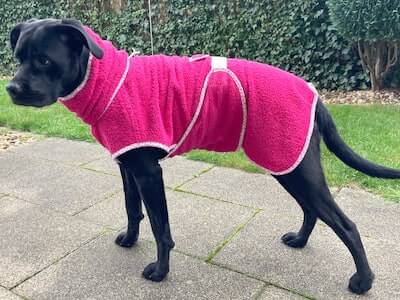 Get the Pattern by Hundsstern here

18. Sub-Zero Dog Coat Pattern by Zero Gear NZ
The coat itself covers most of the chest of the dog, still allowing for a good range of movement in the front legs and reaches down their back to keep them dry. The fold over elastic minimizes the amount it can ride up, and the high collar helps keep the wind chill down.

This pattern comes with the option of adding either a zipper or welt for harness compatibility.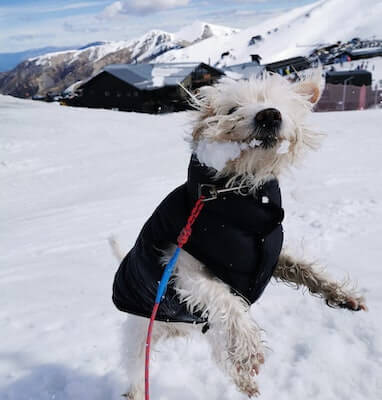 Get the Pattern by Zero Gear NZ here

19. Waterproof Dog Coat Pattern by Online Fabric Store
For short haired dogs, a warm doggie jacket is a must, but it's hard to find one that fits just right. This tutorial will show you how to make a custom coat made out of fleece with a layer of nylon to make it waterproof and a Sherpa lining to make it warm and cozy.

Use washable fabrics so you'll be able to easily throw the coat in the wash when needed. The collar flips up for extra protection and this one has an opening for a harness.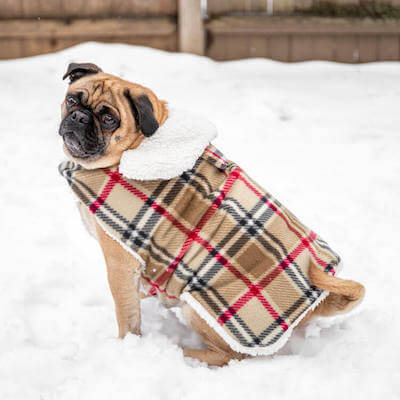 Get the Pattern here

20. DIY Dog Coat Pattern by Ricochet And Away
This is a fun and practical dog coat that you can make as heavy or light as you need, depending on the weather where you live.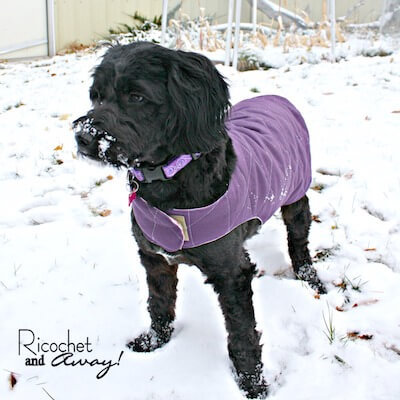 Get the Pattern here

21. DIY Dog Coat Sewing Pattern by Bernina Blog
This is ideal for heading out in the snow since it gives more coverage than you average dog coat. Because most tend to concentrate on the back, this one doesn't forget the belly to ensure they are kept dry when kicking up snow or splashing in puddles. Use fleece on the inside and waterproof fabric on the outer to ensure maximum protection.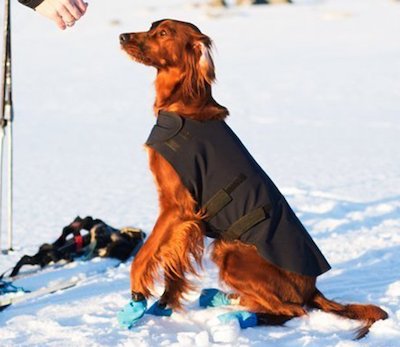 Get the Pattern here

22. Dog Trench Coat Pattern by Sofia And Friends
Classically styled and easy to sew dog coat pattern for your little Dude or Diva! Constructed of cotton and cotton blend fabrics the dog coat is fully lined using hook and loop fasteners on the neck and belly tabs for ease of dressing.

Features include storm flaps, panel insets, collar, belt & buttons. A simple yet beautifully detailed coat that is perfect for those cooler days of the year!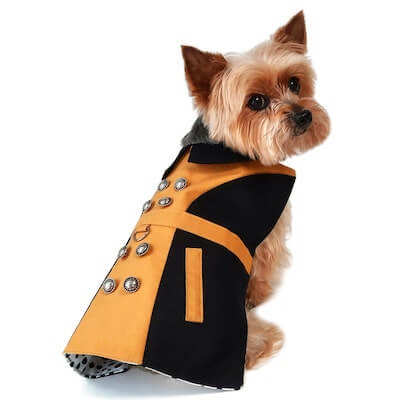 Get the Pattern by Sofia And Friends here

23. Poppy Dog Coat Sewing Pattern by Sew Over It
This little dog coat is reversible so you can choose two different fun fabrics. How about a cozy fleece layer on one side and a smart corduroy on the other? The coat fastens with velcro and is super simple to sew and easy to put on your pup.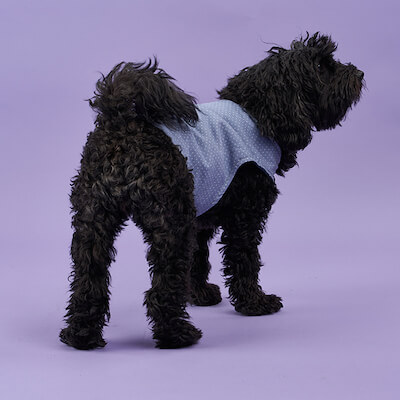 Get the Pattern here

24. Benji Dog Coat Pattern by Pauline's Quilters World
This Benji Dog Coat Pattern will enable you to make a fantastic new coat for your pets for Winter.

By using your animals' personal measurements, the coat can be made to fit all size pets. You can use fabric and batting from your stash or purchase new fabric to make something fashionable, fun and very warm for your adorable furry friend.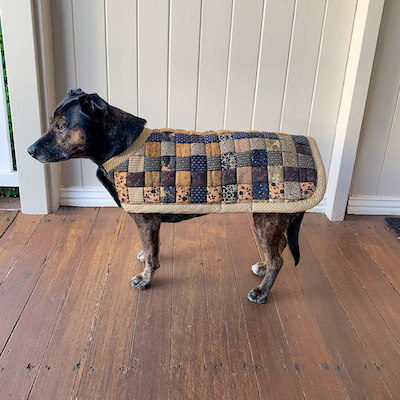 Get the Pattern here

25. Knit Hoodie Dog Coat Pattern by Yarnspirations
A knit hooded dog coat is sure to make your fur baby stand out at the dog park! Knit it using a self-striping yarn to avoid weaving in ends and make a stylish project.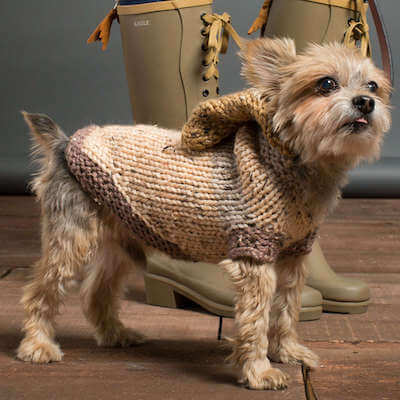 Get the Pattern here
WHATEVER THE OCCASION, WE'VE GOT THE BEST DOG COAT PATTERNS HERE KEEP YOUR FURRY FRIEND WARM, DRY, AND LOOKING FLY ALL WINTER LONG.
If you decide to have a go at these dog coat patterns, please share your wonderful creations with us on Facebook.
Looking for more patterns to make for your dog? Have a go at making these Dog Dresses, Dog Clothes, Macrame Dog Toys, Macrame Dog Collars, Leashes, and Leads Patterns, Crochet Dog Toys Patterns, Crochet Dog Hat Patterns, and 38 Crochet Dog Sweater Patterns.
The unpredictable weather of late winter and early spring calls for some serious coziness. Luckily, these dog coat patterns have that in spades!