While you can't exactly take a trip to the farm right now, that doesn't mean that you can't bring all of the fun back home to you. There are plenty of unique and creative farm animal-related arts and crafts that your kids will absolutely love to make. From paper to farm animals made with recycled materials — you'll be lost for choice. Check out these farm animal crafts below!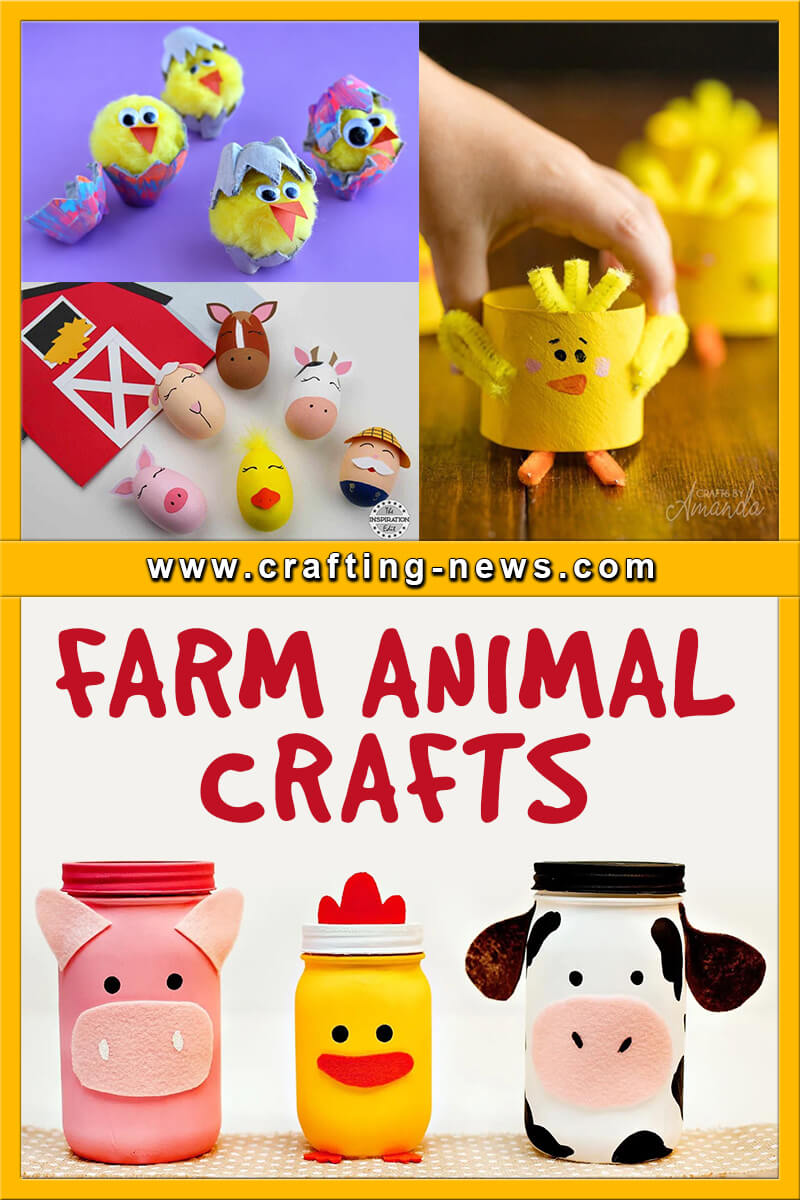 Do your kids love farm animals as much as mine? Seriously, we could do farm activities all year long! I think that's why putting together this collection of farm animal crafts was so much fun. There's so much out there! Make a pig, a chick, a cow, and more!
41 Farm Animal Crafts

1. Farm Animal Crafts by I Heart Crafty Things
These adorable farm animal crafts are a perfect compliment to a farm themed learning unit or for any animal lovers! They are super easy for kids to make and will be stunning up on display in the home or classroom.

This tutorial has five different animals for you to choose from: A horse, sheep, cow, pig and chicken. Fair warning, you'll probably have so much fun making your first farm animal that you'll decide to want to make all five!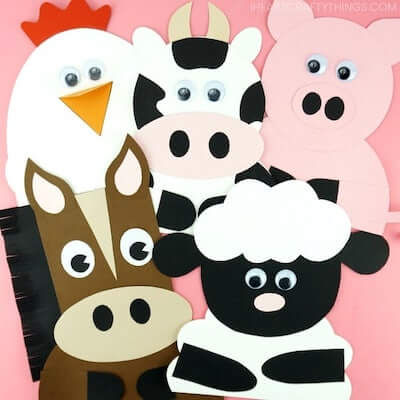 Follow the tutorial here

2. Craft Stick Farm Animals by Crafts By Amanda
Craft sticks can be turned into just about anything. The cute characters found in a barnyard are a great example! Cows, horses, pigs, chickens and more, all in craft stick form! I've always loved craft sticks as a surface. They are inexpensive and have so many possibilities.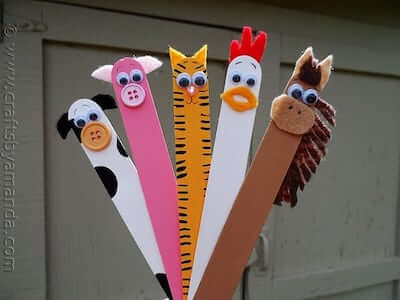 Follow the tutorial here

3. Clothespin Farm Animals by First Palette
Craft some cute clothespin farm animals, including a chicken, cow, dog, duck, goat, horse, pig, and sheep. We also included instructions on how to make a box corral for the animals.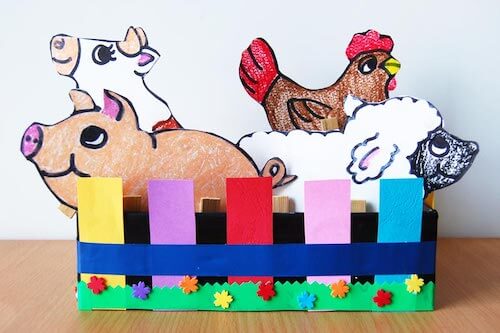 Follow the tutorial here

4. Pine Cone Farm Animal Crafts by Manda Panda Projects
Pine cones are one of natures very best craft supplies, so why not put them to good use! The kids will have a blast turning each pine cone into a different farm animal, from a Pig, to a Cow, a Rooster, Lamb, and Chick! This nature craft is fun for the kids, but fun for the grown ups too.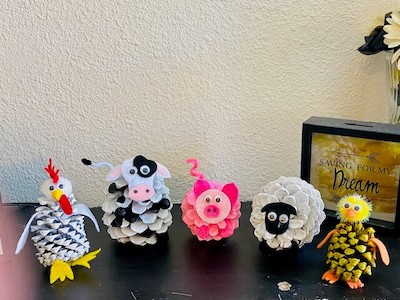 Follow the tutorial here

5. Farm Animal Craft by Messy Little Monster
This farm animal craft is the perfect farm activity for preschoolers! They will have so much fun helping put together there own farm animals and making a farmhouse scene. This tutorial includes the farmhouse and farm animal templates to make it even easier for you to make your own farm animal craft.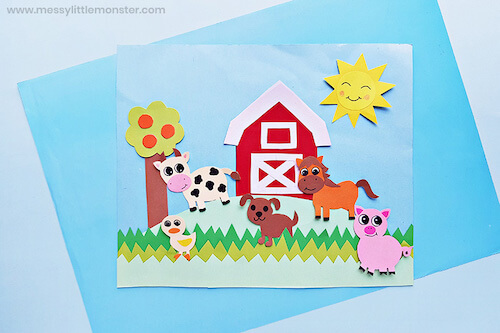 Follow the tutorial here

6. Farm Animal Windsock Craft by Buggy And Buddy
Give your home a 'farm' feel by making these farm animal windsocks. Hang them up front and center where the wind passes through and watch the animals dance in their own funny way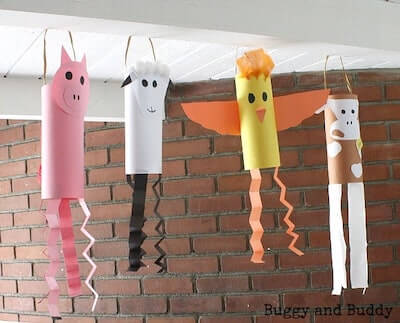 Follow the tutorial here

7. Paper Plate Farm Animals Craft by Made To Be A Momma
Need to keep little ones busy for a little while? Gather some simple household supplies to make these fun and silly paper plate farm animals! These paper plate animals are the perfect craft for toddlers just beginning to work with glue, up to grade school kids that just like to create something fun.

You only need minimal craft supplies for this activity, most being something you probably already have on hand.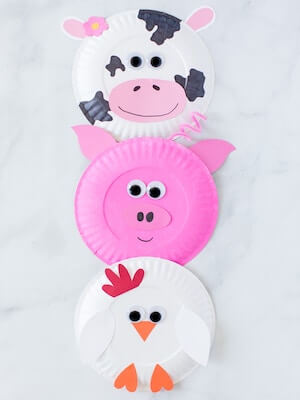 Follow the tutorial here

8. Dancing Farm Animals Craft by Super Simple
Let's make dancing farm animal friends! This fun craft makes a great activity to help teach children about animals and the sounds they make and it makes a great teaching resource when teaching the song "Old MacDonald Had a Farm." Songs like this are a super way to build a little learner's animal vocabulary and adding these dancing farm animals will make the lesson twice as nice.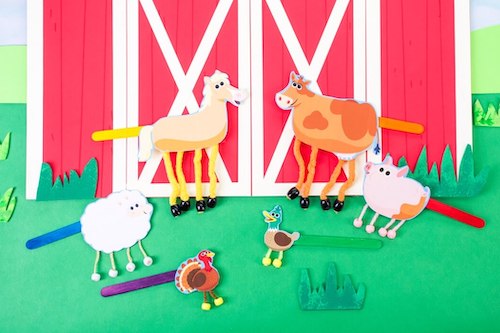 Follow the tutorial here

9. Easy Farm Animal Crafts by In The Bag Kids' Crafts
These 5 easy farm animal crafts each start with the most basic of craft supplies — popsicle sticks. But each one is unique an adorable in it's own way. From the sheep to the pig to the horse…which one will be your favorite. I really think that you are going to need to make them all.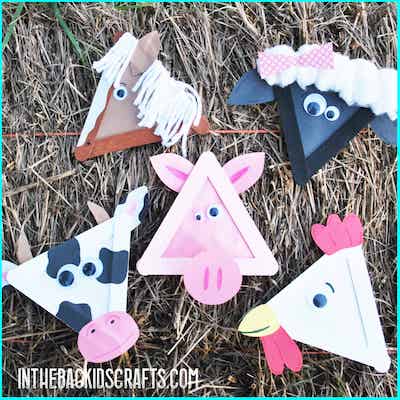 Follow the tutorial here

10. Farm Animal Collage by Education
Most of us live pretty far removed from farms these days, so it can be difficult for kids to really understand what goes on in a farm and why farms are important to us. This craft project about barns and farm animals can help change that. All you need is some craft supplies and your child's imagination.

Let her draw her dream barn and decorate it with the animals she'd love to play around with. When she's done, she'll have her own big barn to hang on her wall and animals that are much easier to take care of on paper!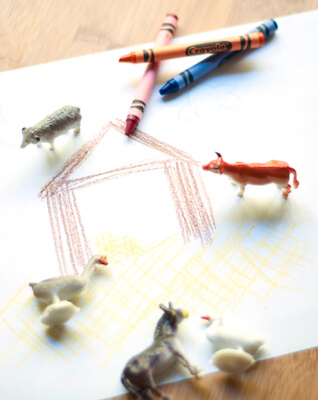 Follow the tutorial here

11. Farm Animals Finger Puppets by Easy Peasy And Fun
The puppets are perfect for kids who love animals, enjoy coloring, and would like to make their own paper toys! They can also be used as a fun addition to story time – can't you just see how much more fun story time will be with these guys around?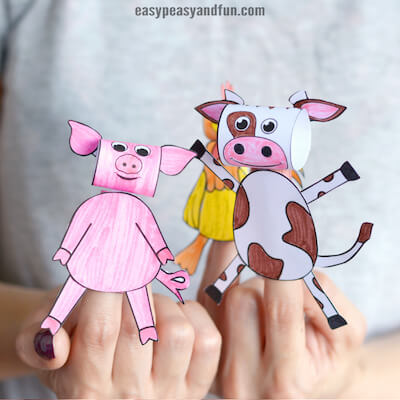 Follow the tutorial here

12. Tissue Box Farm Animals by It Happens In A Blink
Recycle tissue boxes to make this fun craft. Recycling trash into a fun craft is a way to get the kids' imaginations spinning into over time. With some glue, paint, and creativity, kids can create a variety of Tissue Box Farm Animals!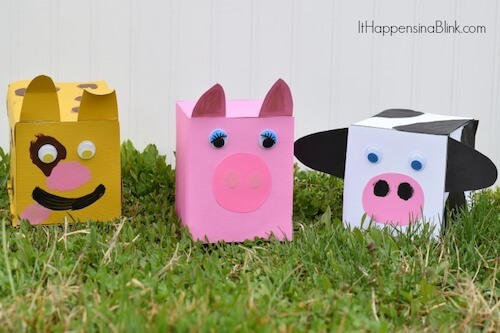 Follow the tutorial here

13. Farm Animal Book Huggers by Organized 31
These Farm Animal Book Huggers aren't just amusing to make; they encourage kids to crack open a book and read.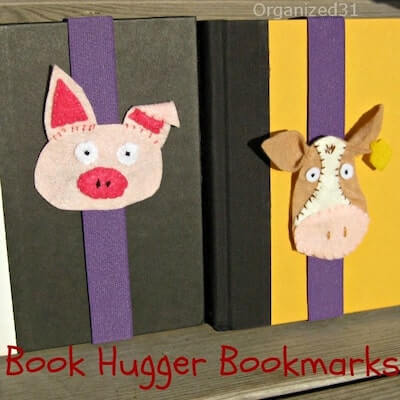 Follow the tutorial here

14. Farm Animal Mason Jars by Hostess With The Mostess
Turn plain mason jars into adorable farm animals with a little craft paint + felt! Use these darling jars as table centerpieces for a Farm Birthday Party or as creative holders for utensils, straws, pens, etc. They'd also be cute as everyday decor for a playroom or elementary classroom!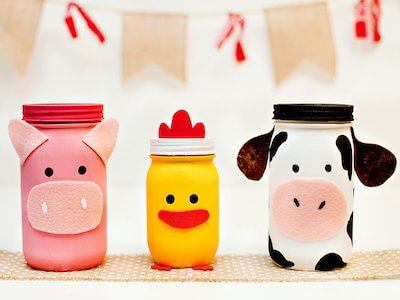 Follow the tutorial here

15. Cow Handprint Art by Craftulate
Time to get messy with this handprint cow craft! Just dip you palm in some white paint and you're good to go. Add details to your cow by brushing black paint on your hand to create spots and hooves and dip your thumb in pink paint to create the cow's mouth and udders.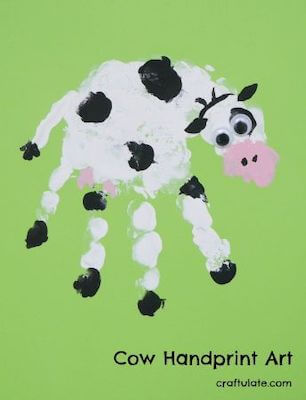 Follow the tutorial here

16. Square Felt Farm Animals by Little Family Fun
I love these little square felt farm animals and am going to be sure to make them with my kids! This craft is a great beginning sewing project and a wonderful gift to make for a younger brother or sister.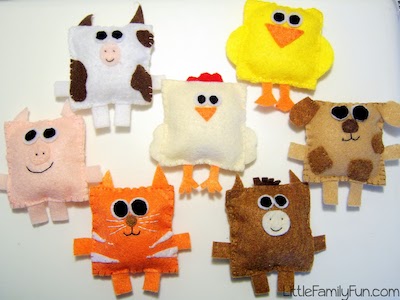 Follow the tutorial here

17. Farm Animal Stick Puppets Craft by Real Life At Home
While it's fun to just sing songs and recite nursery rhymes, it can add a great new aspect to these if you have some props. To help you with that, here's a super cute set of farm animal stick puppets!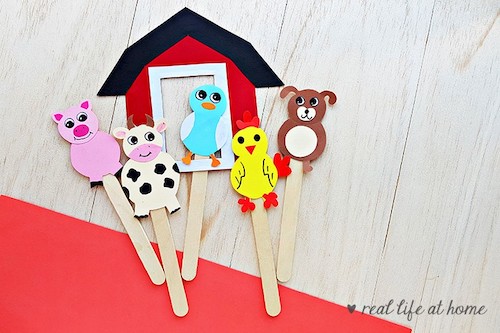 Follow the tutorial here

18. Shear, The Sheep Craft For Preschoolers by Books And Giggles
Preschoolers can practice their scissors skills with this fun cotton ball sheep craft. They can even help the sheep "grow" new wool so that they can shear it again!

This cotton ball sheep is more than just a craft. It's also an activity and a toy. It means that kids can play with this sheep craft, re-enacting their favorite stories and farm situations.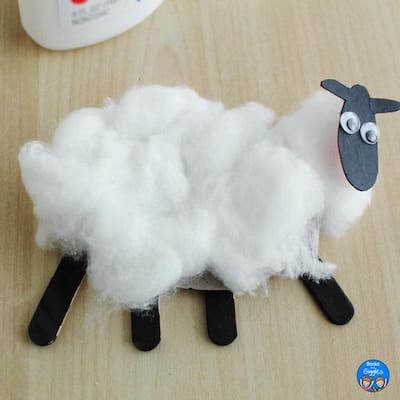 Follow the tutorial here

19. Cardboard Tube Chicks by Crafts By Amanda
These adorable cardboard tube chicks are an easy kid's craft tutorial for spring or Easter. All you need is a cardboard tube, paint and pipe cleaners. If you are planning any Easter crafts for your kids, be sure to include this one!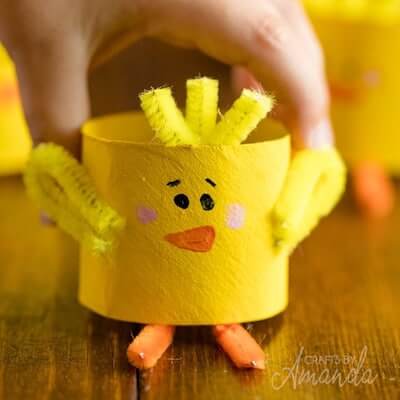 Follow the tutorial here

20. Farm Animal Wooden Spoons by Agriculture For Life
It's time to get crafty in the kitchen! Try this farm animal themed craft to turn your basic set of kitchen wooden spoons and a simple mason jar into a fun farm display!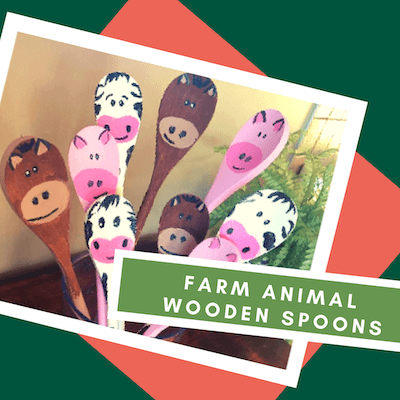 Follow the tutorial here

21. Farm Animal Corner Bookmarks by Red Ted Art
Learn how to make all sorts of farm-themed bookmarks following these handy tutorials. Once you master the basic bookmark, anything is possible, including a pig, a sheep, a cow, a chick, and more!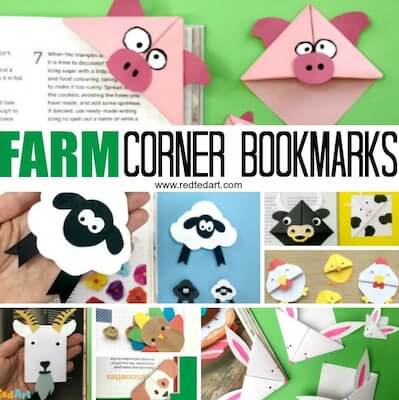 Follow the tutorial here

22. Farm Animal Footprint Puppets by Fun Handprint Art Blog
These footprint animals are an adorable way to make a farm-themed keepsake with the kids. They're also puppets that the kids can play with and use in songs and storytime.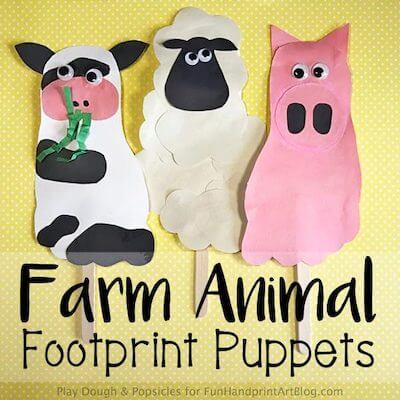 Follow the tutorial here

23. Printable Farm Animal Masks by Arty Crafty Kids
Kick start your children's next dress-up session with this adorable set of Printable Farm Animal Masks for kids — a cute farm animal kids craft that encourages creativity and play.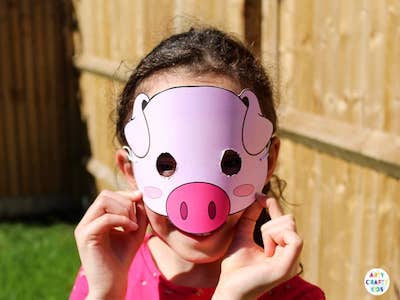 Follow the tutorial here

24. Simple Cow Craft by Homeschool Preschool
This simple farm animal craft can be used for decoration, reenacting favorite farm-themed stories, or added to a playscape. With just a few simple household items, your preschoolers will enjoy transforming an ordinary styrofoam cup into a cute little cow.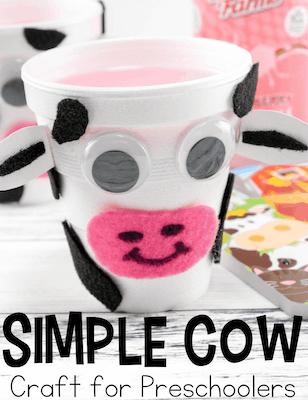 Follow the tutorial here

25. Paper Rosette Pig Craft by Easy Peasy And Fun
If pig is your favorite farm animal, then this Paper Rosette Pig Craft will be a big hit. Making a rosette is something that gets easier every time you do it. This craft is simple to complete, but the result is creativity at its finest.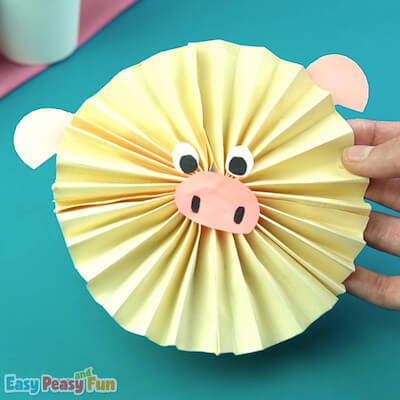 Follow the tutorial here

26. Elbow Macaroni Turkey Craft by I Heart Crafty Things
Childhood isn't complete without making some sort of craft using macaroni and glue. This fun macaroni turkey craft would be perfect for Thanksgiving, too.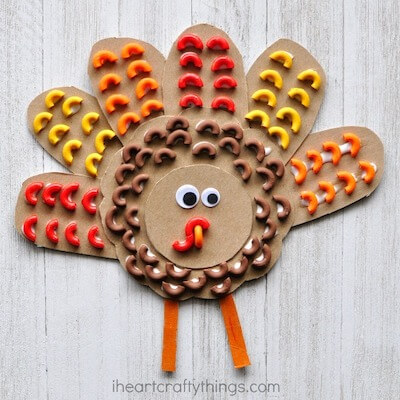 Follow the tutorial here

27. No Sew Horse Puppet by Red Ted Art
I don't know about you, but I'm all about doing what is easy. Kids are sure to love this No Sew Horse Sock Puppet!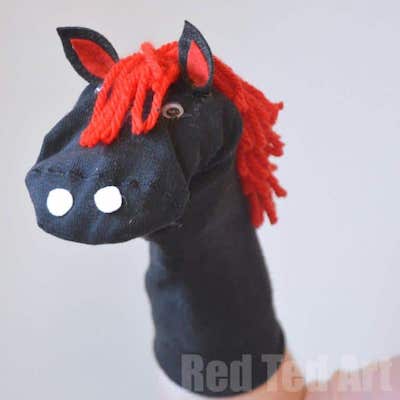 Follow the tutorial here

28. Paper Cup Sheep Farm Animal Crafts by Twinkl
Make this super simple farm animal craft by using a paper cup, pipe cleaners and the template. It makes a cute little sheep that looks great sitting on the shelf of your child's bedroom or use to retell stories.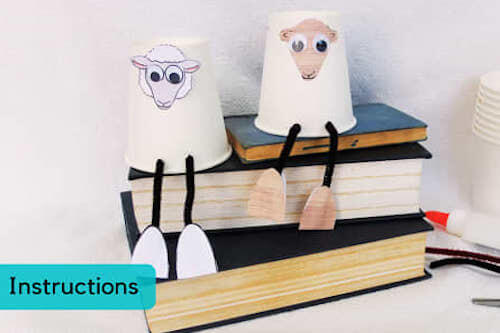 Follow the tutorial here

29. Paper Plate Llamas by Handmade Charlotte
Has anyone else been falling in love with llamas lately? I can't get over how happy and cuddly they look! Let's combine our love of llamas with one of our favorite versatile craft supplies: paper plates with this adorable farm animal craft.

Grab paper plates in a couple of different sizes to make a variety of llamas, both big and small.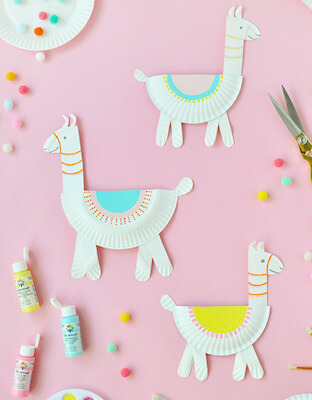 Follow the tutorial here

30. Donkey Headband Craft by Simple Everyday Mom
Kids just love talking about cows, horses, sheep, and more. One animal that doesn't get as much attention is the donkey.

If you want your kids to learn about donkeys and have a fun activity to go with it, try this Donkey Headband Craft. It's easy to make and kids will love wearing it!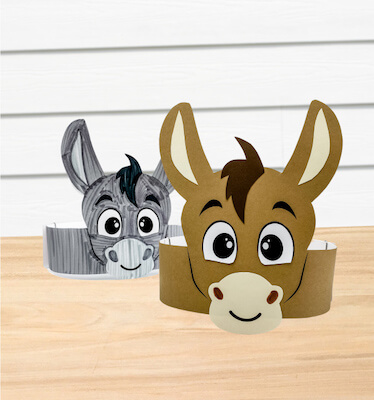 Follow the tutorial here

31. Egg Carton Hatching Chicks by Crafty Morning
When the chicks start hatching, we know it's springtime. This adorable craft is perfect for Easter, spring, and farm themes. It's easy to make and fun to play with after.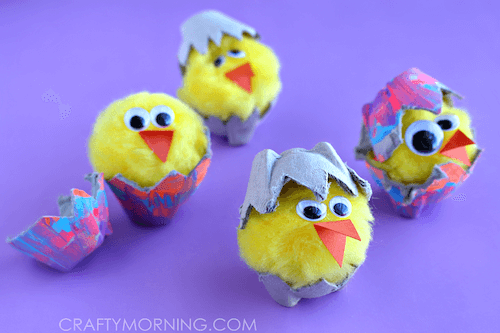 Follow the tutorial here

32. Paper Plate Piggy Twirlers by Kids Craft Room
Twirl some animal fun with this awesome and interesting Paper Plate Pig Twirler. This craft is super simple to make. Hold the pig up and blow to see it spin. A fun paper plate craft for kids!
Follow the tutorial here

33. Old Macdonald Farm Animal Story Stones by Messy Little Monster
Make farm animal story stones to accompany the popular nursery rhyme. Print off the free printable farm animals, stick them to stones and use them to help toddlers and preschoolers choose which animal to sing about in the nursery rhyme or to help them make up simple farmyard stories.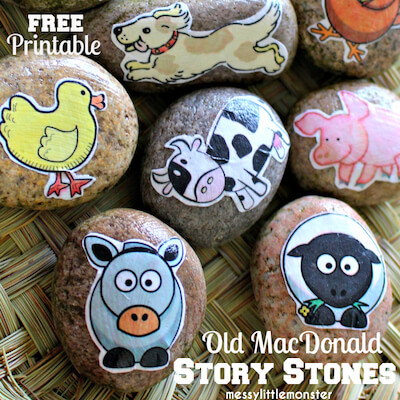 Follow the tutorial here

34. Chicken And Chicks Farm Animal Craft by Powerful Mothering
This fun farm animal craft shows kids how mother hens keep their chicks warm under their wings. The feathers used in this craft gives it a very real feel.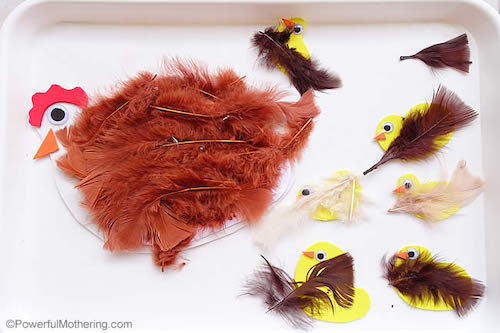 Follow the tutorial here

35. Farm Animal Finger Puppets by See Vanessa Craft
Create Farm Animal Finger Puppets out of felt and embroidery thread. They are so cute and easy to make, no sewing machine skills required!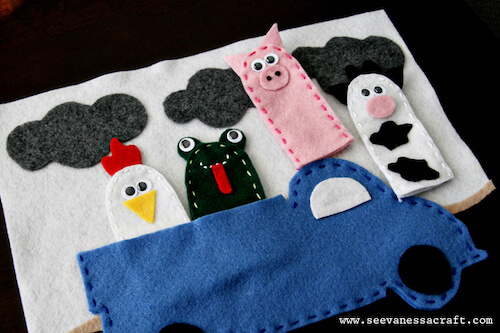 Follow the tutorial here

36. Felt Barn And Farm Animals Craft by Lia Griffith
Old McDonald got tired from maintaining a real farm, so he decided to make a felt version instead! This Felt Farm Play Set comes with templates to make a whole array of farm animals, plus a seriously impressive red barn. Add a handmade fence made out of dowels to complete your farm scene, and you have a gorgeous DIY toy that your little ones can appreciate for years to come.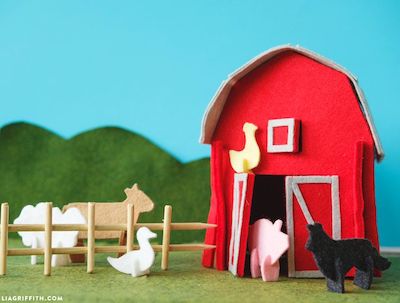 Follow the tutorial here

37. Three Little Pigs Quilled Paper Craft by Views From A Step Stool
Have you ever tried quilled paper crafts? They're perfect for older children who've outgrown simpler crafts. They'll learn to make loose coils, tight coils, and triangles with this cute Three Little Pigs Craft.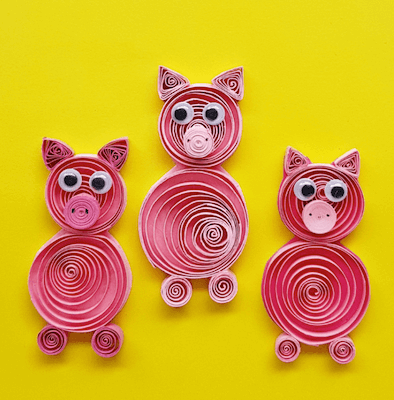 Follow the tutorial here

38. Farm Animal Crafts For Fun by Planet Finds
Using technique of square fabric and elastic band, you can make cute farm animal such as calf, lamp, duckling, goat, and more.

No sewing, cutting, or gluing is required, so you can use it for other purposes later.
All you need is square of fabric, elastic band, and googly eyes, and thing to wrap, such as fruit or candy can.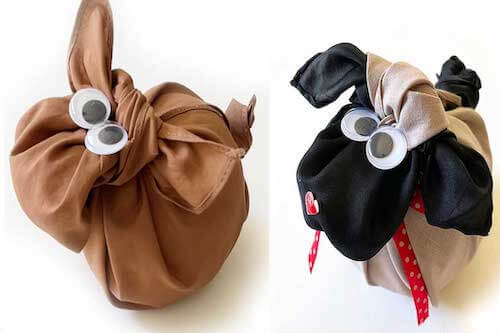 Follow the tutorial here

39. Old Macdonald Had A Farm Egg by Red Ted Art
This fantastic craft comes complete with Egg Cow, Egg Horse, Egg Sheep, Egg Pig and Egg Chick as well of course an Egg Old MacDonald himself. The set of Farm Easter Eggs, come with instructions for how to make the red barn, too!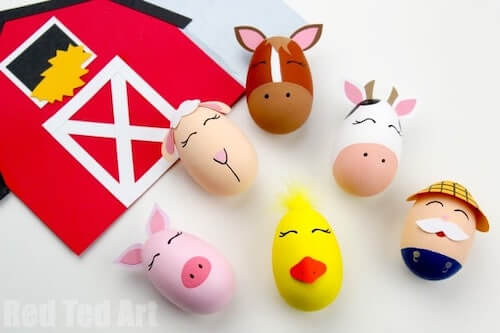 Follow the tutorial here

40. Pom Pom Chicks by One Little Project
These pom pom chicks look almost as cuddly as the real thing! This farm animal craft made of yarn sure would make a cute substitute.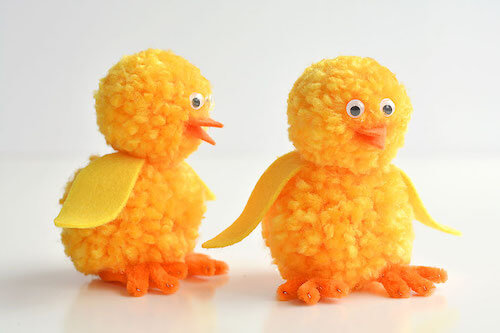 Follow the tutorial here

41. Cardboard Farm Animals And Barn Art by Homegrown Friends
By creating farm animals out of cardboard, felt and paper, your child will focus on the animal's body parts, colors and details such as facial parts. This Cardboard Farm Animals and Barn Art Activity is a wonderful extension to a farm animals study unit.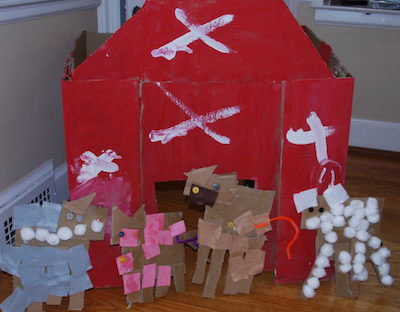 Follow the tutorial here
GET READY TO GET CRAFTY WITH THESE FUN FARM ANIMAL CRAFTS!
Snap a picture of your finished crafts and share them with us by posting on our Facebook Page! We'd love to see what your kids came up with!
If you want even more fun crafts for kids, check out the ones below:
These farm animal crafts are perfect for keeping your kids busy and letting them enjoy their favorite farm animal all at once! Have a fun family crafting!