If you have little kids, then you know they are always looking for something to do. It can be hard to come up with ideas that are fun and educational. That's why kid's crafts like these tiger craft for preschool are such a good idea!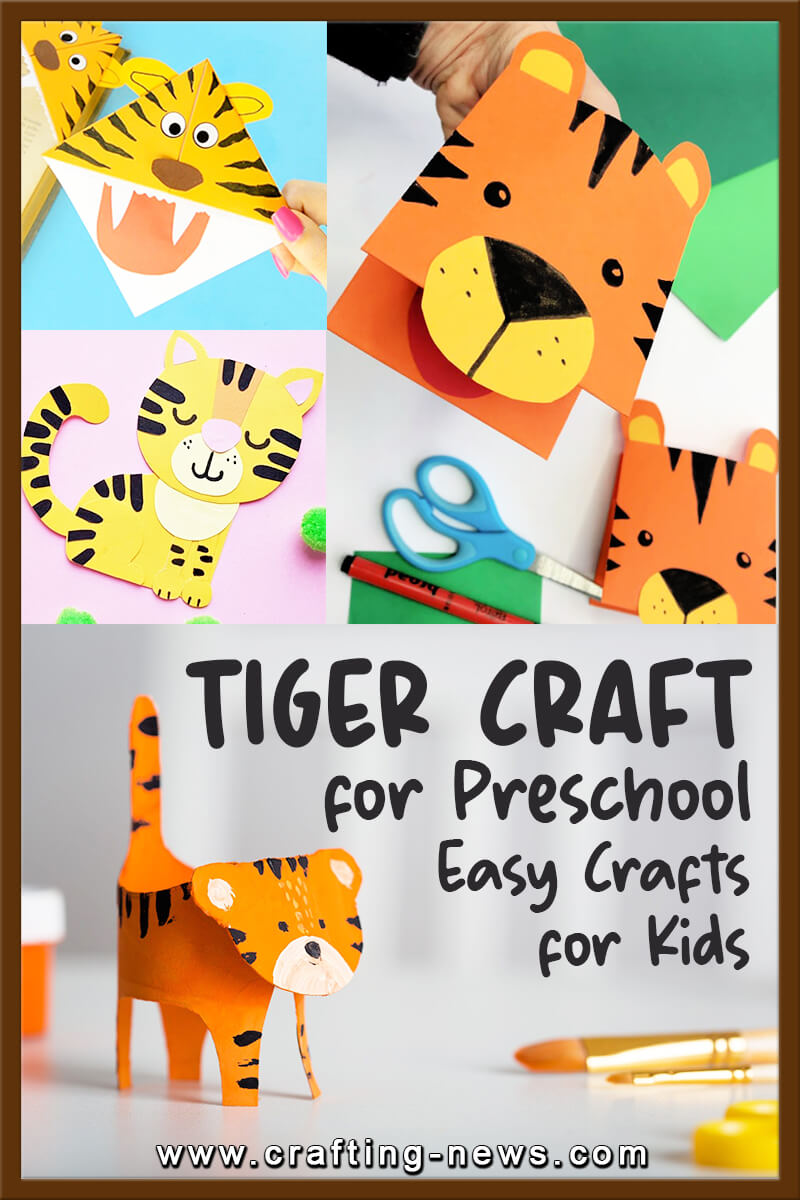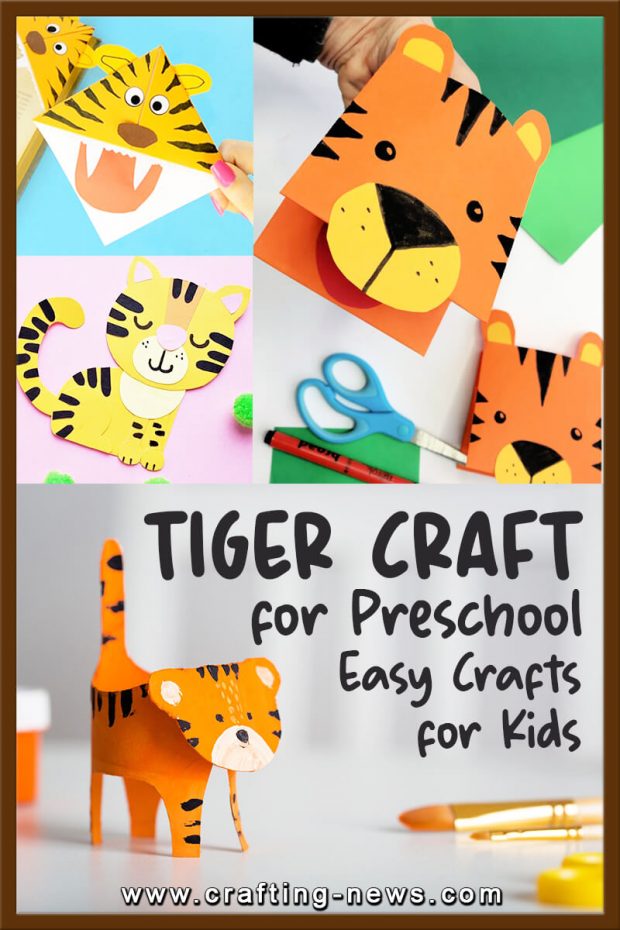 But you don't have to use them as an educational tool. They are great for kids of all ages. Because they all use simple craft supplies, that are great for a classroom, summer camp, or even your kitchen table.
20 Easy Tiger Craft Ideas
From a simple paper tiger craft to a unique painted tiger, there is something for every kids!
1. Easy Cardboard Tube Tiger Craft Preschool by In The Playroom
This tutorial will show you how to make a 3D Tiger Craft out of a toilet paper roll cardboard tube. This is a very simple but fun project you can use to create an awesome recycled tiger toy with your kids, and with Chinese New Year being Year of the Tiger this year 2022, it's a perfect tie in.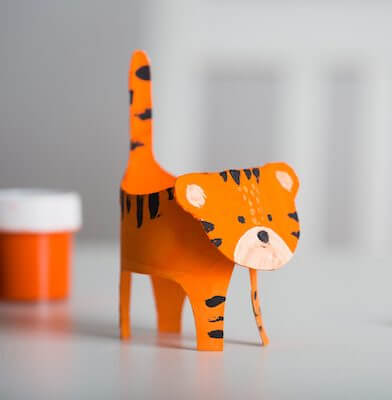 Follow the tutorial here
2. Easy Paper Tiger Craft for Preschool by Happy Toddler Playtime
This adorable Paper Tiger Craft is so much fun to make! It makes a great painting craft for toddlers and preschoolers.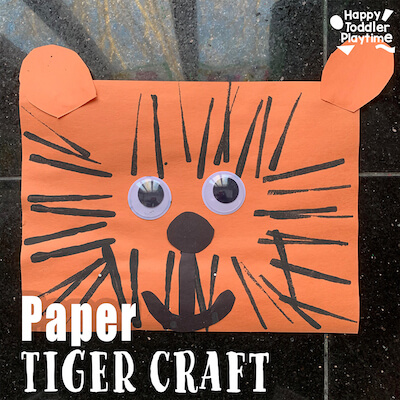 Follow the tutorial here
3. Handprint Tiger Craft For Preschool by Simple Everyday Mom
If you need a quick, cheap and utterly adorable craft idea for kids, this one is for you. Make it at home or in the classroom. Because of the simplicity, it's great for toddlers, preschoolers and kindergarten children.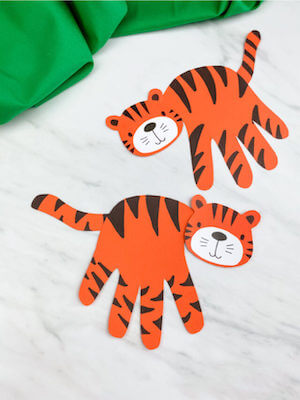 Follow the tutorial here
4. Foam Cup Tiger Craft for Preschool by I Heart Crafty Things
It's amazing what fun things you can create with a simple foam cup so it's a perfect material to keep on hand with your craft supplies. Add this adorable foam cup tiger craft to your creations. It's really simple to make and kids will love playing with it afterwards.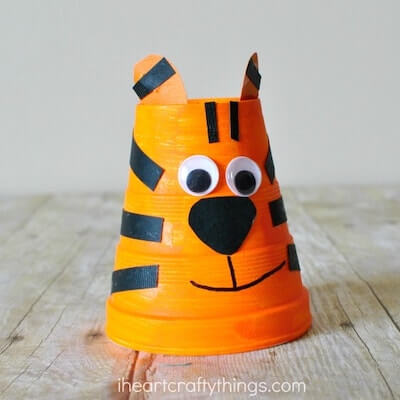 Follow the tutorial here
5. Popsicle Stick Tiger Craft by Crafty Morning
This Popsicle Stick Tiger Craft for Preschool is fun and a great way to use up all those Popsicle sticks you kids are leaving laying around!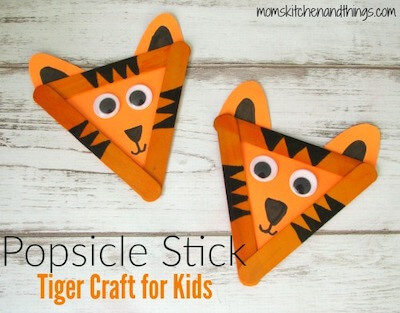 Follow the tutorial here
6. Easy Tiger Craft Preschool by In The Bag Kids' Crafts
This easy tiger craft for preschool is so fun and simple to make. The newspaper details push it over the top. Plus, tearing paper is a great activity for little ones who are about to start to use scissors.

It is great for promoting fine motor skills and bilateral coordination. You can keep this art and craft tiger as is or add a little whimsy with a bow tie or whatever you can imagine.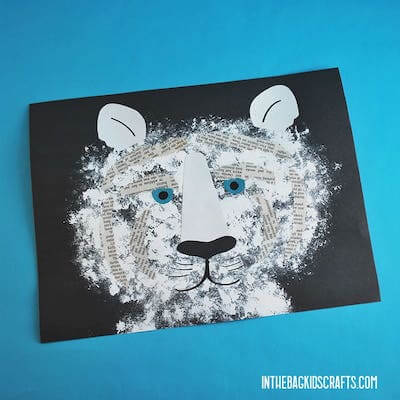 Follow the tutorial here
7. Brown Paper Bag Tiger Craft by Simple Everyday Mom
If you've got a brown bag bag, be sure to make this cute tiger puppet with your kids! It may not be as huge as a real tiger, but can be as big as the bag you have! If your child or students has a love for wild animals, this craft is perfect.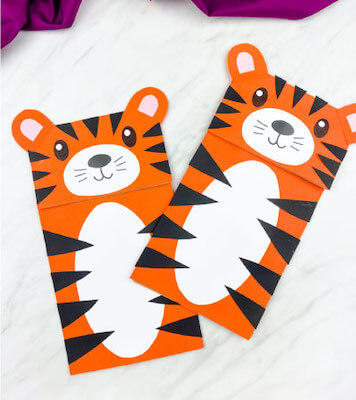 Follow the tutorial here
8. Paper Tube Tiger Craft by Hello Wonderful
This Paper Tube Tiger Craft is an adorable project to make with kids to celebrate Chinese New Year or the Lunar New Year this year since it's the year of the tiger!
Just reach into your recycled bin for a toilet paper roll and some paints and you're all set! What's clever about this tiger craft is that the tube makes the perfect stamped head for the tiger. Use an orange paper to make it easy to just stamp away; a fun preschool tiger craft if your little ones are into some easy stamping ideas.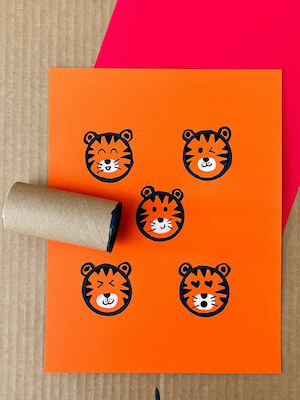 Follow the tutorial here
9. Tiger Corner Bookmark Origami For Kids by Easy Peasy And Fun
You and your kids will quickly learn how to make an origami corner bookmark and decorate it to look like a tiger. Folding these is insanely easy so they make a great beginner origami to get the kids interested in folding paper.

There are so many ways to decorate them and we are sure your kids will come up with a wide selection of their own designs.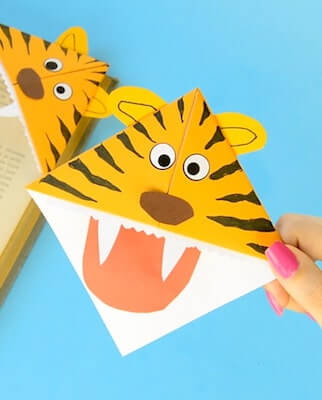 Follow the tutorial here
10. T For Tiger Craft With Printable Template by Artsy Craftsy Mom
This printable T for Tiger craft is perfect for Kids aged 5 and above and improves their fine motor skills, visual perception, and hand-eye coordination.

Parents and teachers can also make these at home or class and have their child or students assemble it independently. These crafts can be made by teachers and used as props, puppets, or even for classroom decoration.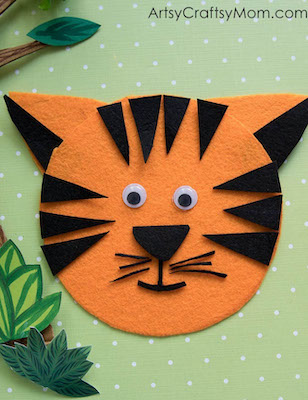 Follow the tutorial here
11. Rocking Tiger Paper Plate Craft For Kids by Red Ted Art
This is an adorable Tiger Paper Plate Craft for kids – not only are you make a super cute paper tiger decoration, but this little literally "rocks". A super cute tiger craft for any wild animal study unit or perfect for the Year of the Tiger DIYs this Chinese New Year!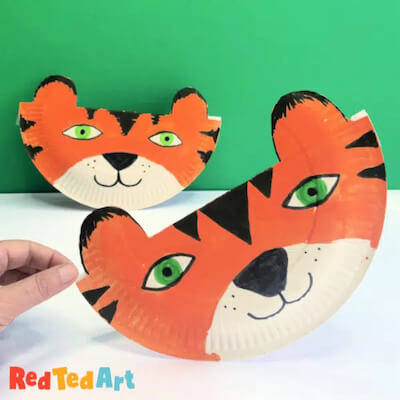 Follow the tutorial here
12. Tiger Paper Collage Craft by Make It Your Own
This is a gorgeous recycled project that is really child friendly and hands on. Working with magazine cut outs and creating collages like this is a wonderful "must make" experience for kids.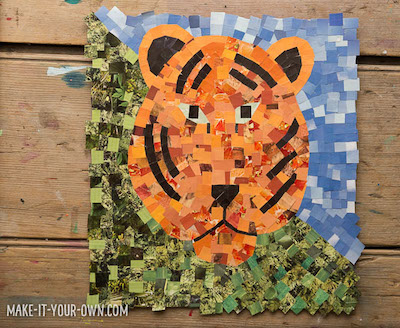 Follow the tutorial here
13. Jumping Tiger Craft For Kids by Happy Toddler Playtime
Make a tiger jump into the air with this super fun and easy jumping tiger craft for kids! Whether it's a craft for a wildlife or zoo themed unit or for the Lunar New Year in 2022 – The Year of the Tiger!
All you need to make your tiger jump are a couple of paper cups and an elastic band!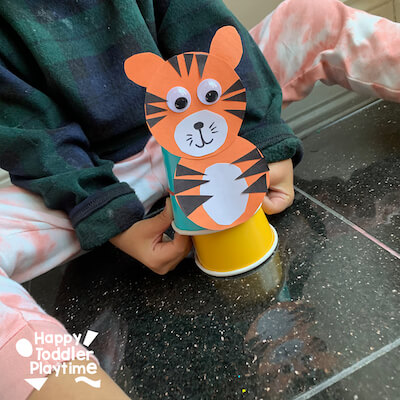 Follow the tutorial here
14. Tiger Craft For Kids by Craftulate
Use marble painting to create this fun tiger craft. This one can be fun for all ages and easy enough for your toddler. Marble painting is a fun experience and your kids will love how it creates the stripes on the tiger.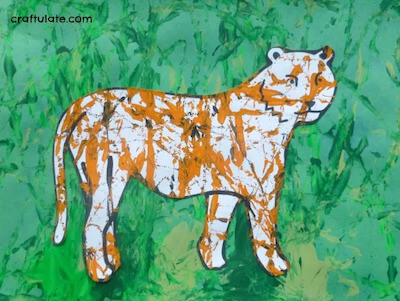 Follow the tutorial here
15. Paper Tiger Craft For Preschoolers by Color Me Crafty
This fun paper tiger craft is enjoyable for all ages! The zoo isn't open all year but that doesn't mean that fun with animals can't happen year-round. With this fun paper tiger craft, the zoo can be brought to any classroom or your home!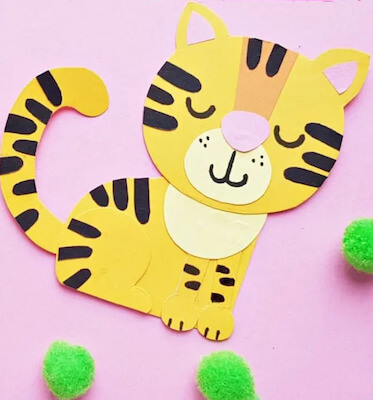 Follow the tutorial here
16. Paper Tiger Mask by Crayola
Kids will be wild about making this grrrreat tiger mask & you'll love it being an easy paper mask craft.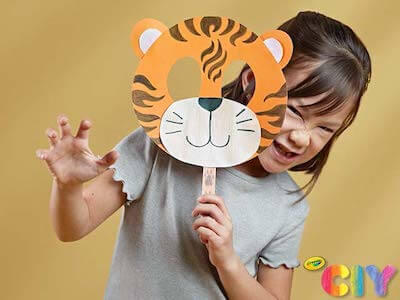 Follow the tutorial here
17. Paper Tiger Puppet Craft by Red Ted Art
The great thing about this craft is that you do not need a Tiger Puppet Printable! These hand puppets are based on basic shapes and everyone will be able to make them!

This tiger craft would make a great addition to any Year of Tiger activities for Chinese New Year 2022 (and beyond!), or as part of an wild life study units. Or make them just because they are so cute!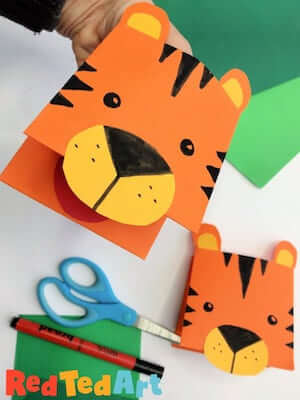 Follow the tutorial here
18. Easy Tiger Bookmark Craft For Kids by Twitchetts
This easy tiger bookmark is a fun animal craft for kids to make. Since 2022 is the year of the tiger, it's fun if you would make something that kids can use all year long! Create this simple tiger craft with your classroom or at your kitchen table.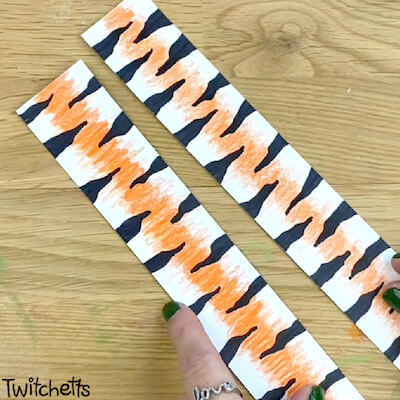 Follow the tutorial here
19. Heart Tiger Craft For Kids by Crafty Morning
Make a friendly tiger using simple heart shapes cut from sturdy construction paper or card stock. This easy paper craft offers a great opportunity to teach kids about symmetry – they can fold the paper to trace and cut half-hearts before assembling a cheerful, friendly tiger.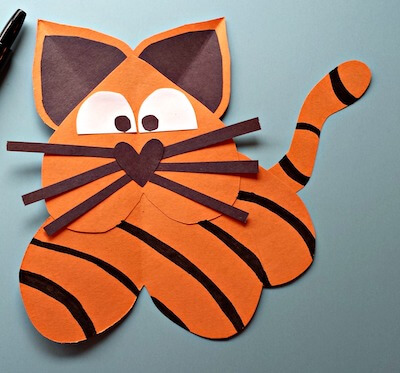 Follow the tutorial here
20. Cardboard Tube Tiger Craft For kids by Creative Family Fun
Let your kids create their own zoo with toilet paper rolls! These tigers are very cute and unique because it depends on the kids how they will draw their faces and stripes.

This toilet paper roll craft is easy that you can leave your kids to make them on their own. After painting the tiger, use google eyes to make its face more attractive.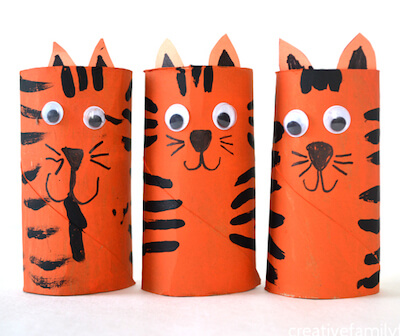 Follow the tutorial here
YOU MIGHT DECIDE TO DO SEVERAL OF THESE TIGER CRAFT FOR PRESCHOOL DEPENDING ON WHAT MATERIALS YOU HAVE ON HAND!
Snap a picture of your finished crafts and share them with us by posting on our Facebook Page! We'd love to see what your kids came up with!

You may enjoy some of these other easy crafts for kids:
15 DIY Kaleidoscopes – DIY Kids Crafts
15 DIY Dreamcatcher For Kids | Summer Crafts
15 Paper Plate Jellyfish Crafts
These tiger craft for preschool are perfect for keeping your kids busy and letting them enjoy their favorite animal all at once!