Sphere Sewing Pattern from Scrap Fabric is a fresh new idea for a personalized gift to give to your cute kids as a toy.
No more wondering what gift to give to your little ones at home for the coming occasions this year!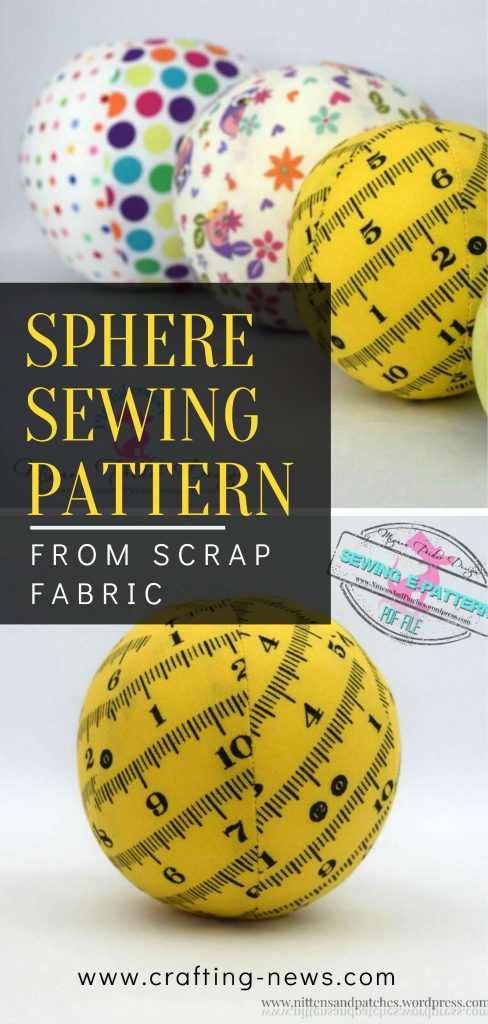 On every occasion, we always make sure to arrange something nice to give to someone. If it's a birthday party or big events such as Christmas or other holidays, where everyone is present giving gifts is a tradition we cannot just forget. It's an essential part of our lives!
ABOUT THE SPHERE  SEWING PATTERN
One crafter thought of a new technique to add up some more excitement and joy to every gift that we give. Mignon Prider of MignonPriderDesign created this sphere sewing pattern for a more personalized and creative gift.
With this sewing ball pattern you can sew the perfect ball to play with!
The sphere sewing pattern includes:
Complete templates for the 4 sizes of balls
Clickable List of contents
Quick and easy guide for the expert sewers
Step-by-step tutorial photos for the beginner sewers
a PDF format pattern in 960B file size
Anyone who would like to try this sphere fabric pattern today, you need to be of a confident beginner's skill level as well as someone who knows how to do some basic machining.
It may be quite difficult at the start, but how can you tell if you won't even give it a try, right?
MATERIALS OF THE SPHERE BALL PATTERN
Fabric – use a scrap fabric for a more eco-friendly option
Filling – cotton or even the other scrap fabric
Tracing paper
Sewing pins
Pencil – or a sewing chalk
SIZES OF THE CREATED FABRIC BALL PATTERN
What will make you even more attracted to this sewing ball pattern is the thrill of how your output would look like. Using scraps of fabrics, both big and small depending on the size you prefer, you can already come up with this special craft.
The bigger the gift you will give, the bigger ball you need to make as well. For the possible sizes that you can make, here are some details that you may consider:
Small measures 6 cm or 2.3 inches tall
Medium measures 9.5 cm or 3.7 inches tall
Large measures up to 13.5 cm or 5.3 inches tall
Extra Large measures up to 17 cm or 6.7 inches tall
HANDMADE GIFTING
Mignon Prider tells us that all her creations are designed personally for those sewers who like to have their personal touch on their crafts. Who wouldn't want to receive a gift that's handmade with the giver's efforts and love?
Both young and old loved ones and friends are going to love this! Getting a gift made in an extra special way such as this one always creates a great feeling of being loved and appreciated.
The cliché that says, "It's the thought that counts" still applies today when people value the idea of being remembered more than the price of the gift itself.
With you following the instructions carefully on how to finish this sphere sewing pattern spherical gift, you can not only produce nice gifts but also some nice decors for your home and probably reduce the scraps you keep.
HOPE YOU ENJOY THIS SPHERE SEWING PATTERN
Don't forget to share with us your final work using this sphere sewing pattern. Please do post a picture of your work on our Facebook page.
Have you checked your calendar? See what's the next holidays and celebrations to come. Grab your scraps and start crafting your sweet little spherical gift with this Sphere Sewing Pattern from Scrap Fabric!