Origami is a peaceful, harmonious art form that sharpens your problem-solving skills and allows time to relax. You can have a ball of tail-wagging fun, too, when you fold up these tutorials on how to make an origami dog. It's easier than you may think. You could have a new pet in a matter of minutes!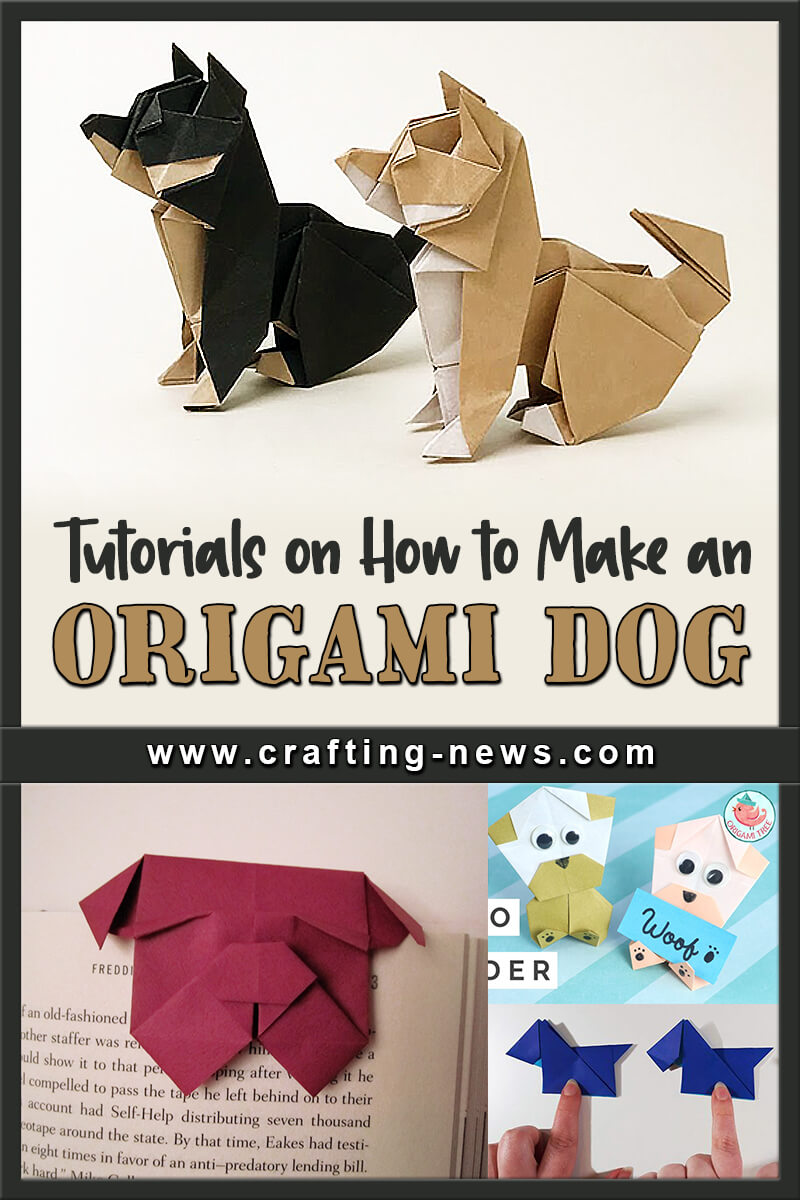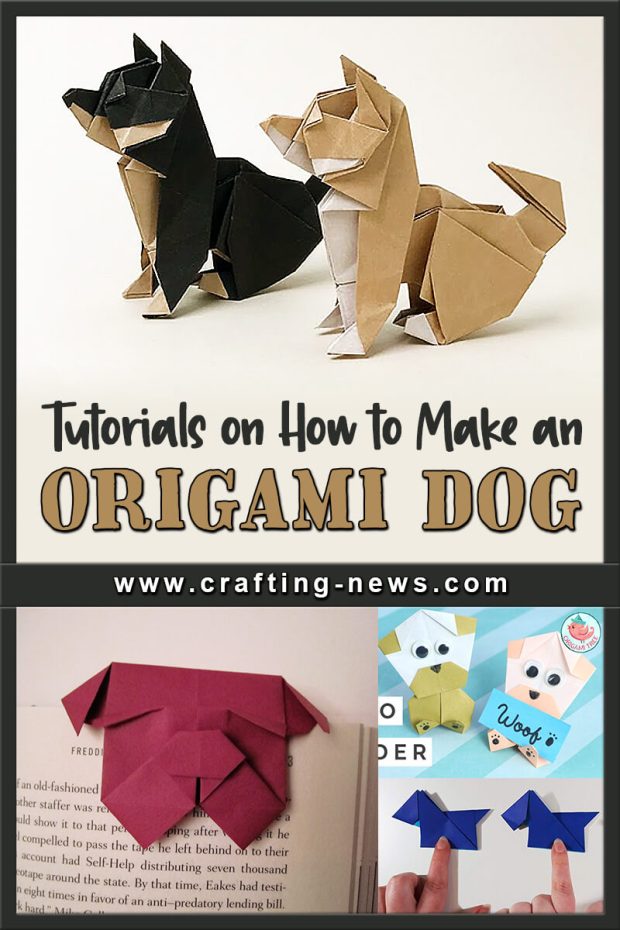 15 Origami Dog Tutorials
No two dogs are the same, and this winsome collection of canine origami models offers a fun-filled variety of pooches, each with a distinctive personality. These tutorials include such familiar breeds as a labrador, a bulldog, and a Chihuahua as well as plenty of lovable mutts.
As with most origami projects, these figures allow for a virtually limitless number of variations — with a little tweaking, you can customize your origami dogs to give them unique characteristics.

1. Easy Origami Dog by DIY Thought
If you love easy origami as much as we do, then this easy origami dog will be a favorite in your home! This four-step hound is a great first origami project for children and is made even more fun by being able to design its face.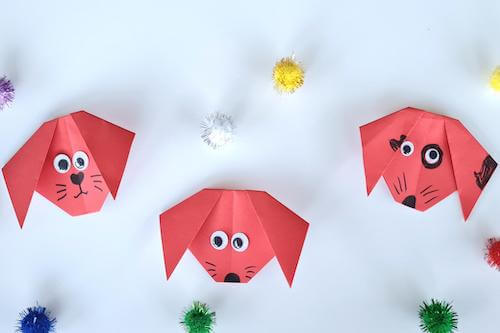 Follow the tutorial here

2. Dog In A Doghouse Origami by Tadashi Mori
This is one of my favorite looking origami models. The entire thing including both the house and the dog is folded from one sheet of paper. How cool is that?
Follow the tutorial here

3. How To Make An Origami Standing Dog by Fast Origami
In this tutorial, you will learn how to fold an origami dog that stands, barks, and even fetches its own water (okay, maybe not the last two). Either way, this origami dog is slightly more complex, so it's a fun yet challenging project for those of you who are origami beginners.
Follow the tutorial here

4. Barking Origami Dog by Origami Instructions
This origami barking dog is a treat for all dog lovers, myself included! This origami dog is already super cute whether it's standing or sitting but on top of that, it "barks" and "howls" when you pull on its tail! This is a must fold if you love dogs!

The large one is made with a regular 6 inch x 6 inch (15cm x 15cm) square origami paper. The puppy is made with a 3 inch x 3 inch square origami paper.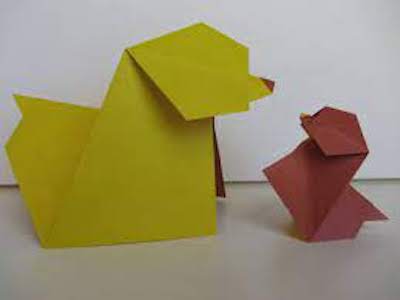 Follow the tutorial here

5. Origami Standing Dog Down Boy by Paul Frasco
Looking for a more whimsical interpretation of an origami dog? Then this "Down Boy" by paul Frasco, a dog standing on his hind legs, might just be the right model for you!
Follow the tutorial here

6. How To Make An Origami Dog Labrador by Steven Casey
Labradors are one of the most popular dog breeds. So, for those labrador lovers out there, Steven Casey's model is a must-fold.
Follow the tutorial here

7. Dollar Money Origami Dog by Instructables
For those special tips or money gifts, it's always great to have that special money fold ready. Try folding this origami dog using a dollar bill note. It's a cute gift for your friends and family.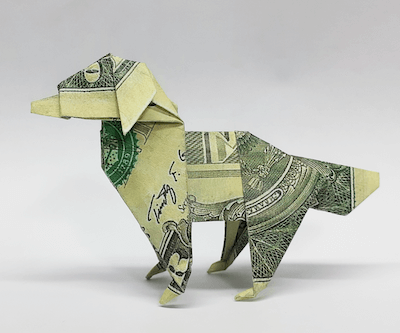 Follow the tutorial here

8. Origami Chihuahua Dog And A Bone by Origami Spirit
I love the whimsical nature of this origami dog about to pick up an origami bone. Where will it bury this little treasure?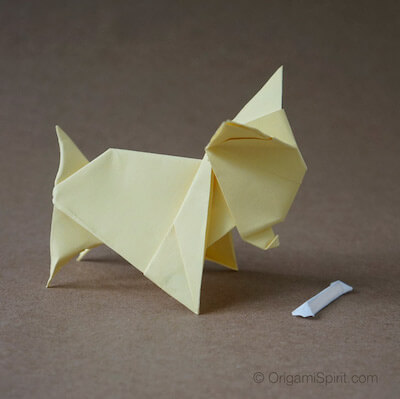 Follow the tutorial here

9. Origami Bulldog Bookmark by Flotsam And Origami Jetsam
Who doesn't need a cute bookmark? Especially, an easy, adorable origami bulldog one? All you need for this tutorial is a square piece of paper that's not too big so that it can fit inside your book! This will only take about 10 minutes to make!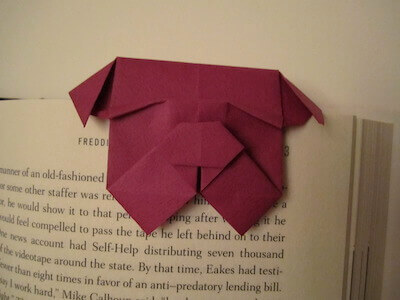 Follow the tutorial here

10. Easy Origami Dog Craft by Danielle's Place
These adorable dogs can move their heads and tails. Use them to make your own special breed. Show your children how to place their fingers inside the folded paper bodies to make their finger puppets to act out stories about dogs.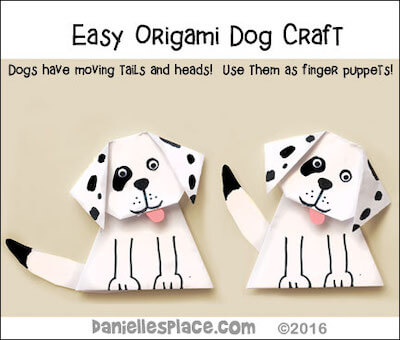 Follow the tutorial here

11. How To Make An Origami Dog by BBC Good Food
Keep the kids entertained with this simple origami project to make a colourful paper dog. Fancy folding yourself one of these pocket-sized pups? Here's a clear and simple set of instructions showing you how. These cute little origami dogs are simple enough for kids to make, and much easier to train than the real thing!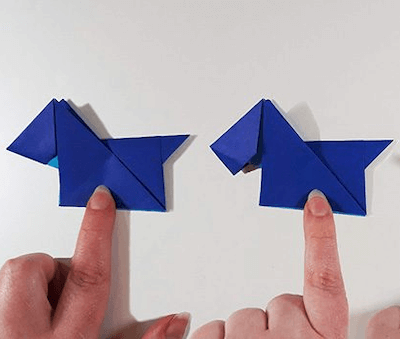 Follow the tutorial here

12. Origami Dog Memo Holder by Origami Tree
Learn how to make an an origami dog memo holder! This easy paper craft for kids is fun and customizable. Decorate the paper dog with googly eyes and markers. This easy origami dog message holder require 2 sheets of paper and glue, and is a classroom and teacher-friendly.
Follow the tutorial here

13. How To Make An Origami Dog by Origami Spirit
Believe me when I say you'll love folding this charming dog! It's a really cute one and is probably one of my favorite origami action models. Have you seen Toy Story? Do you remember Slinky dog? Here in this model, you will have an origami version of this great classic toy.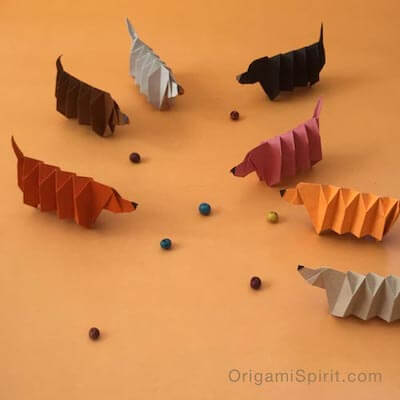 Follow the tutorial here

14. How To Make An Origami Shiba Dog by Muneji Fuchimoto
Would you believe this dog is made out of paper? They're just so adorable! It sort of resembles a lilttle Shiba Inu puppies wagging their tails anxiously waiting for treats. At least that's how I picture it.
Follow the tutorial here

15. How To Make An Origami Sheepdog by Seth Friedman
Who's looking for a real challenge? Then Seth Friedman's sheepdog is definitely for you. It might be a more elaborate project, but when folded well, this model is a total show-stopper!
Follow the tutorial here
IN ADDITION TO YOUR OWN PACK OF PLAYFUL PUPS, YOU CAN CREATE CHARMING HANDMADE GIFTS FOR FRIENDS AND FAMILY WITH THESE TUTORIALS ON HOW TO MAKE AN ORIGAMI DOG.
Once you've made your origami dog, be sure to snap a photo and share it on our Facebook Page. We can't wait to see how it turns out!

Looking to make other origami animals? Try making an origami cat, origami bird, origami butterfly, origami dinosaur and an origami dragon next!

Happy folding with your favorite tutorials on how to make an origami dog. Be warned — they are so addicting to make!