The Victorian Era had some of the most stunning and beautiful dresses. However, most of the women's clothing was restrictive and uncomfortable. Thankfully, we are no longer forced to wear these garments. Nevertheless, doing so can be a lot of fun from time to time. If you are a fan of historical clothing or attend cosplay events or elaborate balls, you can make your own dress using a Victorian dress pattern.

What is a Victorian Dress?
A Victorian dress is a dress that was worn during the Victorian Era. There were several styles over the years. But they all had the same overall shape. The dresses often had an elongated V-shaped bodice and full skirts that reached the floor. The skirts often exaggerated the size of the hips, which in turn made the waist look smaller.

Victorian Dress Fashion Facts
Do you love learning new facts about historical fashion? Below are some interesting facts you may not have known.

The Victorian era lasted from 1837 to 1901. It is named after Queen Victoria.

The Victorian dress was designed to elongate the torso while exaggerating the size of the hips.

During the Victorian era, women often changed their clothes several times a day. They had dresses for every occasion from welcoming morning visitors to fancy dinner attire.

If a woman was to lose her husband, she was only permitted to wear black crepe. If she were to wear colours or other types of materials, she would be insulting the dead.

The length of Victorian dresses had to reach the floor. If women revealed their ankles, it was considered indecent exposure.
7 Vi

ctorian Dress Patterns
Below are 7 Victorian dress patterns. I have included patterns for daily wear as well as formal wear.
1.

Victorian Dress Pattern

by FashionPatternStudio

With this Victorian dress pattern, you will be able to make your very own daily dress. The pattern works best with solid, non-elastic fabrics. Still, you can also use patterned fabrics if you like.

You can also use this pattern as a base to create a lot of dresses. The pattern will teach you how to sew an in-seam pocket to any garment. Included are A4, A3, US letter, and A0 pattern files.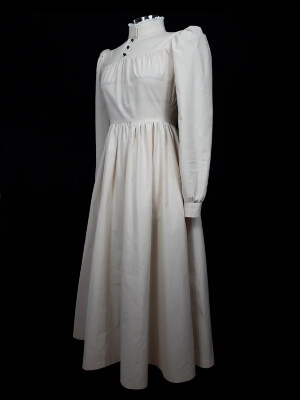 Find the Pattern by FashionPatternStudio Here
2.

Dinner or Society Outfit – Victorian Dress Sewing Pattern

by RepeatedOriginals

Created from an original 1897 Victorian dress pattern, this dress has every detail. There are no changes made to make the dress modern. The dress would be perfect for cosplay and historical themed parties.

Unlike the old pattern, this one is updated to print out full size on A4 and A0 pages. The pattern does not include seam allowance or step-by-step instructions. For these reasons, I only recommend this pattern for advanced level sewers.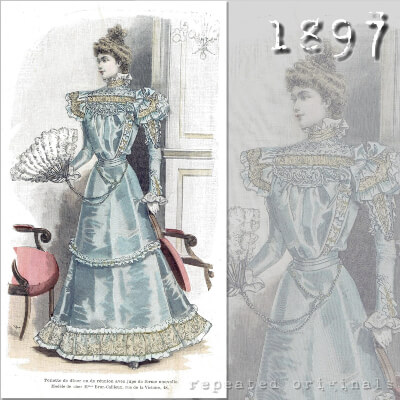 Find the Pattern by RepeatedOriginals Here
3. Victorian Skirt
Pattern by Bones and Lilies
Learn how to make a Victorian bustle skirt by following along with this free victorian skirt pattern. Wear it with a corset or incorporate the pattern into your own dress design.
There are detailed step-by-step instructions along with pictures. This free victorian dress pattern is intended for advanced level sewers comfortable making pattern pieces.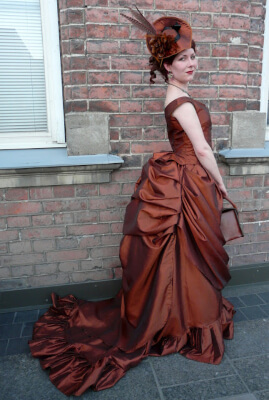 Find the Pattern by Bones and Lilies Here
4. Victorian Dress Sewing Pattern
by BlackSnailPatterns
This Victorian dress pattern is based on an existing dress located at the Victoria and Albert Museum in London. The original dress is from 1837 to 1840. The dress features a wide and rounded neckline, pleated sleeves, narrow cuffs, and contrasting piped seams.
The dress sewing pattern comes with illustrations and detailed sewing instructions in English and German. Included are sizes US 8-18 (EU 34-44) and Sizes US 20-30 (EU 46-56).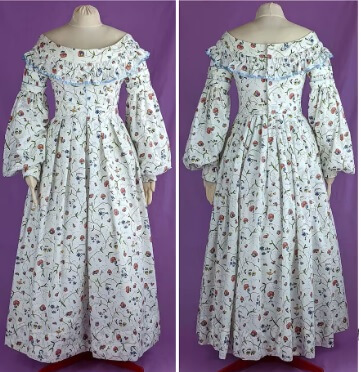 Find the Pattern by BlackSnailPatterns Here
5. Round Dresses 1840 – 1852 Pattern
by LaughingMoonMerc
With three bodice options and five Interchangeable sleeve options, you will have a lot of fun working on this pattern. There are so many combinations; you can use this pattern to make several historically inspired dresses.
This Victorian pattern includes sizes 6 to 26. The pattern pieces can be printed on a home printer if you have Adobe Acrobat installed. The pattern pieces are formatted to be printed on A0 size paper.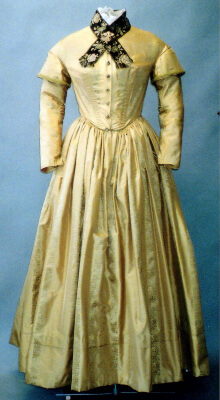 Find the Pattern by LaughingMoonMerc Here
6. Victorian 1860s Gown with Sleeves
by LaughingMoonMerc
Perfect for Civil War reenactments, this gown will look authentic. The dress has a two-dart front bodice and a classic curved V, tucked back. The front of the skirt is directionally knife pleated, the back is cartridge pleated, and the sides are box pleated.
The pattern is formatted to be printed at your local print shop on A0 paper. However, if you have Adobe Acrobat, you can print the pieces at home using the poster option. The Victorian dress pattern is for misses sizes 6-26.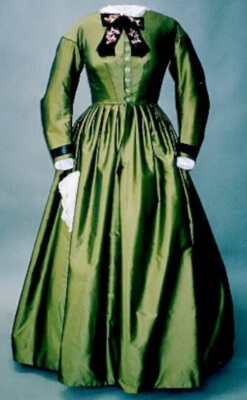 Find the Pattern by LaughingMoonMerc Here
7. Ladies' Ball Gowns 1840-1863
Pattern by LaughingMoonMerc
This lady's ball gown pattern includes 2 bodice variations and 5 sleeve variations. The dress has a dropped shoulder that was stylish in the time period. Choose from the princess seamed bodice or the darted bodice.
The Victorian dress pattern is a replication of a mid-1850's ball gown. It includes sizes 6 to 34. The pattern is formatted to be printed on A0 paper at your local print shop.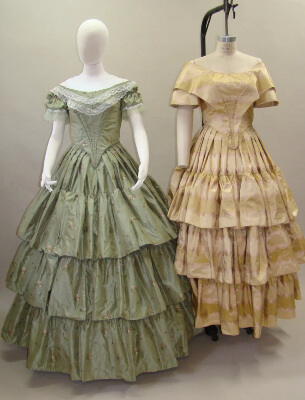 Find the Pattern by LaughingMoonMerc Here
Victorian fashion may be a thing of the past, but you can still enjoy the elaborate designs. Make a historically accurate dress with a Victorian Dress Pattern.
You can also even make more dress patterns like the articles below:
Do you enjoy dressing up in historical costume? Do you frequently attend balls or cosplay events? If so, you know how hard it is to find historically accurate dresses. Instead of searching antique shops or spending money on poorly made gowns, try your hand at a Victorian dress pattern.