If you are into cosplay, you know how hard it can be to find the perfect costume. And when you do find something, they are often cheaply made and ill-fitting. Instead of settling on a premade dress that looks cheap and will fall apart, make your own. Creating costume dresses that fit perfectly is rather easy to do with the help of medieval dress patterns.

12 Gothic Inspired Medieval Dress Patterns
Below are 12 fantastic medieval dress patterns. They are ideal for any event with a gothic inspired theme.
1.

Melisandre Inspired Medieval Dress Sewing Pattern by PatternCosPatterns

How gorgeous is this medieval dress? Its design was inspired in Melisandre dress from Game of Thrones. The medieval dress pattern is available in sizes 36, 38, 40, 42, 44, and 46. It is written in both Spanish and English. We would recommend this pattern for sewers with a bit of experience. It is intended to be used with non-elastic fabrics.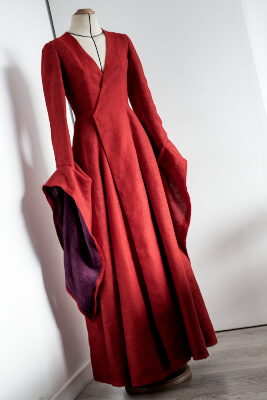 Find the Pattern by PatternCosPatterns Here
2.

Medieval Dress Sewing Pattern by TrinesTreasury

This printable sewing template includes medieval dress patterns for both the under and overdresses. It is a great pattern for creating your own cosplay costume.

The PDF sewing pattern includes ready-to-print 1:1 scale pattern pieces. They can be printed on either A4 or US letter paper. The pattern is written for a size medium. To make the pattern bigger, you can add more seam allowance. To make a smaller dress, simply sew it in.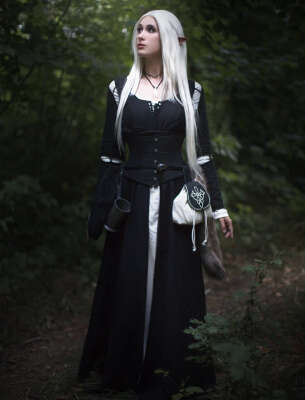 Find the Pattern by TrinesTreasury Here
3. Easy Medieval Dress Pattern

(and Chemise)

Follow along with this free video tutorial to learn how to create your own medieval dress patterns using simple shapes. The dress is based on 14th century dresses that were often worn by common folk. To create your pattern, you will need your measurements and basic sewing knowledge.

Find the Pattern by Victoria Rae Here
4. How to Make Sorceress Gown
Pattern by FireflyPath
Turn heads when you walk into a room wearing this stunning dress. It would be perfect for a cosplay event or fantasy themed wedding.
This PDF download includes medieval dress patterns to make an underdress and a bodice dress. Sizes vary from a small that can tighten to a 24 inch (60.96 cm) bust and 18 inch (45.72 cm) waist up to a large that can accommodate a 60 inch (152.4 cm) bust and 55 inch (139.7 cm) waist.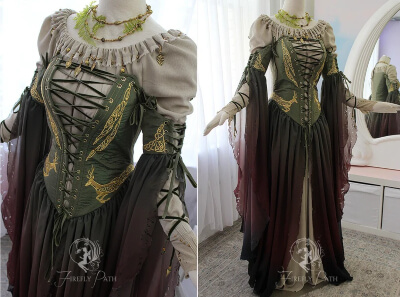 Find the Pattern by FireflyPath Here
5.

Fantasy Fairy Wedding Dress Sewing Pattern

by PatternCosPattern

s

Are you searching for medieval dress patterns to create a piece that you could easily wear to a modern event? Check out this cotehardie inspired dress. Wear it to a fantasy event or a wedding. The piece never goes out of style.

Included are 6 different sizes that range from 36 to 46. The digital pattern can be printed on A4, A3, US letter, or A0 size paper.

Also see: Crochet Wedding Dress Patterns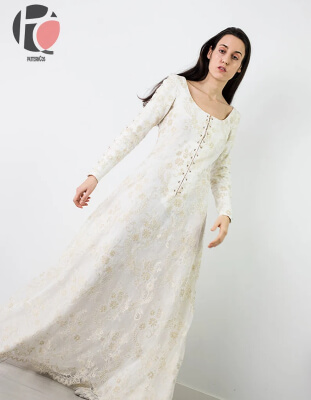 Find the Pattern by PatternCosPatterns Here
6.

Princess Buttercup's Red Dress Pattern

by DaisyViktoriaCouture

This flowing gown was inspired by the dress worn by Princess Buttercup in the Princess Bride. The dress is ideal for costume parties, fantasy themed weddings, and cosplay events.

The download tutorial includes directions for creating the dress. It is sized to fit a 26-27 inch (66-68.5 cm) waist. The length from the shoulders to the hem is approximately 57 inches (145 cm). There are basic notes for adjusting the size.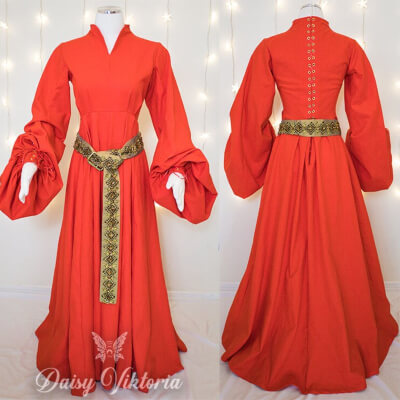 Find the Pattern by DaisyViktoriaCouture Here
7.

Medieval Dress Pattern

by DaisyViktoriaCouture

The kirtle dress is wonderful for fantasy parties and reenactment events. This download includes a sewing tutorial and instructions for creating medieval dress patterns for the kirtle and under dress.

This download is a tutorial only. There are no premade medieval dress patterns. The tutorial will teach you how to create your own pattern pieces and make a dress that fits flawlessly.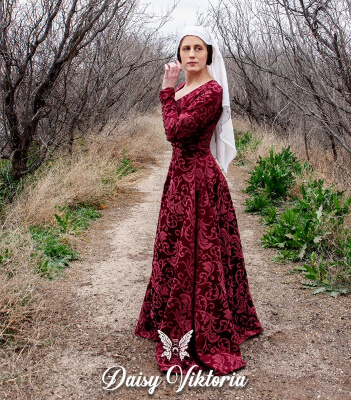 Find the Pattern by DaisyViktoriaCouture Here
8. Fantasy Gown & Elven Dress Pattern
by MissViscidDesigns
This pattern will create a long flowing fantasy dress in medieval elven style. The dress has long sleeves, a train, and inseam pockets. The PDF download includes the sewing pattern and a tutorial. There are step-by-step instructions suitable for sewing beginners that have a little experience. The pattern is for sizes S-3XL.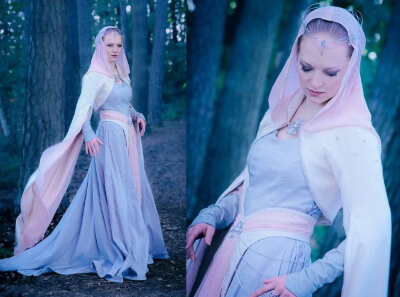 Find the Pattern by MissViscidDesigns Here
9. Medieval Dress Sewing Pattern Renaissance Hooded Gown
by GoldenBunch
You can create this romantic, floor length dress with flare sleeves and a hood for your next cosplay party. The dress is perfect for vintage photo shoots and weddings. It would also make a great vampiress costume. The sewing pattern includes sizes XS-XL. The designer also has a pattern available for sizes 1XL-5XL.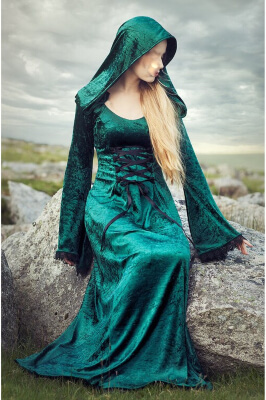 Find the Pattern by GoldenBunch Here
10.

Off Shoulder Evening Medieval Dress Sewing Pattern

by lauramarshdesigns

This medieval dress screams elegance. It is an off the shoulder style dress with bell sleeves. The dress has three layers. There is an outer layer, an inner supporting layer, and a lining.

The medieval dress pattern is suitable for an intermediate to advanced level seamstress. Unlike many other medieval dress patterns, this one includes sewing instructions.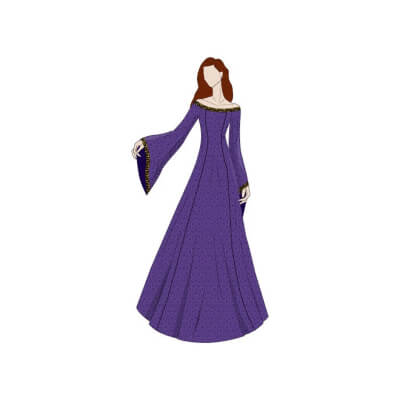 Find the Pattern by lauramarshdesigns Here
11.

Drafting a Medieval Kirtle Dress Pattern

Here is a video tutorial that will show you how to draft medieval dress patterns. The designer will walk you step-by-step through taking measurements and creating the kirtle dress pattern.

Find the Pattern by Morgan Donner Here
12. Houppelande 15th Century Medieval Sewing
Pattern by DaisyViktoriaCouture
Create a pattern for a full-bodied dress with flaring sleeves using your measurements. Since the tutorial will teach you how to make your pattern, it can be used for any size. By following this tutorial, you will create a dress with the perfect fit.
The sewing tutorial includes diagrams for measurements and shapes of pattern pieces. It will show you how to use your measurements to create your pieces.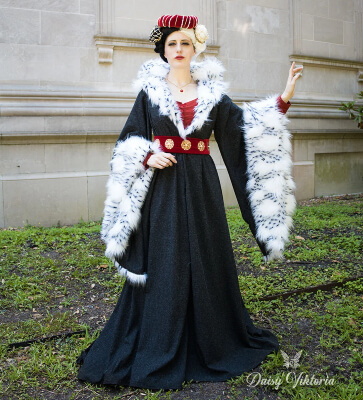 Find the Pattern by DaisyViktoriaCouture Here
Do you enjoy creating your own costuming for special events? Medieval dress patterns are great for creating fantasy dresses.
You can also even make more dress patterns like the articles below:
Dressing up can be a lot of fun. But finding the right dress can be difficult. If you have been invited to a fantasy themed wedding, a cosplay event, or a costume party, make your own dress. By using medieval dress patterns, you can create a stunning historical dress that fits you perfectly.