If you've been playing with the idea of getting a bean bag for your home, then this is your sign to go for it. And since you're here already, definitely I've gathered up below because you and your precious peach deserves a comfy floor to relax on! By making your own bean bag, you can save money and create something fun for yourself at the same time.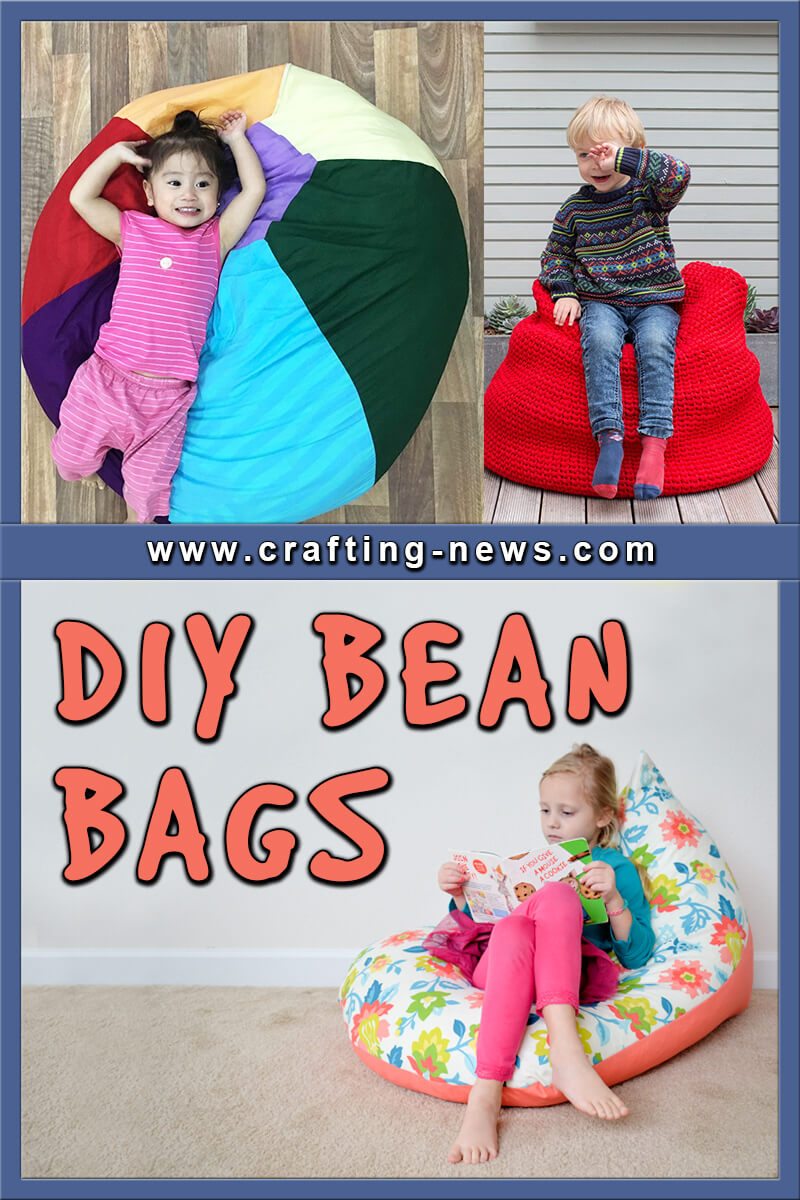 Below, you'll find various styles of comfy bean bags — I'm talking small, oversized, crocheted, and knitted, as well as different options of filling them in (with beads, compressed foam, stuffed toys, and even old clothes and blankets!). Whether you have kids, want to furnish a fun game room, or need comfy furniture fast, there is a bean bag chair here for you.
20 DIY Bean Bag Patterns
1. Bean Bag Sewing Pattern by Ellie And Mac
This Bean Bag Sewing Pattern is a fun way to store your favorite things. It can hold fabric you'd like to secretly stash or organize, throw blankets, or stuffed animal friends.
This pattern is a great solution to give all those cute little stuffed animals a comfy home, and then when zipped up, it doubles as fun seating. Dual-purpose patterns are always a win in my house! Kids love them, moms love them, sewing enthusiasts will love them, and even your furry pets will love their comfort!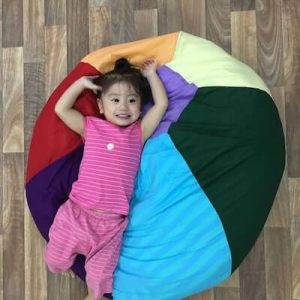 Get the Pattern by Ellie And Mac here
2. How To Make Bean Bag Chair by The Spruce Crafts
Curl up with a good book or relax as you watch your favorite shows in this slouchy DIY bean bag chair. It's easy to sew with all straight seams and a great size for teens and adults.
Canvas drop cloths are an inexpensive fabric option that holds up well but also gives you the option to customize. You can leave the material plain and add some colorful throw pillows or decorate the fabric with paint or stitching.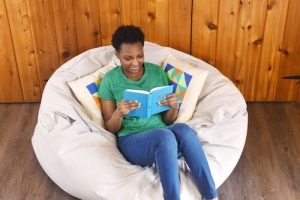 Get the Pattern here
3. Knitted Bean Bag Pattern by No And El
If you know the basics of knitting like Cast on, Cast off, Knit, Purl and can do basic stitching (like attaching a button), then you will be able to knit this cozy bean bag in no time! Make your own hand knit bean bag in a weekend, then relax in it with a handful of slime for optimal relaxation.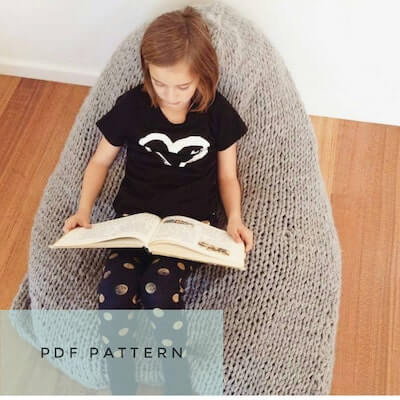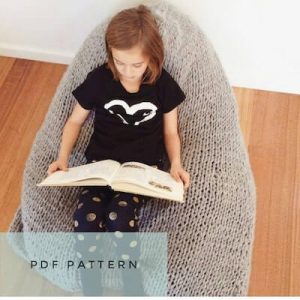 Get the Pattern by No And El here
4. DIY Football Bean Bag Chair by Hallmark Channel
Enjoy gamely from the comfort of your Football Bean Bag Chair. From door room to man cave, this will add the finishing touch to your room. Ideal for any aspiring footballers or fanatics, this bean bag chair is incredibly eye-catching!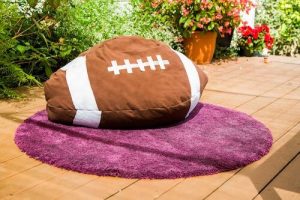 Get the Pattern here
5. How To Crochet A Bean Bag Chair by Chair Pers
Even if you're a beginner, making a crochet bean bag chair is a simple job. You could design your own crochet bean bag chair using six strands of yarn and a single crochet pattern. This technique necessitates experience with the chain, slip, and single crochet stitches. You'll also be required to know how to add and reduce stitches.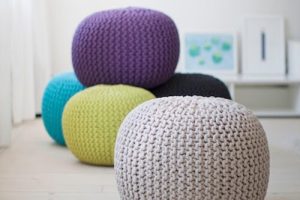 Get the Pattern here
6. DIY Ipad Stand Bean Bag by Sewn Up
Stuffed with uncooled beans or cloud-like polyester fill, a wedge pillow like this ca serve as a sort of DIY bean bag chair for your tablet device. You'll need about one-half yarn of the fabrics of your choice (floral prints aren't for everyone, after all).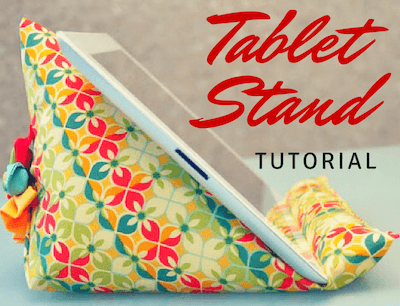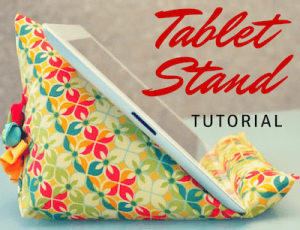 Get the Pattern here
7. DIY Bean Bag Chair by Heather Handmade
Learn how to make a DIY bean bag chair with free measurements! Make a comfortable chair that is great for reading to match your room! This DIY bean bag chair is really easy to sew, but it takes a lot of fabric and a lot of filling. It's so fun to pick out matching fabric to match a room.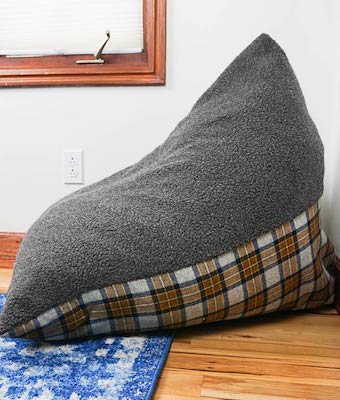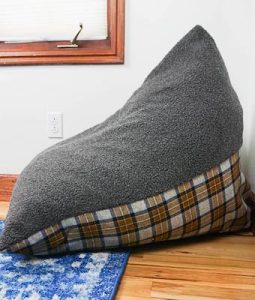 Get the Pattern here
8. Bean Bag Chair Sewing Pattern by The Tailoress
Bean bag chairs are fun, affordable seating that can be thrown anywhere, which is so fun! Here's a Bean Bag Chair Sewing Pattern that's available in in five sizes ranging from extra small (for very little bums) to extra large (for sharing!).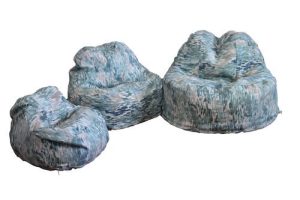 Get the Pattern by The Tailoress here
9. Meringue Bean Bag Pattern by Dahlia In Bloom
This 'Meringue' Bean Bag Chair is so named because the shape of will remind you of those lovely little meringue cookies!
The top portion of the chair is full of beans to give it a smooth look and make it comfortable for sitting, just like a full bean bag chair, while the bottom portion of the chair can be filled with stuffed animals, extra blankets or pillows. (If you choose to fill the entire chair with stuffed animals, it will be lumpy and pretty heavy).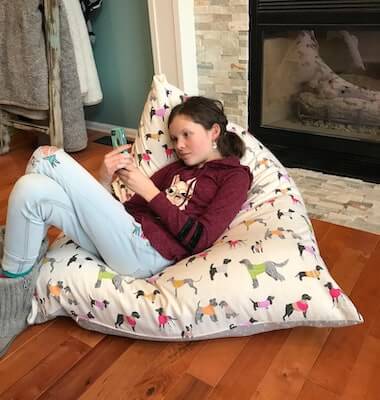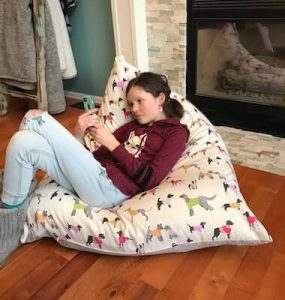 Get the Pattern by Dahlia In Bloom here
10. Bean Bag Ottoman Sewing Pattern by Heather Handmade Shop
Bean bags also work great as footstools and are great for use in outdoor settings. Learn how to make a DIY floor pouf with beautiful fabric and a sewing pattern for the perfect footrest. This easy sewing project is great for the home and a gift.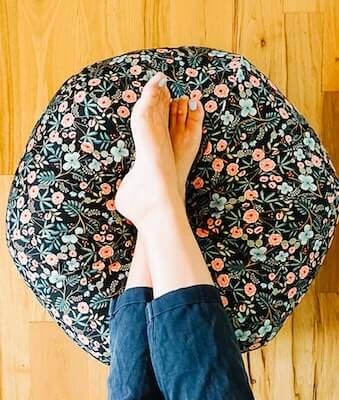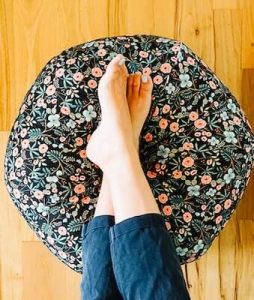 Get the Pattern by Heather Handmade Shop here
11. Peppermint Kiss Bean Bag Crochet Pattern by Crafting Friends Designs
This Peppermint Kiss Beanbag Crochet Pattern is a must have for any kid to enjoy during the holidays! They'll have fun kicking back and reading books or watching movies in this amazing bean bag chair. Whip up each section in a different color to enjoy throughout the year or coordinate with their room decor.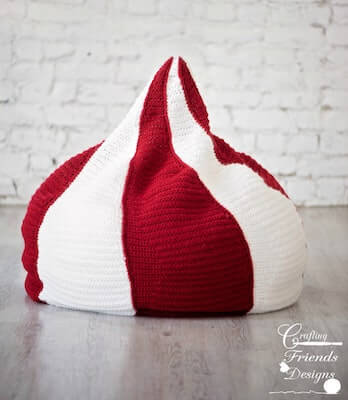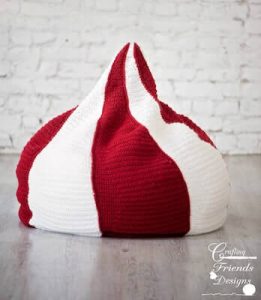 Get the Pattern by Crafting Friends Designs here
12. DIY Bean Bag Sewing Pattern by Sew Guide
This is a pattern to make an easy DIY Bean Bag which can be customizable to the size you want.You can fill it with polystyrene beads and you have a comfy seat to relax on.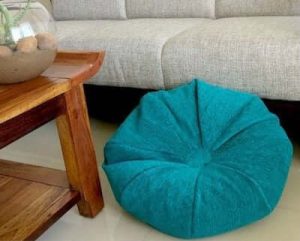 Get the Pattern here
13. DIY Kids Bean Bag Chair by Project Nursery
All kids deserve a snuggly spot to call their own. Whether it's for lounging, movie nights or just curling up with a good book, a pint-sized bean bag chair fits the bill. And while there are many of these available in stores, wouldn't you rather make one as unique as your child?
With two pieces of fabric, one zipper and a straight stitch you could have an adorable kids bean bag chair in 30 minutes!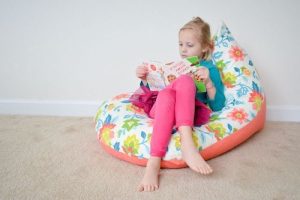 Get the Pattern here
14. Giant Bean Bag Chair by So Much To Make
Making your own giant bean bag is the way to go! These comfy, foam-filled chairs will cost you hundreds to buy new, and by making one yourself, you can not only save money, but you can customize with fabric you love, and know it is made well!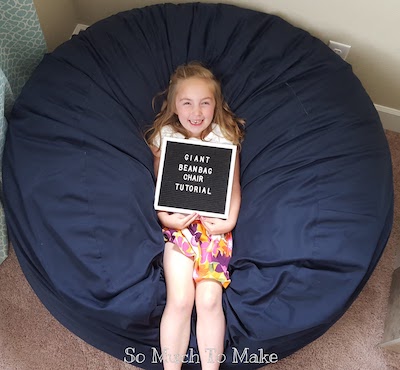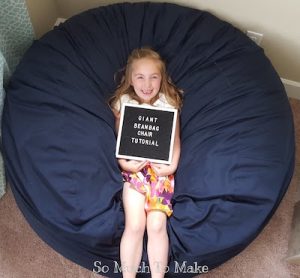 Get the Pattern here
15. Free Bean Bag Chair Sewing Pattern by Gluesticks
Making your own beanbag chair might seen intimidating, but it's actually a fun project! What kid (or adult) wouldn't want their own bean bag chair? This bean bag pattern comes in two sizes: for kids or adults.
You can make a liner/insert and fill it with bean bag pellets, or simply make the outer shell and fill the inside with stuffed animals! The stuffed animals are cozy and are an inexpensive filler, and it provides toy storage at the same time.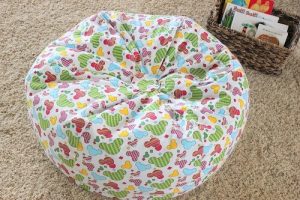 Get the Pattern here
16. Easy DIY Bean Bag by Ladyland
Here's a way to make an easy DIY bean bag using just one piece of fabric. Perfect for a sewing novice, and ideal for using up extra fabric that you might have lying around.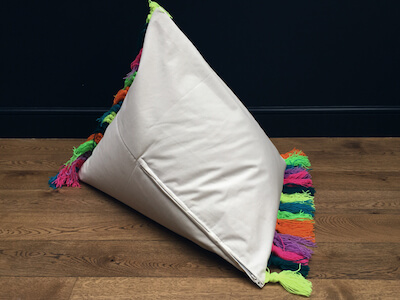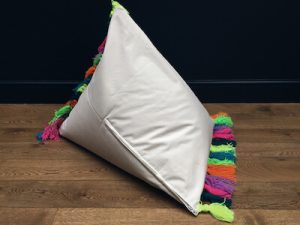 Get the Pattern here
17. Big Bean Bag Crochet Pattern by Annaboo's House
Simply crocheted in T-shirt yarn, this big ol' beanbag is a lovely statement piece for you home and it's tough enough to withstand family life. Just choose the colour to suit your interior.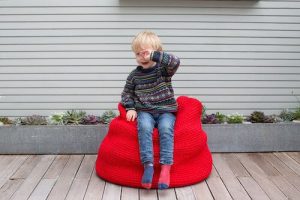 Get the Pattern by Annaboo's House here
18. Bean Bag Chair Pattern by Sew Can She
Sew a bean bag chair that doubles as toy storage! This fun bean bag chair sewing pattern is easy to make and is huge – it will measure 40" across and it will fit at least 30 stuffed animals.
Since this bean bag type chair is sewn from a single layer of fabric, regular quilting cotton or similar lightweight fabrics aren't sturdy enough. I strongly recommend using home decor weight fabric such as cotton duck, twill, sateen or heavier.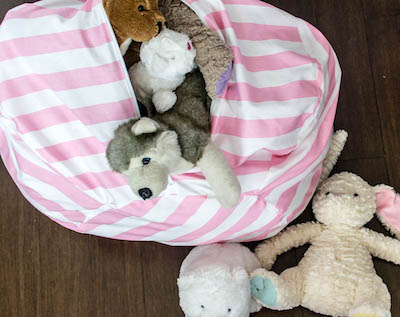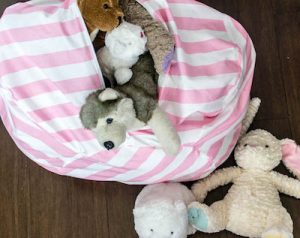 Get the Pattern here
19. Pyramid Bean Bag Chair by Hungarian Journey
Think about it! You can save money if you already have the material at home. An old curtain might be boring — you've been looking at it for years on the windows. But they can be upcycled into a cozy pyramid bean bag like the one pictured below.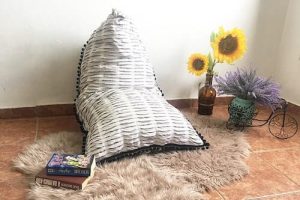 Get the Pattern here
20. Hamburger Bean Bag by Instructables
Let your stress sizzle away as you plop your buns down on this Hamburger Bean Bag. This colossal burger comes topped with a juicy patty, cheese, tomatoes, and lettuce that all combine to provide a deliciously comfortable seat.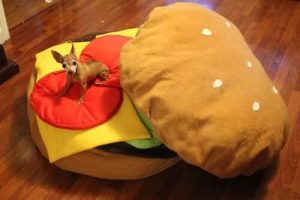 Get the Pattern here
DIY Bean Bag Frequently Asked Questions
Why should you make a bean bag when you can easily buy one?
Yes, the furniture shops are filled with many different types of bean bags in all shapes and colors. But making a bean bag allows you the freedom of choice – much more than the store bought one – texture, print, size, color, pattern – all in your control and at the fraction of the cost of the one you get to buy.
Is it cheaper to buy or make a bean bag?
It is less expensive to make your own beanbag chair than to purchase one, and you can customize the color and size of the finished product to fit perfectly within your home's decor and space. Beanbag construction methods are available for both those with and without sewing skills.
What material is used for bean bags?
You can use different materials for bean bags such as leather, cotton, vinyl, faux fur, and more.
What should bean bags be filled with?
Bean bags should be filled with the best bean bag fillings such as beads, EPS beads, clothes, Styrofoam, and more.
What is the best stuffing for a bean bag?
If you mean "most comfortable," shredded foam is most likely the best filling for a bean bag. It's highly adaptable, conforms to your body shape for comfortable seating, and provides plenty of comforts even if you sit for a long time.
What fabric to use for bean bags?
The best fabric for indoor bean bags is a linen or natural fibre, it feels the nicest against your skin and if you don't need to worry about stains, it will work well. For outdoor use or when you need fabric to be a little more durable than marine grade vinyl works best.
WITH THESE DIY BEAN BAGS, I BELIEVE YOU WILL FIND SOME THAT WILL INSPIRE YOU TO MAKE YOUR OWN.
You don't have to spend loads of money to buy a bean bag because you can easily make one yourself! We're excited to see what you make, so please do share them on our Facebook Page!
Looking for more amazing DIYs for your home? Check out these posts:
So, having gone through all these DIY bean bag chairs, which one can you try out? All of them are unique and superb hence worth your try.