Christmas tree skirts simply enhance the look of a decorated Christmas tree – think of them as the perfect finishing touch. Keep scrolling to check out our top Christmas tree skirt patterns for every style – and budget – whether you prefer them recycled, quilted, crocheted, or knitted.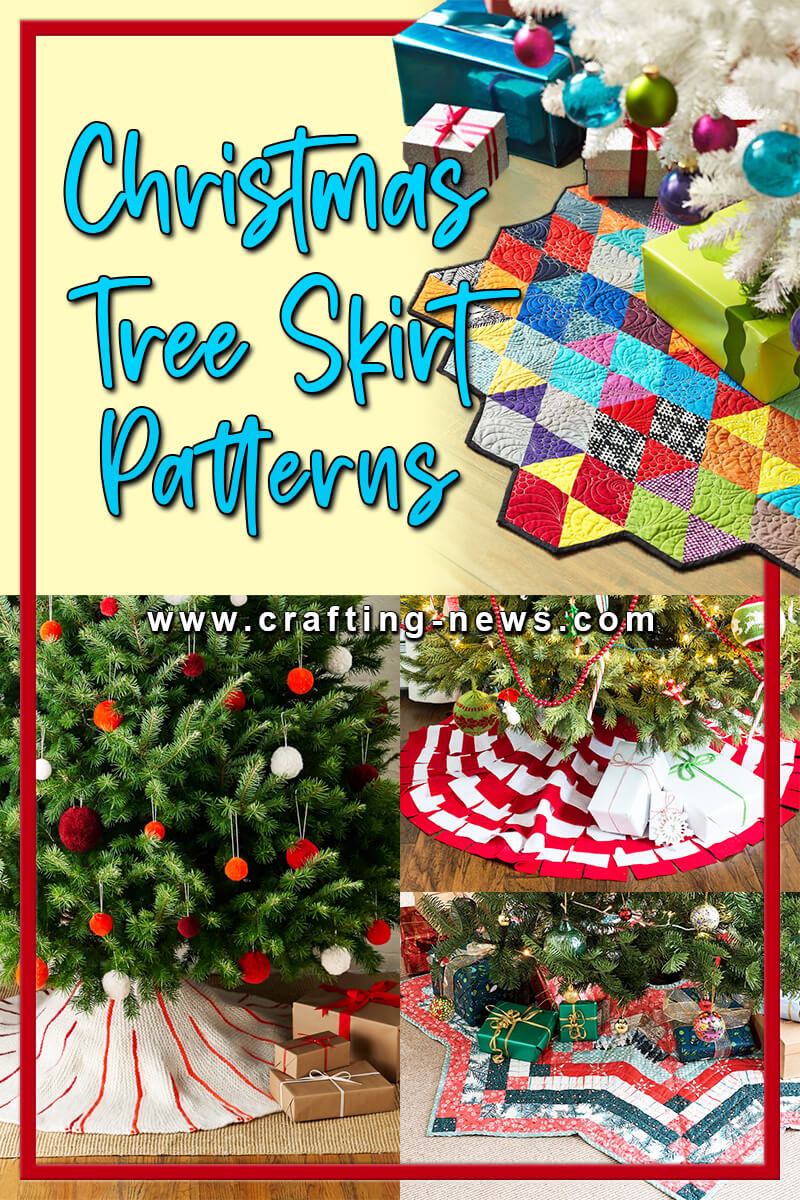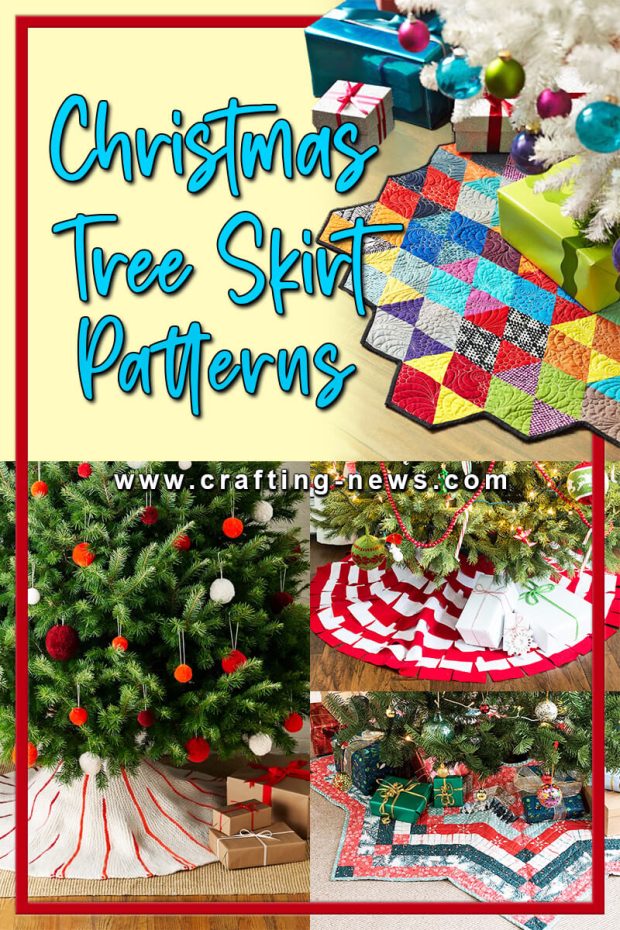 Christmas tree skirts offer a stylish covering for unsightly loose wires, and plastic stands so your quirky baubles and Christmas tree toppers remain the stars of the show. No matter which Christmas tree skirt you choose, any one of these options is sure to make this Christmas your most stylish one yet!

1. Balsam Gnomes Christmas Tree Skirt Pattern by Lake Girl Quilts
This adorable Balsam Gnomes Tree Skirt Quilt is so fun to make! This pattern is fat quarter friendly, and looks great using a variety of prints from your stash. Make this fun tree skirt in a few evenings or over the weekend. The finished tree skirt measures 45″ x 45″ square. It's easy enough for even a beginning quilter to make!!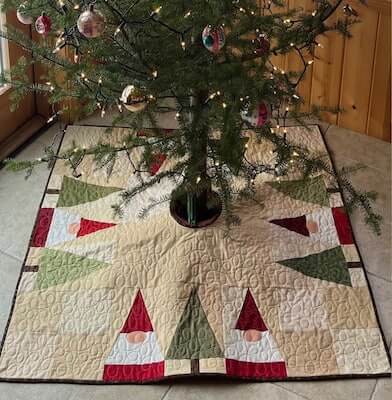 Get the Pattern by Lake Girl Quilts here

2. Free Christmas Tree Skirt Pattern by Gathered
Get ready to make your next family heirloom and create the perfect backdrop for all your present with this clever star-shaped Christmas tree skirt pattern. This project can be sized up or down to fit your tree, or floor space.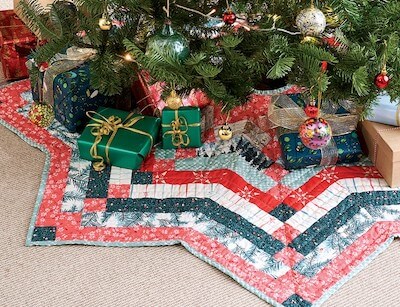 Get the Pattern here

3. Felt Flower Tree Skirt Pattern by Sugar Bee Crafts
If you enjoy decorating your home with flowers, this tree skirt is just for you! It has a beautiful set of flowers at its bottom, which makes it creative and unique when compared to the other tree skirts.

The red skirt could be quite simple, but the flowers that decorate the edge make all the difference. They are fashioned from fabric petals which are then joined and pinched at the center before being decorated and attached to create the beautifully detailed piece.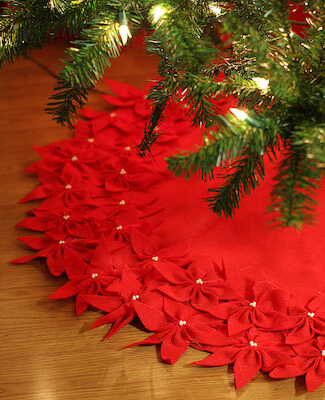 Get the Pattern here

4. Scandivanian-Inspired Felt Tree Skirt Pattern by HGTV
Inspired by hand-painted Nordic designs, this colorful Christmas tree skirt is a no-sew project that's made by layering felt cut-outs then outlining them with chunky yarn.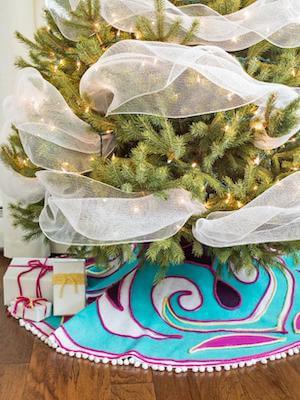 Get the Pattern here

5. Christmas Tree Skirt Quilt Pattern by Ms P Designs USA
Get ready to deck the halls with a fabulous quilted Christmas tree skirt that you can make, featuring Victorian homes and adorable little mice!

The tree skirt is generously-sized at 50″ diameter, and would look beautiful beneath your Christmas tree. The cute little mouse family is busily preparing for their Christmas celebration, as you can see.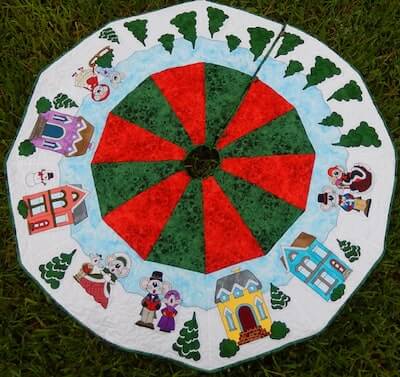 Get the Pattern by Ms P Designs USA here

6. Faux Fur Christmas Tree Skirt Pattern by The DIY Mommy
Do you like the softness of faux fur? Do you also enjoy the way the fur can make your house feel a little cozier and welcoming? This Faux Fur Christmas Tree Skirt is a great way to add a welcoming touch to your Christmas tree this year.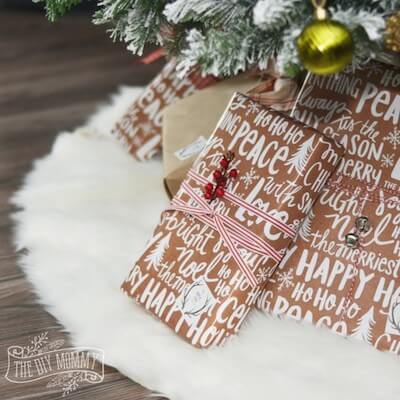 Get the Pattern here

7. Ruffled Tree Skirt by Sew Much Ado
Is your tree still looking a little bare? This Ruffled Tree Skirt is the remedy! Grab a few of your favorite fabrics, and you'll have a completely custom and unique tree skirt.

By using woven fabrics, the raw edges of the fabric will naturally fray, creating a lovely shabby chic look! As an alternative, you could also use non-woven fabrics (felt, knit, etc) for non-frayed edges. Another alternative is to sub the glue gun for your sewing machine if you'd prefer, and also finish the raw edges with your sewing machine/serger for a cleaner look.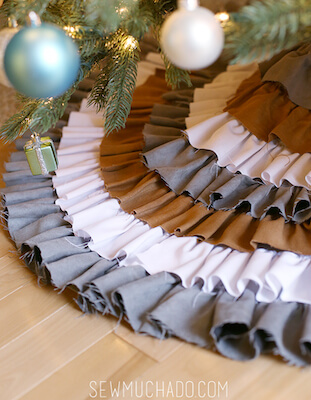 Get the Pattern here

8. Giant DIY Christmas Tree Skirt by Smart Fun DIY
This No-Sew DIY tree skirt goes together really easily and you don't even have to be "crafty" to make it! Measuring a little over 6 feet wide, this felt tree skirt will be big enough to catch all the needles from our tree and have space to put gifts on. Because felt is so dense, it will catch the needles from the tree, glitter from ornaments, and other particles.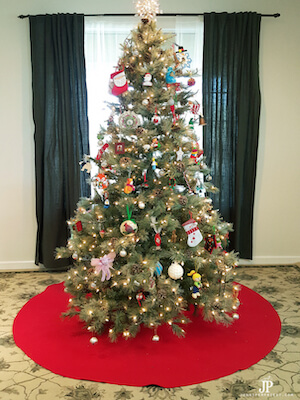 Get the Pattern here

9. No-Sew Ruffle Christmas Tree Skirt Pattern by The Thinking Closet
Now the red and white creation is truly impressive, but don't get scared by it. Ruffles are usually quite simply folds of fabric, so while it may take a while to complete and join all the layers, it will certainly be easier than you think. In any case, the result is certainly worth the work.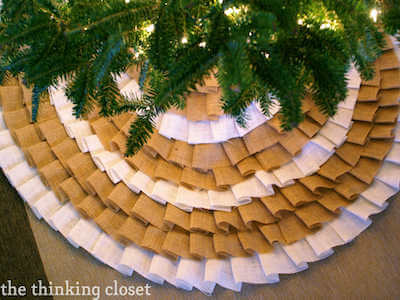 Get the Pattern here

10. Color Wheel Holiday Tree Skirt by Sew 4 Home
This color wheel design features a vibrant patchwork of fabrics set off with bold binding and bows. Wedges are wonderful, especially when you piece them together to create a kaleidoscope of color and design.

These eight different tree skirt panels could be a wonderful holiday tradition in the making. Why not have each wedge tell a story? Or designate each section for a particular family member, placing a special gift within his/her wedge each year.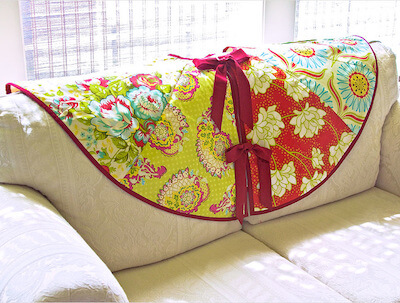 Get the Pattern here

11. Mini Christmas Tree Skirt Pattern by Polka Dot Chair
Do you have a cute little tabletop Christmas tree? Why not make a quick and easy tree skirt for it? Plus you might have enough fabric left over to make a table runner to match!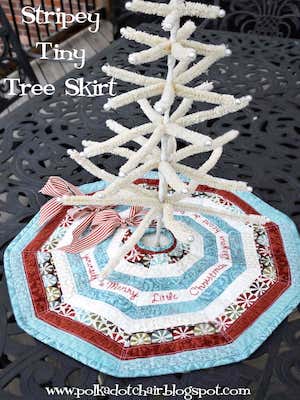 Get the Pattern here

12. Giant Dresden Christmas Tree Skirt Pattern by Carrie Actually
This Giant Dresden Christmas Tree Skirt has a cute scalloped edge and is perfect for featuring your favorite Christmas fabrics.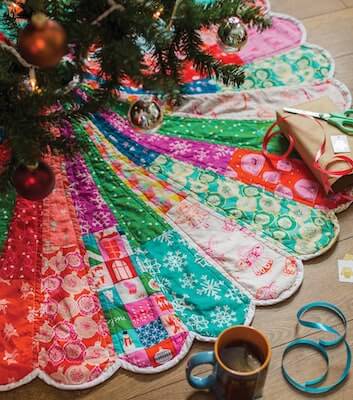 Get the Pattern by Carrie Actually here

13. Christmas Tree Skirt Sewing Pattern by Ohoh Deco
With its original star shape, this tree skirt is very easy to sew. The pattern is available in three different sizes: 56, 46, and 31 inches in diameter (142, 110, and 80 cm). This allows you to sew the tree skirt to the size that best suits the height of your Christmas tree.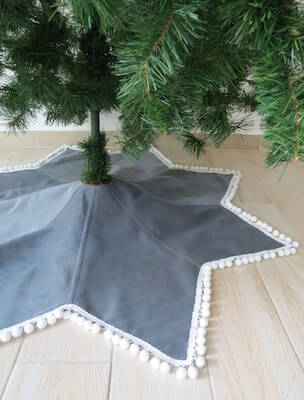 Get the Pattern by Ohoh Deco here

14. Log Cabin Tree Skirt Quilt Pattern by Quiltscapes
This stunning 58″ x 58″ quilted Tree Skirt will brighten your holiday season! It uses a simple "log-cabin" style of piecing with strips, making it a good project for beginners and seasoned quilters alike. It also includes a bonus Christmas tree ornament too!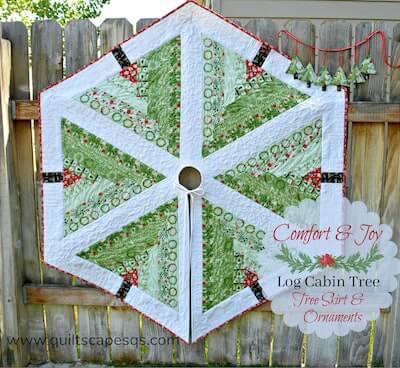 Get the Pattern by Quiltscapes here

15. Reversible Christmas Tree Skirt by A Beautiful Mess
If you always want to have options for everything, then a reversible tree skirt is the way to go! By making each side a different pattern, you can choose which goes with your theme every year and change it up by switching back and forth to make the tree feel a bit more fresh each season.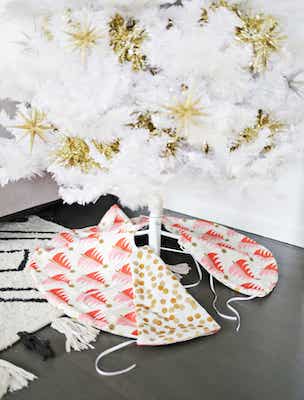 Get the Pattern here

16. Simple Patchwork Christmas Tree Skirt Pattern by The Spruce Crafts
A handmade Christmas tree skirt doesn't have to be complicated. This square-shaped skirt has patchwork panels and larger areas that are perfect for customizing. With this pattern, it takes less than two hours to cut, pin, and sew.

You can make this in red, green, and linen, or there's lots of room to adapt this design to your own tastes. For example, instead of the two large linen panels, make them as matching patchwork areas. Or, add embroidery to the linen to transform this quick project into an heirloom.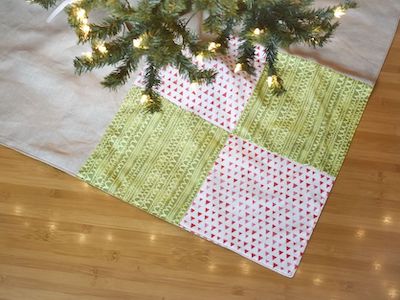 Get the Pattern here

17. Sunburst Christmas Tree Skirt Pattern by HGTV
Felt is a perfect fabric for no-sew holiday projects because raw edges won't fray. This tree skirt looks complicated, but it's actually made with straight cuts and fabric glue, so it's a quick craft to tackle during the busy holiday season.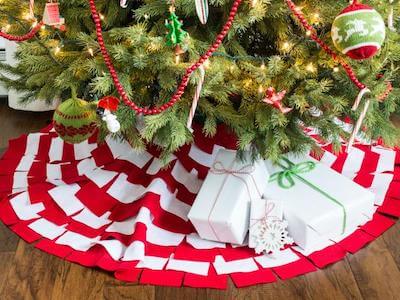 Get the Pattern here

18. Crochet Christmas Tree Skirt Pattern by Taste Of Home
When it's time to deck the halls in your home, hook a lively tree skirt with colorful crochet. It looks fancy but doesn't take long to complete since the stitches for the granny-square motif are so simple.
Also see: Crochet Tree Skirt Patterns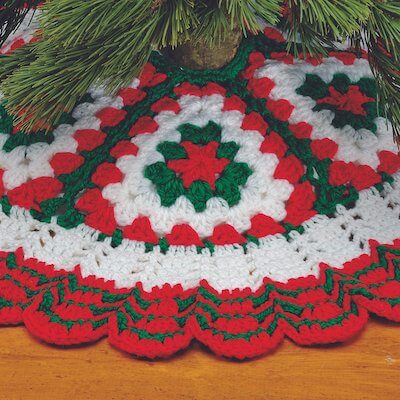 Get the Pattern here

19. Boxes And Bows Christmas Tree Skirt Pattern by Pinecone Hill Quilting
Surround your Christmas tree with a pine forest and piles of presents when you make this festive tree skirt. This Boxes and Bows Christmas Tree Skirt Pattern is made with foundation paper piecing and ¼" piecing. It's a great scrapbuster project!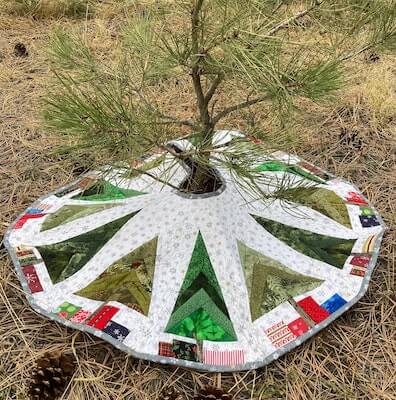 Get the Pattern by Pinecone Hill Quilting here

20. DIY Peppermint Candy Tree Skirt by Say Yes
Red and white are super traditional for Christmas as they remind us of peppermint candies. This peppermint candy inspired tree skirt is an amazing idea to rock, and it's super easy to make and requires very basic sewing skills. Add red pompoms to line the skirt and make it look even more festive. So fun, so cute, so traditional yet whimsy!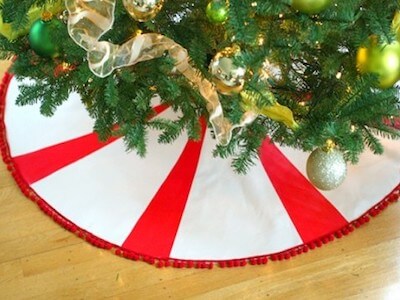 Get the Pattern here

21. Festive Quilted Christmas Tree Skirt Pattern by Tazzie Quilts
Use some of your favourite feature seasonal fabrics to make up this lovely Festive Christmas Tree Skirt. This skirt is a great size at 60 inches across at the widest point – it will look lovely under a full tree.
And if you decide not to cut the hole in the center, it would make a great large size table topper. Change out the festive fabrics, and you can use this topper all year round.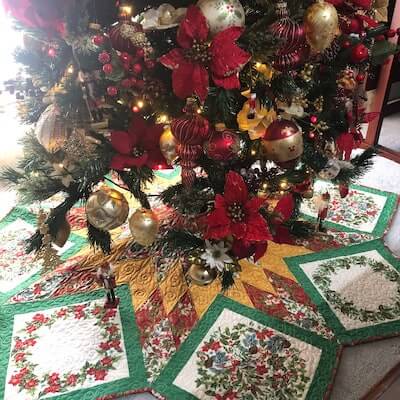 Get the Pattern by Tazzie Quilts here

22. Merry And Bright Tree Skirt Pattern by All People Quilt
Holiday decorations don't always have to be made in traditional colors. Try a different color palette for modern flair.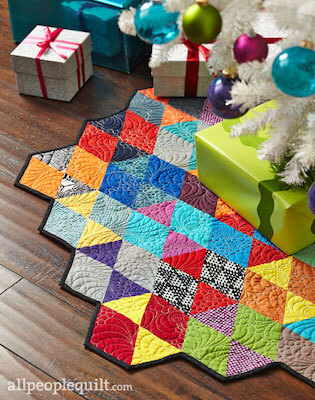 Get the Pattern here

23. Christmas Tree Tutu Skirt Pattern by She's Kinda Crafty
If the sugarplum fairies are your favorite part of the holiday season, this Christmas Tree Tutu Skirt is perfect for you! You'll need lots and lots of bolted tulle (12-25 yards) to achieve the full, ruffled look of a tutu, but if you have kids who enjoy dress-up play, this treasure can see year-round use.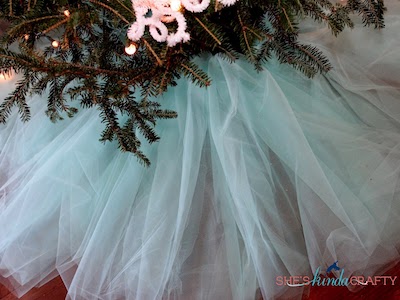 Get the Pattern here

24. Knit Around Tree Skirt Pattern by Purl Soho
With its peppermint stripes amidst soft folds of snow-white wool, this Knit Around Tree Skirt is the fa-la-la of tree skirts! It's a clever knit, too. Short rows create wedges that add up to a whole pie, and in garter stitch, there's not much to worry about – just adding a dash-of-color stripe every now and then!

Make your Knit Around Tree Skirt in this palette of four reds and oranges, try the greens-only version, or mix it up with both. Add a bough of holly, and a tradition is born!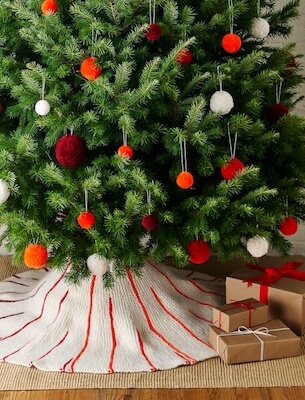 Get the Pattern here

25. Easy Fleece Christmas Tree Skirt Pattern by 5 Little Monsters
This tree skirt was super easy to make, not a no-sew project, but there is only a little sewing. It is made with 2 layers of fleece that are tied around the outside edge to create a fringed finish. It has a slit on one side with a velcro closure to make it easy to put on.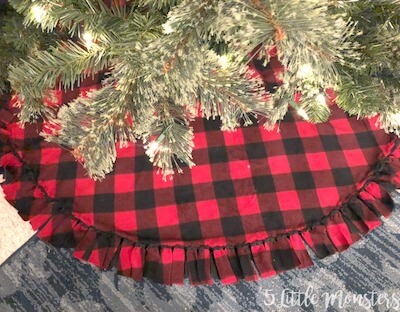 Get the Pattern here

26. Two-Piece DIY Christmas Tree Skirt by Taste Of Home
This elegant design is actually two tree skirts in one. The tree stand rests on top of the green bottom piece and is hidden by a separate red piece draped over the top.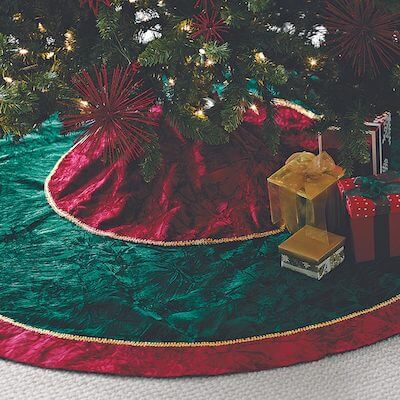 Get the Pattern here

27. Fair Isle Quilted Tree Skirt Pattern by Heather Handmade
Make a quilted tree skirt with a gorgeous fair isle design! The design is simple, and it's actually half square triangles. Use this free quilt pattern to make your own!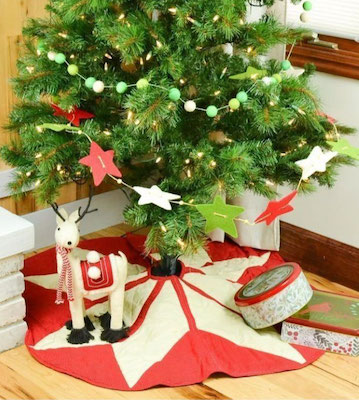 Get the Pattern here

28. Nite Before Christmas Hexagon Tree Skirt Pattern by Nite Owl Quilting
This Hexagon Tree Skirt Pattern is a quick and easy project great for modern or traditional fabrics. Simply add a solid color border to unify your favorite Christmas fabrics! This pattern includes instructions for three sizes of tree skirts.

The small is great for a 3-4 foot kid's Christmas tree. The medium is perfect for a 5-7 foot slim-line Christmas tree. The large is best for live or larger artificial trees. Now you can make one for any person or room in your house!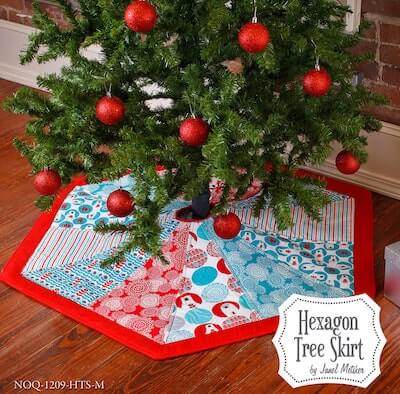 Get the Pattern by Nite Owl Quilting here

29. Holiday Magic Christmas Tree Skirt Pattern by Ambassador Crochet
This Holiday Magic Tree Skirt will add a festive look to the base of the tree and hide the tree stand. Changing colors every row, in addition to the cables and post stitches, creates an amazing color effect.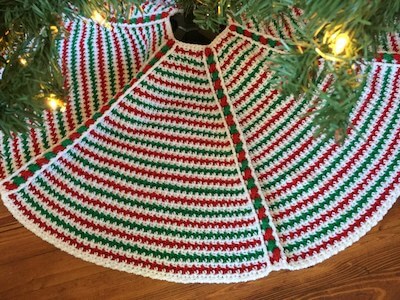 Get the Pattern by Ambassador Crochet here

30. Hexagon Christmas Tree Skirt Pattern by So Sew Easy
This Christmas Tree Skirt is a perfect way to show off a few fun fabrics while covering up a sore spot of the tree trunk – before it gets covered with presents!

This project would be a great in a scrappy collection too. Use the same fabric strips for each border around the center or feel free to use up your scraps and sew them randomly on. Just have fun with it.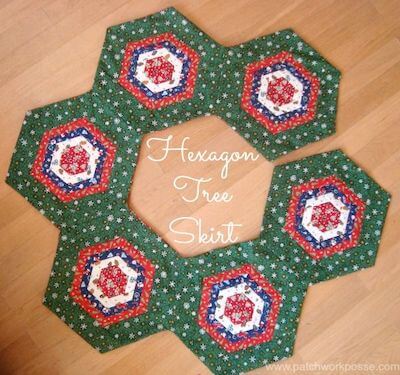 Get the Pattern here

31. Sequined Christmas Tree Skirt by Marthe Stewart
Store-bought tree skirts often come on the small side, which means you either expose part of the stand or have presents spilling off. Our DIY design extends well past the bottom branches, so your tree gets the stage (and stage lights) it deserves. You can scale this tree skirt to any size. This version is 42 inches in diameter.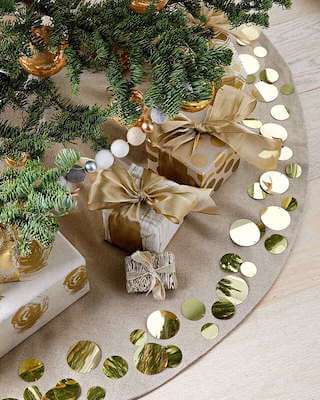 Get the Pattern here

32. Christmas Tree Skirt Pattern by Bareroots
A christmas eve night complete with Santa and his reindeer is appliqued and embroidered all around this tree-skirt. Sure to be part of your family's tree-trimming festivities for years!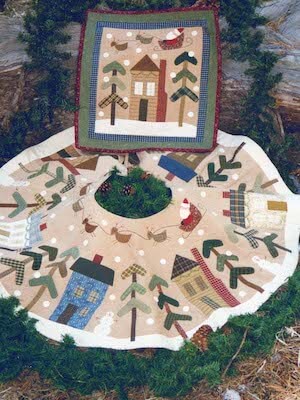 Get the Pattern here

33. Christmas Tree Skirt Pattern by Granny Mauds Girl
This Christmas tree skirt pattern uses crisp red and white, combined with linen, for a modern look, but it could look just as stylish in traditional fabrics.

Techniques used include English paper piecing, foundation paper piecing, appliqué, simple embroidery and hand quilting. However, if you hate hand sewing, it can be modified to suit.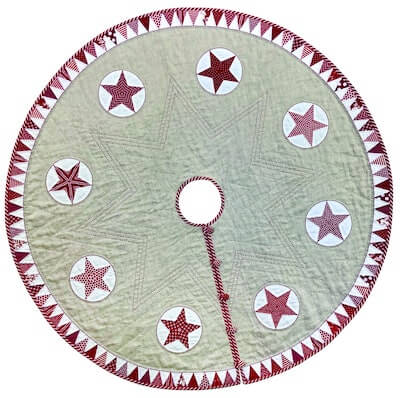 Get the Pattern by Granny Mauds Girl here

34. Doughnut Christmas Tree Skirt Pattern by The Paper Mama
This may just be the cutest and most original tree skirt ever – a glazed doughnut with sprinkles. You need to make a nice brown base, then cut a second, uneven layer for your glaze and finally add many colorful small pieces of material to create the sprinkles if you want to recreate this look.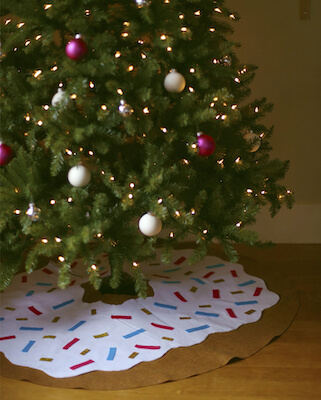 Get the Pattern here

35. Painter's Drop Cloth Christmas Tree Skirt Pattern by The Pinning Mama
This project definitely stands on the more advanced side of ruffled skirts. The silky ruffles are made like any other, but the addition of burlap and all of the detailing make it more complicated and impressive.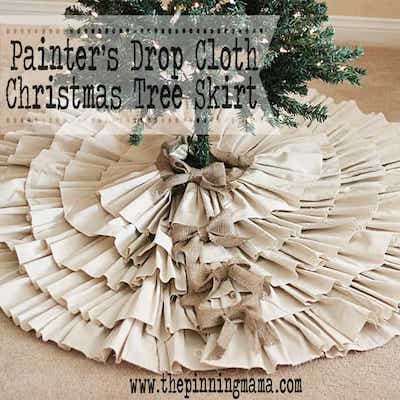 Get the Pattern here

36. Christmas Tree Skirt Knitting Pattern by Frugal Knitting Haus
Imagine knitting a Christmas Tree Skirt out of a band of Christmas Trees! That is exactly what this is, Christmas trees holding hands, so to speak, and meeting around at the end of the circle. This will fit under and around just about every Christmas tree bottom.

You knit the trees one by one, then directions tell you how to easily connect them. This version uses a pompon for tree topper, but you can add other items, such as sequins or pearl buttons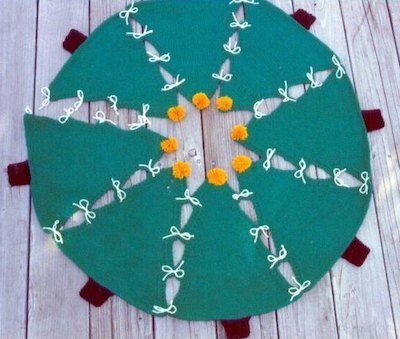 Get the Pattern by Frugal Knitting Haus here

37. Free Christmas Tree Skirt Pattern by Blog Treasurie
These 3 patterns are super simple so that you can showcase a fun fabric or use them as a base to embellish and applique in any way that makes you happy. You can stick to traditional colors such as reds and greens or make a modern tree skirt in your favorite print or color.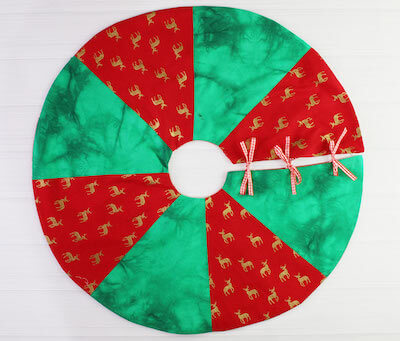 Get the Pattern here

38. Tablecloth Christmas Tree Skirt by Cucicucicoo
If you're short on time to go fabric shopping, or if you just like upcyling and being environmentally-friendly, this is the project for you! You can transform an old tablecloth into a beautiful Christmas tree skirt in a short time!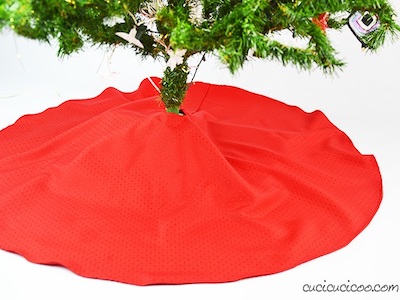 Get the Pattern here

39. Vintage Embroidered Christmas Tree Skirt by Olivia Jane Handmade
This colorful tree skirt holds all your favorite Christmas motifs. It has an embroidered snowman, Christmas tree, reindeers, as well as your personal messages and wishes!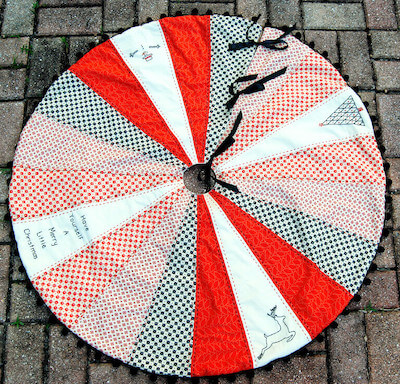 Get the Pattern here

40. Cute Felt Tree Skirt Pattern by The Wicker House
If you don't have any kind of sewing tools around, worry not. With a bit of glue, some felt, a string, and some pom poms, you can make an amazing tree skirt that's even better than some sewn ones!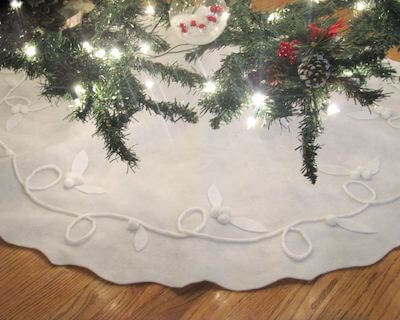 Get the Pattern here
GIVE THE TRUNK OF YOUR TREE SOME STYLISTIC LOVE THIS YEAR WITH THESE CHRISTMAS TREE SKIRT PATTERNS.
From quilted tree skirts to felt, faux fur and crocheted tree skirts, you can always find one to suit your colour scheme, regardless of whether you're decorating a real tree or an artificial tree. Tell us which one you made by posting a picture of your finished tree skirts on our Facebook Page.

For more ideas on how to decorate your home for the holidays, take a look at all of our Christmas crafts below:
Now, even your tree can do its very best on Christmas Day with these Christmas tree skirt patterns. Happy making!