Macrame and Christmas ornaments – could there be a better combo? These Macrame Christmas Ornaments are the peak of boho Christmas flair.
Hang them on your tree, in a wreath, or on the wall. Any way you display them, be sure to tell all who see them that they were made by you!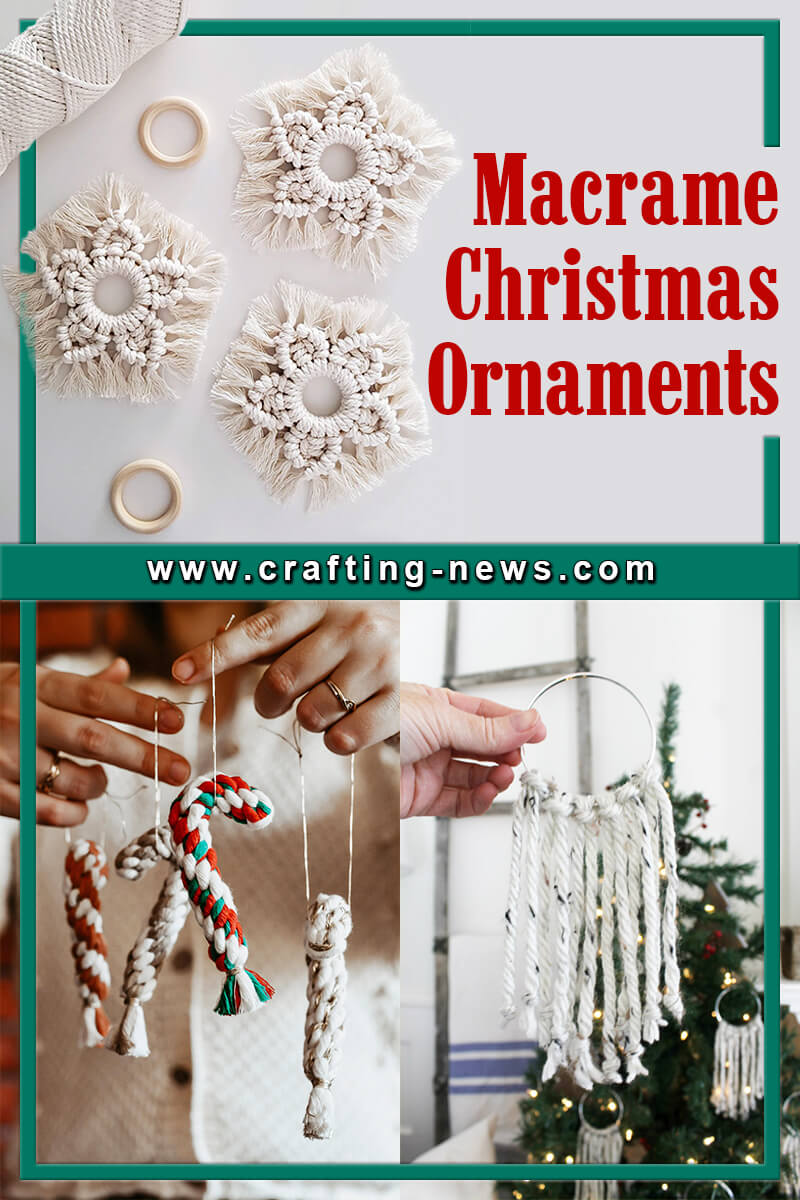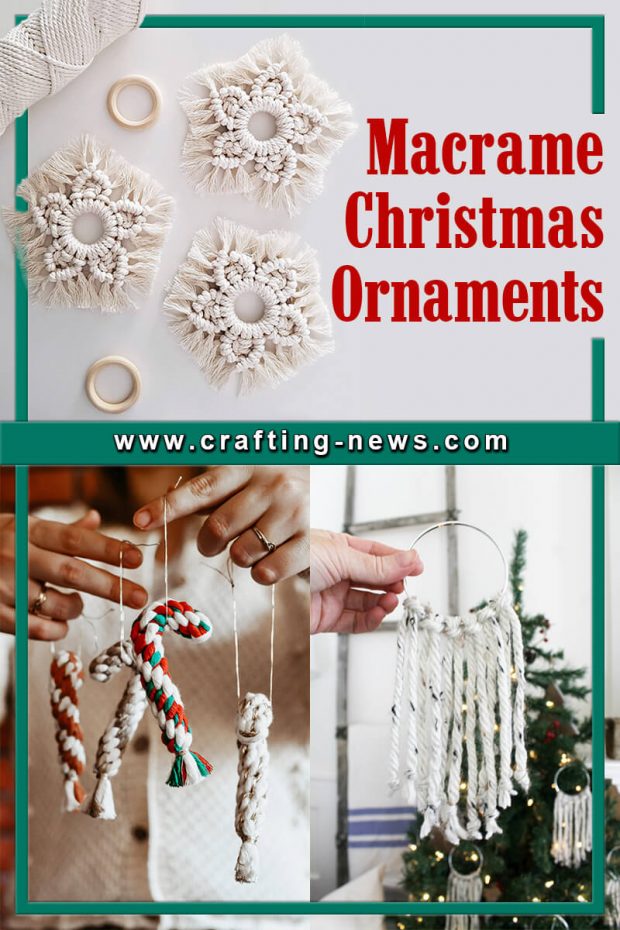 As we dive deeper into the world of macrame, we've tried to think about how we could incorporate this fabulous crafting technique into our holiday projects.
17 DIY Macrame Christmas Ornament Patterns

This year, try crafting these quick and simple macrame projects. One of the greatest things about them is that they usually only require one material. You can't beat that simplicity!
1. DIY Macrame Christmas Ornaments by A Pretty Fix
You will love how these DIY Macrame Christmas Ornaments turned out – and it only required using one basic knot: the double half hitch knot.
It's that easy to create one, two, and maybe three, super-cute holiday ornaments for your tree. If you've never tried macrame before, this DIY is completely beginner-friendly!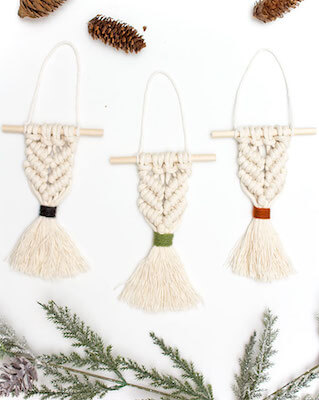 Follow the tutorial here
2. Macrame Snowflake Ornaments by A Wonderful Thought
Make your Christmas tree a winter wonderland this year with this Macrame Snowflake Ornament! Don't be intimidated by the picture though, this macrame snowflake actually looks way more complicated than it is. After you learn the new basic macrame knot in this tutorial, it will be a breeze!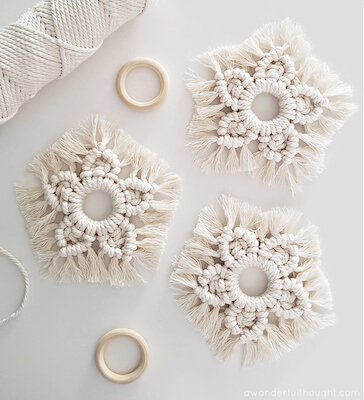 Follow the tutorial here
3. Macrame Ornament Bauble Tutorial by Crafting On The Fly
These macrame ornaments are easy to make even for beginner macrame crafters. Yes, they look sophisticated and timeless. Add a bit of tinsel or glitter inside the glass ornament to jazz it up and add color and sparkle!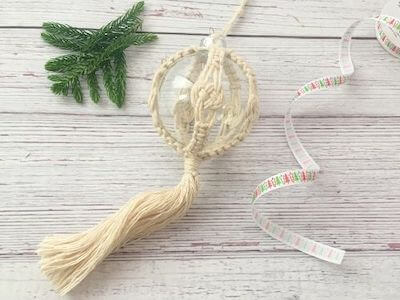 Follow the tutorial here
4. Macrame Christmas Ornaments by Lovely Indeed
Charming and beautiful macrame Christmas ornaments are so easy to make! These pretty little woven Christmas trees make lovely decor, present toppers, or gifts for family and friends.
These macrame ornaments only use one knotting technique to keep things simple, but the final product looks intricate and beautiful.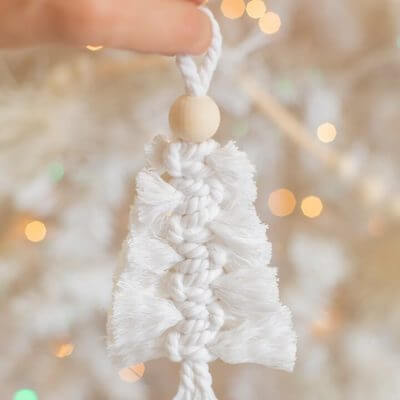 Follow the tutorial here
5. Spiral Macrame Christmas Ornaments by Decor Hint
This tutorial will show you how to create these fun macrame Christmas ornament tassels with a very easy-to-create spiral knot. These tassels look great on the tree or sprinkled throughout your home all year long. These macrame tassels are so cute and take no time at all to complete!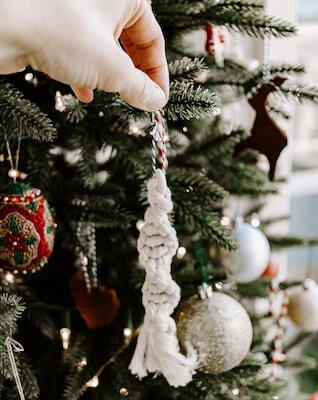 Follow the tutorial here
6. Easy Macrame Christmas Ornaments by The Wicker House
A simple macrame Christmas ornaments shaped as wreaths can be made by you anytime, as many as you want!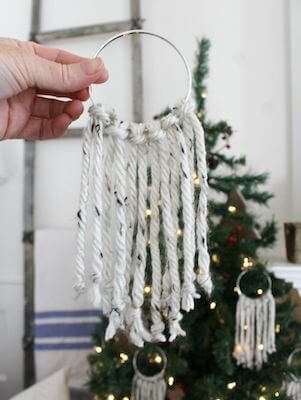 Follow the tutorial here
7. Macrame Mini Wreath Christmas Ornaments by Lily Ardor
If you have some mason jar lids around the house you can make these easy boho inspired, nautical Christmas ornaments! They only take about 10 minutes to make!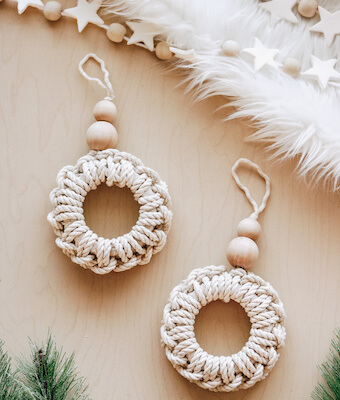 Follow the tutorial here
8. Macrame Feather Christmas Ornaments by The DIY Mommy
Learn how to make easy DIY macrame feather Christmas ornaments for your glamorous or boho holiday home this year! This is a fabulous project to make if you've never tried macrame before, or if you have some leftover scraps of macrame cord from another larger project.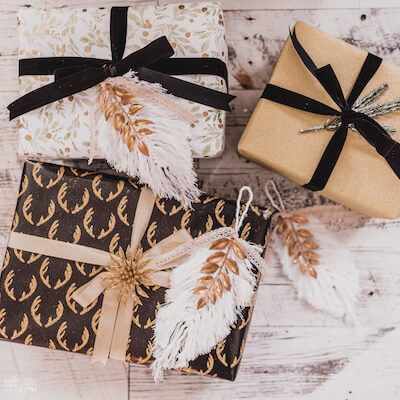 Follow the tutorial here
9. Macrame Angel Christmas Ornament Pattern by Art By Tyua
Incorporate a little Bohemian style on your Christmas tree this year with this Angel Christmas Ornament!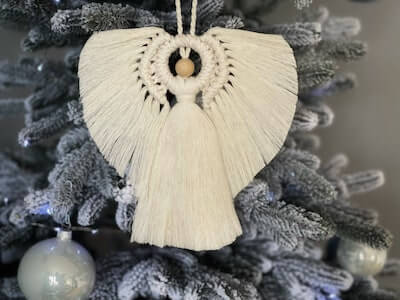 Get the Pattern by Art By Tyua here
10. Knotted Macrame Ornament Pattern by Lia Griffith
Handcraft DIY ornaments for your Christmas tree this year using this photo tutorial for Knotted Christmas Ornaments. Dress them up with colored dye or glitter!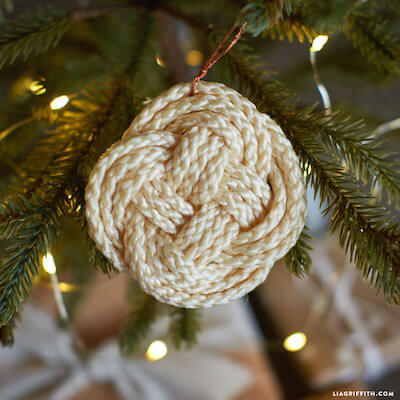 Follow the tutorial here
11. DIY Macrame Rainbow Ornaments by A Bubbly Life
These Macrame Rainbow Ornaments are the cutest little things. They are perfect to add to your Christmas tree, or even attach to a stocking.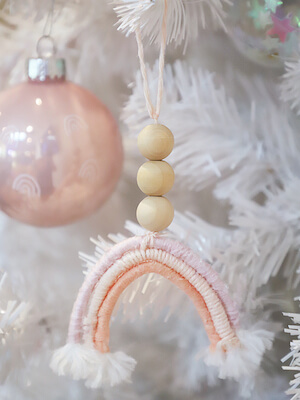 Follow the tutorial here
12. Macrama Candy Cane Ornaments by Macramagic Shop
This pattern is for the most gorgeous bohemian macrame candy cane ornaments! The most stylish addition to your Christmas tree decor, to make a garland with, to decor your festive tables, etc.!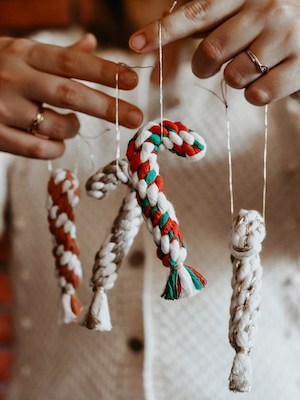 Get the Pattern by Macramagic Shop here
13. DIY Macrame Wreath Ornament by Joyful Derivatives
Looking to add some boho style to your Christmas décor this year? This easy-to-make macramé wreath ornament is a great way to do it! Using just a few simple knots, this ornament is quick to make and looks very expensive. Make a few for your tree, or a bunch for gifts for you friends and family!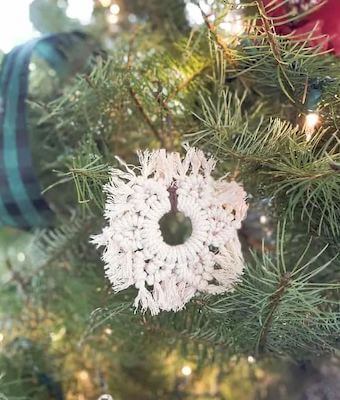 Follow the tutorial here
14. Easy Macrame Christmas Tree Ornament by Pretty DIY Home
This DIY Christmas Tree ornament is done with macrame, but only one knot style, the basic square knot. Experiment with more colors and different beads to make this design your own.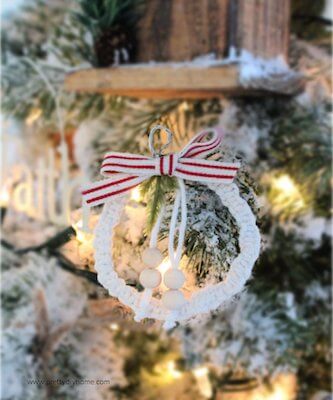 Follow the tutorial here
15. Macrame Star Ornament by Fiction And Fibers
With the holidays quickly approaching, you may already be looking for handmade gift ideas that are trendy, festive, and blessedly quick to make. This macramé star ornament is just that!

The knots used are simple and beginner friendly, and the pattern includes line-by-line instructions, a photo tutorial, as well as a handy knot cheat sheet.
More Macrame Star Patterns here.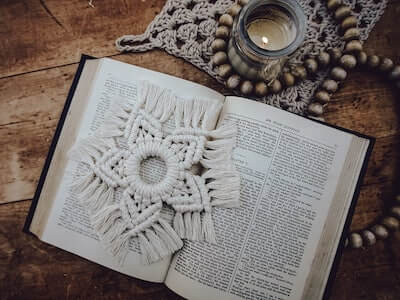 Get the Pattern by Fiction And Fibers here
16. Macrame Christmas Stocking Tutorial by A Beautiful Mess
Wouldn't miniature macrame stockings be sweet as a garland or ornaments? Since it's neutral, it would fit with any color scheme you've already got, but you could also easily dye your rope if you're wanting something more colorful for your holiday decor.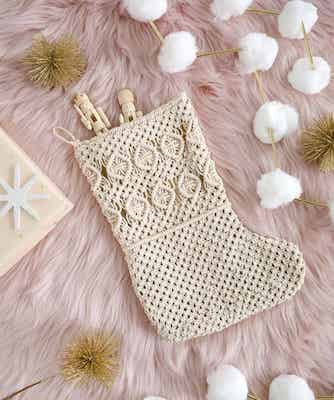 Follow the tutorial here
17. Mini Macrame Christmas Ornaments by Life Is A Party
This easy macrame tutorial is perfect for beginners with no macrame experience. These two designs use only three simple knots: the lark's head, the square knot, and the double half hitch.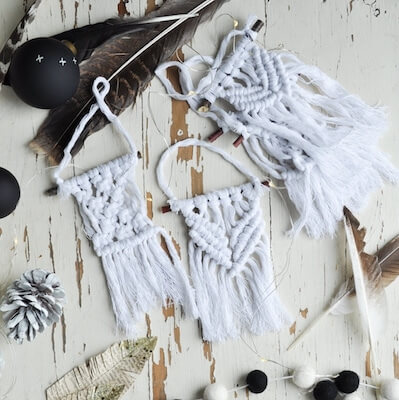 Follow the tutorial here
WE HOPE YOU'LL GIVE THESE MACRAME CHRISTMAS ORNAMENTS A TRY AND HAVE FUN CRAFTING OVER THE HOLIDAYS!
When you're done, share you macra-makes with us on our Facebook Page. We can't wait to see what you make for your own space this year!
Do you need more Christmas decorating ideas? Check out our other posts: 20 Macrame Christmas Tree Patterns, 10 Christmas Elves Cross Stitch Patterns – Christmas Crafts, 27 Pipe Cleaner Christmas Crafts, 24 Plastic Canvas Christmas Patterns, and 27 Felt Christmas Ornament Patterns.

Get ready to personalize your Christmas tree (or artificial Christmas trees!) with these impressive macrame Christmas ornaments!