Are you looking for macrame stars to add to your decor? Stars are the perfect accessory. You can use them throughout your home all year long.
Or use them as Christmas tree ornaments. The stars are versatile and beautiful.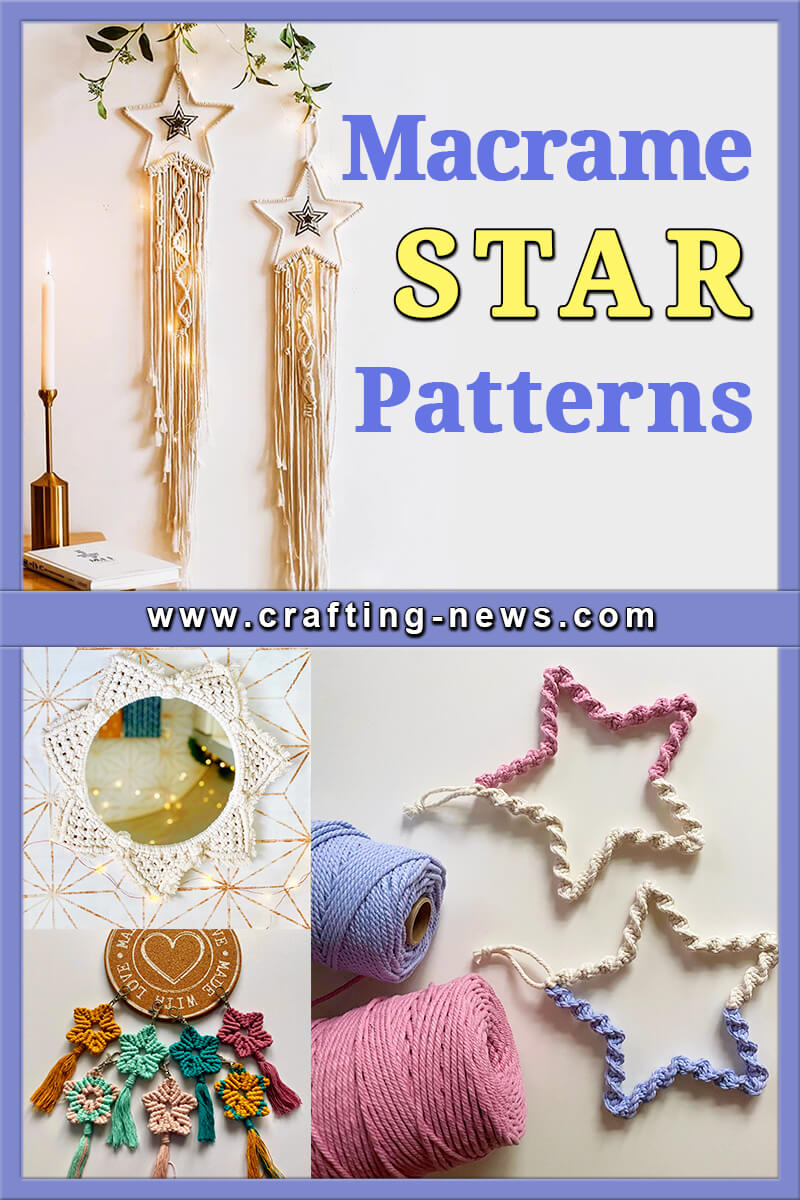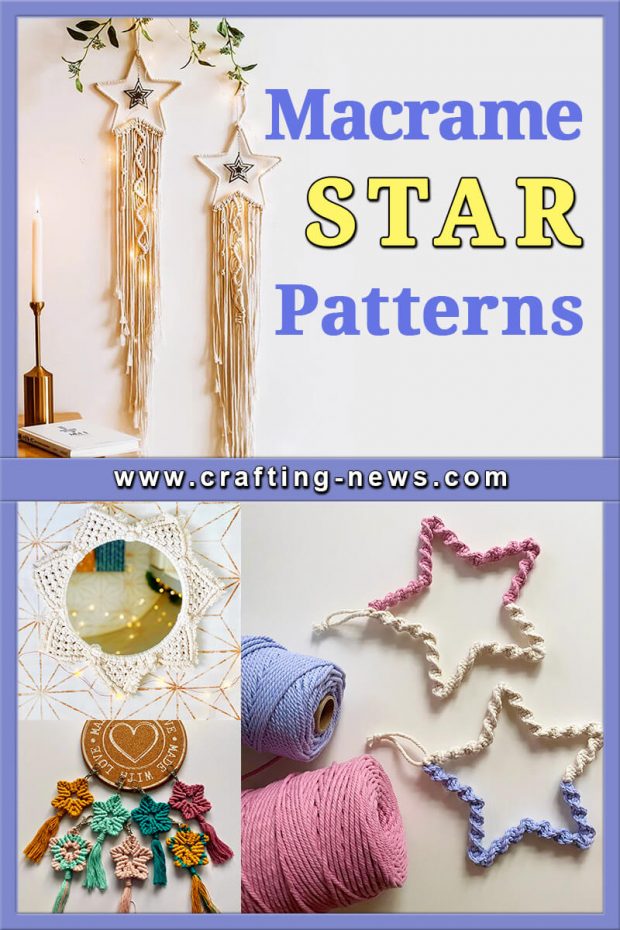 If you enjoy the art of macrame, we have included 10 DIY macrame patterns for you. If you would rather purchase premade macrame stars, just scroll down.
There are 15 gorgeous macrame star pieces just waiting for you to take them home.
1. Macrame Shooting Star Tutorial by tydhandmade
Make a beautiful 5 point star using this tutorial. The pattern includes options to have a hanging loop on the top point and tails. The star would be a beautiful addition to your Christmas decor or a nursery.
The DIY macrame star pattern is very detailed and includes 12 pages filled with pictures and step-by-step instructions. You will need basic knowledge of macrame.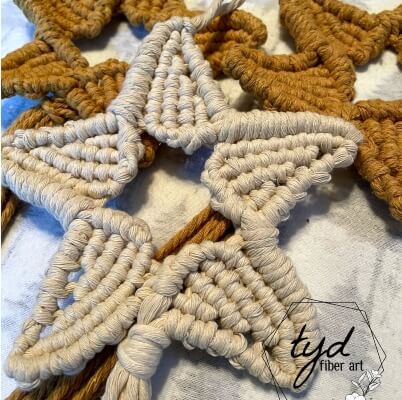 Find the Tutorial by tydhandmade HERE
2. Macrame Star Wall Hanging Pattern by TheKnottyCrow
Use this macrame wall hanging as a decoration for a wedding or to adorn a nursery. It is a unique piece that is fun to make.
This is a beginner-friendly pattern. It includes photo tutorials for all knots you need to know. The finished wall hanging will measure approximately 14 inches (35.56 cm) in length and is 6 inches (15.24 cm) wide.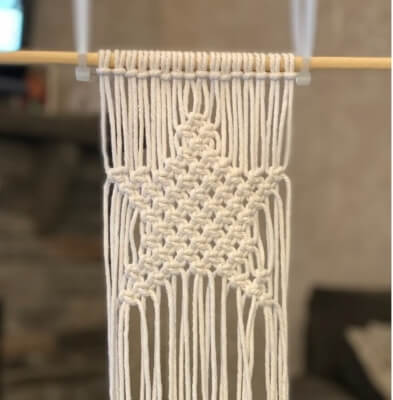 Find the Tutorial by TheKnottyCrow HERE
3. DIY Macrame Christmas Star Tutorial
Make this beautiful DIY macrame Christmas star ornament using only 4 cords. This is an extremely easy piece that only requires knowledge of square knots and double half hitch knots.
The free video tutorial walks you through the steps for creating the first two points. It then speeds up and finishes the star using the same techniques throughout.
Find the Tutorial by Macrame Magic Knots HERE
4. Macrame Christmas Star Tutorial by CordPlusQuartz
Do not wait until Christmas to start working on these macrame Christmas stars. Let your talent and creativity shine with this easy-to-follow pattern. You will want to make several of these macrame Christmas stars in a wide variety of holiday colours.
This pattern comes complete with detailed steps and instructional pictures. There are also pictures and instructions for the knots used in the pattern.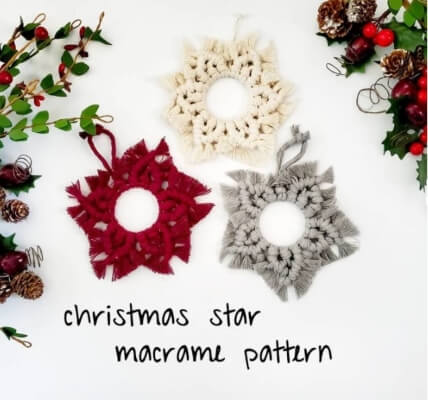 Find the Tutorial by CordPlusQuartz HERE
5. Macrame Star Pattern by LeighHeneralStore
Here is an interesting macrame pattern that could easily be used to make a festive and colourful wall hanging.
Included in the PDF download are detailed instructions with good quality, close-up photographs. There are also hints and tips to make the project even easier to complete. You will need a wooden ring (or re-purposed curtain ring), 7.5 m of twisted cotton string, and sharp scissors.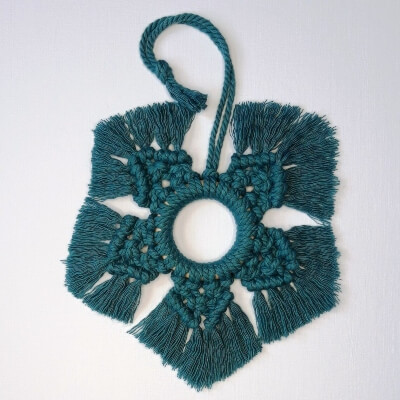 Find the Tutorial by LeighHeneralStore HERE
6. Macrame Star Ornament by FictionAndFibers
Are you looking for handmade gift ideas that are trendy, festive, and easy to make? How about a macrame star ornament? This is a simple pattern that is beginner-friendly.
To make this DIY macrame ornament you will need to know how to create the lark's head knot and diagonal clove hitch. The pattern includes a photo tutorial as well as a cheat sheet of the featured knots.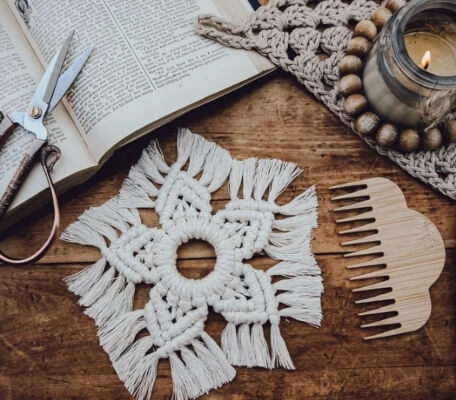 Find the Tutorial by FictionAndFibers HERE
7. Make Macrame Star Flower and Snowflakes by Macrame School
Use this free macrame tutorial to guide you through the steps of making star macrame flowers and snowflakes.
These are easy and cute boho decoration ideas. You can use the completed pieces for Christmas and New Year decorations. They can also be used as keychains, pendants, earrings, and zipper pulls.
Find the Tutorial by Macrame School HERE
8. Digital Macrame Christmas Star Tutorial by masuca
Knot up this macrame Christmas star to add to your DIY projects. The possibilities are endless.
Included are written step-by-step instructions and a supplies list. The dimensions of the finished macrame will be approximately 4.33 inches (11 cm) including the tassels.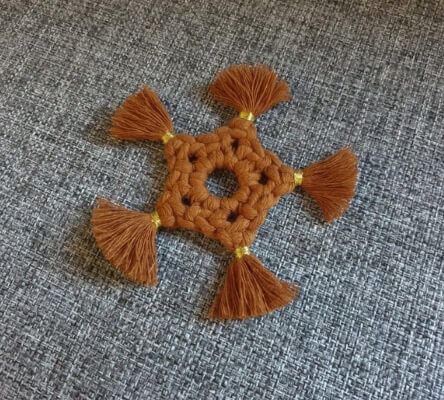 Find the Tutorial by masuca HERE
9. Macrame Star Tutorial by PeloteEtCompagnie
This is a fun DIY macrame pattern that includes 3 different designs. You can use these star inspired snowflakes for all types of decorations, including a bunting.
Included in the 2 page PDF document are instructions in both English and French, a supplies list, pictures, instructions for making the knots, and tips. The size of the completed macrame snowflakes are 4.72 inches (12 cm), 5.91 inches (15 cm), and 6.69 inches (17 cm) in diameter.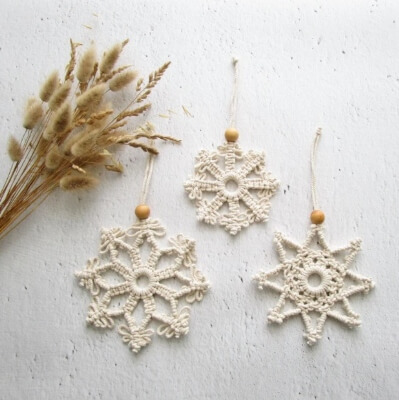 Find the Tutorial by PeloteEtCompagnie HERE
10. Macrame Christmas Star Decoration Pattern by ButOneString
Make your own macrame Christmas star decorations with this pattern. Use these stars are Christmas tree ornaments or package decorations. The stars are beautiful and stylish. Each star measures approximately 4.72 inches (12 cm) across.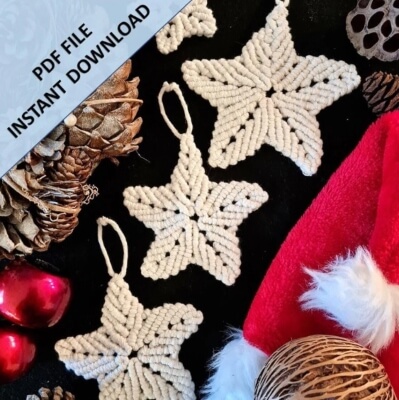 Find the Tutorial by ButOneString HERE
15 Premade Macrame Stars
Are you looking for a premade macrame star to add to your decor? Below are 15 lovely pieces.
1. Macrame Wall Hanging Boho Chic Rustic Star and Leaf Decor by LivinArtsStudio
This macrame wall hanging tapestry was inspired by both Bohemian ethnic arts and nature. It is a gorgeous piece that would look beautiful hanging above a dresser or in a hallway.
The handmade wall hanging measures about 14 inches (35.56 cm) long x 8 inches (20.32 cm) wide.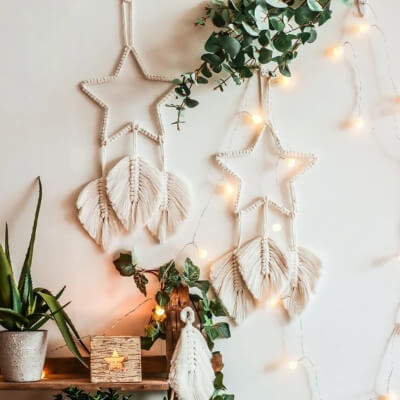 Find the product by LivinArtsStudio HERE
2. Star Macrame Boho Wall Decor by WoodbeadGarland
Here is a large handmade macrame boho star made with high quality cotton cord and a wire frame. It has a rustic look that is perfect for homes decorated in country style. This is also a great piece that would look lovely decorating a fireplace mantle during the Christmas holiday.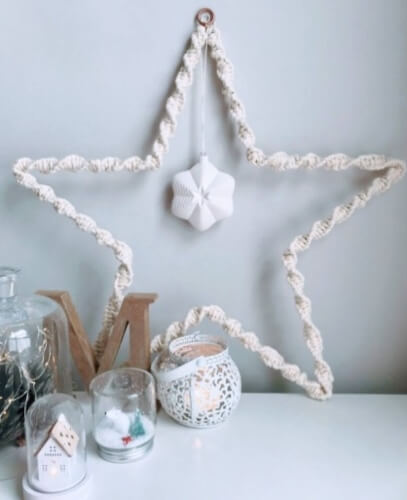 Find the product by WoodbeadGarland HERE
3. Blush Pink Macrame Star Ornament from jocelynspired
You can use this wonderful macrame star as a Christmas tree ornament or just hang it on your wall. It is a great piece for adding a boho touch to your living room, bedroom, or office. It is made with 5 mm 100% natural cotton cord.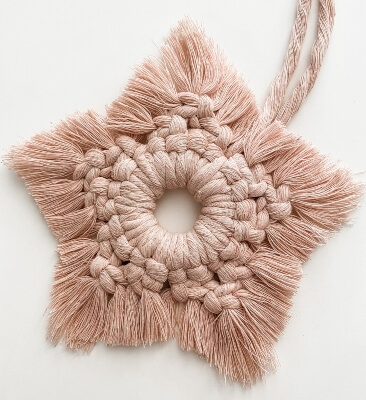 Find the product from jocelynspired HERE
4. Folkulture Gold Star Macrame Wall Decorations
This is a unique macrame star design. The wall hanging has gold sequins that make it a great statement piece for a home decorated in Bohemian decor.
It would also make a great Christmas decoration. This boho chic wall hanging is handmade. It measures about 36 inches (91.44 cm) in height and 11 inches (27.94 cm) wide.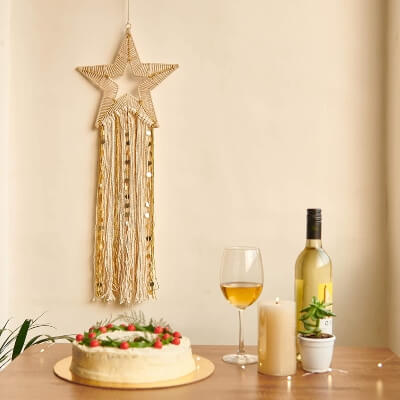 Find the product on Amazon HERE
5. Macrame Galaxy Star from 3MinutestoMidnightCo
Add a little touch of whimsy and colour to a nursery or any room in your home with these macrame stars. You can buy one star, 3 stars, or a bundle of 5 stars. There are a wide range of colours to choose from. The stars measure approximately 6.5 inches (16.51 cm) by 6.5 inches (16.51 cm).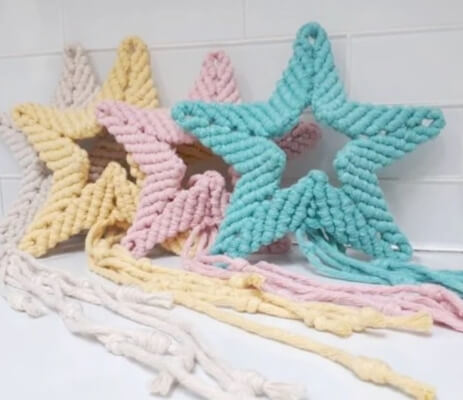 Find the product from 3MinutestoMidnightCo HERE
6. Macrame Star Keyring from SnazzyPuffs
These macrame stars make a perfect accessory for keys, handbags, etc. You can buy one for yourself or buy several and give them away as gifts. The key ring is available in a wide selection of colours/colour combinations. The keychain measures 2.76 inches (7 cm) x 5.51 inches (14 cm).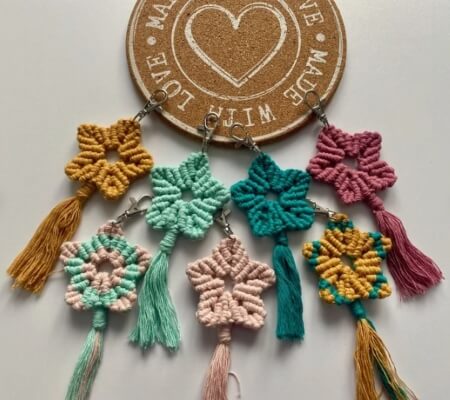 Find the product from SnazzyPuffs HERE
7. Macrame Star Wall Hanging Decoration from PrettyPackagedUK
These macrame stars are so cute! They would look adorable hanging in a nursery or child's room. You can hang them from hooks, drawer handles, door handles, etc.
The macrame stars are made from 100% cotton cord surrounding a steel frame. The wall hangings are available in 2 colour combinations.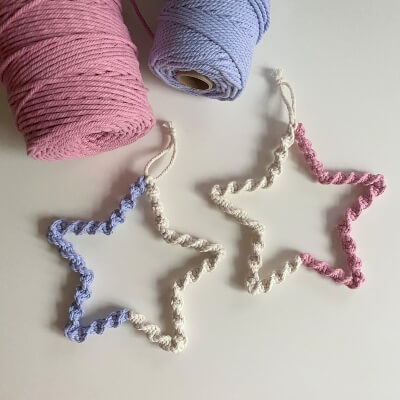 Find the product from PrettyPackagedUK HERE
8. Star Garland or Bunting from Owlistikcrafts
Garland is often used when decorating for a party. But you can hang this macrame star garland up anywhere in your home to add texture and interest.
The stars are beige and off-white. There are 20 stars that each measure approximately 3.5 inches. The total length of the bunting is approximately 67 inches long (170.18 cm).
Also see: Fabric Bunting Ideas and Macrame Garland Patterns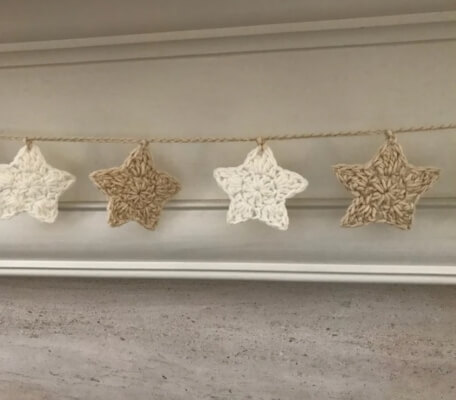 Find the product from Owlistikcrafts HERE
9. Car Charm Star Macrame from MamaBearzBeartique
Personalise your car with this handmade macrame star charm. You can hang the charm from your rearview mirror. You can also use the charms to decorate gifts or decorate for the holidays.
The macrame star is made using 100% cotton cord and a natural wooden bead. The charm measures approximately 5 inches (12.7 cm) by 5 inches (12.7 cm) without fringe.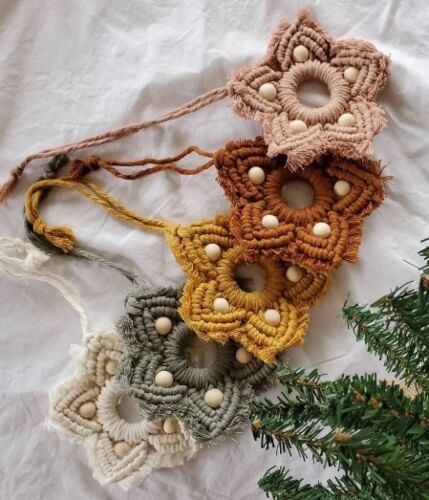 Find the product from MamaBearzBeartique HERE
10. Venroii Dream Catcher Wall Decor
The macrame star and moon dream catchers are 100% handmade using woven cotton and metal frames. Each dream catcher is adorned with a black crystal stone pendant.
The moon and star each measure about 8 inches in diameter. They are about 43 inches (109.22 cm) long from the top to the end of the longest fringe.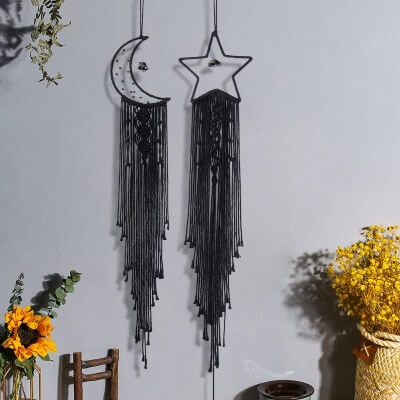 Find the product on Amazon HERE
11. Boho Macrame Dream Catchers With Lights from HarperandTheRy
You can choose just the macrame star dream catcher or mix and match. These dream catchers are beautiful and will look amazing hanging in your bedroom. Each dreamcatcher measures approximately 38 inches (96.52 cm) from the top to the ends of the longest fringe.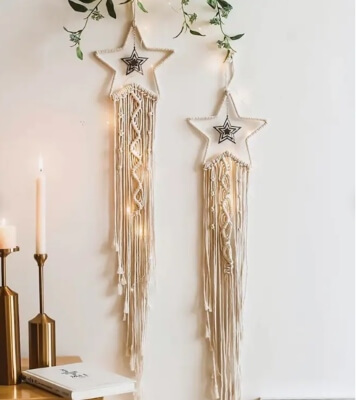 Find the product from HarperandTheRy HERE
12. Boho Macrame Round Mirror with Star Shaped Fringe from NewMoonSanctuaryShop
Beautify your entryway or bedroom with this macrame star shaped mirror. The piece was designed with function and style in mind. It is a beautiful statement piece that will work in any space. The diameter of the mirror is 9 inches (24 cm) and the whole piece with the fringe is 15 inches (40 cm).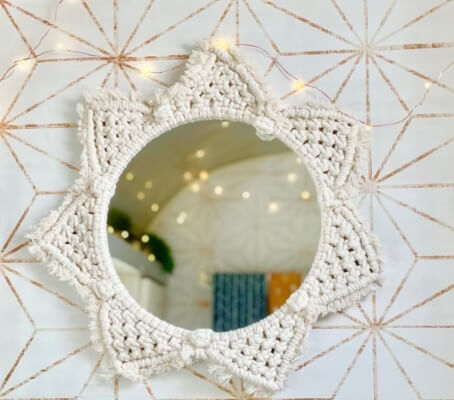 Find the product from NewMoonSanctuaryShop HERE
13. Woven Star Macrame Wall Hanging from BaliOriginalCo
Enhance any room in your home with this handmade macrame star wall hanging. The decoration is carefully made using nature textile and different shells. The wall hanging measures about 10.2 inches (26 cm) in diameter.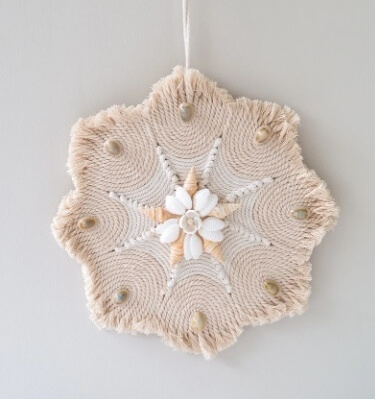 Find the product from BaliOriginalCo HERE
14. Macrame Christmas Star Ornaments from KnottyStuffMacrame
Here is a beautiful, handmade macrame star Christmas ornament. It would be perfect for a tree decorated in boho chic decor. Or use it to decorate a package. The macrame star ornament measures about 4 inches (10.16 cm).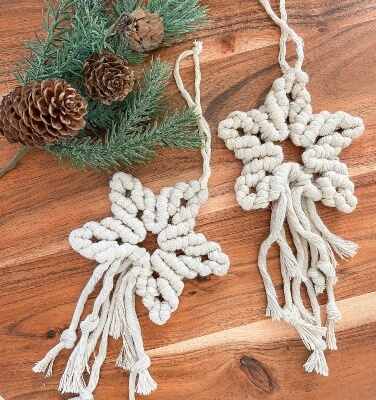 Find the product from KnottyStuffMacrame HERE
15. Macrame Star Ornament from Valerija9
This is a 2 piece macrame star set. The stars have a simple open design with lots of fringe. They are made with 2 mm cotton cord and metal wire. The sizes are 5.12 inches (13 cm) and 6.30 inches (16 cm).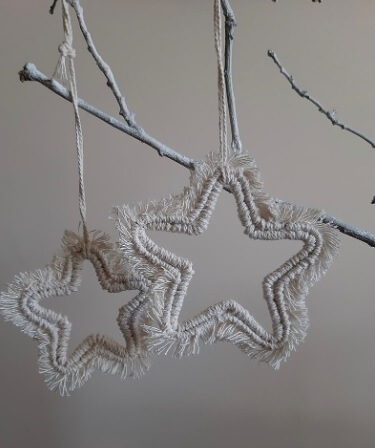 Find the product from Valerija9 HERE
If you are a fan of boho chic style, you need to add some macrame stars to your home decor.
Are you searching for new fun macrame patterns that work up quickly? Then you have come to the right place. Macrame stars are addictive to make, and they are versatile pieces of art.