Are you interested in learning a new craft? Craft kits for adults are designed to make the process fun and easy. Whether you are looking to work with leather, make candles, or any other craft, there is a kit out there waiting for you.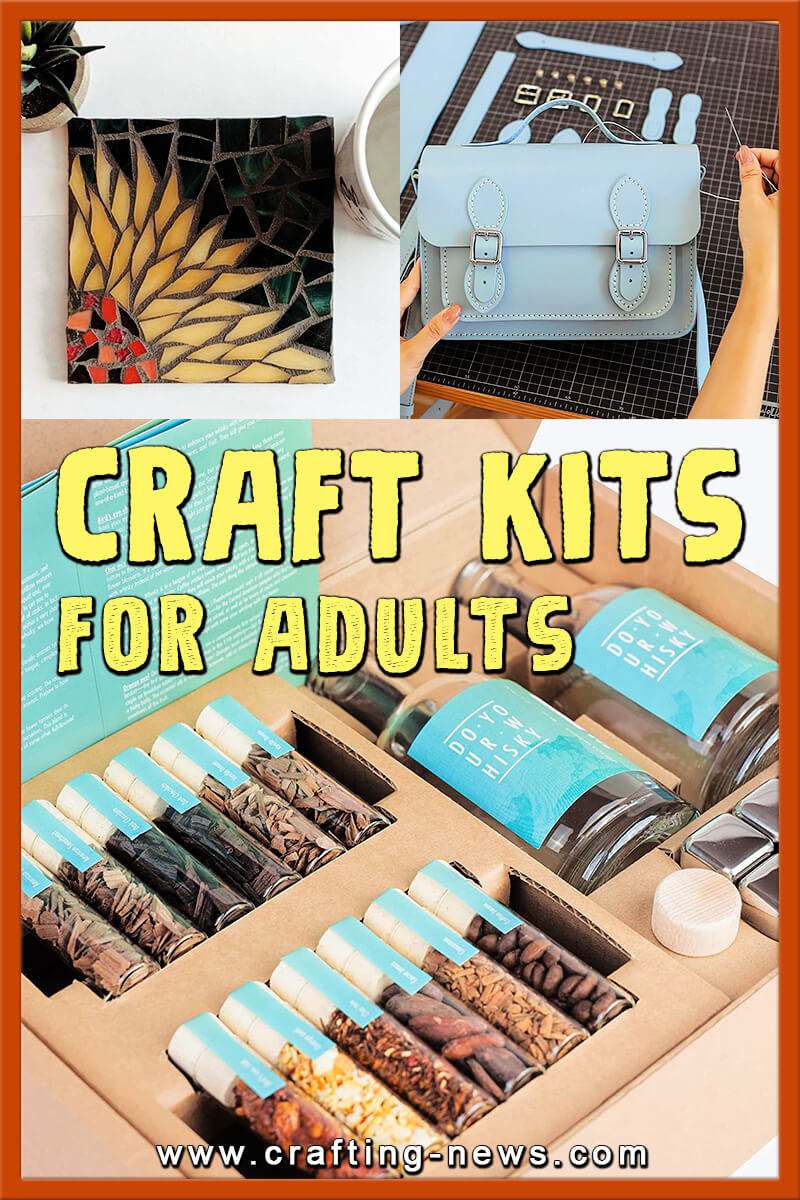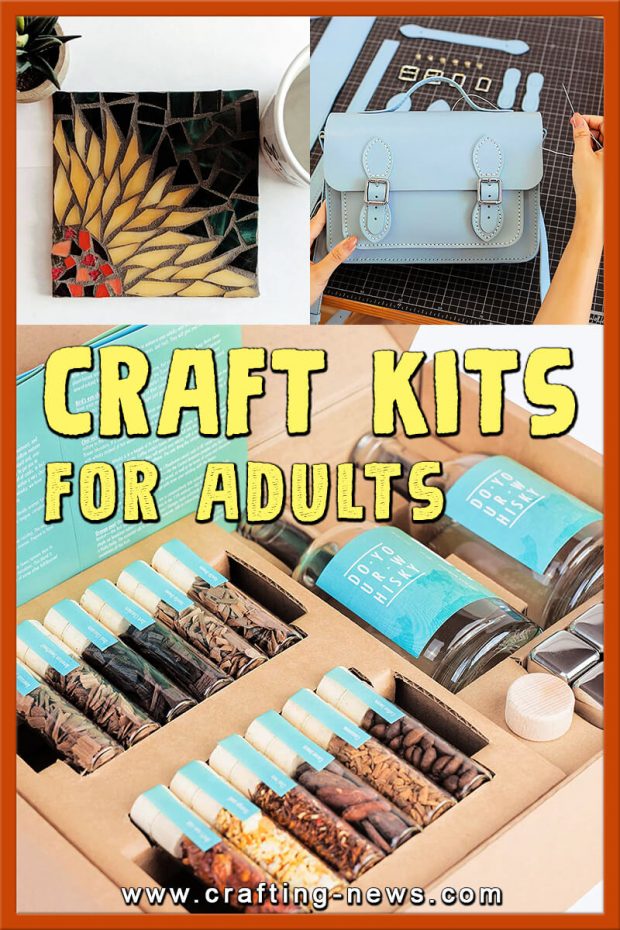 14 DIY Craft Kits for Adults
Below are 14 craft kits for adults that are unique and fun to make.
1. Beach Coasters Craft Kit Gift DIY Resin from DoItYoCrafts
Is your home decorated in beachy decor? Check out this DIY craft kit for adults. The beach themed coaster kit is perfect for learning a new crafting medium.
The resin art kit includes 3 silicone molds, 5 stir sticks, mixing cups, paint, epoxy resin, crushed shells, 6 starfish, disposable gloves, a spray bottle with alcohol, and instructions.
Also see: DIY Tile Coasters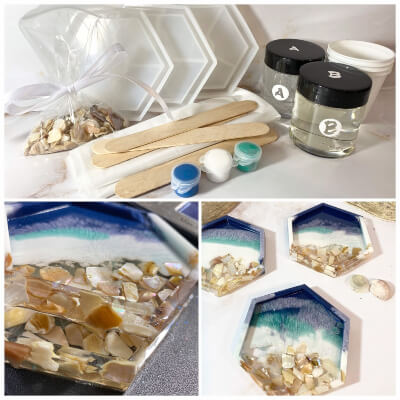 Find the Kit from DoItYoCrafts HERE
2. DIY Mosaic Table Craft Set for Adults from ThisIsUrbanMade
With this kit, you get everything you need to design and build your own mosaic table. You can choose to permanently glue your tabletop together and finish it, or pre-finish the pieces and rearrange the mosaic pieces any time you want. You can even hang the tabletop on the wall.
This kit is designed to be low mess. It includes detailed instructions, the highest quality, non-toxic wood-glue and finish. The dimensions of the tabletop are 12 inches (30.48 cm) x 18 inches (45.72 cm). The table stands 18 inches (45.72 cm) tall.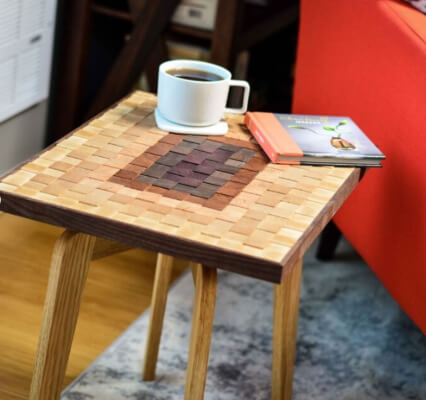 Find the Kit from ThisIsUrbanMade HERE
3. Candle Making Craft Kit for Adults from CandleologyUS
Take a break from routine thoughts and fill yourself with positive energy with this candle making kit. Candle making is an enjoyable hobby. And candles make great gifts.
These beeswax candle adult art kits are easy to complete. Simply crimp, roll, and wrap. And the natural material purifies the air, burns more cleanly, and lasts longer than petroleum wax.
Also see: 10 DIY Coffee Candles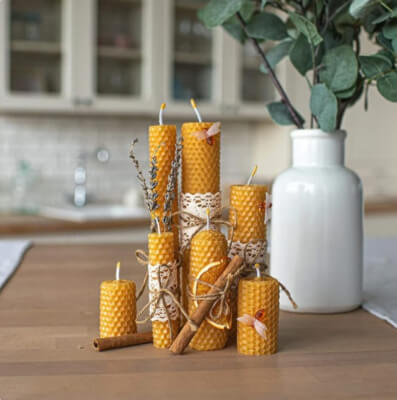 Find the Kit from CandleologyUS HERE
4. Make Your Own Moss Art Kits for Adults from NaturelyBox
Bring the outdoors into your home with this moss art kit. The wall art will add a pop of greenery to any wall, shelf, or desk. The boxes are easy to assemble and fun to display. Buy one for yourself or get one for each member of your family.
These craft kits for adults include a variety of naturally preserved moss, lichen, and ferns. You also get a pine wood frame, a sawtooth hook and screws, instructions, moss guidelines, wood tint, and a small paintbrush. You also have the option of adding a glue gun.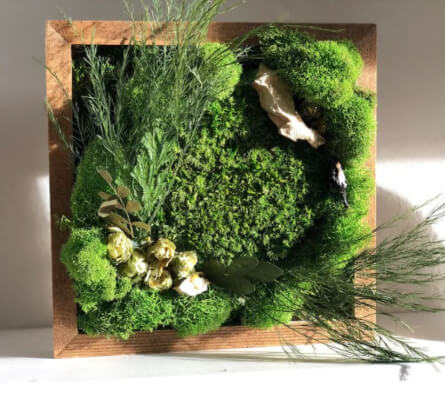 Find the Kit from NaturelyBox HERE
5. Comfort Bird Wood Carving Craft Set for Adults from BeaverCraftStore
Are you interested in learning about wood carving? This starter whittling kit for beginners will teach you how to carve a cute little bird.
Included in the beginner wood carving set is a razor sharp whittling knife, 2 wood blocks, polishing supplies, finishing supplies, a bird template, and a step-by-step video tutorial.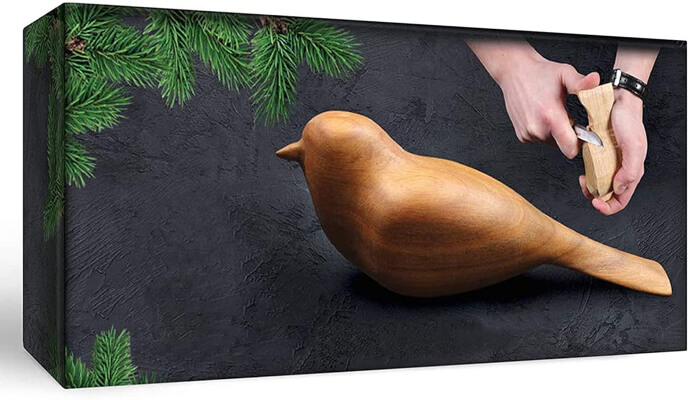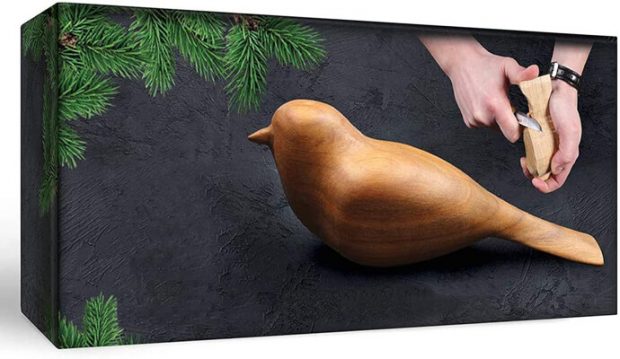 Find the Kit from BeaverCraftStore HERE
6. Leather Scout Moccasin Craft Set for Adults from Realeather Crafts Store
How awesome would it be to make your own shoes? You can with these craft kits for adults. You can choose from sizes 4/5, 6/7, 8/9, 10/11, 12/13, or the 10/11 deluxe edition. Sizes are in Women's. For a man, order a size up.
Make a pair of durable golden tan real leather moccasins that will shape of your feet for the ultimate fit. The kit includes pre-cut and pre-punched parts, pre-attached cushiony insoles, lace, and step-by-step assembly instructions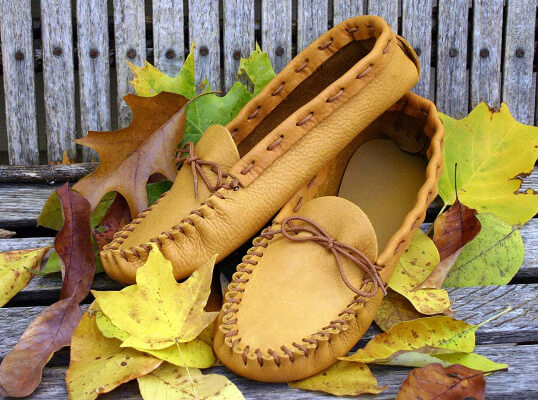 Find the Kit from Realeather Crafts Store HERE
7. Sunflower Trivet DIY Kits for Adults from MosaicsattheFarm
You can create a lovely sunflower trivet with this kit. You can display the trivet in your kitchen, on a shelf, with a candle in the bathroom, etc. The possibilities are endless. Each of the craft kits for adults includes your choice of 1 or 2 trivet bases, hand-cut stained glass, adhesive, grout, and instructions.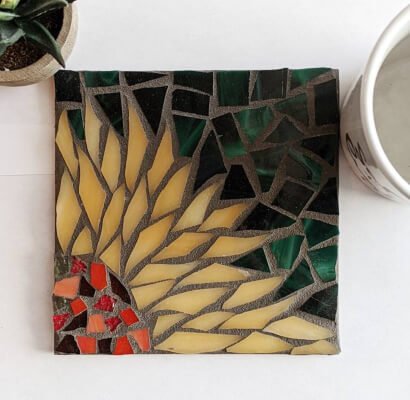 Find the Kit from MosaicsattheFarm HERE
8. Handmade Bag Satchel DIY Kits for Adults from HandmaidPurses
Do you have a lot of purses? Then you need at least one more, right? This is an amazing kit that gives you the ability to make your own handbag. You can choose between black, brown, pink, red, or sky blue.
This kit contains all the tools and materials that are needed to make your own purse. The process is simple and rewarding. The leather pieces are precut and pre-punctured. All you need to do is sew.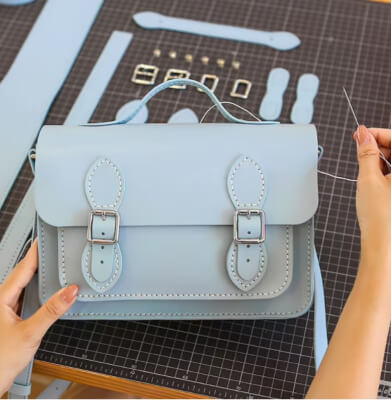 Find the Kit from HandmaidPurses HERE
9. Sea Glass Picture Art Kits for Adults from Shersbeachycreations
Here is another fun beach decor item you can make for your home. This DIY resin kit includes all the supplies needed, including the fun little turtles. You can arrange the items according to the picture or assemble them however you would like.
In these craft kits for adults, you get a 10 x 12 white frame, instructions, cup, stir stick, gloves, resin, hardener, shells, crushed glass, etc.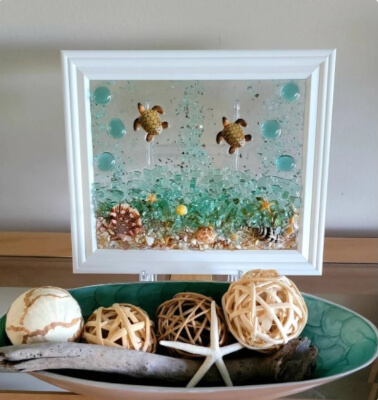 Find the Kit from Shersbeachycreations HERE
10. Keepsake Hands Casting KIT – Craft Kits for Adults & Kids from Luna Bean Store
Hand casting craft kits for adults can create a piece of artwork you can treasure for a lifetime. The kit is large enough to cast 2-4 adults, or 2 adults with up to 4 children.
The casting kits are the perfect moulding keepsakes and capturing every detail. The unique rubbery moulding captures every fine line and fingerprint. Every Luna Bean Casting Kit is made 100% safe, fun, and easy no-bake drying for children and adults of all ages.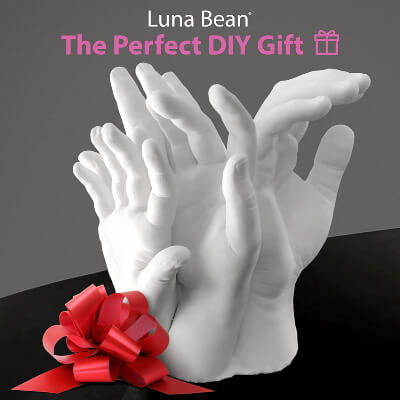 Find the Kit from Luna Bean Store HERE
11. DINOSAUR Papercraft 3D DIY Kits for Adults from MyPaperraz
This crafting kit is perfect for adults who are still children at heart. Who would not love having this dinosaur wall sculpture decorating their library, game room, or home theatre?
You will receive pre-cut and folds-prepared paper sections that you just need to stick together. The glue is included in the kit. There is also a sticky hook for attaching the finished piece to the wall.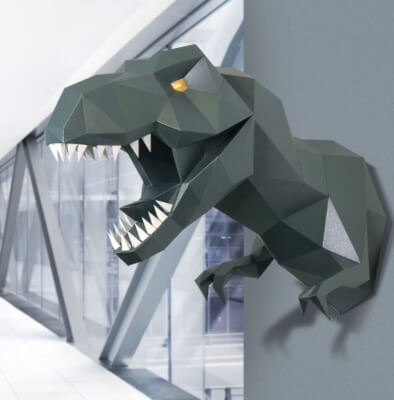 Find the Kit from MyPaperraz HERE
12. DIY Candle Making Kit for Adults and Beginners with Wax Melter Electronic Hot Plate from Chandler Tool Store
Get started in the hobby of candle making with this kit. It comes with everything you need. Including a candle wax melting pot, electric hot plate, cotton wicks, stainless steel pouring pot, 2 stainless steel centering devices, and 5 lbs of soy wax. That is enough wax to make 12 candles using 8 fluid oz containers.
Find the Kit from Chandler Tool Store HERE
13. DIY No Sew Purse Craft Set for Adults from HandmaidPurses
You can make this leather purse without doing any sewing! This kit makes purse making super simple. Just assemble the pieces and attach them together using the included hardware and tools.
Get one kit for yourself. Or buy several of these craft kits for adults and throw a crafting party. The finished bag will measure 7.5 inches (19.05 cm) x 5.5 inches (13.97 cm) x 2.5 inches (6.35 cm). It is a beginner-friendly project.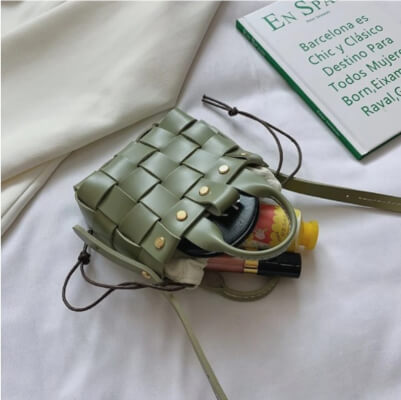 Find the Kit from HandmaidPurses HERE
14. Whiskey Making DIY Kits for Adults by doyourgin
Trade a cask for the bottle and create your own authentic whisky flavour. The kit comes with everything you need except the neutral alcohol to infuse as a base.
With this kit, you get to experiment with three types of oak and six herbs and spices. All the botanicals are 100% natural, freshly sourced, and come in glass tubes with real corks. Along with premium ingredients, the kit contains 2 glass prep bottles and 6 stainless steel whisky ice cubes, and labels.
You might also love this DIY Sangria Gift Basket and Kits.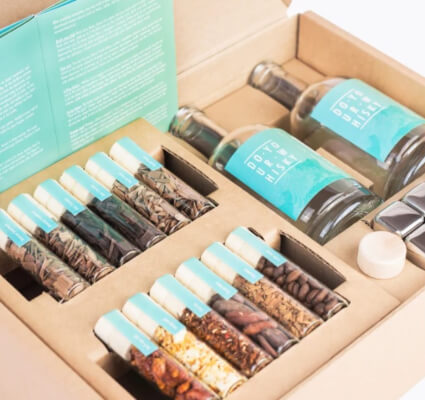 Find the Tutorial by doyourgin HERE
Learning a new hobby can help you unwind and destress. If you are trying to decide what craft you want to learn, check out our list of craft kits for adults.
Learning a new hobby can give you a sense of accomplishment. But the process can be overwhelming. Instead of trying to figure everything out on your own, get a kit. Craft kits for adults are designed to make learning fun.
If you're up for more craft-related activities, check out our Basket Weaving Kits Painting Mugs Tutorial, DIY Citronella Candles, DIY Lip Balm Recipes, Packing Tape Image Transfer and a lot more fun projects here.
We hope you like our specially-curated selection of craft kits for adults.