Chances are, you probably have all your earrings somewhere in a pile or tangled together in the bottom of a jewelry box, but no more!
Here, we are hoping to make your life a little less messy with a round-up of our favorite earring storage ideas. These DIY Earring Holders are here to save the day!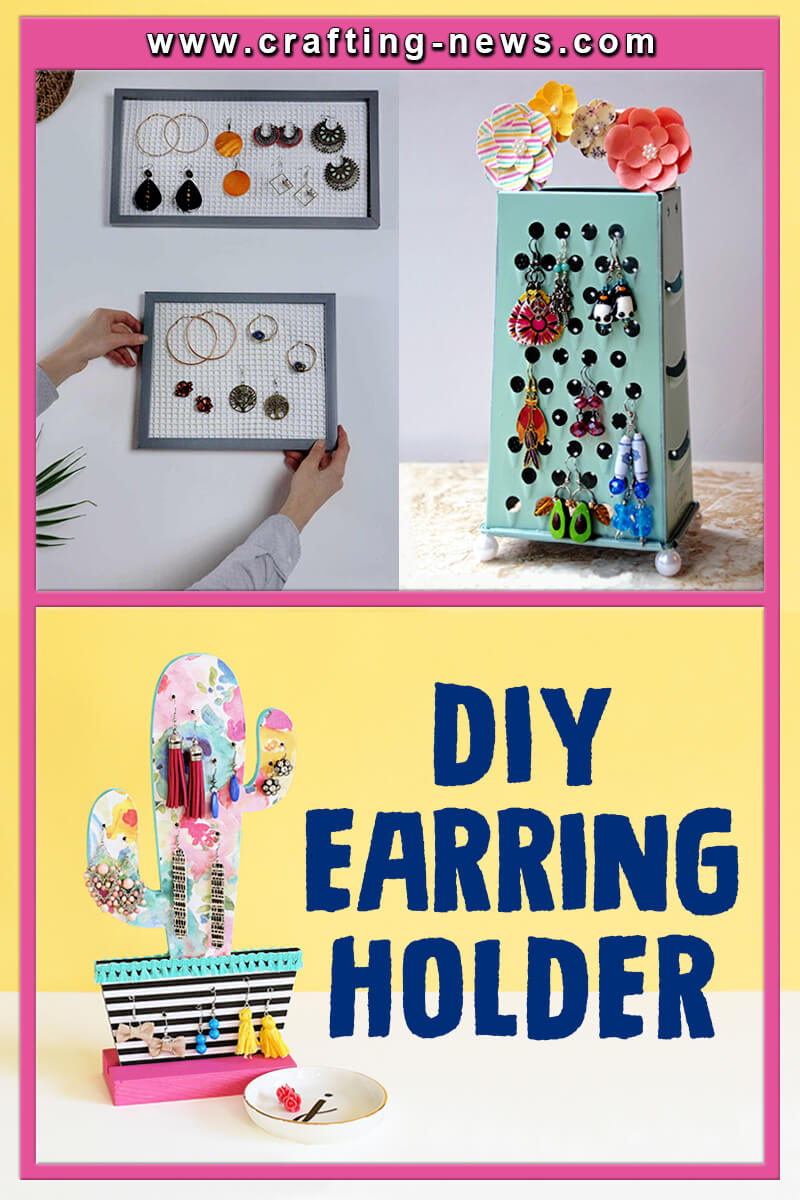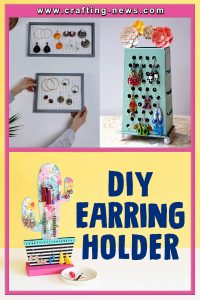 Give your treasures — costume earrings, antique finds, heirloom pieces, and everything in between — the time and attention that they deserve with these clever earring storage ideas.
31 E
arring Storage Ideas
Whether you want an earring organizer to hang on your wall or display on your bathroom counter, this list got you covered!
1. Wood DIY Earring Holder by Saws On Skates
Can't find a matching pair of earrings? Then make this easy wood DIY earring holder! This picture frame-style holder uses inexpensive burlap to display earrings.
he open weave of the burlap gives the earring stand a rustic feel and makes it easy to organize earrings of different shapes and sizes. It's perfect for studs, hoops and more.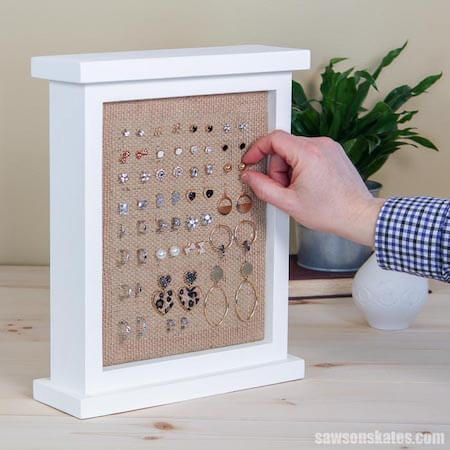 Get the tutorial here
2. DIY Brass Earring Pyramid by A Beautiful Mess
Talk about a DIY Earring Holder that you can proudly display! Even without earrings on it, it would accessorize shelves with its geometric brass structure. Another great thing about this project is that it would work for hoop earrings and non-stud styles as well.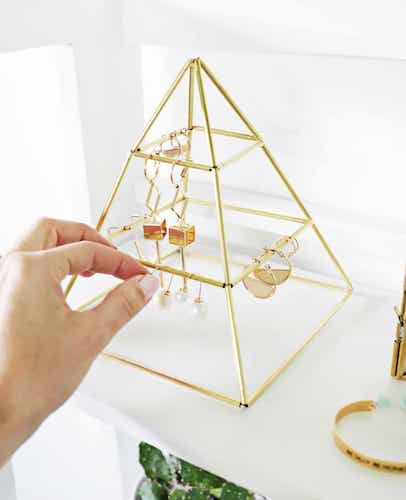 Get the tutorial here
3. DIY Earring Organizer by I Heart Organizing
Instead of throwing your studs in a bowl or trinket tray, keep them paired up by storing them in this DIY Earring Organizer. You can even use it to hold rings, brooches, or other dainty jewels.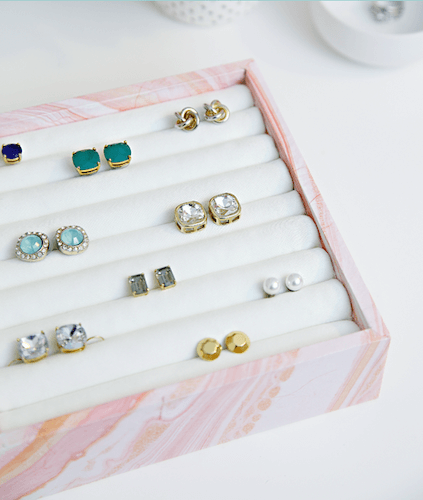 Get the tutorial here
4. DIY Earring Holder by House Of Hawthornes
Give your earrings the fine-art treatment they deserve by DIYing an organizer with a painted frame and a decorative aluminum sheet, from which you can hang all earring types.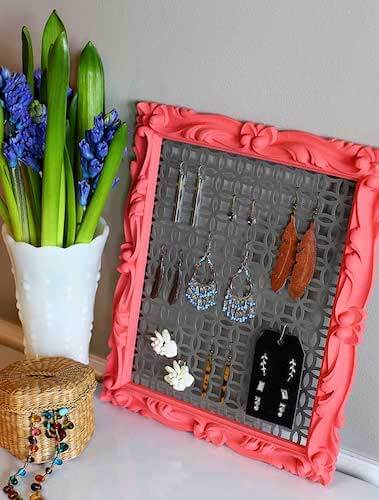 Get the tutorial here
5. Easy DIY Earring Stand by Houseful Of Handmade
Build an easy DIY earring stand in an afternoon to organize all your earrings. The metal screen is perfect for storing stud earrings and dangling earrings.
And this design is so simple, you can easily build it without power tools in case you don't have them (or don't like to use them).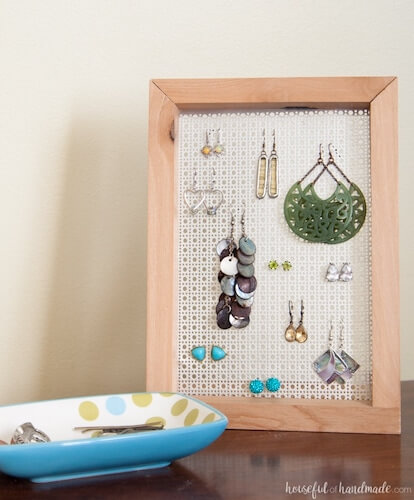 Get the tutorial here
6. Popsicle Stick Earring Holder by Factory Direct Craft
Need a place to store your dangle earrings? Try using Popsicle sticks. Carefully gluing them into a stand will allow you to use them to hang your earrings from, and adding pretty gold metallic paint gives the project a more sophisticated appearance.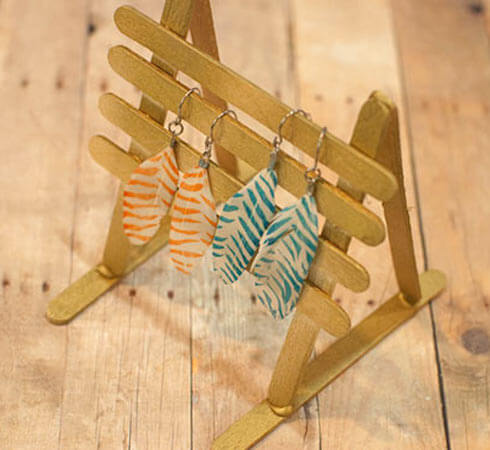 Get the tutorial here
7. Wooden Stud Earring Holders by Martha Stewart
Keep your collected pairs within easy reach. This is a simple jewelry organizer and a pretty addition to your vanity table all in one triangular package. Make a mini earring holder as a gift or to display a precious pair of earrings.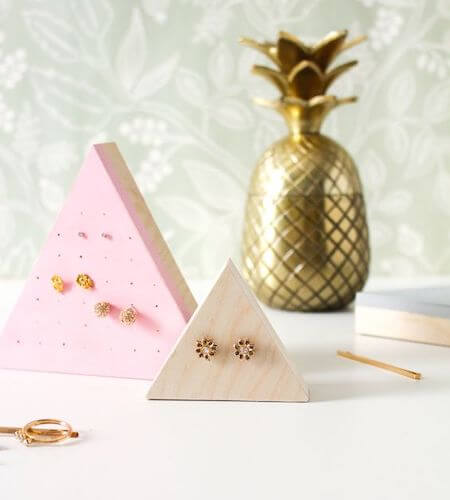 Get the tutorial here
8. DIY Stud Earring Holder by Ugly Duckling House
This earring holder can be made easily with scrap wood and can dress up a set of stud earrings as a nice "bonus" gift. This one is petite enough to put on a shelf, nightstand, or in a closet.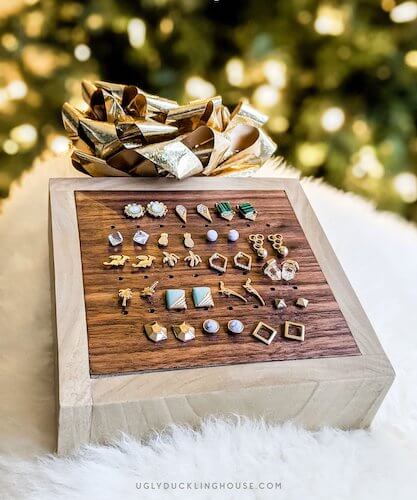 Get the tutorial here
9. DIY Cactus Earring Holder by The Craft Patch
Make this DIY earring holder that's shaped like a cactus. It's such a cute way to display earrings and doubles as a colorful decoration for your bedroom.
It's colorful and funky and the perfect earring display that doubles as a decoration. It's an easy craft you can complete in one afternoon.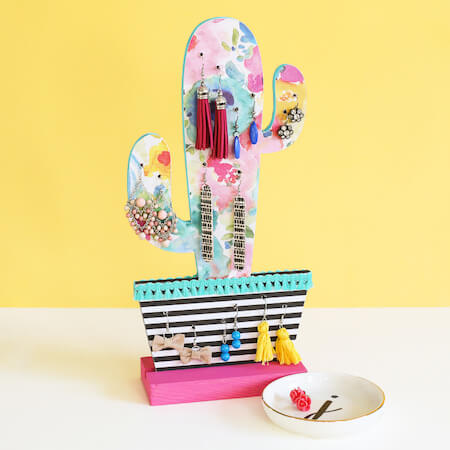 Get the tutorial here
10. DIY Earring Organizer by Place Of My Taste
Pick up an inexpensive Ikea frame and a pretty piece of fabric to create your own earring organizer that doubles as wall art.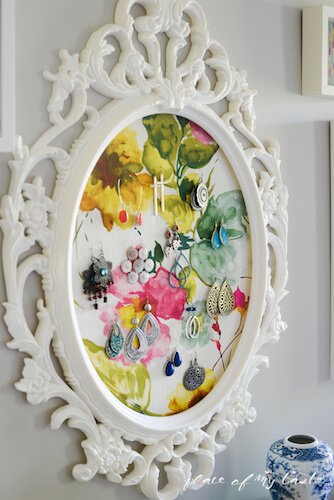 Get the tutorial here
11. Easy DIY Earring Holder by Paper & Landscapes
Learn how to make your own earring holder stand with this easy tutorial. It's a very pretty way to store and display your earrings!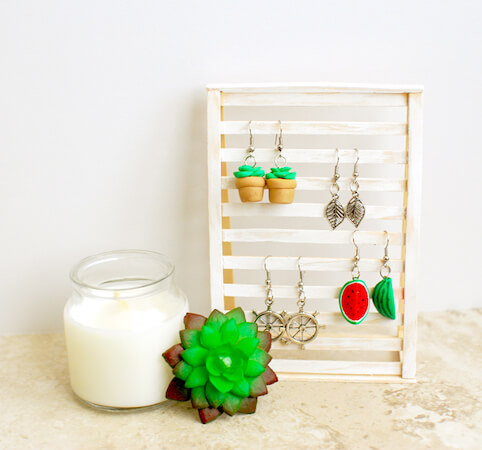 Get the tutorial here
12. DIY Modern And Minimalist Hanging Earring Holder by Mikyla Creates
Minimal, simple, and quite lovely, this DIY earring holder that you see in this picture is made in just under one hour.
The instructions provided are fool-proof as they are shown in a detailed, useful video, and can basically be summed up to making holes in an 8" x 8" piece of wood with a drill bit (1/16 & 3/16) and painting it according to your wishes!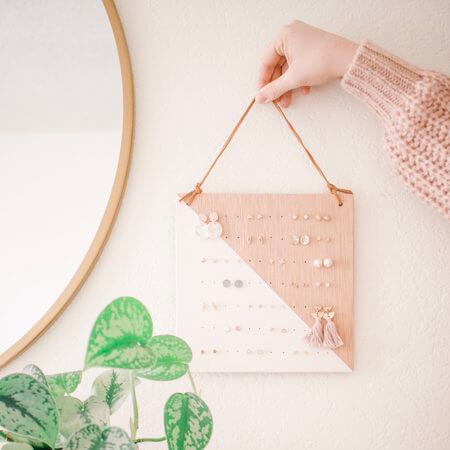 Get the tutorial here
13. Dream Catcher Earring Holder Crochet Pattern by Unique Yarns Co
This simple DIY earring holder can also double as a decorative dream catcher! It might look tricky, but don't worry, this earring holder crochet pattern is much easier than you might expect. How ever you decide to use it, expect extra boho-chic vibes in your bedroom!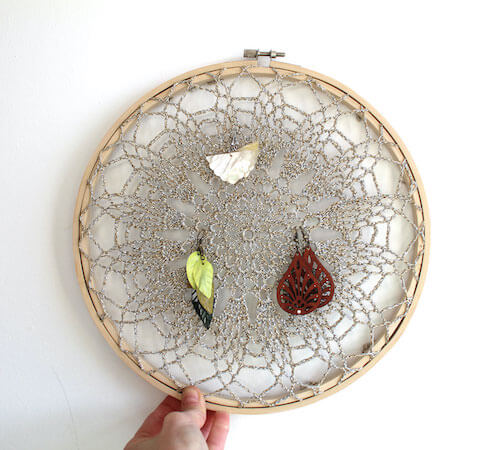 Get the tutorial here
14. DIY Acrylic Earring Holder by A Beautiful Mess
No more piles of intertwined, tangled earrings at the bottom of the drawer/box! This Acrylic Earring Holder is everything!
First of all, it systematically organizes your earrings; second, it fits nicely and neatly within any interior, and is a perfect match to any acrylic makeup storage you may already have on your vanity!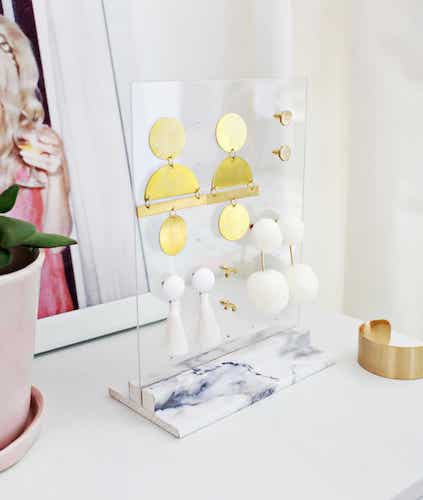 Get the tutorial here
15. DIY Earring Travel Book by Simple & Soft
Keeping your earrings organized on your travels is as much important as keeping them organized at your home. This tutorial offers us this, well, simple and soft (and absolutely adorable) DIY earring holder in book-shape which you can bring with you on your travels.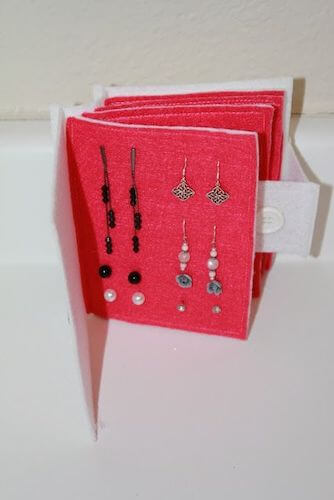 Get the tutorial here
16. DIY Wooden Jewelry Box by The Beauty Dojo
Transform the boring, wooden box into a modern, timeless DIY Jewelry box for your earrings! This DIY Wooden Jewelry Box uses some sponges, paint, felt, foam brushes, and glue to improve the simple, wooden box and transform it into a modern jewelry storage unit!
It's simply amazing how few, simple upgrades can make something more useful and organized!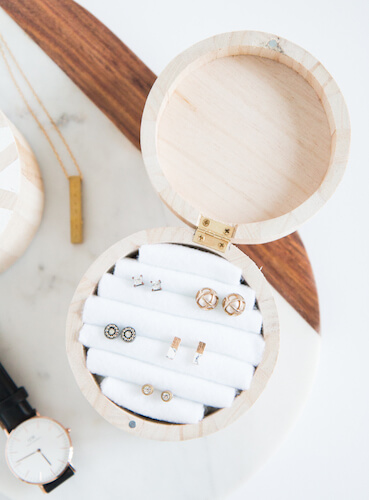 Get the tutorial here
17. DIY Earring Stand by The Merry Thought
Just like in the store! For all of you who admire the lovely stud earrings that so casually and prettily hand in the stores, this is the perfect gift for you. This lovely, minimal earring stand is ideal for organizing and displaying all of your stud earrings and can be done effortlessly in a few simple steps!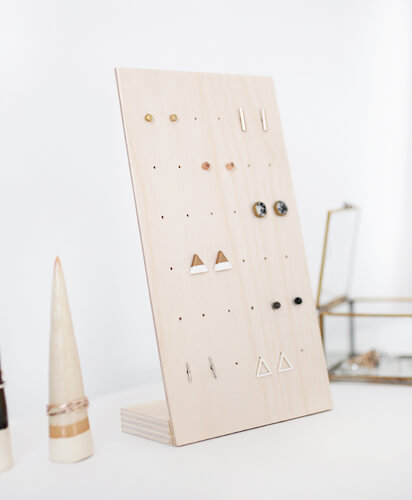 Get the tutorial here
18. DIY Earring Organizer Out Of Frames by Craftsy Hacks
Use photo frames to make your very own DIY earring organizer. It's a simple, creative craft that will help you keep your jewelry in an order. The best part? Not only do you get to organize your earring, you also get a great display piece out of it!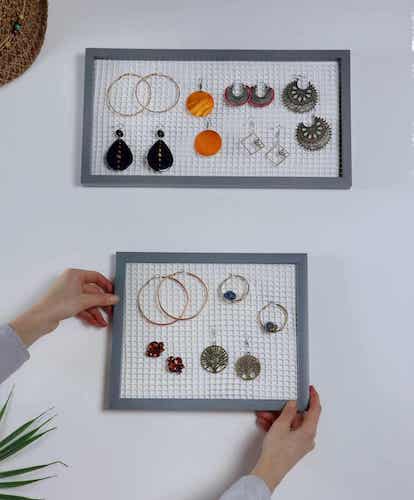 Get the tutorial here
19. DIY Embroidery Hoop Earring Holder by Fun 365
You'll never guess what this cool, colorful loop-de-loop DIY earring holder is made from, so we'll just go ahead and spill the beans up front: a collection of raw embroidery hoops!
The tutorial details how to create your own version of our DIY earring holder using a handful of basic craft supplies in addition to those handy hoops. What colors would you use on your organizer?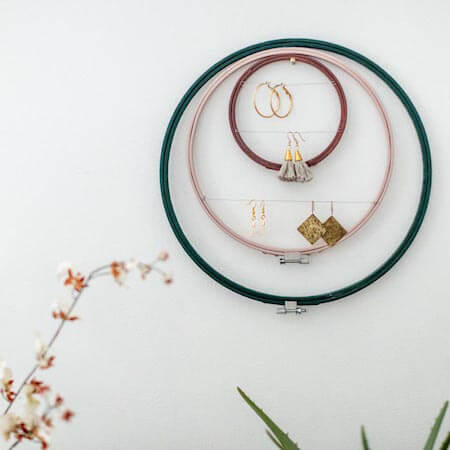 Get the tutorial here
20. DIY Wall Earring Holder by Ohoh Deco
For everyone who says "the earring organizers are all nice, but my earrings collection is too big, it will literally fill an entire wall", well, we got you covered, let's fill the walls with earrings. Because, why not?
This minimal, DIY wall earring holder is super simple to make and can easily be adjusted to the size of your collection!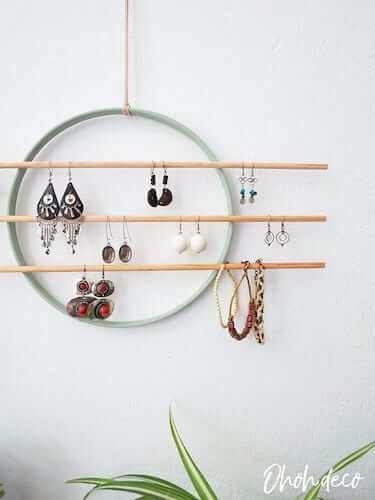 Get the tutorial here
21. DIY Earring Organizers by Melly Sews
This simple earring organization project will keep your earrings easy to find! Organize earrings by style, metal – whatever method you'd like.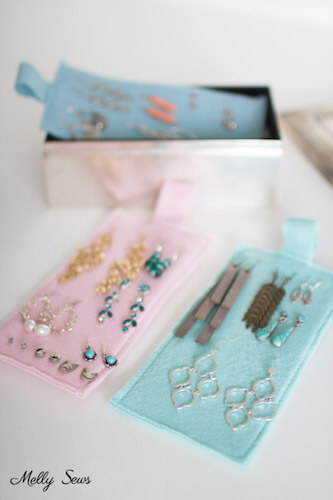 Get the tutorial here
22. Earring Holder by Craftaholics Anonymous
Edgy and eco-friendly, this idea is another of our favorites. Craftaholics Anonymous shared their 2-steps creative transformation of a $2 candle holder into an edgy earring holder. What are your thoughts on it?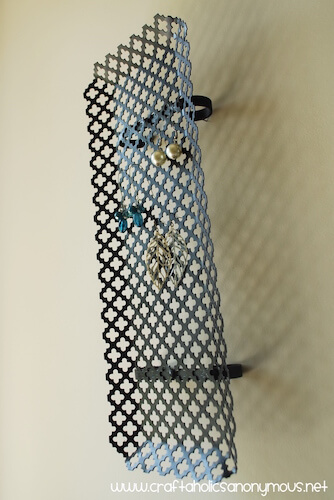 Get the tutorial here
23. DIY Earring Stands by Julie Measures
Making your own DIY earring stand is easier than you think! With just a few supplies you can make a jewelry stand to match your home decor.
You will use a picture frame, plastic canvas, and an egg cup (along with some spray paint and a hot glue gun) to create these DIY easy to make earring stands.
And you can pick whether you want a more vertical or horizontal earring stand. The vertical stand will allow you to set out your necklaces as well.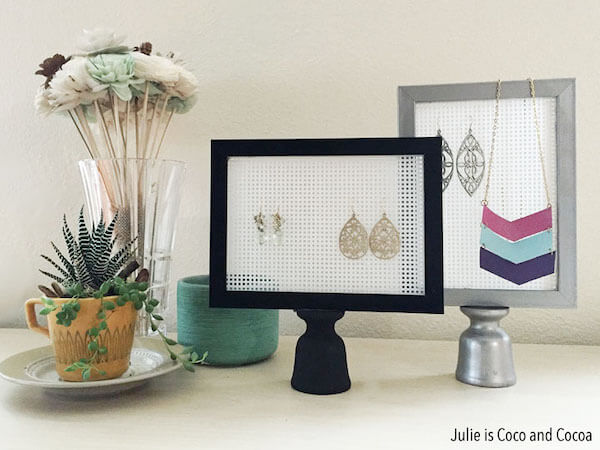 Get the tutorial here
24. Easy Homemade Earring Holder by Turning The Clock Back
This homemade earring holder is perfect for dangling earrings that need to be better cared for. If you love upcycling projects and decluttering, use an old box cheese grater to organize jewelry!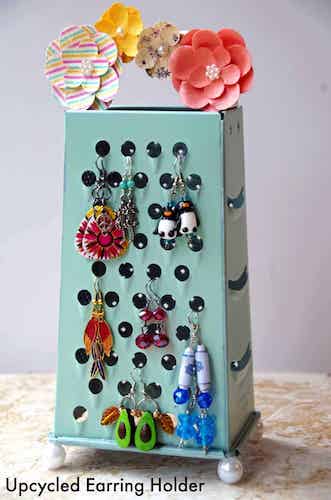 Get the tutorial here
25. Framed Burlap Earring Holder by Positively Splendid
There is nothing like having a gift-worthy project in your creative arsenal that can be whipped up in no time. You will love this Framed Burlap Earring Holder as much for its attractiveness as you do for its functionality and ease of assembly.
This is a project you will return to again and again for birthdays and holidays alike!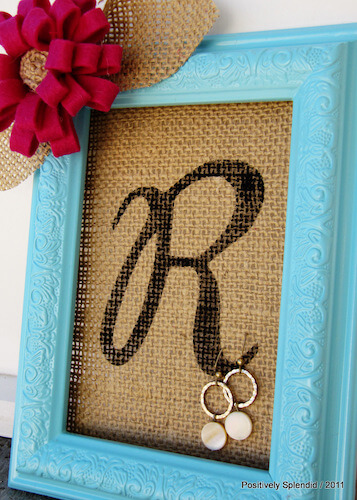 Get the tutorial here
26. DIY Earring Organizer by Chronicles Of Home
This is a DIY earring organizer you can make in about five minutes and requires no special DIY skills. So if you're a DIY beginner, this is a perfect easy starter project. It's pretty, it's functional, and it's inexpensive to make!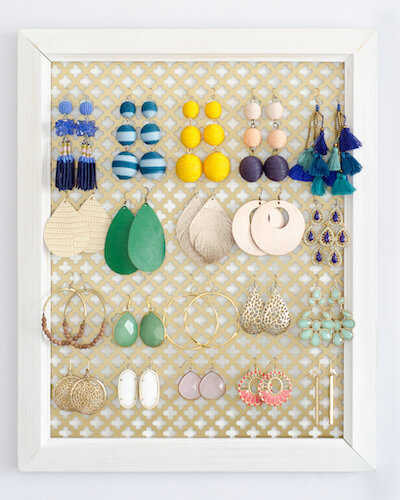 Get the tutorial here
27. DIY Upcycled Birchboxes Into Earring Organizer by Smart N Snazzy
If your storage solutions need more function than style, opt for one that requires almost no work. While this isn't as fashionable an option as the others, it is so darn clever and functional.
You could pick your favorite designs or spray paint whatever color you'd like. Then, you create the earring organizer with just a push pin – super easy!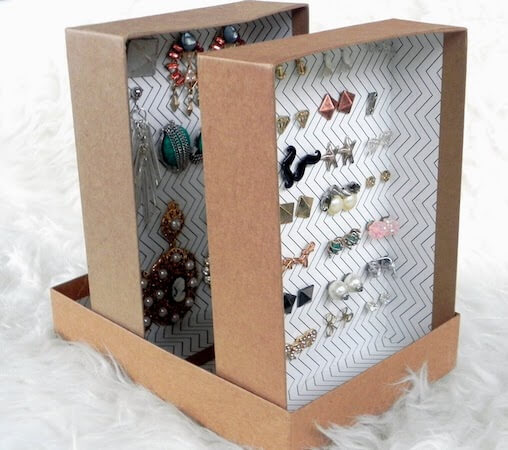 Get the tutorial here
28. Earring Organizer by Real Simple
Learn how to showcase your gold hoops, pearl drops, and crystal earrings. A frame lets you see the big picture when choosing which pair goes best with an outfit.
Besides, isn't it a shame to keep pretty baubles tucked away when they could be adorning your dresser every day?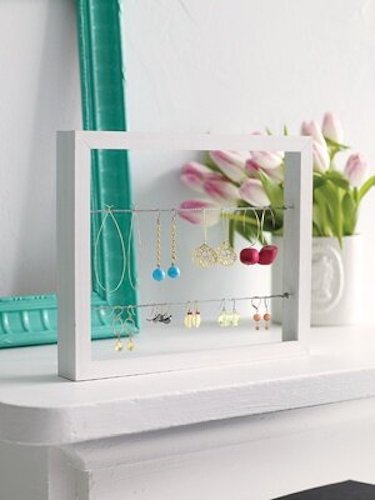 Get the tutorial here
29. DIY Earring Display by Wondermint Goods
If you need an easy earring storage idea, this tutorial got you covered! Bonus: this DIY earring display also goes perfectly with a wide range of home decor styles from farmhouse to boho.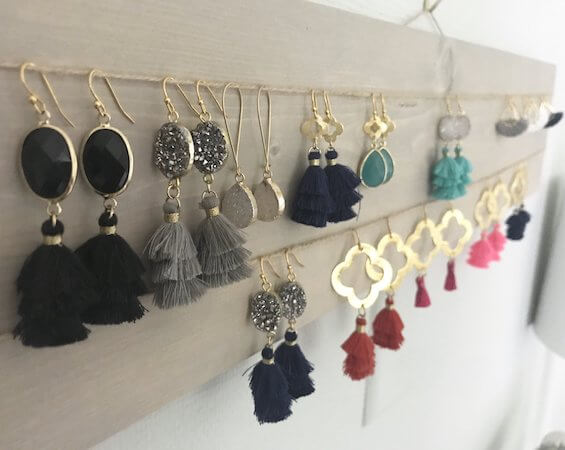 Get the tutorial here
30. DIY Jewelry Stand by Curbly
For earrings you wear often, a tired jewelry dish can be a good option as a beautiful display that keeps the pieces at your fingertips. One major perk of a dish is you don't have to fuss with hanging your jewelry. Just toss it on the dish, and it will still look intentionally organized.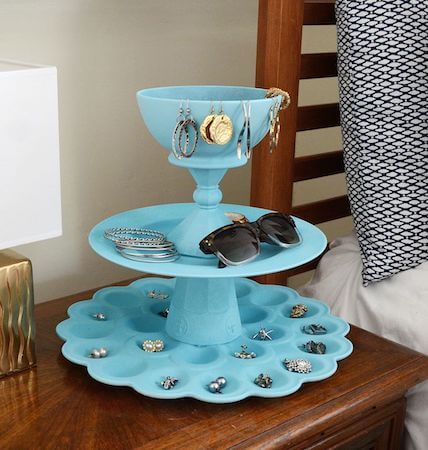 Get the tutorial here
31. Perfect DIY Earring Holder by Yarn Hook Needles
This tutorial includes a crochet version of this as well as a non-crochet version of the DIY earring holder. This way, if you're just a DIYer you'll still be able to get a similar look without having to know how to crochet!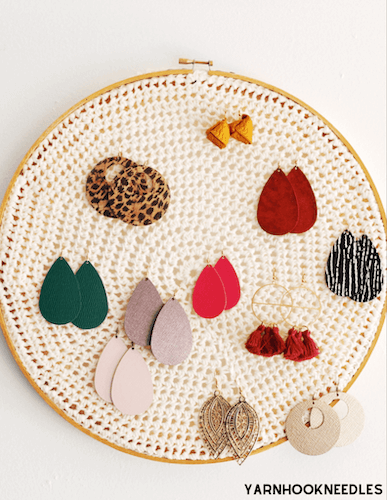 Get the tutorial here
ONCE YOU PICK THE DIY EARRING HOLDER THAT'S RIGHT FOR YOUR STASH AND SPACE, GET READY TO DIY AND OGLE AT YOUR SPARKLY JEWELS.
If you enjoyed these great earring storage ideas, please share this with your friends. And also, please do share your finished works on our Facebook Page for everyone to admire!
Opting to create a piece of jewelry yourself is a fun alternative that will surely provide you with something crafty and out-of-the-ordinary.
Check out our DIY Ear Cuffs, 15 Wire Wrapping Stone jewelry, 43 DIY Earrings, DIY clay earring ideas and 45 wire wrapped rings that are all worthy addition to your jewelry collection.
Make one of these DIY earring holder and start getting more use out of your earrings today!