Are you a fan of flare pants? Flare pants are fun and stylish. You can wear them as casual wear or dress them up for formal affairs. They are also a popular design for yoga pants. If you have been searching for a comfortable and trendy pair of pants, there are few store-bought designs to choose from. Instead of settling for a pair of mass-produced pants, make your own. I have gathered 12 flare pants patterns just for you.

What are Flare Pants?
Flare pants are also referred to as bell bottoms. These pants were a huge fashion statement in the 60s and 70s. And now they are popular once again. Flare pants are usually form-fitting in the hips and thighs and flare out from the knee. The flare can be subtle or wide.
Things You Should Know About Flare Pants
Many people think that flare pants are only for hippies. But this is not the case. Here are a few things you should know about flare pants.
Bell bottoms were originally worn by sailors. The design made it easier to snag the pants and save a man after he fell overboard. They were also easier to remove once they were wet.

Carpenters also embraced flare pants. The design of the trousers kept sawdust from falling into their shoes.

In the 1960s, young people started getting their clothing from army surplus stores. Restyling the flare pants by adding peace signs and flowers was a way for them to protest war.

Bell bottoms were also worn by hippies because they were completely opposite of their parents' uptight style.

They are part of our history. From 60s hippie fashion to Music icons, and movies like Saturday Night Fever. When you see a pair of flare pants, you are taken to another era.
12 Flare Pants Patterns
Below are 12 flare pants patterns. I have included a wide variety of styles and sizes. There are even some free flare pants patterns.
1. Alesia High Waist Flare Pants with Pockets Pattern by GeorgettePatterns
Add a little bit of drama to your everyday jeans with this flare pants pattern. The cute jeans have a high waist, 4 pockets, top button, and a zipper fly. The pants hug your curves, the flare at the ankles just grazing your ankles.
The Alesia flare pants jeans pattern is for stretch denim. Included with the pattern are step-by-step instructions in English and measurements in metric. The pattern sizes are for EU 34, 36, 38, 40, 42, 44, 46.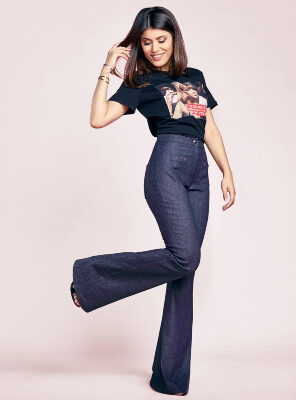 Find the Pattern by GeorgettePatterns Here
2. Flare Leg Pants with Waistband
by JulesAdore
Designed for the utmost comfort, these flare pants leggings will become your favourite go-to pants. They do not have a zipper or a button closure. Instead, they have a 4 inch (10.16 cm) wide waistband that stays up on its own.
Sizes included are XS, S, M, L, and XL. The designer suggests using light or medium weight stretchy fabrics such as French terry and Lycra.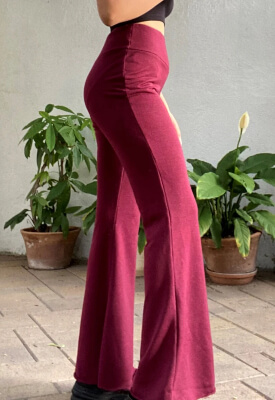 Find the Pattern by JulesAdore Here
3.

The Jamesia Flare Jeans Pants by Mood Sewciety

Get this free flare pants pattern from Moo Sewciety. The pants are designed to hug your curves perfectly. The pattern is perfect for making 60s and 70s themed clothing.

These flare pants are super easy to assemble. The pattern is a great choice for advanced beginners comfortable with invisible zippers. Since the pants have a clean and simple silhouette, the designer recommends using a fun, vibrant patterned fabric.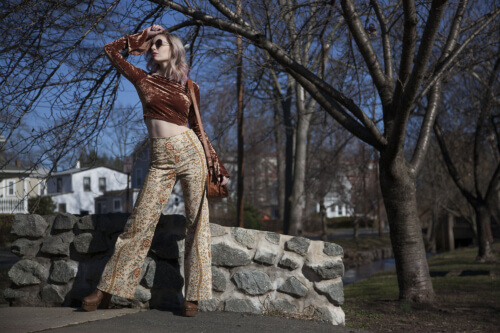 Find the Pattern by Mood Sewciety Here
4.

Flare Leg Pants Pattern by Modellaggio

Are you searching for flare pants patterns that will work with a wide variety of fabrics? Then this pattern is for you. You can sew countless pairs using solid fabrics and patterned fabrics. You can have a pair for every occasion and season.

This flare pants pattern can be made with or without back pockets. The zipper can be a standard zipper or an invisible zipper.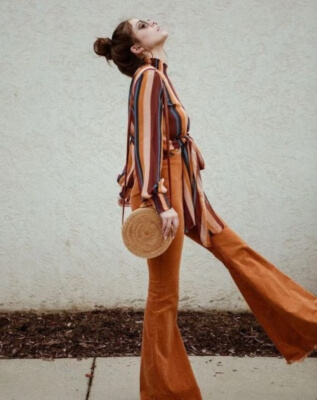 Find the Pattern by Modellaggio Here
5.

70s-Inspired Flare Pants Pattern

by Upstyle Daily

Learn how to create your own flare pants pattern by following along with this tutorial. The 70s style flared pants are designed to flatter your body. The high waist looks good with a crop top, bodysuit, or a tucked in shirt.

Since you have to create your own pattern, I would recommend this tutorial for intermediate to advanced level sewers.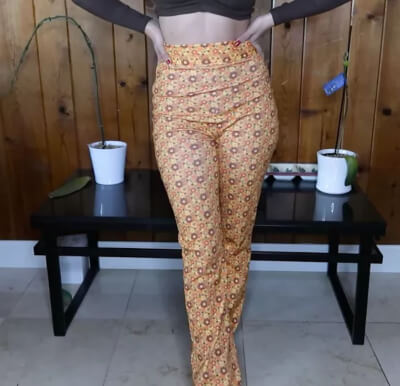 Find the Pattern by Upstyle Daily Here
6. Flare Leg Pants Sewing Pattern
by AuraPatterns
Suitable for everyday wear and work, these flare leg trousers are super comfortable. They are made using lightweight knit fabrics with lots of stretch. The design works well with platforms, ankle boots, chunky heals, sandals, and sneakers.
This is a beginner-friendly flare pants pattern. There are easy-to-follow illustrated instructions. It comes in sizes XS, X, M, L, and XL. A single pair of pants can be completed in as little as 30 minutes.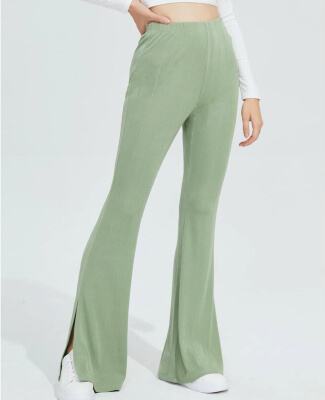 Find the Pattern by AuraPatterns Here
7.

Sport Flare Leggings Sewing Pattern by SewingCraftPatterns

The AVA trousers have a high waist and flared legs. The high waistband hides your belly and creates an elongated look. This download includes the pattern only. There are no sewing instructions. However, the pattern pieces are extremely easy to assemble. Sizes included are XS, S, M, L, XL, and XXL.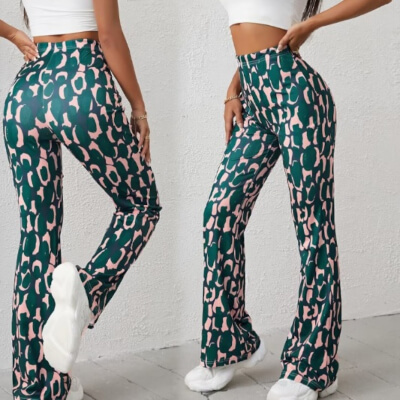 Find the Pattern by SewingCraftPatterns Here
8. High Waist Flare Pants Pattern for Jersey Yoga or Loungewear
by Makeityoursthelabel
Make a super cute and comfy pair of yoga pants using this flare pants pattern. No more looking for the perfect pair of pants at your local retailer. Now you can have a pair of yoga pants that effortlessly fit your body.
Also included with the flare pants pattern download is a matching crop top pattern. These are beginner-friendly patterns. Sizes include EU 34-50.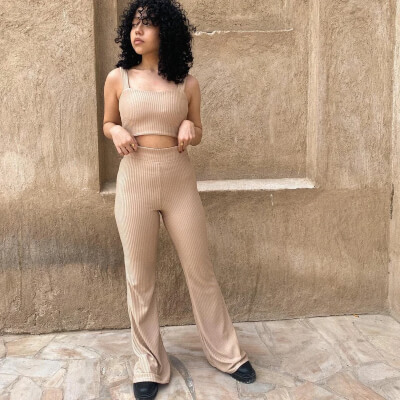 Find the Pattern by Makeityoursthelabel Here
9. Free B

ell Bottom Pants Pattern by Leah Day
Do you have an old pair of straight leg denim pants that are no longer in style? Turn them into a pair of flared leg pants by following this free tutorial.
This is an easy DIY. You can add matching fabric or casting fabric. Make the pants work with your personal style. You will need a heavy duty sewing machine that can sew denim.
Find the Pattern by Leah Day Here
10.

V-Cut Waist Pintuck Flare Jeans Pattern

by inspiredbymyahuk

Dress these flare pants up or down. They look great no matter what you pair them with. They have a unique V-cut waist that is flattering and stylish. The patterns range from size UK 4 – 16. The download includes printable pattern pieces along with a link to a video tutorial.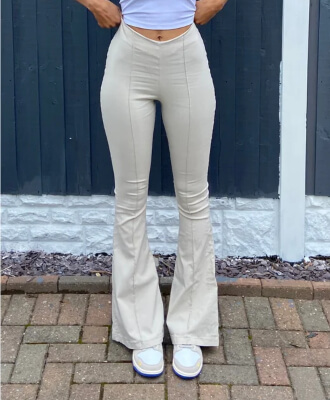 Find the Pattern by inspiredbymyahuk Here
11. Women's Luna Bell Bottom Pants Pattern
by sewsweetpatterns
These women's flare pants have a fun hippie style. They are designed to flatter all body types. They will look adorable paired with a t shirt and sandals. The Luna Bells flare pants pattern is fully customisable. It comes in 5 lengths and 5 waist sizes. This gives you the ability to make the perfect pair of pants for your body type.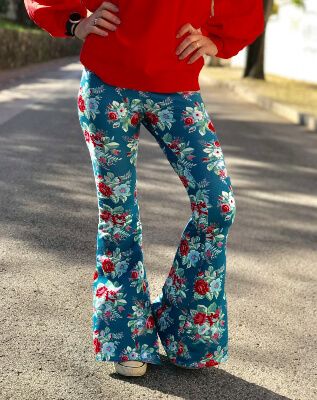 Find the Pattern by sewsweetpatterns Here
12. Womens Bell Bottom Pants Pattern
by mammacandoit
Fitted through the waist and hips, these pants are designed to fit you perfectly. They can be made with or without hip pockets and/or back pockets. There is also an option to make them into shorts or capris.
The colour coded flare pants pattern includes clear, step-by-step instructions with photos. The measurements are in both imperial and metric measurements. It is a great pattern for beginners as well as advanced sewers.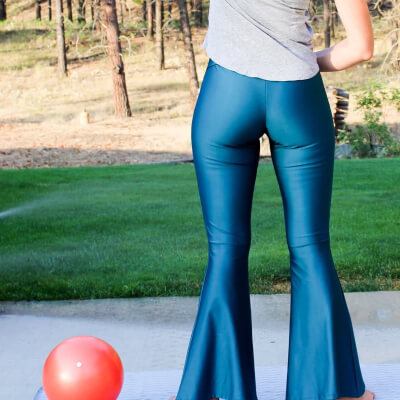 Find the Pattern by mammacandoit Here
Clothes do not have to be boring. You will have a lot of fun working on a flare pants pattern.
Choose your favorite flare pants pattern and share your finished works on our Facebook Page. Also, check out these other clothing garments:
Clothes should be fun and comfortable. If you are looking to add some new stylish pants to your wardrobe, give some bell bottoms a try. There are a lot of styles and designs to choose from. I'm certain I have included a flare pants pattern you will want to work on.