The Handy Quilted Laptop Bag is an easy-to-carry tote for your laptop. It brings comfort and fashion on the go!
Technology nowadays has made a surge in our daily lives. Laptops are in and are commonly used. Most of us carry this in our work or wherever we need to go.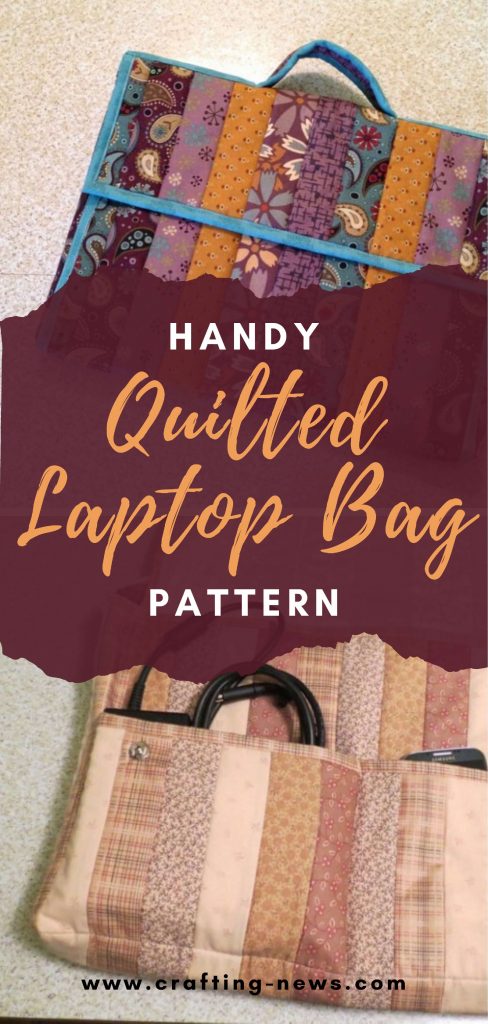 With this easy-to-do quilted laptop bag pattern, you can experience quilting in the luxury of your own home. It has simple instructions that are very easy to follow that even beginners can comprehend.
ABOUT THE HANDY QUILTED LAPTOP BAG PATTERN
Paulette from TulipSquare designed this laptop bag pattern to make a handy yet fancy quilted laptop bag. You can haul anything from an Airbook to a 17" screen size laptop.
It also has pockets to carry the essential accessories that you will need like the mouse, charger, earphones, etc. This fantastic handy laptop bag tote also has an extra room for your phone.
You have the option to choose a strap you are comfortable with. Pick a shorter handle strap or a longer one – maybe even both! You can make it with different colors and styles. Mix and match the fabrics according to your taste and style too.
QUILTING SKILL LEVEL
Before anything else, you need to know the basics of quilting to perform this quilted laptop bag pattern. As it is labeled as an easy DIY pattern, you can use your ability to assemble your personalized quilted handy laptop bag as a beginner!
BAG SIZES AVAILABLE
There are different sizes available for this quilted laptop bag pattern. The measurement that you choose to make will depend on the laptop's dimensions.
Here are the options:
LARGE: 17 inches x 12 inches x 2 inches
MEDIUM: 15.5 inches x 11 inches x 1.5 inches
SMALL: 14.25 inches x 10.5 inches x 1inch
With the trend of rising technology now, it is a norm for most of us to have a gadget from simple smartphones to high-end laptops.
Having your laptop bag is a must. It is more fab as it has an additional compartment for your smartphone too!
WHY MAKE THIS FOR A HANDY LAPTOP?
Quilting is an enjoyable hobby, mostly for women. Even though you are a mother, a grandma, a young professional, or a teenager, for sure, you are capable of making this laptop bag pattern!
This handy quilted laptop bag pattern is an excellent way to exercise your keen senses. The design is simple and easy to make that even an amateur can assemble it.
Just make sure that you follow the step by step instructions so that the outcome would be perfect.
You could also keep one for yourself for personal use. This quilted laptop bag is also useful as a present for your family or friends.
Great for those who work in an office. Now, they can always carry around with them an airbook, a big-screen tablet, or a laptop! It would be best if you can make it using a fabric with your recipients' favorite color.
START MAKING YOUR OWN HANDY QUILTED LAPTOP BAG
Be sure to post your finish work to our Facebook Page and you might also like our Macrame Purse Patterns to spend your free time with!
What are you waiting for? Make a gift for yourself or for your loved ones that have both functionality and style. So, come on and try this Handy Quilted Laptop Bag Pattern and start quilting your heart out!