The addition of beads to your macrame projects can add interest and colour. You can use macrame beads that are made from ceramic, wood, plastic, metal, glass, etc. Basically, if it is a bead, it can be used for macrame.
How to Choose Macrame Beads
When choosing beads for your macrame project, you need to know the size of the cord. The cord will need to easily fit through the hole of the beads. You will also want to take into consideration the finished size of the project.
The beads should complement the project. Beads that are too big may look out of place. While beads that are too small, may not have the impact you are looking for.
Types of Beads for Macrame
Wood Beads

Wood beads are the most common types of beads used in macrame. They are natural and perfect for the boho chic look. Wood beads come in all types of colours and sizes. They are often light and add little weight to your project.

Many people use wood beads when making macrame hammocks and plant hangers. They can also be used for the head in macrame angel projects.
Metal Beads

Metal beads are used to give a metallic look. They vary in size and shape. You can get large round metal beads or thin beads. The larger the beads, the more focal impact they will have.

They will also add extra weight. Thinner beads are used to add a subtle touch to projects. When using metal beads, take into consideration the weight that will be added to your project.
Seed Beads

Seed beads are very small beads. They are often made from glass or plastic. Seed beads are used in small macrame projects like earrings and friendship bracelets.
Marbella Beads

Marbella beads are made from acrylic. You can find them in all sizes and shapes. They are extremely lightweight and usually very colourful. These beads are often used in projects that need a dramatic pop of colour.

Marbella beads are frequently chosen by macramers that knot plant hangers.
Ceramic Beads

Ceramic beads are very popular in macrame. They can add colour, texture, and decoration. They range in size, shape, and colour. You can find them smooth, grooved, and shaped.

Ceramic beads are often used on larger projects such as wall hangings and plant hangers. However, ceramic beads can be added to jewellery.
Crow Rollers

Crow rollers are smooth round beads with large holes. They are usually made from wood or plastic. They are used as adornments. You can often find these beads on projects that have fringes such as jewellery and keychains.
Focal Beads

Focal beads are large beads that are used to add a focal point to your project. These beads can be made of any type of material. Focal beads are often utilized when making jewellery.
Stone Beads

Stone beads can add a very unique feel and design to your macrame pattern. They can be found in all shapes and sizes and can be made from all types of rocks.

When using stone beads, take into consideration the weight. Stone beads are often used as focal beads in jewellery.
Polymer Clay Beads

Polymer clay beads are made from man-made clay. You can buy premade beads or make your own. You can purchase countless colours of polymer clay and bead moulds.

Polymer clay beads are lightweight and colourful. They are often used in children's crafts.
Enamel Beads

Enamel beads are often made from metal, ceramic, or glass. They have enamel applied to the bead. After it is applied, it is heated which creates a protective coating.

Many enamel beads have intricate designs and striking colours. These beads come in all different sizes and can be used as spacers, decorative beads, or focal beads.
20 Differect Macrame Beads
1. Natural Cream Round Wooden Boho Spacer Beads from thebeadchest
These round wooden beads are made from natural wood. They are perfect for macrame projects. The wooden beads for macrame have a natural-tone finish. Each bead is handmade, waxed, and are superior in quality.

These beads come in several sizes from 6 mm to 20 mm.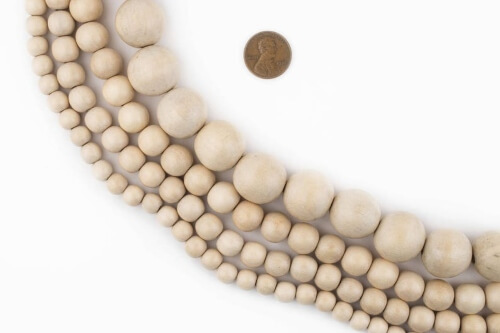 Find the Macrame Beads from thebeadchest Here
2. Wooden Macrame Beads from JessieSuppliesForU
These wood beads are made from high-quality hardwood. Each 14 mm x 11 mm macrame bead features a large 7 mm hole. The beads come in brown, black, coffee, yellow, turquoise, red, and light brown.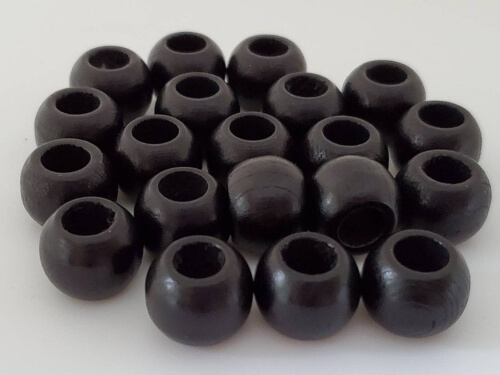 Find the Macrame Beads from JessieSuppliesForU Here
3. Brushed Matte Finish Solid Brass Beads from WildDoveBeads
Here are some beautiful metal macrame beads. The brass beads measure 10 mm x 7 mm and have a 6 mm hole.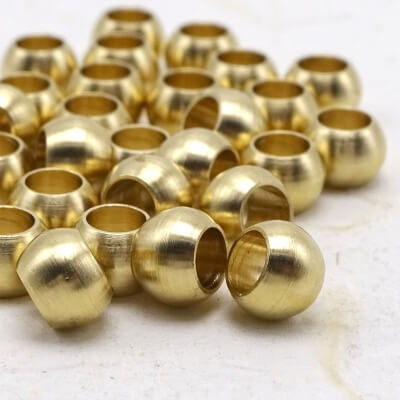 Find the Macrame Beads from WildDoveBeads Here
4. Gunmetal Metal Ball Spacer Beads from FavoredMemories
If you love the look of gunmetal, check out these macrame beads. They are gorgeous and can add a masculine touch. The beads measure 10 mm x 7.1 mm and have a 5 mm hole.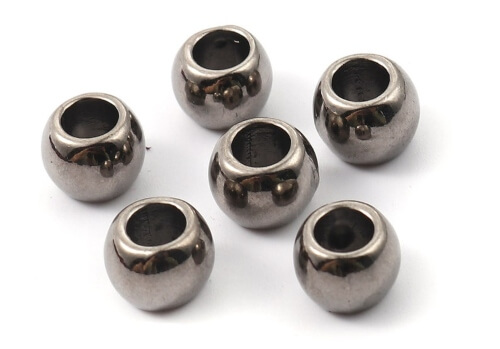 Find the Macrame Beads from FavoredMemories Here
5. Coral Turquoise Picasso Czech Beads from beachartz
These small seed beads are perfect for making boho and tribal jewellery. Each bead is unique and varies in colours from coral, turquoise, blue, green, brown, deep red, to purple. The approximate size of each bead is 4.5 mm with a 1.3 mm hole. However, there is some size variation.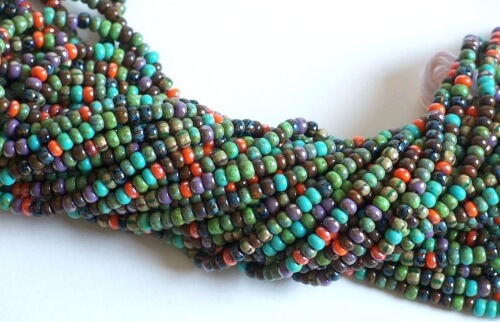 Find the Macrame Beads from beachartz Here
6. Rainbow Luster Seed Beads, Czech Glass Sead Beads from HempCraft
Add some colour to your small projects with these rainbow seed beads. These macrame beads are the perfect size for micro macrame. The beads measure 3 mm and have a .8 mm hole.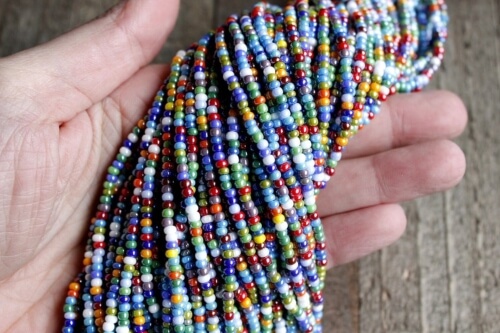 Find the Macrame Beads from HempCraft Here
7. Large Round Marbella Beads from SparkParts
Here are some large round marbella beads that are great for large projects that need that pop of colour. The beads are made from plastic and resin and come in bright, fun colours. These large hole beads for macrame measure 1 1/8 inch in diameter and have a 9/16 inch hole.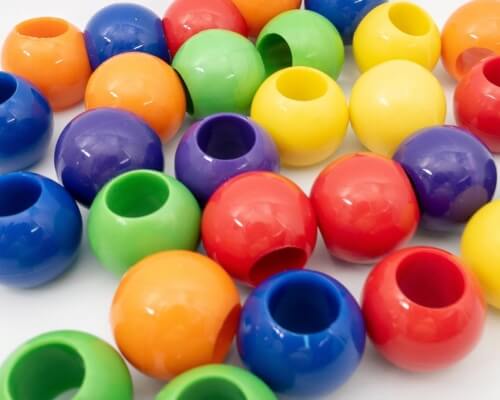 Find the Macrame Beads from SparkParts Here
8. Lot of 40 Marbella Round Plastic Acrylic Macrame Craft Beads from KingsKountry
Marbella beads can add a distinctive beauty to your projects. You can order these macrame beads in caramel marble, copper, navy blue, rose pink marble, teal marble, translucent brown, clear, white, and beige.

The beads are made from plastic and resin. They measure 22 mm and have a 9 mm hole.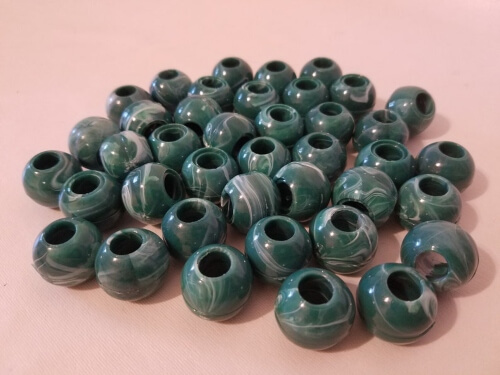 Find the Macrame Beads from KingsKountry Here
9. Handmade Skinny Ceramic Beads for Macrame from StaciaSchaeferDesign
Handmade ceramic beads are ideal for many different macrame projects. You can get these macrame beads in beige, blue, and green. The beads are 1.75 inches long and have a 5/8 inch diameter hole.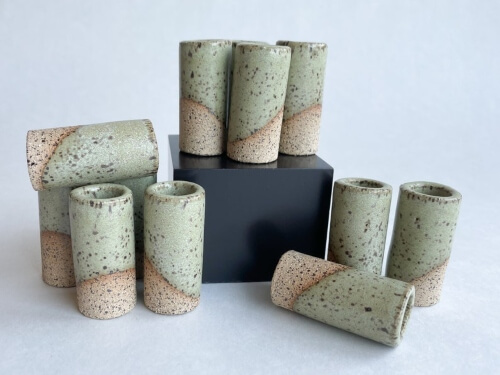 Find the Macrame Beads from StaciaSchaeferDesign Here
10. Geometric Hand Painted Peruvian Ceramic Beads from WildDoveBeads
Add some fun design and colour to your projects with these hand-painted ceramic beads from Peru. You get 20 beads, and they come in a variety of colours. The beads measure 12 mm and have a hole that varies in size from 2.5 mm – 2.75 mm.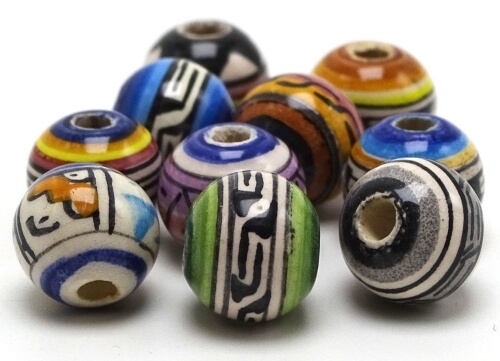 Find the Macrame Beads from WildDoveBeads Here
11. Gunmetal Black Glass India Crow Beads from MurphysBeadsAndMore
These gunmetal crow beads will add a nice shine to your macrame project. They are the perfect size for jewellery and keychains. These macrame beads measure 9 mm x 6 mm and have a 3 mm hole.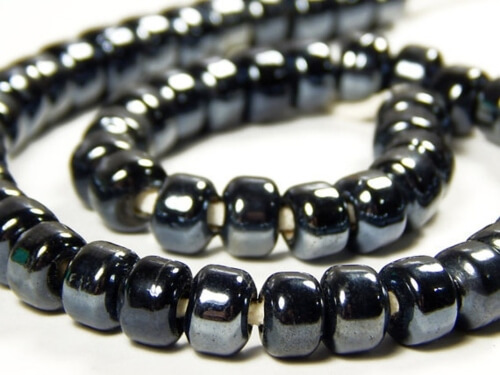 Find the Macrame Beads from MurphysBeadsAndMore Here
12. Czech Transparent Crystal White Beads from EastCoastBeadsOnEtsy
Sometimes you want to add some visual interest without the flashy colours. If you are looking for clear beads for your small projects, these Czech glass macrame beads may be just what you are looking for. The beads measure 9 mm and have a 3.5 mm hole.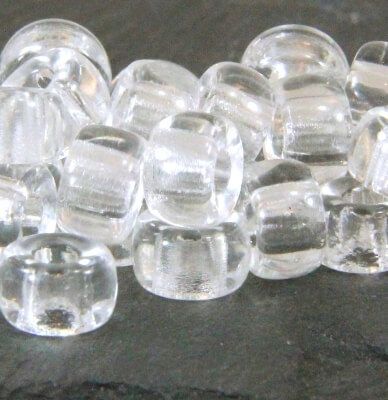 Find the Macrame Beads from EastCoastBeadsOnEtsy Here
13. Gorgeous Large Cobalt Blue Silver Foil Beads from RabbitTabbitRI
Here is a beautiful handmade Murano style glass bead from India. It is flat and rounded with a silver foil lining. This bead would look absolutely beautiful on a necklace. The bead measures approximately 28 mm round x 11 mm thick. The hole is approximately 1.5 mm.
Find the Macrame Beads from RabbitTabbitRI Here
14. Powder Blues Barrel Focal Glass Macrame Bead from BlueBlazesStudio
This glass macrame bead would look beautiful on nautical themed jewellery or a keychain. The bead has deep blue ripples and amber waves. The handmade bead measures 37 mm long and has a 3.175 mm hole.
Find the Macrame Beads from BlueBlazesStudio Here
15. Large Oval Banded Agate Focal Bead from cutterstone
If you are looking for a large stone bead to use for a focal bead, this one is absolutely gorgeous. It measures an impressive 40 mm x 30 mm x 10 mm and the hole is 2 mm.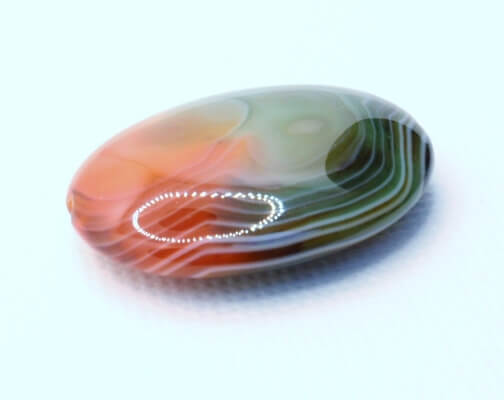 Find the Macrame Beads from cutterstone Here
16. AMAZONITE Frosted Round Gemstone Beads from LeeandLynnStudios
If you are looking for beads that have a soft, subtle look, these amazonite frosted beads are elegant and attractive. There are 3 sizes to choose from 6 mm, 8 mm, and 10 mm. All the beads have a 1 mm hole.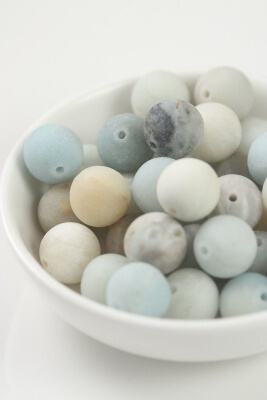 Find the Macrame Beads from LeeandLynnStudios Here
17. Marbled Polymer Clay Beads from CassysCornerCrafts
These marble macrame beads are made from polymer clay. They are hand rolled, oven baked, and sealed with a high gloss varnish. Bead sizes are approximately 6 mm, 8 mm, and 10 mm. The 8 mm and 10 mm beads have a 2 mm hole. The 6 mm bead has a 1 mm hole.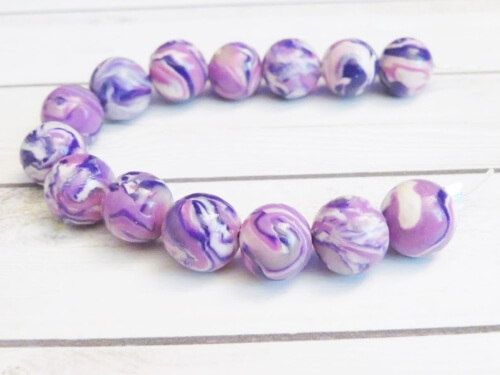 Find the Macrame Beads from CassysCornerCrafts Here
18. Small Fruit Shape Polymer Clay Beads from WarungBeads
Children love fun, whimsical beads. If they enjoy creating friendship bracelets and jewellery, they can use these colourful fruit macrame beads. The beads measure approximately 10 mm and have a 2 mm hole.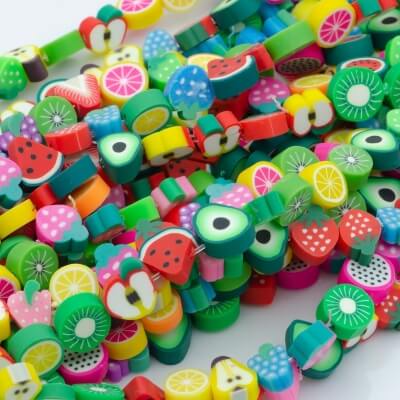 Find the Macrame Beads from WarungBeads Here
19. Cloisonné Enamel Beads from Beadlanta
The macrame beads are beautiful. They are made from metal and coated in enamel. They come in lavender, white, cobalt blue, sky blue, and mahogany. Each bead measures 4 mm in size and has a 1 mm hole.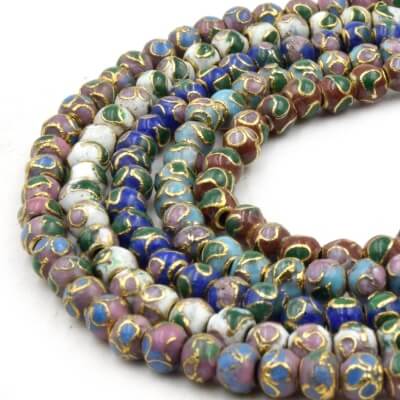 Find the Macrame Beads from Beadlanta Here
20. Cloisonné Harlequin Beads from CloudNineSupply
If you are looking for beads that will make a statement, these beads draw the eyes in. They are stunning and have a unique design. They are made from aluminium and coated in enamel, which makes them very lightweight. Each bead measures 22 mm in length.
Find the Macrame Beads from CloudNineSupply Here
Take Your Pick and Enjoy these Macrame Beads Collection
If you are new to macrame, read our articles to help you with your macrame journey:
So, what is the right bead for your macrame project? That all depends on your taste and how you want the finished design to look.
The most important thing you must consider is the size of the hole. Other than that, choosing your macrame beads is all about personal preference.