Personalized Beatrix Potter Cross Stitch Pattern: Peter Rabbit and his Loving Mum
|
Nowadays, a personalized present is much appreciated compared to buying a common gift for your loved ones. So better try to check out this Personalized Beatrix Potter Cross Stitch Pattern: Peter Rabbit and his Loving Mum and see how it should become one of your gift options!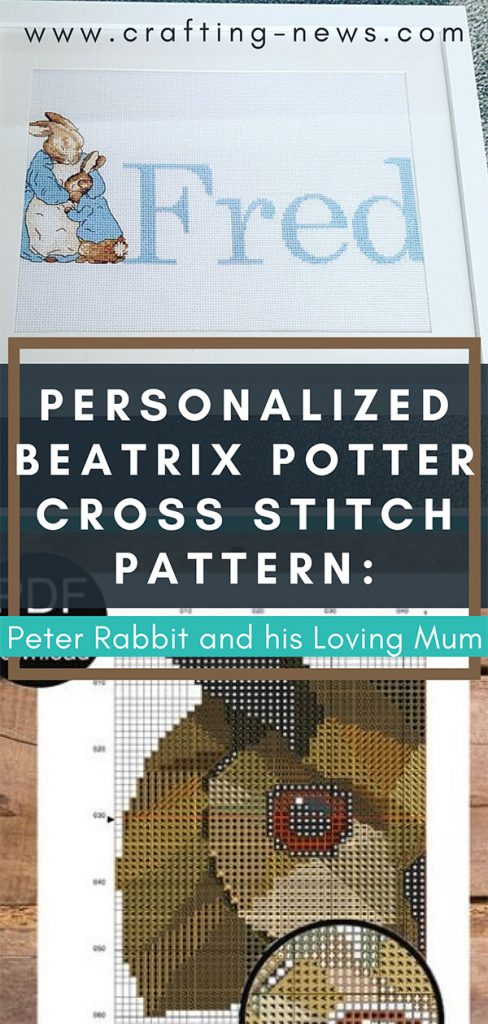 First and foremost, this craft is best suited for babies. You can make one and give them as a gift for their christening, birthdays, or even a welcoming gift to the world.
The thing that makes this craft more special is the part where you can put the baby's name alongside Peter Rabbit and his loving mother's portrait! And you can make one, right away. Lucyburton4 of FreckleDoll, the designer, made it more convenient for you as she provides all the pattern instructions you need to follow to create such a fantastic craft.
Believe there is a great power silently working all things for good, behave yourself and never mind the rest. – Beatrix Potter
Why Peter Rabbit and His Loving Mum of Beatrix Potter?
If you are thinking why Peter Rabbit of Beatrix Potter, it's because Peter shows many good characters that every child should practice.
Beatrix Potter is famous for her children's book, wherein the characters are animals that imply good morals. And one of her notable works is The Tale of Peter Rabbit.
One of the good morals that Peter Rabbit wants to convey is the continuous exploration of the world and the benefits of playing outside as it builds the strength, coordination, and flexibility of the young minds. In this way, the moment when the baby recipient begins to develop his curiosity and ask who the rabbit is on the side of his name, there will be a good story behind it.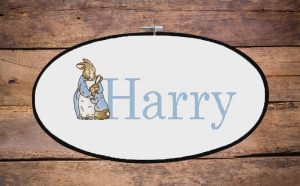 MATERIALS NEEDED TO PERSONALIZE
14 count AIDA Fabric
Thread in 7 different colors
PDF pattern
Scissors
Frame/Hoop
Needle
FINISHED SIZE OF THE PATTERN
Peter Rabbit and his loving mother's dimensions are 8.3 width by 11.6 heigh centimeters or 3.3 width by 4.6 height inches. It's not so big yet not so small in a 14 count fabric. Do you want a different size? Don't worry you can also make it in any fabric size you want.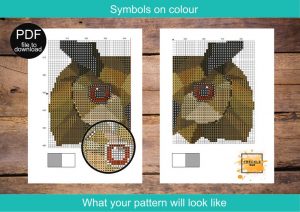 ABOUT THE PATTERN

When it comes to the inclusion of this cross stitch pattern, there is a:
Step by step guidelines of the alphabet both in lower case and capitals – use this to put the text you want to customize
List of recommended DMC thread color chart – composed of thread length, key, colors, and other essential things that you will be needed throughout the procedure. And to make it much much much easier for you to follow, there are legends that will support you to locate your cross-stitch procedure such as color symbols, color blocks, and color blocks with symbols.
Recommended Present – Personalized Beatrix Potter's Peter Rabbit and His Loving Mum Cross Stitch
Having a unique present is highly recommended, such as this craft. Because it shows that you really prepare something for your loved ones without spending so much money. And due to its great modern print and very understandable instructions, for sure you will really enjoy making some more. You might even make one for your neighborhood's baby!
One more thing, you also have a choice whether you will put the baby's nickname or his full name on this craft. You may set some design on its surrounding and frame it to make it more beautiful. If you have more free time, an inspirational quote is also a terrific addition. Merely putting 'I love you' or 'You are super cute' certainly means a lot.
Even the smallest one can change the world. – Peter Rabbit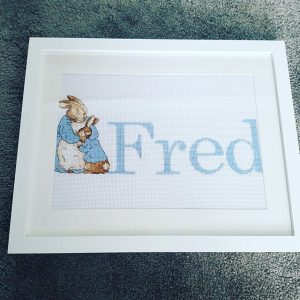 You can advise your recipient's mother or guardian to hang this craft in the baby's room. Or if you already have a baby, you can also make one and do the same. 
For sure, if you initiate to have this Personalized Beatrix Potter Cross Stitch Pattern: Peter Rabbit and his Loving Mum, and start to make one, your recipients will surely love it!
GET THE PATTERN HERE
CHECK OUT OTHER CROSS STITCH PATTERNS HERE