Are you having a hard time finding the perfect pillows for your home? It can be difficult to find a pillow that will seamlessly fit in with your decor. Instead of searching high and low for the perfect premade pillow, make your own pillowcase pattern. This way, you can choose the ideal colour and design pattern.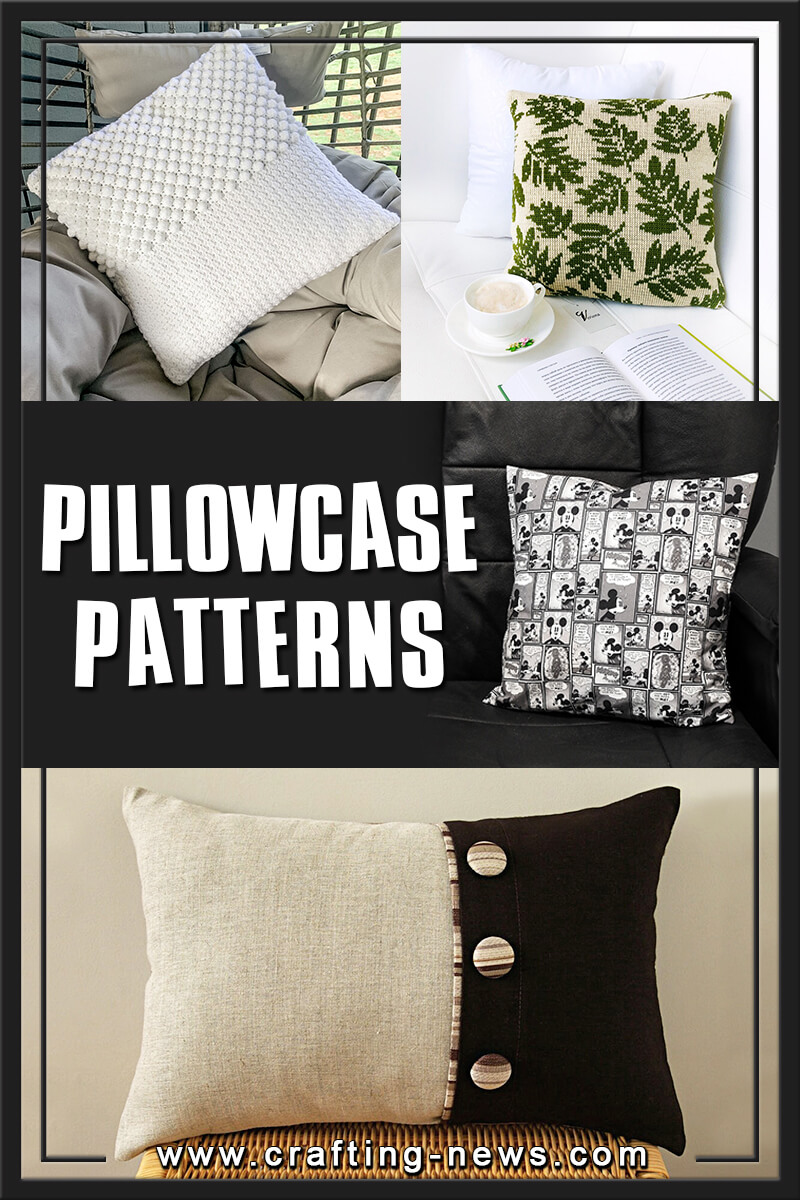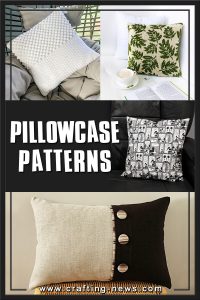 How to Make an Envelope Pillowcase
Pillowcases are some of the easiest patterns to make. If you choose to sew a standard cloth pillowcase, the fabric choices are endless. You can find any colour or design to match your home decor.
Or use fun whimsical fabric to make a playful pillow for a child.
There are a few basic supplies you will need to make a cloth envelope pillowcase:
Fabric

Measuring tool

Fabric marker or pencil

Scissors or rotary cutter

Straight pins

Matching thread
Steps to sew a basic cloth envelope pillowcase:
Iron your fabric and remove all wrinkles. This will make it easier to work with the fabric and the final results will look more professional.
Measure the pillow and cut your fabric. You will need to add a seam allowance and enough fabric for the overlap. Add 1" to the width. For the length, double the size of the pillow and add an extra 6".
On both short edges, create a double ½" hem. To do this, fold the fabric over ½" and iron. Fold it over another ½" and iron again. Hold these hems in place with your pins.
Sew both double ½" hems.
Lay your fabric face down and place your pillow in the middle of the fabric. Fold the fabric over the pillow. The fabric will overlap, creating the "envelope." Pin the fabric together where the fabric overlaps.
Gently slip the pillow out.
Sew both unfinished edges using a ½" seam allowance.
Flip the pillowcase right side out. Make sure to poke out the corners.
Iron the finished pillowcase.
Insert the pillow.
21 Pillowcase Sewing Patterns
Below are 21 pillowcase patterns. We have included all types of patterns, including sewing, knitting and crochet.
1. Modern Throw Crochet Pillowcase Pattern by TexturedAndCozy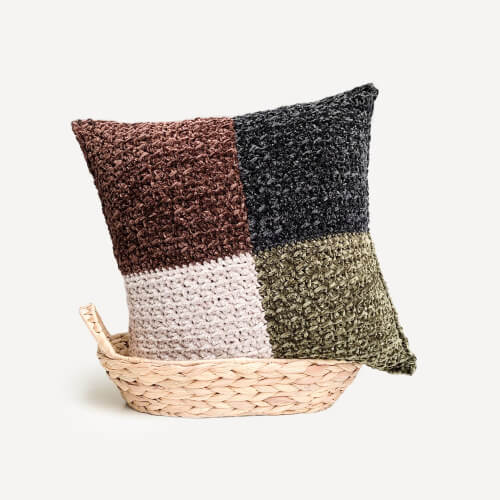 This is an interesting crochet pillowcase pattern that uses squares and basic colours to create a beautiful pillow. The yarn used creates a velvety texture that makes the pillow cosy and soft. This pillowcase design would complement many different interiors.
To make this pillowcase, you will need intermediate knowledge of crochet. The pattern creates a pillowcase that will fit a 16" x 16" pillow insert.
Find the Pattern by TexturedAndCozy HERE
2. Double-sided With Buttons Pillowcase Sewing Pattern by DelindaBoutique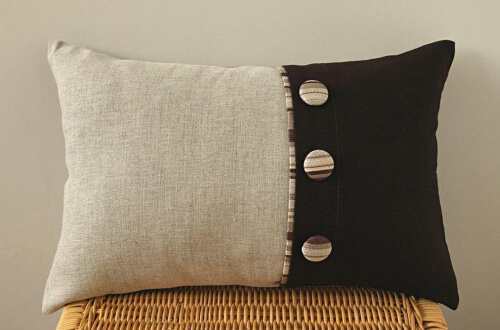 Although this pillowcase pattern looks complicated, it is easy to make. The design is perfect for using up your old scraps of vintage fabric.
The pillowcase is designed to fit a 12" x 18" lumbar pillow. You will need to know how to use a sewing machine and how to sew on buttons. The pattern uses 3 different fabrics and 3 fabric-covered buttons.
Find the Pattern by DelindaBoutique HERE
3. Easy Box Pleat Pillow Cover Pattern from SEW4HOME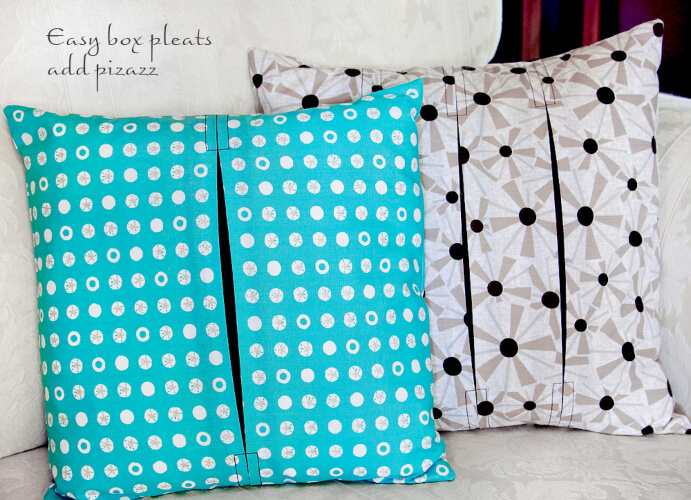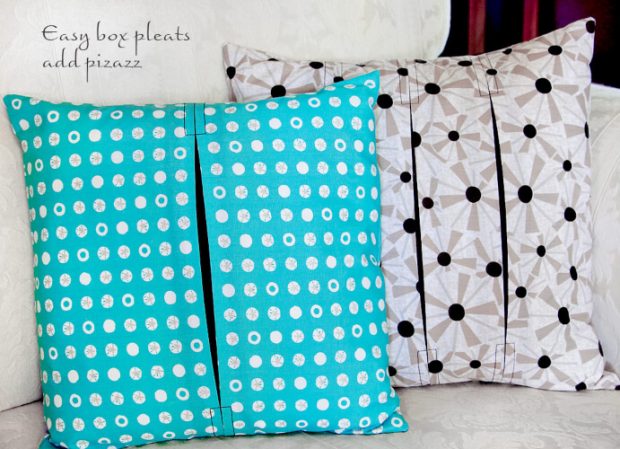 Pleats make this a unique pillowcase pattern. The free pillowcase pattern includes instructions for both the single pleat and double pleat case.
The pattern is for a 16" x 16" pillow insert. It is a beginner-friendly pattern. However, you will need to know how to use a sewing machine and the basics of creating pleats.
Find the Pattern from SEW4HOME HERE
4. Bed Pillowcase Pattern by FabricGreeetings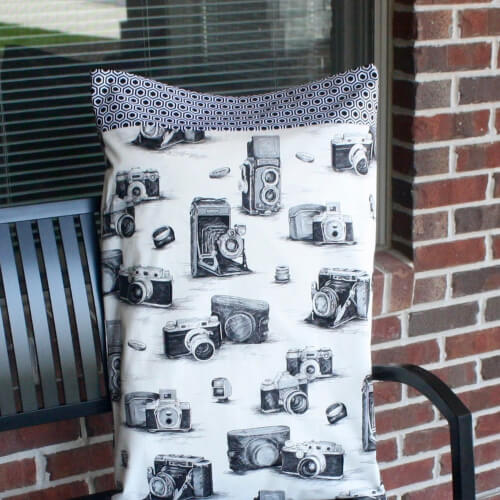 Use 2 coordinating fabrics to create this fun and whimsical pillowcase pattern. You can get extremely creative and find fabric patterns for everyone. These pillowcases are great for people of all ages and genders.
Find the Pattern by FabricGreeetings HERE
5. Cable Knit Pillow Cover Pattern by LadyshipDesigns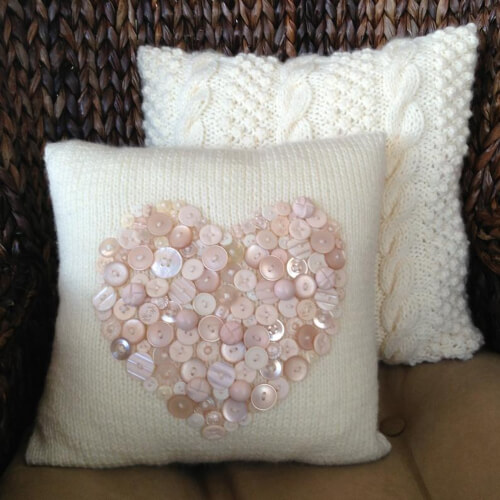 If you are looking for a knitting pillowcase pattern, this one is beautiful. The pattern creates an envelope-style cover that is secured with 3 buttons. And to make it even better, the pattern is reversible.
The pattern includes instructions for 5 sizes. It uses bulky/#5 yarn and intersperse blackberry stitch with rope cables. You will need to be familiar with using a cable needle and working buttonholes.
Find the Pattern by LadyshipDesigns HERE
6. Easy Pillow Slip Cover from Geeky McGeekerson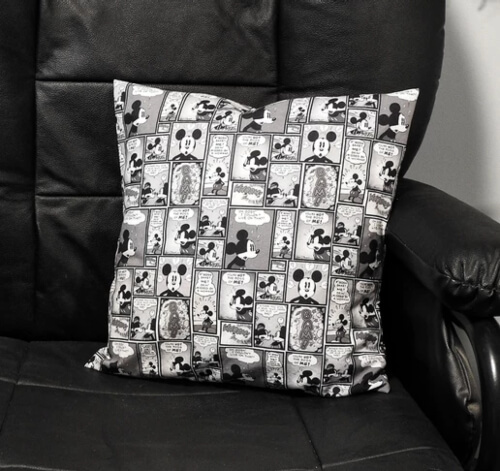 Envelope pillowcases are a great way to repurpose an old pillow insert or make quick gifts. And this free pillowcase pattern is extremely easy to make. You can create several of these pillowcase patterns in no time at all.
This pattern uses one solid piece of cloth, so there are not a bunch of complicated dreams. It includes instructions for 4 different sizes. You will only need to know the basics of using a sewing machine to complete this project.
Find the Pattern from Geeky McGeekerson HERE
7. Simple Zippered Pillowcase Sewing Pattern by BodoboBags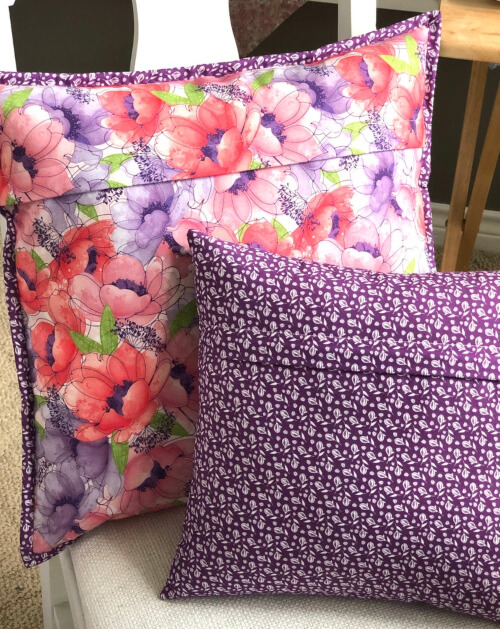 Here is a pillowcase sewing pattern that uses a zipper to create a professional looking result. The zipper makes it extremely easy to remove the case for easy cleaning.
The Simple Zippered Pillow PDF pattern includes step-by-step instructions and detailed photos. The pattern includes instructions for pillow form sizes 12″, 14″, 16″, 18″, 20″, 22″, 24″ and 26″.
Find the Pattern by BodoboBags HERE
8. Reading Pillowcase Sewing Pattern by player2patterns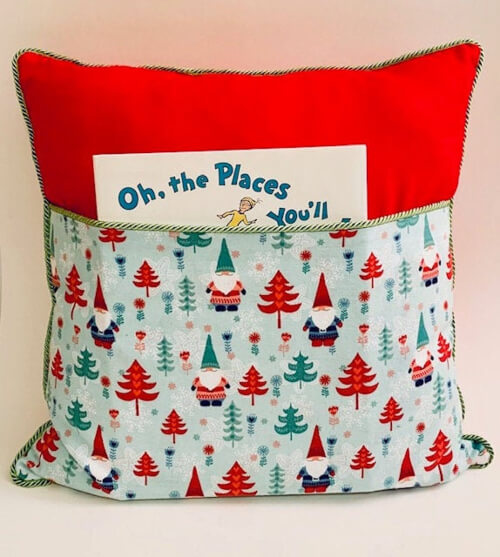 Here is a fun pillowcase pattern that is perfect for the young reader. Choose your fabrics to match with the book that you will slip in the pocket as a gift. You can bet this pillowcase will be treasured for a long time.
The finished measurement of this pocket-style pillowcase is 18" x 18". The pattern is extremely easy to follow and read.
Find the Pattern by player2patterns HERE
9. Reindeer Christmas Crochet Pillowcase Pattern by YarnOverLifestyle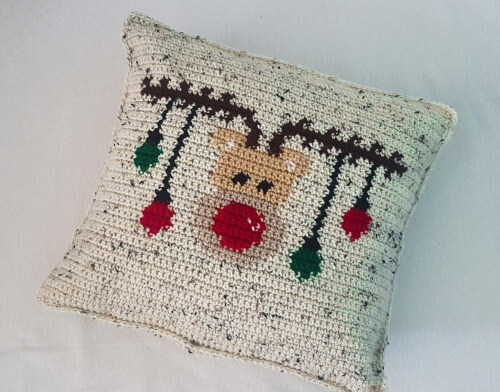 This reindeer will put a smile on anyone's face. If you are an intermediate crocheter with the knowledge of colour changes, you can complete this crochet pillow case pattern in a few days.
The pattern only uses the single crochet stitch. There 7 colour changes.
Find the Pattern by YarnOverLifestyle HERE
10. Half Square Triangle Quilted Pillow Cover Pattern from Polkadot Chair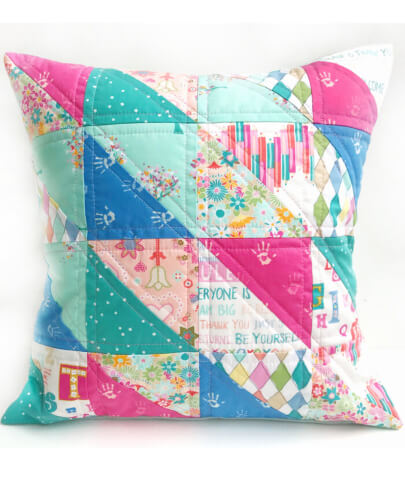 When you think of quilting, large handmade heirlooms often come to mind. But you can also use quilting techniques on a pillow. This half square triangle quilted pillow is the perfect example.
To make this pillowcase sewing pattern you will need fabric, batting, pillow insert, quilting sewing machine, rotary cutter, quilt ruler, cutting mat, marking pencil and binding clips.
Find the Pattern from Polkadot Chair HERE
11. Easy Knit Pillowcase Pattern by BoPeepBonnets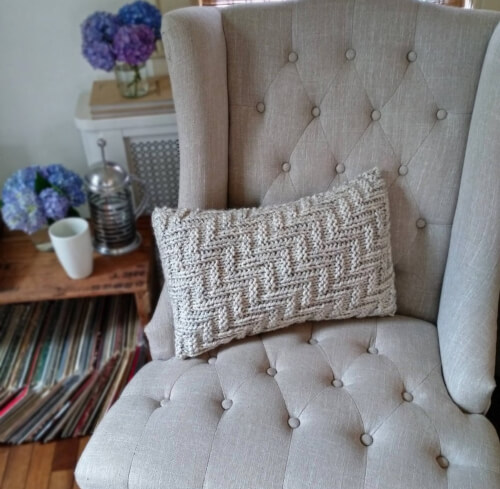 Here is a beginner-friendly knitting pillowcase knitting pattern. It is an easy pattern that is fun to make. The chevron design will compliment all types of decors.
To make this pattern, you will need to know basic knit and purl. It makes a cover that will fit a 20" x 13" pillow.
Find the Pattern by BoPeepBonnets HERE
12. Burrito Pillowcase Sewing Pattern by LavenderLilyDesigns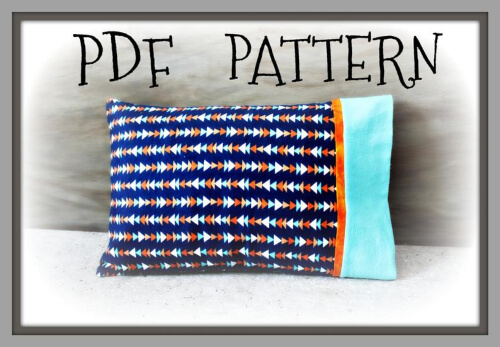 Burrito pillowcase sewing patterns are all the rage. This step-by-step pattern includes instructions for making a pillowcase for travel, standard and queen size pillows.
The downloadable pattern is 5 pages long and includes many pictures.
Find the Pattern by LavenderLilyDesigns HERE
13. Knitting Bunny Cushion Pillow Cover Pattern by MrKaplanCrafts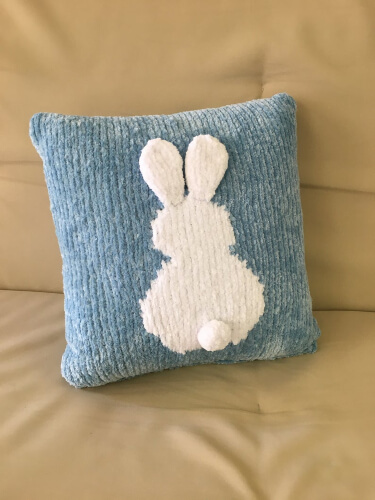 How cute is this bunny cushion cover? This cover could be used as a holiday decoration or as a baby shower gift.
You get to choose your favourite colour combination. The pattern includes written instructions and the Bunny chart. The finished pillowcase will fit a 13" pillow.
Find the Pattern by MrKaplanCrafts HERE
14. Allsorts Pillowcase Sewing Pattern by Aspoonfullofsugar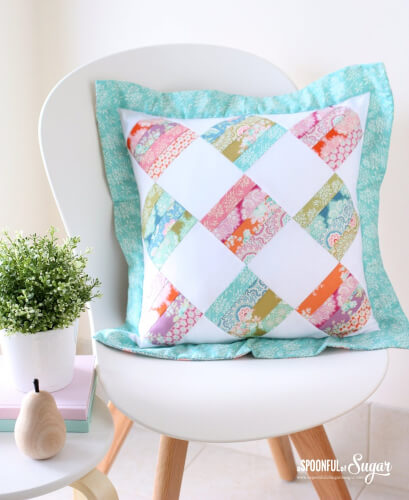 The Allsorts Pillow can be made using your favourite charm squares. The pieced fabric squares are alternated with white squares to create a clean design. The pillowcase features a flange around the edge, and buttonhole closure.
This finished pillowcase measures 20 ½" x 20 ½". The pattern includes complete instructions, and photos.
If you are interested in making a quilt and a coordinating pillow, this one would work well with the Lemon Drop Yellow Brick Road quilt pattern. Just use your scraps to make this pillow.
Find the Pattern by aspoonfullofsugar HERE
15. Burrito Pillowcase Pattern from The Seasoned Homemaker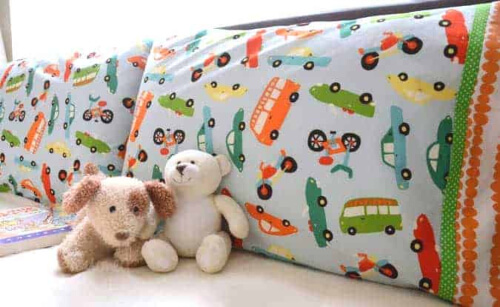 Burrito pillowcases look complicated. However, they are simple to make. To learn the basics of making these easy pillowcases, check out this free tutorial.
To complete this pattern, you will need 1 yard of main fabric, 1/3 yard of cuff fabric, ¼ yard of trim fabric, thread, scissors, thread and a sewing machine.
Find the Pattern from The Seasoned Homemaker HERE
16. Envelope Pillow Cover Pattern by SewingShedDesigns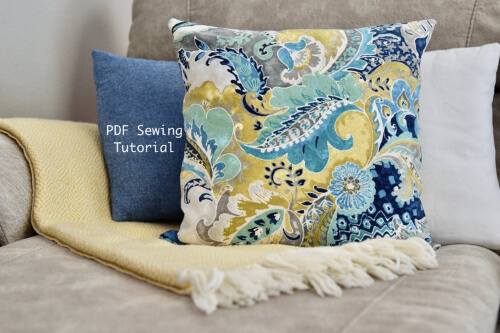 Make an envelope pillow cover with this easy-to-follow pattern. Use a solid pattern or a playful pattern. The choice is completely up to you.
This is a beginner-friendly sewing tutorial. It includes diagrams and photographs. There are 4 sizes: 12″ x 16″, 16″ x 16″, 18″ x 18″ and 20″ x 20″.
Find the Pattern by SewingShedDesigns HERE
17. Rustic Crochet Pillowcase Pattern by DorrisAndLotte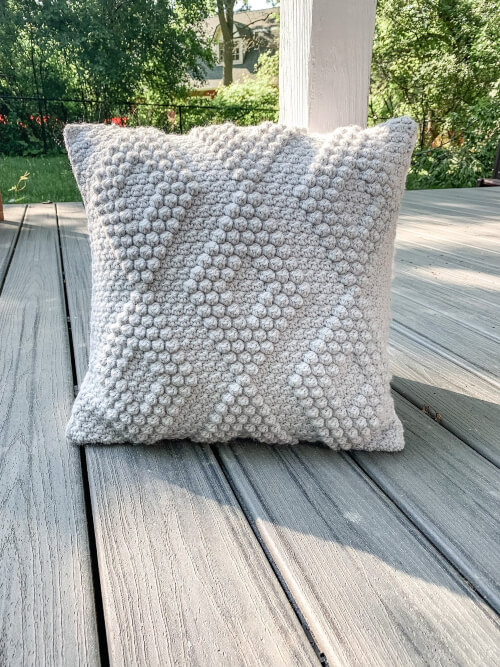 If you are looking for a pillowcase pattern that will compliment your farmhouse or rustic decor, this one is perfect. It is a fairly easy pattern to follow, but you need to make sure you count.
To complete this pillowcase pattern, you will need a 5.5 crochet hook, 4 weight worsted yarn, scissors, and a tapestry needle. This pattern is for a 16" x 16" pillow insert.
Find the Pattern by DorrisAndLotte HERE
18. Hawaiian Quilt Block "Ulu" Breadfruit Pillow Cover Pattern by sferradesigns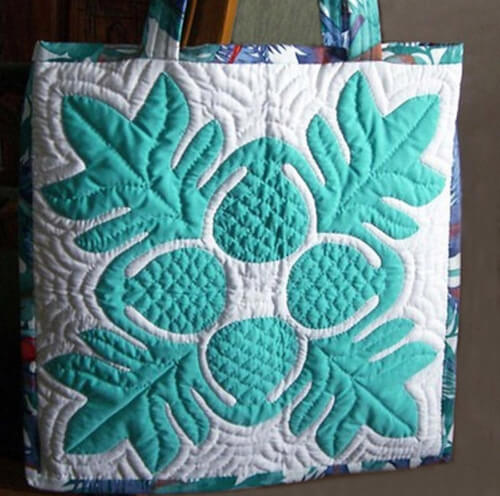 Here is another amazing quilt block pillowcase pattern. The breadfruit pattern includes step-by-step instructions, photos and a supplies list.
The 22" pattern can be used for a pillow, wall hanging, or tote bag. Or you can enlarge the pattern and use it as a center medallion for a larger quilt.
This pattern is for an advanced beginner/intermediate quilter. To make this pattern easier to complete, we would recommend that you use a quilting sewing machine.
Find the Pattern by sferradesigns HERE
19. Oak Leaves Knit Pillowcase Pattern by Veriona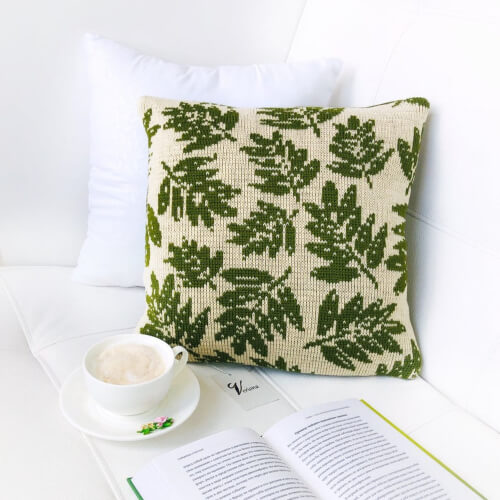 This Oak Leaves Knit Pillowcase Pattern would make a great addition to your home interior. Or you can knit cases for your family and friends.
The pattern measures 16" x 16". It can be used for knitting or cross stitching.
Find the Pattern by Veriona HERE
20. Textured Rustic Crochet Pillowcase Pattern by DorisAndLotte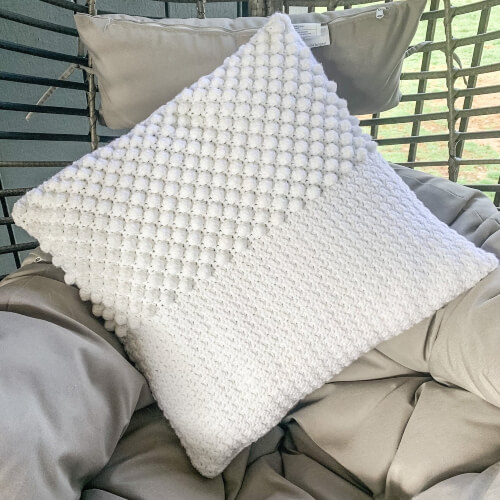 This unique pillowcase pattern creates a fun pattern with texture. It would look wonderful in a home decorated in boho style.
The original pattern creates a 17″ x 17″ pillow cover. It can be completed by a beginner to intermediate crocheter. The pattern also includes instructions for 14" x 14" and 20″ x 20″ pillow covers.
Find the Pattern by DorisAndLotte HERE
21. Knit Pillowcase Pattern by ByLadyshipDesigns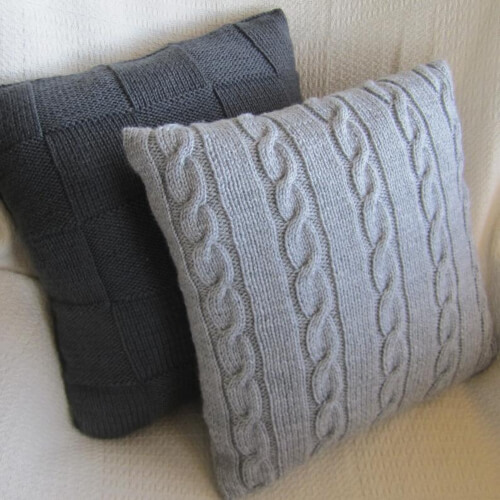 The simple design makes this the perfect pillowcase pattern for any decor. It uses only knit and purl stitches and worsted/aran/#4 yarn. The pillowcase is knitted as one piece on straight needles.
This pattern is ideal for a beginner with basic knitting knowledge. It creates a 20" x 20" pillow cover.
Find the Pattern by ByLadyshipDesigns HERE
EASILY CHANGE UP YOUR DÉCOR OR CREATE FUN PILLOWCASES FOR CHILDREN WITH A HANDMADE PILLOWCASE PATTERN.
If you are a crocheter and are interested in even more pillow patterns, you can give our How to Make a Pillow Out of a Shirt Tutorial a try or, find 32 additional crochet pillowcase patterns on crochet-news.com.
Now that you have a pillow ready, time to make yourself a blanket. Check our our tutorial on How to Make a Weighted Blanket and learn its many benefits.
Once you have completed your first pillowcase, you will want to make more. They make great gift ideas, or you can use them to spruce up your home decor. Pillowcase patterns are fun to make and can be completed quickly.