If you are like me, it is never too early to get started working on your Christmas cards. There are several paper crafting techniques you can use. One of my favourite is quilled Christmas cards. Below are some Christmas themed quilling ideas that will inspire you. Whether you are an experienced quiller or just learning, quilling will add a special touch to your holiday greeting cards.

What Is Quilling
For centuries, quilling has been a beloved paper crafting technique. The ancient art form is as popular today as ever and allows for endless creativity. The art of quilling utilizes delicate paper strips to craft intricate designs. Using a slotted quilling tool, the paper strips are coiled and molded into various shapes, then arranged into eye-catching patterns.
What are Some Popular Christmas Card Quilling Ideas?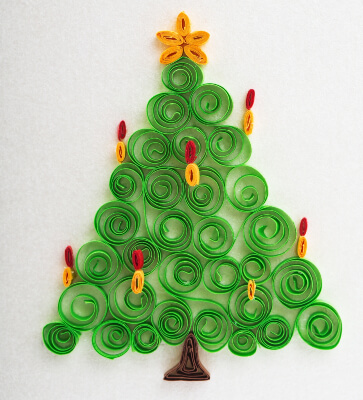 There are many types of Christmas cards you can make using quilling techniques. These cards can range from simple and classic designs to elaborate and intricate. Some popular options include:
With quilling, you can create delicate and intricate snowflakes. The snowflakes can be as simple or intricate as you want. Common colour choices are white and blue.
Use quilled green paper strips to create Christmas trees. You can even add decorations to the trees along with a star and packages.
Festive wreaths are fun to create using quilled green and red paper strips. Wreaths can be decorated with ornaments, bows, and berries.
Create a magical reindeer using quilled paper strips. You can even make Rudolph by coiling a piece of red paper for his nose.
Use quilled paper strips to create beautiful Christmas ornaments. The ornaments can be placed on the card by themselves, or you can make a tree limb to hand them from.
10 Paper
quilling christmas card ideas
Do you love Christmas? Are you ready to get started on your holiday crafting? Check out the 10 Christmas cards quilling templates and patterns below.
1. Little House In Snowy Forest Christmas Quilling Card from MiriamsQuilling
The download features a beautiful watercolour print which serves as a base for Christmas cards quilling projects. Simply print off the watercolour design and glue your quilling paper strips on top.
Included is a helpful PDF guide with basic instructions and a materials list. There is also a link to a video tutorial explaining the process. The print measures 2997 x 3804 pixels. The watercolour print was painted on textured paper, giving the design a textured look.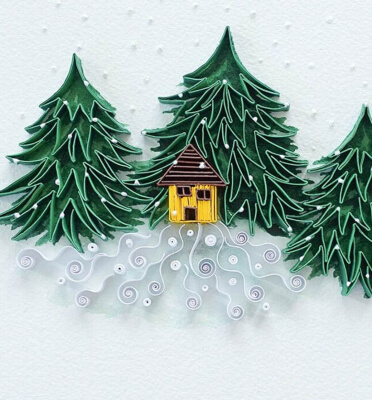 Find the Pattern from MiriamsQuilling Here
2. Snowflakes Christmas Quilling Card from Paper Zen
Here is a free snowflake quilling pattern to make Christmas cards quilling even easier. Using the provided template, you can cut your quilling paper strips to the right size without a ruler. In addition to the template, the designer has also provided SVG cut files for use with die cutting machines. Not only can the snowflake be used for Christmas cards, but you can also make it into an ornament.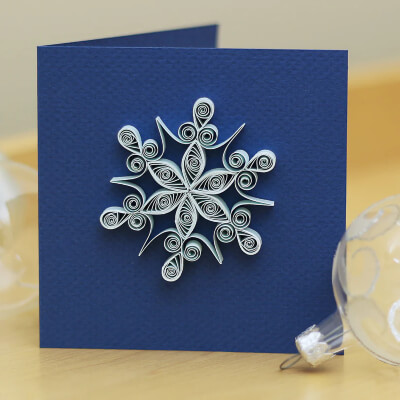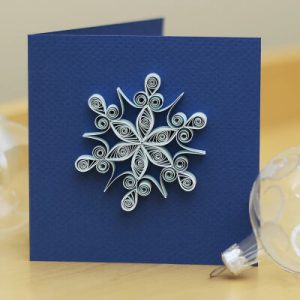 Find the Pattern from Paper Zen Here
3. Gnome Christmas Card Paper Quilling Pattern from LarissaZasadna
Looking for cute and whimsical Christmas cards quilling designs? Look no further than this gnome template. Gnomes are a popular trend, especially during Christmas, so make sure to add this adorable fellow to your Christmas cards.
The design is ideal for paper with a density of 130 gsm or higher. The download includes 2 4 inch x 4 inch JPEG patterns and 2 pattern PDFs. There are also helpful recommendations.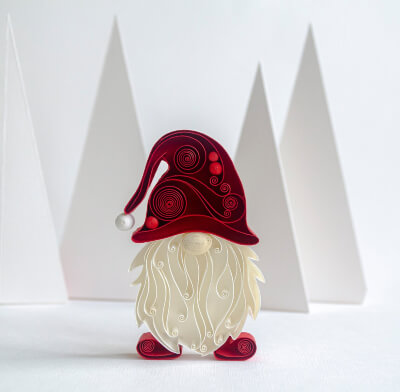 Find the Pattern from LarissaZasadna Here
4. Christmas Bauble Pattern for Quilling Pattern from MiriamsQuilling
Get into the festive spirit by creating this quilled Christmas bauble. The intricate pattern features an ornament with berries, foliage, and a candle hanging from a branch. The digital pattern includes a high-resolution digital watercolour print. It makes a great base for your Christmas cards quilling projects.
You also get a PDF file with instructions, a materials list, and a video tutorial that shows the quilling and gluing process. The watercolour painting measures 3416 pixels x 4752 pixels.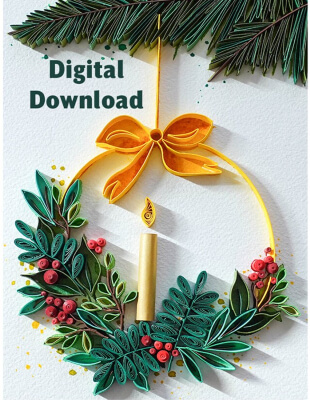 Find the Pattern from MiriamsQuilling Here
5. C
hristmas Card Paper Quilling from LarissaZasadna
With this step-by-step video tutorial, you will learn how to create a beautiful Christmas ball using Christmas cards quilling techniques. You can use any colours you prefer to produce a festive and eye-catching greeting card.
Included are two JPGs and two PDF files. There are basic instructions for making the card along with a video tutorial. The designer has made the instructions simple and very easy to understand.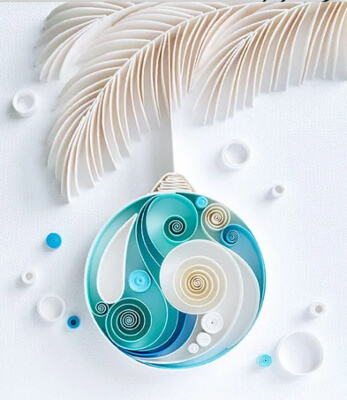 Find the Pattern from LarissaZasadna Here
6. Q
uilled Christmas Card Designs from Aunt Annie's Crafts
Here is a fun project that includes 3 Christmas cards quilling designs. To complete the patterns you will need 1/8″ quilling paper strips in red, green, and yellow, a slotted quilling tool, scissors, a ruler, white glue, and waxed paper. You can also use the free quilling templates to decorate gift tags and boxes.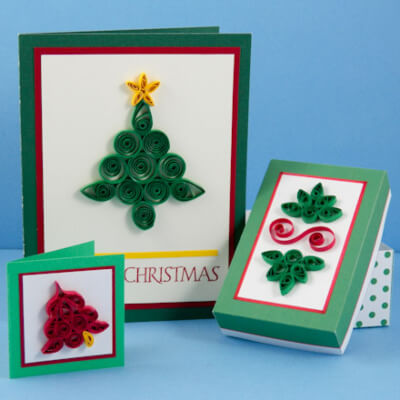 Find the Pattern from Aunt Annie's Crafts Here
7. Quilled Christmas Card Lights Pattern from The Soccer Mom Blog
Make this simple, yet stunning greeting card using this free paper quilling tutorial. The tutorial includes step-by-step written instructions, a photo guide, and a video. The Quilled Christmas Lights Card is super simple and beginner-friendly.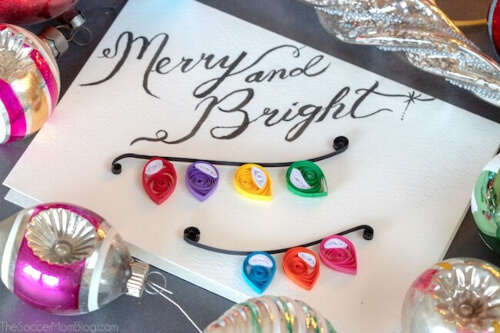 Find the Pattern from The Soccer Mom Blog Here
8. Paper Quilling Christmas Card Ideas from MiriamsQuilling
This digital download contains five mini Christmas cards quilling patterns. The ZIP file includes ten JPEG images. Five of which are watercolour prints for gluing your quilling designs. The other 5 are reference photos for creating your own cards.
Also included are basic instructions, a materials list, and a link to a free YouTube video tutorial.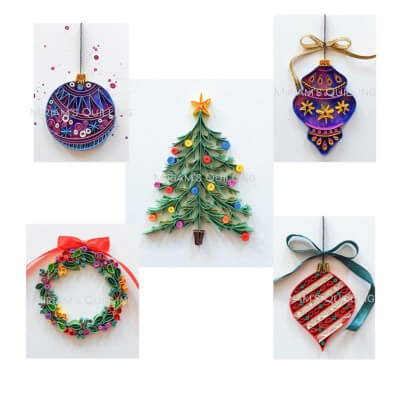 Find the Pattern from MiriamsQuilling Here
9. Female Gnome C
hristmas Card Quilling Template by LarissaZasadna
Do you enjoy creating charming and playful quilling designs? Here is another adorable gnome template. This one features a cute little female gnome.
The designer recommends using paper with a density of 130gsm or higher. Included are two pattern JPEGs, each measuring 4 inches x 4 inches, and two PDF patterns. You also receive a PDF recommendation to guide you through the process.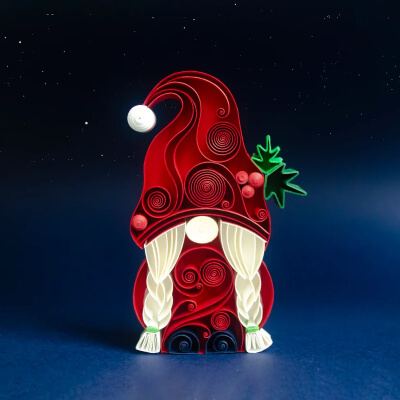 Find the Pattern by LarissaZasadna Here
10. Mini Christmas Wreath Paper Quilling Pattern from MiriamsQuilling
This digital download features a mini Christmas wreath. The wreath is a great choice for anyone looking to add a unique touch to their holiday cards. It comes complete with a watercolour winter holiday quilling base.
It comes with a PDF file that contains basic instructions, a materials list, and a free video tutorial. The tutorial will provide you with a detailed explanation of how to create the quilling and attach it to the watercolour print. The print has a resolution of 905 pixels x 1233 pixels.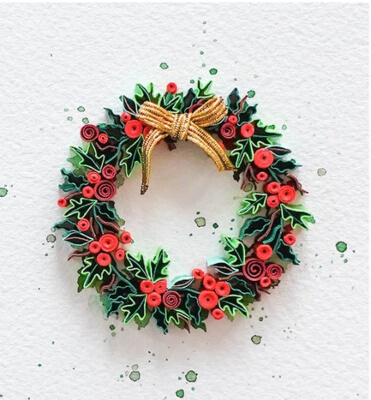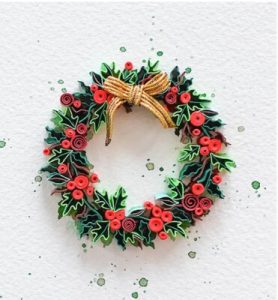 Find the Pattern from MiriamsQuilling Here
Frequently Asked Questions About Christmas Cards Quilling
What tools do I need for quilling Christmas cards?
To create quilled Christmas cards, you will need a few basic tools. These include quilling thin paper strips, a slotted quilling tool, glue, scissors, and a ruler. Some optional tools that can make the process easier include tweezers, a paper crimper, and a quilling board.
Can I make quilled Christmas cards without a slotted quilling tool?
While slotted quilling tools are highly recommended, it is possible to make quilled Christmas cards without one. You can use a toothpick, needle, or similar tool to curl the paper strips. However, it is extremely difficult to achieve consistent shapes and sizes without a slotted tool. If you plan to work on several Christmas cards quilling ideas, it would be worth investing in a slotted quilling tool.
How do I attach quilled pieces to my Christmas card?
To attach quilled pieces to your Christmas cards, you can need to use a glue such as white glue. Simply apply a small amount of glue to the back of the quilled piece, and carefully position it on your card. Do not use too much glue as it can create a mess and be visible when dry.
What are some quilled Christmas card designs for beginners?
For beginners, simple designs are the best. Start with simple project that are not overly detailed. You can find a wide range of ideas from Christmas trees to stars and candy canes. When learning how to quill, keep it simple and have fun.
Can I sell my quilled Christmas cards?
Yes, you can sell your quilled Christmas cards. However, if you are using designs created by someone else, you may need to obtain permission first. Some designers may allow you to sell the card if you give them credit for the design. Others may require you to purchase a license. Additionally, you may need to apply for a business license and collect and remit sales tax.
With these Quilled Christmas cards, the possibilities are endless. So let your creativity run wild and get started on your holiday cards today.
Quilling is a fun and creative way to make unique Christmas cards. With a little bit of practice and patience, you can create beautiful designs using simple paper strips and a few basic tools. Once done, Share your finish Christmas card on our Facebook Page.
For more ideas on how to decorate your home for the holidays, take a look at all of our Christmas crafts below:
Whether you choose simple or complex designs, there are plenty of quilled Christmas cards creations to inspire you.