Learning how to make an origami fish is a charming and eco-friendly project perfect for all ages. Fish are colorful, fascinating creatures, and you can make your own origami version right at home!
The ancient Japanese art of paper folding, known as origami, has become a popular craft all over the world for kids and adults alike. While some of the projects below can be difficult and intricate, there are also plenty of easier options for beginners. If you are interested in making one or a whole school of origami fish, all you need is a piece of square paper to get started!
18 Tutorials On How To Make An Origami Fish
1. How To Make An Origami Koi Fish by The Pink Craft Box
Koi are a beautiful species of fish that are often seen decoratively in koi ponds. In this tutorial, you'll learn how to make your own origami Koi fish with simple paper folding techniques.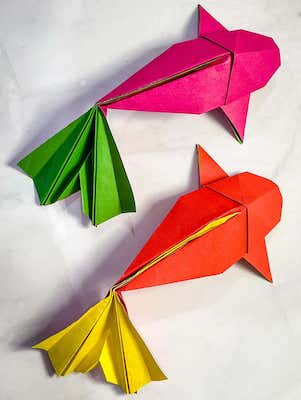 Follow the tutorial here
2. Easy Origami Fish For Beginners by Red Ted Art
Kids will have lots of fun folding this easy origami fish and drawing in its faces. I doubt they need help at all, but if they do, it would be to collapse the paper into a triangle and folding the fins perfectly.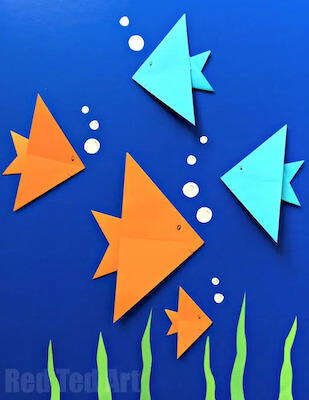 Follow the tutorial here
3. How To Make An Origami Fish by The Spruce Crafts
Whether you make just one or a whole school, you'll have fun folding these origami fish! As origami requires children to slow down, to follow a sequence of instructions carefully and to use their fine motor skills, these origami fish are definitely a great challenge for school aged kids.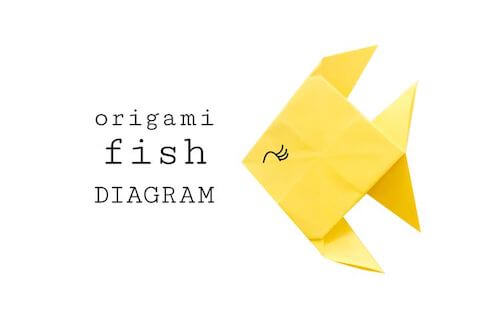 Follow the tutorial here
4. How To Make An Easy Origami Fish by Origami Guide
A pretty origami fish is a cute decoration and a fun way to push your origami skills. This traditional origami model is easy and only takes a couple of minutes to make. Since it's not too hard, it's great for kids to make.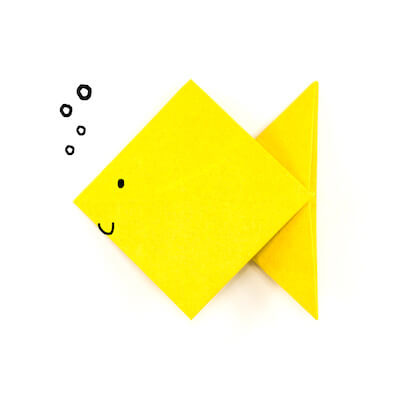 Follow the tutorial here
5. Origami Fish by Mommy Made That
One of the cool elements of origami as an art is the different textures that the way you fold crates. It's not just the outer perimeter shape. The entire project contains dimension that you just don't get in flat paper crafts.
These origami fishes make a fabulous finishing touch for any ocean themed paper craft, bulletin board, or anything that can benefit from a little bit of texture!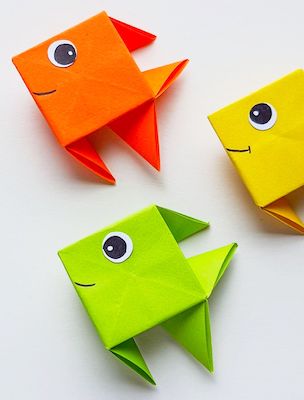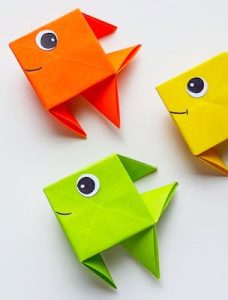 Follow the tutorial here
6. Origami Fish For Kids by Tratatuha
The simplicity of this origami fish model is what makes it so nice. You can leave your paper fish plain or decorate it with colouring pencils, or draw a little face on him.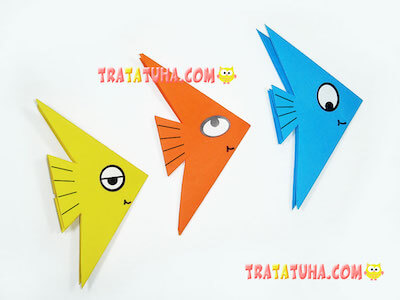 Follow the tutorial here
7. How To Fold An Origami Fish by Art For Kids Hub
Making an origami fish according to this scheme is very easy. It can be made just in a few steps. Kids will easily cope with this work, so be prepared that fish of various colors and sizes will haunt you everywhere!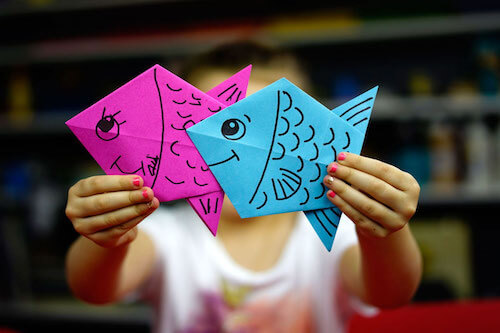 Follow the tutorial here
8. How To Make An Inflatable Origami Fish by Origami Guide
This fantastic origami fish model is great for a pickup fish game! All you'd need are roughly 8 origami fish, a few paperclips, magnets, and some string! Whether you're an experienced enthusiast or a curious beginner, this tutorial is perfect for everyone.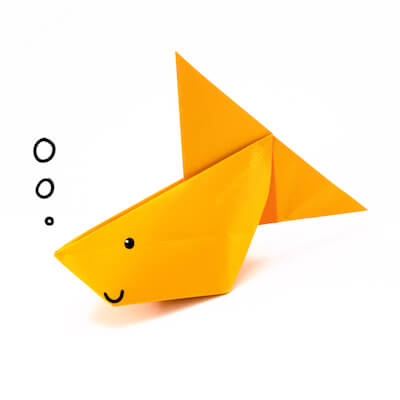 Follow the tutorial here
9. How To Make An Origami Swimming Fish by Leyla Torres
Here's a fantastically fun origami model to make and play with. I love the shape of the fish's body as well as the detail that can be seen in the mouth and fins. Hold it by the tail, make it swim, and you'll delight children and adults alike!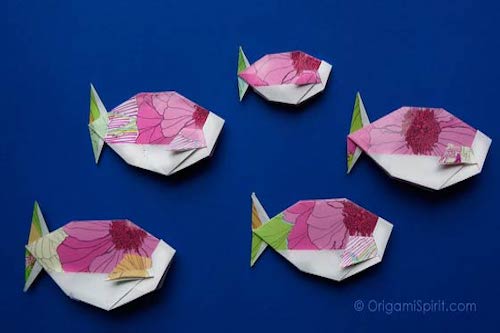 Follow the tutorial here
10. Origami Talking Fish by Hello Origami
There are thousands upon thousands of origami models, but some of my favorites are the interactive variety – like these adorable talking fish origami puppets!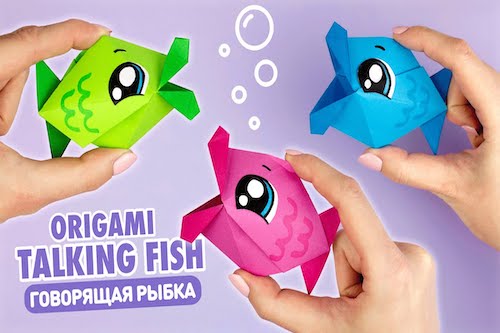 Follow the tutorial here
11. Dollar Bill Origami Fish by The Daily Dabble
While you typically use origami paper to fold elaborate objects, you can also create origami by using the bills you have in your wallet. Making a fish out of a dollar bill is an easy gift you can make for a friend or significant other, takes a few minutes to do, and doesn't destroy the value of the bill that you use.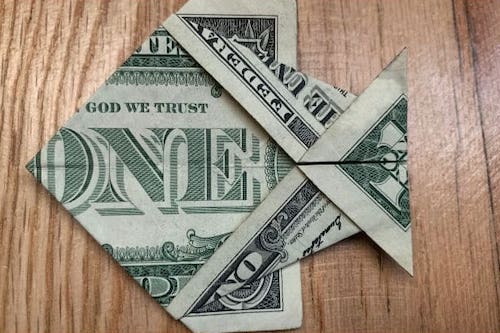 Follow the tutorial here
12. 3D Origami Fish by My Crafts and Arts by Bhushan
3D origami sculptures are very nice and make great gifts. Even though they take some time and patience to make, the end products are very rewarding and look really cool. Look how beautiful this 3D origami fish is!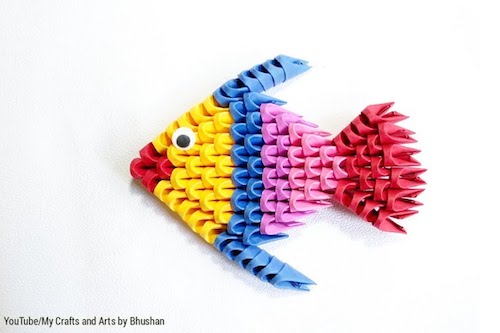 Follow the tutorial here
13. How To Make An Origami Goldfish by Origami Spirit
Few things are more inspiring to our creativity than the natural world, and this tutorial will show you how to create a flawless paper folding craft in the form of a beautiful golden fish.
Or, you can add a little variety by using a plethora of different paper colors to create a lovely origami aquarium of beautiful fishes.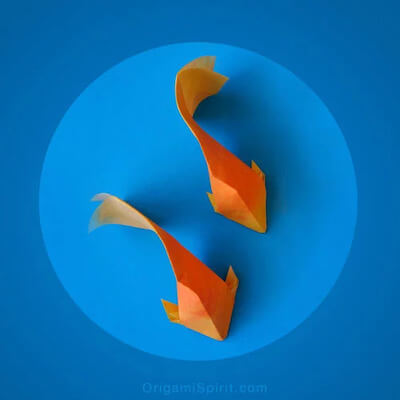 Follow the tutorial here
14. Origami Fish Tutorial by Jo Nakashima
Here's a very well-folded, nice and clean looking origami fish. It's a really excellent design, as well. This is folded from a single 15cm x 15cm square of paper!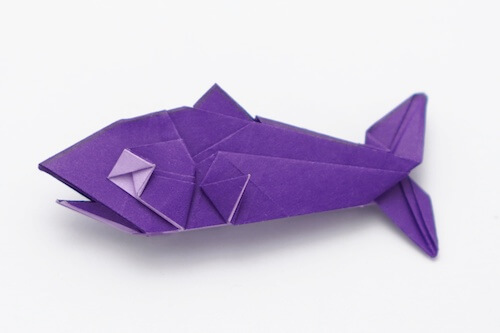 Follow the tutorial here
15. Easy Origami Koi Fish by Artsy Crafty Mom
Here's a fun origami koi fish craft that's simple enough for older kids but challenging enough for origami beginners. Stick on some eyes for some cute looking Koi fish!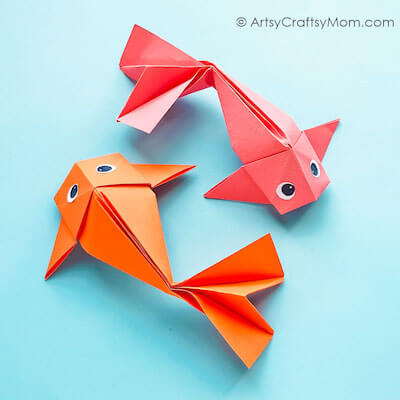 Follow the tutorial here
16. How To Make Koi Origami Fish by Rinea
These captivating fish are simple to make and would be perfect for poolside parties, mobiles, gift toppers, and so much more. You could even make your own virtual Koi pond in your living room.
The finished Koi fish measures 2.5″ wide by approximately 4.5″ long.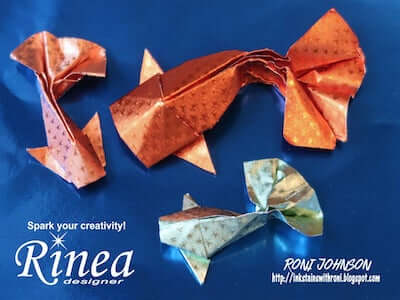 Follow the tutorial here
17. How To Make An Easy Origami Paper Fish by KIDS Crafts
Make a whole collection of colorful paper fish with your origami skills. Stick on a googly eye or draw a face on with a pen to complete your origami fish design.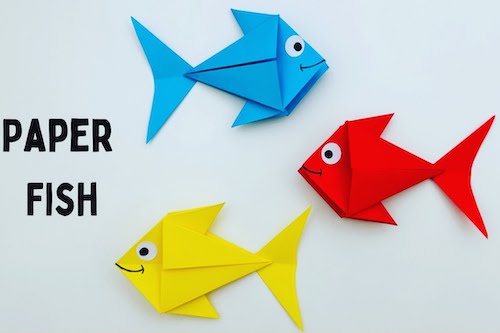 Follow the tutorial here
18. Origami Fish by Origami Plus
Learn how to fold a simple origami fish that can be folded in just a few minutes using a 2 by 1 rectangle (half square) of paper. You can use them for many DIY projects, to decorate your room or small objects, for gifts, to make customized greeting cards etc.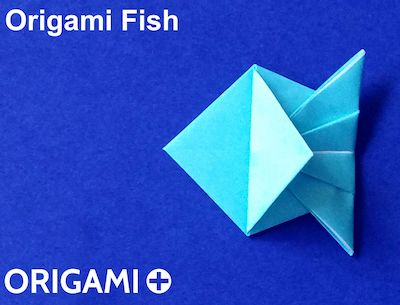 Follow the tutorial here
MAKE A WHOLE SCHOOL OF FISH IN EVERY COLOR AND PATTERN YOU CAN THINK OF WITH THESE TUTORIALS ON HOW TO MAKE AN ORIGAMI FISH.
Taking a sheet of paper and turning it into art of its own is incredibly rewarding! So, be proud and share your makes with us on our Facebook Page. We'd love to admire the creations you've made with your own hands!
Origami animals are very popular with kids and adults. They're fun to fold because it's really amazing to see them take shape and look like their real life counterparts. Here are more tutorials you can tackle next:
Hopefully you have enjoyed these tutorials on how to make an origami fish as much as I did. Let me know which one is your favorite in the comments. Happy folding!