If you are a beginner quilter looking for easy quilt projects, check out this list of square quilt patterns made from a basic square or pre-cut fabric, like layer cakes and jelly rolls.
When you work with squares, you can make a vast quantity of quilts! Squares are the familiar building blocks to many of our favorite quilt blocks and patterns – always the faithful and versatile tool in our quilting arsenal. And they're easy to cut and sew since you don't need to worry about curves or bias edges.
The humble square is such an important shape in quilts – after all, most quilt blocks are square! Let your imagination dictate your own color scheme and achieve beautiful one-of-a-kind quilts that reflect your unique personality and creativity. You'll be proud to give the finished projects as gifts or to display them in your home!
18 Square Quilt Patterns
1. Picnic Square Quilt Pattern by Matchy Matchy Sewing
Get ready to whip up a spread of scrumptious squares! This quilt is quick to make and has such a fun effect. Play with bright and colorful fabrics for the full effect, or use solid fabrics and prints for a more subtle look.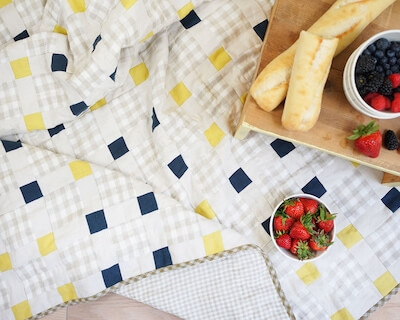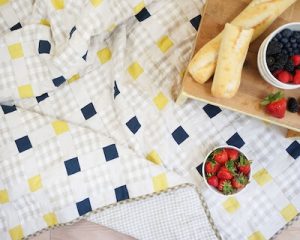 Get the Pattern by Matchy Matchy Sewing here
2. Stay Square Quilt Pattern by Pieced Just Sew
Stay Square is a layer cake friendly quilt. It uses 36 layer cake squares so it uses most of one layer cake, but still allows you to leave out a few prints that you either don't care for or that do not contrast well with your background fabric.
This pattern also uses almost the entire layer cake square with just a bit of waste that you can easily add to your scrap bin and save for a future scrappy project!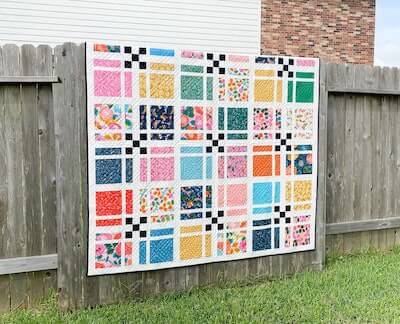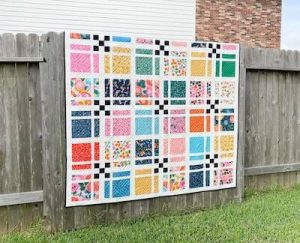 Get the Pattern by Pieced Just Sew here
3. Free Square Quilt Pattern by Suzy Quilts
This free quilt pattern is perfect for people who are new to sewing, or who have never sewn before. If you are looking for a fast project, try this one! Because it uses large squares, it's a great pattern to showcase your prized pretty fabric that you don't want to get lost in a busy quilt design.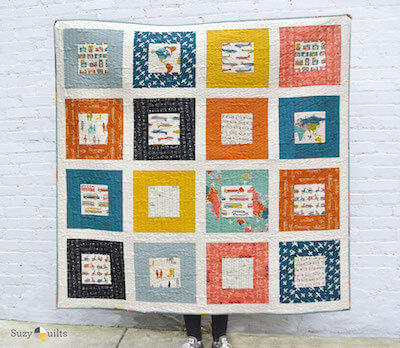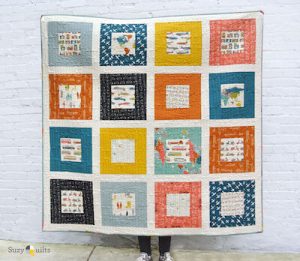 Get the Pattern here
4. Square Peg Quilt Pattern by Life And Peace Quilt Co
This Square Peg Quilt Pattern makes use of half rectangular triangles and partial seams that's suitable for advanced beginners to intermediate quilters. The pattern comes in 7 different sizes, ranging from pillow to queen-sized quilt.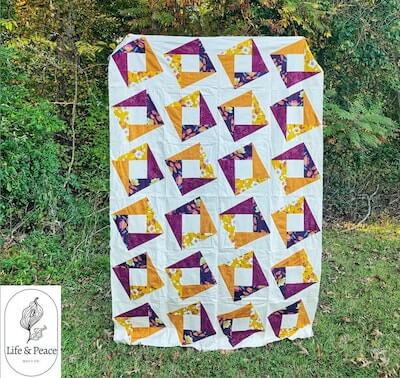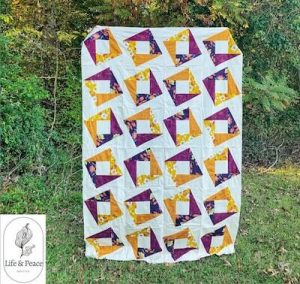 Get the Pattern by Life And Peace Quilt Co here
5. Seaside Squares Lap Quilt Pattern by Jamie Sanders
Squares inside of squares! This pretty pattern will add a seaside feel to any room. This Seaside Squares Lap Quilt is put together completely with square in square quilt blocks. Even better? You can use a precut jellyroll to make the blocks!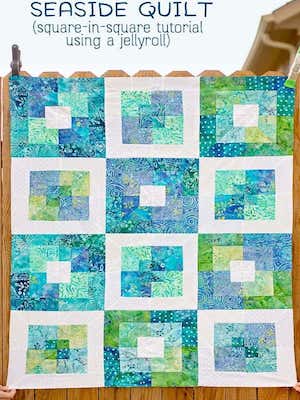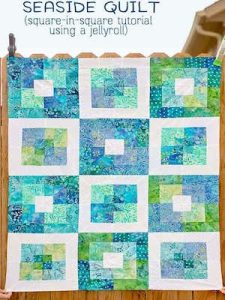 Get the Pattern here
6. Lattice Quilt Pattern by Amy Smart
The design of this Lattice Quilt is classic; patchwork on point with sashing and cornerstones. The pattern is perfect for precut 10″ x 10″ squares and it works in so many different fabric and color combinations.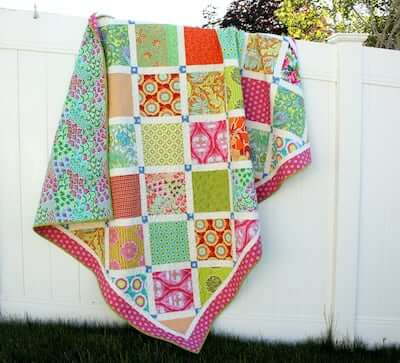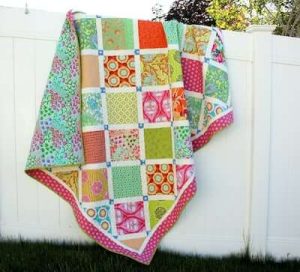 Get the Pattern by Amy Smart here
7. Square Dance Quilt Pattern by Gigi's Thimble
Little squares sashay around big squares in this patchwork quilt design. Thus, the name – Square Dance. The pattern is charm pack friendly, great for beginners and would easily convert to a bigger size quilt.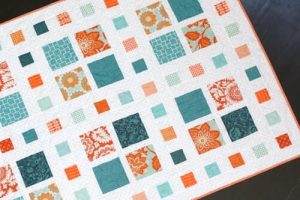 Get the Pattern by Gigi's Thimble here
8. Framed Squares Quilt Pattern by A Bright Corner
An excellent choice for precut fabric, this Framed Squares Quilt Pattern can be printed off at home, and comes with step by step instructions for piecing your simple squares together. These easy quilt blocks use small strips of fabric around a center square, so they're a great way to show off prints or fussy cut designs.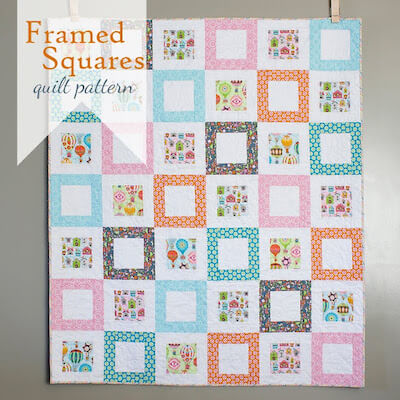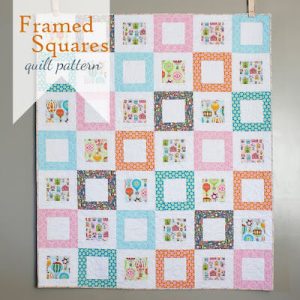 Get the Pattern here
9. Town Square Quilt Pattern by Fabric Cafe
Framed by arrowed corners, your choice of focal fabric will be front and center, making it perfect for featuring a favorite from your stash. You'll need just 3 one-yard cuts of fabric to make this quilt top, and of course, a crafternoon or two amount of free time.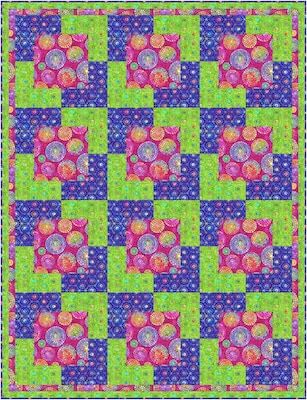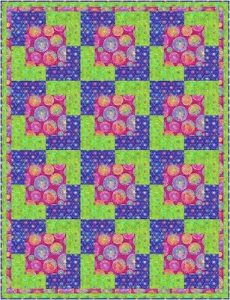 Get the Pattern by Fabric Cafe here
10. Market Square Quilt Pattern by Sweet Jane
Start with a jelly roll of 2 1/2″ strips and a neutral fabric for this baby or lap quilt. That makes fabric selection easy and reduces the amount of cutting so you can quickly jump into sewing. This is also a great project for leftover strips. Choose colors and print styles a child will enjoy or create a more grown-up combination for a lap quilt.
Any color theme will be wonderful in this quilt. You can also play with value placement and print styles to give the quilt different looks.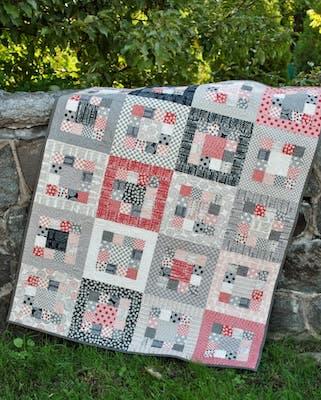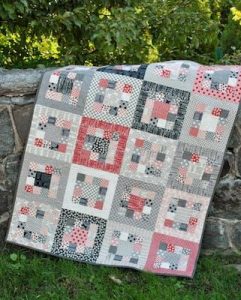 Get the Pattern by Sweet Jane here
11. Square Baby Quilt Pattern by Come What May Creations
Choose between two block sizes for this easy baby quilt. Both variations are very simple to make and will go together in just a few hours. Beginning quilters will love how easy this quilt is to make and more experienced ones will enjoy the quick finish.
Choose complementary fabrics in whatever colors you prefer. Or, use up some of those scraps. Just be mindful pf values to retain the overall design.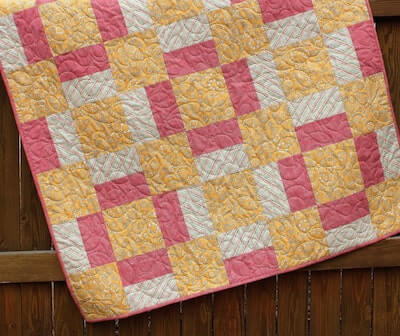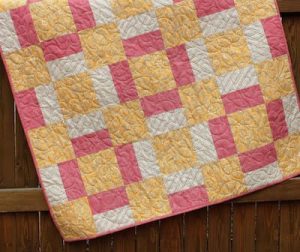 Get the Pattern by Come What May Creations here
12. Five Squared Quilt Pattern by Monday Morning Designs
Looking for a colorful quilt that's easy to make and designed to bust your stash? Give this Five Squared Quilt Pattern a try! It's a great way to use your scraps and it's precut friendly.
Five Squared is geared for using what you've got on hand, and it's an excellent choice for beginners. If you don't have that many scraps, you can use 5 charm packs instead.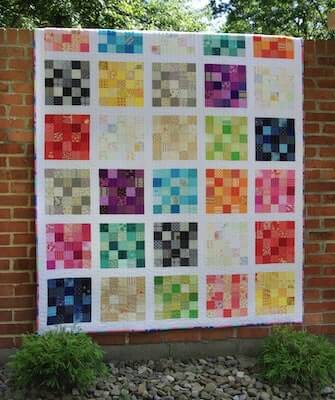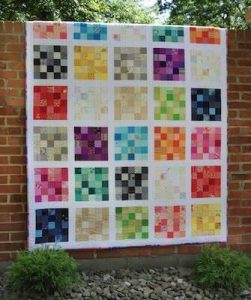 Get the Pattern by Monday Morning Designs here
13. Four Square Quilt Pattern by Quilting Daily
Simple patches join together to form a trendy quilt that you'll enjoy making and giving! This easy baby quilt uses fat quarters and can be completed in no time. Plus, you can easily customize it with the colors and fabrics of your choice.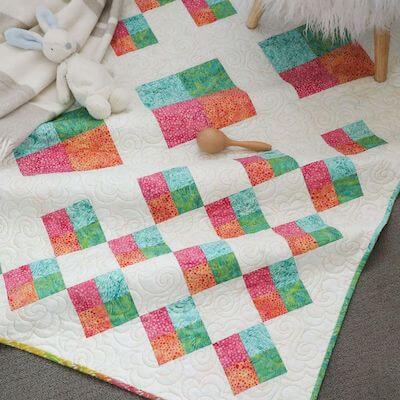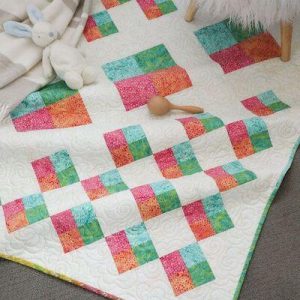 Get the Pattern here
14. Dialogue Cabin Quilt Pattern by Holly Clarke Design
Supersize the classic Log Cabin block with this Dialogue Cabin Quilt! Clever placement transforms this iconic, traditional block into a stunningly modern squares-within-squares design. Each block requires only five pieces of fabric, making it the perfect beginner-friendly pattern!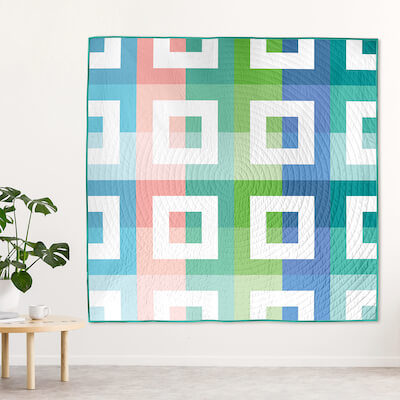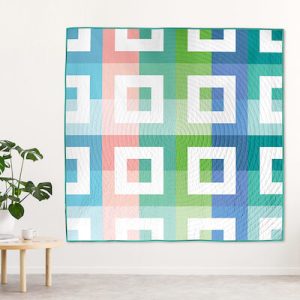 Get the Pattern here
15. Sweet And Simple Squares Quilt Pattern by Bonjour Quilts
Ready to clear out your fabric stash and scrap pile and put them to good use? This is the quilt pattern for you. This Sweet And Simple Squares Quilt Pattern will take all your colorful scraps and fat quarters and turn them into a lovely quilt with a fun color-wash, gradation effect.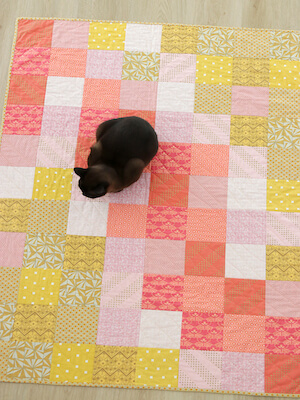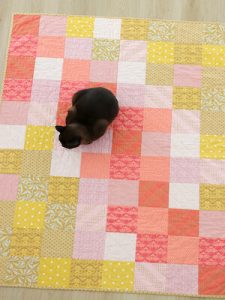 Get the Pattern here
16. Scrappy Squares Quilt Pattern by The Quilt Yarn
This simple quilt pattern works best for beginning to intermediate quilters (the construction contains partial seams) and is an excellent choice for a gender-neutral baby shower present, toddler's quilt, or floortime play mat. It is a great stash buster and it creates such a stunning quilt with lots of visual interest!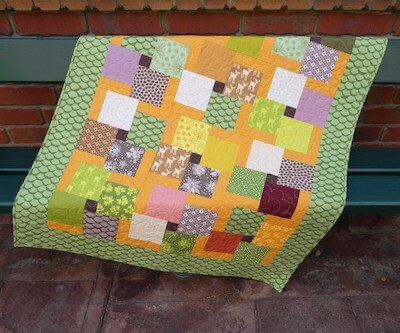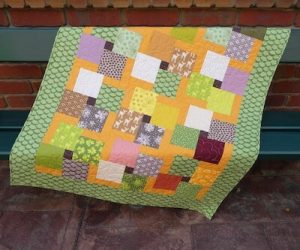 Get the Pattern by The Quilt Yarn here
17. Hip To Be Square Quilt Pattern by Busy Bee Quilt Designs
Make this contemporary quilt with batiks or the latest fabrics! Pieces are larger and the quilt goes together quickly. The finished size will be 68″ x 80″.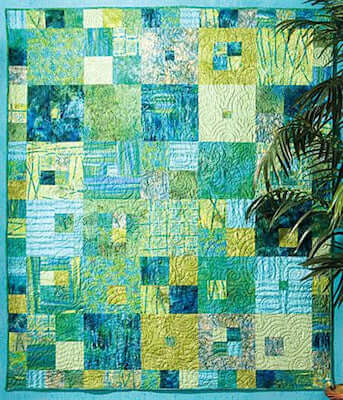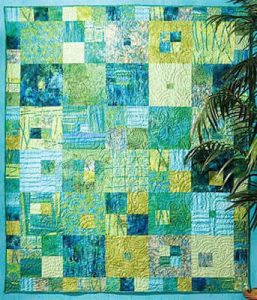 Get the Pattern here
18. Free Square Dance Quilt Pattern by DS Quilts
The great thing about this quilt project is that working with squares is so easy. Make this pattern even easier by using a charm pack so you won't have to do any of the cut-work yourself.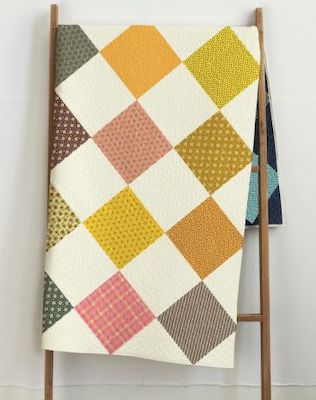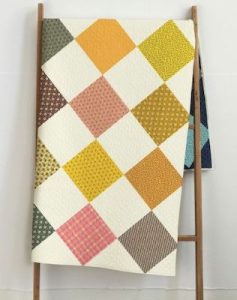 Get the Pattern here
BUILD UP YOUR QUILTING CONFIDENCE WITH THESE SQUARE QUILT PATTERNS.
The quilting goodness doesn't stop here, though! Check out more of our quilting projects collections and don't forget to share your makes with us on our Facebook Page. It will be fun to see all the creativity!
For true beginners through to experienced intermediates, this list of square quilt patterns has something for everyone–it's easy, fun and inspiring quilt projects for all tastes. Happy quilting, friends!