7 Best Leather Sewing Machine
|
Leather isn't an easy medium to work with, but it is so resilient that it's well worth the time and effort! Because it is so tough, you need special equipment to be able to craft things! 
While some crafters may sew leather by hand or use a regular sewing machine, if you plan to work with leather frequently, you may want to consider purchasing a sewing machine for leather. 
We've compiled a list of the best leather sewing machines just for you! 
The 7 Best Leather Sewing Machines
Below you'll find a variety of sewing machine for leather with information about what makes each one special. As well as links for where to find them!

Brother ST371HD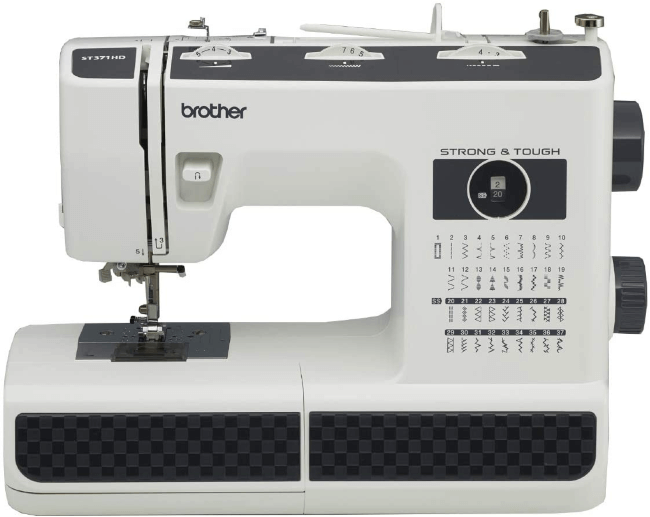 Brother is already a brand known for quality sewing machines and this heavy duty version still delivers. Touting an automatic needle threader and six different feet, the Brother ST371HD is designed to be a hardworking machine. 
Relatively inexpensive compared to other heavy duty machines, the Brother is made for hours of continuous work. This machine is also liked for being easy to use, even if you're rather inexperienced. 
Even better for novice users, Brother boasts a free customer service hotline for help and a 25-year warranty. All of this, plus 37 built in stitches!
Singer 9960 Quantum Stylist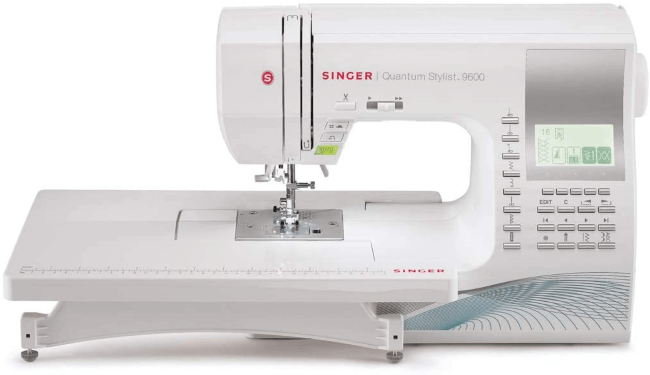 The Quantum Stylist by Singer is perfect for portability and customization. As well as being reasonably priced, the Quantum Stylist comes with an auto pilot mode and fonts for even more customization.
With easy needle threading, 600 built-in stitches, and high speed functionality of up to 850 stitches per minute, you can create leather goods quickly!
This leather sewing machine also comes with a large variety of presser feet, meaning you can use this machine to create a number of possibilities–just let your imagination run!
Consew 206RB-5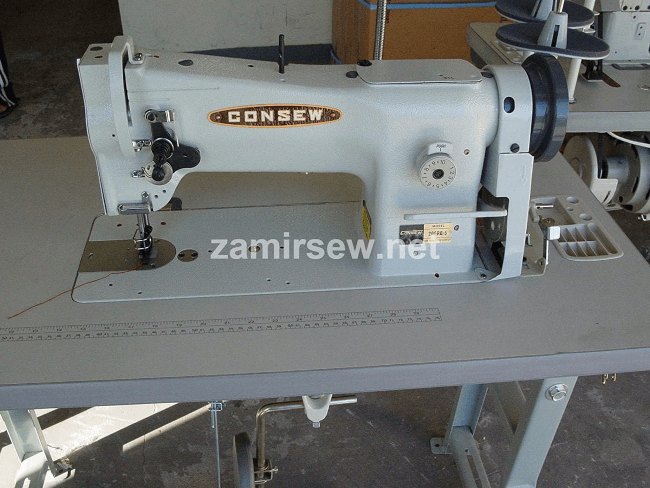 Sewing machines vary widely in price, make and options. The Consew 206RB-5 is a top of the line, professional favorite.
Notable for its reliability, the Consew is considered an industrial quality machine. The walking foot has a triple feed and is perfect for heavy duty projects such as upholstery, canvas, marine and leather.
The Consew 206RB-5 does have a much higher price-point, however, considering that it is made of cast iron, is industrial quality and comes fitted with a table and Servo motor, many find it well worth the cost.
Brother ST150HDH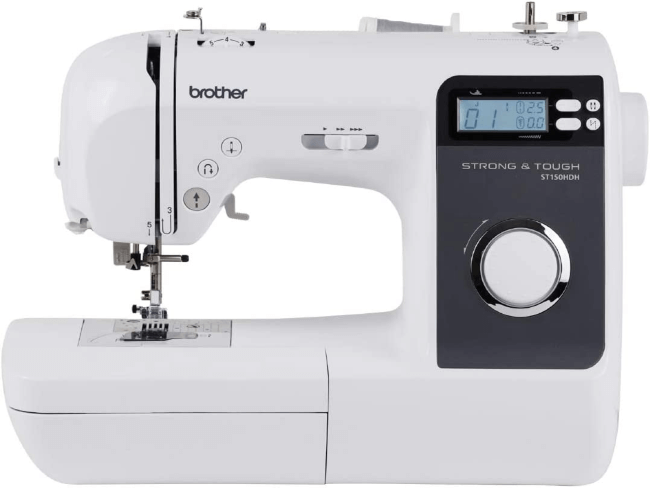 The Brother ST150HDH is a great sewing machine for leather boasting 50 built-in stitches that you can select from the easy-to-use LCD display. This model has an advanced needle threader to get you sewing quickly.
Added to this already great machine are extremely useful accessories, including a set of heavy weight sewing needles, perfect for working with leather!
Combine these features with the jam resistant bobbin and Brother's free technical support for many years of creating to come.
Singer Heavy Duty 4423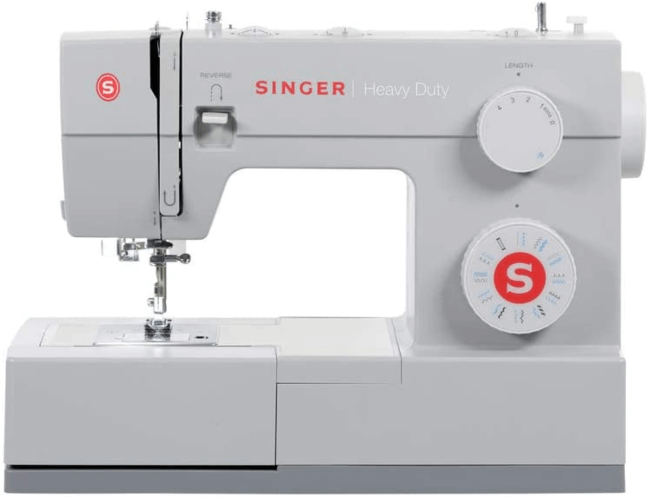 Singer is another brand that is known for quality products! This specific machine is designed to work hard with a powerful motor to provide for hours and hours of quality sewing. 
The Singer Heavy Duty 4423 is built to please both novice and experienced crafters with the numerous accessories and 23 built in stitches. A special walking foot makes working with leather a breeze!
Even better, the Singer Heavy Duty 4423 comes at a budget-friendly price while still providing excellent quality craftsmanship. 
Janome HD 3000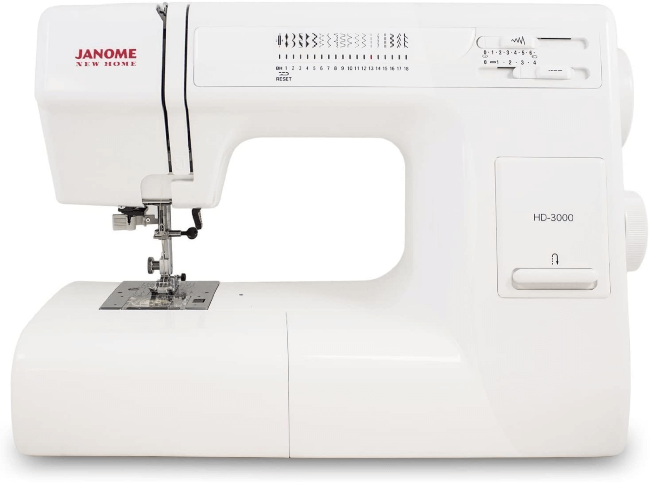 A great overall leather sewing machine is the Janome HD 3000. This machine is powerful, attractive, and very versatile. With 19 special stitches, the Janome HD 3000 is able to provide a variety of different looks for your projects. 
What makes this machine especially useful for leather is the adjustable foot lift and pressure. Additionally, Janome offers a variety of specialized needles for even more versatility!
Brother PQ1500SL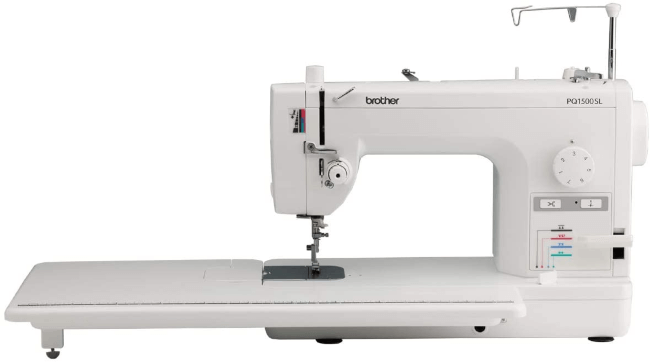 Another great leather sewing machine from Brother, the PQ1500SL is designed to handle many different fabric types due to the specialized feed it is armed with. Like other Brother sewing machines, this model has the same needle threading system to make getting started quick and easy.
This powerful machine allows up to 1,500 stitches per minute, enabling you to accomplish more in less time!
The PQ1500SL is fitted with a longarm, knee-lifter, and several feet. These features are supported by Brother's free technical support for the life of your machine as well.
My Top Best Leather Sewing Machines for 2021
There is a wide variety of the best leather sewing machines available on the market today. Each model comes with its own features that may or may not be important for you. 
Below I've put together my list of top picks just for you! 
Overall Top Pick for B
est sewing machine for leather
Brother PQ1500SL
Longarm sewing machine for easier manipulation of fabric
Maximum 1,500 stitches per minute
Advanced needle threading system
Jam Resistant Bobbin
Removable knee-lifter
Variety of sewing feet
Pin feed system for variety of fabric types
Technical support for the life of the machine
Premium Pick
Consew 206RB-5
Professional-level quality
Made of heavy-duty cast iron
Fitted with its own table and Servo motor
Extremely reliable
Compound, triple feed sewing foot
Perfect for upholstery, canvas, marine and leather
Value Pick
Brother ST371HD
Comes with 37 built-in stitches
Automatic needle threader
Jam resistant bobbin
6 sewing feet
Great for beginners
Free arm sewing machine
Free technical support for life of the machine
Wrapping up the Best Leather Sewing Machines for 2021
Sewing leather fabric requires heavy duty machines with heavy duty needles and other accessories made specifically for thick fabrics. 
You might also want to check out our Favorite heavy duty sewing machines' review. 
The best leather sewing machines provide all of those necessities and often more, making the investment in a heavy duty machine well worth it.