The best quilting iron can increase the efficiency of quilters. If you haven't bought your quilting iron yet, we created this guide to help you decide which iron to buy!
A quilting iron is a must-have for quilters. Just like a traditional iron, it is used to remove creases and wrinkles in the fabric. Did you know that even the smallest crease can affect the accuracy of your measurements? Quilters press their fabrics repeatedly to make sure there are no wrinkles that can cause measurement errors when cutting.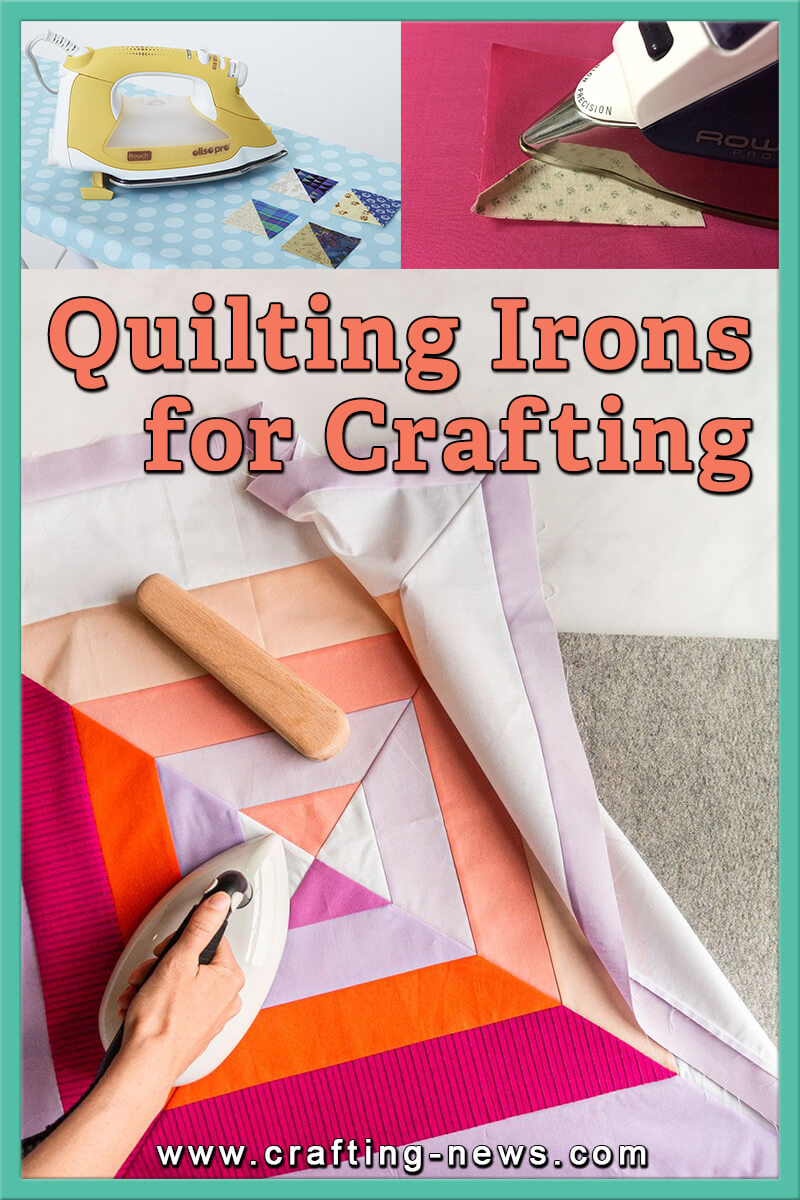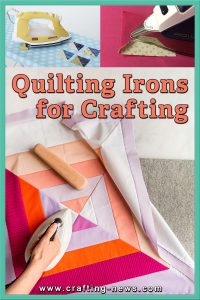 In addition to that, quilting irons are also used to ensure designs and seams are aligned before sewing them together. Misaligned designs can greatly affect the final look of your quilt forcing quilters to repeat the whole process.
Hence, using a quilting iron to properly align the patterns can reduce the chance of redoing the whole quilt.
Using the best steam iron for quilting can not only save you time and money, but it can also lessen the effort you need to exert to make the perfect quilt.
That's why we reviewed ten of the best steam irons for quilting available in the market to help you choose your new quilting weapon!
Different types of Quilting Iron
Before listing some of the best quilting irons, let's first go through the different types of quilting iron.
1. Dry iron
Dry quilting irons are your traditional irons. Since these irons do not produce steam, you might have a hard time removing wrinkles. Instead of using steam, you can opt to use a spray bottle to dampen your cloth before ironing it.
2. Traditional Steam Irons
Most quilters recommend using traditional steam irons. This type of iron produces hot steam that helps remove wrinkles easily.
Before sliding or pressing the iron over the fabric, hot steam is sprayed to make the cloth softer. Steam irons can also function as a dry iron by setting it to not use steam.
3. Steam ironing system
Unlike the first two types of quilting iron, the steam ironing system includes both the iron and an ironing board. Using this device can give you a professional feel.
Aside from an adjustable height, this high tech ironing board includes a blower system that properly spreads fabric which helps in removing some of the creases.
It also has a vacuum system that helps remove wrinkles by pulling the clothes to the surface of the board. A steam ironing system also includes a high-quality iron that is integrated into the ironing board.
4. Cordless Irons
Cordless Irons, on the other hand, is just like the traditional irons sans the cord attached to it. Quilters, especially left-handed ones, love using it since they don't have to worry about the cord.
Its portability is another reason why some quilters prefer to use this type of iron. Imagine being able to use it all the way across the room without worrying if its cord is long enough.
Best Quilting Irons for 2023
1. Rowenta DW5080 1700-Watt Micro Steam Iron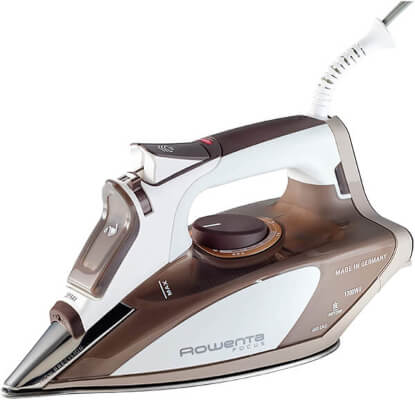 If you're looking for an easy to use and straightforward quilting iron, the German-made Rowenta DW5080 Micro Steam Iron is perfect for you!
Microsteam Stainless-steel SolePlate
Equipped with a stainless-steel soleplate with a precision tip, this 1700 Watts heats up fast and can glide smoothly on different fabrics. With its precision tip, you can work even on the hard-to-reach areas.
Moreover, its Microsteam soleplate has 400 steam holes that can generate 35 grams per minute of steam. It can even increase to 100 g/min when you need to work on tough wrinkles or thick fabric.
Plus, with its vertical steaming function, you can work on your fabric even while it's hanging.
Easy to Use Quilting Iron
We all want to get our ironing done as quickly and as efficiently as possible, right? This iron has an easy to control thermostat knob which allows you to select the ideal steam based on the fabric you're working on.
No more guessing what temperature to use! Even its 10 oz water tank is easy to refill. With its easy-fill hole, anti-drip lid, and translucent water tank window, filling it with water will be a breeze.
This iron will not only save you energy, but it also reduces the risk of burning your clothes and even your house. It shuts off after 8 mins of no activity when it's on its base. However, when on its side or facedown, it will shut off after 30 seconds.
Anti-calcium and Anti-scale
Maintaining an iron doesn't have to be hard, thanks to the built-in features of this quilting iron. Its Anti-calcium feature allows you to use tap water instead of distilled water.
In addition to that, it's also equipped with an auto-cleaning system that helps increase the lifetime of the iron.
To prevent build-ups and blockage, this iron has an anti-scale system that removes minerals and impurities from the water. Blocked steam holes will no longer be a problem thanks to this feature.
This 3.4 pounds iron also helps protect your delicate fabric from drips and stains with its anti-drip feature. You can iron your fabric at a low temperature without worrying about water leaking.
Pros and Cons of the Rowenta DW5080
Pros:
1700 watts
2.5 meters cord length
Auto-shutoff feature
Anti-drip, anti-calcium, anti-scale
Microsteam Stainless-steel soleplate with 400 holes
34 grams/min steam and up to 100 grams/min steam
Can use tap water
1-year manufacturers guarantee
Vertical steaming
Cons:
Iron may start to leak after a lot of use
Takes time to master the steam burst function
A little heavier than other irons especially when filled
2. Rowenta Perfect Steam Eco Energy Steam Iron DG8520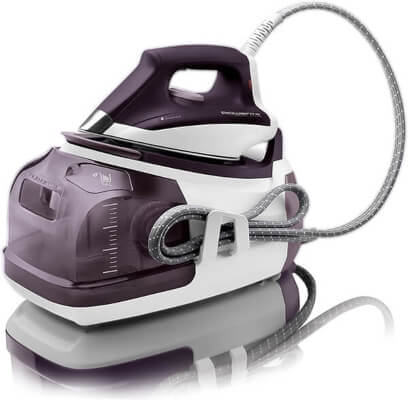 Looking for an eco-friendly quilting iron? The Rowenta DG8520 Perfect Steam Eco Energy Steam Iron is not only packed with 1800 watts of power but also saves up to 20% of energy.
Quilters will surely enjoy using this iron because it is designed to quickly remove wrinkles from heavy fabrics. It's 2 minutes heat-up time can surely save quilters a lot of time and energy.
With its mini boiler system, it can generate up to 3 times more steam power. It has 5 bars of pressure that can penetrate through layers, remove wrinkles from hanging fabric, and even help in shaping your sewing projects.
Its constant high powered steam can easily be used to increase the efficiency of ironing. This iron can go from 80 grams/min of steam up to 120 grams/min.
Micro Steam Stainless-steel Soleplate
Working effortlessly through creases with minimal energy and water usage won't be a problem with the Rowenta Eco Energy Steam iron! It has a micro steam stainless-steel soleplate with 400 micro-holes that perfectly diffuses steam for improved performance.
You also get to enjoy up to one and a half hours of non-stop work with its huge 470z tank. Although a lot bigger than other water tanks, it can easily be refilled since it's removable.
Pros and Cons of the Rowenta DG8520
Pros:
Anti-scale function
Safety lock for easy transporting
47 oz water tank
Eco-friendly that saves up to 20% energy
400 holes, micro steam stainless-steel soleplate
80 to 120 grams of steam per minute
Mini boiler system for 3 times more steam power
1800 watts
Cons
no auto shut-off function
short power cord, 1.9 meters
Bulky steam station
3. Panasonic NI-L70SRW Cordless Iron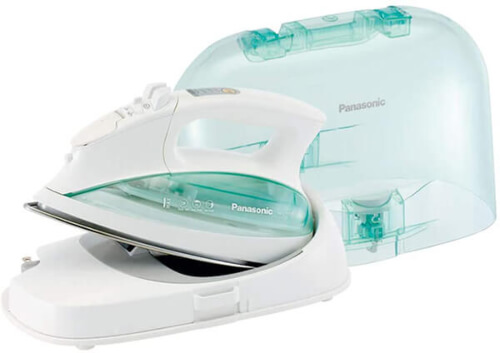 A cordless iron is a great choice if you need a portable iron. The 1500 watt Panasonic NI-L70SRW Cordless Iron is one of the cordless irons that's easy to bring anywhere and easy to store.
For added portability, it comes with a heat-resistant, see-through carrying case perfect if you travel frequently. Its power cord even retracts inside the charging base with just a touch of a button for quick and easy cleanup.
Cordless Steam and Dry Iron
Steam or dry iron your fabric without the hassle of a cord with this cordless iron. You can even produce powerful vertical steam that can remove wrinkles from hanging fabric with its vertical steam feature.
Don't forget to set the iron back on its base to maintain its temperature!
With the Panasonic NI-L70SRW, you can easily select and adjust the heat of your iron using its electronic temperature controls. Even its steam settings can be changed by just pushing a button.
What makes this cordless iron easier to use is its smartly curved, smooth stainless-steel soleplate. It heats up quickly and glides effortlessly even around buttons.
Even its 5.1 oz lightweight water tank is not a hassle to refill! It's durable and detachable allowing you to refill your tank without bringing the whole iron with you.
Here are a few other features that improve the function of the iron and keep it in top shape. An anti-calcium system is added to prevent the vents from clogging by reducing sediment build-up.
It also has an anti-drip system that keeps the water sealed inside the body of the iron to prevent it from dripping. An auto shut-off feature makes sure your iron turns off after being idle for 10 mins.
Pros and Cons of the Panasonic NI-L70SRW
Pros:
Auto shut-off feature
Anti-calcium system
Detachable 5.1 oz water tank
Electric temperature control and steam settings control
Curved stainless-steel soleplate
Vertical steam
Cordless iron
Heat-resistant, see-through carrying case
1500 watt
Cons:
Small water tank
Might need to be placed on the charging port especially if you're working for a long period of time
4. Black+Decker F67E Classic Steam Iron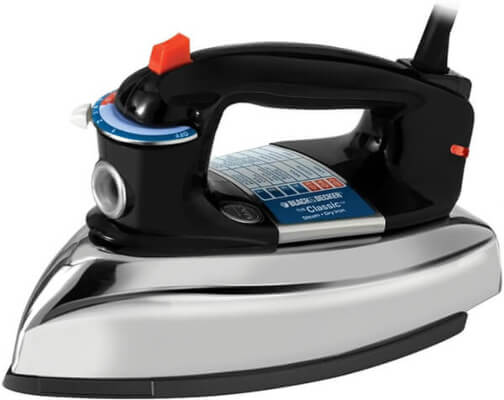 You'll get everything you need in this 1100 watts Black+Decker F67E Classic Steam Iron. Aside from the usual steam and dry iron settings, it also has an easy to use temperature dial that allows the quilter to select from 7 temperature settings.
It also has a fabric guide making it easier to get the perfect heat setting based on the fabric used.
Aluminum Soleplate with Grooves
Built to last, the aluminum soleplate of this iron has a non-stick finish that glides smoothly over any fabric. They even included grooves on the sides of the front portion of the soleplate to easily maneuver around buttons and small areas.
Anti-Drip System and Automatic Shutoff
Another great feature of this iron is its anti-drip system. It regulates the water temperature to prevent dripping which can ruin your fabric.
It also has an automatic shut-off feature that turns off your iron after 30 seconds when it's on its side or on the soleplate and left unattended.
On the other hand, it turns off after 8 minutes when left on its heel. A power indicator is also added to let you know it is plugged in.
Pros and Cons of the Black+Decker F67E
Pros:
Light power indicator
Automatic shutoff feature
Anti-drip system
Aluminum soleplate with grooves
1100 watts
7 temperature settings
Cons:

Has a dark casing making it hard to check the water level
Heavy 3 pounds without water
No spray mist option
5. Oliso Pro TG1600 Smart Iron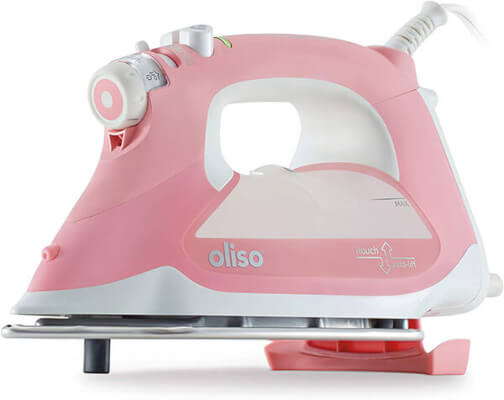 If safety while using your iron is your top priority, you'll surely love using the Oliso Pro TG1600 Smart Iron.
With its Itouch Technology, it lowers its scorch guards with a simple touch of your hard and lifts automatically when you're not ironing. As a result, it helps prevent ruining your burning and scorching your fabric.
Just like other irons, the Oliso Pro TG1600 also has an automatic shut off. It turns off automatically after 30 minutes of standing, or after 30 seconds if it's knocked over.
With this iron, you can work on your fabric in just a few seconds. This 1800 Watts Iron heats up in just a few seconds allowing you to finish ironing or pressing your fabrics in less time.
Its Tripleplay Xtremesteam gives you three steam options: continuous, horizontal burst, and vertical burst.
Add to that its three steam levels (low, medium, and high) that will allow you to penetrate through layers whether you're working vertically or horizontally.
Pro-press stainless-steel soleplate
Aside from its power, the stainless-steel soleplate also adds to the efficiency of this iron. It's built with thick chromium finish soleplate for increased durability, scratch resistance, and a smoother glide.
The extra thick soleplate retains heat effectively and has a detailer tip that gets in-between layers for perfectly flat seams!
Pros and Cons of the Oliso Pro TG1600
Pros:
12 feet cord length
360 pivot cord
12.7 ounce side-fill water tank allowing you to fill it while you're using the iron
1800 watts of power
Stainless-steel soleplate with detailer tip for seams
Horizontal and vertical steaming
Three steam options: continuous, horizontal burst, and vertical burst.
Auto shut off feature
Itouch technology that lowers scorch guard to prevent burns and scorching.
Cons:
Leaks after a year of use
Can have problems heating up
Does not last long
6. CHI Professional Steam Iron 13102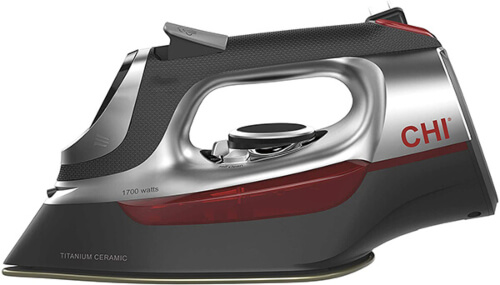 Do you think a stainless-steel soleplate is not enough for your needs? Then you have to try the 1700 Watts CHI Professional Steam Iron 13102!
Equipped with a titanium-infused ceramic soleplate, this durable iron heats up quickly lessening your work time and glides smoothly across fabrics. It also has 400 steam holes that will surely work well with stubborn wrinkles.
Easy to Control and Comfortable to Use
If you've been having trouble using your quilting iron, it might be time to buy a new one. This steam iron is known for its convenience and comfort.
With its textured grip, you'll be able to easily control the iron and hold it for a longer period of time. You won't even have to worry about it slipping from your hands.
Even the temperature of the iron is easy to control. All you have to do is choose your fabric using the illuminated control and the iron will automatically adjust its temperature.
Lastly, adjusting the steam function won't be a hassle because they are easily accessible on the handle of the iron. These two easy-to-access buttons allow you to spray or blast steam, and to adjust the steam settings.
Pros and Cons of the CHI Professional Steam Iron
Pros:
Retractable cord
Three-way auto shut off
1700 Watts
Titanium-infused ceramic soleplate
Textured grip
Easy-to-access buttons
Illuminated electronic temperature controls
Cons:
After being used for some time, steam generated is uneven
7. Panasonic NI-WL600 1500 W Cordless Steam Iron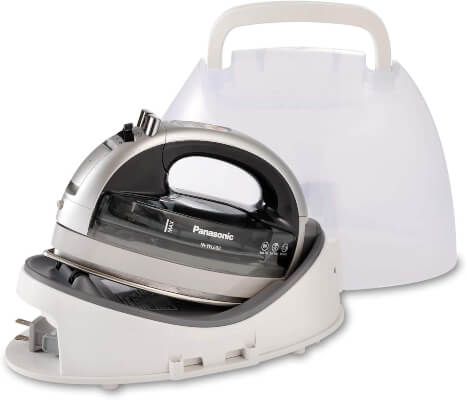 Tired of cords getting tangled while you're pressing your quilt? Untangling and adjusting your fabric to work around the cords can be a hassle, but you won't experience any of these with the Panasonic NI-WL600 1500 W Cordless Steam Iron.
Portable and Automatic Cord Reel
This cordless iron comes with a charging base where you can put the iron back whenever you're not using it to maintain the needed temperature. Along with the charging base, it also has a matching lightweight, heat-resistant carrying case that covers both the iron and the power base, perfect if you travel with it a lot.
For easy cleanup after using the iron, the cord of the charging base automatically retracts inside with just a touch of a button.
Double-pointed Soleplate and Steam Feature
Aside from its portability, quilters will surely love its double-pointed soleplate with 32 steam vents. With this stainless-steel, non-stick iron you can iron effortlessly in any direction.
For stubborn wrinkles, you can use its vertical steam feature if you're working on hanging fabrics. You can also use its spray mist feature if you need to remove wrinkles in specific areas.
For easy and quick adjusting of temperature, Panasonic included an easy-touch electronic system that allows you to set the perfect temperature for your fabric. It also allows you to adjust the steam level and even choose between steam or dry functions.
Since they care about the safety of their users, they also included an automatic shut-off feature that turns off the iron 10 minutes after it's left in the base.
Keeping your iron clean for longer use is important. This iron has an anti-calcium system that reduces sediment build-up and keeps the vents clean. It also has an anti-drip system that seals the water inside the iron so it won't ruin your fabric.
Pros and Cons of the Panasonic NI-WL600
Pros:
Cordless iron
Automatic cord reel
Double-pointed stainless-steel soleplate
Electronic temperature and steam controls
Anti-drip and anti-calcium system
Cons:
Small 4 oz water tank
Expensive
Since it's a small iron, it can be hard to iron larger items
Only has 32 vents
8. Rowenta DW6080 Steam Iron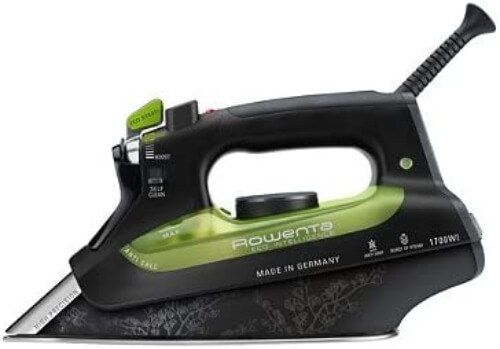 Go green and save as much as 25% energy with this eco-friendly Rowenta DW6080 Steam Iron. This 1700 watts stainless-steel soleplate has 400 micro steam holes that help remove wrinkles in fabrics.
With its 3De soleplate, the steam is concentrated below the soleplate to reduce steam loss and for optimal efficiency.
This iron works perfectly for both left-handed and right-handed crafters. You can control its 3 manual steam settings using its rotary trigger.
When working with thick fabrics, like quilts, you can choose the boost setting and have 180 grams/min of steam. If you want to save energy, use the eco setting.
To finish your quilt, choose the dry setting. A vertical steaming option is also available if you need to steam hanging fabrics.
Keep your iron in its top condition with its anti-calc system. It removes scaling and prevents buildup that can impact the efficiency of your iron. It also has an auto-off system to prevent burning your fabric, and your house too.
After 8 mins of inactivity when left on its heel, the iron will automatically turn off. However after it is tipped or left idle when it's on its side, it will turn off after 30 seconds.
Pros and Cons of the Rowenta DW6080 Steam Iron
Pros:
7.9 ft cord length
Works with tap water
10 oz water tank
Anti-drip
Comfortable handle
Cons:
Cannot handle delicate fabrics
A little heavier and larger than other irons
When using high output steam, you will have to refill the water tank frequently.
9. CHI (13106) Steam Iron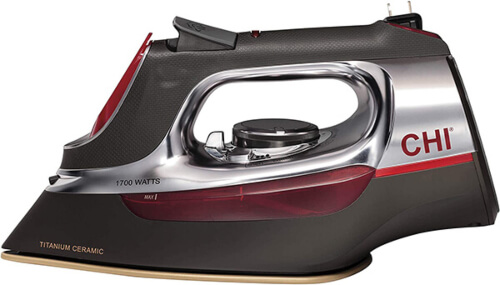 A quilting iron is a huge investment for crafters, that's why we all want our iron to last! That's why the best steam ironing for quilting is a heavy-duty, built-to-last steam iron like the CHI (13106) Steam Iron.
Made with premium materials, this iron with titanium-infused ceramic soleplate is ultra-strong and scratch-resistant. You won't have to worry about getting it repaired since it will not have much wear and tear for an extended period.
Powerful Steam for Effortless Ironing
Making sure your quilt is perfectly flat and lined up won't be a problem with this iron. It has over 400 steam holes and heats up quickly, you'll be able to work on a lot of fabric in less time.
You will not have to worry about burning your fabric because this iron can set the temperature based on the fabric you're ironing. All you have to do is move the dial to the type of fabric you're working on and it will automatically set the recommended temperature for it.
This iron is lightweight and has a comfortable grip so it won't easily tire you out. Plus, you won't have a hard time adjusting the iron from no steam to full power.
Pros and Cons of the CHI (13106) Steam Iron
Pros:
10 oz water tank
8ft Retractable cord
Textured grip for comfort
Lightweight
Set temperature based on fabric used
400 steam holes
Titanium-infused ceramic soleplate
Cons:
Need to apply more pressure to remove wrinkles
10. BLACK+DECKER Digital Advantage D2530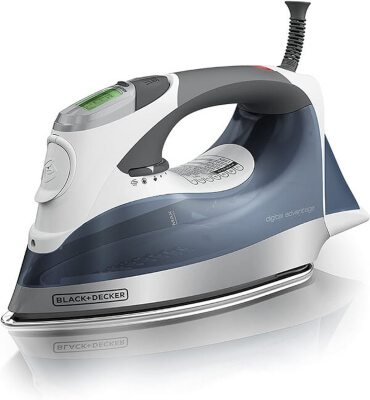 With the Black+Decker Digital Advantage D2530 Iron, you'll easily know when your iron is ready to use. Along with digital temperature control, it also flashes "READY" when the iron is preheated to the selected temperature.
Since it has digital controls, you can easily control the heat based on the fabric type you're working on. It also has independent steam and temperature controls you can customize to achieve the best result.
This 1500 watts iron heats up quickly and conserves heat. Its heavy-duty, stainless-steel soleplate glides smoothly across any fabric and doesn't leak.
Do you keep on forgetting to clean your iron? This iron will remind you when it's time to clean it!
Along with its auto-clean system that flushes out hard water and mineral deposits, it also has an indicator in its LCD screen that reminds you that the iron needs to be cleaned.
Just like other irons, it also has a safety feature where it shuts off automatically after 8 minutes when left idle on its heel. It also automatically turns off after 30 seconds when left unattended on its soleplate or on its side.
Pros and Cons of the Black+Decker Digital Advantage D2530
Pros:
8ft cord length
3.9 pounds
12 oz water tank that uses tap water
Comfortable grip
Heavy-duty Stainless-steel soleplate
Auto shut off
1500 watts
Digital temperature control with Ready indicator
Cons:
Lower wattage compared to other irons
Water leaks
Uses of Steam Irons in Quilting

Good quilting iron is an essential tool for quilters. In fact, almost every step in quilting requires the use of a quilting iron.
Did you know that instead of sliding the iron over the fabric, it is advised to press it? Unlike ironing, pressing doesn't stretch or distort the fabric. Some even prefer to use a high steam setting and hover the iron above the fabric to easily smoothen out wrinkles.
Below are some quilting processes that require the use of a quilting iron:
Pressing the fabric before cutting
One way to ensure accuracy when it comes to cutting the fabric is by removing all the creases and wrinkles in the fabric. A single wrinkle or crease can have a domino effect in your quilt.
Before cutting the fabric, quilters have to make sure it has no wrinkles or creases. A quilting iron is pressed repeatedly on the fabric to ensure that the fabric lays flat and is creaseless.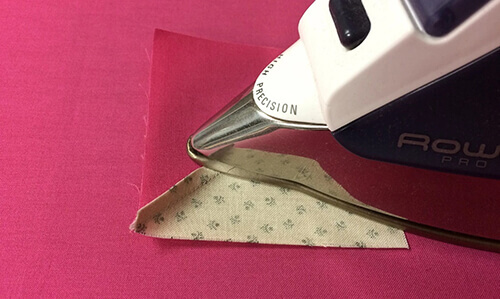 Pressing Seam stitches
A quilting iron is also used to set the seam stitches to the fabric. Pressing seam stitches helps smooth out uneven stitches. As a result, the seam of the fabric is flattened too, making it easier to properly press the seam allowances.
Pressing seam allowances to get the most from your blocks of fabric
Aside from error in cutting, improper pressing of seam allowances can also affect the size of your quilting blocks. As a result, your finished blocks can be smaller than it should be.
To ensure that you won't lose even the smallest amount of fabric, it's important to know the proper ways of pressing seam allowances. Moreover, pressing seam allowances also helps reduce the unnecessary bulk making the quilt look smoother and flatter.
Pressing quilt blocks to make sure designs and patterns align correctly before joining
Imagine finishing your quilt only to realize your designs do not line up perfectly! One way to make sure this nightmare doesn't happen is by assembling your quilting blocks and pressing them.
By pressing your blocks before joining them, you'll be able to adjust your quilting blocks to make sure they fit exactly as they should.
Press completed quilt to remove any wrinkles
As a finishing touch, remove the remaining creases from your completed quilt. Pressing the finished quilt will make it flatter, smoother, and more presentable.
Features to Look for in the Best Iron for Quilting
Choosing the best steam iron for quilting can be tough, that's why we're here to guide you! To make it easier, we listed a few important features you should look for when buying the best quilting iron.
When buying a quilting iron, look for a model that has at least 1700 watts. A quilting iron with a higher wattage heats up quickly. In effect, it lessens waiting time for it to get hot giving you more time to do other quilting tasks.
Do you have a specific space or studio where you do all your quilting work? Another feature to consider when buying a quilting iron is the length of the cord.
If you have a socket near your work area, you probably won't need an iron that has a long cord. But if you're planning to use your iron in different areas of the room, an iron with a long cord will be beneficial.
There are also cordless quilting irons that are great if you need mobility and if you travel frequently.
Some cordless irons have an added feature that quilters absolutely love, tapered tips on both ends! These tapered tips make working on tight corners easier.
Heat Settings and Steam Adjustments
It is a must for modern quilting irons to be able to control the temperature digitally. For convenience and accuracy. In fact, in some models, the temperature can be adjusted according to the fabric type you're using.
Another great feature to have in your quilting iron is the option to adjust the steam it produces. A continuous flow of steam will work great for fabric that is not too wrinkled. On the other hand, it would be great if the iron can also produce a burst of steam for more wrinkled fabrics.
In addition to that, some irons also include a feature that will let you know when the steamer is hot enough for pressing. A great feature that can definitely save you time and energy!
Auto Shut-off
Don't forget to check if the quilting iron you're eyeing has an auto shut-off feature. This feature turns the device off when it is left unused for a set number of minutes.
It helps prevent the iron from overheating, burning your fabric, and also helps save energy.
Steam Power
Thinking of buying a steam iron for quilting? It's important to check the iron's steam power before finally settling for it. The efficiency of your quilting iron depends on its steam power.
The more steam it can produce, the lesser time you'll spend ironing the fabric. Moreover, a powerful steam output can penetrate through layers allowing you to skip ironing the other side.
Water tank
The water tank holds the water that will be used to generate steam. So if you're working with a lot of fabric, it's better if you have a water tank with a larger water capacity so you won't have to refill frequently.
Don't forget to check the manual of your iron to know what type of water you'll need. Some irons have built-in filters so tap water is safe to use, while others require distilled water.
Weight
Buying an iron that's too heavy can tire your arm easily. That's why it's important to check the weight of the iron you're planning to buy.
Make sure it's not too heavy that it will apply too much pressure on the fabric, but also heavy enough so you won't exert too much effort when pressing the fabric.
Portability
If you're planning to bring your quilting iron whenever you travel, there are small quilting irons that will surely fit in your suitcase. Aside from being lightweight, these irons also have foldable handles making them easy to tuck inside your bag.
Soleplates
Another important factor to consider when buying a quilting iron is its soleplate. Choose a soleplate that can distribute steam evenly and glide through the fabric effortlessly.
There are different soleplates used in different irons:
Stainless Steel Soleplate
Since it's made from metal, the heat in a stainless steel soleplate iron is easily spread throughout the iron. It won't get damaged easily too, so you're sure it will last for a long time.
However, there's always a possibility of fabric sticking to it.
Ceramic Soleplate
Buying an iron with a ceramic soleplate will remove your worries about ruining your nice clothes. Even when the temperature setting is too high, clothes won't get stuck to the iron if its soleplate is ceramic.
Titanium Sole Plate
If you're looking for an iron that can resist rust and does not get damaged easily, the titanium soleplate is for you. Be careful though, it heats up so fast it has the tendency to ruin soft garments.
Durability
Finding the quilting iron that will fit your needs, can be hard. That's why when you find the best steam iron for quilting, you have to make sure it can be used for a long time. Good thing irons nowadays are built to last and can tolerate a fall or repeated use.
How To Maintain your Steam Iron

A quilting iron is a necessary investment a quilter has to make. Investing in the best steam iron for quilting improves efficiency, accuracy, and can also be cheaper in the long run.
One way of improving the durability of your iron is by making sure it's clean. We listed a few tips to help you maintain your quilting iron in its top shape.
Unplug your steam iron after use
When not in use, always keep your iron unplugged. Also, make sure to store it in a place where sunlight doesn't reach it.
Keep the steam iron standing up when not in use
Keep your iron in an upright position whenever it's not in use. After unplugging it, keep it in a standing upright position until it's cool enough to be kept in a suitable place.
Use the recommended water for your steam iron

If you're using a steam iron, it is a must to use the recommended water when filling your water tank. Some models require the use of distilled water, while other irons can function perfectly with just tap water.
However, newer steam irons now have their own water filters allowing you to use tap water rather than distilled water. They also have a self-cleaning function that prevents the buildup of deposits
Always check the manual of your quilting iron to know the type of water you need to use.
Always keep your steam iron clean

After using the iron, it is a good practice to always switch it off. As soon as the temperature lowers back to normal, you can wipe the iron with a damp cloth and use a dry cloth to remove the water droplets. Try to remove as much dirt from the soleplate.
Another tip if you want to clean your iron further, you can turn on the iron and rub the surface over a towel until all the buildup is removed. Turn the iron off again, and wait for it to cool down before wiping it with a clean cloth.
Make sure to use the right amount of water
When filling the water tank, make sure you won't go beyond the iron's maximum capacity. In most models, there's usually a visible line in the water tank so you'll easily know when you have enough water.
A transparent water tank also helps you monitor your water level so you can easily see if you need to refill your water.
Frequently Asked Quilting Iron Questions
Why do I need a quilting iron?
A quilting iron is needed to make sure everything is accurate, from the cutting of the fabric to the lining up of the designs, and up to joining the quilting blocks.
It also ensures that the quilt is perfectly flat and presentable when it is completed.
Are steam irons better for quilting?
Some quilters prefer steam iron over the traditional iron because they are more efficient to use. The steam helps remove wrinkles and creases faster and with less effort.
What's the difference between a steam iron and normal iron?
Unlike the traditional iron, a steam iron generates steam using the water from its water tank. The steam then softens the fabric making it easier to remove the wrinkles and creases.
Can I use a steam iron as a normal iron?
Yes, you can set the iron to not use the steam and use it as a normal iron.
What type of water should I use for steam iron?
To prevent buildup, some quilting irons recommend using distilled water. But modern quilting irons now have built-in filters so you can use tap water instead.
To be safe, it is best to check the manual of your iron to know which water to use.
How do you know if the steam is hot enough?
Some quilting iron models have an additional feature that lets you know if the steam is hot enough and is ready to be used.
Should I empty the water from my iron?
It is recommended to remove the water in your steam quilting iron before storing it. This ensures that no excess water will leak and damage the internal parts of the iron.
How do I clean the soleplate of my iron?
To clean the soleplate of your iron, wipe it with a damp cloth when its temperature is back to normal. Then, dry the whole iron with a dry cloth. You can also turn on the iron and rub it over a towel to remove buildup. Wait for it to cool down before wiping it with a dry cloth again.
Wrapping Up Our Reviews of the Best Quilting Irons for 2023
Have you decided which quilting iron to buy? Every quilting iron has its own pros and cons. To make sure you'll be getting the best quilting iron, check its power, durability, design, adjustment settings, and its safety features.
Knowing how to properly use the iron and how to take care of it can increase the lifespan of your quilting iron. Always check its manual to be sure you're using it correctly.
If you're looking for quilting patterns to do, feel free to check some of these quilting patterns we curated. Also, check out the Best Quilting Rulers. Let us know how it turned out by posting your work on our Facebook Page!
Which of these irons in the list is the best quilting iron for you?