Springtime is my favorite season when it comes to craft projects. With inspiration from Easter, flowers, butterflies, and rainbows, there are so many fun ideas when it comes to spring crafting with the kids. I'm all about the low-mess kind of crafts that don't call for a ton of supplies, so to celebrate the start of spring, here are butterfly crafts we can start making today!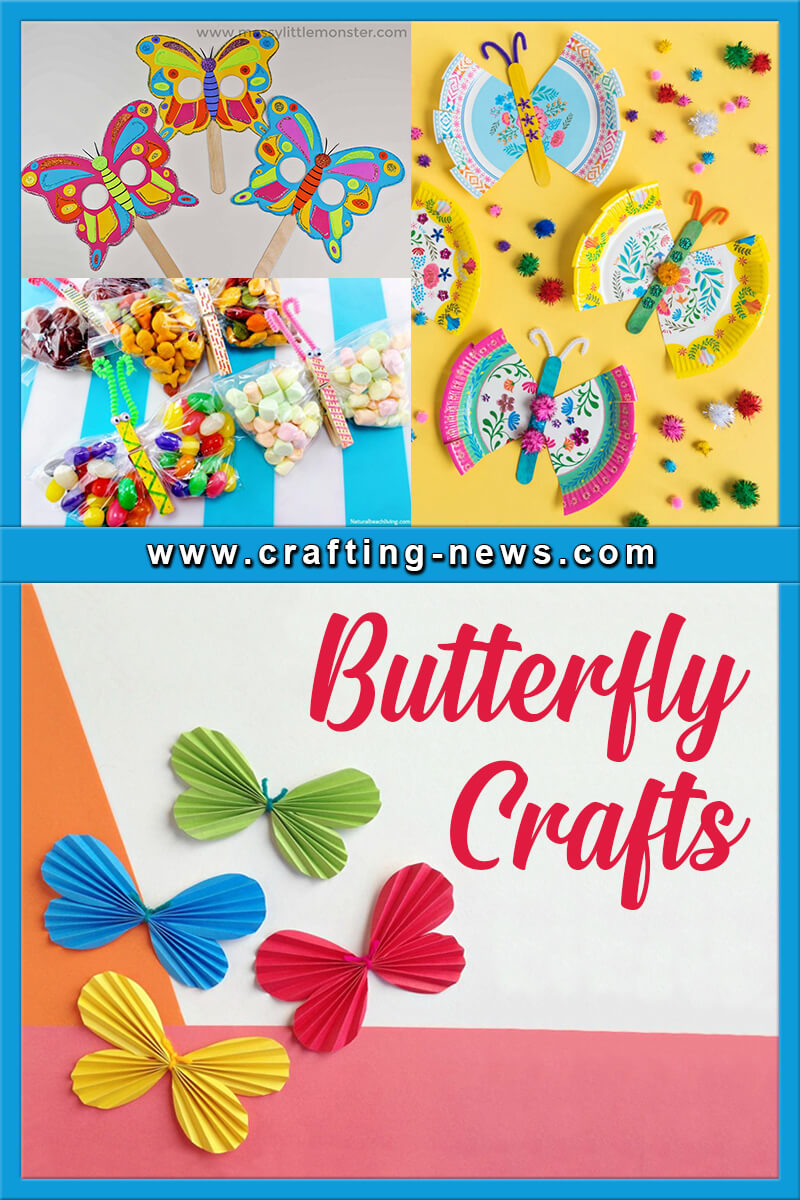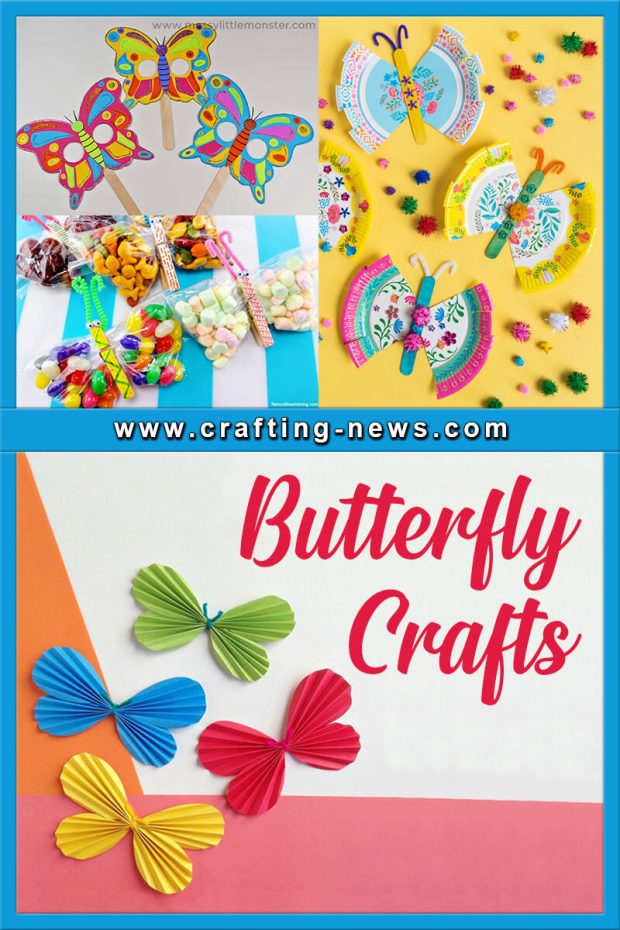 50 Butterfly Craft Ideas
There are tens of thousands of butterfly species; each has its unique pattern and color combinations to its wings — which means the possibilities are endless when you make your butterflies! Here to inspire you are some of the best butterfly crafts based on this divine and colorful little insect. Enough to keep you and your kids busy with your crating for some time.

1. Flapping Butterfly Craft by One Little Project
This butterfly craft is so fun and it's super easy to make! Kids of all ages will love watching the paper butterfly flap its wings just like a real butterfly. The mechanics of the moving wings also add a fun lesson in engineering, making it a great STEAM project.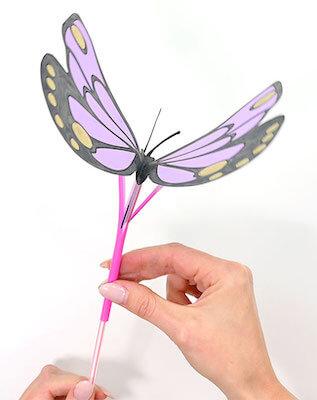 Follow the tutorial here

2. Butterfly Paper Heart Craft by Hello Wonderful
This fun Butterfly Paper Heart Craft is certain to be a hit in your house! It's a great way to have early learners work on their hand-eye coordination all while creating their very own beautiful butterfly as well!

Add to the printable with a little glue and folded paper hearts to easily make your own beautiful butterfly – complete with colorful wings that flutter in the breeze! A cute spring or summer art project for kids that also practices those fine motor skills.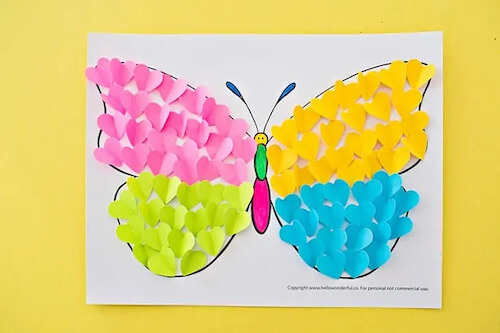 Follow the tutorial here

3. Butterfly Mask Craft by Messy Little Monster
Use this free template to make beautiful, vivid Butterfly Masks. If you're throwing a butterfly party, these masks would be fantastic for a party craft or as party favours if you make them ahead of time.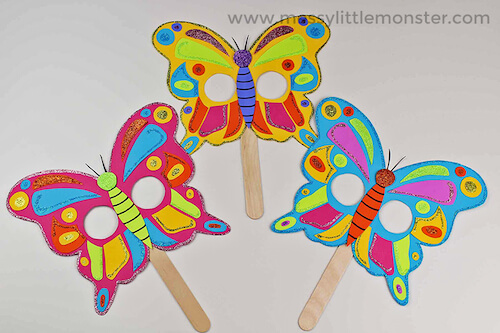 Follow the tutorial here

4. Melted Crayon Butterflies by Barley & Birch
Make your own colorful kaleidoscope (the actual name for a group of butterflies!) from melted crayons. Armed with a fistful of scrap fabric and old crayon bits, you set to work cutting simple wing shapes and picking out color combinations for our flutter of handmade butterflies.

If you've never designed your own kind of Monarch, Painted Lady, Viceroy, or Swallowtail, you just have to try this process – it's perfectly suited to butterfly-making! It's also a fabulous way to recycle broken crayons and old tees or canvas totes.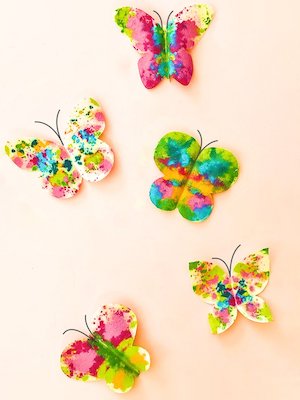 Follow the tutorial here

5. Paper Plate Butterfly Kids Craft by Designed Improvised
Any patterned paper plate would work great for this craft. You can get creative with the mix of embellishments such as pom-poms, adhesive jewels or stickers. You will also use colored craft sticks for the butterfly body but you could always decorate regular craft sticks with paint or markers.

It's a simple kids craft that is great for all ages, and could make a cute Mother's Day gift too. You could add magnets on the back, or insert one or two into a flower bouquet! They would even make pretty present toppers. Or what about a wall of these in a child's bedroom? The options are endless!
Follow the tutorial here

6. Pipe Cleaner Butterfly Ring by Be A Fun Mum
Pipe cleaners are a great craft material for little kids to mould and bend into shape. My girls love these pipe cleaner butterfly rings, and best of all they are very quick to make.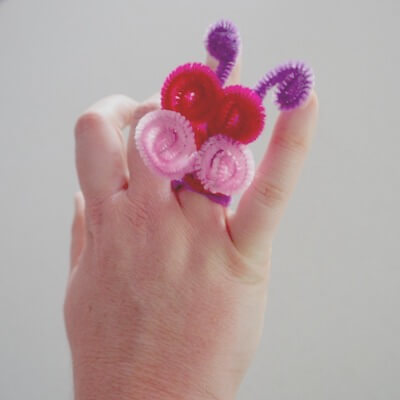 Follow the tutorial here

7. Sponge Butterfly Craft by The Craft Train
Here is an easy sponge butterfly craft you can make from standard kitchen sponges plus a few other materials. Sponge butterflies are a fun Spring craft idea for kids, and the finished butterflies make great fridge magnets. They'd make a cute handmade gift idea for mothers day too!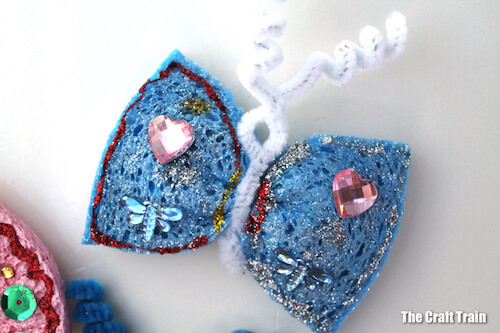 Follow the tutorial here

8. Handprint Butterfly Craft by Our Kid Things
This Cardboard Roll Handprint Butterfly Craft is super colorful, super sweet, a wonderful keepsake made with little hands, and such a lovely craft to welcome spring! One of the best things about this craft is that you can make it any color combination. It can be as bright and vivid as the blossoms of spring itself!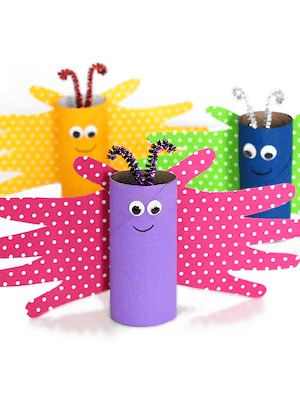 Follow the tutorial here

9. Butterfly Keepsake Craft by Messy Little Monster
Here's another beautiful keepsake! It is so much easier to make this clay craft than it looks! With this handmade keepsake or homemade gift, you can treasure a baby or toddlers little footprints forever. Older kids could even design and make their own clay dish!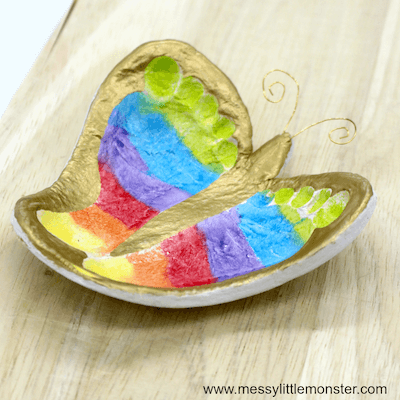 Follow the tutorial here

10. Easy No Sew Felt Butterfly Craft by A Cultivated Nest
You'll find so many uses for these felt butterflies! They're perfect for magnets, hair clips, or for adding decorative touches to wreaths and frames. Let your imagination fly high with this felt butterflies.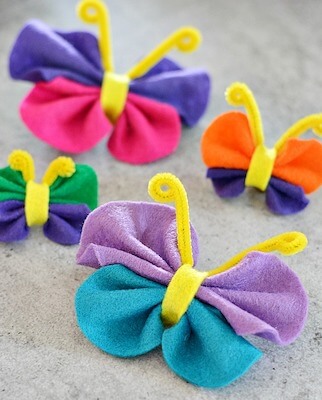 Follow the tutorial here

11. Coffee Filter Butterfly Craft by The Simple Parent
When it comes to getting crafty with my kids, one of the things I try to find are crafts that both of them can make with me. The great thing about these coffee filter butterflies with clothespins is that kids of all ages (adults included) can have fun making them together!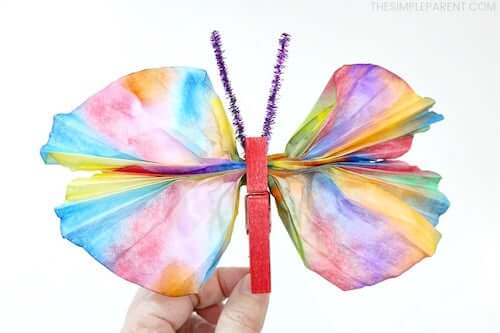 Follow the tutorial here

12. Tissue Paper Butterfly Craft by Glue Sticks & Gumdrops
Colorful crafts make me and my kid smile, and this fun tissue paper butterfly craft certainly fits the bill. You don't need anything fancy to make these — I bet you have everything on hand. Grab some tissue paper, yarn or string, scissors, glue, and a marker, and get to work on this cute craft!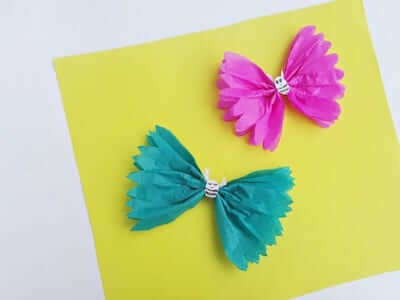 Follow the tutorial here

13. Butterfly Snack Bags by Natural Beach Living
You are about to see the cutest and easiest butterfly crafts kids make for snack time. This treat bag is the perfect mix of purposeful and creative. Whether you are in the middle of a butterfly lesson, or you are looking for a good spring activity, this is it. I think every child loves making crafts and eating snacks. This puts them both together for a cute butterfly snack bag.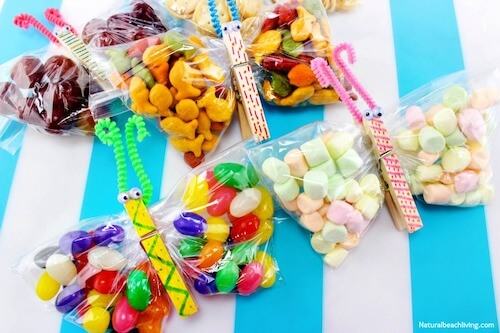 Follow the tutorial here

14. Egg Carton Butterfly Craft by Crafty Morning
Make a egg carton butterfly craft for spring! This is a fun painting technique that looks like tie dye. A great recycled art project!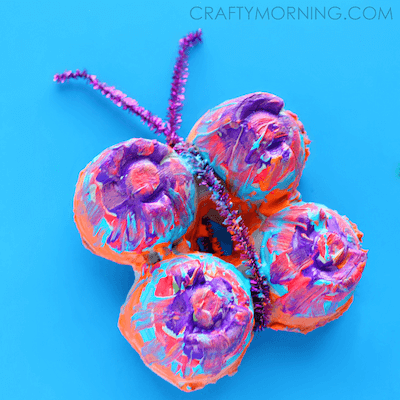 Follow the tutorial here

15. Butterfly Card Craft by I Heart Crafty Things
Kids will have a blast creating this simple butterfly card for Mother's Day, Valentine's Day or any special occasions. The art technique of paint smashing is a fun addition for kids and it adds colorful and beautiful details to the butterfly wings of this easy DIY card.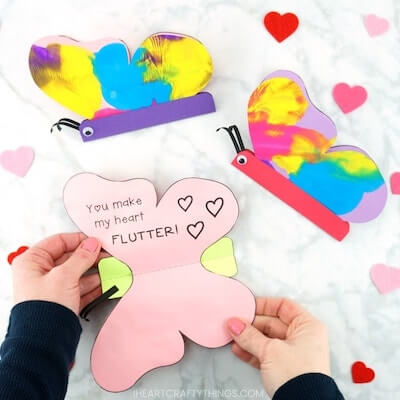 Follow the tutorial here

16. Giant Origami Painted Butterflies by Pink Stripey Socks
This is two craft projects in one! Kids with an interest in origami will love learning how to make a butterfly, and for the younger kiddos who may have difficulty with folding, painting the wings will be lots of fun.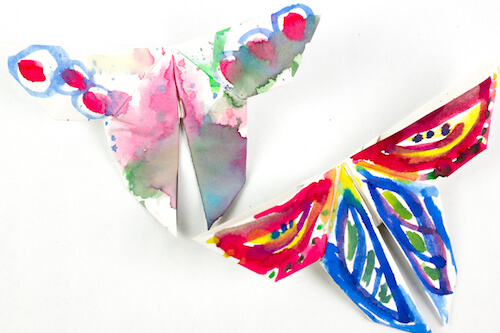 Follow the tutorial here

17. Folded Paper Butterfly Craft by Buggy And Buddy
This folded paper butterfly craft is a really fun one to make! You'll only need a few common craft supplies to create these colorful butterflies for spring or summer. They look so bright and cheery hanging up around your house or classroom!

I love how this craft allows for all different combinations of patterned scrapbooking paper, allowing for unlimited types of butterflies. You could even use regular construction paper or paper the kids have watercolored!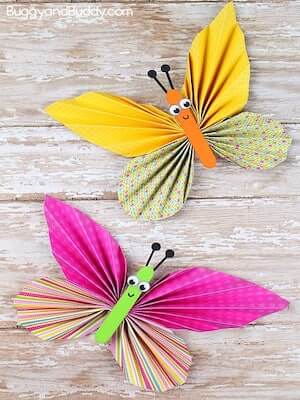 Follow the tutorial here

18. Cupcake Liner Butterfly Craft by Frugal Fun For Boys And Girls
Here's an adorable butterfly craft that kids will love! Use cupcake liners and a few other simple craft supplies to make bright and colorful butterflies.

You can even add magnets to the back of your butterflies and stick them on the fridge. I would recommend this craft for ages 8 and up, but younger kids will also enjoy this with help.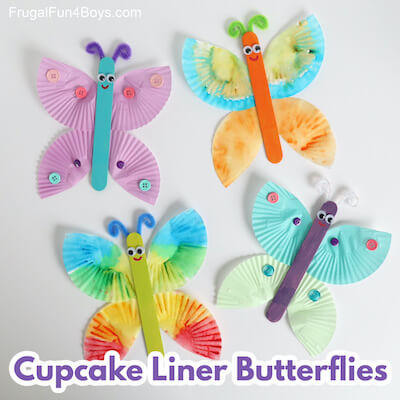 Follow the tutorial here

19. Bubble Wrap Butterflies by The Craft At Home Family
Looking for a fun new way to paint? Try using bubble wrap to make these cute butterfly prints with your kids! The included template makes this project super easy to set up, and you probably already have all the materials you need at home.

Plus, the butterfly stamps can be cleaned and reused, so you can make them once and use them as many times as you like!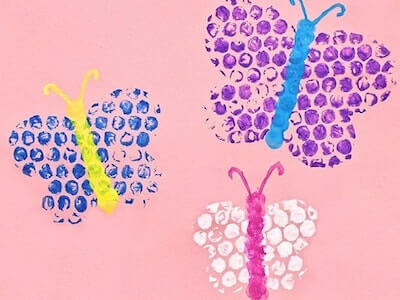 Follow the tutorial here

20. Pasta Butterfly Craft by Living Life & Learning
This Pasta Butterfly Craft is great for early learners and fine motor skills. It's a simple art activity that highlights creativity and shows how simple it can be to create fun craft projects, right at home.

We've actually done this fun pasta craft a lot of times in our house. The kids find it pretty adorable that the pasta really does look like a butterfly – as do I!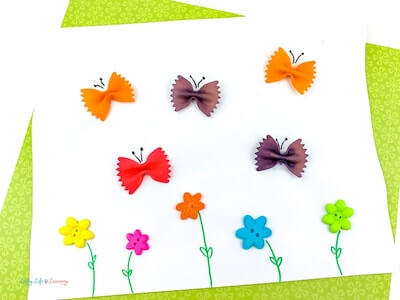 Follow the tutorial here

21. Doily Butterfly Craft by Toddler At Play
This Doily Butterfly Craft uses, you've guess it, doilies, with an addition of a few other basic craft supplies. I love this craft idea. It's super fun using water colors on a doily because the paint beautifully expands, blends and mixes with other paint colors, creating gorgeous wings for the festive butterflies. Kids will love this step for sure!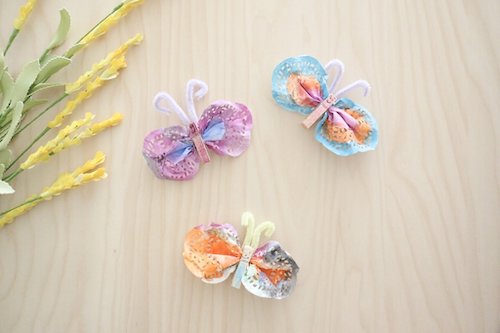 Follow the tutorial here

22. Crepe Paper Butterflies by Oh Happy Day
What could be prettier than brightly colored butterflies fluttering around your cake? The trick to these easy-to-make butterflies is in the shape of the paper – basically a diamond on top of a square.

Usually used to make gorgeous paper flowers, the natural grains of the crepe paper lend themselves perfectly to the creation of these butterflies.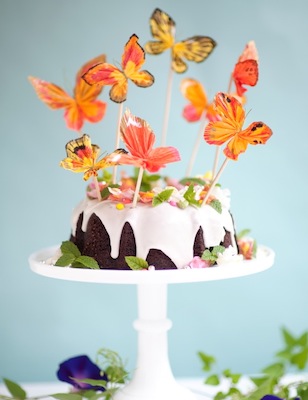 Follow the tutorial here

23. Yarn Butterfly Craft by The Craft Train
These woven butterflies are made from lolly sticks and scraps of yarn. I think they are just so clever!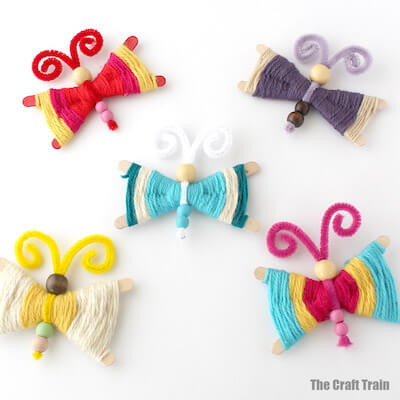 Follow the tutorial here

24. Papercut Butterfly Wall Art by Lia Griffith
This beautiful papercut butterfly wall art is sure to be a conversation piece in your home. I love the way these butterflies appear as though they will flutter off the wall at any moment. Besides, what could be happier than a bunch of butterflies in flight?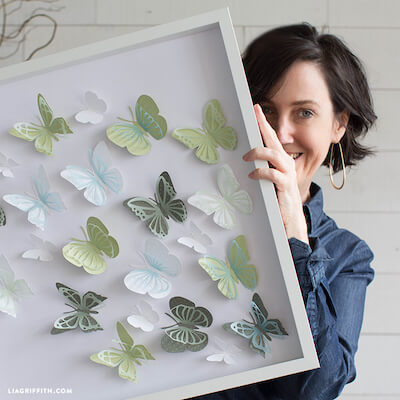 Follow the tutorial here

25. Bookmark Origami Easy Butterfly Craft by Red Ted Art
I enjoy a bit of origami now and again so these look fun to make. Start off with the correct paper size and then no cutting or decorating is required to make this gorgeous Paper Butterfly Bookmark!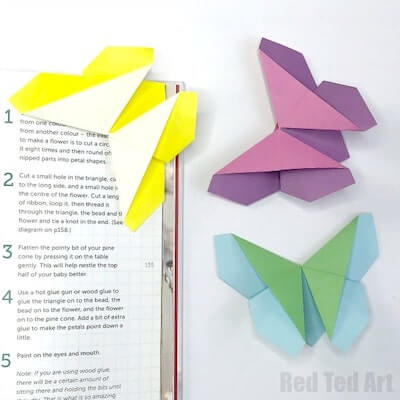 Follow the tutorial here

26. Easy Preschool Butterfly Craft by Arty Crafty Kids
When it comes to simple preschool crafts, the humble toilet roll often takes center stage – who doesn't have the odd paper roll to hand? This Easy Preschool Butterfly Craft is perfect for younger children. They'll love designing their butterflies. Applying colour, creating patterns, sticking and playing with their creations.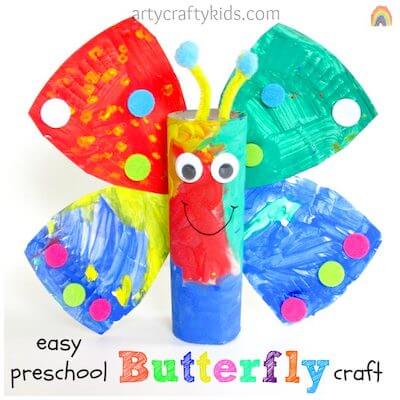 Follow the tutorial here

27. Butterfly Life Cycle Craft by The Best Ideas For Kids
Learning about the butterfly life cycle is a fun educational activity for kids! Kids will love putting together this simple butterfly life cycle craft. And the best part is that you can use the free printable template included in this tutorial to make it!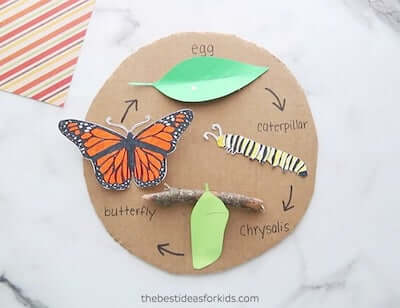 Follow the tutorial here

28. Drinking Straw Butterflies by Krokotak
Get your tiny toddlers to thread some drinking straws for fine motor practice, then surprise them by turning them into a bunch of butterflies!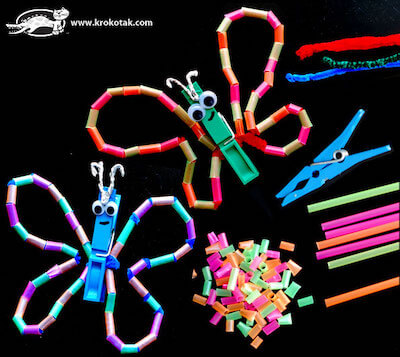 Follow the tutorial here

29. Mosaic Monarch Butterfly Craft by Our Kid Things
There's nothing better than a bright and beautiful butterfly craft for spring. This Mosaic Monarch Butterfly Craft is definitely bright, dramatic, and truly gorgeous, with crisp colors made ever more vibrant against a black paper base. It's also easy for even the littlest hands.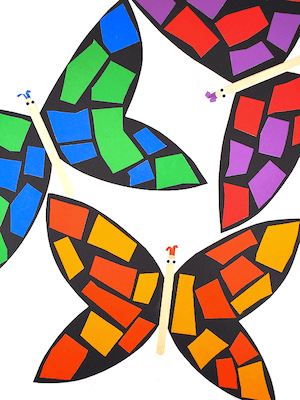 Follow the tutorial here

30. Beaded Pipe Cleaner Butterflies by One Little Project
These beaded pipe cleaner butterflies are so pretty and so sparkly, and best of all, they're really easy to make! I love how you can make this a color matching activity or work on patterns.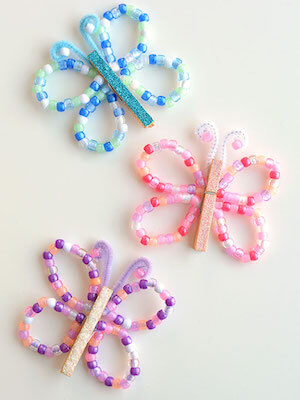 Follow the tutorial here

31. Paper Plate Fluttering Butterfly Craft by I Heart Crafty Things
Watch as the butterfly flies back and forth over the pretty flowers. It's mesmerizing! This Paper Plate Fluttering Butterfly Craft is a fun, interactive project for spring and summer.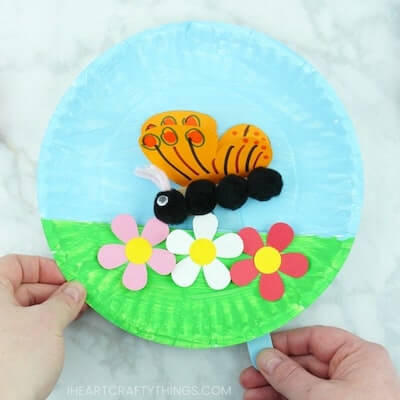 Follow the tutorial here

32. Crystal Butterfly Craft by Fantastic Fun And Learning
My kids love crystals, and I can't blame them! What's not to love about something so colorful and sparkly? This quick tutorial will show you how to make your own crystal butterfly craft, but you can easily switch it up and make any design your kids choose.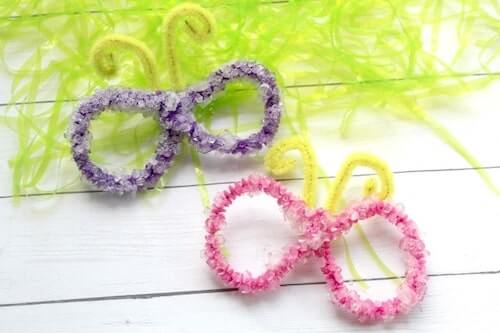 Follow the tutorial here

33. Easy Spring Butterfly Suncatcher Craft by Simple Mom Project
Dats like today remind me of just how much I love the summer weather! This suncacther craft would be perfect to make in those spring and summer months when you're looking for a project to entertain kids with. Once they're done, they can hang it up on the window and watch it change colors throughout the day!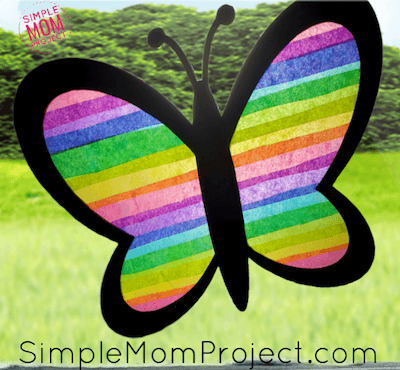 Follow the tutorial here

34. Butterfly Treats by My Home Based Life
I love a great DIY for kids that they can take to school and share with classmates. This butterfly treats craft is the way to go for simplicity and kids approved fun. This is a frugal option for a classroom valentine your kids can make. This craft takes mere minutes to make and my kids loved putting them together to share at school.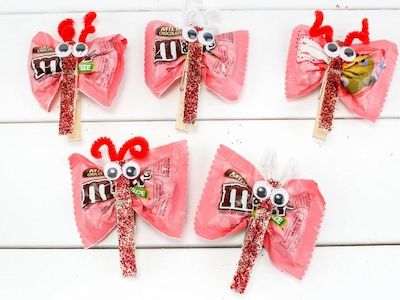 Follow the tutorial here

35. Chunky Rainbow Butterfly Craft by the Inspiration Edit
I love rainbows and I love butterflies so this is the perfect bright and colorful craft to try out. You can use paper eyes or googly eyes — the choice is yours.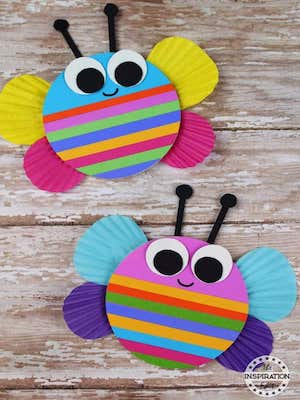 Follow the tutorial here

36. Popsicle Stick Butterfly Craft by Growing Up Gabel
Turn popsicle sticks into a cute butterfly to use as a magnet or decoration. They are quick and easy enough for toddlers and preschoolers but older kids love them, too! Add glitter, glitter glue, sequins, or other embellishments to make each butterfly unique.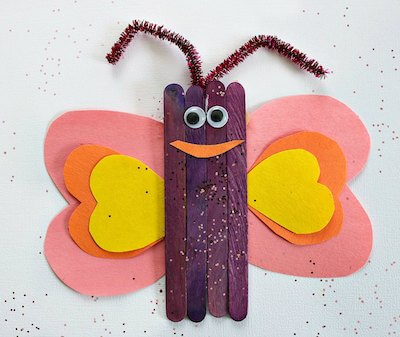 Follow the tutorial here

37. Easy Aluminum Foil Butterfly Craft by I Heart Arts N Crafts
Create these shiny and bright aluminum foil butterflies with this super easy craft that includes very few materials. They would look great hung up as a mobile or made as a magnet for the fridge!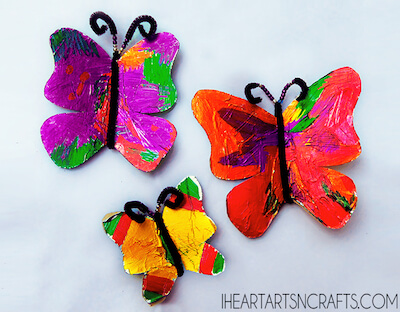 Follow the tutorial here

38. Puffy Tissue Paper Butterfly Craft by Crafts By Amanda
This butterfly craft uses tissue paper or crepe paper and looks so pretty when it's all done! It takes a little patience, but could even be done in stages if you are crafting with younger kids.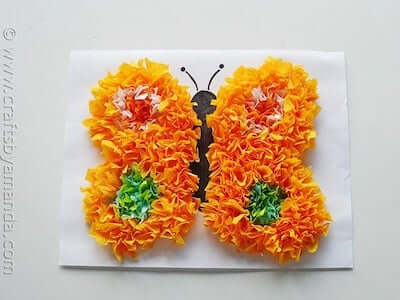 Follow the tutorial here

39. 3D Paper Butterflies by Crafty Marie
These beautiful paper butterfly decorations and embellishments make for a wonderful spring craft project for both adults and older children to make.

The completed designs can be used as pretty party decorations and also as stunning and professional looking embellishments for your handmade cards, scrapbooks, wall art and more.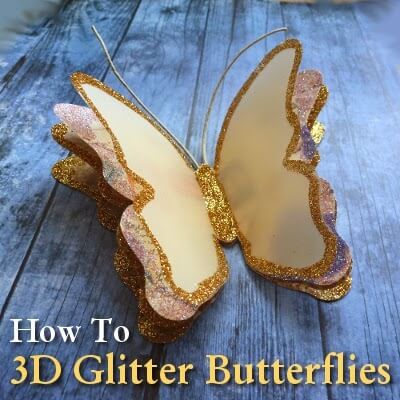 Follow the tutorial here

40. Quilled Paper Butterflies by Honey's Quilling
Quilling is a beautiful and traditional craft that is really coming back into vogue — and you can see why with these stunning earring designs. This is a fab tutorial which shows you step by step how to make these little darlings and then shows examples of them used as earrings or really sweet hair clips.
Follow the tutorial here

41. Milk Jug Butterflies by Alpha Mom
Who would have thought of making these beautiful, winged creatures from milk jugs! This wonderful tutorial takes you through turning milk jug plastic into something very special. This is a great idea for upcycling those empty bottles into something that looks good for your home.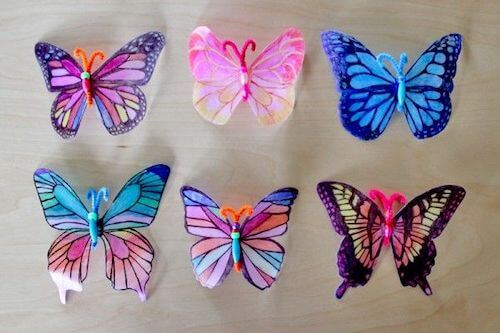 Follow the tutorial here

42. Autumn Leaf Butterflies by One Little Project
These autumn leaf butterflies are so cool and are completely inspired by nature! Nature really provides the bulk of what you'll need to make this craft! Go on a little walk around your block and you'll be surprised at how much you can find when you're on a mission!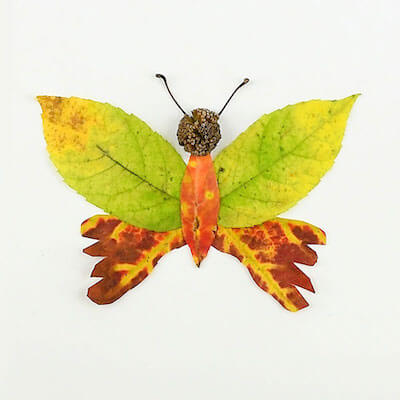 Follow the tutorial here

43. Cardboard Butterfly Wings by Fun At Home With Kids
Cardboard or cardboard boxes are so versatile to craft with — literally your imagination is the limit. Such as this fantastic DIY costume — cardboard butterfly wings! Seriously, how adorable are they? So colorful, so bright. Simply perfect.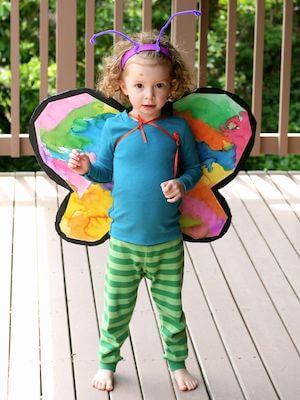 Follow the tutorial here

44. Rainbow Butterfly Cork Crafts by Red Ted Art
These little cork bugs or butterfly corks are a great way to "use up" some kids art, or you can make them using brightly coloured paper and make a set of Rainbow Butterflies. Either way this cork craft, makes for a great Spring or Summer Craft with the kids – make a whole set and have lots of fun!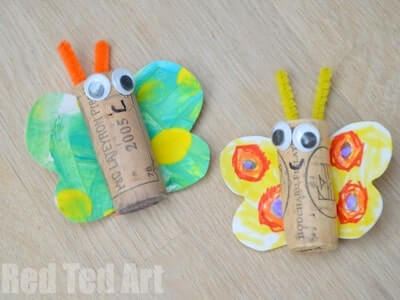 Follow the tutorial here

45. Colorful Paper Butterfly Puppet Craft by I Heart Crafty Things
Kids will have so much fun playing with this paper butterfly puppet craft. After creating the butterfly with a mixture of different colors of paper and circles, kids hold on to the end of the straw, move it up and down and watch as their butterflies flutter around in the air.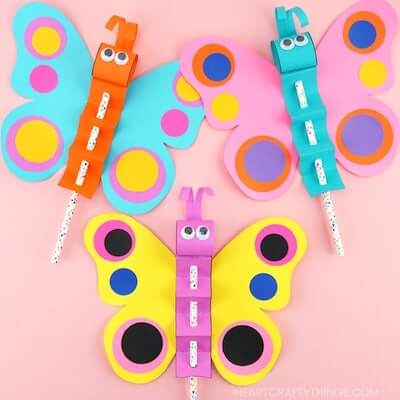 Follow the tutorial here

46. Felt Origami Butterfly Hair Clips by Cutesy Crafts
Here's another adorable butterfly craft you can make out of felt. These are so fun because you make more of a 3-D shape by folding the butterfly just like you would with paper for origami. Once you get the first one down, they are so easy to make. Older kids could even try their hand at them, as well.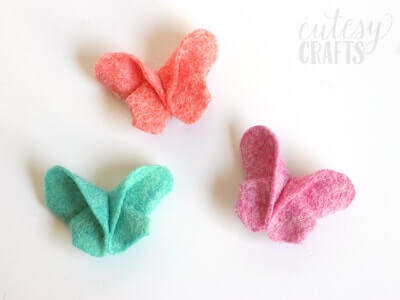 Follow the tutorial here

47. Transforming Paper Butterfly Craft by Hello Wonderful
Turn cute painted caterpillars into pretty butterflies with this fun symmetry art project. Teach your kids about the beautiful transformation that happens when caterpillars turn into butterflies with this fun art project. Kids will love painting symmetrical patterns on the caterpillar bodies that turn into colorful fluttering wings.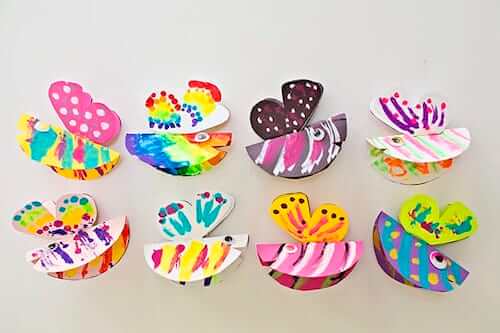 Follow the tutorial here

48. Paper Heart Butterfly Craft by Buggy And Buddy
Make an easy heart butterfly craft using just strips of paper! This paper craft for kids is perfect for Valentine's Day, spring, or a unit on butterflies. Just print out the free template, and you're ready to get creating!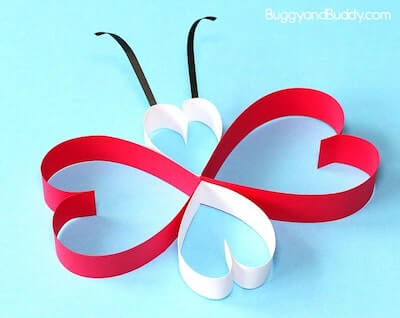 Follow the tutorial here

49. Butterfly Paper Craft by Messy Little Monster
Make butterflies in all sorts of colors to decorate for spring or summer. This butterfly papaer craft comes with printable templates, and you can use whatever color of paper you like. String them together to make a butterfly banner or add a magnet to the back to decorate the fridge.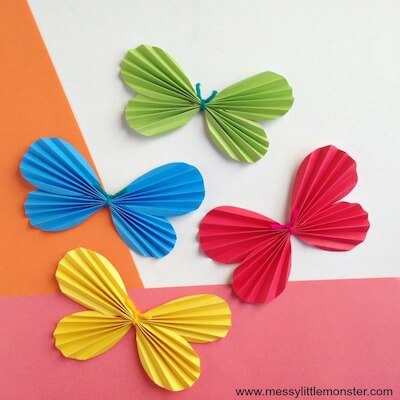 Follow the tutorial here

50. Faux Stained Glass Butterfly Craft by Crayons & Cravings
Painted using bright watercolors, these faux stained glass butterflies would look great hanging on the wall. This butterfly craft is great for older children or adults. For younger children, you might want to complete the glue steps, allow to dry, then simply have the children paint their stained glass butterflies.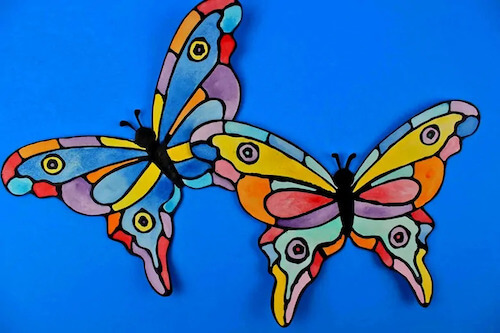 Follow the tutorial here
ENJOY MAKING THESE CUTE BUTTERFLY CRAFTS FOR YOUR DIY PROJECTS.
Are your looking for more kid-friendly projects? Check out all of our Kids Crafts here. Crafting with the kids never gets old, so you can never have too many ideas saved up!

Show us what you're crafting by sharing your work on our Facebook Page. Your creativity is our greatest inspiration.
I hope you have a wonderful time making the projects in this list of butterfly craft. Happy crafting!