Christmas is such a magical time of year! And a magical time for crafting projects – from holiday newsletter and Christmas greeting cards, to ornaments and handmade crafts – this extensive list of Christmas tree cliparts can make your projects that much more spectacular.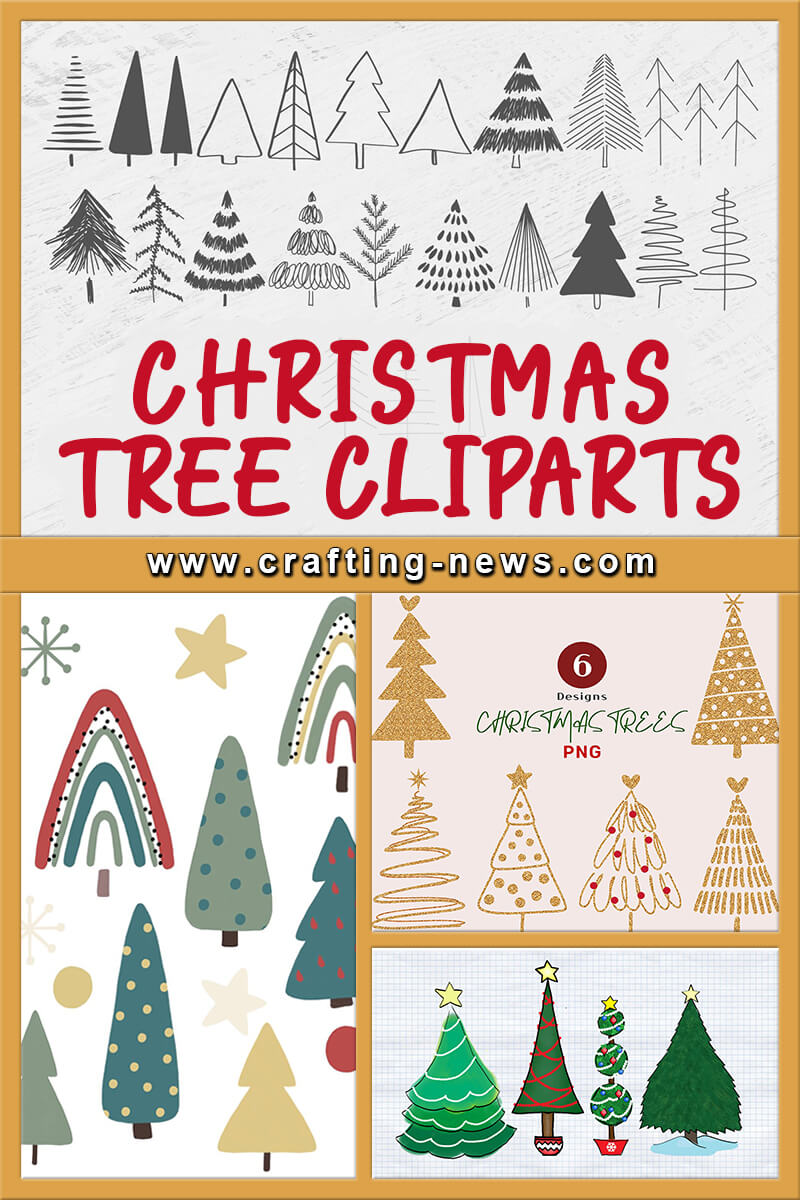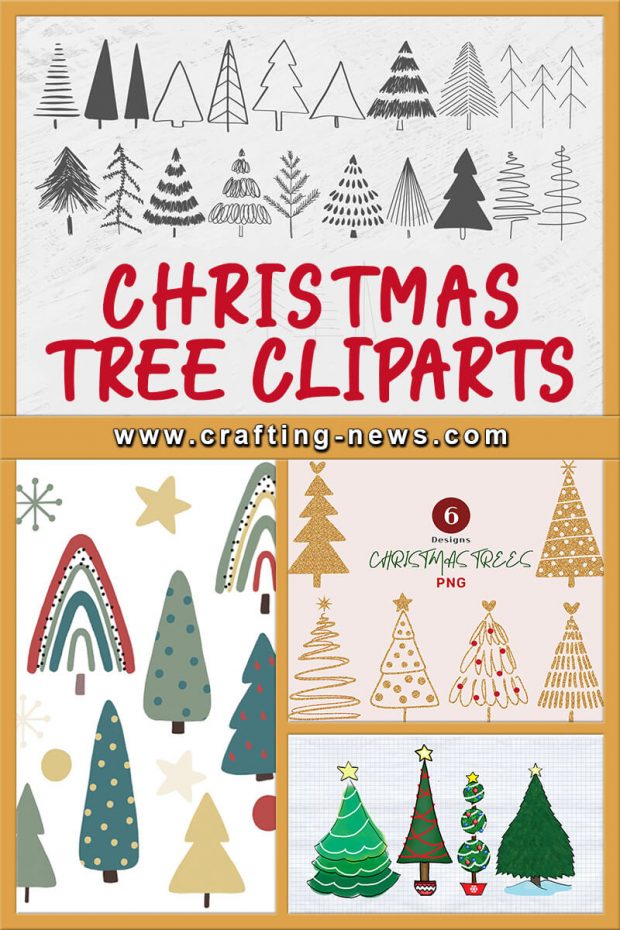 Start with several Christmas tree designs and print as many as you wish to create tree ornaments, Christmas cards, placemats, wall art, banner bunting, gift wrap and gift tags, and even Christmas tree mugs and pillows. The bright green Christmas tree is the essence of the Christmas crafts, so there's no way you cannot have one!

1. Watercolor Christmas Trees by Alphabets And Algebra
Bright and colorful hand painted watercolor Christmas trees for instant download – perfect for making Christmas greeting cards, wedding invitations, and Christmas decor. This collection includes 10 individual images packed into one!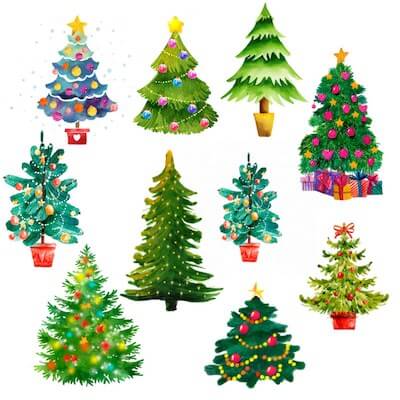 2. Scandinavian Christmas Tree Clipart by Amber And Ink
25 fun, hand-drawn Christmas tree illustrations Christmas trees in the modern Scandinavian style! Drawn by hand, large, high-quality clip art images with transparent background. Ready to use in any program. This set comes in 3 colors – black, white and golden!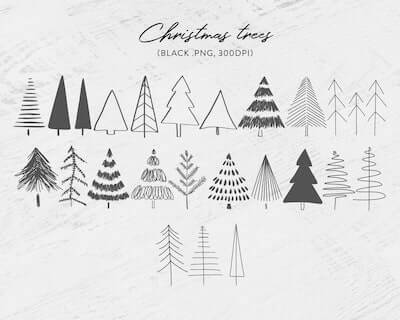 3. Boho Christmas Tree Clipart by AB Digital Design
These modern and neutral hue Christmas trees are perfect for so many different projects such as decor, branding, social media, invitations, and more! They have a messy and youthful look!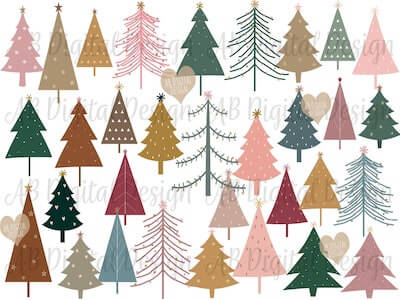 4. Black and White Christmas Tree Cliparts by Jane Jo Art
This set includes 28 adorable variety of Christmas trees perfect for your upcoming holiday crafting needs!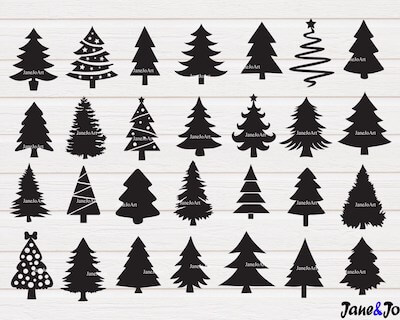 5. Preppy Christmas Tree Cliparts by Pretty Festive Design
Beautiful set of 2 watercolor Christmas tree clip art – one with a plain pink pot and one tree sat in a sweet pink gingham planter. Sweet and preppy and perfect for chinoiserie Christmas style, baby girl 1st Christmas, pink and white Christmas and pink winter holidays, coastal and southern style.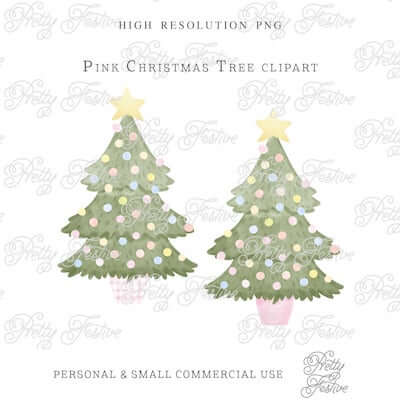 6. Unique Christmas Tree Cliparts by Strawberry Mint Store
This is a set of 28 unique, christmas tree images including trees, stars, snowballs and snowflakes in a matching colour scheme that can be used to make your own prints and stationary.

This has free commercial use perfect for scrap-booking, greeting cards, photos, posters, patterns, invitations and more.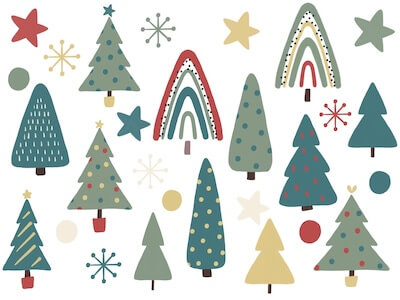 7. Red Ornament Free Christmas Tree Clipart by Clipart Pal
This Christmas tree clip art image shows an ombre green tree decorated with bright red ornaments and a golden star on the top.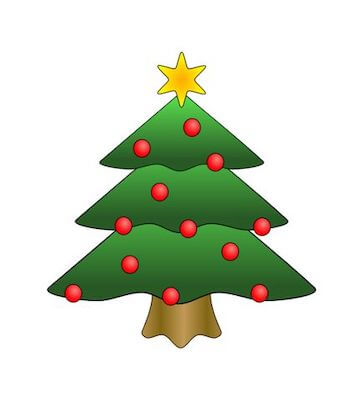 Get the clipart here

8. Rustic Christmas Tree Cliparts by Pen And Posh
This Christmas Tree SVG bundle download includes three hand drawn Christmas trees for the perfect vintage or rustic feel to your craft.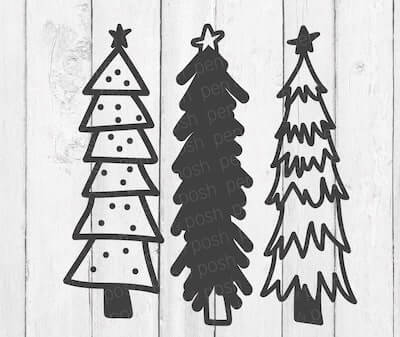 9. Glitter Christmas Tree Clipart by Paper Farms
You simply cannot get enough glitter around the holidays and these glitter Christmas trees are no exception! These sparkly tree shapes would make great gifts and decorations!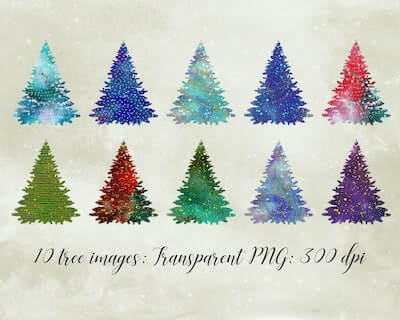 10. Snowy Christmas Trees Clipart by Play Rainbow Kids
Make your Christmas holiday resources tremendous with this Snowy Christmas Trees Clipart Pack. Good for adding a cute and festive touch to handmade crafts, ornaments, cards invitations, classroom activities and decor.

This 32 piece holiday pack features a variety of colorful and cute Christmas tree graphics that will add a splash of color, cheer and imagination to your creations.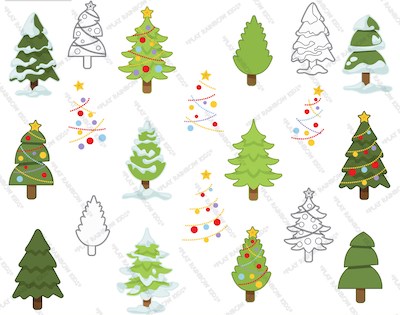 11. Rustic Christmas Trees by Natasha Tiffany Art
The set consists of Rustic Christmas Tree Compositions. Reminds you of warm but yet festive Christmas. It's perfect for any projects you want to create this holiday season.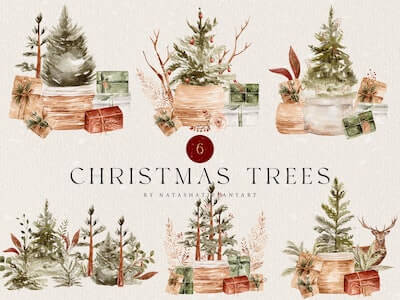 12. Kawaii Christmas Trees by Huckleberry Heart
This set of Kawaii Christmas Tree cliparts features assorted Christmas trees and stars. Great for holiday craft projects, cards, logos, etc.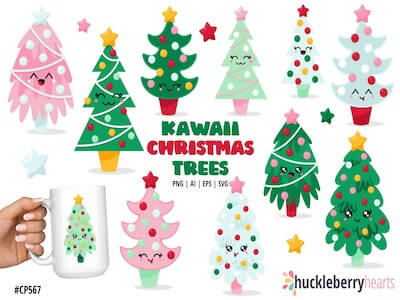 13. Black And White Christmas Tree Clipart by Sabina Palm Design
Black and white Christmas clip art set for personal or small commercial use. This winter set is perfect for invitations, holiday decor and holiday cards, scrapbooking, stickers and party decorations. The package includes 7 Christmas trees.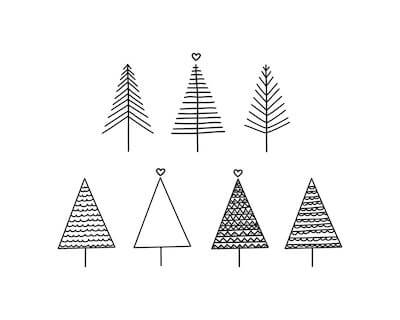 14. Minimalist Christmas Tree Clipart by Pixel Garden Design
Hand drawn abstract and modern Christmas tree clipart bundle includes 50+ charming doodle Christmas tree, fir tree images with variations – decorated and plain and matching Christmas, winter and holiday season themed design elements in pink, gren, burgundy, gold and silver color palette.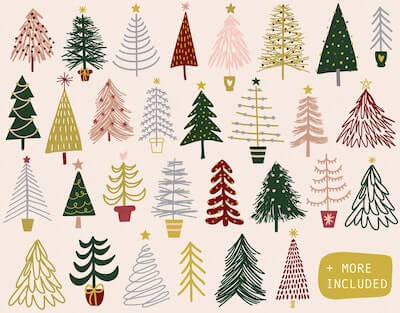 15. Digital Xmas Tree Clipart by Scrapster By MH Designs
This set includes 25 colorful tree illustrations and 24 snowflakes. This whimsical collection includes a wide variety of illustrations to create endless holiday projects.
You can create scrapbook elements, create your own holiday cards, gift tags, and wrapping paper, make holiday decorations and party invitations, and much more!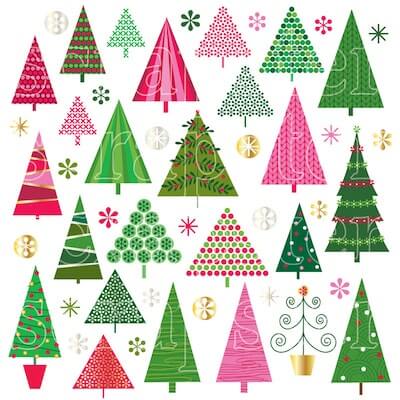 16. Leopard Christmas Tree Clipart by Sala Designs Studio
These Leopard Christmas Tree Cliparts are the perfect pop of animal print for your holiday decorations this year.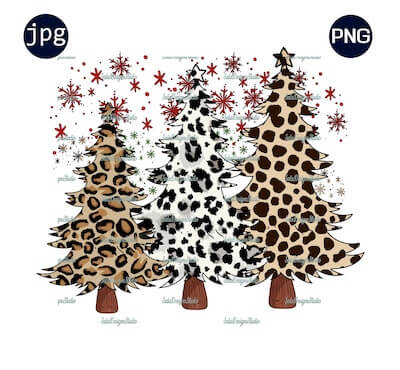 17. Pink Christmas Trees by Light To Be
You've seen them all over Instagram. And now, you're thinking you might want a pink Christmas tree yourself. So if you've been dreaming of a pink tree for a while now, this is the year you should finally take the plunge. Here are pink Christmas tree cliparts to add to your holiday decorations!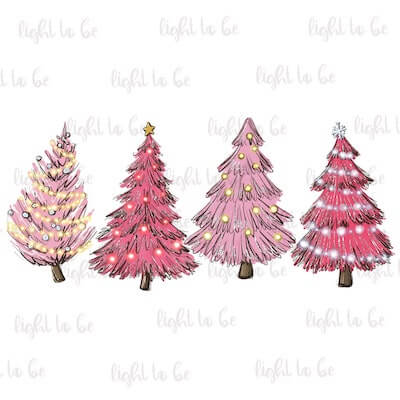 18. Plaid Christmas Trees Clipart by Draw Me Happy
Mad for plaid this Christmas season? These plaid Christmas trees cliparts can help you decorate pictures, cards, scrap booking paper, invitations, gift wrapping, cupcake toppers, photo albums, etc.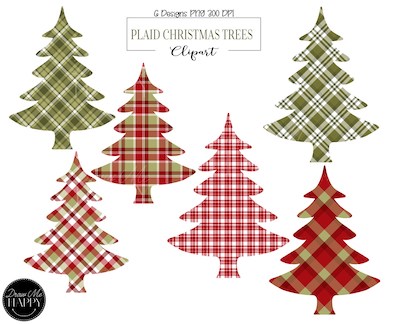 19. Gold Christmas Trees by Ok Clip Arts
If your theme this year is gold decor, these gold Christmas tree cliparts are perfect for your crafting needs. Great for art prints, invitations, greetings cards, stickers, fabric, planner supplies, party decorations, gift paper, textile, craft projects, nursery, wall art, scrapbooking, wall decoration, invitation cards, baby clothes and so much more!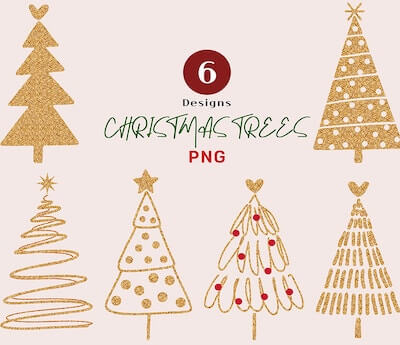 20. Decorated Christmas Tree Clipart by Clipart Panda
This Christmas tree clip art is all ready for the holidays, decorated with bulbs, stars, and handmade ornaments. All it needs is some gifts under it!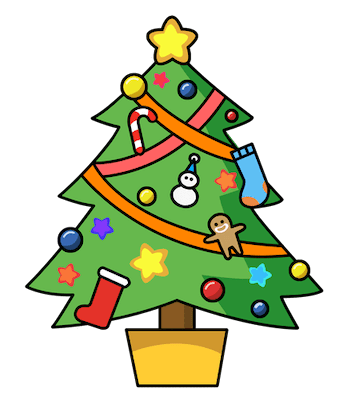 21. Retro Christmas Trees Clipart by Dreamstime
A clip art illustration of retro-looking Christmas tree in red, green and blue with colorful circular patterns isolated on white.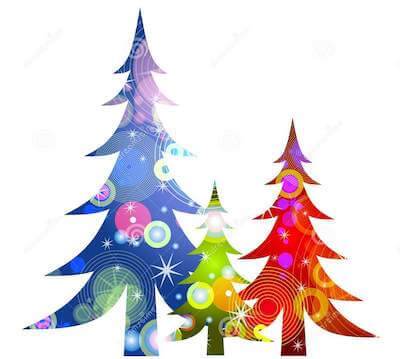 22. Vintage Christmas Tree Clipart by Eleven Nine Designs
This listing features 1 vintage botanical illustration of a Scotch Pine Tree. Originally illustrated in 1877, this illustration is a historical public domain image, that has been edited and enhanced with color so that it can be used in a variety of creative artworks or projects.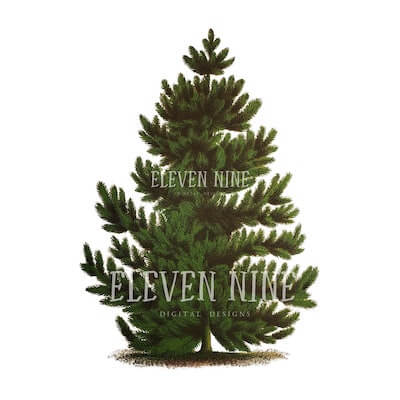 23. Realistic Christmas Trees by Fairy Magic Chest
Realistic Christmas trees without decorations and varied lights to use in screen mode, bokeh and swirl to get a magical atmosphere in your holiday photography.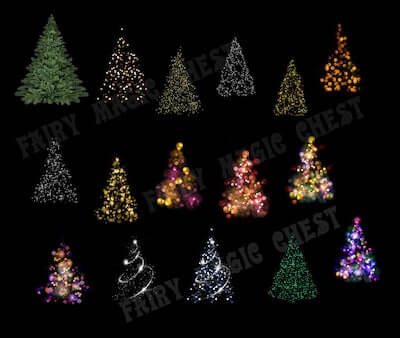 24. Green Watercolor Christmas Trees by Bella Boss 777
This clipart set contains 8 individual elements. You can use them in your projects like blog banners, logos, photo overlays, stickers, personal planners, and so on.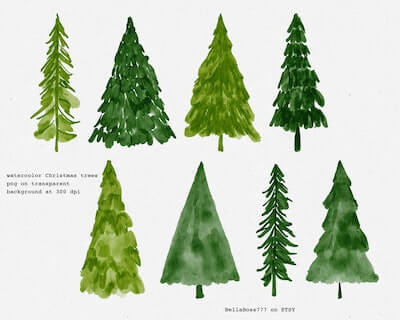 25. Watercolor Blue Christmas Trees by DOUNEEE
If you want to go all-in for blue christmas theme instead, you can use the these blue Christmas tree cliparts. Thes blue Christmas trees can add elegance and sophistication or fun and whimsy to your holiday projects.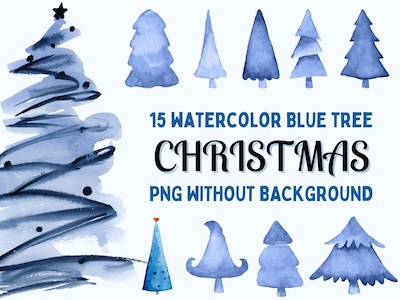 26. Decorated Christmas Tree Clipart by Flower Dance LLC
This sweet little Watercolor Christmas Tree clipart is a fully decorated rustic woodland holiday evergreen spruce. Decorated with holly, berries, pine cones and branches, it's waiting for you to bring it home to use on Christmas cards, holiday cards, wedding cards, party invitations, place cards, posters, quotes and anywhere you'd love to see it.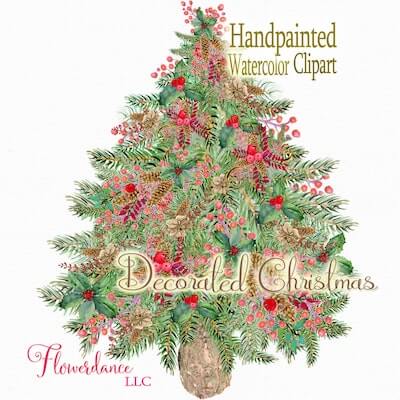 27. Nordic Christmas Tree Clipart by Star Brite Design
This Nordic Christmas Tree clipart set includes 15 christmas tree clipart elements, 2 christmas ornament clipart elements and 1 bird clipart element.

Based off of three Christmas tree styles with three colour variations. These files are large enough that they could be printed and framed for home decor for the holidays.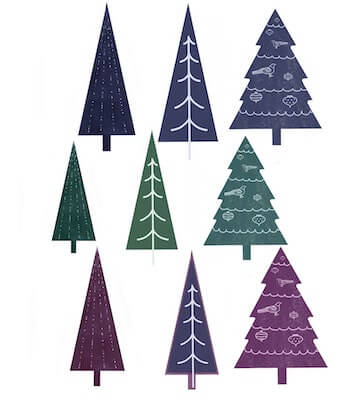 28. Christmas Tree Watercolor Clipart by Write Lovely
This is a watercolor clip art set inspired by christmas trees. You get 7 different holiday Christmas trees watercolor clip art pieces that are all PNG files in a ZIP folder.

Each one of these clip art pieces measures 3-6 inches and they all have a transparent background allowing you to place this clip art pieces behind different color backgrounds.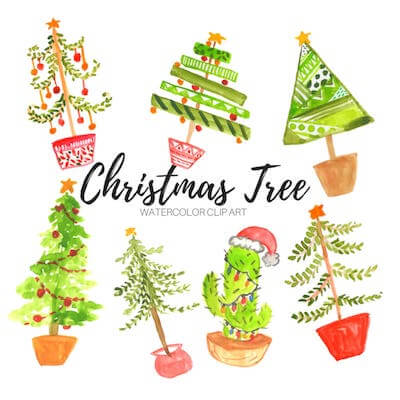 29. Christmas Tree With Lights Clipart by Open Clipart
Here's a modern Christmas tree clip art image that has a string of multi-colored lights going around the tree with a small yellow star on the top.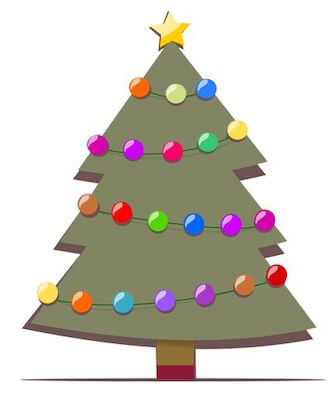 30. Neon Christmas Trees by Goto Pixels
Brighten up your holiday crafting with these delightful neon Christmas trees cliparts. The perfect alternative to those tired ol' Holiday decorations you put up every year.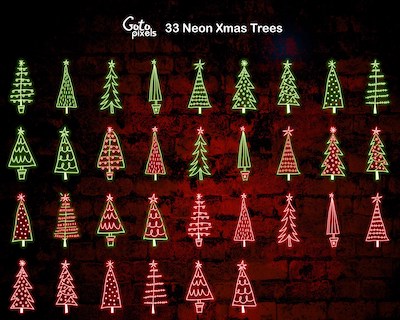 31. Modern Christmas Tree Silhouettes by Crafted In Digital
This set consists of 80 different modern stylized Christmas tree silhouettes. There are 8 different tree designs, each provided in 8 colour variations. Each tree is approximately 1800px (longest dimension) in size and will print to 6 inches at 300DPI. These designs are perfect for Christmas themed projects of all kinds.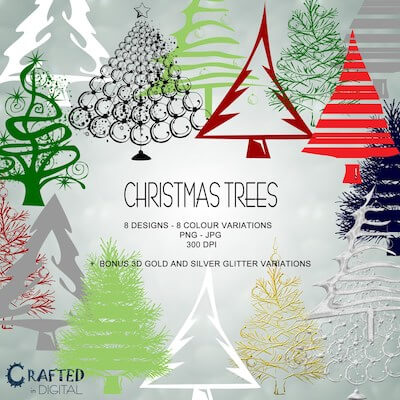 32. Christmas Trees Clipart by Illustrator Annie
This Christmas tree bundle is designed to make you feel festive for winter and Christmas! This pack contains 30 Christmas tree designs. These designs can be used to crafts, decorating your house, for gifts or other creative needs! This digital spruce tree bundle will spice up your season!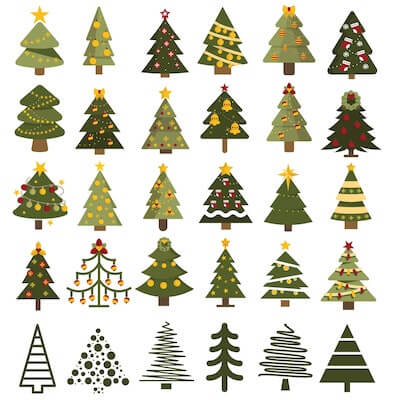 33. Doodle Christmas Tree Clipart by Sweet Street Shop
Here's a set of 14 hand-painted, doodle Christmas Tree – ideal for decorating greeting cards, invitations, photos, albums and much more.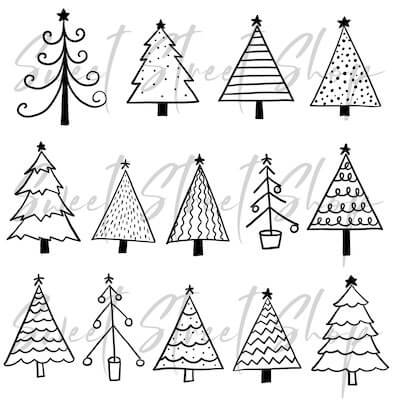 34. Flower Christmas Tree Clipart by Public Domain Vectors
Get creative and colorful with a Christmas tree flower-themed tree clipart. Our latest boho holiday decor obsession, right this way!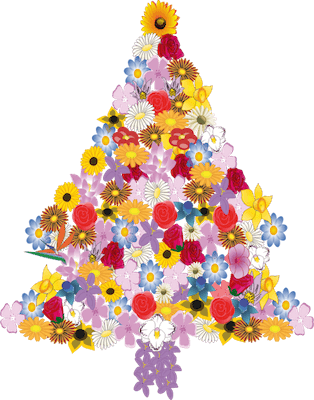 35. Family Decorating Christmas Tree Clipart by Friendly Stock
Royalty-free stock illustration of a happy family decorating a Christmas tree. The dad is holding his little boy high in order for him to place the star at the top of the tree while the mom is decorating with other ornaments.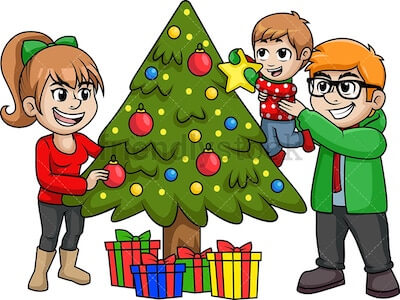 36. Black and White Christmas Tree Clipart by Apple Grove Lane
This simple Christmas Tree SVG looks so cute on signs or shirts for the Holiday. This Christmas Tree clipart is available in svg, eps, png, and dxf formats.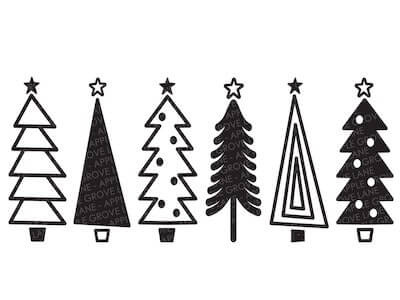 37. Boho Christmas Tree Clipart by Vivianax Studio
This clipart set includes 40 boho Christmas clipart elements – 25 Christmas trees and 15 extras including ornaments, Christmas lights, gifts, hearts, stars and more!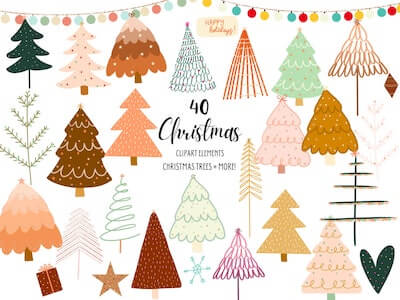 38. Christmas Tree Cliparts by Pink Pueblo
12 cute and creative variety of Christmas tree cliparts to choose from are included in this set. These styles of Christmas trees are perfect for a wide variety of projects!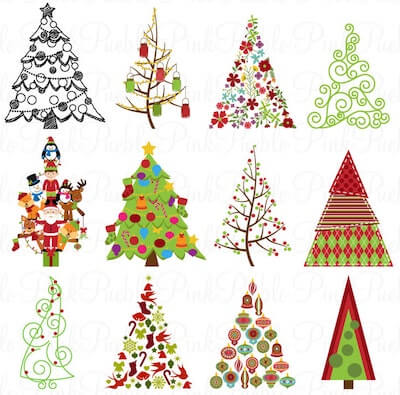 39. Hand Painted Christmas Trees Clipart by Paper Sun Design
This is a collection of 8 fun handpainted Christmas trees with simple gold decorations. Each one measures approximately 4″ x 4″ at 300 dpi. Use for making invitations, thank you cards, website graphics and more.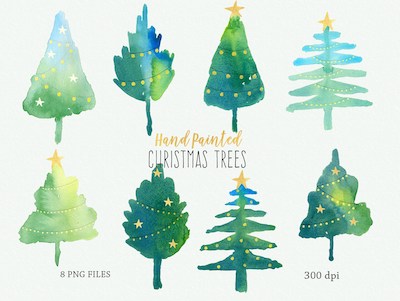 40. Bone And Paw Christmas Tree Clipart by iStock
Pets love Christmas too! Make them part of the celebrations with this bone and paw Christmas tree clipart. Christmas trees are meant to look dazzling, but many often lack a touch of dog love!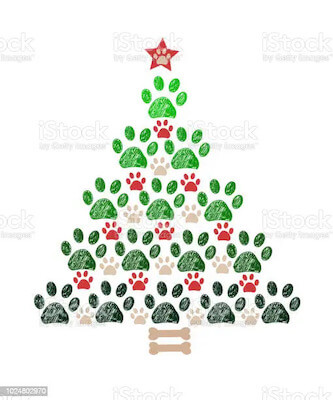 41. Christmas Pine Tree Cliparts by Eleven Elms
A set of 18 Christmas and fur trees in SVG, PNG, EPS, and DXF format. Perfect for use in Cricut and Silhouette as cut files for t-shirts, mugs, etc, or clipart in Christmas themed designs!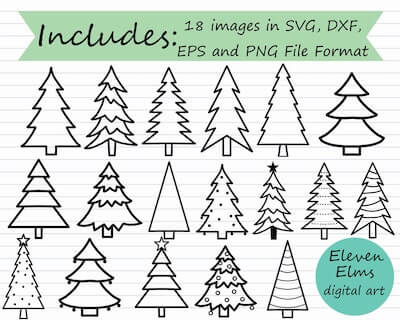 42. Christmas Tree Clipart by Creative Heart Space
This Christmas Tree Clipart svg set is comprised of a variety of Christmas tree designs for your personal or commercial projects. You can customize the colors with your software to make each project unique.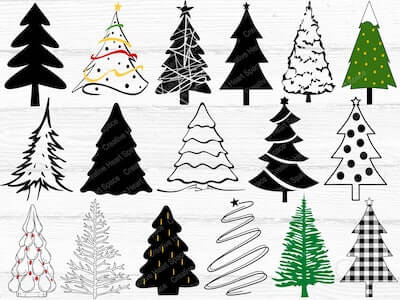 43. Green Christmas Tree Cliparts by Zayami Art
Here's a set of high-quality hand-drawn Christmas Tree png clipart. Included images of a variety Christmas trees in different styles and colors – 15 PNG files on transparent background.

This adorable set of Christmas Trees Clipart is perfect for any craft project! Full of cute hand-drawn images in bright colors, this digital clipart set will add a personalized touch to your website and social media posts.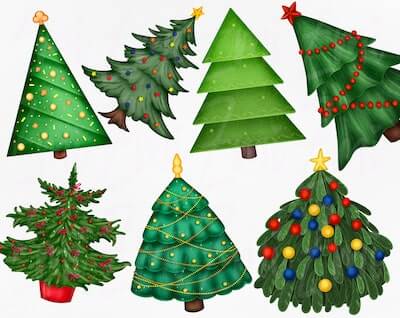 44. Christmas Tree Clipart Set by The Pen And Brush
A beautiful set of hand drawn Christmas tree clipart overlays. Perfect elements for Christmas card making or photo overlays. Also included are the vector versions and a set of Photoshop brushes so you can easily customize and stamp these guys on anything!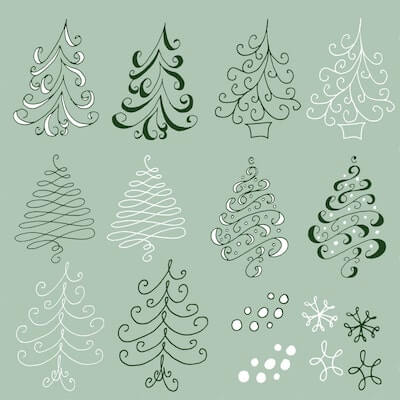 45. Decorated Christmas Tree Clipart by WP Clipart
This full Christmas tree is colored with three different shades of green. A realistic tree trunk holds the tree up which is covered in different colors of ornaments. A bright yellow star tops the tree.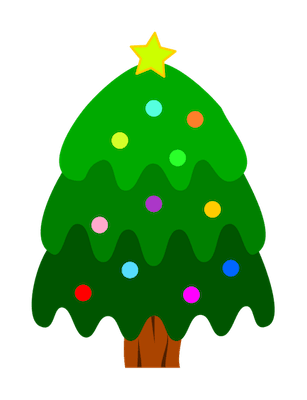 46. Christmas Tree Digital Clipart by Digi Bons Bons
This Watercolor Christmas Clip Art features hand crafted charm that will add whimsy to your holiday graphics designs.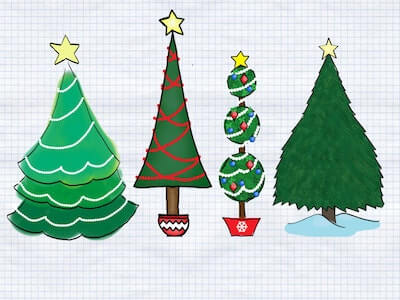 47. Gold And Silver Christmas Tree Clipart by TIGPEEK
These beautiful gold and silver Christmas tree cliparts are perfect for neutral Christmas decor. Celebrate in style by incorporating this set of sparkling cliparts to your holiday crafting.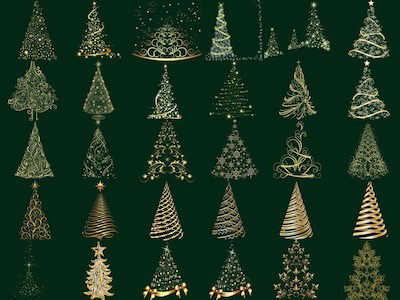 48. Rainbow Christmas Trees by Sunflower Day Love
Who says the holiday has to be dedicated to classic Christmas colors? If you're up for it, try something that's colorful but a bit more understated, like these rainbow Christmas trees. Add a beautifully glittered rainbow trees in your crafts this year.

49. Minimalist Christmas Tree Clipart by Web Weaver
If you're looking for a very minimal but pretty image, this might be the one.. just the outline made out of little dots.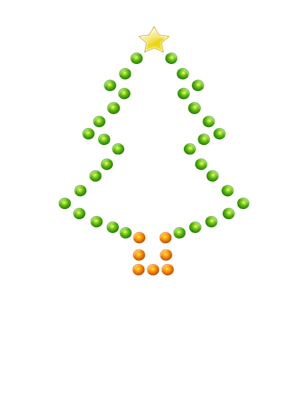 YOU MAY FIND THAT YOU HAVE A TOUGH TIME CHOOSING A STYLE BECAUSE THESE CHRISTMAS TREE CLIPARTS ARE ALL SO PRETTY AND FUN.
A load of clipart images can be applied to any of your creations for all occasions. Check out these Free Halloween Clipart, Free Thanksgiving Clip Art, and 30 Free Mardi Gras Clip Art for more!

No matter what your style, you'll be able to find it in this collection of Christmas tree cliparts. There really is something for everyone. Be sure to share your choices with us on our Facebook Page.
I'm not sure what the best part of Christmas trees are – the fun of carefully hanging the decorations, the glow of the lights at night, the scent of pine needles or the joy of so many beautiful gifts for friends and loved ones. One thing is sure though, these Christmas tree cliparts are a lot easier to decorate with!