Origami has captivated people around the world for centuries. Within this enchanting realm, the origami frog stands out as a beloved and iconic creation. With a few strategic folds, a simple square of paper transforms into a delightful amphibian, capable of bringing joy and fascination to both young and old alike. Learn how to make an origami frog to have a cute desktop companion, or make a bunch to create your very own origami pond.
Origami frogs are delightful to make—no matter what your skill level is. Their whimsical appearance and ability to jump with a gentle press evoke a sense of wonder and playfulness. Let's hop to it!
How To Make An Origami Frog – 22 Tutorials
1. Origami Jumping Frogs by It's Always Autumn
Learn how to make a fun origami jumping frog! This easy origami frog will hop along the table. This is a great origami toy for kids to make.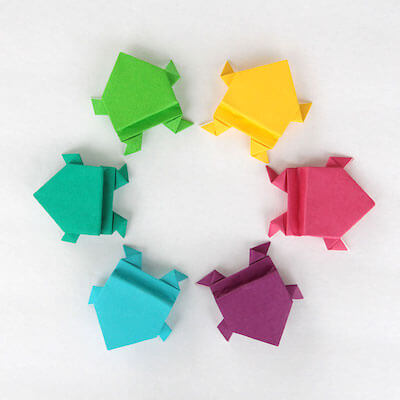 Follow the tutorial here
2. Origami Frogs Tutorial by Easy Peasy And Fun
This is a great origami tutorial for beginners and kids – especially if you just want a bit of fun!! Make them in any colour to suite your taste and needs!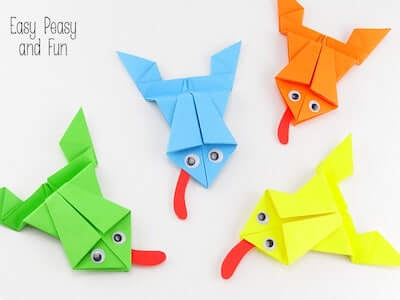 Follow the tutorial here
3. How to Fold an Origami Jumping Frog by The Spruce Crafts
An origami frog made with index card will result in a frog that can jump higher. Thicker than the traditional origami paper, this frog is harder to fold but it's well worth the effort.
If you're feeling more creative, try folding your origami frog from different sizes and thicknesses of paper to see how this affects his jumping ability.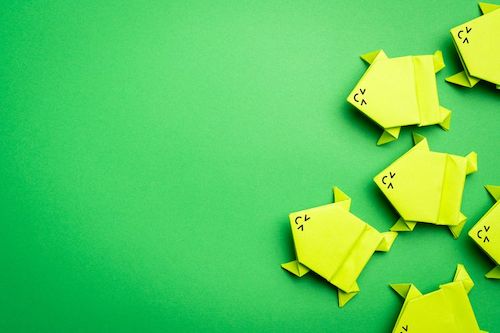 Follow the tutorial here
4. 2 Ways of Making Jumping Origami Frog by The Craftaholic Witch
This tutorial will show you 2 ways of making origami frogs—make the coolest paper frog on the Internet or make the easiest way to fold a frog that jumps! It's an intermediate-level origami project but you can involve the kids by letting them draw faces on the frogs.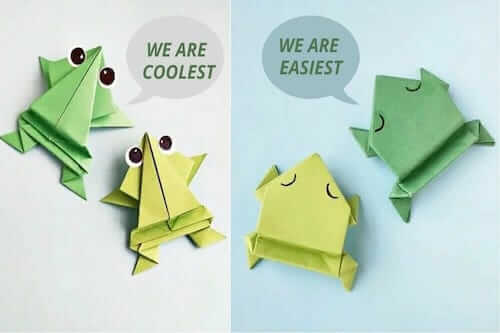 Follow the tutorial here
5. Origami Standing Frog by Origami Plus
Made with just one square piece of paper, this origami frog can stand on its back legs and may be hung outside a window. Duo paper with different colors on each side will make a nice two colors frog.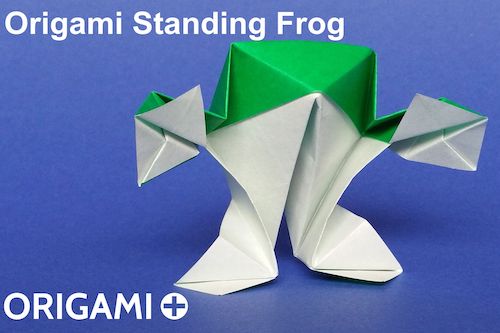 Follow the tutorial here
6. Origami Frog Toad by Riccardo Foschi
Let's continue the list with a more advanced origami project. Don't you love this little chap? The front end of this frog/toad is wonderful – big whimsical eyes, beautiful suckered feet, nice shaped head.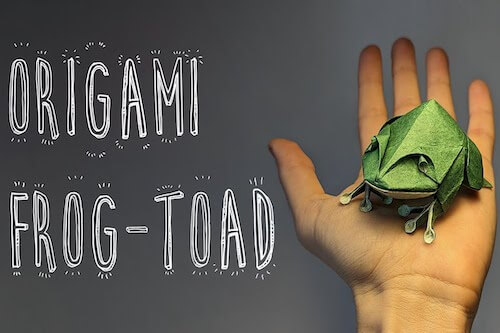 Follow the tutorial here
7. Easy Jumping Frog Origami by Red Ted Art
This Easy Jumping Frog Origami is perfect for kids! It's a great way for kids to learn origami and have fun at the same time. With just a few simple steps and some basic materials, kids will be able to create their own origami frog in no time.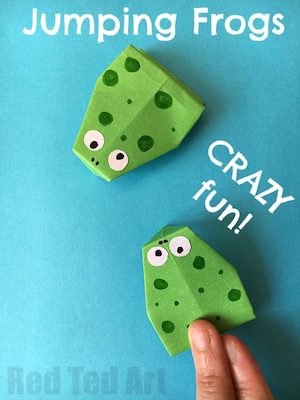 Follow the tutorial here
8. Pre-Columbian Style Origami Frog by Leyla Torres
This cute origami frog could be set out as a decoration almost anywhere in your house! This frog can be folded from many different kinds of paper including kami, or even a page from a magazine.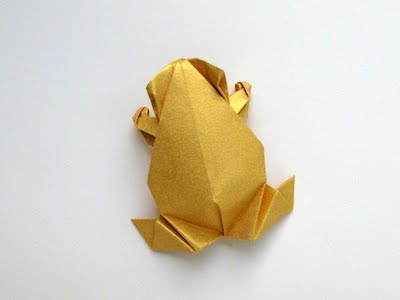 Follow the tutorial here
9. How To Make An Origami Jumping Frog by Hello Origami
Using a 6″x6″ square sheet of paper, hop into the summer months with this cute and colorful origami frog craft. Kids can press on the back end and watch their frog leap into the air! Why not create several and race them with your family?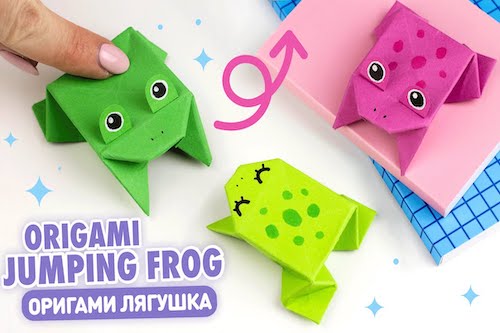 Follow the tutorial here
10. Origami Paper Frog Puppet by Easy Crafty Pattern
Making your own paper puppets is super easy—and super fun! Plus, you can decorate it however you'd like: add more doodles or decorate the frog with sequin, a tiny bow from a ribbon, stickers, or pompom.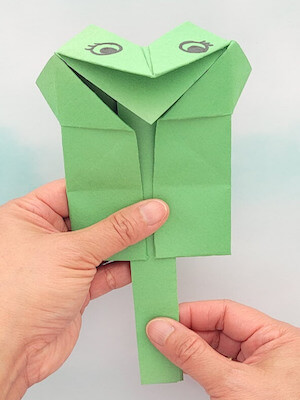 Follow the tutorial here
11. How To Make An Origami Frog by Jeremy Shafer Origami
Here's how to fold a rather complex Jumping Frog with 8 Fingers and 10 toes from one square of paper and no cutting. If you wish for more complex model, this tutorial will satisfy your craving!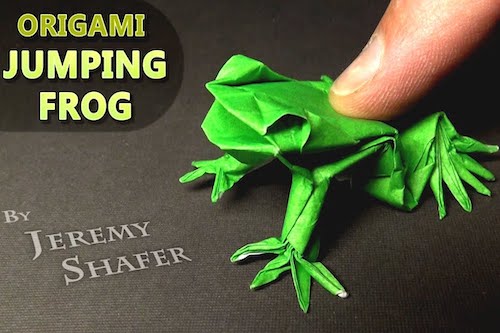 Follow the tutorial here
12. How To Make An Origami Jumping Money Frog by Brit Co
Learn to make a money origami frog from a dollar bill with this step-by-step folding guide. This easy dollar bill jumping frog is great for a unique gift or tip idea!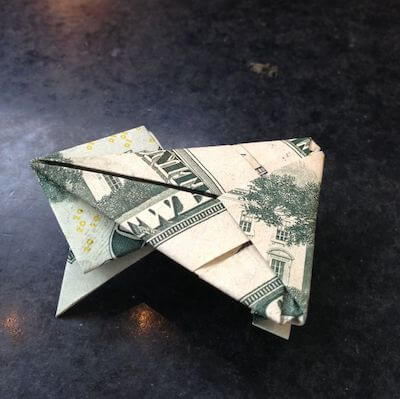 Follow the tutorial here
13. How to Fold an Easy Origami Jumping Frog by Origami Me
Make this traditional jumping frog from one sheet of origami paper. You can make big and small frogs with your favorite paper colors!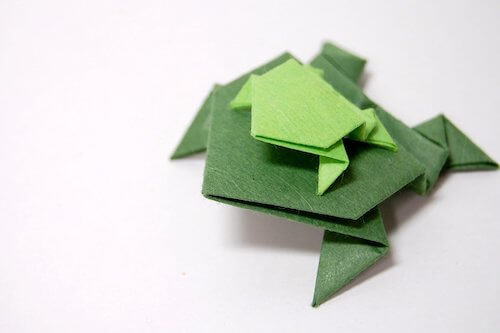 Follow the tutorial here
14. Origami Tree Frog Tutorial by Satoshi Kamiya
Want to impress your friends? This model features a very anatomically accurate frog with full facial features and toes as well. It's an advanced origami but is rewarding to make!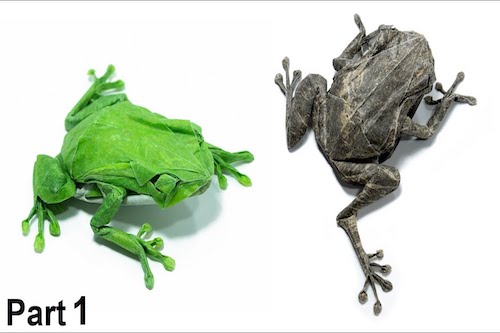 Follow the tutorial here
15. Origami Frog by Beth Johnson
This is the type of paper frog that can't jump. It's designed to be a nice decor for the table at the party. It's relatively simple to fold, and it requires minimal shaping for such an outstanding result.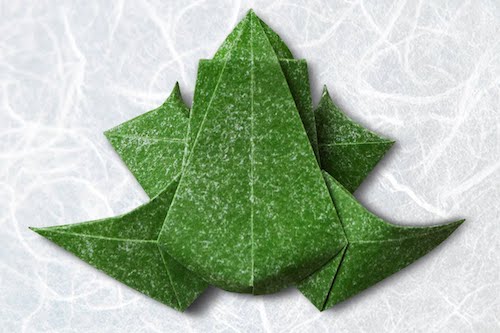 Follow the tutorial here
16. Easy Origami Frog by Tratatuha
Here's a very easy origami frog for beginners. With just 7 simple steps, you can make in a minute or two!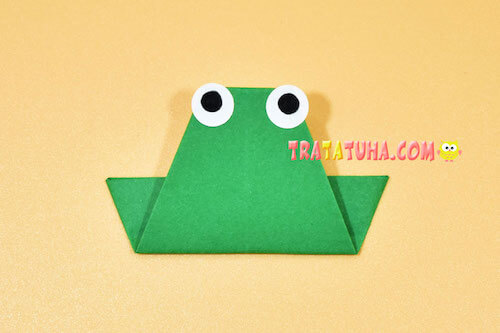 Follow the tutorial here
17. Origami Dollar Bill Tree Frog Tutorial by Mariano Zavala Origami
This origami tree frog is another origami project made from a dollar bill. It looks cute and it's a great gift for someone who appreciates paper craft and money (who doesn't?).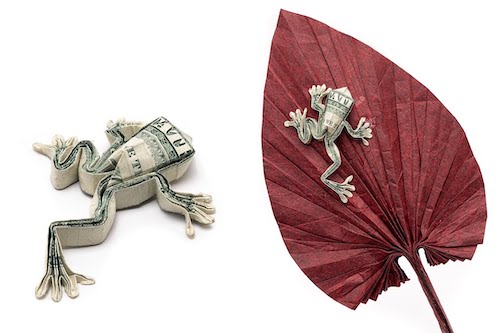 Follow the tutorial here
18. Origami Jumping Frog by Yakomoga
Here's a unique-looking frog made with a 15x15cm piece of paper. It makes a fun toy for the kids and a cute home decor, as well! Try making a few in different colors.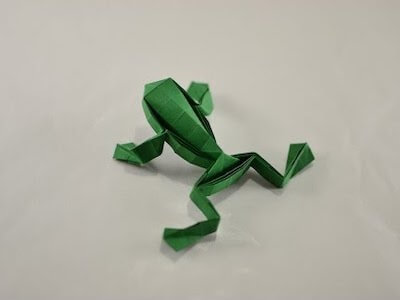 Follow the tutorial here
19. Origami Frog Bookmark by Crafts & Art
Sit back, relax, grab some tea and enjoy your favorite book–but don't forget to hold your place! Learn how to make an origami frog bookmark so you'll never lose the page you're on! It folds easily and quickly, so it. makes an awesome gift for your bookworm friend.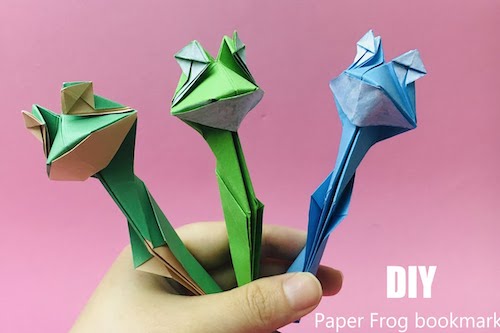 Follow the tutorial here
20. Origami Frog by Jo Nakashima
How cute is this pink origami frog? Use a 10 cm x 20 cm sheet of paper and wet folding technique for best results!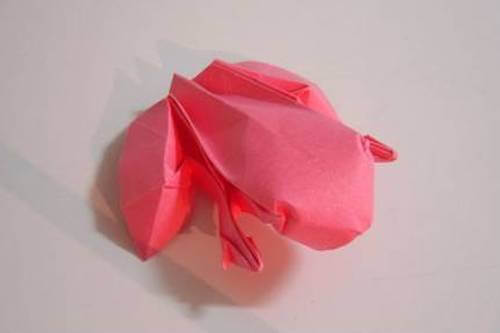 Follow the tutorial here
21. 3D Origami Frog by Ying 3D Origami
This 3D origami frog, with its intricate modular structure and captivating form, exemplifies the magic that can be achieved through this innovative approach. From the precise folding of triangular units to the satisfying assembly process, crafting a 3D origami frog offers a both challenge and a source of inspiration for origami enthusiasts.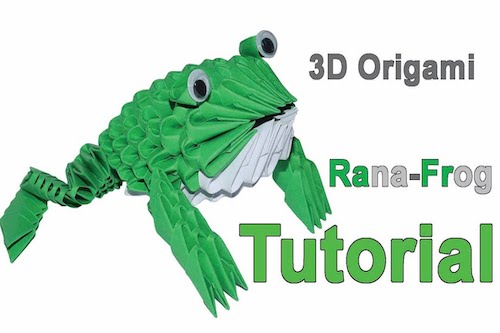 Follow the tutorial here
22. Origami Bullfrog by Jo Nakashima
This Origami Bullfrog is a masterpiece! You may be afraid to see one in your garden, but this paper frog sure is cuter than its real counterpart!
Follow the tutorial here
WITH THESE TUTORIALS ON HOW TO MAKE AN ORIGAMI FROG, YOU CAN EXPLORE VARIOUS FOLDS, PATTERNS, AND TECHNIQUES TO BRING YOUR IMAGINATION TO LIFE.
Admire your creation and feel free to experiment with different colors and sizes to make a charming froggy family. Don't forget to share your creations with us on our Facebook Page, please!
Ignite your passion for the ancient art form and showcase the boundless potential that lies within a humble sheet of paper with more origami projects to make:
Have fun exploring the world of origami with your favorite tutorials on how to make an origami frog!