Let's express our love for these gentle giants through the art of origami. Making an elephant origami is not only a really cool craft skill, but it makes for a great present for your favorite origami lover. There are many different paper models to pick from, but it is better to choose one that matches your origami experience and skill level.
Just in case you love the idea of hand making things that celebrate elephants, here are some of the best origami tutorials I've come across so far! There are many different methods used to fold elephants and each has its own style and artistry. Most elephants are intermediate to advanced-level origami creations, but you can attempt a beginner level elephant if you are just starting out.
21 Elephant Origami Tutorials
1. Origami Elephant Tutorial by Paper Kawaii
This is an intermediate-level origami project, made from a single sheet of square paper. If you are a beginner at origami, you may find this project tricky, but it's so cute, you won't regret learning how to do it.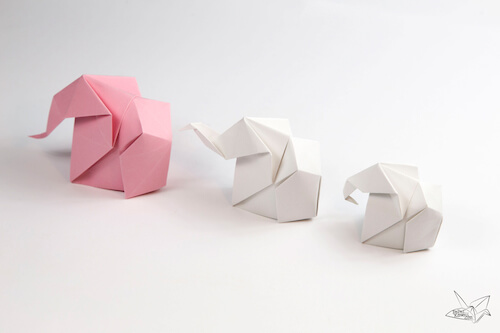 Follow the tutorial here
2. Easy Origami Elephant by Origami Way
Here's a cute and easy origami elephant for kids not fold. It only requires a few simple steps and they get to draw in the details at the end.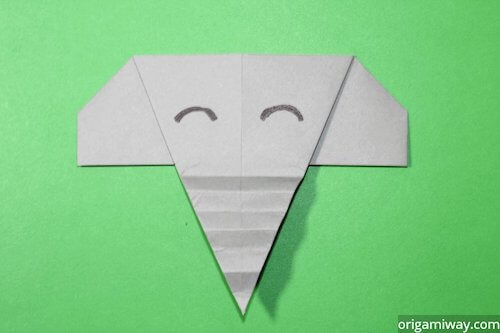 Follow the tutorial here
3. How To Fold An Origami Elephant by DIY Magazine
Using only simple folds and two pieces of origami paper, you can create this origami elephant. It's a great practice for beginners as it's both easy and fun to do. You can even draw a face after to bring it to life.
Follow the tutorial here
4. Elephant Origami by Muneji Fuchimoto
Here's a simple but very well designed and elegant looking 3D elephant. With easy-to-follow video tutorial, you'll become an origami elephant making professional in no time!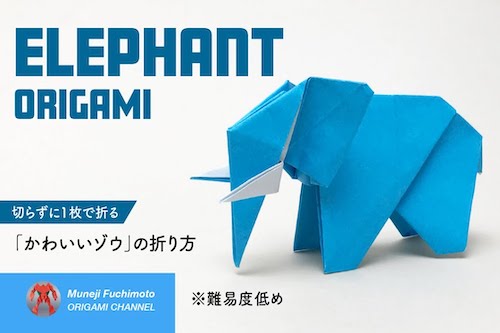 Follow the tutorial here
5. Elephant Origami Bookmark by Jo Nakashima
Elephants are easily one of the majestic animals known. Use origami to create an origami elephant bookmark. These bookmarks can also be used as decoration. Creating this origami piece can also further your origami skills.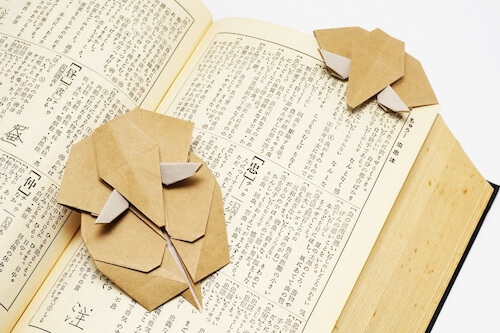 Follow the tutorial here
6. Cute Origami Elephant by Easy Paper Origami
Do you enjoy origami? This traditional Japanese design is a favorite among beginners and seasoned origami folders alike. Fold along this tutorial to learn how to make a cute origami elephant!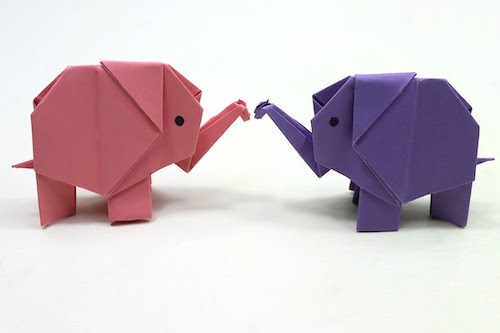 Foilow the tutorial here
7. Elephant Origami Tutorial by Leyla Torres
The folding sequence for this particular elephant is a delight and the resulting figure has a delicious, lively three-dimensional quality to it. You will find yourself folding many of them for your friends and family. And total strangers will quickly turn into friends when you hand them one of these origami elephants!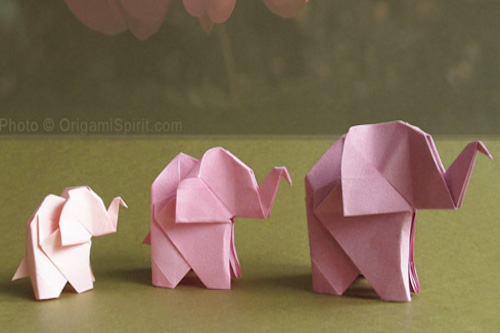 Follow the tutorial here
8. Origami Elephant by JM's Origami Tutorials
The elephant is a magnificent, fascinating animal—and its origami counterpart is much the same. Folding this origami elephant might take a bit of practice, but it's a great project if you're just starting out or if you've got some practice under your belt.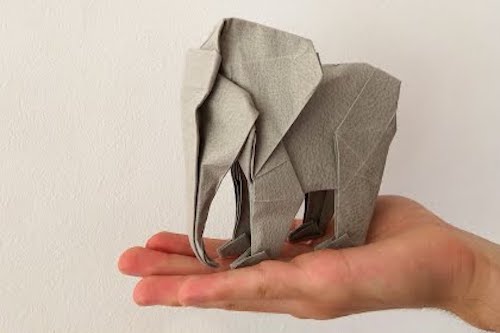 Follow the tutorial here
9. Elephant Origami Tutorial by Bali Origami
You'll feel beyond accomplished when you finish this majestic elephant! Be careful when you get to the area around the trunk, mouth, and tusks, especially since you'll be switching to a lighter color here.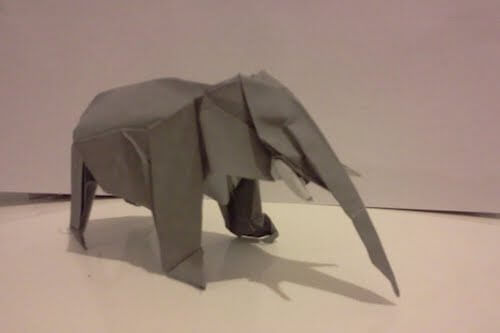 Follow the tutorial here
10. Origami Elephant For Kids by Tratatuha
Learn how to fold an easy origami elephant that consists of two pieces of paper with very simple step by step photos and instructions. It's so easy that even very young kids can make one.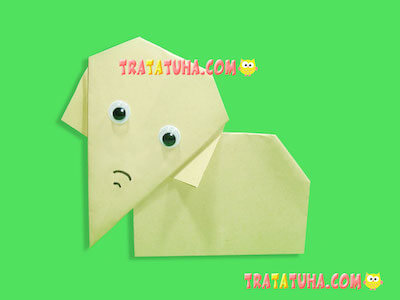 Follow the tutorial here
11. How To Make Origami Elephant by Ventuno Art
This is elephant origami project is made from a single sheet of square paper. It takes perseverance and patience but the end result is very satisfying.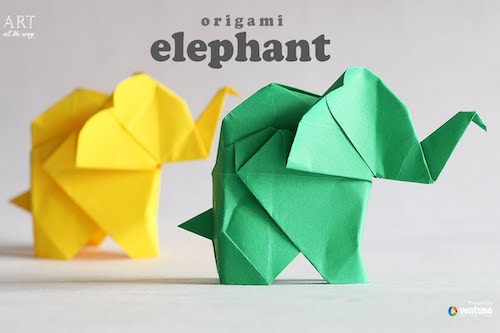 Follow the tutorial here
12. DIY Origami Elephant Tutorial by Idea King
Make little origami elephants in any color you'd like. It's a great origami activity for kids—let them draw faces and details. You'll have a blast making this cute little family!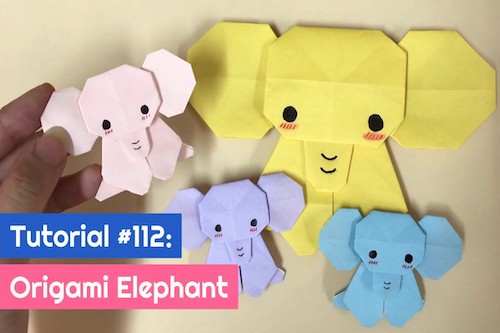 Follow the tutorial here
13. Origami Elephant Bookmark by Anh Dao
You will love learning how to make this beautiful elephant corner bookmark that will allow you to save your page within your favorite book. Grab a 20cm x 20cm paper to get started!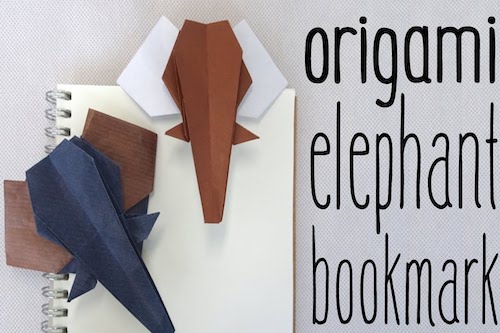 Follow the tutorial here
14. $20 Dollar Bill Elephant Origami by Instructables
Folding origami with dollar bills is getting more and more trendy! Here's how to turn a $20 bill into a little elephant—an easy gift that everyone will appreciate. This origami is so cute, you may be tempted to keep it for yourself!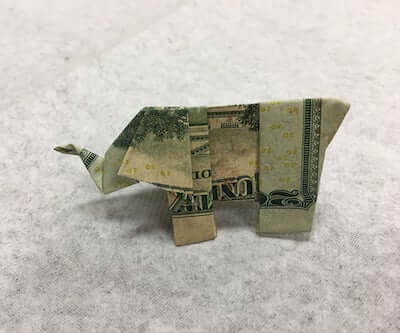 Follow the tutorial here
15. Origami Elephant Head Tutorial by Origami Plus
This elephant model has only a head and no body, but it can stand by itself. And the head is complete with huge elephant ears, two elephant tusks and of course an elephant trunk!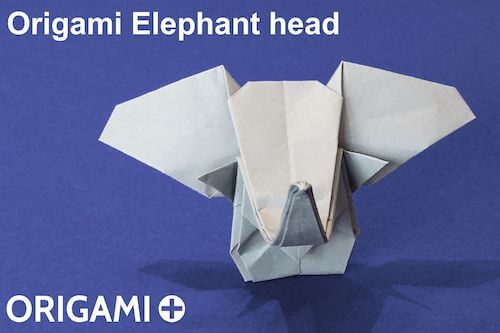 Follow the tutorial here
16. Origami Paper Elephant by Hello Origami
Stuck in with the children on a rainy day? Why not entertain them in a creative and affordable way! Use this elephant origami as decorations around your home, give as gifts or just de-stress yourself with this relaxing activity.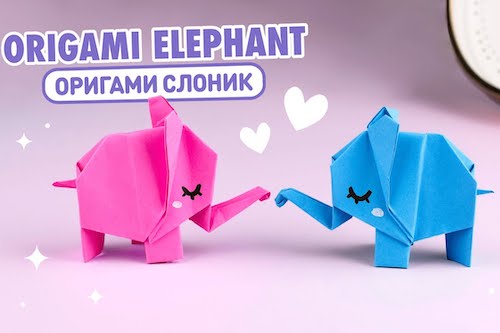 Follow the tutorial here
17. 3D Elephant Origami by Ankhang Handmade
This particular tutorial takes some time to make as its created using multiple triangular units that are joined together to form the elephant. You can personalize this design to your taste by mixing multiple paper colors to create your origami. It's perfect as a gift or use as a decoration.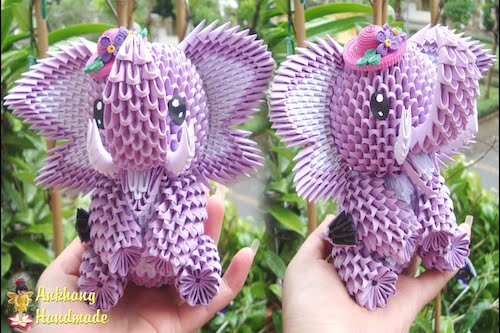 Follow the tutorial here
18. Origami Asian Elephant by Seth Friedman
Origami elephants are a fun gift for friends and family, or you can use them as a fun decoration. This particular pattern can be tricky, as it involves a lot of intricate folds and creases. Don't be discouraged if it takes you a few tries to make this—after all, practice makes perfect!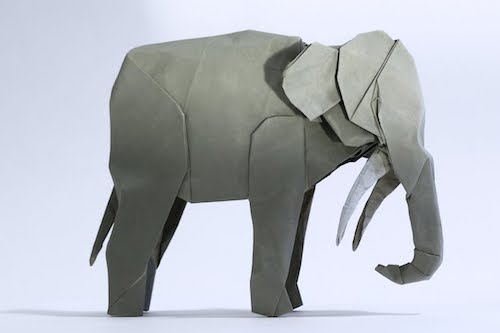 Follow the tutorial here
19. How To Make An Origami Elephant by wikiHow
You can easily make an adorable origami elephant, whether you're a beginner or looking to add to your origami animal kingdom. All you need to get started is a square piece of paper and a flat surface to work on!
Follow the tutorial here
20. Origami Little Elephant by Jo Nakashima
This origami elephant design looks relatively simple but still is full of detail. This intermediate level origami elephant can take anywhere between 10 and 20 minutes to make, depending on your skill level.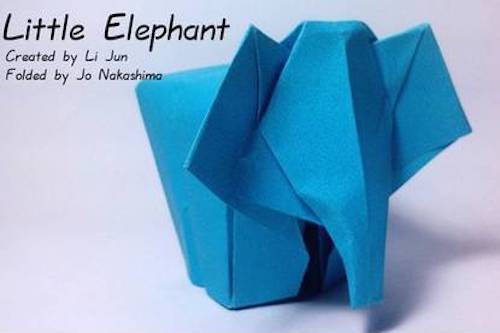 Follow the tutorial here
21. Origami Elephant by Tetsuya Gotani
Here's an awesome elephant origami. Would you believe it is only made with a single sheet of paper?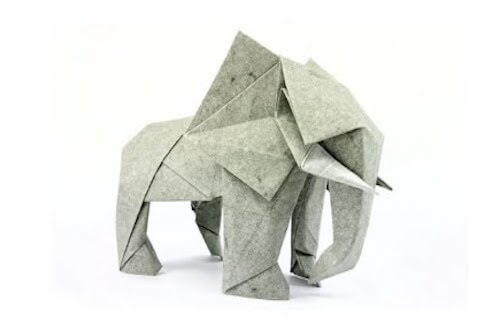 Follow the tutorial here
A BEAUTIFUL ELEPHANT ORIGAMI IS A CUTE DECORATION AND A FUN WAY TO PUSH YOUR ORIGAMI SKILLS.
Transforming a sheet of paper into a work of art is a fulfilling and meditative art form. Be proud to share your origami models with us on our Facebook Page. I cannot wait to see your origami elephants!
Build your origami confidence with more origami animals to fold: fox, fish, bird, dog, cat, dragon, and dinosaur.
Whether you are into creating origami creation, or arts and crafts as a whole, or something in-between, these elephant origami tutorials will surely bring your origami skills to the next level! Start folding right away!