Whether you're gathering your friends for a crafternoon, looking for the perfect birthday make or just want one for yourself, with these patterns below you can make some totally amazing macrame bottle holders!
Love macramé or fancy trying your hand at a new yarn craft? We've got the perfect weekend make for you!
A variety of materials can be used depending on the desired finished look, including string, silk, yarn, or hemp.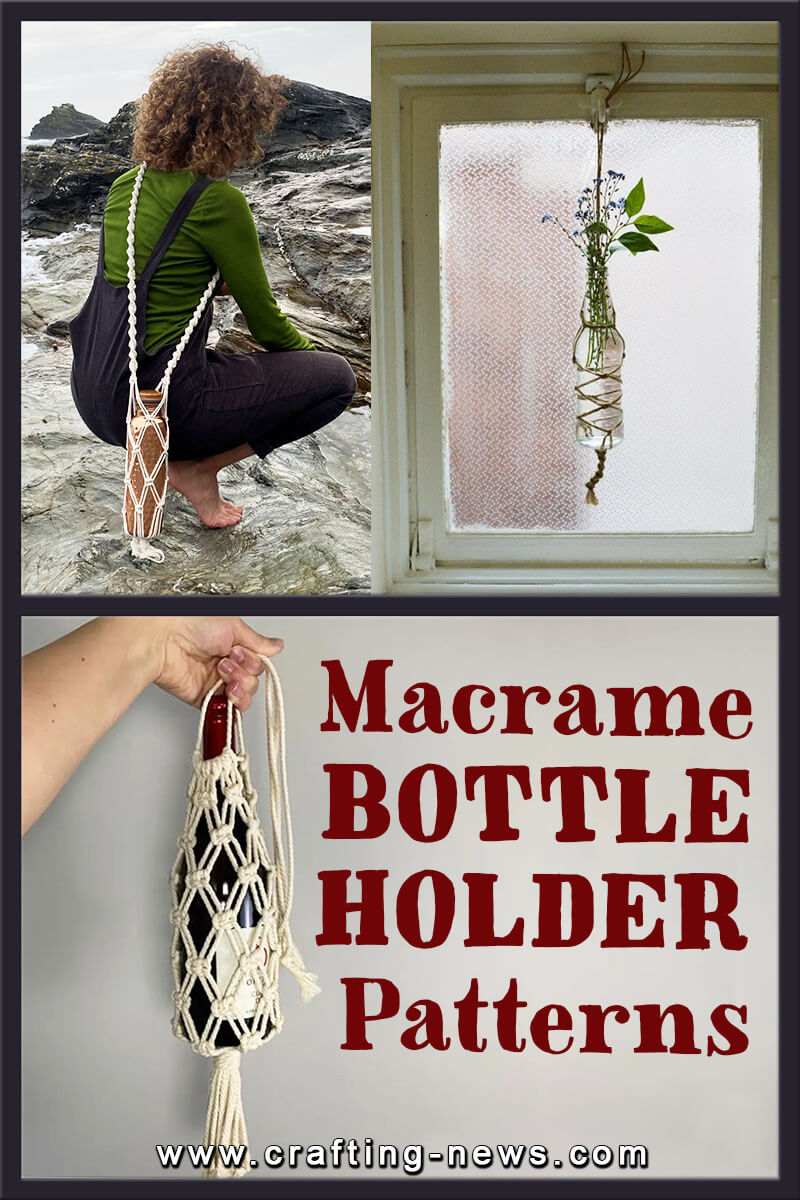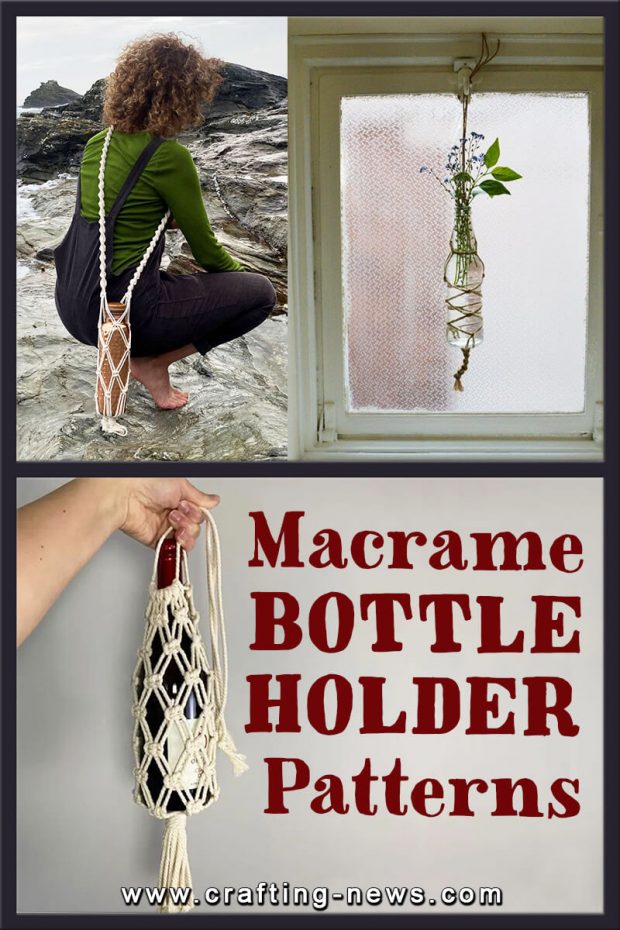 12 Macrame Bottle Cover Patterns
Any of these will work well for bottle covers that add texture and color to transform an old bottle into a decorative vase, or create a reusable holder with a strap to transport a water bottle with style.
1. Macrame Bottle Holder Pattern by Knot Calm
Make your very own Macrame bottle holder with these easy to follow instructions. This macrame bottle holder pattern will show you how to make a holder which can stretch to fit any size bottle. They are a stretch fit design, allowing them to fit around wine bottles, water bottles, thermos or even jars.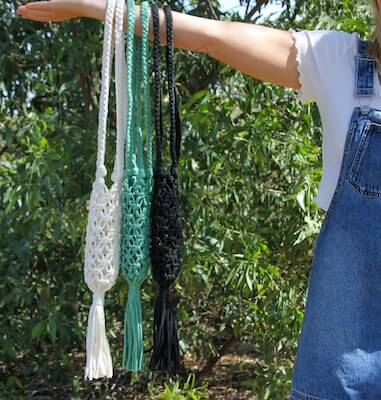 Get the Pattern by Knot Calm here
2. Macrame Water Bottle Holder Pattern by The Simple Things
Knot your way to a knotty, natty carrier for your water bottle, leaving you hands free – perhaps to do some more macrame? All you need to make this cross-body bottle carrier is to master a few simple knots, and you're away.

Everything you need to know, including the knot techniques are in the instructions and all the equipment you need is the rope, some tape and a little patience!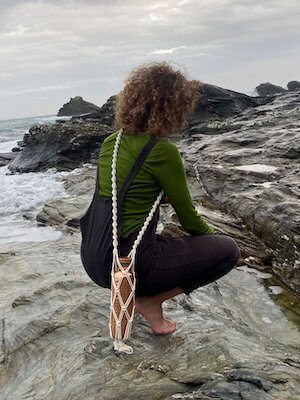 Get the Pattern here
3. Macrame Wine Bottle Holder Tote by Matching North
Looking for a macrame wine tote tutorial? Check out this easy macrame wine bottle holder that only uses three basic knots: : the lark's head knot, square knot, and wrapping knot.

If you have a holiday get together coming up and you want to bring a bottle of wine as a gift, this macrame wine bottle holder will totally kick it up a notch!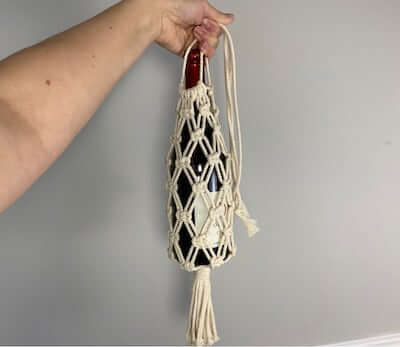 Get the Pattern here
4. Macrame Water Bottle Holder by Silent Knot
Think of the environment and bring your own water bottle with you! You can make this cute Macrame Water Bottle Holder to carry it everywhere you go!

Whatever your size or shape is, you can hang this beautiful, sustainable and eco-friendly macrame water bottle loose or tighter to your body, whichever is most convenient for you!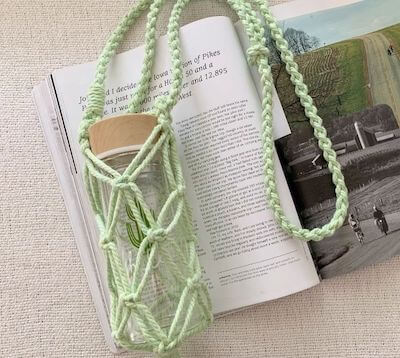 Get the Pattern here
5. Macrame Wine Bottle Holder by Melanie Ham
Learn how to make this macrame wine holder! Of course, it is also great for sparkling cider, Italian soda, water bottle or any other types of bottles that are similar shape and size to a wine bottle.
Get the Pattern here
6. Glass Macrame Bottle Cover by Apartment Therapy
Bottles covered in macramé, or knotted rope, are an old school craft — the result reads either nautical or Bohemian. The netting's an easy way to add texture and decorative pattern to a surface, and it works particularly well with glass bottles and tall vases.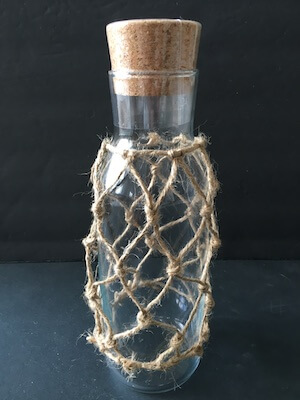 Get the Pattern here
7. Macrame Water Bottle Carrier by RMC
Keep hydrated no matter where you are with this pattern for a macrame water bottle holder. You can make yours in whatever color you like. These would be super handy if you're hiking, at a festival or just going out and about all day.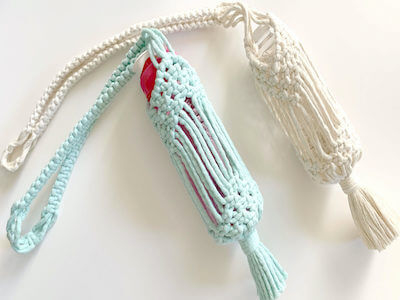 Get the Pattern here
8. Macrame Bottle Tote by Love Crafts
This fabulous macramé tote looks fancy, but is so easy and quick to make. Even complete beginners will be able to whip one up with a few easy steps. Each tote will take about 2 hours to complete, including prep time – perfect for hen, birthday or craft parties or a cosy afternoon at home.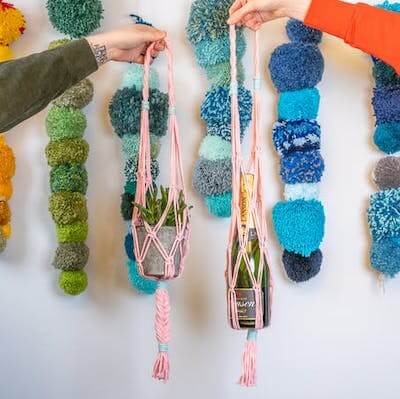 Get the Pattern here
9. DIY Macrame Water Bottle Holder by Delineate Your Dwelling
Know how to make this simple macrame water bottle holder in this tutorial. Follow this step-by-step guide to make this trendy boho-chic holder design.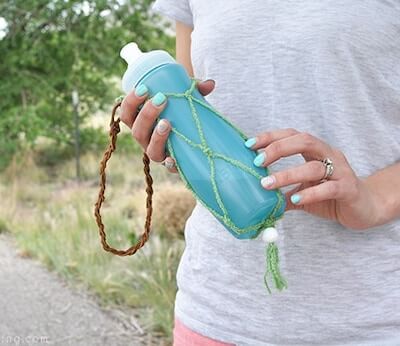 Get the Pattern here
10. DIY Macrame Bottle Vases by Crafting Fingers
Macrame is such a quick way to wrap and hang pretty much anything you can think of. Plant hangers is just the start of it.
For a quick and summer-loving DIY, put together this tutorial to make macrame wrapped bottle vases. It's the perfect upcycled touch to a summer garden party.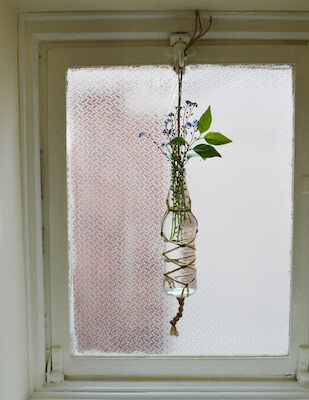 Get the Pattern here
11. Macrame Wine Bottle Holder Bag Tutorial by My French Twist
A bottle of wine is probably the most popular hostess gift ever. It's convenient to buy and appreciated when gifted. But why not add a personal touch by making a macrame wine bag yourself? This macrame tutorial is easy to follow and made with t-shirt yarn.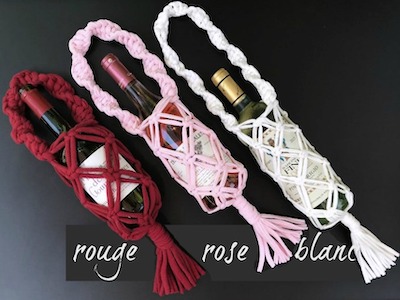 Get the Pattern here
12. Macrame Bottle Holder Pattern by David And Charles
Create a sweet macrame bottle holder with this pattern. Perfect for storing a special bottle of wine, this beautiful jute holder could also be used to showcase your favorite glass vase, and it could even double up as a plant hanger.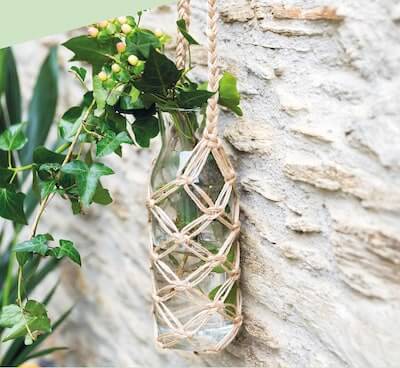 Get the Pattern by David And Charles here
WHICH OF THESE MACRAME BOTTLE HOLDERS ARE YOUR FAVORITES?
Once you're done making these awesome patterns, be sure to share some finished pictures on our Facebook Page. Tell us about what you created and how you did it!

In love with Macrame? Here's more: 21 DIY Macrame Basket Patterns, 25 Macrame Bracelet Tutorials, 35 Macrame Bag Patterns, and 21 Macrame Coaster Patterns to try!

Have fun knotting your way to your favorite macrame bottle holders!