I have always loved the look of macrame shopping bags. These macrame bags are not only cute but cut down on those single-use plastic sleeves we slide our veggies and fruits into at the grocery store. Just make sure you hide the junk food in a fabric tote right! But seriously, anything which helps me remember to take my reusable bags to the supermarket is a win!
Whether you're treating yourself or looking for a gift for a friend or loved one, these macrame market bags are perfect for any occasion. They're a great way to show off your love for all things natural, sustainable, and handmade. DIY to your heart's content, or purchase a ready-made one if you don't have the time!
18 Macrame Shopping Bags
1. Macrame Tote Shopping Bags by Lia Griffith
Follow the step-by-step photo tutorial to make your own macrame tote bags! These reusable bags are simple to make and a great alternative to plastic shopping bags.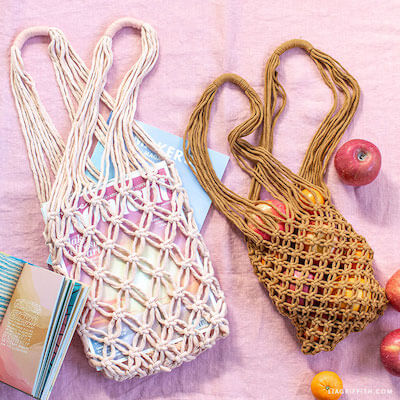 Follow the tutorial here
2. Macrame Market Bag Pattern by Tys Knots
Make a beautiful and minimalist macrame market bag that's perfect for carrying all your groceries, beach essentials or anything you need on the go. The bamboo handles make it comfortable to hold, and the simple design gives it a unique and stylish look.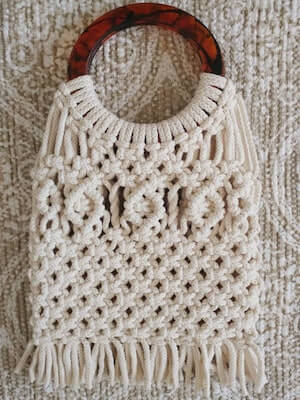 Get the Pattern by Tys Knots here
3. Macrame Shopping Bag Pattern by David And Charles
With this pattern, you can make a bright, eye-catching macrame shopping bag. It's the ideal accessory to bring with you to the market or when you're out and about running errands. You can be creative with your handle option to create your own one-of-a-kind tote bag.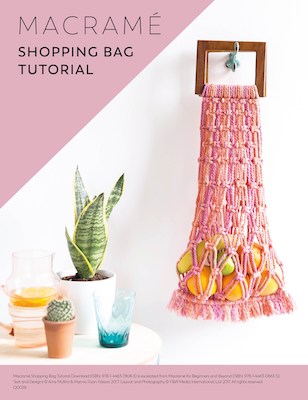 Get the Pattern by David And Charles here
4. Macrame Fringe Bag from Thread Etc
Nothing beats a gorgeous bag that can turn from a daily handbag into a functional shopping bag. And on top, it's all handmade with love! This spacious macrame bag holds all of your daily essentials. With its boho fringes and wooden beads handle, what's not to love?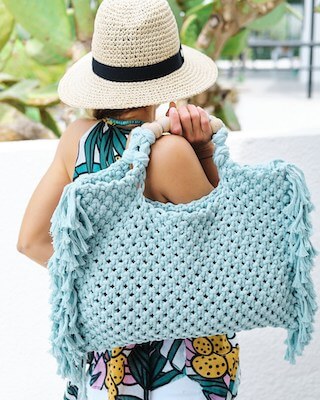 Buy from Thread Etc on Etsy here
5. Farmers Market Bag Macrame Pattern by Knot It Yourself
Whether you're going for a stroll in the park, running errands, or taking a weekend trip, this macrame market bag is the perfect companion. It's lightweight, easy to carry, and can hold all your essentials without being bulky. Plus, it's handmade with love, so you know it's not only functional but also unique and special!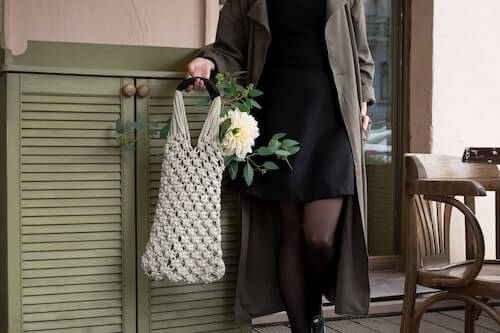 Get the Pattern by Knot It Yourself here
6. Macrame Market Bag by The Green Mad House
What better way to show off how healthy you are than letting the world see your fruit and veg haul! This macrame bag is versatile and stylish, whether you're taking it to the store or using it as a beach tote or handbag.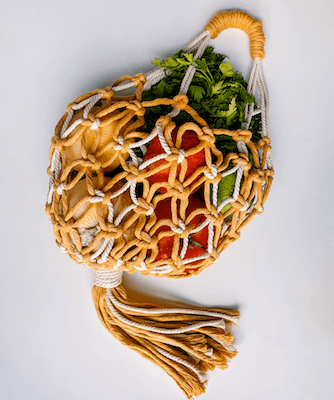 Follow the tutorial here
7. DIY Macrame Bag by Collective Gen
Reduce your waste while sporting your new handmade macrame bag at the grocery store! Perfect for shopping for produce!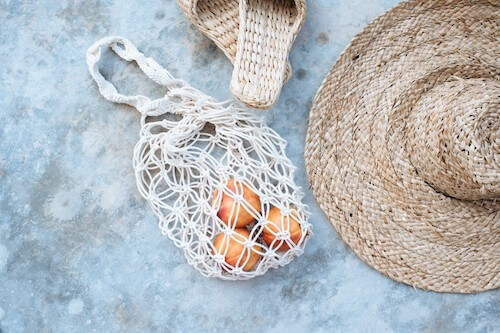 Follow the tutorial here
8. Easy Macrame Shopping Bag by Perles & Co
This macrame bag is great for anyone who enjoys the outdoors, farmers' markets, or simply needs a fashionable and sturdy bag for their everyday essentials. It's ideal for carrying your groceries, picnic supplies, beach gear, or anything else you need on the go. The minimalist design and bamboo handles give it a natural and rustic look that's perfect for outdoor adventures or trips to the beach.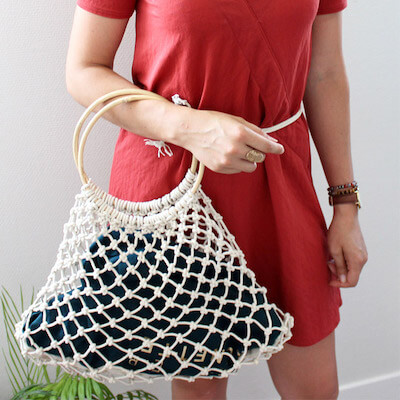 Follow the tutorial here
9. DIY Macrame Market Bag by Gray Wonders
This tutorial will show you how to make a simple macrame market bag. This mesh bag is ideal for markets, beach days, or anything else you can think of. It's made simple with beginner knots: Lark's Head Knots, Square Knots, and Gathering Knots. You can also tie rope in a loop for bag handles, or purchase wooden handles or metal hoops!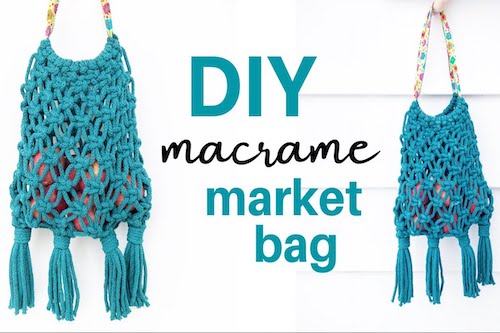 Follow the tutorial here
10. DIY Macrame Bag with Comfy Braided Handles by Marching North
Whether you're a seasoned macrame pro or a beginner, this tutorial is perfect for you. It's made using the square knot, the gathering knot, a four-strand braid, and some overhand knots at the bottom.
Follow the tutorial here
11. Peri Reusable Macrame Shopping Bag from The Macraman
Perfect for produce shopping at your local farmers' market or grocery store. The open concept allows dirt to pass through but is not large enough to allow average size produce to fall through. This reusable bag is perfect for sustainability. It is made from 100% cotton rope.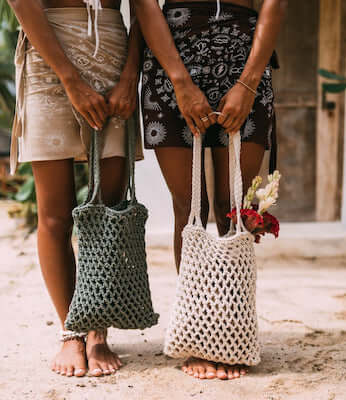 12. Boho Macrame Shopping Bag from Aarcrame
This boho statement item is made from soft cotton cords and has variously sized tight knots that offer a bit of texture to any outfit. With its off-white color, this bag is versatile enough to match any ensemble.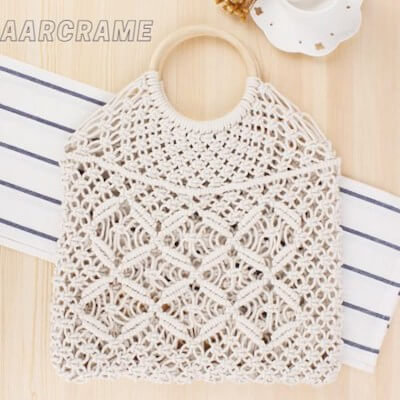 Buy from Aarcrame on Etsy here
13. Handmade Macrame Shopping Bag from Exclusive Knots
Whether you need a shopper for your supermarket trips, or a storage bag for your tea towels, this snazzy multi-purpose macrame bag is fab for all occasions.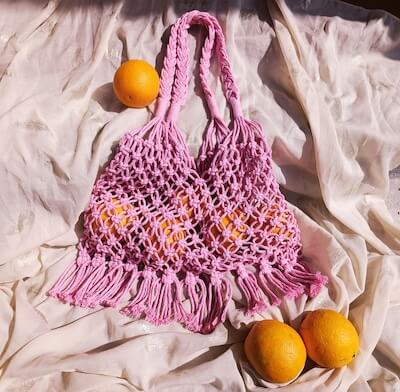 Buy from Exclusive Knots on Etsy here
14. Macrame Shopping Bag With Wooden Handles from Red Muse Knitting
Grab this bag for your day around town. It features wood handles and open-weave macramé that is expansive yet stylish.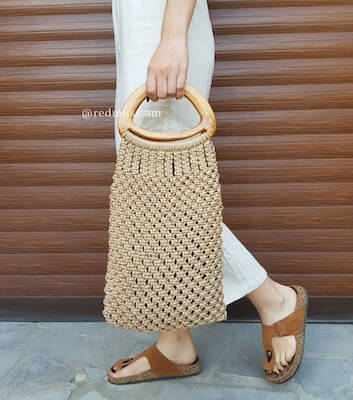 Buy from Red Muse Knitting on Etsy here
15. Macrame Grocery Bag from Live It Love It Fashion
Macrame bag with wooden handles — delicately handcrafted with fine quality yarn, this lightweight yet sturdy bag can be used as reusable grocery shopper or produce bag, farmers market bag, gym bag, yoga mat bag and even beach bag or as a stylish bag to wear everyday.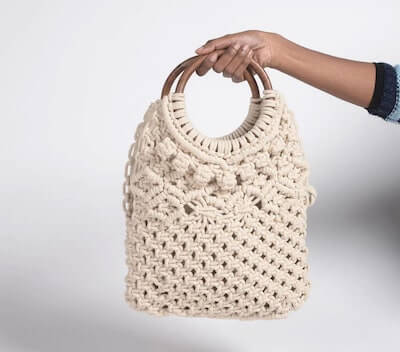 Buy from Live It Love It Fashion on Etsy here
16. Macrame Shopping Net Bag from Urbangroen
The versatility of these macrame bags makes it the perfect everyday bag to carry around shops or for a day at the beach. Plus, there are many pretty colors to choose from!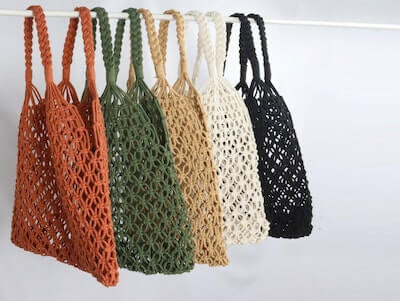 Buy from Urbangroen on Etsy here
17. Macrame Black Jute Shopping Bag from Tindale Designs
A handmade macrame jute bag designed to support you today and all the better days ahead. This bag can be folded up neatly in your main bag and be your daily friend for anything from trips to the store to a day at the beach or keeping things tidy indoors.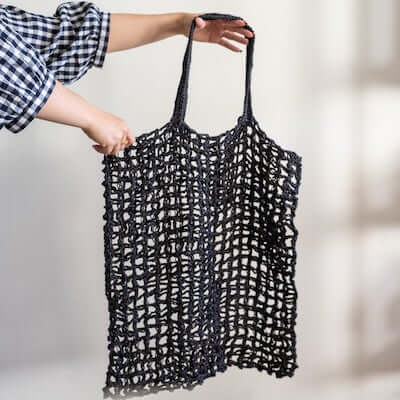 18. Handmade Macrame Tote Bag from Linden Tea Yarn Store
Some of the things I love about these handmade bags: their roomy interior to hold all the things that matter and the unique wooden handle that tops off their all-natural look. It's available in different sizes and colors, so you can choose what suits your needs.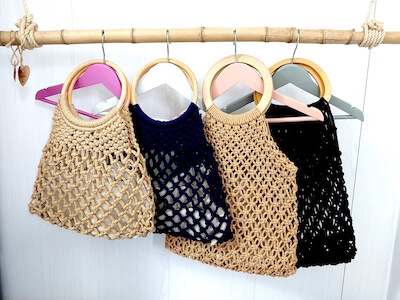 Buy from Linden Tea Yarn Store on Etsy here
IF YOU'RE OFF TO THE FARMER'S MARKET THIS WEEKEND, DON'T FORGET TO TAKE YOUR MACRAME SHOPPING BAG WITH YOU!
Macrame everything is so in right now and I'm completely obsessed! With some cotton rope and basic knots, you can make gorgeous boho-chic decor and accessories. Need more ideas? Browse our macrame projects to see what else you can make.
As always, we love to see your visions come to life. Share a picture of your final creation with us on our Facebook Page!
Beautiful and reusable macrame shopping bags – what's 'knot' to love? Get your hands on these perfect farmers' market companions today!