Needle felting is an exciting crafting technique that creates impressive results. It looks complicated; however, it is fairly easy to get amazing results.
All you need are a few basic tools and time to relax. Once you understand the basics of needle felting, you will be able to make adorable little projects in no time at all.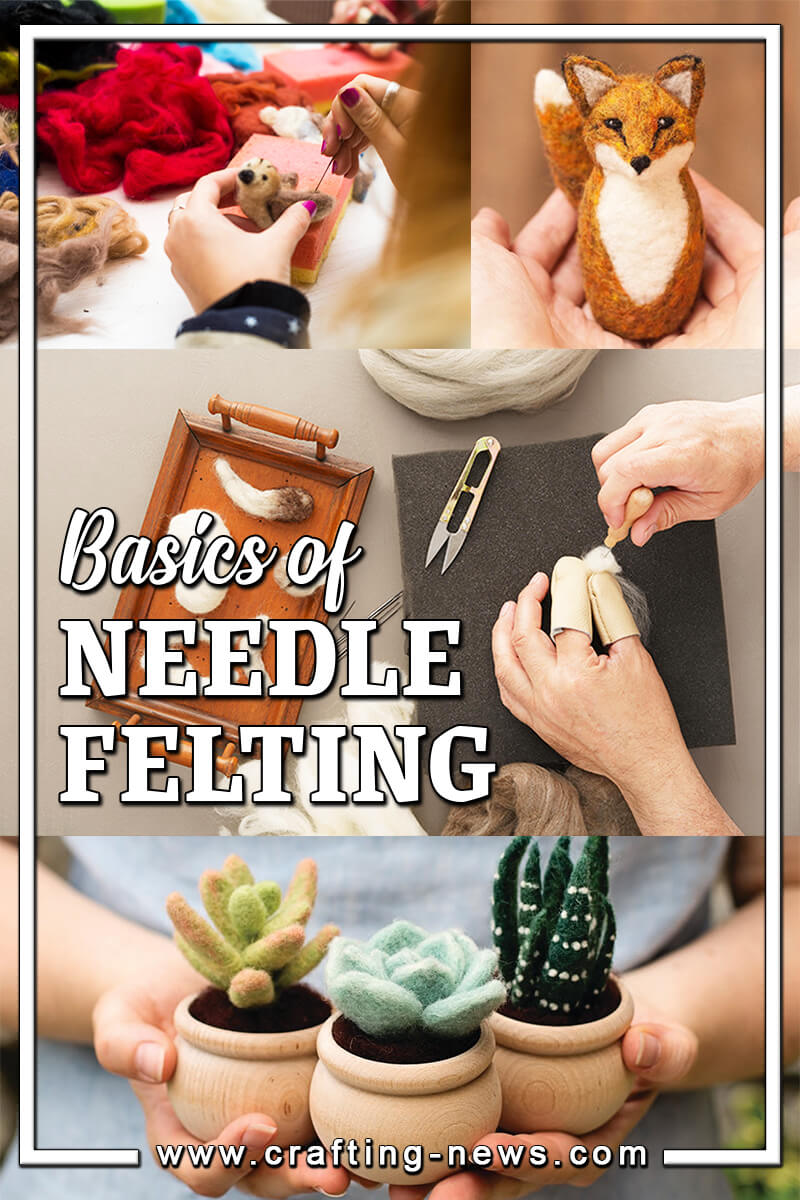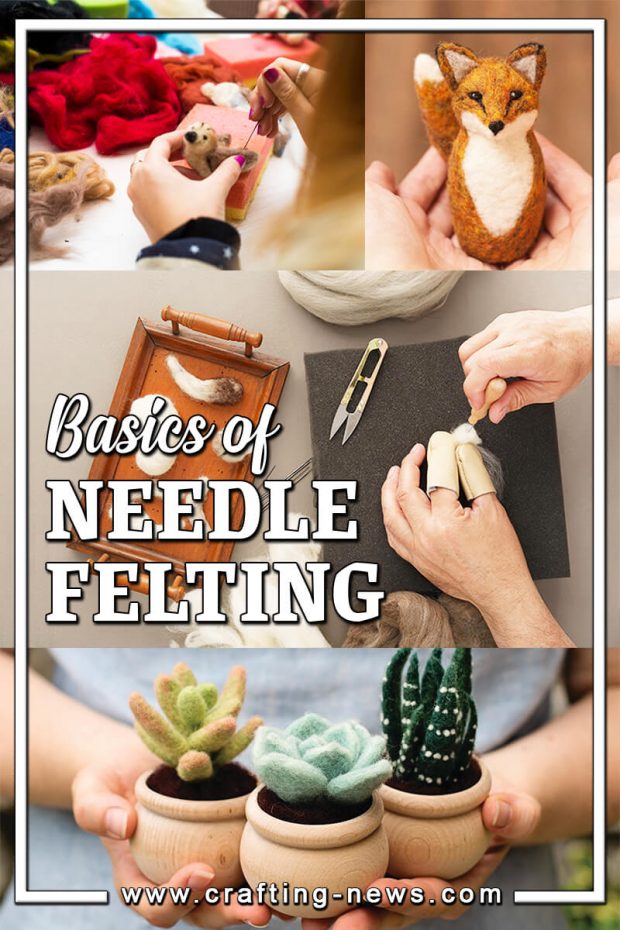 What is Needle Felting
Needle felt is a crafting technique that requires stabbing wool with a needle. The repeated stabbing of the wool stiffens the wool, giving you the ability to shape it.
Needle felting is a popular technique for crafters that enjoy creating little animals. But animals are not all you can make. You can make anything you can imagine. Other common needle felt patterns include plants, food, and cartoon characters.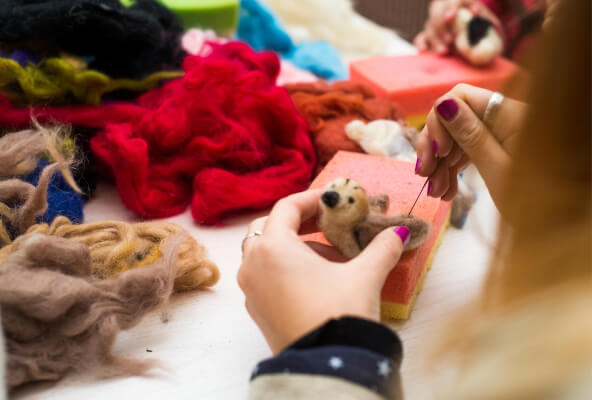 Tools Needed for Needle Felting
Needle felt is becoming extremely popular since it is therapeutic. The repeating stabbing of the needle can help relieve stress. And one of the best parts about it is, that you only need a few supplies. These include:
Wool
Felting Needles
A Felting Cushion or Pad
There are several types of wood you can use for needle felt. Once you learn the basics of how to needle felt, play around with different types.
The type of wool you decide on will often have to do with preference. The most common type of wool you will find in kits and craft stores is merino.
Wool is made up of flat, overlapping scales. When the needle is repeatedly stabbed into the wool, the scales are disturbed.
Once the directions of the scales change, they will lock together, creating a solid piece you can shape.
Felting needles come in different shapes and sizes. The needles have barbs on the bottom. When the needle is forced into the wool, the barbs grab fibres and push them down.
When the needle is pulled back out, it does not disturb the wool. The repeated stabbing motion causes the wool scales to entangle with each other, creating a dense material.
A felting cushion is used to protect you from stabbing yourself and your work surface from damage. As you stab the wool, the needle will come through the back. The cushion provides protection.
Basics of How to Needle Felt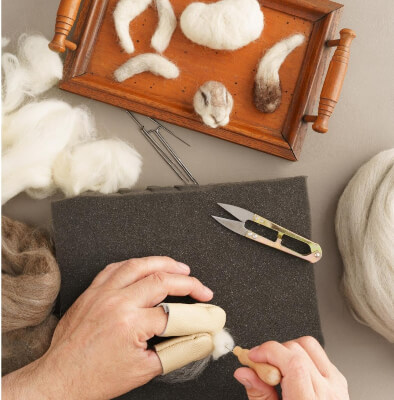 There are different needle felt techniques. The technique you use will depend on the project you are working on.
Below, you will learn the basics of how to needle felt. Once you learn the basics, you can play around with different techniques.
1. Pull off a small piece of wool from the ball. You will want the piece to be at least half an inch thicker than the form you are working on. You want to have enough wool, but not too much. If you do not have enough, you can add more later.
2. Roll the wool into a ball.
3. Begin stabbing your needle into the wool. Use an up and down motion. Keep your needle straight up and down. Do not angle your needle.
4. Turn the wool around while stabbing it with the needle. If the area you are working on feels firm, do not force the needle through it. Instead, work on another area.
5. Slowly add levers of extra wool and continue stabbing. Add wool until you have the desired shape.
6. When you are done felting, the wool should be smooth on the outside. You should not have a lot of coarse fibres poking out.
10 Needle Felting Kits
Below are 10 fun needle felting kits. If you are a beginner; these would be perfect for you.
1. Easy Beginner Needle Felt Bird Ornaments Full Kit from SagelandInspirations
Do you enjoy sitting outside watching the birds? Then give this cute little birdie kit a try. The kit includes enough supplies to make 5 bird ornaments.
The beginner-friendly kit is available in 4 different colour combinations, or customise your own set. Along with the wool, you get 2 felting needles, a foam felting pad, finger guards, eyes, and ornament loops.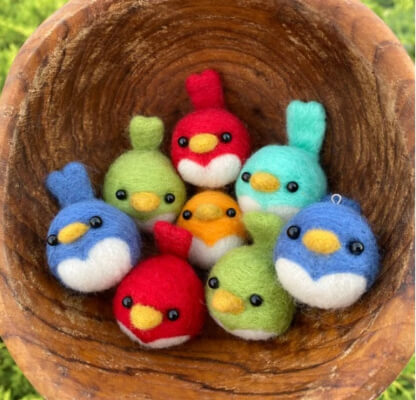 Find the Kit from SagelandInspirations HERE
2. Country Mouse with cheese & cookie Needle Felting Kit from WoollyPets
How cute is this little county mouse with his tiny piece of cheese? With this kit, you can make this little guy to display anywhere in your home.
The country mouse is available as a basic kit or a complete kit. If you are new to needle felt, you can order the complete kit and get everything you need to get started. Both kits come with enough material to make one mouse, a piece of cheese, and a cookie.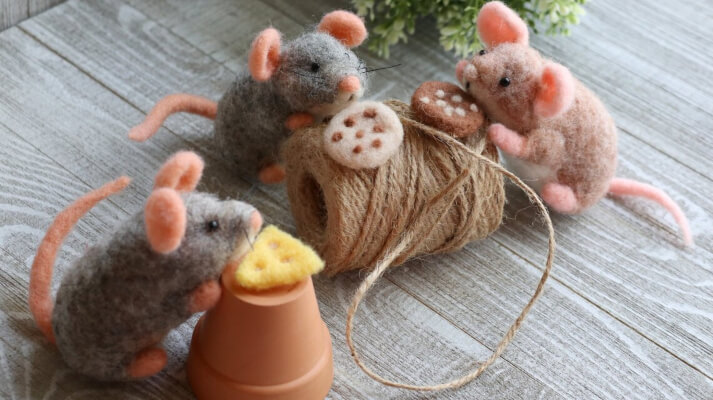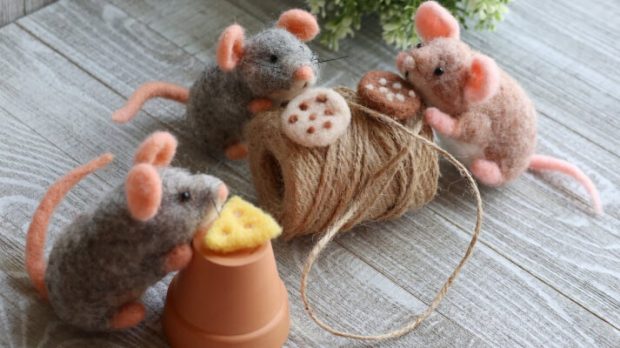 Find the Kit from WoollyPets HERE
3. Mushroom Needle Felt DIY Kit from ZuzuAndMe
Make one large felted mushroom or three hanging ornaments with this kit. They would look super cute sitting next to the little mouse. Included are instructions for 3 projects. The organic forms of the amanita mushroom are ideal for beginners learning how to sculpt with wool.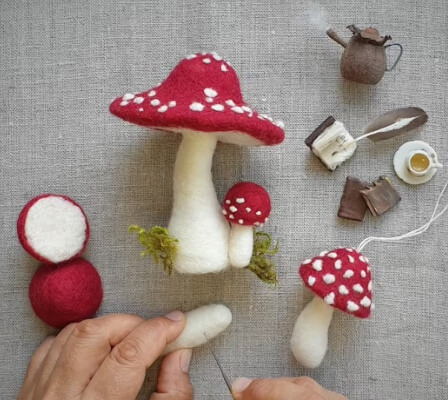 Find the Kit from ZuzuAndMe HERE
4. Alpaca Needle Felting Kit from HawthorneHandmade
Learn the calming craft of needle felt with this fun alpaca needle felt kit. The alpaca is so cute. Included are detailed step-by-step photo instructions, 2 stainless steel German made felting needles, and a foam block. This kit should take around 2-4 hours to complete.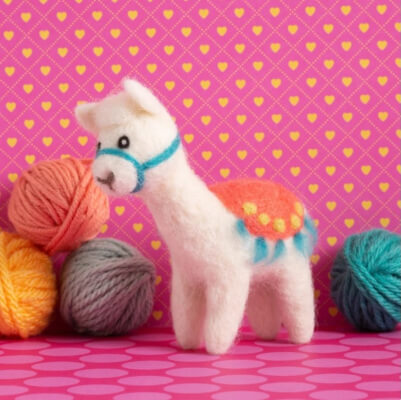 Find the Kit from HawthorneHandmade HERE
5. Cat Beginner DIY Felting Kit from BaarDuck
Here is a super easy needle felt project that can be completed in as little as 1.5 hours.
The kit includes everything you need to start felting. No previous experience is required. It would also make a great gift for any DIY lover. The finished kitty cat will measure about 3″ tall.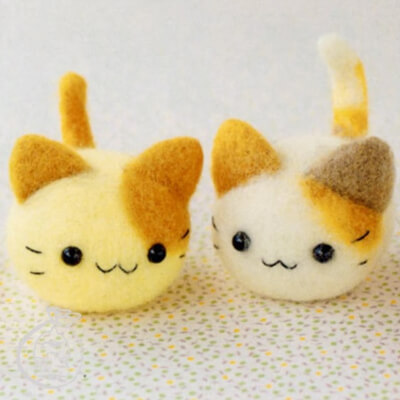 Find the Kit from BaarDuck HERE
6. Succulents Needle Felting Kit from FeltedSky
Are you looking for plants to spruce up your home or workspace that do not need water? Check out this succulents needle felt kit. This kit is fairly involved, so previous experience would not be bad to have. However, a determined beginner can complete the project.
Experienced felters should be able to make a single succulent in about 3 hours. The kit includes a beginner's guide to needle felt, an instruction sheet with pictures of every step, a link to video instructions, a leaf template, four colour-coded felting needles, felting wool, and three wooden pots.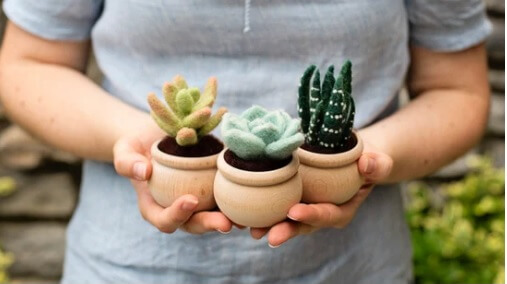 Find the Kit from FeltedSky HERE
7. Easy Waldorf Gnome Starter Needle Felting Pattern Kit from SagelandInspirations
Gnomes are so fun and whimsical. And now you can make your own customised gnome. Once you complete the kit and learn how to make the gnome, you can make a whole family.
Each kit comes beautifully packaged with 2 felting needles, a foam felting pad, finger guards, and enough merino wool for 2 gnomes. When placing your order, you get to choose both the hair and hat colours.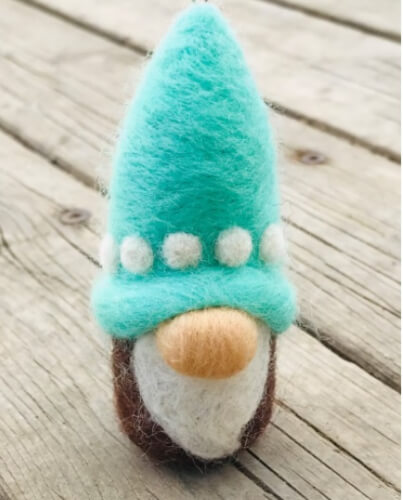 Find the Kit from SagelandInspirations HERE
8. Red Fox Needle Felting Kit from GreyFoxFelting
Make your own red fox with this beginner-friendly needle felt kit. You do not need any prior knowledge of needle felting.
This kit provides everything you need. You get a full colour instructional booklet, a supplemental "Needle Felting Tips" booklet, 3 colour coded felting needles, a high density needle felt foam block, and wool.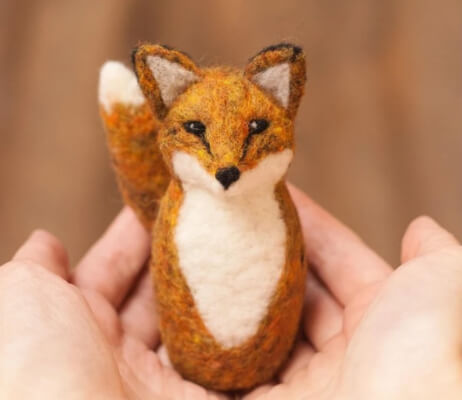 Find the Kit from GreyFoxFelting HERE
9. Dachshund Needle Felting Kit from Artec360
Are you a collector of all things dachshund? Check out this fun dog needle felt kit. Instructions are in English and include high resolution photos. There is also a video tutorial. Included in the kit are wool, a high-density foam mat, and 3 needles.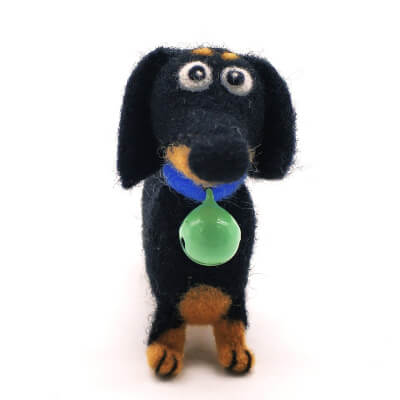 Find the Kit from Artec360 HERE
10. Diplodocus Needle Felting Kit from HawthornHandmade
Is your child's room decorated in dinosaurs? Make them a unique gift and impress them with this fun dinosaur kit.
Included are detailed step-by-step instructions, fluffy British wool, and2 stainless steel needles. You can also add a foam block to your order if you need it. This kit will take the average beginner about 2-4 hours to complete.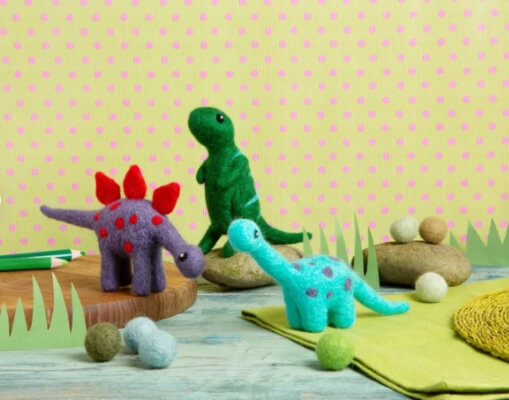 Find the Kit from HawthornHandmade HERE
So, what are you waiting for? Try your hand at needle felting.
We also have felting kits for beginners that will teach you the basics of needle felting. And once done show us your wonderful creations! And post a picture in our Facebook page! If you like this crafty project, you might also love these too: Beginners Guide to Punch Needle Embroidery.
Needle felt is extremely easy. However, since the needles are sharp, young children should not participate. Older children can enjoy the crafting technique with proper adult supervision.
Are you interested in learning how to needle felt? You will not regret it. Needle felting is an enjoyable crafting technique that lets you play around with your creativity.