Pinwheel quilts, how we adore you! With these Pinwheel quilt patterns, you can put a new spin on quilting. Use a pre-planned color scheme or make your quilts scrappy—the variety of styles has something for everyone. You won't believe how much fun you're going to have creating your family's next heirloom treasure.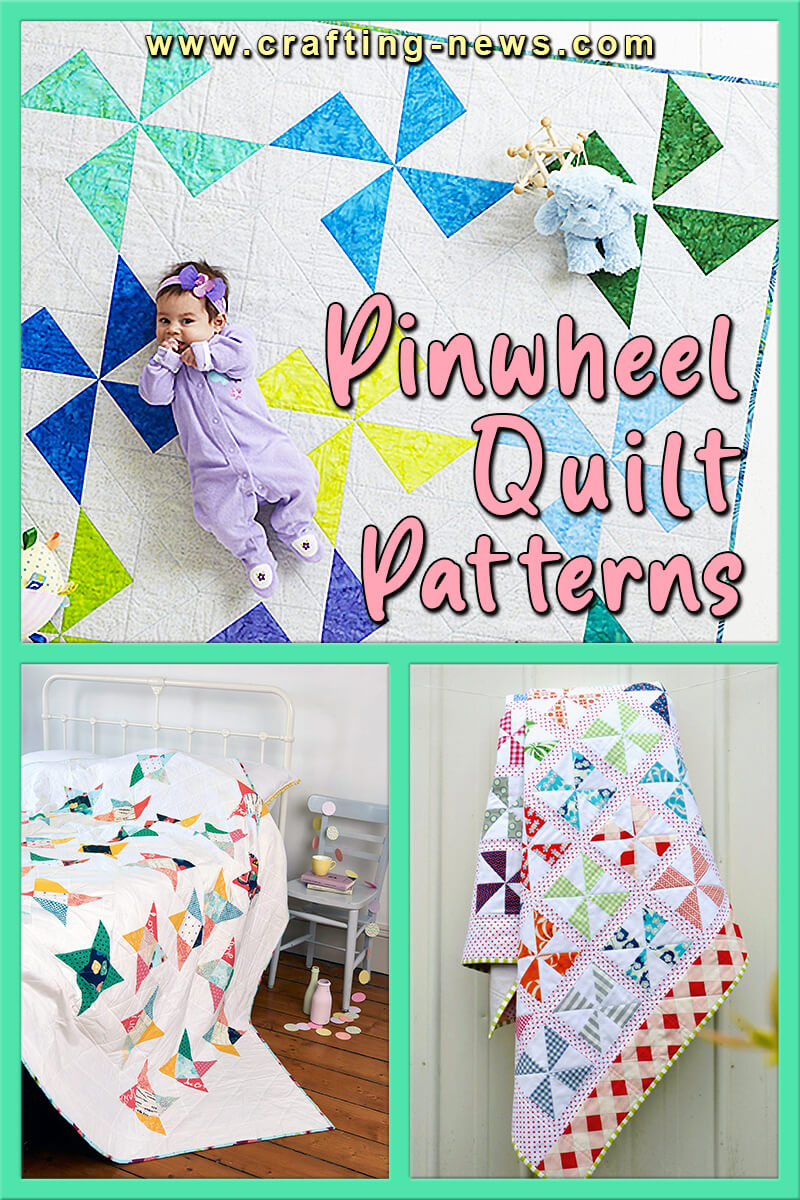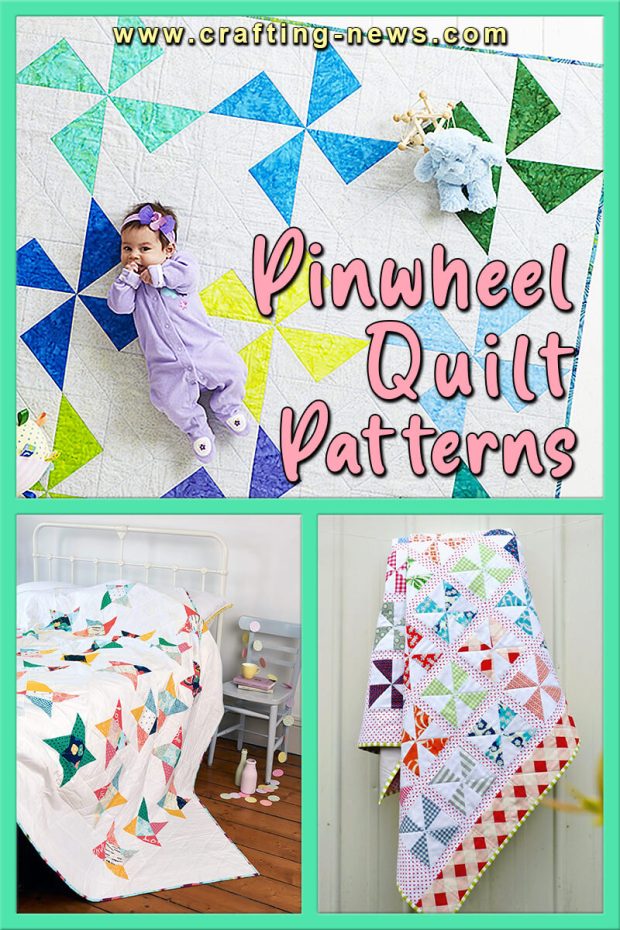 This collection offers a page of easy quilt patterns dedicated to the traditional Pinwheel, ranging in difficulty from easy cut-and-piece designs that use paper-piecing. If you like the whimsical Pinwheel pattern, this list is a jackpot of fun and fabulous ideas.
We love every variation on the classic Pinwheel because each one creates dynamic movement and flow. Check out these ideas right below!

1. Modern Pinwheel Baby Quilt Pattern by The Quilt Yarn
This colorful baby quilt pattern is a new look at the traditional pinwheel quilt block. This is a no fuss project ideally suited to use up those leftover scraps from previous projects as well as being Fat Quarter friendly.

The pattern is suitable for the beginner quilter and is a great option if looking to make a gender-neutral baby shower gift, kid's quilt or play mat.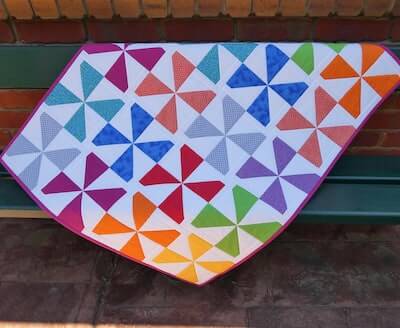 Get the Pattern by The Quilt Yarn here

2. Split Pinwheels Quilt Pattern by Orange Dot Quilts
The split pinwheels are easier to make than traditional ones because there is no need to match the points and there are no bulky seams in the middle of the block. The piecing goes fast with string sewing techniques and smart cutting strategies.

Almost any fabric combination works for this quilt, from solids to busy prints. The quilt will change its look and feel depending on the combination you choose. The quilt would look gorgeous in a scrappy version, too.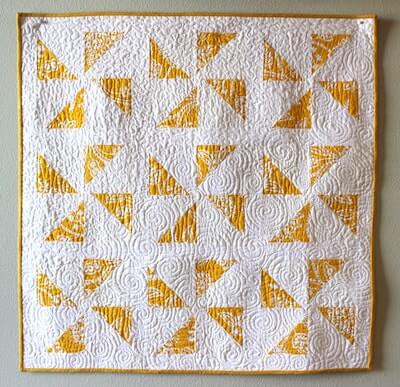 Get the Pattern by Orange Dot Quilts here

3. Pinwheel Daydreams Baby Quilt Pattern by Sew Can She
Learn to sew an easy Pinwheel Baby Quilt using big blocks. This free quilt pattern for a Pinwheel Daydreams Baby Quilt is bold and modern, and it only uses 3 different fabrics.

Nothing could be dreamier than this fast and easy pinwheel baby quilt that's a kaleidoscope of dreams! The large pinwheel blocks sew together easily so you can quickly piece this baby quilt pattern in an afternoon with very little fabric waste.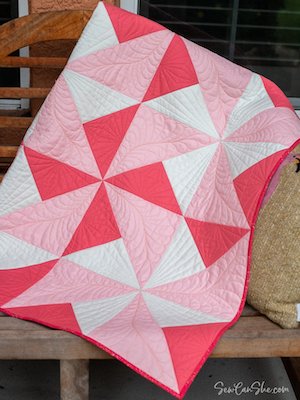 Get the Pattern here

4. Jolly Pinwheels Quilt Pattern by A Bright Corner
Get ready to break out an unusual precut for this gorgeous modern pinwheel quilt. Made using jolly bars, this Jolly Pinwheel Quilt Pattern is a quick and easy quilt that can be made in a single weekend and combines the classic design of the traditional pinwheel with a revamped modern look.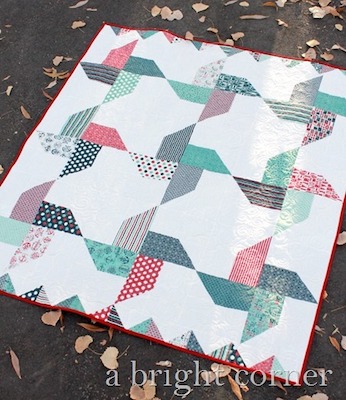 Get the Pattern here

5. Pinwheels On Parade Quilt Pattern by Red Pepper Quilts
Pinwheels on Parade is a traditional quilt pattern using modern fabrics, and is suitable for a beginner to intermediate sewer. It requires experience in rotary cutting and basic straight line sewing. It is a fresh and modern pattern based on just one traditional quilt blocks.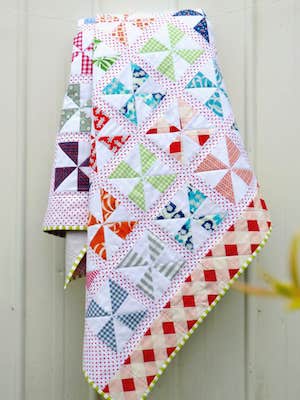 Get the Pattern by Red Pepper Quilts here

6. Floating Pinwheels Quilt Pattern by Quilting Daily
Make this colorful throw for your family room or den, and it will surely be the one everyone wants to wrap up in. The easy-to-make blocks are constructed from pre-cut strips, and the white background provides a canvas for some awesome quilting.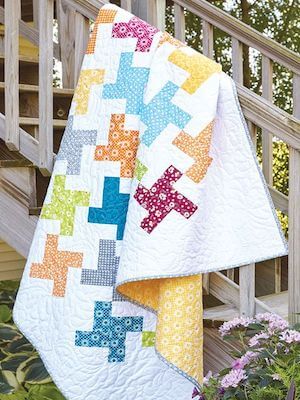 Get the Pattern here

7. Pinwheels Over Patchwork Quilt Pattern by Carried Away Quilting
Pinwheels Over Patchwork is 40 inches square, making it a great size to grace your table or hang on your wall. The pattern is precut friendly. If you have two favorite charm packs or one jelly roll along with a bit of yardage, you are all set. Great pattern to show off all of the fabrics in a favorite line!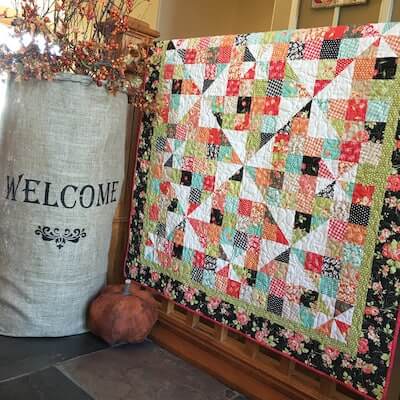 Get the Pattern by Carried Away Quilting here

8. Pinwheel Baby Quilt Pattern by Becky's Quilt Designs
You can't beat a pinwheel quilt for a timeless DIY quilt which will make a sweet family heirloom. This simple design won't take long to make and will suit confident beginners or quilt-makers with a few previous quilts under their belts.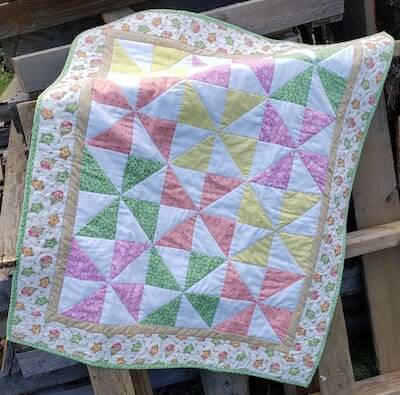 Get the Pattern by Becky's Quilt Designs here

9. Pinwheel Romance Quilt Pattern by All People Quilt
Fall in love with easy-to-piece coral pinwheels. Careful fabric placement and selective quilting allow these subtle spinners to emerge at block intersections.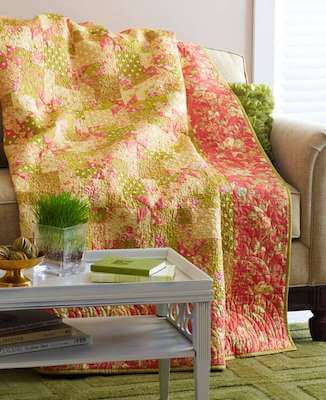 Get the Pattern here

10. Playful Pinwheels Quilt Pattern by Gathered
Mix up the colors to change the effect of your finished Playful Pinwheels Quilt – opt for low volume white background fabric to really make our pinwheels pop, and laid out the pinwheels to form intersecting diamonds across the quilt top.

This free pinwheel quilt pattern will show you how to make your own, step by step, from cutting your fabrics to piecing the pinwheel quilting blocks and finishing your quilt.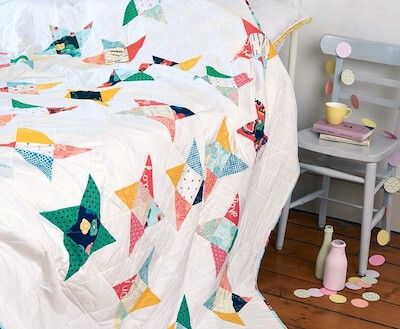 Get the Pattern here

11. Pinwheels Galore Mini Quilt Pattern by Monday Morning Designs
Let the captivating spin of Pinwheels Galore carry you away! To highlight these playful pinwheels even more, add a pop of color in the pieced sashing. This beginner-friendly pattern goes together quickly as it's designed for both strip piecing and chain piecing.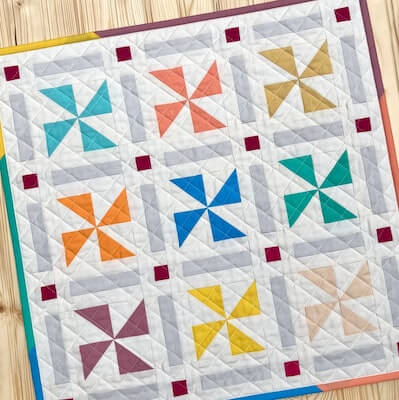 Get the Pattern by Monday Morning Designs here

12. Pinwheel Whirl Quilt Pattern by Devoted Quilter
Pinwheel Whirl is a throw sized quilt that finishes at 60″ x 72″. The dual pinwheel design stitches up quickly using only traditional piecing methods and the abundant negative space gives you lots of room for your favourite quilting motifs.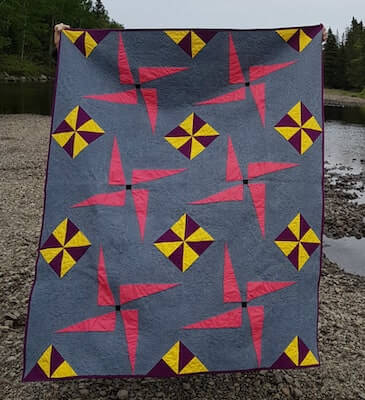 Get the Pattern by Devoted Quilter here

13. Rivermill Quilt Pattern by Running Stitch Quilts
This is a modern quilt pattern that takes on the classic pinwheel block. This block-based quilt is a versatile quilt to make because it can be made with fat quarters or half yards. The pattern includes four sizes, but can be easily scaled up or down because it is block based.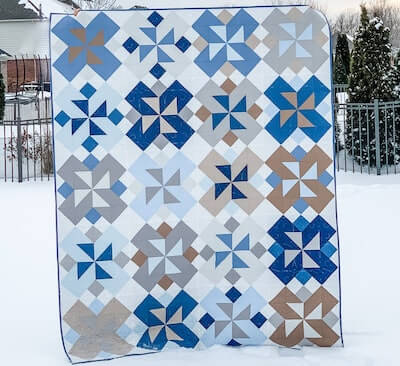 Get the Pattern by Running Stitch Quilts here

14. Pinwheel Layer Cake Lap Quilt Pattern by New Quilters
If you know how to make a half-square triangle block, you can make this quick and easy quilt. Start with 10″ squares from a fabric layer cake collection (or you can cut some of your favorite fabrics into 10″ squares), combine them with white 10″ squares to make half-square triangle blocks, and use the pattern below as a guide to arrange them into a quilt.

The finished quilt is the perfect size for snuggling up in on the couch or in your car.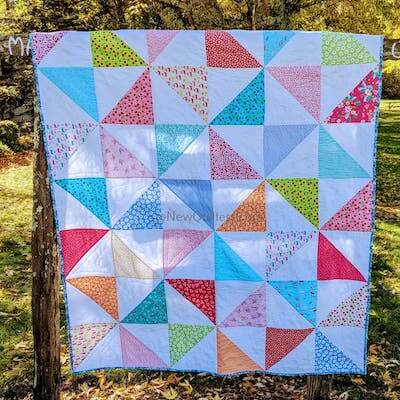 Get the Pattern here

15. Pinwheel And Patches Quilt Pattern by Jedi Craft Girl
Make the perfect summer throw, or a delightful baby quilt by incorporating half squares triangles into your patchwork to form a pinwheel in the middle. Fat quarter friendly, provides a beautifully coordinated array of fabrics, cut into charm squares. This happy quilt is totally scrappy so no fuss, simply cut and sew.

Choose fabrics that lend themselves to a patchwork feel, bright summery prints with colorful blossoms and birds, butterflies and bluebells! Or mix up a favorite which can easily be cut from scraps large enough to render 5″ squares, and yardage.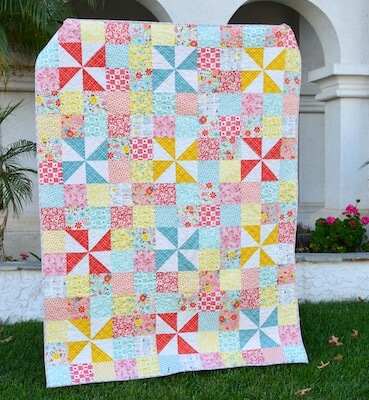 Get the Pattern here

16. Pinwheel Surprise Quilt Block Pattern by Jaded Spade Creations
This easy-to-follow pattern results in this stunning pinwheel wall hanging. Easily increase the number of blocks to create a larger project – up to King size quilts!

This wall hanging pattern requires only 80 5″ charm squares plus fabric for borders and backing. Pinwheel wall hanging finishes 25″ square with the optional borders.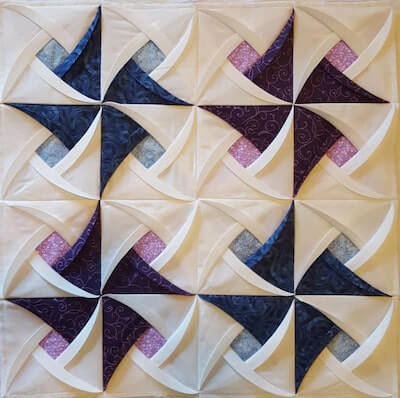 Get the Pattern by Jaded Spade Creations here

17. Pinwheel Party Quilt Pattern by Twiddletails
This quilt consists of 12 different 12″ x 12″ blocks, presented block-of-the-month style. Each block features a different pinwheel layout.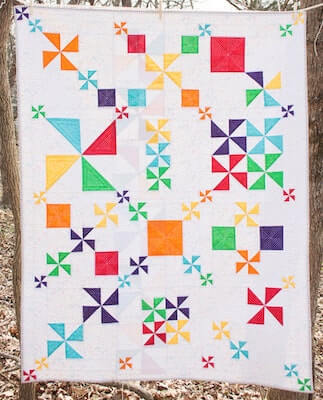 Get the Pattern by Twiddletails here

18. Put A Spin On It Quilt Pattern by All People Quilt
Looking for a quick shower gift? Larger-than-life Pinwheel blocks ensure this baby quilt comes together quickly.
Get the Pattern here

19. Pinwheels In My Window Quilt Pattern by Maple Cottage Designs
This beautiful Pinwheel Quilt Pattern features pretty pinwheels spinning amidst white sashing and border, and offset with contrasting binding. Perfect to feature charm packs, fat quarters or scraps – make it in red & white, blue & white, sweet baby prints, etc.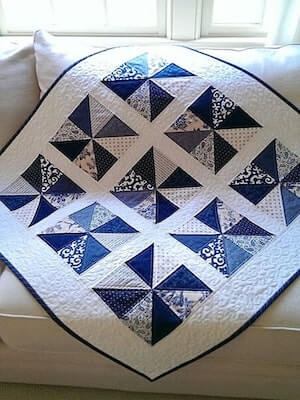 Get the Pattern by Maple Cottage Designs here

20. Faux Cathedral Pinwheel Quilt Block Pattern by In The Hoop Online
This Faux Cathedral Pinwheel quilt block is a take on the original Cathedral Pinwheel, but it has been adapted to be made and quilted on the embroidery machine.

Your choice of fabrics and threads can greatly alter the look of your finished quilt or cushion, so have a play around and see what you can come up with.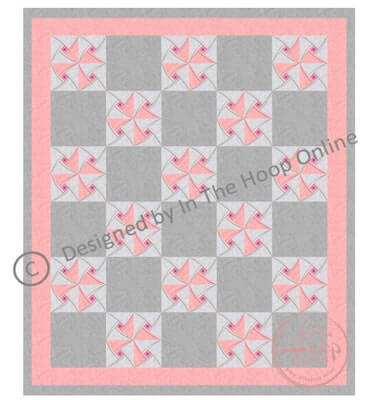 Get the Pattern by In The Hoop Online here

21. Navy And White Pinwheel Quilt Pattern by Tea Rose Home
The classic navy and white colors make this pinwheel quilt a minimalist look. With just a few nicely placed pinwheel crosses, a lovely tiled design comes out.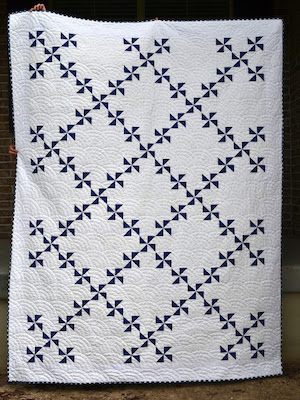 Get the Pattern here

22. Prairie Pinwheel Baby Quilt Pattern by The Cloth Parcel
Here's a stunning baby quilt tutorial! Made with pinwheel and snowball blocks. This generously-sized baby quilt is accented by prairie points and a sweet checked border.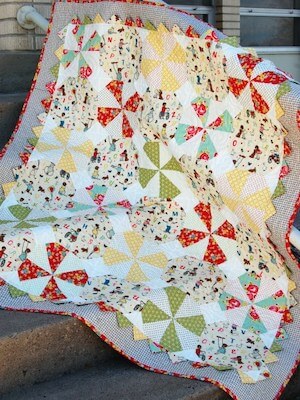 Get the Pattern here

23. Playful Pinwheel Quilt Pattern by Maryland Quilter
Spinning round and round, can you imagine the motion of this children's toy? Now you can make a pinwheel that will be a treasured keepsake of childhood. The center pinwheel is made with a unique 3 dimensional pattern that is both striking in appearance and easy to create, even for a beginner.

This quilt is a whole cloth quilt, which means that you cut the front, back and batting all the same size as the finished quilt. The appliques are sewn with the fabric edges raw, exposed. It is designed to fray to the stitches, giving a textured, folk look to the quilt.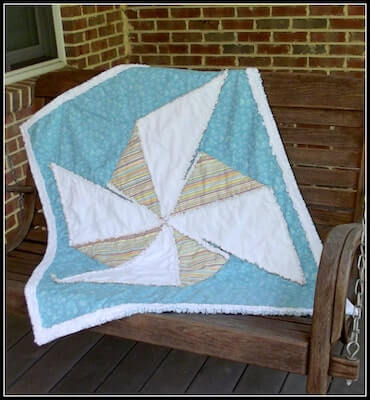 Get the Pattern by Maryland Quilter here

24. Pinwheel Garden Quilt Pattern by Devoted Quilter
Pair your scraps with solid yardage to create a beautiful garden! Pinwheel Garden includes instructions for a 43″ x 43″ baby quilt and a 98″ x 98″ queen size quilt, along with 65″ x 76″ throw size.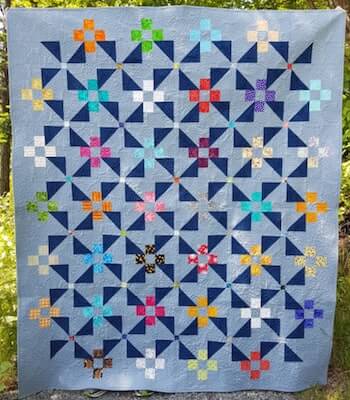 Get the Pattern by Devoted Quilter here

25. Summer Breeze Quilt Pattern by Carried Away Quilting
Colorful pinwheels spin like whirligigs in a summer breeze in this delightful pattern. Pull your favorite mini charm pack and some coordinating fabrics to create this cheerful summer scene, all wrapped up by a dancing ribbon.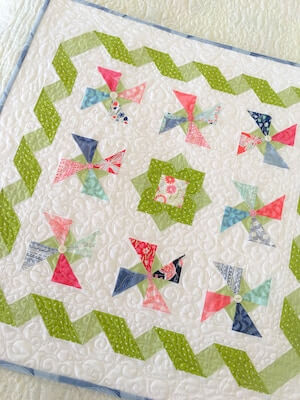 Get the Pattern by Carried Away Quilting here

26. Summer Pinwheel Quilt Pattern by The Polka Dot Chair
This is a super simple summer pinwheel quilt. It's a breeze to make and uses prints of fabric and a 10″ stacker (10″ stacker is a package of pre cut fabric all cut into 10″ squares).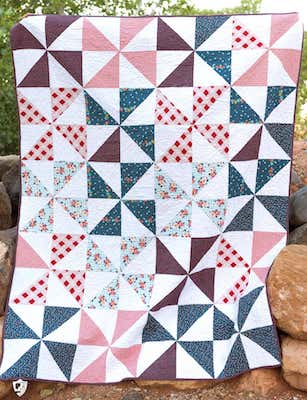 Get the Pattern here

27. Quilted Peppermint Pinwheels Table Runner Pattern by Tulip Square
Monochromatic Pinwheels make up this Peppermint Pinwheels Table Runner. This topper with it's repeating pinwheels is reminiscent of classic peppermint candies. We have shown it in reds or blues, you could make it in any set of colors to match your room – or your favorite starlight mints! Finished runner size is 16 x 46 inches.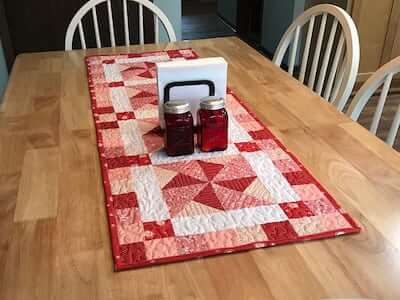 Get the Pattern by Tulip Square here
WHEN IT'S TIME TO RIFLE THROUGH ALL YOUR FAVORITE FABRICS, DON'T FORGET THESE PINWHEEL QUILT PATTERNS THAT WILL SET YOUR FABRICS IN MOTION.
Share these pinwheel quilt patterns to your pals and make sure you head to our quilting patterns archives for more fun projects. Oh! And post a pic of your finished quilts on our Facebook Page – we'd love to see them.
Whether you're impatient and want to get started in a hurry, or you've got a reason to quickly construct a beautiful quilt, these Pinwheel quilt patterns will help you whip up a work of textile art in record time!