Fire King Ware was made by the Anchor Hocking Corporation from 1942 to 1976. In 1992, Anchor Hocking celebrated the 50th Anniversary of the Fire King brand by creating promotional items.
Back then, you could find this glassware in homes everywhere. Today, you have to search high and low to find complete sets of Fire King Patterns.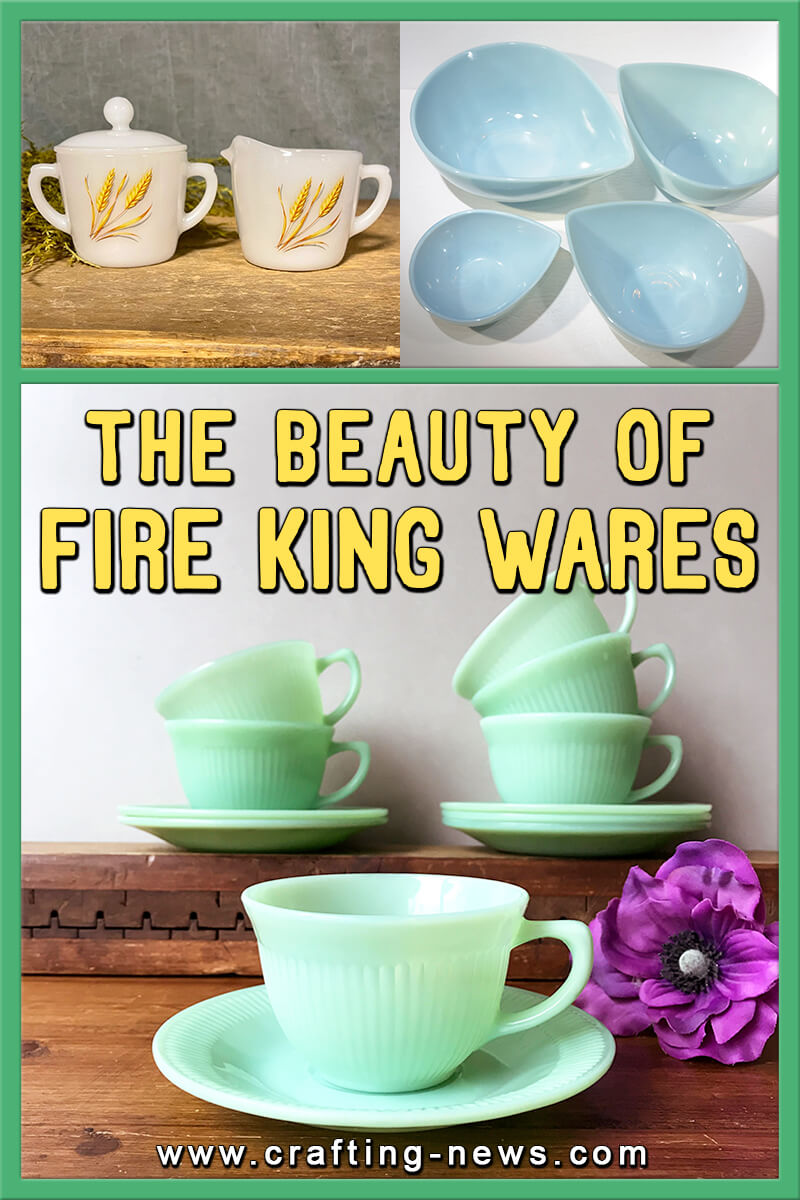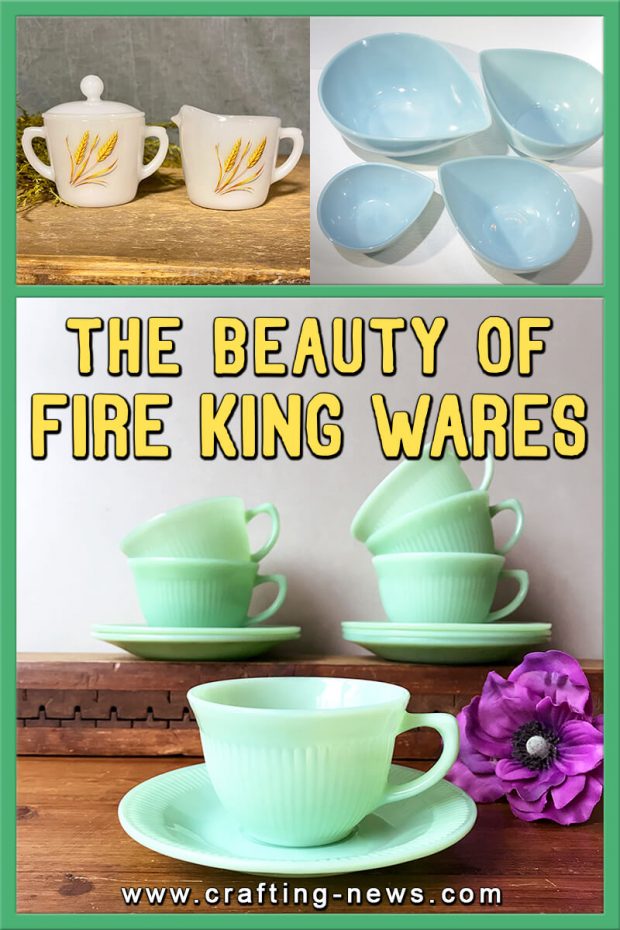 What Are Fire King Glassware Products?
The line of Fire King products included cups, saucers, plates, bowls, creamers, platters, casseroles, vases, and more.
Even though Fire King products were designed to be oven-proof, they were not intended to be dishwasher safe. Washing the ware in the dishwasher can damage the decorations and dull the lustre.
If you are an antique collector with a fondness for vintage dishware, you have probably heard of Fire King dishware.
If you have taken an interest in collecting the highly sought-after glassware, you probably want to learn more about the brand. Continue reading to learn about some of the most popular Fire King patterns and colours.
Why You Should Invest in Fire King Products
Fire King collectables are highly sought after among collectors. The products are durable and have often been passed down through generations. They are gorgeous pieces that are still a staple in many American households.
Unlike many products found in stores today, Fire King glassware lasts. Over time, sets have been broken up and are now hard to find complete.
This makes collectors always on the search for specific patterns and designs. If you are looking to collect something that will last for years and hold its value, Fire King is never the wrong choice.
The Famous Fire King Milk Glass Line of Glassware
One of the most famous lines of Fire King ware was made from milk glass. There was Jadeite, Azurite, and Roseite. These special "ite" glass colours had a subtle creamy colour.
Other Popular Fire King Glassware Colours
Burgundy is a deep red colour with a hint of purple. It is named after Bugundy wine. It is one of the hardest to find Fire King colours.
Ivory was Anchor Hocking's alternative to plain white. The elegant off-white colour is classy while still being fashionable. It was the perfect go-to colour for the younger generation.
Peach lustre is a vibrant apricot-peach colour that has an attention-grabbing shimmer. The shinny Fire King products are oven-safe. However, they are not dishwasher safe. Washing them in a dishwasher will dull the shine.
The Rainbow line of Fire King ware was made for families that were all about expressing themselves with bright colours. The line of glassware includes gradients of blues, greens, yellows, and reds. When stacked together, they resemble a rainbow. There is also a pastel variation.
Turquoise blue is an eye-catching colour that is fun and festive. It is a brighter blue than Azurite.
White was the most common colour used when patterns were added. The white allows the patterns to pop and be the main focus of the Fire King products.
Vintage Solid Glass Designs and Decaled Anchor Hocking Fire King Patterns
The Anchor Hocking Fire King line of products were found in many homes. They were a way that families were able to splurge on new housewares after the great depression.
There were so many colours and designs to choose from, there was something for everyone. Instead of using the old pottery-based kitchenware of days gone by, housewives were able to express themselves in their kitchens.
Anchor Hocking was known for producing highly stylised glassware. They gave customers the choice between moulded glassware and decaled Fire King patterns.
Fire King Solid Glass Designs
The Alice design features a circle of ridges around the centre, surrounded by a ring of flowers. The edge of the piece has a rigged pattern.
The fish scale design could often be found in upper-class homes. The design features a fish scale texture around the edges of the glassware.
Jane Ray was the most common Fire King glassware design. It was in production for almost 20 years. The Jane Ray solid glass design is typically found in the Jadeite colour.
The Jane Ray line of Fire King products became even more collectable after they were mentioned by Martha Stewart on her television show and in a magazine.
Fire King produced 2 wheat designs. Once was decaled on the glassware and the Sheaves of Wheat was moulded directly into the glass. The mould is a simple debossed stalk of wheat that circles the glassware.
The Shell pattern is one of the most elegant Fire King glassware patterns. It features a wave-like design moulded into the rim of the solid glassware that resembles a shell.
The Swirl pattern is an elegant design that produces swirling motions that surround the solid glassware pieces.
The Three Bands design is a simple design that features consecutive banding. This pattern is highly sought after by collectors.
Famous Decaled Fire King Patterns
The Anniversary Rose decaled Fire King pattern line was a sophisticated pattern. It features single rose stems. This pattern was often given to wives on anniversaries.
The blue mosaic Fire King pattern is a classic retro design with a blue colour scheme. The mosaic tiles work out from the centre of the pattern, creating a burst. The tiles located in the center are dark blue.
They gradually fade in colour as they work their way out towards the edges. Sometimes, people view this design as a stain on a glass window.
Fleurette was one of the top selling decaled Fire King designs. It is a girly design that features a circle of flowers. It was popular for dinner parties and afternoon teas.
The Forget Me Not Fire King patterns were simple designs. The pattern includes blue flowers, stocks of yellow wheat, and a long green leaf. The glassware was commonly used during significant events.
Honeysuckle is comparable to Fleurette design. However, the flowers and leaves are shaped more like honeysuckle. And the flowers are darker. If you are a collector, keep an eye out for two different Honeysuckle glass tumblers. One is a 5 oz. juice glass and the other one is a 12 oz. iced tea glass.
The meadow green Fire King decal pattern features a green floral design. It can be found on a wide variety of products, from plates to soup bowls.
Primrose is a beautiful pink and red flower pattern. It is an elegant design that women loved. The Primrose Fire King patterns were available on both dinnerware and ovenware.
Wheat is one of the most popular Anchor Hocking Fire King patterns among collectors. It is a very simple design that is gorgeous. It features golden sticks of wheat on white milk glass. The glassware has a classic farmhouse style and is ideal for fall festivities and the harvest season.
Most Popular Fire King Products
The Ball Jug was the most unique Fire King item produced by Anchor Hocking. Over the years, many companies have tried to duplicate the design, but Fire King was the original. The Ball Jugs were a limited production, so they are considered one of the most sought-after rare Fire King patterns.
Fire King produced an array of dishes for each design line. At one time, Fire King dishes could be found in a lot of homes. They were used as everyday dinnerware and parties.
Mugs were some of the most common pieces of Fire King glassware. They produced plain mugs, imprinted mugs, and decaled mugs. They were frequently used for advertising. You can find Fire King mugs with company logos and Cartoon Characters. Mugs are easily found at estate sales and in antique malls.
Fire King Nesting Bowls came in a set of 4. They perfectly stack together, mimicking the famous Matryoshka dolls.
Fire King Ovenware was made in a wide variety of shapes and sizes. You can find all patterns is oval, rectangular, and square. Ovenware is some of the most common Fire King pieces you can find.
Before Tupperware, there were Fire King Refrigerator Dishes. Instead of using plastic lids, the Refrigerator dishes came with glass lids. Unlike Tupperware, the glass dishes could be taken out of the refrigerator and placed directly into the oven.
How to Determine Faux-Fire King Products
Just as with every collectable item, there are fakes on the market. If you collect vintage Fire King products, it is important that you know how to spot a replica. Educate yourself on all the colours and patterns. Study your authentic Anchor Hocking Fire King products. Look at them intently and learn how they look and feel.
Another tip is to always hold the glassware up to the light and pay attention to the glare. Fire King decaled products were often hand-painted, then fired. This ensured longevity and durability. When you hold decaled products in the light, the decal should not have a glare like a photograph. If it does, it is a tall-tale sight that the product is a fake.
How to Take Care of Your Vintage Fire King Ware
If you have Fire King glassware, you probably are wondering how to properly take care of it. Fire King ware is tough and durable. And there are many families that still use it in their everyday lives. So, do not think you cannot use and appreciate your collection from time to time.
The most important thing to remember when caring for your Fire King ware is to be careful. You do not want to chip or damage any piece. Handle each piece with extreme care.
When cleaning the ware, never place them in the dishwasher. The extreme temperature, pressure, and harsh detergents can damage the finish, causing discoloration and clouding. Always handwash your Fire King products using a gentle detergent.
We do not recommend using your Fire King products in the microwave. This is a highly debated topic. If you do use them in the microwave, you are taking a chance of damaging them.
Collecting Vintage Fire King Ware Products
The vintage Fire King line of products was originally produced for common household use. Over the years, they have gained an enormous amount of interest and become highly collectable. They are beautiful and can bring a touch of nostalgia into your home.
When collecting Anchor Hocking Fire King products, you can gather whole sets or display a wide variety of the products. There is no set of rules. Find what you love and what makes you happy. There are plenty of colours and Fire King patterns available, so you can make your own unique collection.
Now that you have dining wares, it is time to make the perfect placemat and table runner to add beauty to your dining table. Check out these patterns and find out which fits best to your taste.
Happy collecting these Fire King Wares!