If you are new to sewing, you may be asking yourself what is a serger machine. And do you need one? There are many good reasons to own a serger sewing machine.
In this article we will explain to you what is a serger machine, their importance and how they differ from a regular sewing machine.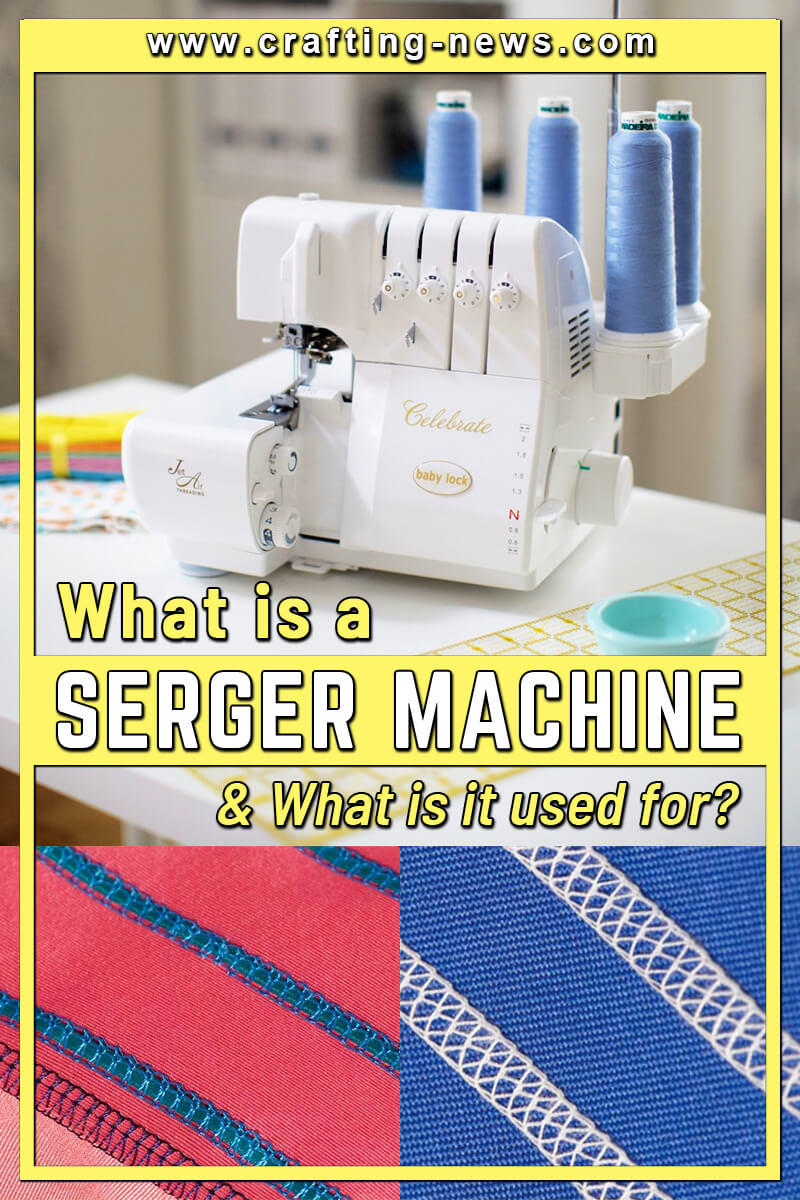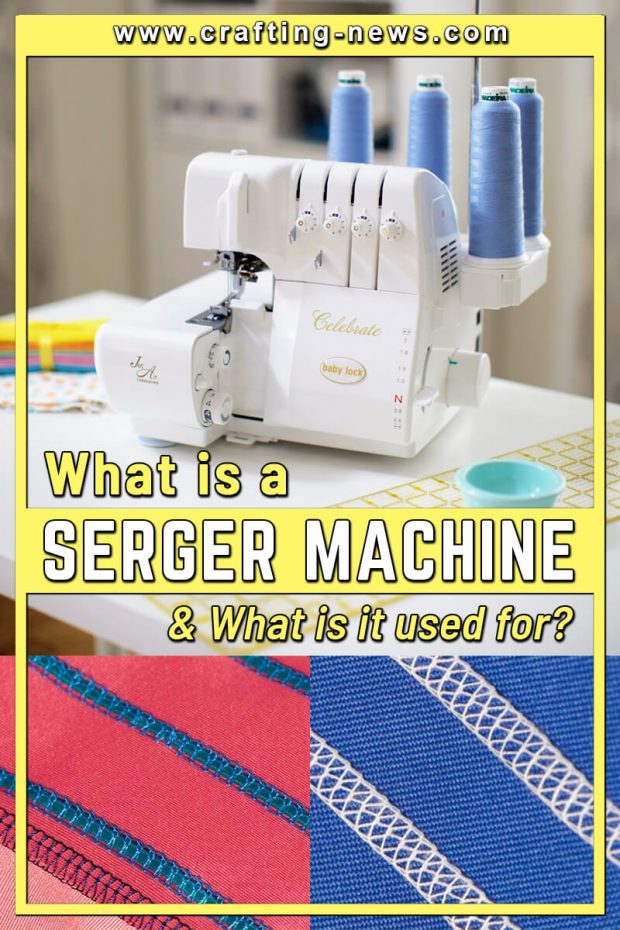 What is a Serger Machine?
A serger sewing machine is also referred to as an overlocker. It is a specialised machine that can trim a seam and encase raw edges using multiple threads.
The best thing about a serger is that it is not capable of only one thing. A serger is also known for its lasting and versatile stitches that you can use for construction, reinforcement, or decoration.
And most of the time, sewers use different kinds of stitches depending on their fabric use or functions.
What Does a Serger Do?
Even though there are some pieces you can do with a serger alone, this machine can't totally replace a regular sewing machine. A serger instead, is an excellent complement to your sewing machine.
Here is a list of things your serger can help you with:
Multiple stitches combinations
Faster sewing – A serger machine will take your sewing project half the time to finish because it's twice as fast as a sewing machine.
Sewing knits and stretch fabrics – These types of fabric is hard to execute with a sewing machine. So, if you often work with these types of materials, getting a serger will definitely make your life easier.
Quilt – Adding the right accessories to your serger will make quilting possible.
Sewing business – A serger machine provides a neater and professional quality stitching because it uses more threads all in one go. It can sew faster too, so it's helpful in mass production.
Decorative techniques – The more threads your serger can accommodate, the more types of decorative stitching your machine can do.
A serger is used for construction and finishing at the same time. This will save you a lot of time, and get professional results.
Serger vs Overlock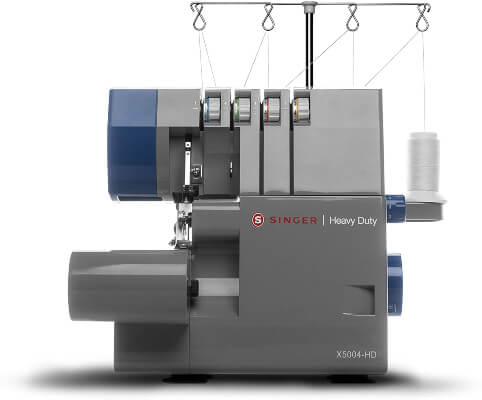 Many people ask us what is the difference between a serger sewing machine and an overlocker? These machines are the same.
Some people just refer to them as a serger while others refer to them as an overlocker. So, what does an overlocker do? It does the same thing as a serger.
What is Overlock Stitch or Serger Stitch?
Have you ever noticed that some of your clothes have a combination zigzag stitch and straight stitch on the edges of the fabric? This is an overlock stitch. What is overlock?
It is a finishing stitch used to make your clothes stronger so they can experience more wear and tear. The stitch can be used for hemming, reinforcement, and even decoration.
Serger stitch can bring a high-quality stitch without overpassing the clothes designs as it can fancy up the clothes' condition. That is the role of the zigzag-straight line combination stitch you always see at the back of your clothes.
An overlock stitch can be used to join pieces of fabric. Instead of using a single piece of thread as a standard sewing machine, it uses a series of threads.
The threads are looped around the outer edge of the material. These overlock stitches will make the fabric stronger and help prevent fraying.
For you to achieve such professional output, an overlocker sewing machine or serger is what you all need!
Sergers can operate at a high speed – up to 1700 stitches per minute.
The machine can use 3 to 8 cones of threads simultaneously, compared to a regular sewing machine's maximum of two.
Basically, to create such a zigzag-straight line combination, one stitch is not enough that's why multiple threads are stitched simultaneously.
Furthermore, the serger can trim the cloth's edges after it is sewed. You can also turn it off whenever you want at your convenience though there are still machines that do not implement an automatic cutter.
Why is it Important to Use a Serger Sewing Machine?
If you enjoy creating your own clothes at home, you can greatly benefit from a serger sewing machine. A serger will improve the longevity of the clothes and give them a more professional look.
Reasons to use a Serger Sewing Machine
· Professional Looking Results
The number one reason people use a serger sewing machine is to get professional looking results. Not only does the serger create stitches that will secure and protect the edges of the fabric. It will trim the fabric edge as you go.
· Will Save You Time
Not only will you get professional looking results with a serger sewing machine, but you will also get them quicker. Since a serger can trim the fabric, sew the seam, and overcast the edges all at the same time, you will save a lot of time.
· Prevents Fraying
Nobody wants the edges of the fabric to fray after they have spent a great deal of time working on a project. When you use a serger sewing machine the overlock stitch will protect the edges and prevent fraying.
· Perfect Hems
Perfect, small hems are extremely hard to perfect on a regular sewing machine. A serger makes it extremely easy to create the perfect hem in no time at all.
· You can Sew Difficult Fabrics
Sewing stretchy fabrics and knits can be tricky to do with a regular sewing machine. A serger can handle these fabrics with ease.
· Strong Seams
A serger sewing machine used several threads at a time. This will make your seams stronger, which in turn will help your clothes last longer.
· Decorative Edges
If you are looking for a way to improve the look of your edges and add a decorative aspect, a serger is the perfect choice.
Do You Need Both a Sewing Machine and a Serger?
A serger is not a stand-alone machine. However, it is a great addition that will help you create professionally finished edges.
Sergers cannot replace a sewing machine. They are unable to sew straight lines or buttonholes. So, if you are new to sewing and are wondering whether you should purchase a sewing machine or a serger, you need a good sewing machine first.
Serger vs Sewing Machine
A sewing machine is a very versatile tool that is able to create a wide variety of stitches. You can use it for creating a wide variety of projects.
A serger, on the other hand, is a specialised tool that is used for creating professional edges and preventing frayed edges. Unlike sewing machines, a serger can also trim edges thanks to the built-in blades.
Sewing machines are easier to use than sergers, and they can be more accurate. Sergers have large presser feet that can make it difficult to manoeuvre fabric.
Other Differences Between Sergers and Sewing Machines:
· Needles
A sewing machine only uses one needle. It works simultaneously with the thread spool and the bobbin. Sergers use multiple needles and threads at the same time.
· Bobbins
A sewing machine cannot operate without a bobbin. A serger does not use a bobbin. Instead, sergers have looper threads.
· Thread
Most regular sewing machines only use one spool of thread at a time. Sergers use multiple cones of thread at the same time. The use of multiple threads provides for a stronger seam.
· Blades
Sewing machines cannot rim fabric as you sew. Sergers have built-in blades located near the presser foot that can trim the fabric while you sew.
· Stitches Per Minute
Sergers are usually considerably faster than sewing machines. Most sergers can sew at least 1000 stitches per minute. And along with the sewing speed, they can create seams and trim fabric all at the same time, making them highly efficient.
· Handling
When using a sewing machine, you can typically control the speed with the foot pedal. You are also able to adjust the look and length of the stitches. A serger controls the speed and look of the stitches.
· Usefulness
Most home sewers are only causal sewists. A regular sewing machine is often all they will ever need. Most machines have several stitch options to choose from, allowing the sewer to create a wide range of products.
Sergers only have basic functions. But they do them very well. And they will get them done fast.
· Cost
Sergers are often more costly than a regular sewing machine. You can find sewing machines for all budgets. However, a cheap serger will cost at least $200. And a good serger can run you between $1000-$2000.
What Stitches Can You make with a Serger Sewing Machine?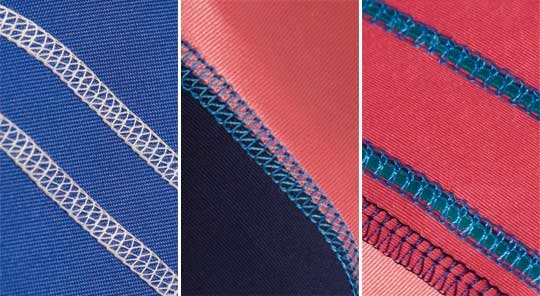 Unlike regular sewing machines, sergers only provide a few basic stitch options. And every machine is different. When looking for the best serger sewing machine, make sure it has the stitch options you require.
The overlock stitch is used to keep the edges of the cloth from fraying, and it gives your finished projects a professional finish.
The double overlock stitch is the most popular stitch. It incorporates the overlock stitch with a reinforcing stitch.
The triple overlock stitch is often used when creating a decorative stitch.
Four-Thread Overlock Stitch
The four-thread overlock stitch is a durable stitch that is frequently used when the fabric needs to be both sturdy and elastic. It is also used to decorate borderlines.
The cover stitch is often used to make the hems of store-bought shirts. The serger folds the fabric edge, then stitches over the folded raw hem.
The flatlock stitch is used when binding fabrics together that end up open flat.
The rolled hem is used on lightweight fabrics such as napkins. It covers the border of the fabric in a small roll of thread.
Now that you have read our what is a serger machine article, we hope you understand the importance of the machine.
Are you an avid sewist and looking to create professional products? If so, you need a machine that will complement your sewing machine.
Instead of wasting hours trying to make your seams look professional, invest in a serger sewing machine.
If you are ready to take the plunge and invest in a serger, check out our list of the top 10 best serger sewing machines.
Working with a serger in your home will probably convince you to do more. You can even try selling due to its flawless finishing edges that will make you look like a professional sewer!