2 Ways To Do Baste Sewing | Written + Video
|
2 Ways To Do Baste Sewing will teach you all you need to know about basting and two techniques to do it.
All sewing enthusiasts, whether in the beginning phase or in the expert phase most likely have heard about "baste sewing" one way or another.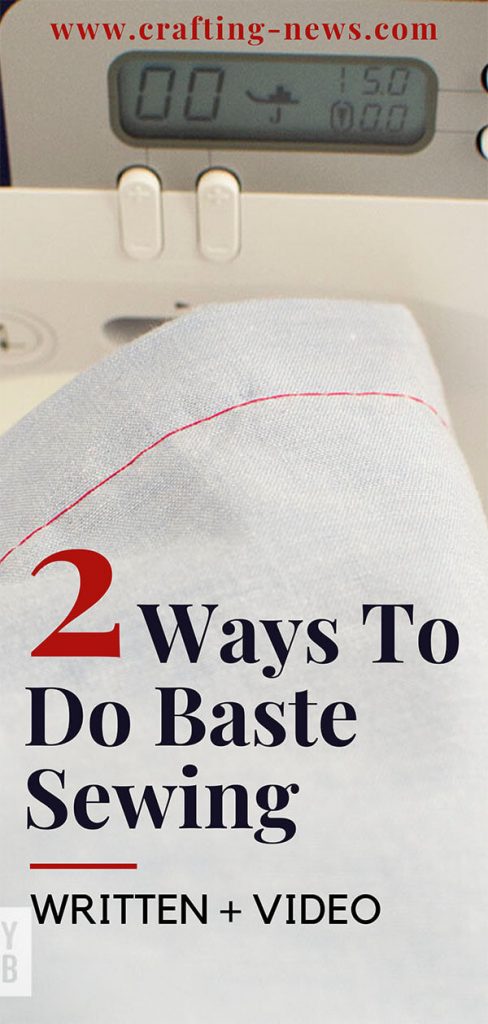 WHAT IS BASTE IN SEWING
Well, what is baste sewing? Baste sewing is making temporary straight stitches to bind the layers of cloth together until the final stitch is sewn. Since it's temporary, it's quite long and somewhat loose. This is so that it can be easily removed once the final stitches have been sewn.
You can do baste sewing either by hand or by the use of a sewing machine.
2 WAYS ON HOW TO BASTE SEWING
MACHINE BASTE SEWING 
If you're wondering if your sewing machine has a baste stitch option, then the answer is "Yes!"
All sewing machines can do baste sewing. You just have to adjust the options or programs in your sewing machines to make it easier for you.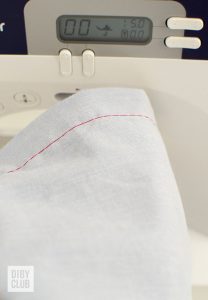 Basting or baste stitch is just about making a long straight stitch so it'll be quite easy to make it even without the use of the latest sewing machine models.
You just have to center your needles in the middle or in the left and set your machines to the longest length possible.
Take note that the stitch length can vary depending on the make or model of the sewing machine that you're using. The default length is 2.2 mm while the average length of a baste stitch is 5.0 mm but some machines can go up 7.0 or 9.0mm.
How will you know which length to use? Continue reading below.
WHEN TO USE EXTRA LONG OR STANDARD BASTE STITCH
If your fabric is quite thick and has many layers, you need to use the extra-long stitch because thicker fabrics consume more threads because the length is being used to get through each depth.
If you use the standard stitch, it'll appear shorter than the usual.
Use standard stitches for fabrics that are easy to penetrate. Thin fabric such as silk and cotton lawn.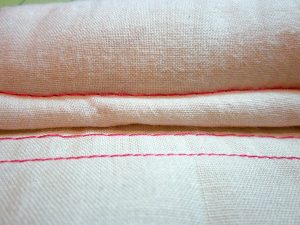 Look at the image above. The top and middle stitch are actually the same lengths but because the top baste is sewn into the thicker fabric, it appears shorter.
BASTE SEWING BY HAND
If you're aiming for extra measures of accuracy and if something is too big to fit through the sewing machine, hand basting is your friend.
The length of the baste stitch varies mainly on how you see fit. Basting by hand is also easier to remove than the machine basting. We highly recommended that you make a follow-through backstitch as well to secure the grip.
WHEN TO USE BASTE STITCH?
You can use bastE stitch to bind layers of fabrics temporarily. It depends mainly on what kind of item you are sewing. Mainly depending on the project itself, you can sew this temporary stitch either at the exact seam allowance or inside the seam allowance.
Use contrasting threads so that it'll be easier for the sewer to locate and follow it while doing the final stitches. Here is a list of things where you'll be using baste stitches:
Garment fitting
Basically, used for fitting purposes. It'll help you get the actual seam allowance and exact measurements.
Zippers
Use basting to help you in making sure the zipper is positioned correctly. It is more accurate and easier than using pins.
Home décor
Basting is a great way to sew trims, such as piping, rick rack, and pom-poms that'll definitely spruce up your homes.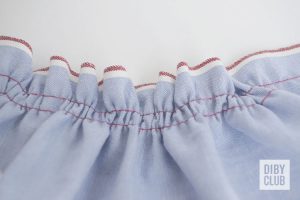 Quilting
Baste the layers first if the quilt is layered prior to the actual quilting. In this way, it'll hold and bind the layers together to remove and avoid shifting of the quilt top and also, batting and backing.
Serging
In working with a serger, a knife cuts off the seam allowance. It is fast phasing but if you make a mistake, your project will look terrible. Basting is done here to make sure the area to be chopped off is in the right size.
Note that, you can choose to remove the basting stitches or leave them as they are. Once the final stitch is done, you can hardly see it anyway.
Basting might be something 'behind the seams', but it is equally just as important as other sewing processes.
WE HOPE YOU FIND THIS WAYS TO DO BASTE SEWING USEFUL IN YOUR SEWING PROJECTS!
When doing your sewing projects, baste sewing technique is very important. Do share with us your experience on how to baste sewing on our Facebook page. 
If you want Sewing ideas, we have tons just for you!
We hope that you've learned a lot with our 2 Ways To Do Baste Sewing. And if you can't wait anymore to try this new-found knowledge, here are some patterns you can start working on: