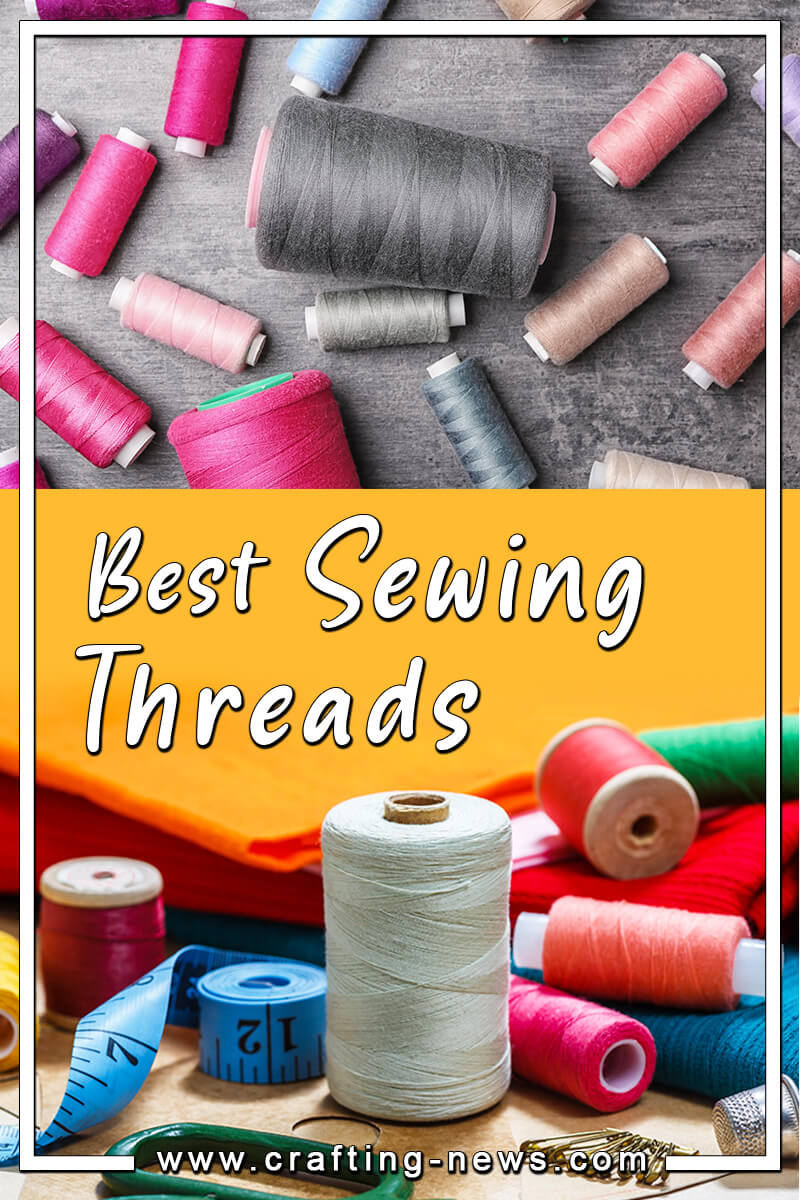 If you are a sewer, you know that there is a plethora of sewing threads to choose from. The thread selection is overwhelming. However, there is a good reason for that. When working on a project, the thread you use will make or break your final project. Using the wrong thread can ruin a well-planned project. Therefore, it is important to use the best sewing thread.
Facts about Choosing the Best Sewing Thread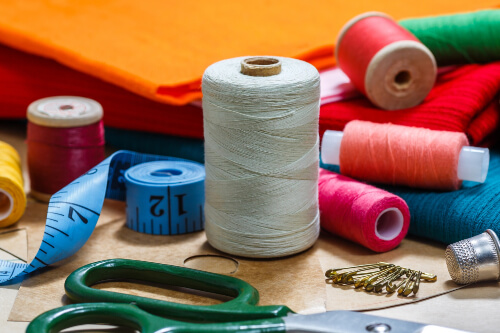 Most craft stores will have a chart that will help you pick the right thread. However, it still may not be the best sewing thread choice. When choosing the best sewing thread for your project, there are a few things you want to take into consideration. These are:
Choose a thread that matches your fabric. For example, you do not want to use a delicate cotton thread when sewing denim fabric. You want to use a thinner thread for lightweight fabrics and a thicker thread for thick fabrics.
Do you want your stitches to match the fabric, or are you looking for the colour to pop? If you want the thread to match, look at the thread next to the fabric under natural daylight. If the thread colour is just a little off, it can look bad.
Are You Using a Sewing Machine?
If you are using a sewing machine, you do not want hand stitching thread. You also want to consider the size of the spool.
Is it for General Sewing?
If you are searching for a thread for general sewing, look for something smooth and fuzz free that does not twist easily.
You may want to purchase the cheapest thread, and this is understandable. However, cheap thread is cheap for a reason. It is not high-quality, and it can be detrimental to your final results.
Different Types of Sewing Threads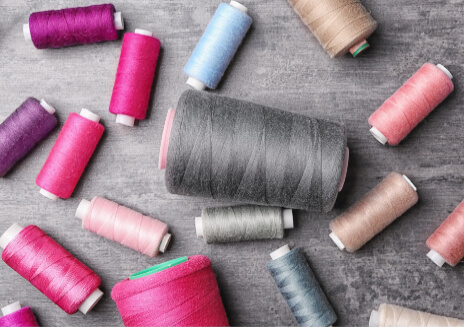 There are a lot of types of sewing threads. But most of the time, you will only find yourself using these most common types:
Cotton thread is often recommended when sewing lightweight and medium weight cotton, rayon, and lined fabrics. It has very little stretch and a matte appearance.
Polyester thread is generally the best sewing thread for most projects. It is an all-purpose thread that stretches while being strong. It is generally colourfast and mildew resistant. Since it usually has a smooth coating, it slips through fabric effortlessly.
Cotton wrapped polyester has a cotton core that has been wrapped with polyester fibres. The polyester wrap makes the cotton stronger. It is a great thread for all-purpose sewing.
Heavy-duty thread made from polyester. However, it is stronger than regular polyester thread. You will want to use a heavy duty thread when working on projects that are made with thick fabric.
Metallic thread is available in a wide variety of colours. It has a central core that is either cotton or polyester. The core is then wrapped in thin metal. Metallic thread can be hard to work with.
Silk thread is made from the cocoons of the silk moth. It is extremely smooth and strong. It is often expensive. It can be used when sewing most natural fibre fabrics.
10 of the Best Sewing Threads
1. Coats & Clark – Dual Duty XP Heavy Weight Thread
Coats & Clark is a favourite brand among all types of sewers. This Dual Duty XP Heavy Weight Thread was designed for sewers that sew heavy-weight fabrics such as denim, twill, faux leather, double knits, etc.
The smooth and beautiful thread has a unique spun thread polyester wrapped core that provides consistent tension with a low breakage rate. It is colour-fast and weather resistant.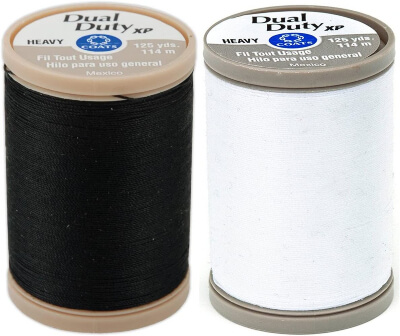 2. Connecting Threads 100% Cotton Thread Set
These Connecting Thread spools have a satin-finish that will add a lustrous sheen to your projects. The spools will fit standard sewing machine spindles. You can use the thread for quilting and sewing.
The kit includes five 1,200 yard spools of 50-weight thread in a selection of basic neutrals. The thread is made from three plies of 100% cotton.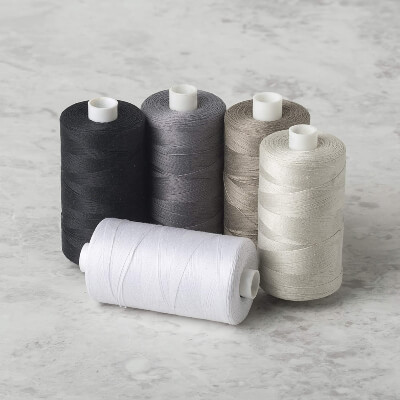 3. New Brothread Metallic Embroidery Machine Thread for Computerized Embroidery and Decorative Sewing
Add lustre and shine to your projects with these metallic embroidery threads from New Brothread. The thread is absolutely beautiful and perfect for adding decorative touches and ornamental features to embroidery projects.
The thread has an extra strong polyester core that has been coated with metal foil. It is vibrant and shiny with a low risk of breaking or fraying.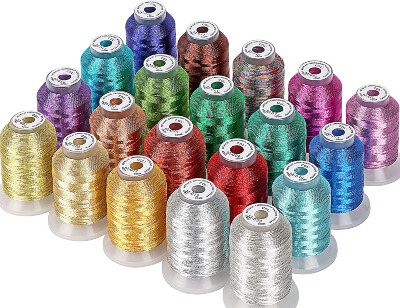 4. Mettler Silk-Finish Variegated Cotton Thread
The variegated thread from Mettler is eye-catching. It has a beautiful, natural shine and silky finish. This thread is an ideal thread for creating colourful patterns on both fine and thick fabrics. Quilters love using it for decorative stitching.
The lint-free thread is made of 100% long staple Egyptian cotton. It is double mercerized and extremely soft. It works well with other SILK-FINISH solid colours.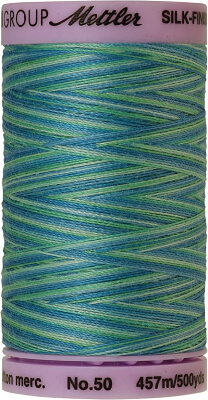 5. American & Efird White
Polyester

Thread

This Maxi-Lock thread from American & Efird is great for constructing seams and finishing raw edges. It is flexible and strong. The thread does not cause bunching and is wonderful for apparel and home decor projects.

The tough polyester thread is designed for serger and high-speed sewing machine. However, it is an all-purpose thread that is suitable for all types of projects.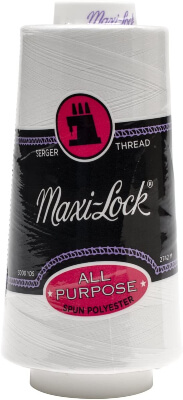 6. Gutermann Sew-All Thread
This Sew-All-Thread from Gutermann is a terrific thread for all fabrics. It is suitable for both hand and machine sewing. Made of 100% long staple polyester, this sewing thread is very strong. It has a low-lint finish fitting for all-purpose use.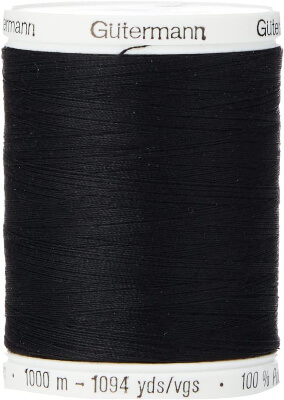 7. New Brothread 40 Brother Colors Polyester Embroidery Machine Thread
This kit of New Brothread treads includes 40 bright and beautiful colours. It is perfect for countless embroidery projects.
The thread is made from 100% polyester. Its colour holds up well to laundering, bleaching, and other harsh chemicals. The elasticity of the thread reduces the risks of puckering and looping.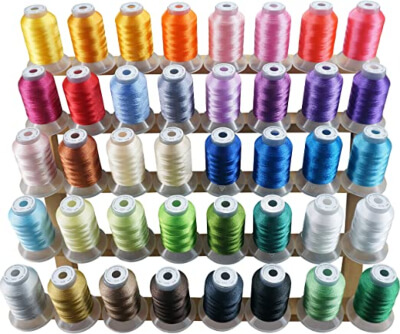 8. Gutermann 26 Spool Polyeste Sewing Thread Collection
This Gutermann thread collection includes 26 spools of different coloured thread. It is a fantastic choice for machine sewing and hand sewing.
The universal sewing thread is made from 100% polyester. It can be used for sewing all types of fabrics. It is a good choice for ornamental and decorative stitches.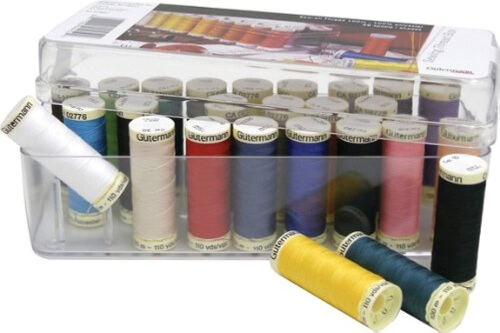 9. Coats & Clark Inc. Machine Quilt Cotton Thread
Coats & Clark machine quilting thread is one of the best sewing threads for quilters. It is strong and easy to work with. It produces very low linting for worry free machine sewing. The large size spool is ideal for home machines and long arm use. It is made from 100% extra long staple Egyptian cotton.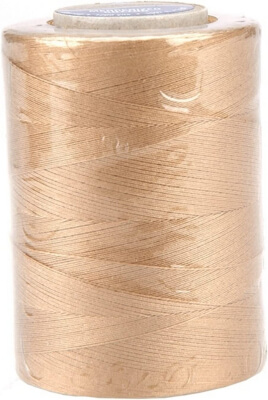 10.

Aurifil A1050-2021 Mako Cotton Thread

This thread from Aurifil is made from 100% Egyptian cotton. It is a wonderful thread for quilting, embroidery, and serging.

Since it is made from cotton, it has a matte finish which blends in with fabric. It will not stretch or cause puckering to your quilt after it has been washed.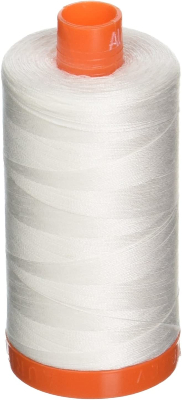 USING THE BEST SEWING THREAD MAKES A HUGE DIFFERENCE IN YOUR COMPLETED PROJECT.
Using the wrong thread can lead to breakage. The thread may break while you are sewing, or your seams may rip easily. If you are experiencing these issues, you may be using the wrong types of thread. Before you even begin your project, it is important that you choose the best sewing thread for your project.
For your next sewing project, check out patterns below or head on to our Facebook Page for more interesting patterns.
There you have it, our list of the best sewing threads for your projects