Dying Easter eggs with the family is a great way to create memories. In the past, there were not very many Easter egg painting kits to choose from.
They often consisted of coloured tablets you had to mix with vinegar. Today, there are countless options to choose from.

8 Best Easter Egg Coloring Kits for 2023
This year, instead of making the same old plain and boring Easter eggs, try one of these Easter egg painting kits. These kits are fun and your kids can get really creative.
1. ColorKitchen Easter Egg Painting Kit Natural Plant-based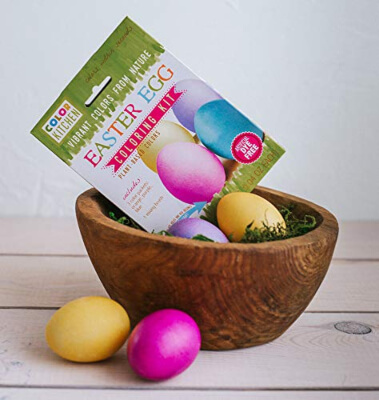 This egg dye kit produces vibrant coloured eggs. The dye is non-GMO, gluten-free and free from artificial dyes. It is made from natural plant-based ingredients. Simply add water and vinegar to the concentrated powder and have beautifully dyed eggs within seconds.
2. Tie Dye Egg Coloring Kit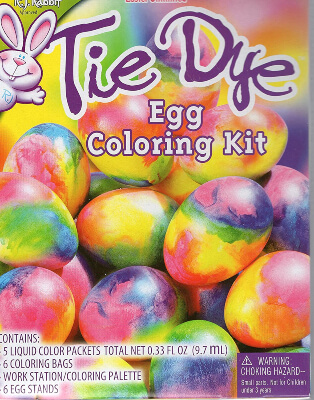 Tie dye is always fun and now you can tie dye your Easter eggs. The kit includes 5 super bright liquid color packets, 5 color droppers. 6 coloring bags, 1 coloring palette and 6 egg stands. You can let your creativity loose with this fun kit. And you do not have to deal with the vinegar smell.
3. PAAS Marble Egg Coloring Kit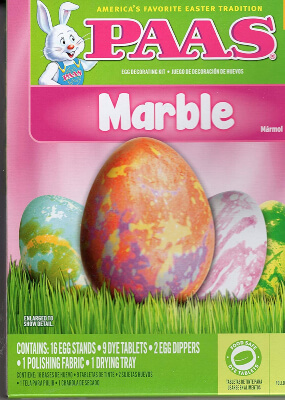 Create a marbled design with this fun Easter painting kit. The finished design looks complicated; however, the technique is rather simple. Simply add oil into the dyes and dip the eggs. You can dip it in one colour, or several.
4. Fun World Glitter Easter Egg Paint Kit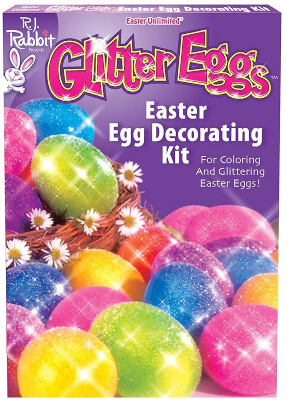 This Easter egg painting kit is messy, but so much fun. Girls will absolutely love adding glitter to their eggs. The dyed eggs are not as bright as the picture shows. And the glitter is somewhat muted. But the results are sparkly and unique.
5. The Original EggMazing Easter Egg Decorator Kit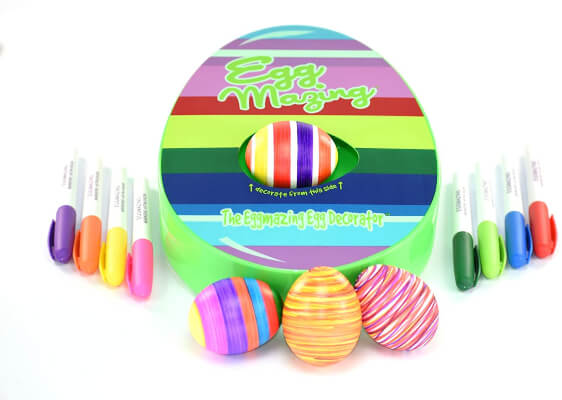 Believe it or not, you can buy a paint your own Easter egg kit that does not make a mess. The EggMazing Easter Egg Decorator Kit uses 8 colourful markers and an egg spinner.
6. PAAS Galactic Eggs – Easter Paint Kit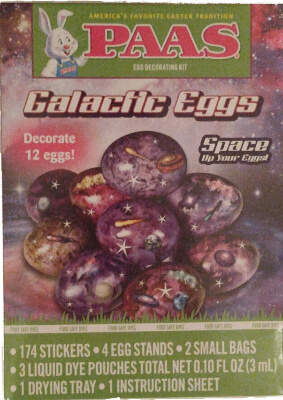 Space is wondrous and we are getting closer to being able to visit it. This fascinates children and adults alike. This unique kit gives you the ability to decorate eggs that are out of this world. The kit comes with 174 space-themed stickers.
7. PAAS Emoji Eggs Easter Paint Kit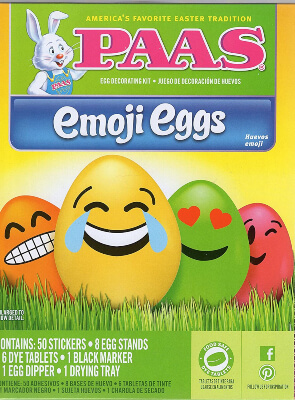 This is a fun Easter egg painting kit that the whole family will love. Use the stickers and the black marker to create your own emoji expressions. The kit contains 50 stickers, 8 egg stands, 6 dye tablets, 1 black marker, 1 egg dipper, and 1 drying tray.
8. Easter Egg Painting Kit
This kit lets you make the most stunning Easter egg creations using paints and paper mache.
Cover the egg with a base color, mark out your design with a pencil and then start decorating the egg. There are a few examples on included along in the kit just to jog your creativity.
Easter Egg Painting Kit Includes:
Wooden Eggs
Paints
Brush
Sponge
Ribbon
Easter is not complete without candy and coloured eggs. Let the kids try something new this year with one of these whimsical Easter egg painting kits.
So, which Easter egg painting kit are you going to choose? If you have a large family, why stop at one. You can even invite over a bunch of kids and buy several egg painting party kits.
You know how we love seeing your creations! So head over to our Facebook Page and feel free to post your very own Easter eggs.
The Easter egg painting kit is also an excellent pass time for the whole family. So go on and get your very own Easter paint kit and start making those memories. The bonding experience you will get through the entire process is priceless.