These gnome patterns are great for crafters with a variety of backgrounds. Whether you've made a few basic crochet patterns and you're looking to try your hand at Amigurumi or looking for something super basic to make with felt, I know you'll find something you'll love on this list!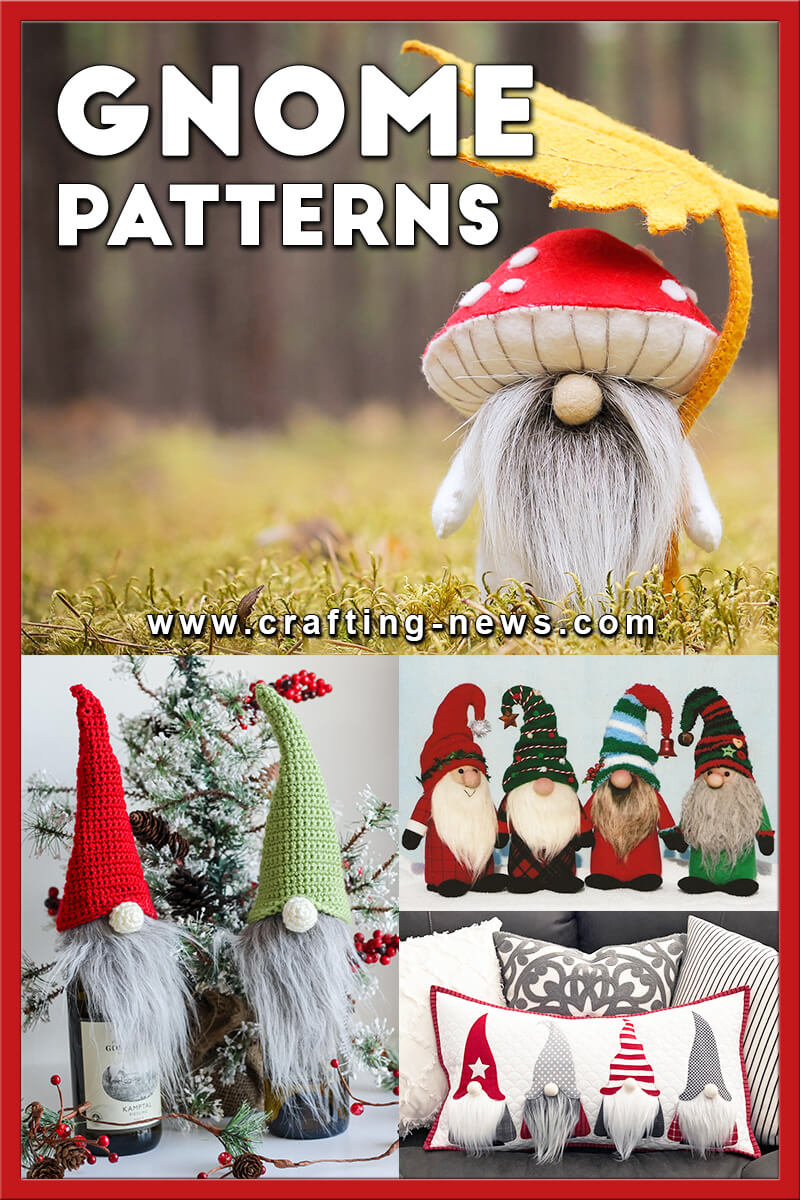 Have you embraced the gnome trend yet? I am obsessed, and now's your chance to hop aboard the trend! These gnome crafts run the gamut of uses, seasons, and materials. Decorate or gift, dress a wine bottle or a tree. Celebrate Christmas, Easter, and all year round. Go ahead and add as many timeless and adorable gnome crafts to your holiday decor as you please!
20 Gnome Patterns
1. Scandi Gnome Pattern by The Gnome Makers
This gnome is not just about winter and snow — it's about fun colors and using the pattern for other holidays, too!
It's easy to sew and assemble. The large gnome is all-inclusive and also comes with patterns for the arms/hands, bendable legs, and boots with an embroidered laces. The small gnome does not include arms and legs and is darn cute. The hat has pointed ends. Instructions are for the sewing machine, but this pattern is easy to hand-stitch, as well.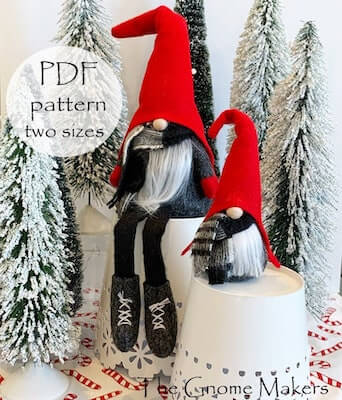 Get the Pattern by The Gnome Makers here
2. Love Gnomes Pattern by Yarnspirations
Send a little love to your sweetheart with this cute pair of heartfelt gnomes. Let them sit on a shelf as reminder of your caring.
Get the Pattern here
3. Gnome For The Holidays Pattern by Happy Heart Patterns
Make these delightful 10" gnomes out of flannel, fleece, felt and fur! Their noses and faces can be made from a piece of nylon stocking or beige colored sock. They are weighted so the can stand nicely upright.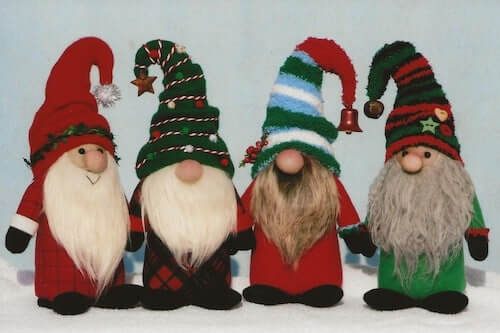 Get the Pattern by Happy Heart Patterns here
4. Gnome Ornaments Pattern by Mommy Made That
In this tutorial, you will be creating a Christmas gnome complete with a snowflake on his hat and a big white gnome beard! They make festive Christmas decor and fun handmade Christmas ornaments. Made from felt, this gnome is simple to make and can be customized to match your own personal style.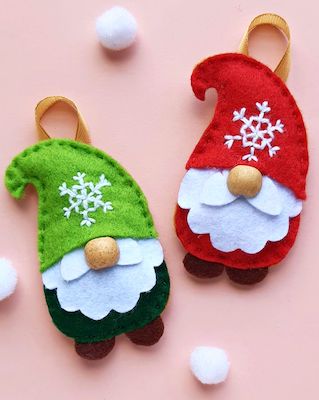 Get the Pattern here
5. No Sew Christmas Gnome Pattern by Ruffles & Rain Boots
This easy No-Sew Christmas Gnome Pattern is so fun! They're ready to hit the slopes or cuddle in the cabin. They're simple, easy and totally no-sew, but so full of character. You can make this DIY Christmas gnome pattern customized in so many ways, it's crazy.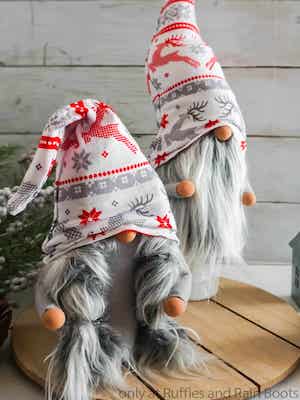 Get the Pattern here
6. Gnome In A Bucket Pattern by Adeline's Crafts
Here's a pattern to make a little gnome who is trying to figure a way out of the bucket he fell into! While I placed him in a bucket, he could just as easily be displayed in a basket, wooden box, bowl, etc.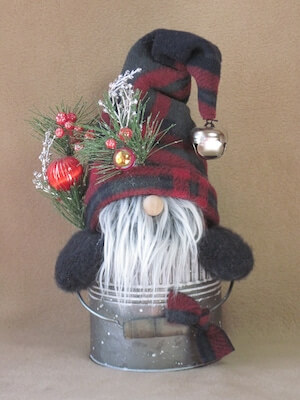 Get the Pattern by Adeline's Crafts here
7. Spring Gnome Pattern by Creations By Luz
You've heard of Christmas gnomes, but did you know there are Spring gnomes, too? At 11 inches tall, these plush gnomes will make a colorful statement in your Spring decorations. Pick your favorite to steal the show all springtime long.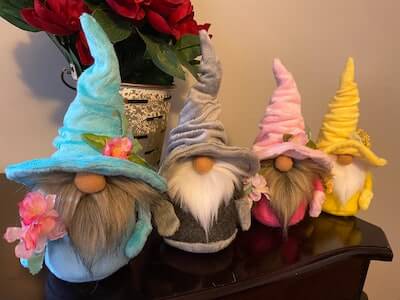 Get the Pattern by Creations By Luz here
8. Gnome Patterns by Decor Maison Anny
This set of gnome patterns is designed to craft your own gnomes for holiday and home decor. These cute plush gnomes make sweet gifts for the ones you love, and you can fill up every room in your house with them. It is a must-have crafting patterns for holidays and every day!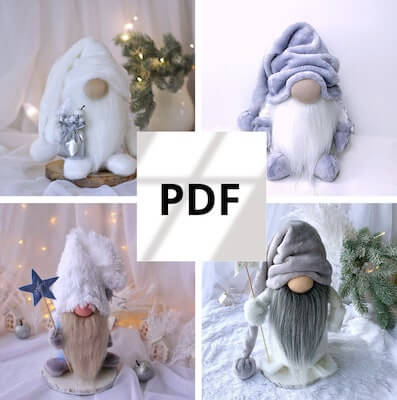 Get the Pattern by Decor Maison Anny here
9. Gnome Table Runner Pattern by Sew Can She
Put an adorable gnome on your table (actually two gnomes, one on either end!) with this easy to sew free gnome table runner pattern. A new table runner like this is sure to liven up any room because this little guy will look awesome on a sideboard or even over your piano, too!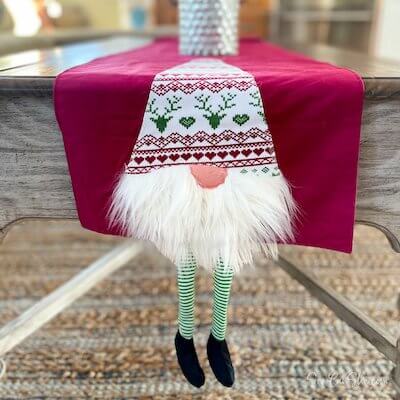 Get the Pattern here
10. Autumn Gnome Felt Pattern by My Felt Room
I want to make a beautiful fall gnome and this autumn gnome really hit that sweet spot! It's super versatile, too. You could out them on a table, on a tiered tray, or even just hide them around the house on the mantle and in the kitchen. So much fun to bring a little whimsy into the house!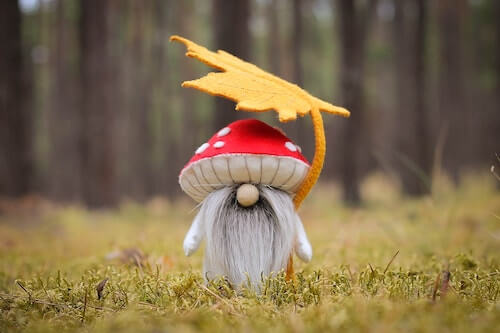 Get the Pattern by My Felt Room here
11. DIY Christmas Gnomes by Hello Sewing
If you want to make a gnome but you can't sew, this tutorial is just for you! Turn an old sock into a wonderful gnome with this no-sew gnome pattern. All you need to make this little guy is a bit of glue, some beans or rice, and some fur, together with an old sock. This one doesn't have legs nor a pure white beard so it has a different look, a bit like a Viking gnome!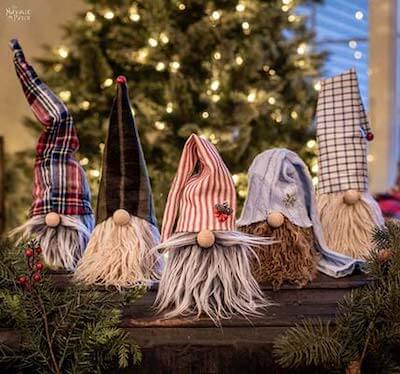 Get the Pattern here
12. Free Crochet Gnome Pattern by Gathered
Decorative gnomes aren't just for the garden – now you can enjoy them indoors too, by hooking this sweet amigurumi version! Perched atop a little crochet mushroom toadstool, there are plenty of things to love about this cheery crochet gnome, from his cute little boots to his bushy white beard.
If you can bear to part with him, he'll make a thoughtful gift for a green-fingered friend, or just pop him on your windowsill so he can keep a watchful eye on your garden!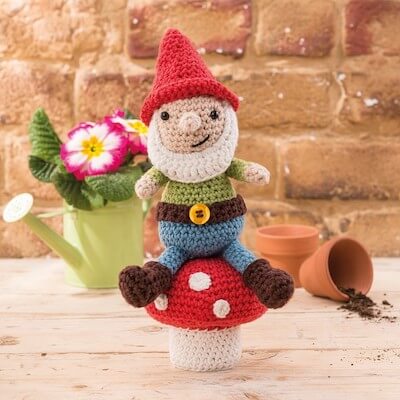 Get the Pattern here
13. Gnome Wine Bottle Topper Free Crochet Pattern by Nana's Crafty Home
Could this gnome be any cuter? I fell in love with him the minute I saw him — and I know you will, too! This pattern works up absolutely so quickly – made from a small crochet triangle with the ends folded and crocheted together.
The nose is crocheted separately, sewn to the inside of the hat and then sew a small section of faux fur to the inside of the hat. Easy, peasy – you could make several of these in a night! Perfect for all of your yarn scraps, too!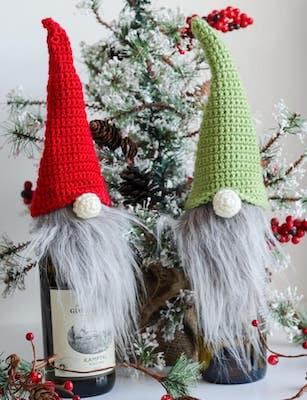 Get the Pattern here
14. Sledding Gnome Sewing Pattern by The Gnome Makers
Here's a gnome sledding down the mountain on his red sled — now how cute is that? Adjust his arms to either hold on tightly to the rope on the sled or let him fly with his arms behind him. You'll smile too every time you look at him.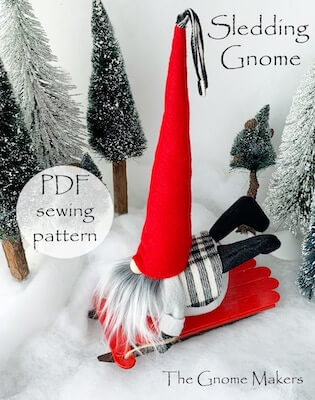 Get the Pattern by The Gnome Makers here
15. Gnome Mason Jar Covers Knitting Pattern by Violets And Heather
These cute little gnomes can brighten up any counter or desk! Fill them with candy or other goodies and you have a great gift for teachers, co-workers or anyone!
This project is a cute way to use up the empty mason jars you have lying around. Plus they don't take much yarn, are easy, inexpensive, and fairly quick to make.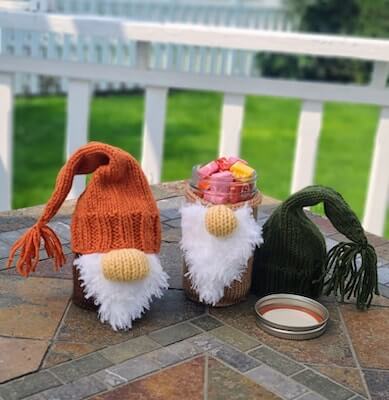 Get the Pattern by Violets And Heather here
16. Gnome Mini Quilt Pattern by Sew Can She
Here's a treat for the quilting enthusiasts, a quilt block gnome! This little guy is a bit flatter than his friends we previously mentioned since it's a quilt block, but it looks lovely nonetheless. You get it by stitching a few rectangles and triangles together and adding an applique nose to it at the end.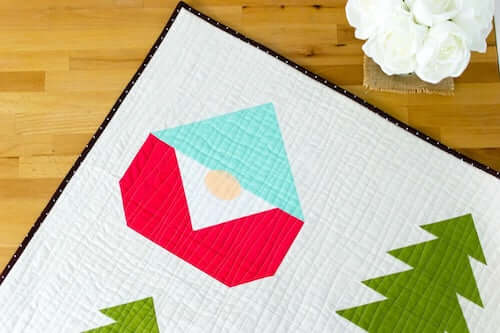 Get the Pattern here
17. Gnomes Pillow Pattern by Ahhh Quilting
It would be fun to do a quick projects like a pillow cover in case you need to infuse your home with some holiday cheer, but don't have the time to make a full quilt! The pattern includes ideas for 8 seasonal theme options so you can customize your gnome pillow!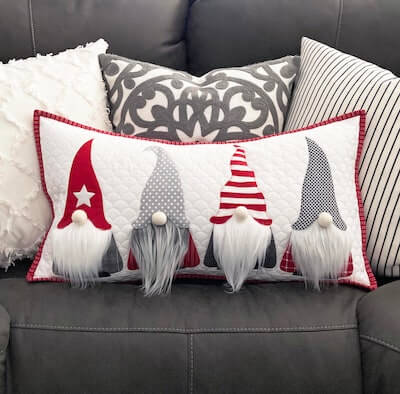 Get the Pattern by Ahhh Quilting here
18. Gnome Nativity Sewing Pattern by The Gnome Makers
There's no place like gnome for Christmas! Celebrate the season with this eight piece gnome nativity set celebrating the miracle of the season with three wise gnomes, shepherd, and gnomes playing the part of the Holy family. Bring your creative to this basic nativity gnome pattern. It will be really fun!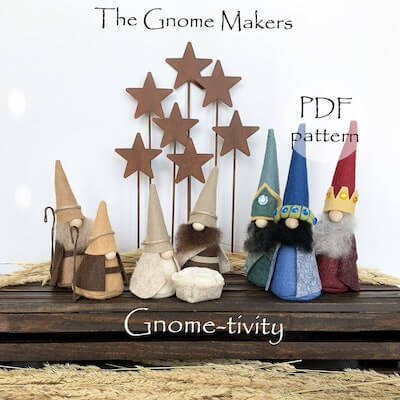 Get the Pattern by The Gnome Makers here
19. Gnome For The Hollidays Pattern by Been Creative With Mis
This gnome decor will look great sitting on your front porch to welcome your guests! You will love this cute little guy that stands about 28″ tall. You can make him stand by himself or add a small pine tree with lights next to him. But either way, he is sure to make you smile this holiday season!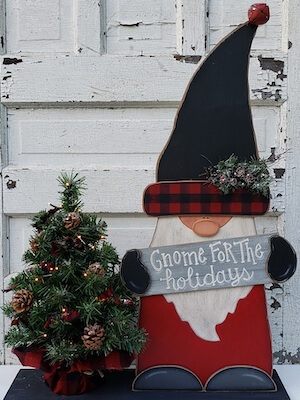 20. Elfin Gnome Sewing Pattern by The Gnome Makers
This is one of my most favorite Scandinavian Gnome sewing patterns. It's a unique, simple pattern and just fun to sew. You're going to love displaying this darling gnome all year long!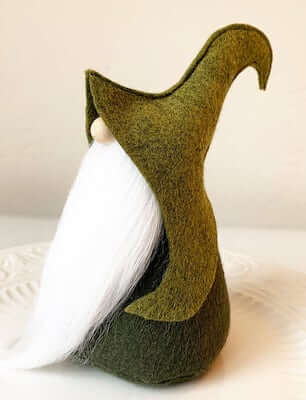 Get the Pattern by The Gnome Makers here
WHICH ONE OF THESE GNOME PATTERNS ARE YOU GOING TO MAKE THIS YEAR? I'M REALLY HOPING TO MAKE THE TABLE RUNNER!
Show us what you're crafting! Share photos of all of your latest work on our Facebook Page — you never fails to inspire us!
Christmas is the best time for crafting, check out these fun holiday craft ideas:
Play around with colors and accessories and you have yourselves gnomes for all year round! Happy crafting with your favorite gnome patterns!