Are you looking for a retro craft idea? Then learn how to make a braided rug. Braided rugs are fun and easy to make.
And the best part is, you can use up your scrap fabric and old clothes. There is a very good chance you already have everything you need to braid a rug sitting around your home.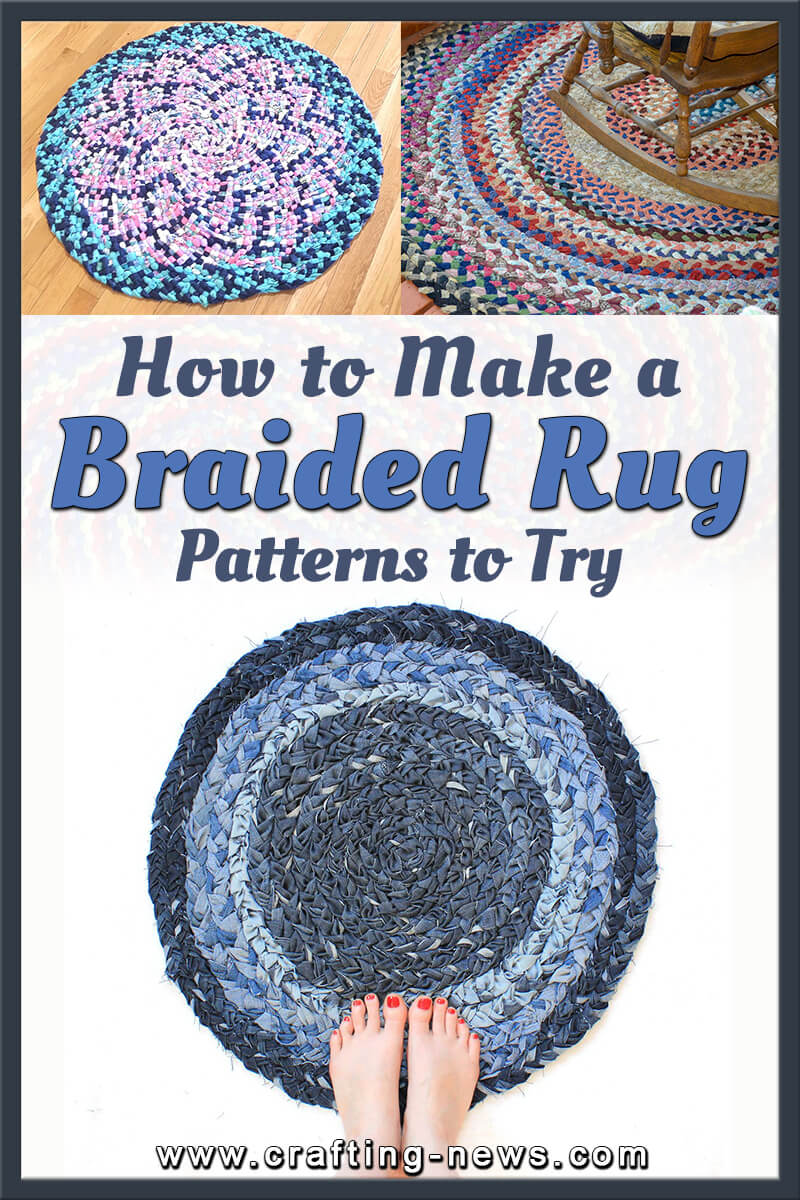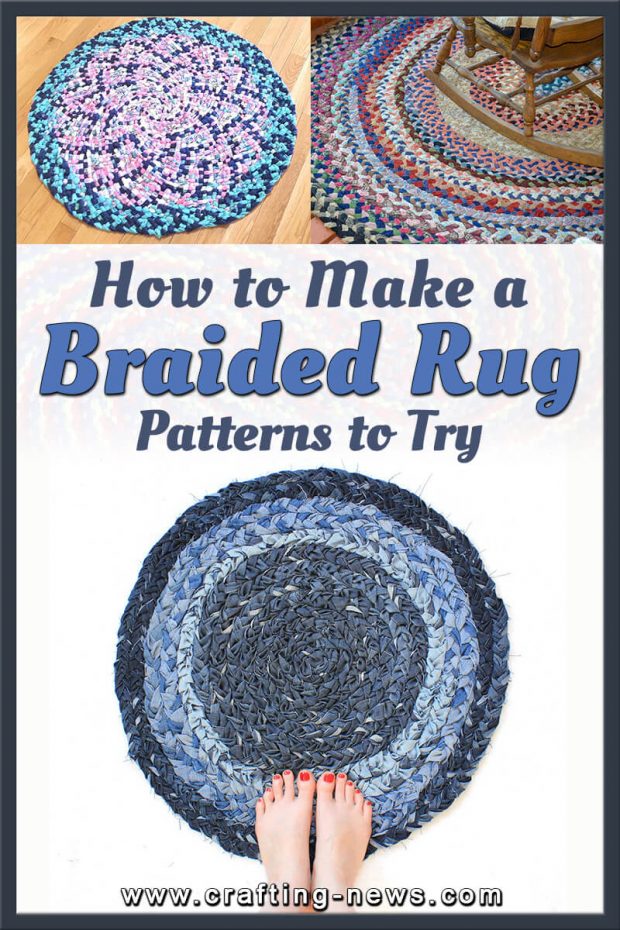 How to Make a Braided Rug
Below are the basic steps for braiding a rug. Before you begin, you will want to gather the following supplies:
Old fabric
Ruler
Scissors
Thread
Strong sewing needles
Safety pins or a clamp
Basic steps for making a braided rug:
1. Prepare the fabric by cutting long strips. The strips should all be the same width. You can cut the strips between 1-2" wide. You will need a lot of strips.
2. Sort the strips into 3 piles.
3. Now take each pile and sew the strips end to end. When completed, you should have 3 very long strips.
4. Roll the piles into 3 separate balls, so they are easy to deal with. You may want to pin and unpin the balls as you go.
5. Unroll the balls about 1 foot.
6. Lay the 3 strips on top of each other. Sew them together on one end.
7. Secure the sewed end of the fabric strips. You can use the safety pins to pin it to a piece of furniture. Or use the clip to secure it to a hard surface.
8. Braid the strips together until the braid is about 4 feet long.
9. Now you can start coiling your rug. Begin by twisting the end of the braid (sewed end) and continue turning the rug.
Since this will easily come unrolled, you will want to add a zig zag stitch periodically to hold it together. The more stitches you use, the less likely the rug will come undone.
10. Once you have the finished braid coiled, repeat steps 8 and 9 until the rug is the size you want.
Notes: If you have a hard time working with the balls of fabric, you can use single strips. Once the first 3 fabric strips are braided together, secure the end, so it does not come loose.
Then sew on the next 3 strips of fabric to the ends of the previous strips. Then continue sewing on additional strips as you go.
7 Braided Rug Patterns
Now that you know how to make a braided rug, it's time to get busy and use up your fabric scraps. Below are 7 braided rug patterns that anyone can make with a little time and patience.
1. Basics of Braided-in Rugs from RugmakersHomestead
This braided rug has a unique swirl design. You can make this rug using a solid colour, or make a rainbow-inspired rug.
This is a tutorial that will teach you the one-step process of making braided-in rugs. The braiding strands are laced directly into the rug for the strongest joining.
It will show you how to make your very first practice piece into a delightful, braided basket. After some practice, you will be able to complete your first rug.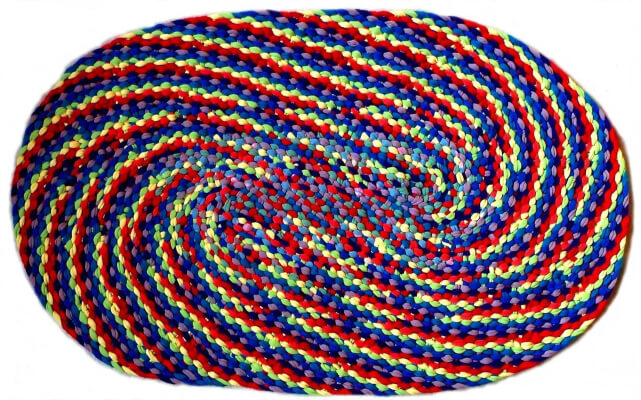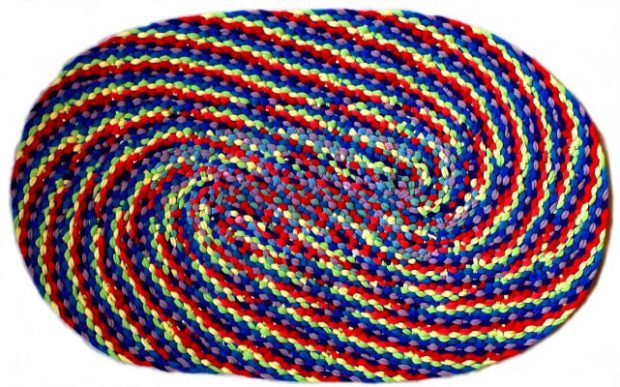 Get the Tutorial from RugmakersHomestead HERE
2. Oval Swedish Braided Rag Rug Pattern from RagRugRoad
You can make some fun and colourful rugs with this braided rug tutorial. And the pattern allows you to create any size rug you want.
This Oval Swedish Braid Rag Rug tutorial has over 28 step-by-step photos and easy-to-read instructions. To make the rug you only need fabric, a pair of scissors, and a needle.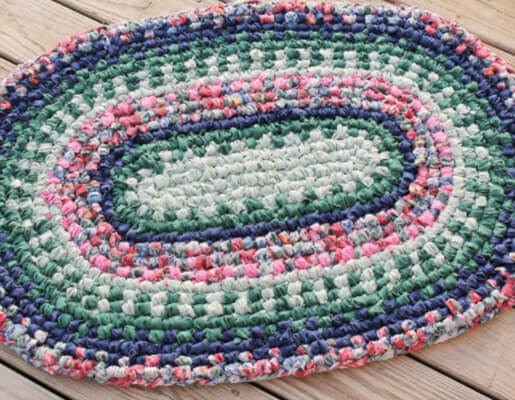 Get the Tutorial from RagRugRoad HERE
3. Free Braided Rag Rug Instructions
Learn the basics of how to make a braided rug with this free tutorial from eHow. This post explains how to prepare fabric strips, braid them, and how to sew together the fabric rug.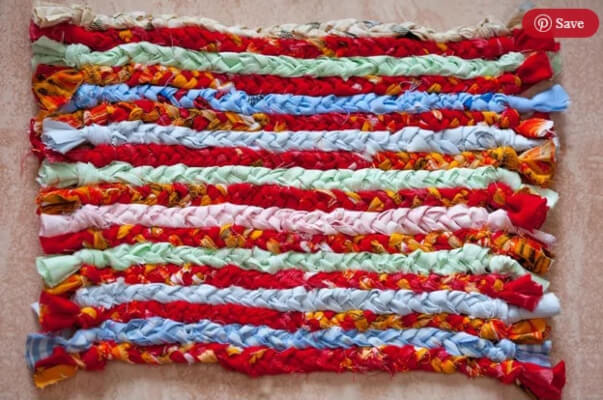 Get the Tutorial from eHow HERE
4. Heart Braided Rug Pattern from GrandmaHadItGoinOn
This heart shaped rug would be ideal for a home decorated in farmhouse decor. It would also make a great rug for corner areas that see quite a bit of traffic.
The pattern requires about 15 square yards of fabric, finger guards, darning needles, a C clamp. The finished rug is approximately 30 inches (76.2 cm) from the inside angle.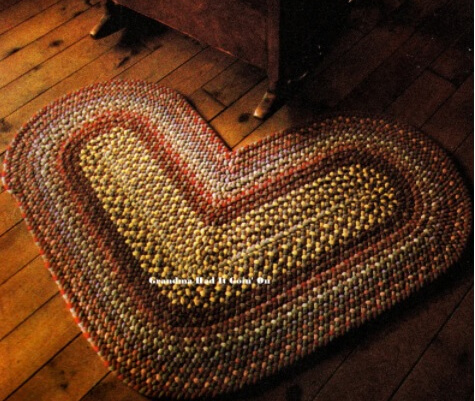 Get the Tutorial from GrandmaHadItGoinOn HERE
5. How to Braid a Cozy Rag Rug Tutorial from Capper's Farmer
If you are wanting to make a classic braided rug, check out this free how to make a braided rug tutorial. There are some basic instructions and some photos.
To complete the rug, you will need fabric strips, a tapestry needle or yarn needle, yarn, scissors, and binder clips.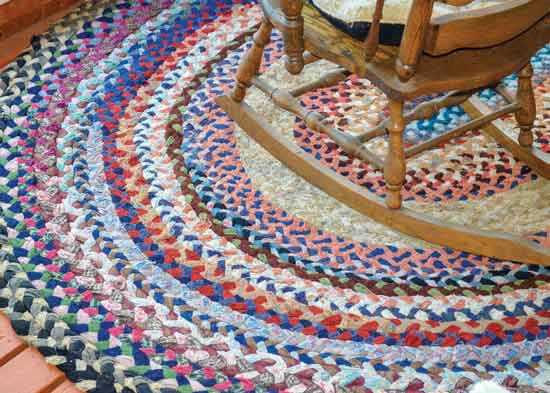 Get the Tutorial from Capper's Farmer HERE
6. Round Denim DIY Braided Rug Pattern From ZinaNatko
You can use this how to make a braided rug tutorial to make a small rug for your bathroom or a large rug for your living room. The size and density of the rug will depend on the jeans you use.
This braided round PDF pattern contains step-by-step instructions. To make the braided denim rug, you will need old jeans, some thread, needles, scissors, a ruler, and chalk or a pencil.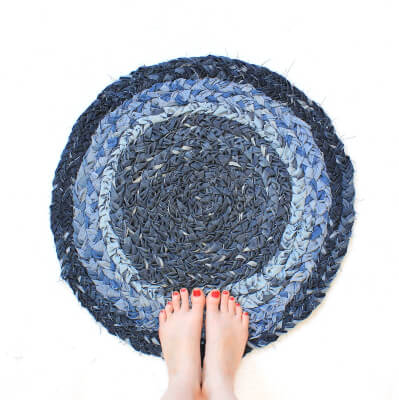 Get the Tutorial From ZinaNatko HERE
7. 8 Strand Round Braided Rag Rug Tutorial from RagRugRoad
Here is a beautiful, braided rug that has an interesting mandala design. The pattern creates a round rug that would be perfect for a bedroom, dining room, or living room.
This is a tutorial on an 8 strand braid-in rag rug. The designer walks you through every step on how to make a braided rug.
They teach you how to choose the fabrics to joining the fabric strips and finishing the rug. There are no special tools needed. All you need is fabric, scissors, and your hands.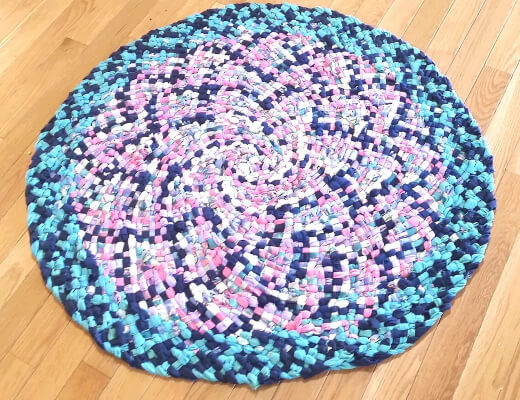 Get the Tutorial from RagRugRoad HERE
LEARNING HOW TO MAKE A BRAIDED RUG IS EASY. AND IT IS A GREAT WAY TO UPCYCLE UNWANTED CLOTHES.
Do you have a lot of clothes you no longer wear but do not want to throw away? Instead of littering the landfill or storing them away at your home, put them to use. A great way to do this is by learning how to make a braided rug.
Can't get enough of rugs, check out these mug rug patterns, crochet rugs or these macrame rug patterns to add bohemian vibe to your home. Once you make one of these patterns post your creations on our Facebook page.
Now you've learned how to make a braided rug, you can now make your own braided rug.