Friendship bracelets are trending again. The hot craze from the 1980s has made a huge comeback and is not going away any time soon. Follow our step-by-step tutorial, to learn how to make a string bracelet.
These bracelets are fun and easy to make. And it is meditative. You can give them away to your friends or sell that at craft fairs. But before you can do any of that you need to know how to make a string bracelet.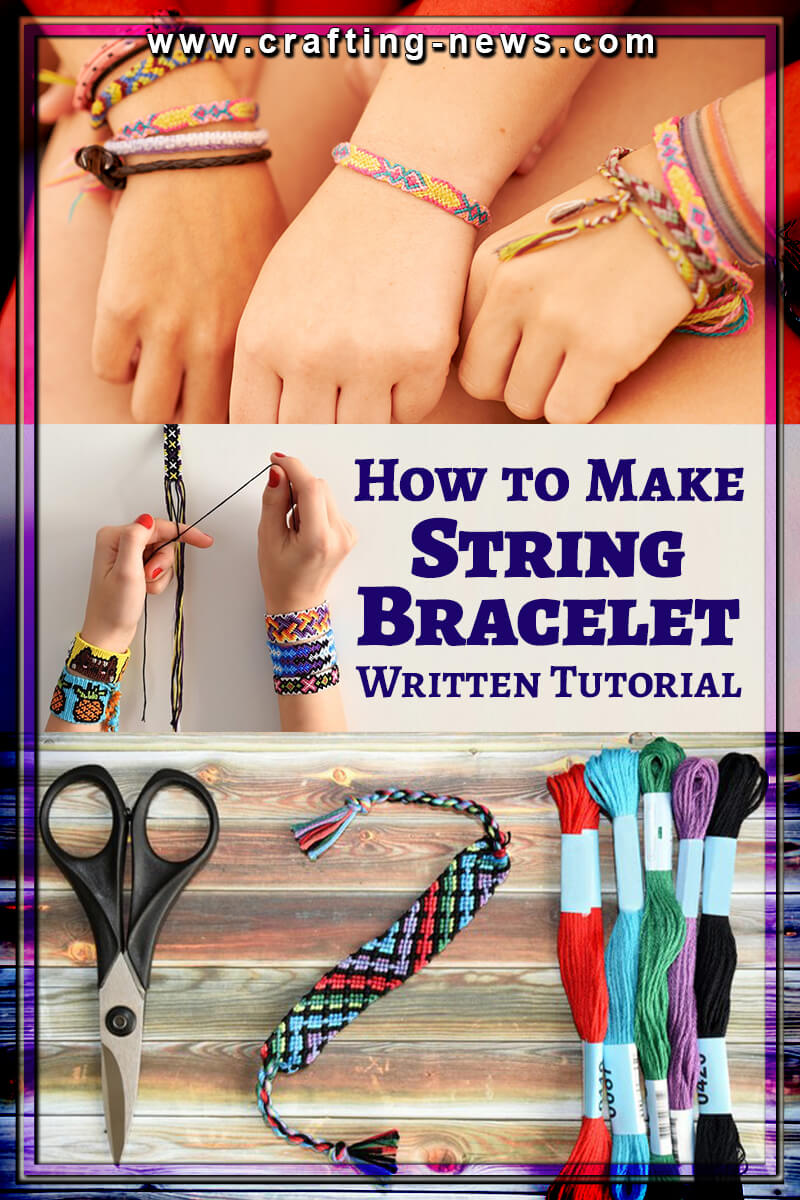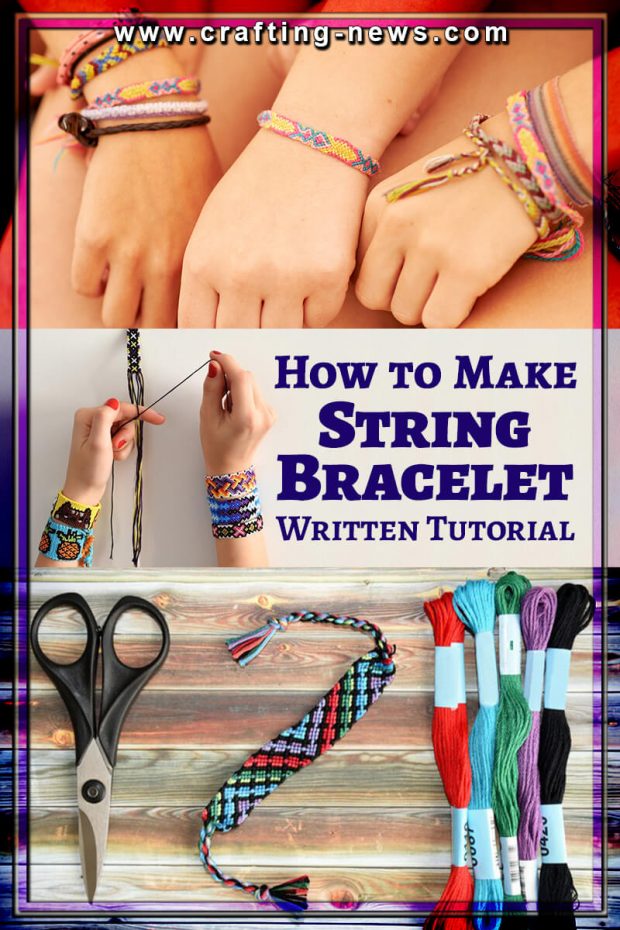 What are Friendship Bracelets
A friendship bracelet is a handcrafted bracelet that is often made from embroidery floss. It is a type of macrame project. The bracelets have intricate patterns that are created by making knots.
The technique used is fairly simple and can be learned quickly. You do not need any special tools or equipment. And the materials you do need are inexpensive.
The friendship bracelets string are often made to give to friends and family. And the colours used have special meanings.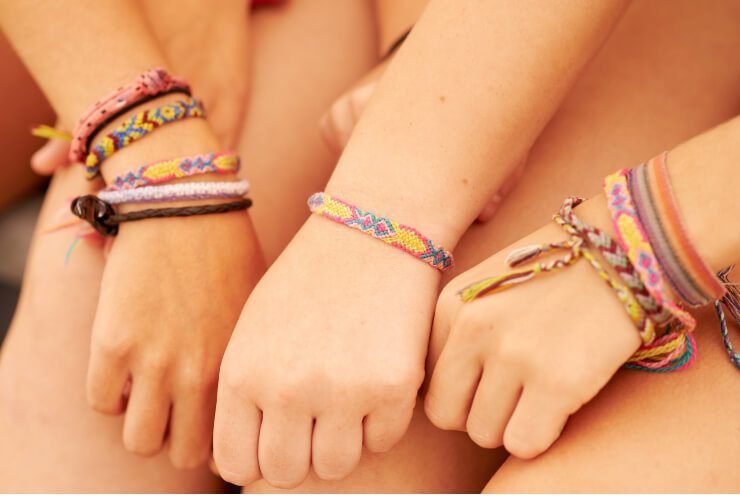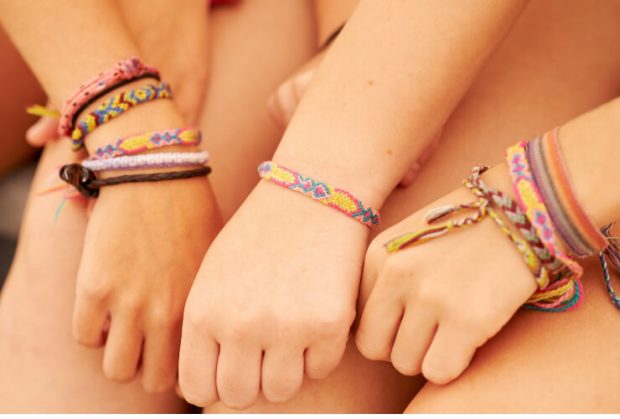 The meaning of friendship bracelets string colours:
Black – Strong, Powerful, Confident, Mysterious

Blue – Loyal, Inspiring, Peace, Hope, Reliable

Brown – Reliable, Stable, Comforting, Loyal

Green – Responsible, Compassionate, Hopeful

Orange – Energetic, Happy, Joyful, Excitement

Pink – Kind, Affectionate, Love, Enthusiastic

Purple – Sophisticated, Friendly, Luxurious, Strong

Red – Honest, Passionate, Adventurous, Love

White – Kind, Truthful, Transparent, Clarity

Yellow – Cheerful, Friendly, Creative, Optimistic
How to Make a String Bracelet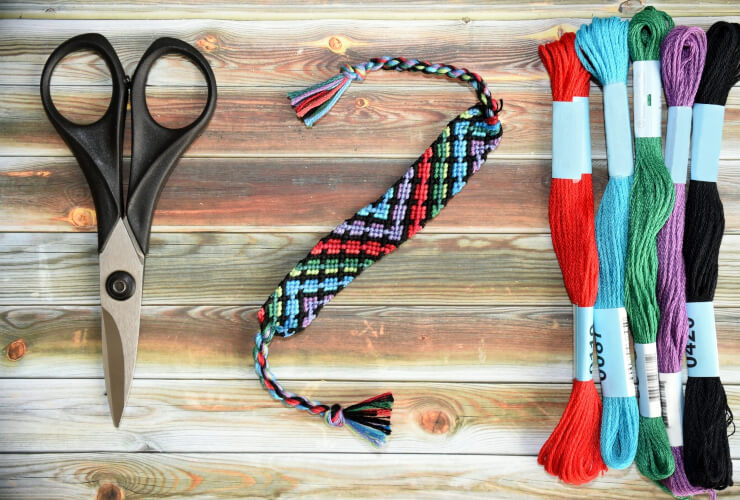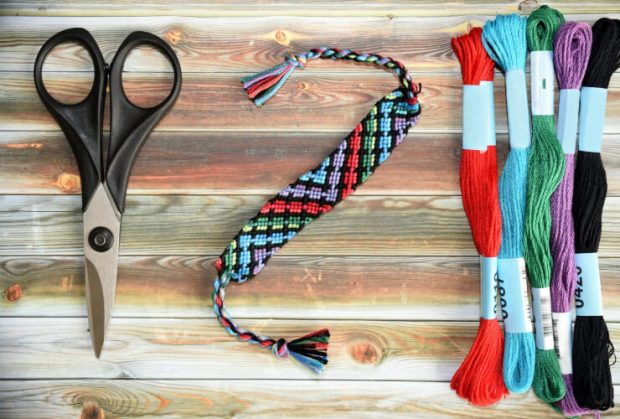 There are many different techniques for making a string bracelet. Today, we will show you one of the most popular string bracelet patterns.
Before you begin making friendship bracelets string, you will need to gather a few basic supplies:
Step-by-Step Instructions for Making a String Bracelet: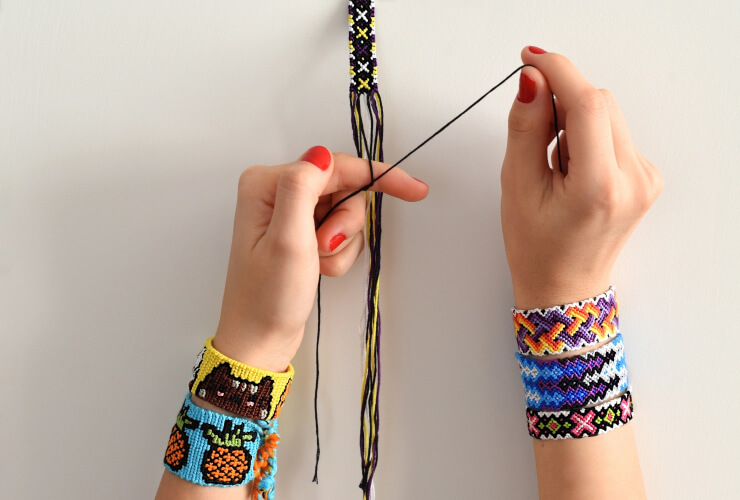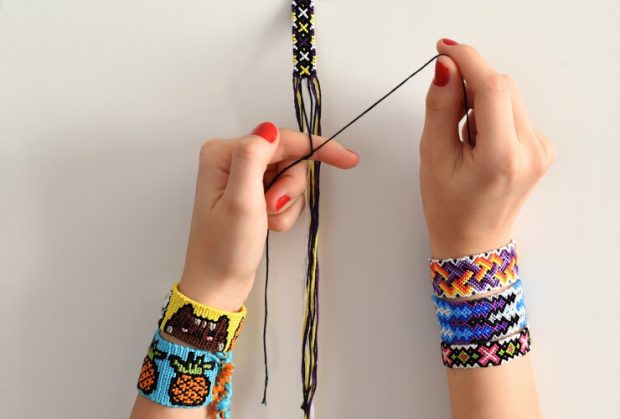 Choose 3 colours. Use the guide above or use your friend's favourite colours.

Cut 2 pieces 32" long from each colour of floss. We will call these colours A, AA, B, BB, C, and CC.

Line up all the floss together and tie a knot on one end. You will want the knot to be about 1" from the end.

Tape the knotted end down onto your work surface.

Line up the colours of floss. A, B, C, AA, BB, CC

You will start working from the left. Take thread A and fold it over thread B creating a 4.

Take the tail of A and wrap it under B.

Pull the tail through the hole created in step 6. And tighten the knot.

Repeat steps 6 and 7. Each thread will have 2 knots.

Now, place B over to the left.

Repeat the process by working your way across each thread. Continue with thread A until it is on the right-hand side. So, the next step is A over C.

Once A is all the way over, repeat the process. This time you will begin by taking B and folding it over C.

Continue with each tread. Stripes will begin to form.

Repeat the steps until you have the desired length.

Finish the bracelet by tying a knot on the end.
After learning how to make a string bracelet, make as many different color of thread as you like and gift them to your friends and family.
Learning how to make string bracelets is an easy project that almost anyone can do. There are many types of friendship bracelet patterns available. The string bracelet pattern we used is a simple pattern that produces a striped bracelet. It is one of the most common types of friendship bracelets you will see.
Here's more bracelet ideas you can check out Crochet Bracelet Patterns and Wedding Crochet Flower Bracelet. You might also want to check How to Make Friendship Bracelets for Beginners.
Friendship bracelets are fun to make and can be completed quickly. All you need is some embroidery floss, tape, scissors and a ruler. Now that you know how to make a string bracelet, make one for all your friends.