Lord Of The Rings Cross Stitch Pattern – Middle Earth Map Cross Stitch
|
Are you a fan of the Lord of the Rings trilogy? If you are don't geek out on me here, because I have something exciting to tell you.
It's about the Lord of the Rings cross stitch pattern.
I know guys assume that girls don't like this kind of stuff but they haven't met me and you.
This Middle Earth Map is amazing, it looks awesome on my wall. It even made a great present as well.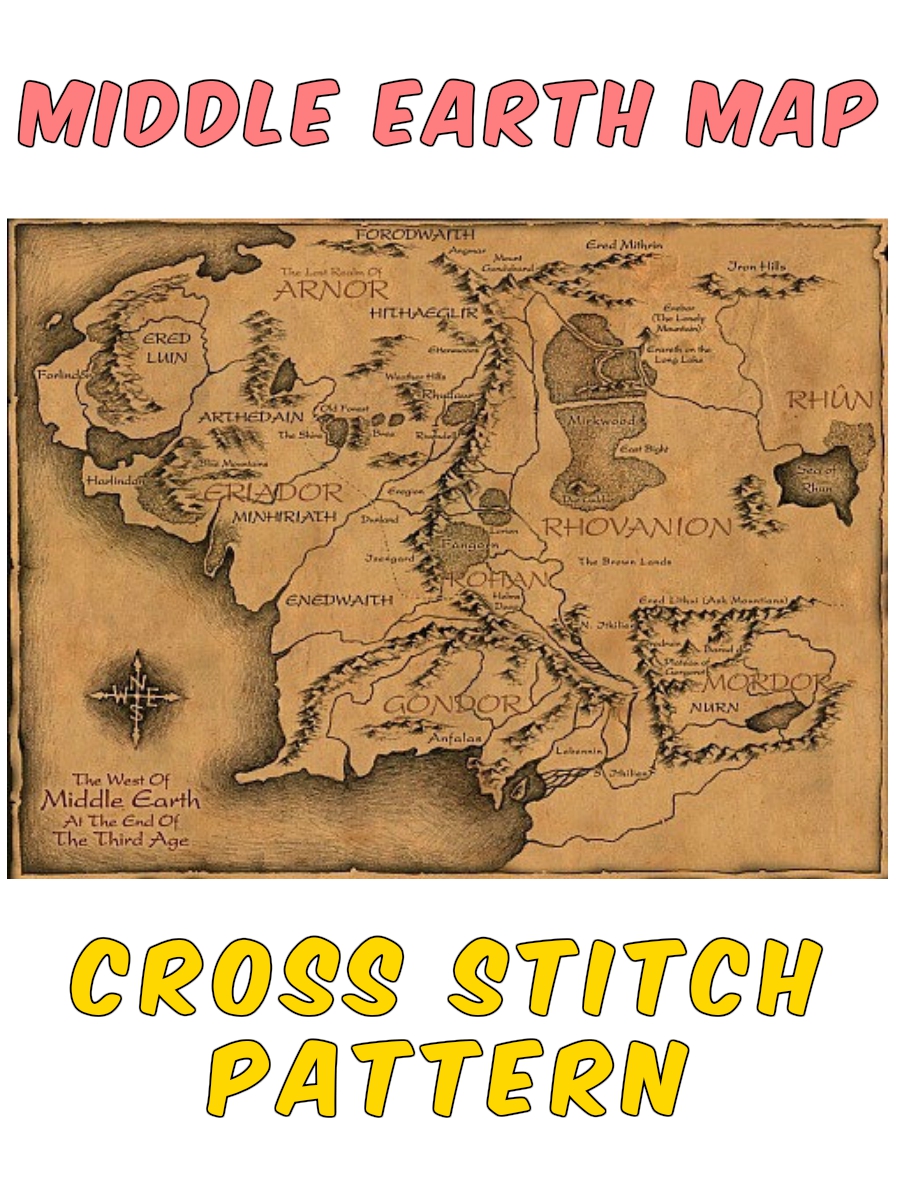 Lord Of The Rings Cross Stitch – Middle Earth Cross Stitch
I know you got excited just by seeing the title. Well, you read it right, there is a Lord of the Rings cross stitch pattern, and it's on Etsy.com.
A whole pattern dedicated to making a cross stitch design of the map of middle earth.
Don't flip out on me yet before you hear the rest of this pattern because there is a lot.
The land of elves, dwarves, dragons and wizards, the Lord of the Rings cross stitch pattern just as enchanting except, there is no magic involved here, just the work of your hands.
Very Detailed Tutorial And PDF
The tutorials and PDF for the Middle Earth cross stitch pattern are very extensive and detailed to ensure you bring forth your pattern in all its glory.
The instructions are given in simple English; no hidden spells, no runic symbols that open doorways into mountains just easy English for you to understand.
And the directions are coupled with illustrations and pictures to help you through the whole process.
Seriously you do not need any previous knowledge in stitching to create this beautiful pattern just dedication and time.
adsense
From The Creator
In the creator's own words, the Lord of the Rings crosses stitch pattern is an enchanting journey that will have you breathless when you finally finish the piece.
All you have to do is buy it, and it downloads instantly. And since it is a digital pattern you should make sure that your download has the following:
A PDF with black and white symbols
A PDF pattern with colored symbols
A JPG picture of the painting
A Symbol Key page in DMC floss code
The creator recommends that you use 14 count Aida fabric if you want to achieve the best results with this pattern.
So all you do is print out your pattern and trace it out on the fabric.
After that, you just follow the instructions to the letter and viola.
As if by the spell you will have the most beautiful Middle Earth map anyone has laid eyes on.
Middle Earth Cross Stitch Pattern Mesmerized Me
To conclude, I know I don't need to tell you more about the pattern or why you should get it but I will.
To be honest, I'm a sucker for the Lord of the Rings and coming across the Middle Earth cross stitch pattern mesmerized me.
A spell was cast, and I had to try it, and it was worth every second of it.
The best part is that the pattern has bigger dimensions. Allowing you to fill up the whole wall if you want to with just a cloth for your bedside table. As for me, I'm going big and going home with it.
I want to fill up my living room wall with it, and if anyone doesn't like it, they shall not pass.
Middle Earth Cross Stitch Pattern Here
More Needle Crafts Patterns Here
adsense