We love the look of macrame! When we see creative ways to use macrame to decorate our homes, we jump into creating a fresh collection of patterns to share with you. We've shared patterns for macrame plant hangers, macrame wall hangings, macrame curtains, and more. Now, we're talking about macrame wreaths!
We make wreaths to celebrate the cycles of nature and all life. They are a beautiful decorative item you can easily hang to celebrate a season or holiday.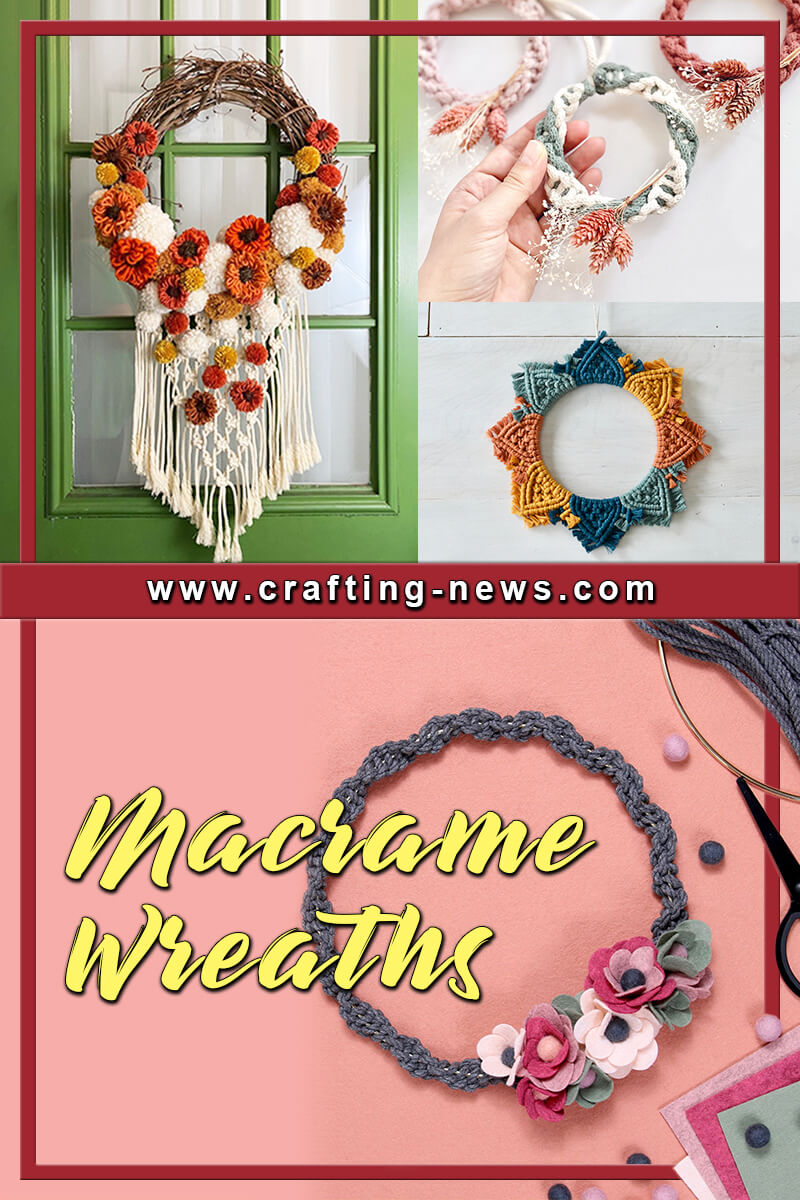 With this collection of macrame wreaths, you can incorporate the look of macrame in another refreshing way, whether it's for spring, summer, fall, or Christmas decoration.
If you're naturally crafty, we have included some patterns for making your macrame wreaths—or you can find plenty of macrame wreath products pre-made by artists on Etsy. Check out a few favorites below.

1. Macrame Wreath Pattern by Lia Griffith
This macramé wreath is so gorgeous—and much more affordable when you make it yourself! This project is perfect for beginners and advanced makers alike. You only need two gold hoops, 4mm cotton rope, and three knots to create this beautiful piece of art. Plus your scissors, of course!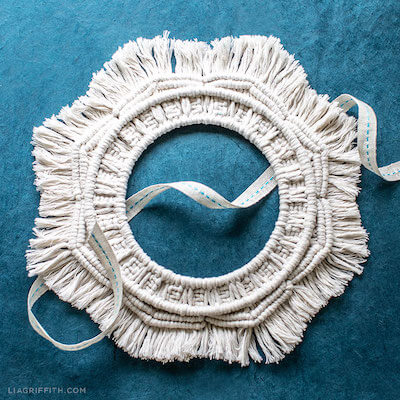 Get the Pattern here
2. Macrame Wreath Ornament Pattern by Manifold Witness
Make your own treasured heirlooms for your tree with this beginner-friendly macrame ornament pattern. These petite wreaths also make beautiful year-round decor, especially if you opt for neutral colors.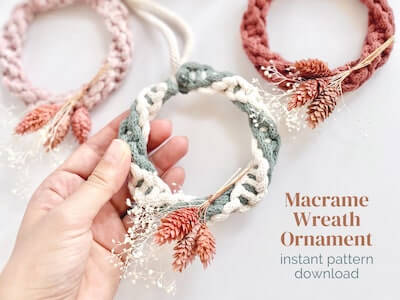 Get the Pattern by Manifold Witness here
3. Macrame Christmas Wreath Pattern by Knot Calm
Learn how to make a gorgeous Macrame Christmas Wreath with this easy to follow pattern. This wreath has a lovely ribbon detail and can be decorated with extra items to really add a wow factor to your Christmas decorations for this year.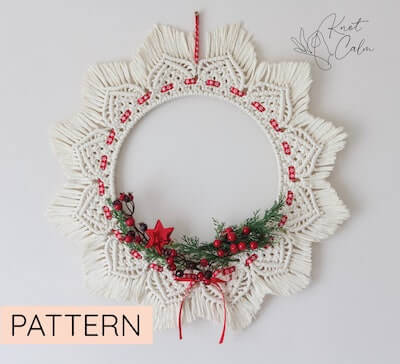 Get the Pattern by Knot Calm here
4. DIY Macrame Wall Hanging Mandala Wreath by Melanie Ham
This gorgeous Macrame Wall Hanging Mandala Wreath is a simple project with such a stunning result. It's fun that you can either hang it up on the wall or lay it flat on a table for a beautiful centerpiece.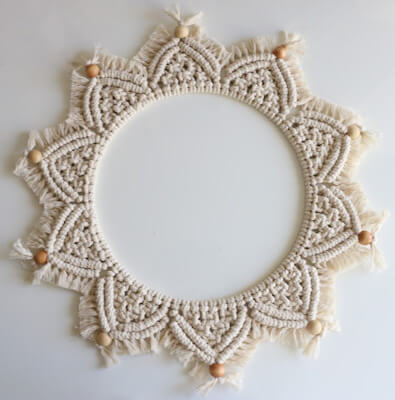 Get the Pattern here
5. Macrame Wreath DIY Pattern by Afloral
Perfect for the holidays, this will make a gorgeous door wreath or wall hanging. Choose flowers that match your home decor for a room accent you can keep up all year!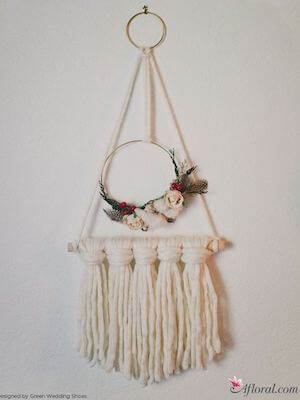 Get the Pattern here
6. Macrame Wreath by Benzie Design
Create a beautiful Macrame Wreath with just one simple knot! This wreath uses a Macrame Half Knot repeatedly tied around a metal ring.
As you tie the Half Knot around the metal ring and repeat tying the same knot over and over again, the knots will begin to spiral and it will create an interesting and unique design!
Get the Pattern here
7. Be Good Macrame Wreath Tutorial by Fancy Tiger Crafts
This macrame wreath is totally simple and methodical to make. It is a perfect starting place for beginners because it uses just a few of the most basic macrame knots.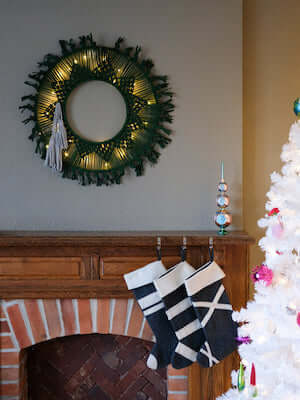 Get the Pattern here
8. Macrame Wreath DIY Tutorial by Craft Courses
Create a gorgeous macrame wreath with this tutorial. The wreath is made using two different macrame knots, so is perfect for beginners. The tutorial contains step by step instructions and color photos to guide you through each step. The completed wreath shown in the tutorial measures approximately 30cm in diameter.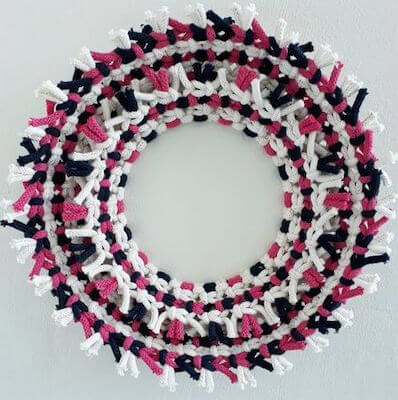 Get the Pattern here
9. Festive Macrame Wreath by Hobby Craft
Bring the outside into your home this winter with this macrame Christmas wreath, complete with rosemary and eucalyptus. Perfect for adding a touch of nature to your festive décor, the macrame tutorial is simple and easy to follow – ideal for beginners!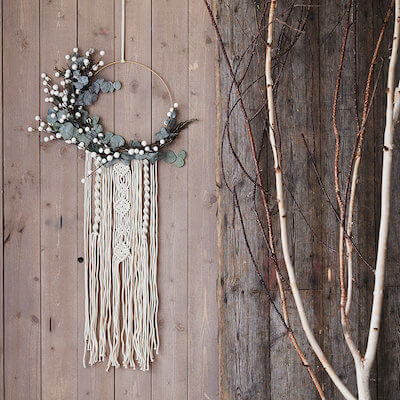 Get the Pattern here
10. Macrame Moon Halloween Wreath by One Mama's Daily Drama
Make a macrame moon wreath for cute and witchy Halloween decor. This DIY tutorial includes how to tie macrame knots and is perfect for beginners.
If you want more Macrame Moon Patterns, just click here.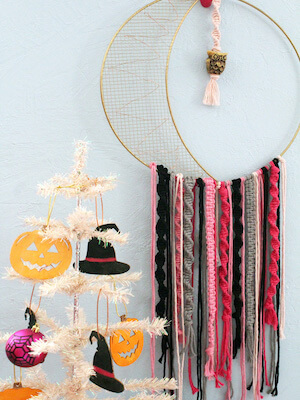 Get the Pattern here
11. DIY Floral Macrame Wreath by Tys Knots
This pattern will show you how to create a dried/fresh floral and how to add these dried florals to the wreath in 3 different ways. The wreath size pictured is 14″x6″ using a 4″ wreath, but you can use this design on larger wreaths as well.
It's a perfect size for wedding bride, and groom chairs, for bridesmaids, pretty wedding décor, and simply wall décor in your home! You can use fresh flowers, faux, or dried you choose!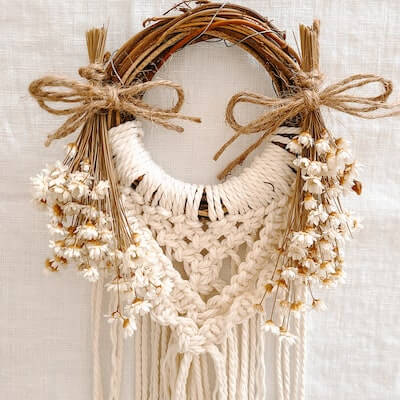 Get the Pattern by Tys Knots here
12. Minimalist Macrame Wreath Pattern by Jean And Clyde Fibers
This pattern is for a medium sized macrame wreath, measuring approximately 14″ in diameter. It is perfect if you need a minimal all season wreath, or a textured piece to add to a gallery wall, or even on its own!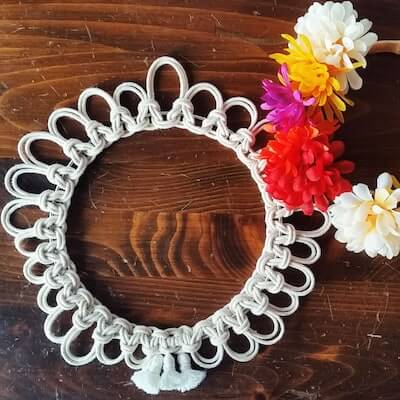 Get the Pattern by Jean And Clyde Fibers here
13. Easy Wool And Yarn Macrame Wreath by Cuckoo 4 Design
Find out how to make a simple and beautiful macrame wreath with thick wool and macrame yarn. This macrame wreath is perfect for all seasons and not just fall or Christmas!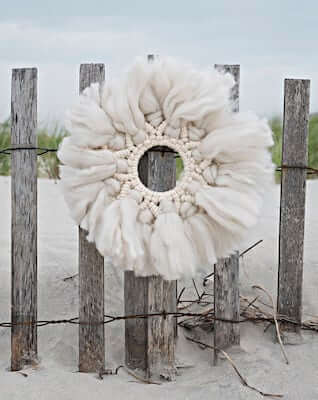 Get the Pattern here
14. Macrame Christmas Wreath Ornament by A Wonderful Thought
Bring a boho feel to your Christmas tree this year with these DIY macrame wreath ornaments. You can leave your wreaths unadorned, or you could also hot glue a little ribbon bow on the top for a pop of color. Alternatively, you could also use them as gift toppers, just add a cute name tag!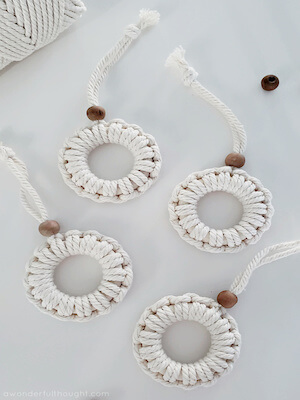 Get the Pattern here
15. Boho Macrame Fall Wreath by Matching North
Learn how to make this beautiful Boho Macrame Fall Wreath in this step by step tutorial and video. It's fun to make and perfect for autumn!

This tutorial will also show you how to use a Clover "Hana-Ami" flower loom to make some yarn flowers, and a set of Clover pom-pom makers to make big, fluffy pom poms!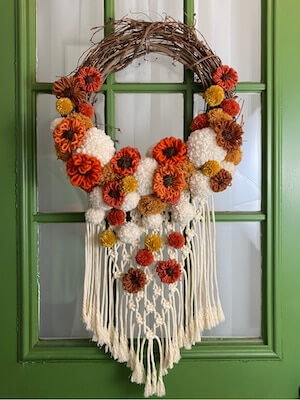 Get the Pattern here
16. DIY Macrame Wall Hanging Wreath For Christmas by Harbour Breeze Home
Craft your own boho style living room home decor with this easy DIY macrame wall hanging wreath for the holiday season. This simple, fun project is perfect for even macrame beginners.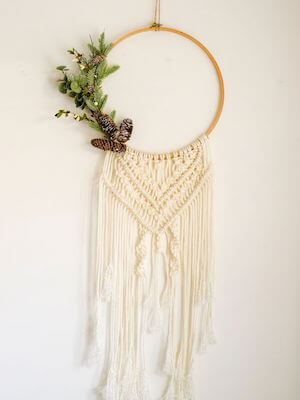 Get the Pattern here
17. DIY Macrame Christmas Wreath Ornaments by Lia Griffith
How adorable are these macrame wreath ornaments? This is an easy macrame project that even kids can make. And because they are so small, you could even use macrame cord left over from a previous project.

The knots used for these macrame wreath ornaments are a larks head knot and a horizontal half hitch knot.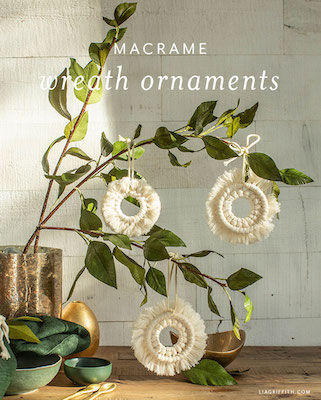 Get the Pattern here
18. Small Boho Macrame Wreath from Heartstrings By Kasia
Bring spring inside your home with this beautiful macrame wreath wall hanging full of charming flowers. It has very romantic, rustic feel to it and it would look gorgeous in little girl's bedroom.

A lot of people prefer classic black and orange Halloween, but you will love adding pink to that color combo for an unexpected twist. It feels like the perfect blend of wacky kid-friendly fun and a more refined adult decor style.

You might even want to display this wall hanging year-round if your home decor is cottagecore or retro style!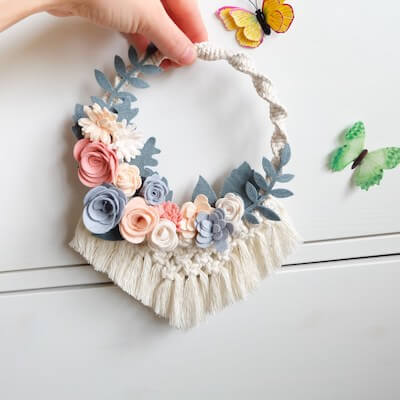 Buy from Heartstrings By Kasia here
19. White Floral Macrame Wreath from Macrameshka UA
A wall hanging of white flowers macrame is an original design technique that can be used to update the interior without expensive repairs.

Such a boho wall floral wreath will be appropriate in the living room, it can decorate the wall of the bedroom or the dining area in the kitchen, if you believe in feng shui, flowers will surely bring harmony of nature, prosperity, and good luck to the house.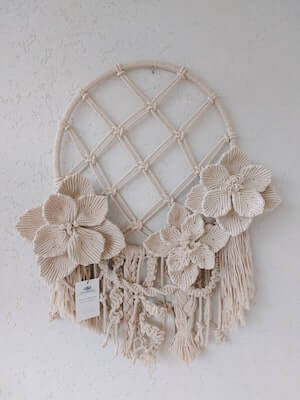 20. Retro Multicolor Macrame Wreath from The Twistery
This fun wreath/mandala is a great form of retro decor! The many colors totally gives you roller-skater vibes and the warm colors add a lot of fun to a space. The diameter of the wreath is 12 inches, and the inside hole is 7 inches across.

This is made using cotton cord made from recycled textiles. How cool! The cord that frays at the edges to add to the bohemian and retro vibe.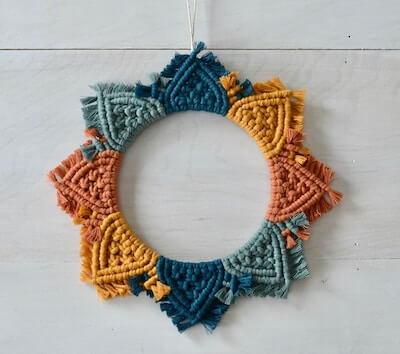 21. Wooden Macrame Christmas Wreath from Hooray Days
It's time to bring your Christmas decor in on the boho trend! Add a twist to your Christmas decorations with this natural wood and metal hanging macrame decoration.

This is the perfect decoration to bring out year after year, with a classic star-shaped design and strikingly real looking greenery.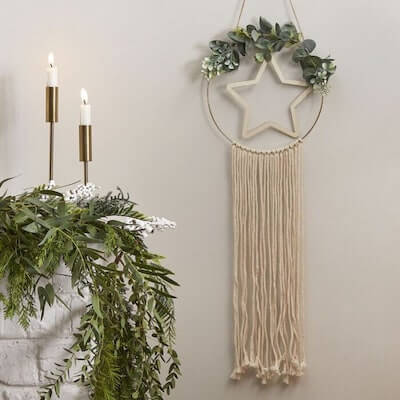 22. Spring Macrame Wreath from Diana Crafted
This macrame mandala is perfect as a door wreath, a wall hanging, or a table centerpiece. Made with recycled cotton cord in a mix of soft pastels, this macrame wall hanging would be ideal in a nursery or kids' room, but can also be used in a living room, a bedroom, or any other room of your home.

The soft colors of this wall hanging make it ideal for spring season and Easter but can be used all year round if you are looking for that calm, cozy Scandinavian vibe in your home.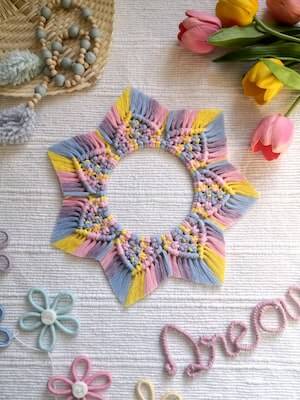 23. Macrame Holiday Wreath from Language Of Knots
This original Macrame Wreath is made from 100% USA made cotton that had been hand knotted around a lightweight metal hoop.

Live wreaths look beautiful but only for a limited time. This macramé cotton wreath allows you to reuse and repurpose all year long. Decorate with flowers for spring, changing leaves for Fall and sprigs of holly or pine for Winter.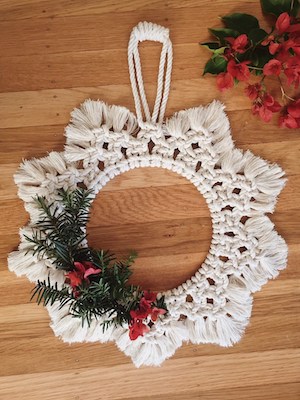 Buy from Language Of Knots here
24. Macrame Weave Wreath from LB Art And Design
This handcrafted Macrame Weave Wreath is a unique piece of art made with high quality materials. In a circle wreath shape, it is incredibly unique and trendy. It's materials include sari silk, luxe cotton, wool, and jute in lovely soft, warm pinks, beiges and creams.

It's beautifully feminine. It has beautifully woven details in the fibres. It's neutral enough to suit any decor and would be perfect on a gallery wall.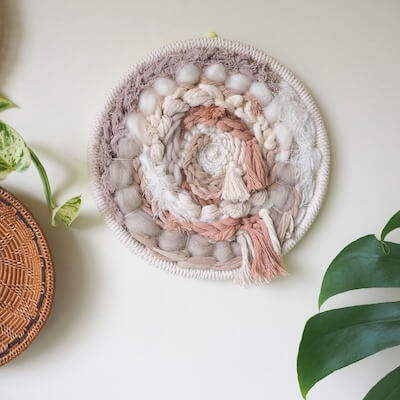 Buy from LB Art And Design here
25. Boho Christmas Wreath from Art By TYua
This Christmas wreath with blue and gold berries is a great Christmas decoration item with a boho touch. It will make a beautiful addition to your holiday decorations. Realistic greenery and berries make this wreath pop. Enjoy this wreath during Christmas and all winter long!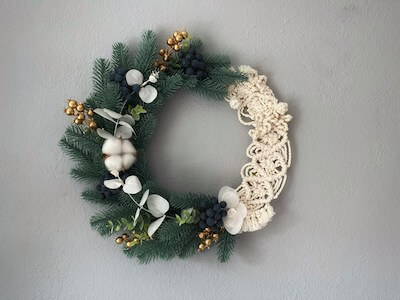 THESE MACRAME WREATHS WILL SURELY ADD SO MUCH WAMRTH AND COZINESS TO ANY ROOM YOU PUT THEM IN!
Have you made any macrame projects? We'd love to see them! Share your macrame creations with us on our Facebook Page. Explore more and browse all of our macrame projects and DIY home decor to see what else you can make.

These macrame wreaths are super cheap to make. Whatever your style, you can find a fun, affordable option to make from this list that will transform any house all year round!