Oliso Irons are designed for sewers, quilters and crafters. They are some of the best irons on the market. If you have been crafting for a while, you have probably heard good things about these irons.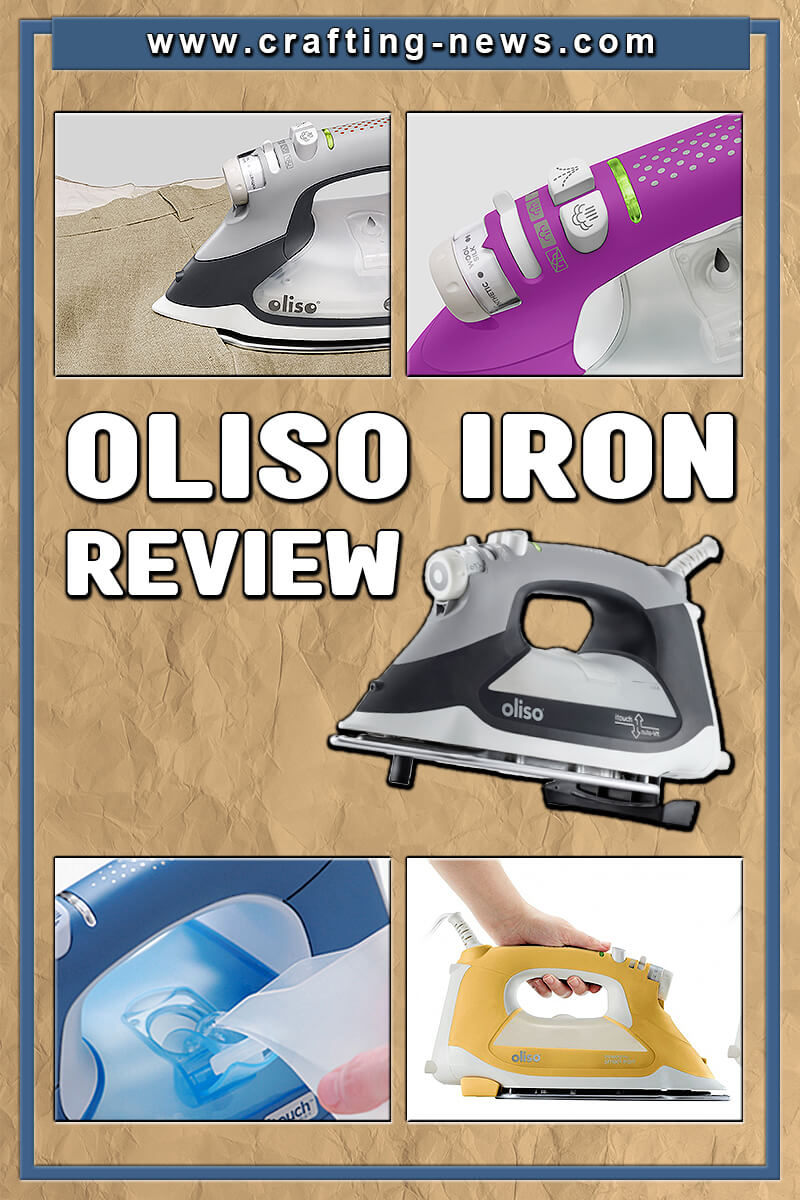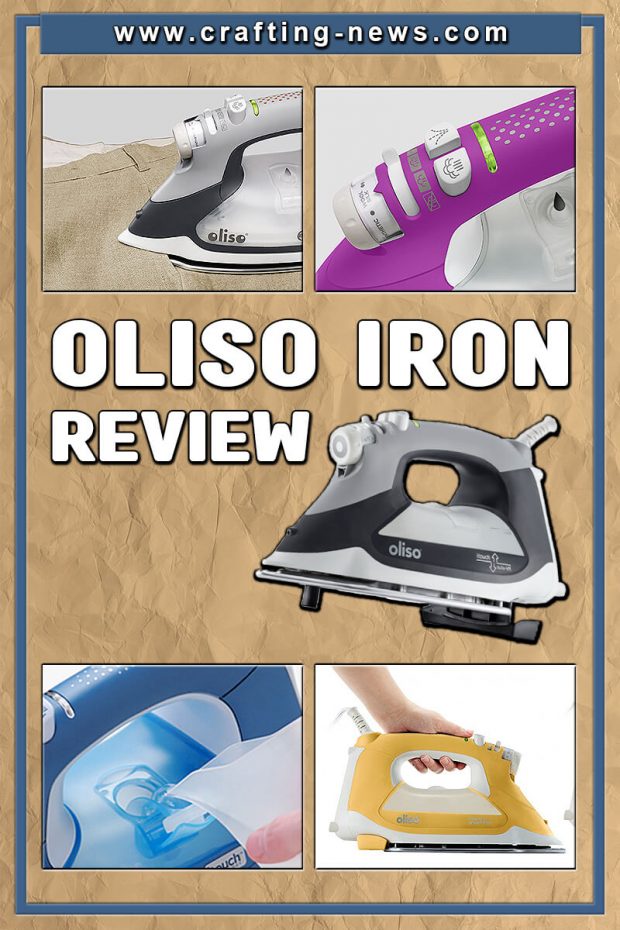 What Makes Oliso Irons Stand Out from the Rest?
Oliso Pro irons are premium irons. But what makes these irons cherished by crafters? There are quite a few reasons.

The Oliso Smart Irons have built-in iTouch Technology. This technology makes the iron safer to use. The iron knows when you are holding it. As soon as you let go of the handle, the legs come out, lifting the iron off the table.
This technology allows the iron to sit flat without falling over or burning your ironing board. And the legs do not get hot.
Oliso Irons heat up fast. You do not waste precious time waiting for your iron to get up to temperature.
Ironing can get monotonous. Oliso has made the job easier with the ergonomic design of their irons.
Oliso Smart Irons have a built-in auto shut-off safety feature. You will no longer have to worry if you shut the iron off. This iron will turn off after non-use or when it is knocked over.
Their anti-drip system helps to prevent drips and leaks when the iron is hot.
The Oliso Smart Irons have powerful vertical and horizontal steam.
If you sew or quilt, this is THE iron that you need to get. If you don't do a lot of fabric crafts, but you do a lot of ironing – then you need this too!
Oliso Iron Review
See the iron in action and read more about all the features on the Oliso Website here.
How to Choose the Best Oliso Iron for You
When choosing the best Oliso iron, there are a few things you will want to consider. These are:
Weight of the Iron (empty and filled with water)
The best irons are heavy. The weight helps remove wrinkles. However, you do not want an iron that is so heavy it is hard to work with.
If you do a lot of steaming, choose an iron that has a large water tank that is easy to fill.
Determine where you will be using the iron the most. Make sure that you get an iron that has a long enough cord to reach and manoeuvre around the work area effortlessly.
The higher the wattage, the faster the iron will heat up and the more steam it will be able to generate.
You want an iron that has a lot of steam holes. The more holes there are, the better coverage you will get. This gives you the ability to get the job done quicker and easier.
Oliso Smart Irons come with a built-in auto shut-off feature. Some have 8 minutes, while others have 30.

3 Best Oliso Irons
BEST PREMIUM
Oliso TG1600 ProPlus Smart Iron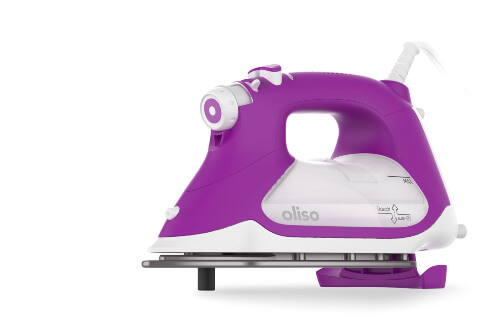 The Oliso Pro Smart Iron is a premium iron that makes ironing fast and easy.
Why We Like the Oliso Smart Iron TG1600:
This top-of-the-line Oliso Quilting iron has all the features you could possibly need.
12' 360 Degree Pivoting Cord
This iron has a long power cord.
This detailer tip makes it easy to manoeuvre the iron in pockets and corners.
Diamond Ceramic-flow Soleplate
The non-stick soleplate is durable and easy to clean.
Pros and Cons of the Oliso Smart Iron TG1600:
Pros:
30 Minute extended auto shut off

12.7 oz Tank

12' 360 degree pivoting cord

Diamond ceramic-flow soleplate

Anti-scale system

2" Detailer tip

3 Year warranty

1800 Watts

7 Steam settings
Cons:
Plate can catch on fabric if not careful

Price
BEST VALUE
Oliso TG1050 Smart Iron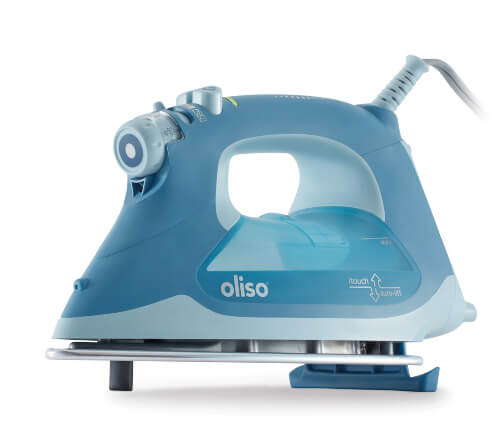 The Oliso TG1050 Smart Iron is the perfect iron for those on a strict budget. It does not have as many features as the TG1050 or the TG1100, but it still will make it easier to get the job done.
Why We Like the O
liso Smart Iron
TG1050:
Even though this is a bargain Oliso iron, it still has the iTouch Technology feature.
The 360 degree pivoting cord makes it easy to move your iron around without constantly unwinding the cord.
Most budget irons have a small water tank. This iron has a 12.7 oz tank that is easy to fill.
If you want a full size Oliso Iron, you cannot beat the price of the Oliso TG1050.
Pros and Cons of the O
liso Smart Iron
TG1050:
Pros:
OnePass Pressing

Detailer tip

360° Pivoting cord

12.7 oz Water Tank

Affordable

3 Steam settings
Cons:
Cord is shorter than other models

Only 1600 Watts
TOP PICK
Oliso TG1100 Smart Iron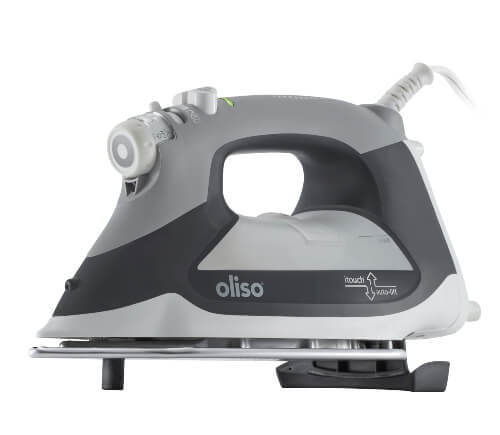 The Oliso TG1100 Smart Iron may not have all the features as the TG1600, but it can still handle all your needs.
Why We Like the Oliso Smart Iron TG1100:
This iron is a great choice for those who are die hard crafters that do not have the budget to buy an ultra-premium model.
Most irons require the use of distilled water. The Oliso TG1100 uses tap water. They do not recommend distilled water since it can break down the protective coating.
This iron will automatically turn off after 8 minutes of nonuse. If it is tipped over, it will turn off after 30 seconds.
The Oliso TG1100 has a lot of steam holes. Even more than the TG1600.
Pros and Cons of the Oliso Smart Iron TG1100:
Pros:
Pointed detailer tip

Ultra premium soleplate

10'8" cord with a 360 degree pivot

Side loading water tank

Quad auto shut-off

1800 Watts

3 Steam settings
Cons:
Takes time to get used to using it
When it comes to purchasing a new iron for sewing, only choose the best. An Oliso Iron is a top-of-the-line iron that produces amazing results.
When it comes to sewing and quilting, it is important to have the best sewing machines and irons. A good iron may not be something that many people think about, but if you use one regularly, you know its importance.
When choosing an iron, buy a top-quality iron. Do not go out and buy the cheapest one you see. Having a good quality iron will eliminate a lot of frustration and help you get your projects done quicker.
Use your Oliso iron with these quilt projects: Quilted Table Runner, T-shirt Quilt Patterns, Wedding Ring Quilt
If you want a superior iron that will last, look at buying an Oliso Iron.